We use affiliate links. If you buy something through the links on this page, we may earn a commission at no cost to you. Learn more.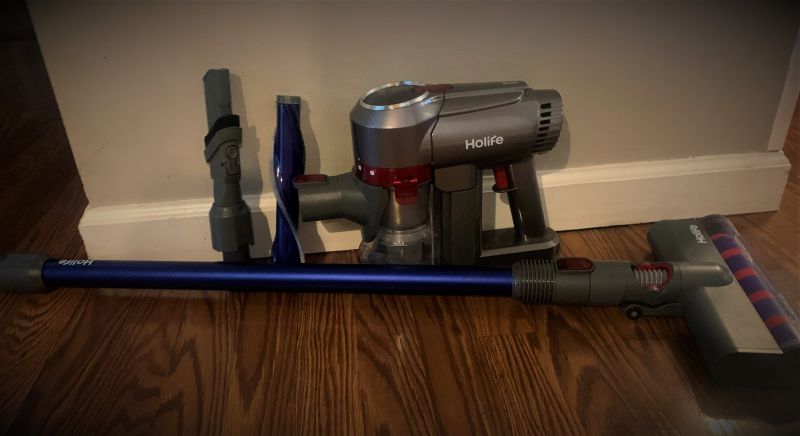 REVIEW – Our family struggles to keep our floors clean.  With children and dogs in and out of the house, there is just always dirt, dust and dog hair to be cleaned.  While vacuuming, especially the common areas, was already a common chore, we recently adopted our newest addition, a Siberian Husky.  A little something to note about the Husky breed is that their hair is not just any dog hair.  In fact, we call it "Husky Glitter", because just like glitter, it is the gift that keeps on giving.
We have been struggling to keep the floors clear of "glitter" daily since we added her into our home.  It is not easy or convenient to pull out the heavy full-size vacuum and plug it in for a quick sweep.  A lightweight and powerful cordless vacuum cleaner, like this one from Holife, is just the solution we have been looking for.
What is it?
The Holife Cordless Cyclonic Stick Vacuum is a 4-in-1 portable cordless vacuum.
What's in the box?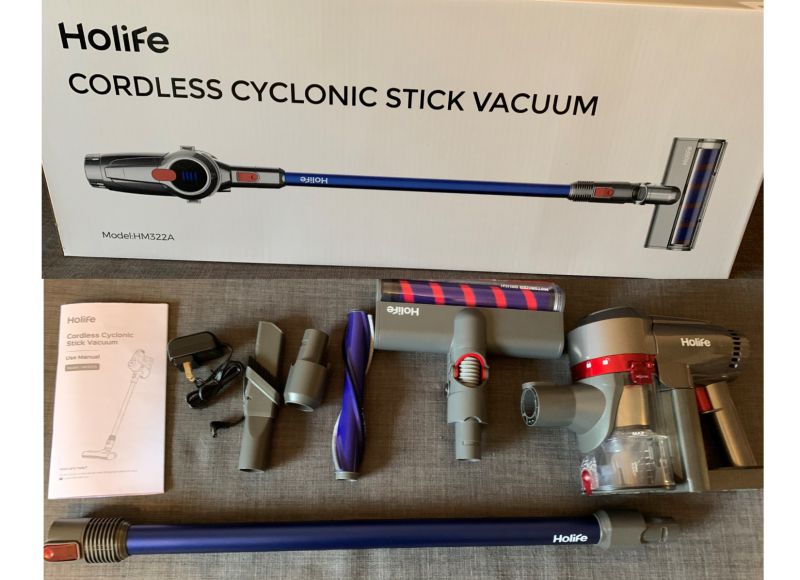 A multilingual user manual
The adapter for charging
The vacuum (disassembled)

motor block
aluminum tube
ground brush head attachment
2 rollers for the ground brush (hard floor and carpet brush)
2-in-1 attachment (crevice nozzle and ceiling brush)
The adapter for charging
Hardware specs
Model: HM322A
Item weight: 3.2 lbs
Item Dimension: 30.49 x 12.97 x 5.69 in
Floor brush height (extension wand): 2.55 ft
Battery capacity: 22.2V/2200mAh Lithium battery
Air flow: 100AW
Working sound level: ≤78dB
Power: 90W (normal mode) 220W (boost mode)
Suction size: 9Kpa (normal) 20Kpa (boost)
Dust capacity: 0.6L
Length of use: 15-45 minutes
Charge time: 3-4 hours
Usage type: dry
270° rotatable brush head
Advanced HEPA and sponge filtration system
Setup
As mentioned above, the vacuum cleaner comes disassembled in packaging.  You will want to assemble each part to make sure that all the pieces, nozzles and accessories are in working order.
There are four ways to put together and use your Holife Cordless Cyclonic Stick Vacuum.  Two ways with the aluminum pipe and the same two ways directly inserting the accessories into the motor block.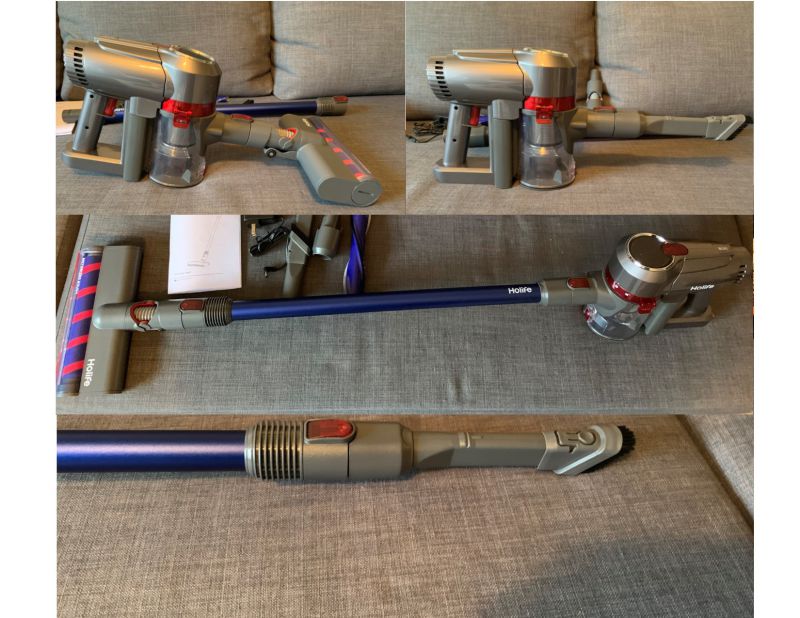 Motor Block –> aluminum pipe –> ground brush*
Motor Block –> aluminum pipe –> accessory tool
Motor Block –> ground brush*
Motor Block –> accessory tool
     *ground brush comes with two different brush heads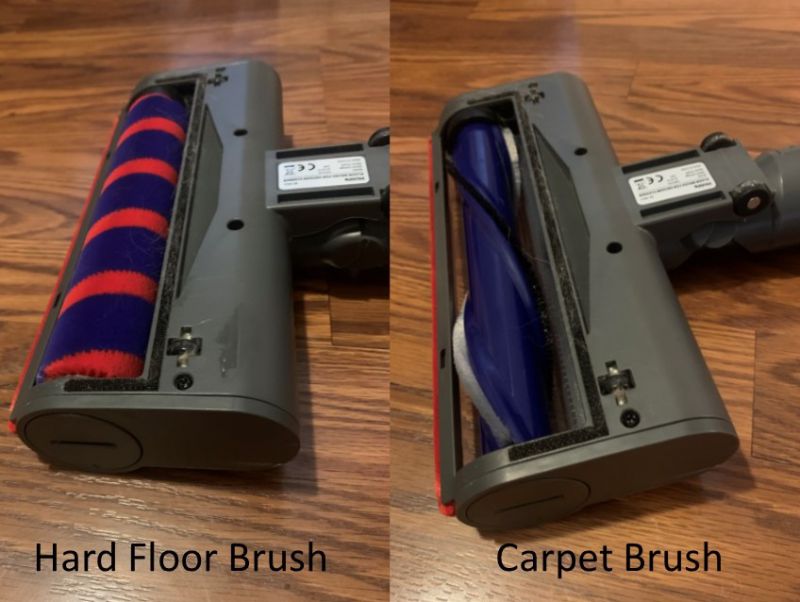 After checking your attachments, you will want to fully charge the vacuum before your first use.  To charge up your vacuum you will plug the provided adapter into the back of the motor block and plug the adapter into your power outlet.
A great feature that Holife provided in the design is the charge indicating display located on the top of the motor block.  The lights will show you when your vacuum is at a low charge, that it is in the process of charging and when it is fully charged.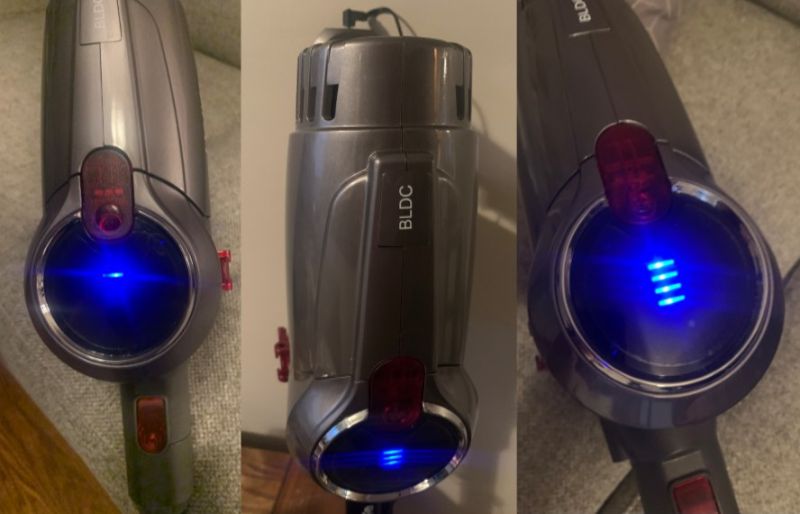 When the battery is low, the battery light will flash on the display.  When the unit is charging, the four indicator lights flash alternately.  Once the unit is fully charged and ready for use, all indicator lights will be on and no flashing on the display.
Design and features
I could not wait for the indicator lights to stop flashing and begin testing the Holife Cordless Cyclonic Stick Vacuum against our messes.  What I couldn't believe, was that both of my children (9 and 12) also couldn't wait to try it out.  My children started testing the vacuum before I even had a chance to read the manual.  They had no problem figuring out how to start the vacuum.
To start the vacuum, they simply pushed the big red power button on the handle of the motor block.  We quickly realized the power button is not just an on/off, but it also allows you to choose which suction mode (normal or boost) you would like.  First push puts you in normal mode, push twice and you are in boost mode and the third push turns the unit off.  Just note that in order to turn off from normal mode, you will have to push twice going through the boost mode to get to the unit to turn off.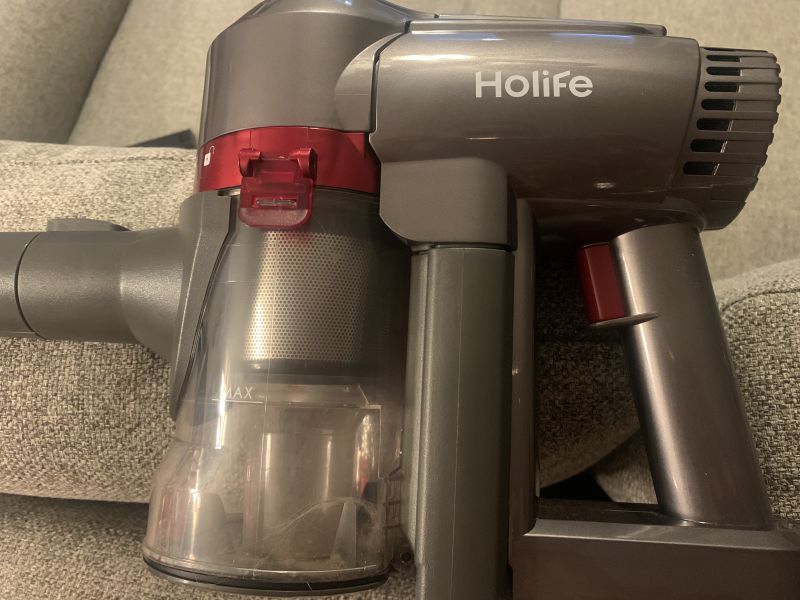 It did not take long to fill up our first bin of grime that needed emptied from the dustbin.  The Holife Cordless Cyclonic Stick Vacuum has an easy red touch button at the bottom of the dust canister to empty the bin.  Pushing this button releases the bottom and the collection of dirt, dust and hair fall into the trash.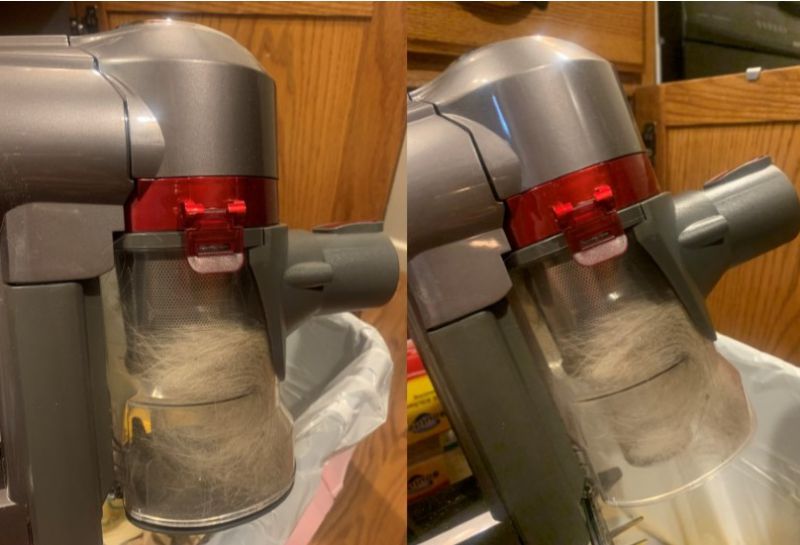 As you can see, we went way over the max fill line, this is not recommended, so do not try that at home.  The debris, dirt, and dust fell right out when the release button was pressed, but the hair had to be pulled out even after shaking the unit.  Every time we empty the dust canister, the dog hair requires you to pull it out.  This is common for us, as every vacuum we have owned and currently own has the same issue.  It is easy to pull out as one big clump, but it is not ideal.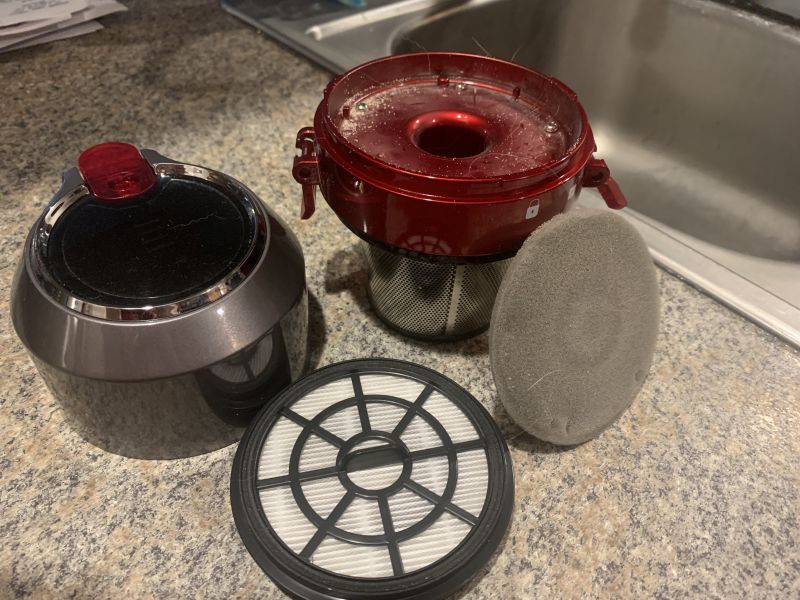 Speaking of debris collection, The Holife vacuum features a four-stage filtration system.  Holife states that this unit, because of its multi-step system, can remove up to 99.97% of microscopic dust particles and particles as small as .3 microns.  The four stages include cyclone filtration, stainless steel cover, sponge filtration, and the high-density HEPA filter.
The manual recommends cleaning the filter unit at least once a month or when the dust is heavy.  To check the filter, you will want to first unlock the lock buttons on the side of the dust collection canister and twist to the unlock position.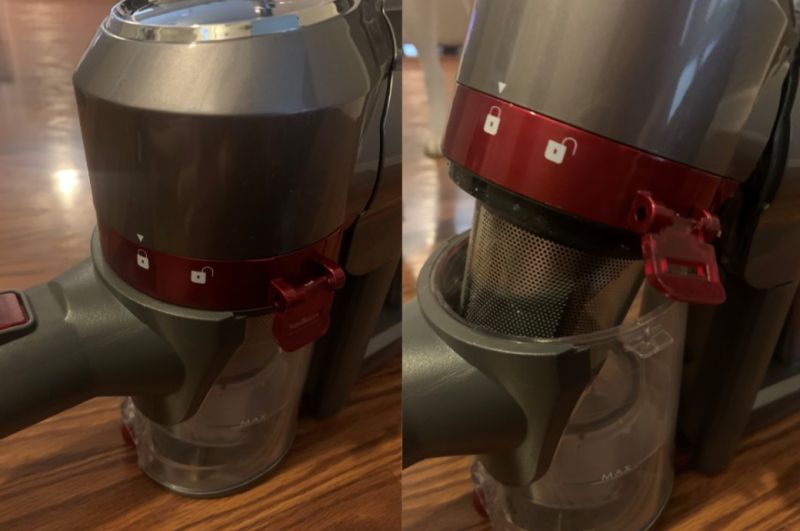 Before cleaning, gently tap the filter to remove excessive dust.  Only hand wash in cold water to clean the filter unit, no soap or machines.  The Hepa filter and sponge can be rinsed with cold water until water runs clear.  All pieces should be placed in a dry environment for at least 24 hours and not reinserted until all pieces are completely dry.
The Holife Cordless Cyclonic Stick Vacuum comes with two interchangeable brush rollers.  The hard floor brush (red/blue one) and the carpet brush.  Both brushes are washable, although I have not had to clean them yet.  To change the rollers, you will want to insert a coin in the slot (you can use your thumb, but I found using a coin much easier), press and rotate counterclockwise.  Push gently and slide the brush out of the brush head.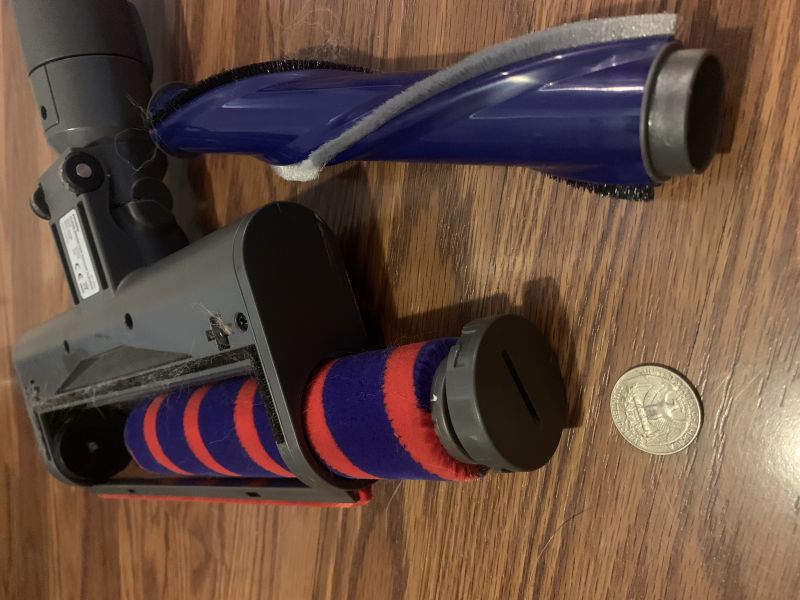 The hard floor roller is my favorite of the accessories and does a fantastic job of naturally cleaning itself without getting any hair caught in the roller.  This works marvelously on my hardwood, kitchen mats, and tile floors.  With its powerful suction and the added LED light at the front of the brush unit, it is easy to detect those little particles of dust, dirt and husky "glitter" and make them disappear.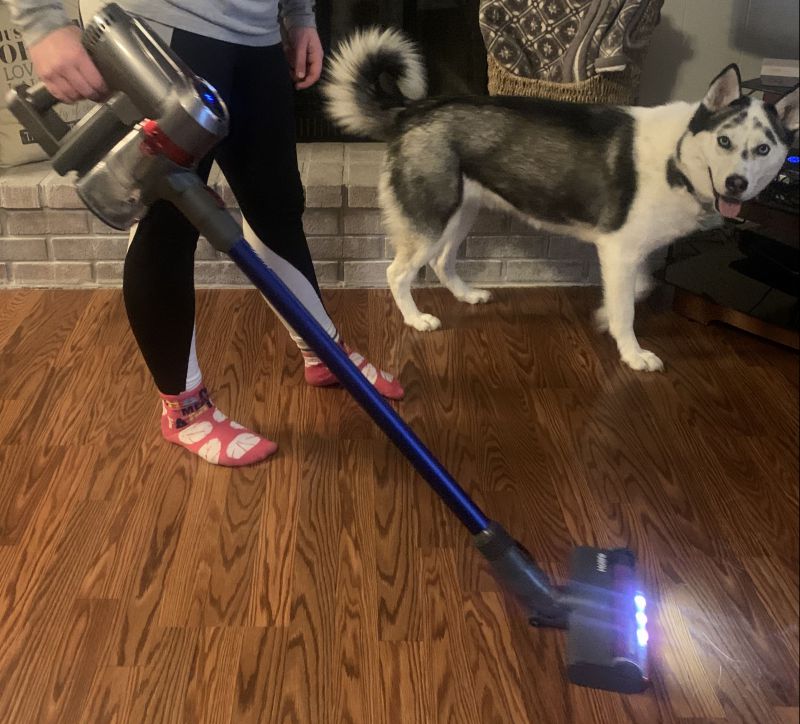 Although we tend to use the ground brush attachment the most, in order to provide a thorough review of the product we wanted to use the 2-in-1 accessory attachments.  These attachments do a great job of getting those hard-to-reach places and we found them most helpful in cleaning our cars.  Just another great added bonus to this cordless vacuum unit.  I guess I will say that again, it is CORDLESS, making it so easy and convenient to use.
Cordless and relying on a charge, I wanted to find out on my own just how long the battery will last.  Holife advertises the battery life at 15-45 minutes and depending on what mode you are running the time does vary drastically.  I charged it up and then ran it non-stop in both normal mode and separately in boost mode.  I found that my unit lasted close to 38 minutes in normal mode and around 20 minutes in strictly boost mode.  These times are obviously acceptable for small jobs and quick pick-ups and tidying, but it would not be a vacuum you would choose to use for cleaning whole rooms.
The Holife Cordless Cyclonic Stick Vacuum does warn you the battery is running low with the light indicators on the top and once it is done the unit simply turns itself off.  It is recommended in order to extend the battery life, that you should avoid charging immediately after full discharge.  I did find the battery to be warm running from full charge to empty without stopping, but this would not be something you would normally do, I would suggest to just make sure the unit is completely cool before plugging it in to charge.
What I like
Lightweight, perfect for children
Easy-to-use
Multi-use from floor to hand-held
LED light to spot all those little particles of dust, dirt, and hair
Cordless
What needs to be improved
Needs a wall mount or stand
Final thoughts
After using this unit daily for a few weeks, I am confident to say that we are happy with the performance of the Holife Cordless Cyclonic Stick Vacuum.  So far, this vacuum has been great to have as a daily go-to for those quick sweeps and small jobs around the house and to use in our cars.  The main perk of having a lightweight portable unit in our household is that this adds a perfect chore for the kids to do daily.  Overall, there are no limitations that would keep me from recommending this product, especially if you have pets and/or children!
This vacuum also has a 3 year warranty once registered on their website. More detail about the warranty: https://holife.com/pages/warranty
Price: $129.99
Where to buy:  Amazon
Source:  The sample for this review was provided by Holife.