We use affiliate links. If you buy something through the links on this page, we may earn a commission at no cost to you. Learn more.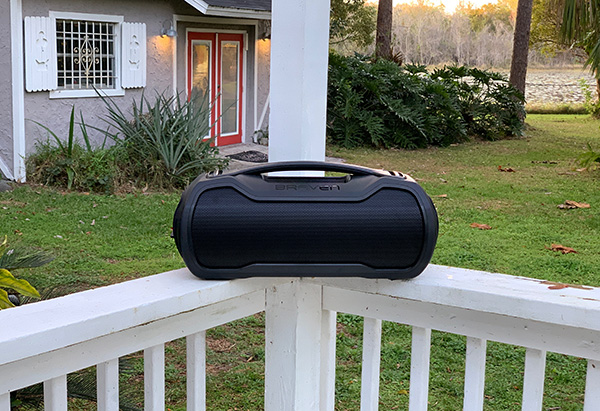 REVIEW – When Braven was owned by another company, they had a slew of speakers to choose from—almost too many. After they were purchased by accessory maker Zagg, Braven drastically trimmed their speaker line. One speaker—the BRV-XXL—survived the cut in the form of the updated BRV-XXL/2. I only say updated rather than improved because, in one instance, the BRV-XXL/2 is not a better speaker than the original. It's just different.

What is it?
The Braven BRV-XXL/2 is a revised version of the BRV-XXL reviewed here. The size is almost identical. It's still rugged looking, but with a more purposeful design in an attractive, all-black stealthy housing.

Specs
Dimensions: 22″ x 8″ x 9″
Weight: 17.4 lb
Bluetooth
15,600mAh battery with USB charger
Bottle opener

In the box
BRV-XXL/2 speaker
Strap
Power cords
Quick-start guide

Design and features
Like the original, the new Braven BRV-XXL/2 means business. This is not a speaker for the faint of heart. It is big. It is heavy. It is loud. This is a speaker for pool parties or other outdoor get-togethers where you need music to be loud enough to be enjoyed without being drowned out by a crowd of noisy people.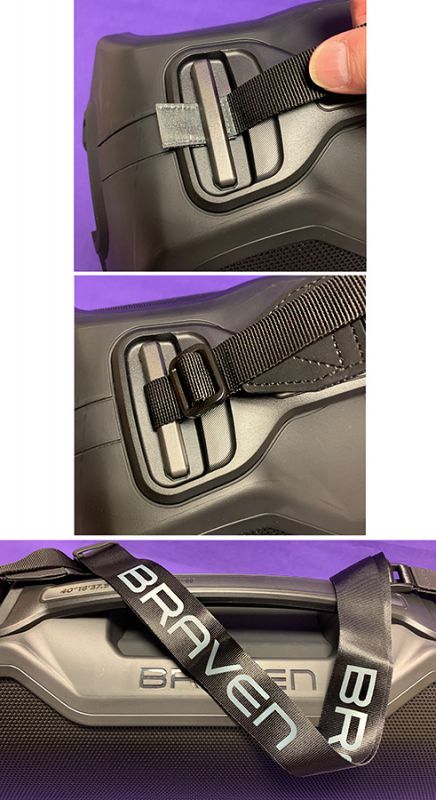 As with the original BRV-XXL, the BRV-XXL/2 has a built-in handle along with slots for attaching an included shoulder strap—although the weight of this thing makes using the strap an exercise in pain tolerance.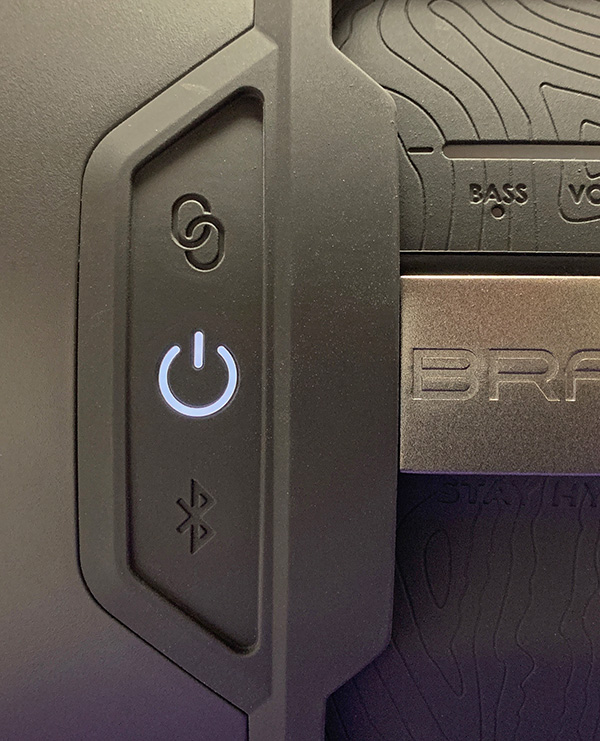 One end of the BRV-XXL/2 has buttons divided into two groups: the left side has a lighted power button along with Bluetooth and Broadcast pairing buttons (new to the BRV-XXL/2). Broadcast pairing allows the connection of up to 100 BRV-XXL/2s to be connected! I can't even imagine what that would look—or sound—like. The carrying handle alone prevents them from being stacked on top of each other, so even if you had a hundred BRV-XXL/2s to connect, where would you put them? I guess this is Braven's way of matching JBL's 100 speakers pairing ability. Bragging rights, ya' know.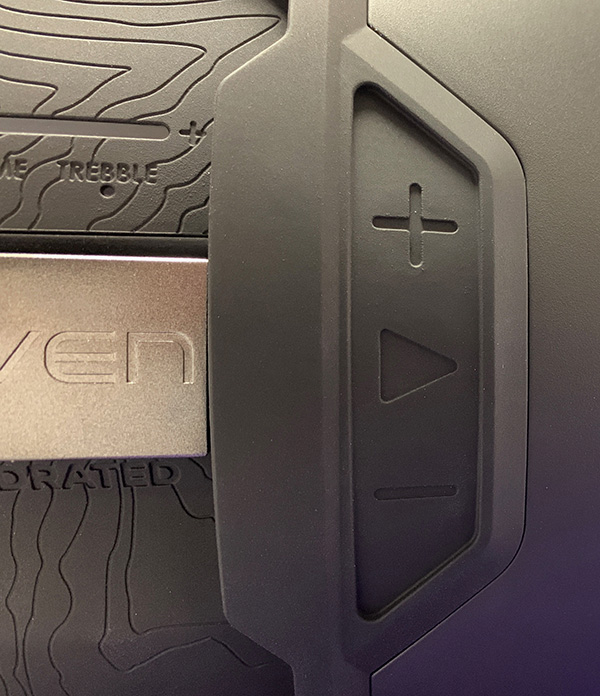 The right side of the BRV-XXL/2 button group at one end has both volume up/down buttons with a center Play/pause button. Between these buttons are Bass/volume/treble lights that indicate rudimentary EQ settings.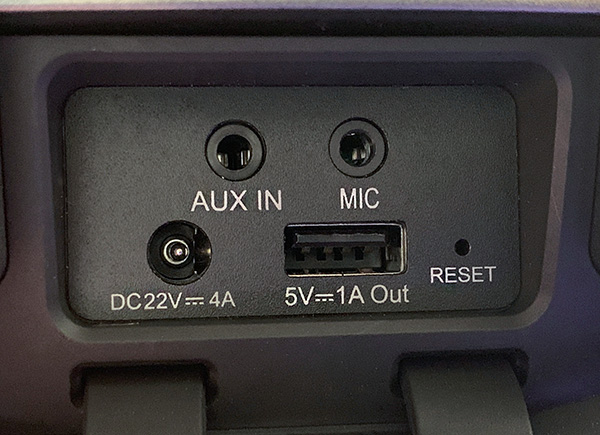 The other end of the BRV-XXL/2 has all the necessary ports: AUX, Mic (for use as a PA speaker—mic not included), USB-A, and a more powerful DC port for charging its huge internal 18-hour, 15,600mAh battery. Incidentally, through the USB-A port, this battery can charge a smartphone 4 times over, so it's a great source of juice if your phone's battery is getting low. I often have the BRV-XXL/2 charging my iPhone while the iPhone is streaming music back to the speaker. It's kinda cool how that works. Note that these ports are protected by a waterproof cover.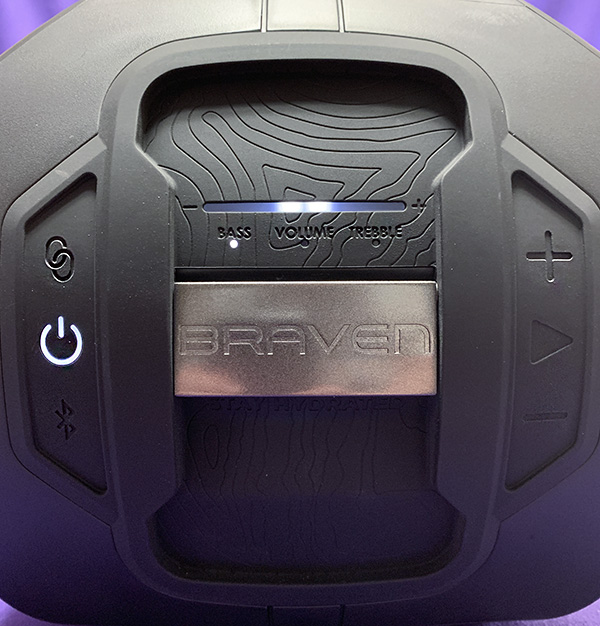 I was finally able to figure out how to set the BRV-XXL/2 speaker's internal EQ with no help from Braven. While a "manual" is included in the box, it's basically just a quick-start guide that only labels the buttons—and that's it. There is no actual manual that explains how to get the most out of this speaker. It's a shame because the BRV-XXL/2 has a few tricks up its sleeve, such as the mentioned EQ settings—once you figure out how to adjust them!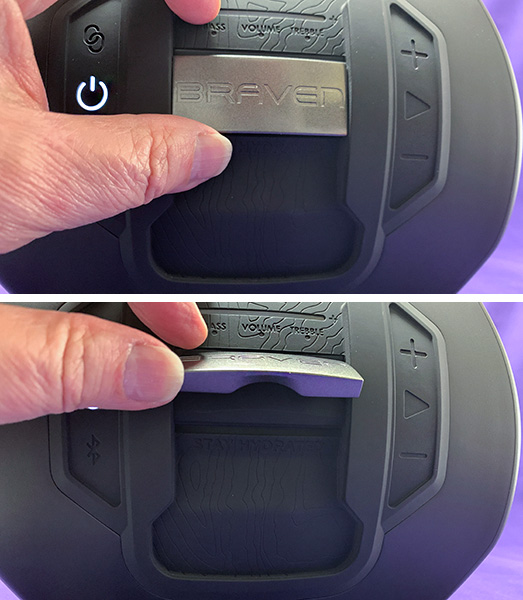 True to its pool party usage, Braven has included a built-in bottle opener on the BRV-XXL/2. Good luck finding it though, because the so-called manual/quick-start guide doesn't even show it. Only the BRV-XXL/2 box and Braven's website mention that there even is a bottle opener—but again, they don't show where it is. Hint: It's under the logo bar on the end where the buttons are placed. Just flip it up to use.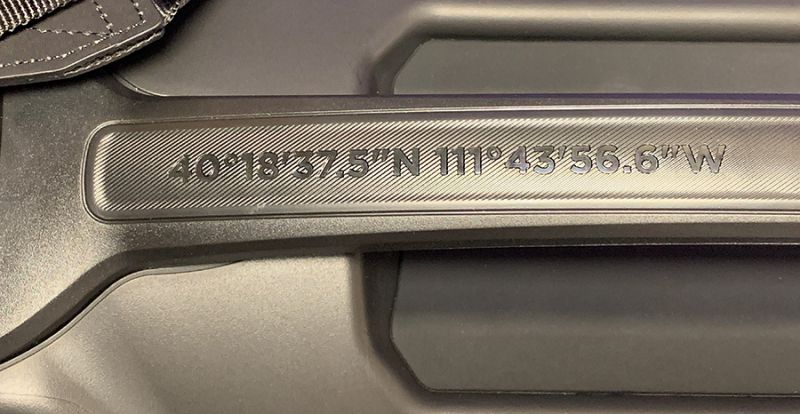 The BRV-XXL/2 has an acceptable IPX5 waterproof rating, which means that it can be soaked by water sprayed on it. Just don't dunk it underwater. However, if there's an accident and the speaker is knocked into a pool or lake, it will float, despite its weight.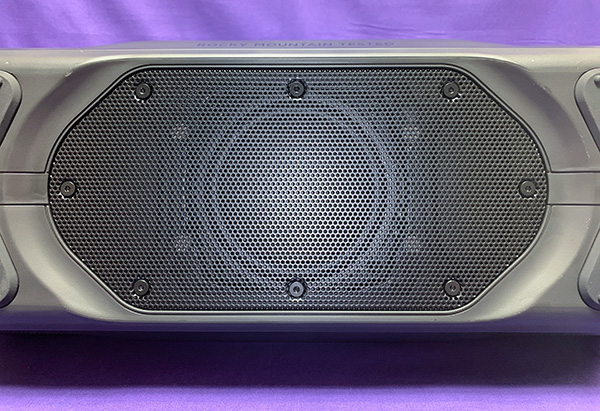 There are a total of five speakers in the BRV-XXL/2—four drivers with one large down-firing subwoofer that's framed by two passive radiators. In other words, bass and plenty of it. The four speakers are arranged two per side, so the audio has a 360° sound field. This speaker arrangement works better out of doors than in unless the BRV-XXL/2 is placed in the center of a room—which seldom happens.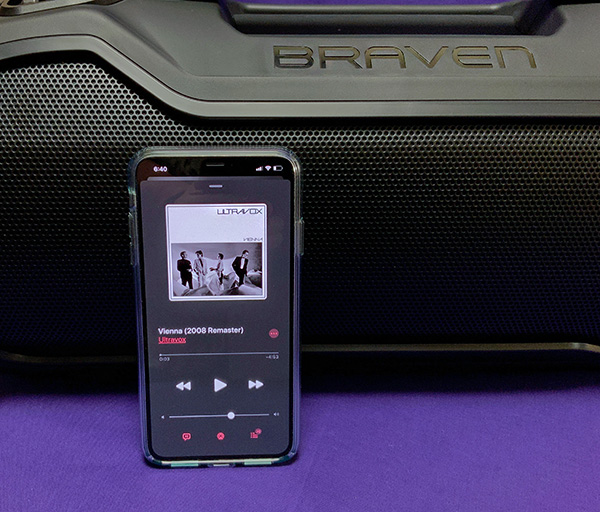 At the beginning of this review, I said that the BRV-XXL/2 speaker sounds different from the original BRV-XXL, but not better. Here's what I mean: The new BRV-XXL/2 is a warmer sounding speaker, with an even more emphasis on bass than the original has. My brother and I did an interesting test with both the BRV-XXL and BRV-XXL/2. I turned my back as he arranged the two speakers next to each other, so I couldn't tell which was which. He then played an Ultravox (a group we both like) song from his iPhone at medium to high volume and switched the Bluetooth from one speaker to the other. After switching for a while, I chose the one I thought sounded better to my ears. To my surprise, I chose the original BRV-XXL. 
Does that make the new BRV-XXL/2 an inferior speaker? Not at all. I have stated in many reviews that I prefer clarity over bass and the original BRV-XXL has more clarity out of the box than its newer cousin. However, I am in a minority as most people will go for a more bassy, warmer sound that the BRV-XXL/2 has. I'm convinced that this is why Braven went in this direction. It's the same decision I would have made.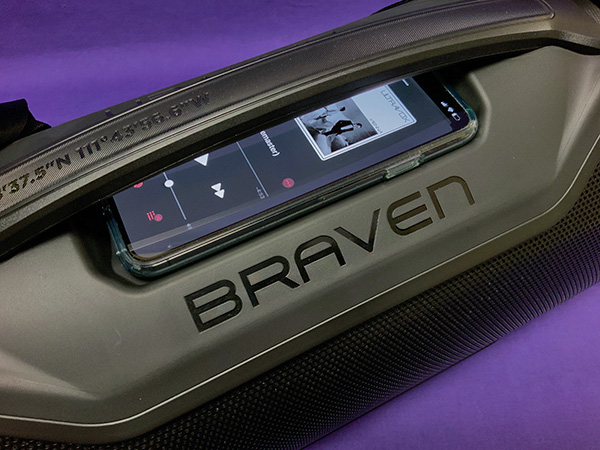 Despite my preferring the clarity of the original BRV-XXL, Braven has done a great job with the sound quality of the BRV-XXL/2. This is a speaker you can listen to for hours at different volumes without aural fatigue. It sounds good at low volume indoors and even with the volume turned up in the backyard.
Another reason for accentuating bass over clarity is that when played outdoors, bass notes don't carry far, dropping off quickly. Bumping the bass up a bit helps the BRV-XXL/2's audio sound more full in a wider streaming range around the speaker. 
Speaking of wider range, one major issue I had with the original BRV-XXL was its terrible Bluetooth range as well as the signal being blocked too easily. It was (and still is) frustrating. Bluetooth range for the BRV-XXL/2 is rated at 100 ft and my highly unscientific test proved that's not the case. It was double that at over 200 ft! It could have been more, but my fence prevented me from walking farther. Keep in mind that this was in a backyard with no obstructions, so YMMV. However, that's darned impressive!
What I like
Rugged design
Waterproof rating
Good sound
Incredible Bluetooth range
What I'd change
Expensive
How about a real manual, Braven?
Not a speaker for those looking for clarity

Final Thoughts
The BRV-XXL/2  is a lean, mean party machine. Crank this baby up and you'll have people asking you to turn it down. That's a good problem to have.
Price: $399.99 US
Where to buy: Amazon
Source: The sample for this product was provided by Braven.