We use affiliate links. If you buy something through the links on this page, we may earn a commission at no cost to you. Learn more.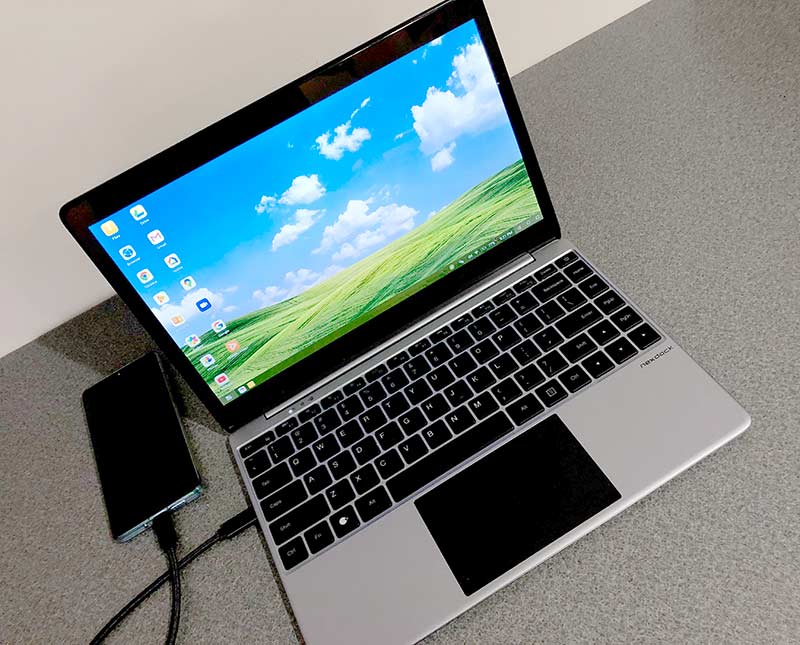 REVIEW – Even as far back as the original PalmPilot, I've had a dream of owning one mobile device that would function as my phone, my game console, music player, eBook reader, main camera, and main computer. As each year has passed, that dream comes closer to coming true. In fact, the only function left to make my dream 100% true is for my phone to become my main computer. Today I want to show you the NexDock 2. Let's see if my dream is finally a reality.
What is it?
The NexDock 2 looks like a laptop, but it's really just a "dumb" display, keyboard, and touchpad that turns into a computer when you connect a Huawei or Samsung smartphone.
Hardware specs
DISPLAY – 13.3 inch IPS screen, 1920×1080 FHD resolution, 16:9 aspect ratio
INPUT PORTS – 1x USB-C 3.1 with DisplayPort, 1x Full sized HDMI-in (1.4a) Port
OTHER PORTS – 1x USB-C PD Charging Port, 1x USB-C 3.0 , 1x USB-A 3.0, 1x 3.5mm audio, 1x Micro SDXC reader
AUDIO – 4x 1W speakers
DIMENSIONS – 317 x 215 x 15.9 mm
WEIGHT – 3lb 5oz (1420 g)
BATTERY – 51 Wh, 7.6 V, 6,800 mAh
What's in the box?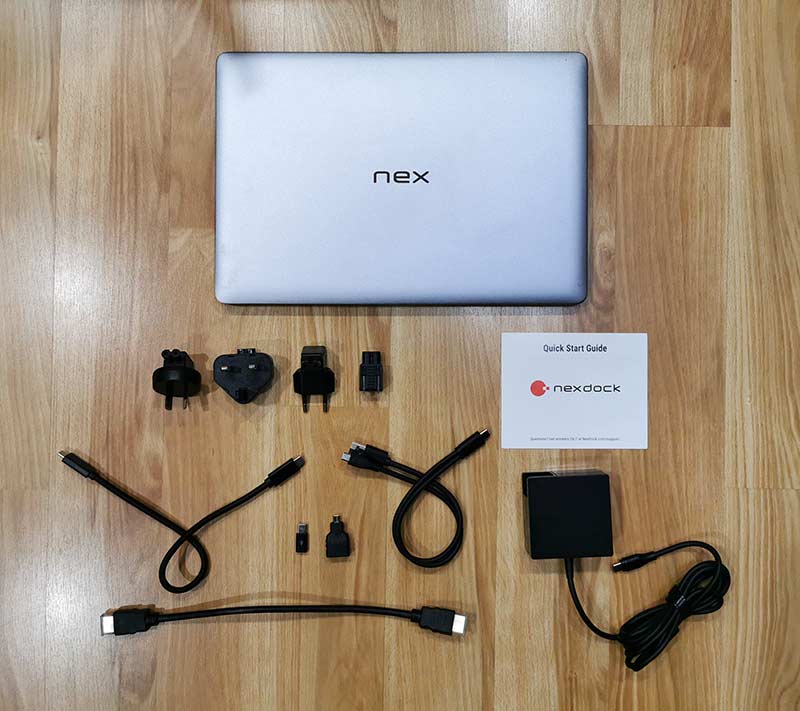 NexDock
60W USB-C PD Charger with 1.8m cable and plugs for US, UK, EU, AU
USB-C to USB-C cable for smartphone connection
USB-C splitter cable for Raspberry Pi connection
HDMI – HDMI cable
micro USB to USB-C adapter
HDMI – micro – HDMI adapter
Quick start guide
Design and features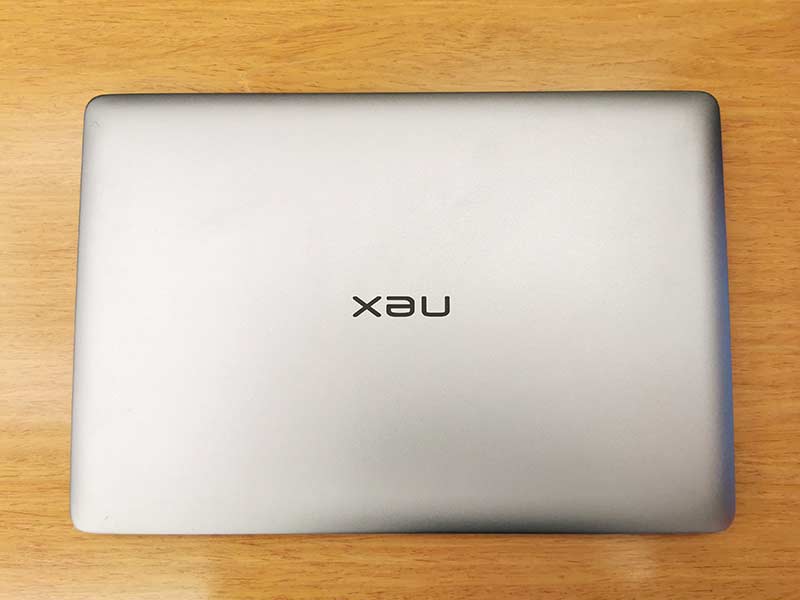 The NexDock looks like your typical laptop. It has an aluminum outer shell with the Nex logo on the lid.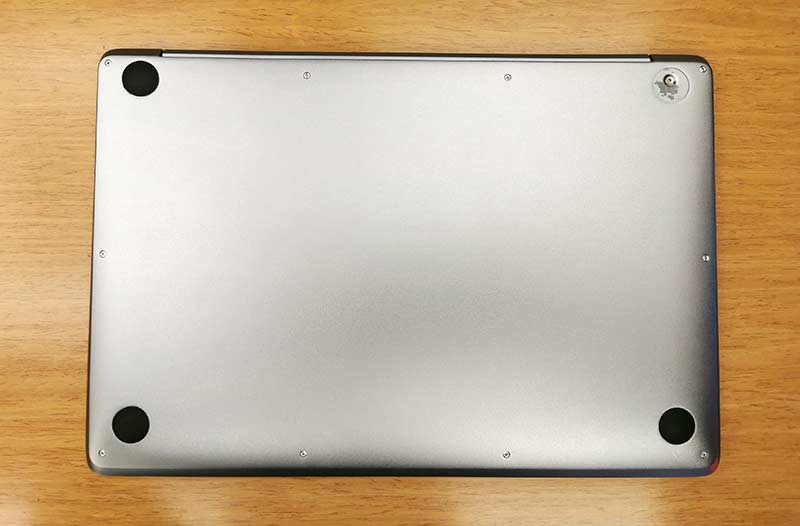 On the bottom are 4…or in my case 3 rubber feet. 🙁

On the left side, there's a full-sized HDMI port, a USB-C port, a battery charging status LED, USB-C port, and yet another USB-C port. There is significance to the ports. You have to use specific ports for different connectivity options – smartphone, Raspberry Pi, etc. Also, one of the ports is for charging the device itself using the included HUGE power brick, or any USB-C charger. Note that if you use another charger, it might not charge as quickly as the one that is included with the NexDock. or any USB-C cable and any USB-C PD charger (minimum 45W).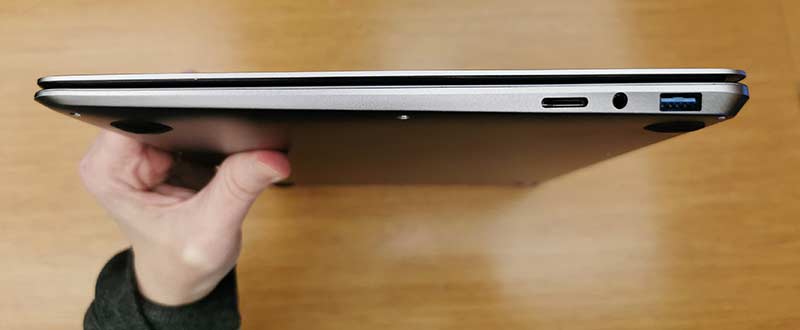 Flip the NexDock around to the other side and you'll see a microSD card slot, 3.5mm headphone jack, and a full-sized USB-A port. So when it comes to ports, the NexDock has more than some "real" laptops on the market (like my 12-inch MacBook for example!).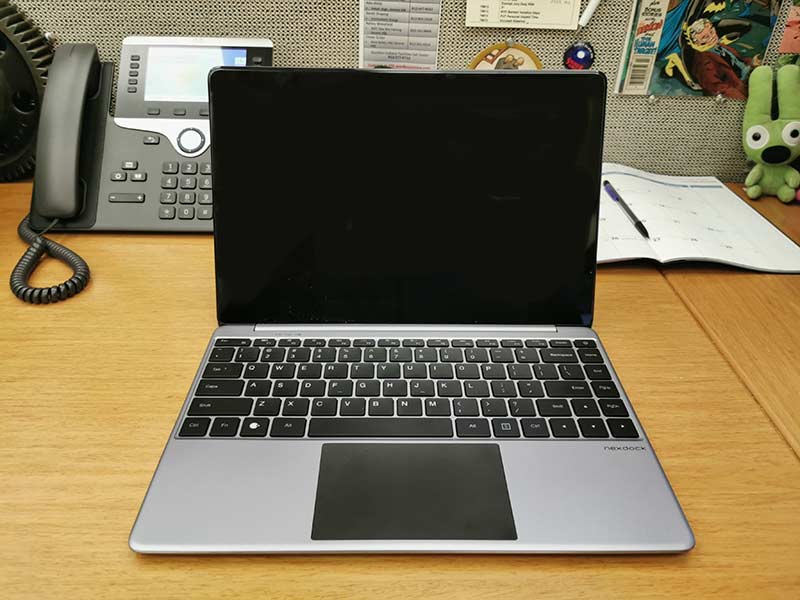 Opening the lid of the NexDock reveals the 13.3 inch display, keyboard, and trackpad.
The keyboard and trackpad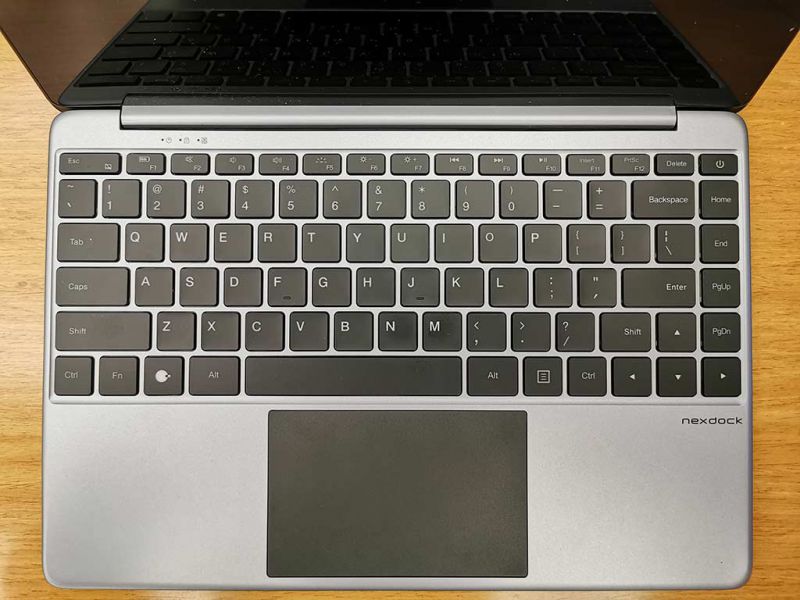 The keyboard is your typical laptop-style keyboard with flat keys. That said, I have found it comfortable to touch type on and I have had no issues with the layout of the keys.
I'm super picky when it comes to touchpads. I think that Apple makes the best ones and the NexDock's touchpad is similar to Apple's older touchpads in that the pad can be physically pressed on the left or right side to mimic a left or right mouse click. But that's where the similarity ends. The NexDock's touchpad has a matte surface that gives it a paper-like feel. I prefer a smoother surface because I think it makes it easier to scroll through long pages and across the screen when the pad is smooth. This touchpad works fine, I just don't personally love it.
Turn your smartphone into a laptop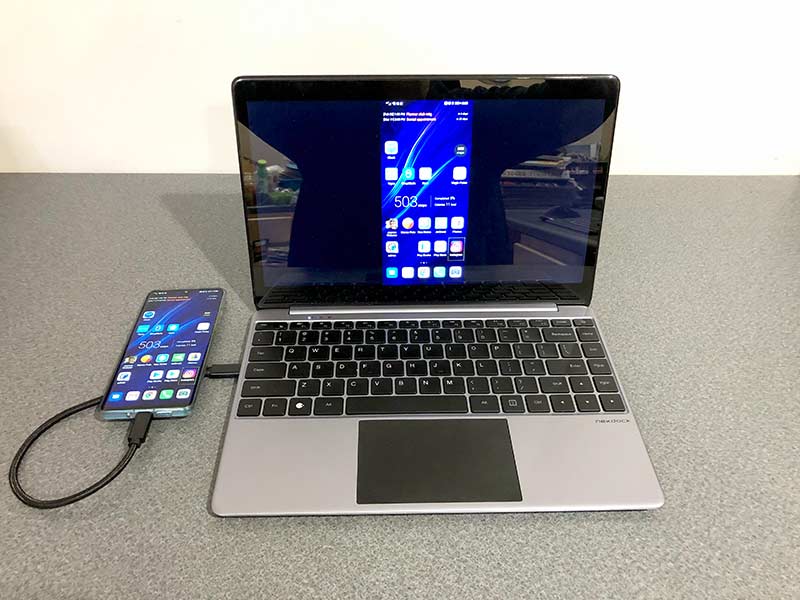 I did most of my testing of the NexDock with my Huawei P30 Pro. The NexDock also works with Samsung Galaxy devices that have the built-in DeX feature.
Connecting my phone to the NexDock is done with a USB-C to USB-C cable. Depending your device, you can use one of two display modes. You can use the Phone mode shown above, which just mirrors the phone's display and everything that you do on the phone will be shown on the NexDock's display. You can also use the NexDock's keyboard and touchpad to navigate and input data.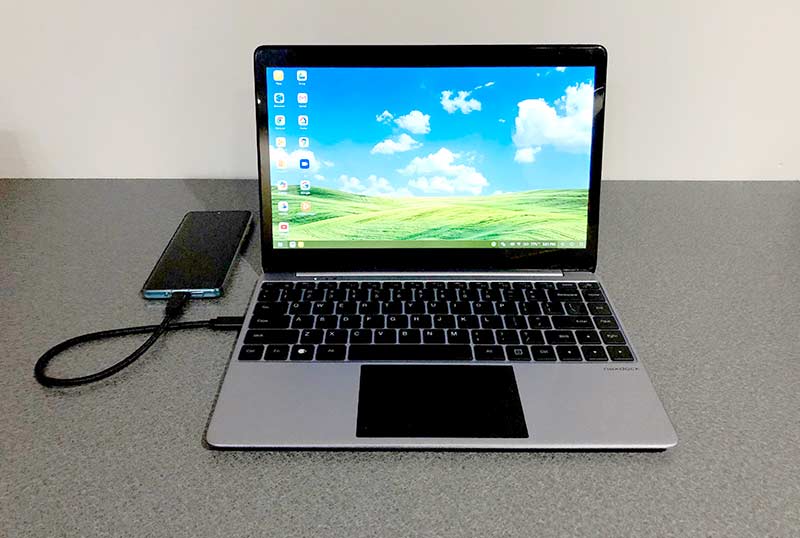 Most people will choose to use the desktop mode which is shown above. In this mode, your phone is effectively turned into a laptop as you are presented with a desktop-style interface.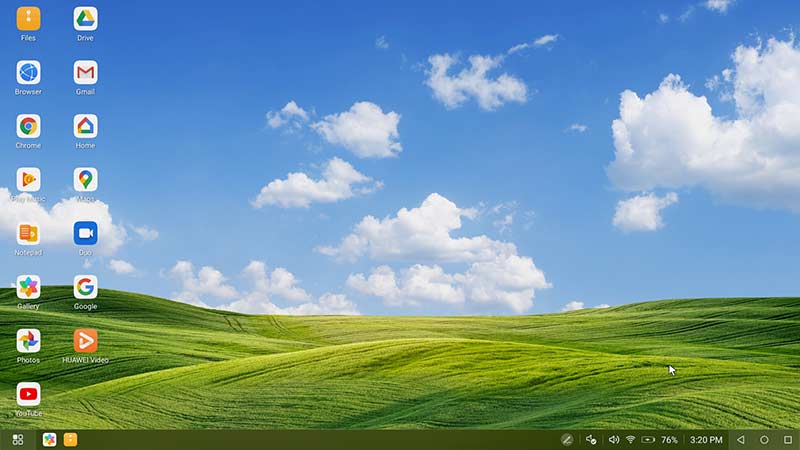 If you're using a Huawei phone, the interface might make you feel like you've traveled back in time to the days of Windows 98! Seriously though, with either Samsung or Huawei, the user interface is very similar to Windows or macOS with a taskbar, icons, and a notification area in the right corner.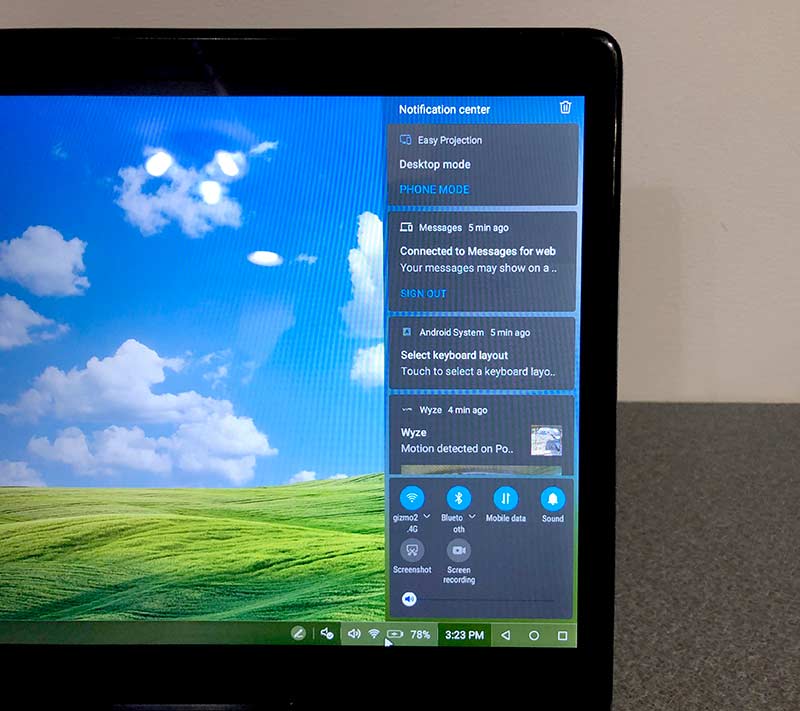 Clicking the notification area brings up the Notification center panel.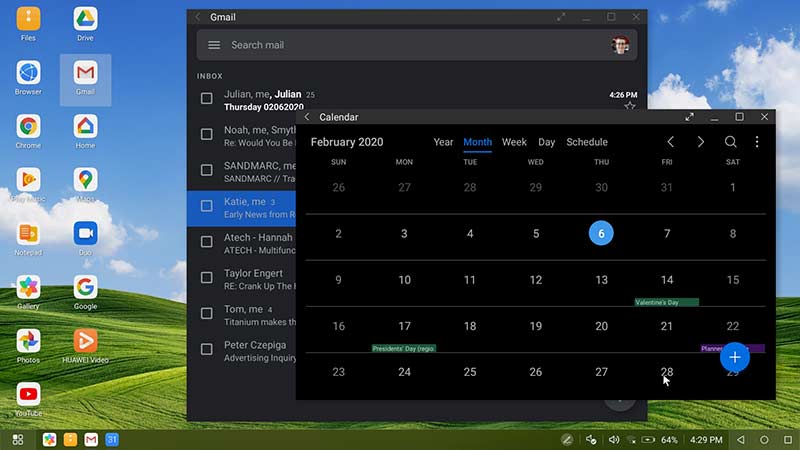 Most apps will launch in their own window but be aware that not all of the app windows are resizable. For example, Gmail, Google, Google Maps could be resized but other apps like Google Calendar, Instagram, YouTube, and others could not be resized.
As you can see, you can launch multiple apps at a time just like with Windows and macOS. Most app windows can be moved around, minimized, maximized to full screen, stacked, etc.
For the most part, the desktop interface works as you would expect it to work. But I did run into a couple of issues.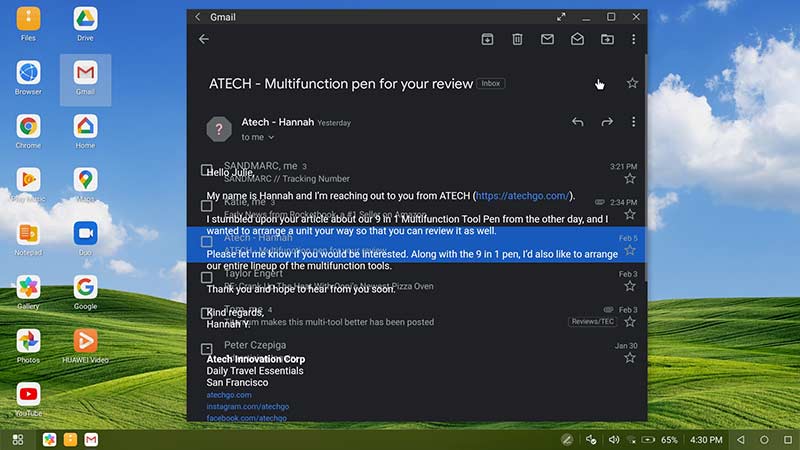 The first problem occurred when I was using the Gmail app to read my emails. As you can see in the image above, the text is overlapping. This does not happen all the time. I've used the same app other times with no issues. Here's a short video showing another graphical issue, this time with the Chrome browser flickering and a problem with the Chrome browser not bringing up webpages (note that I didn't have this problem with Firefox). The video also shows some basic functionality of the NexDock and the Huawei desktop mode.
Another issue I should mention is that even though I have the Netflix app installed on my phone, the app does not show up in the apps list in desktop mode while connected to the NexDock when it's in the full-screen desktop mode. But, if I switch to phone mode and launch the Netflix app on my phone and then turn the phone in landscape orientation, I can watch Netflix in full screen on the NexDock. Weird huh? YouTube and Hulu work fine in desktop mode.
I also realized that the Google Messages app also does not show up in the app list when you're in desktop mode using a Huawei phone. This one bummed me out more than the lack of Netflix.
I briefly tested the NexDock with a Samsung Galaxy Note 9 and had the same issue with the Chrome browser not bringing up webpages. However, the Netflix app did show up in desktop mode although it would not allow for full-screen playback. It would only show the movie in a small window. Switching to screen mirroring/phone mode on the Note 9 solved the problem just like with my Huawei.
The display, speakers, and battery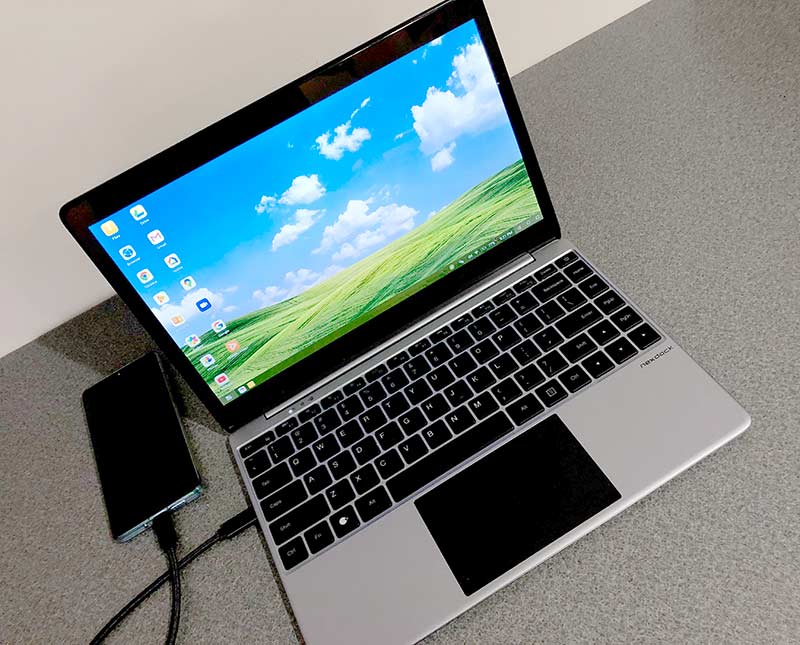 The 13.3 inch color display is bright, crisp, and vibrant, but it's not going to impress a MacBook user or anyone else with a fancy new laptop. It would be nice if there was some type of holder for your phone included as it just hangs off the NexDock with the USB-C cable.
As for the speakers, they are located at the front of the keyboard below the display. I found the volume level to be fine in a non-noisy area, but if you need a lot of volume, you might be disappointed. Even at the max setting, it didn't rattle the windows. At least on my Huawei, I had the option of running sound through the NexDock or through the phone.
Unlike some USB-C monitors that we've reviewed, the NexDock has to be charged. It has its own internal battery that is charged using the included USB-C adapter. The nice thing is that while your phone is connected to the NexDock, it's charging from the NexDock's batteries. I didn't do any all-day battery tests, but I played videos in full-screen mode using the YouTube app for an hour or more and the battery level of the NexDock only dropped about 5%.
What I like
No OS or firmware updates to worry about
Keyboard and a touchpad
Charges the phone's battery while it's connected
What I'd change
Power adapter is too big and bulky
Add a touch screen display
Make it lighter weight
Final thoughts
Having one device to rule them all is definitely a reality today with the NexDock 2. I know that this dream is not without some caveats depending on the device that you want to connect to the NexDock. The issues I had are not the fault of the NexDock, but are problems with the implementation of the EMUI (Huawei) desktop mode and DeX (Samsung). Even with these bugs/issues, I'm still really excited about the ability to use a device that has no fans and no OS that is just there to turn my phone and other devices like the Raspberry Pi into a laptop. If you've also been wanting one device to rule them all, the NexDock 2 is a great option, but one that I would recommend more for Samsung Galaxy users than Huawei users (at least Huawei P30 Pro users like myself).
Price: $259.00
Where to buy: NexDock
Source: The sample for this review was provided by NexDock.