We use affiliate links. If you buy something through the links on this page, we may earn a commission at no cost to you. Learn more.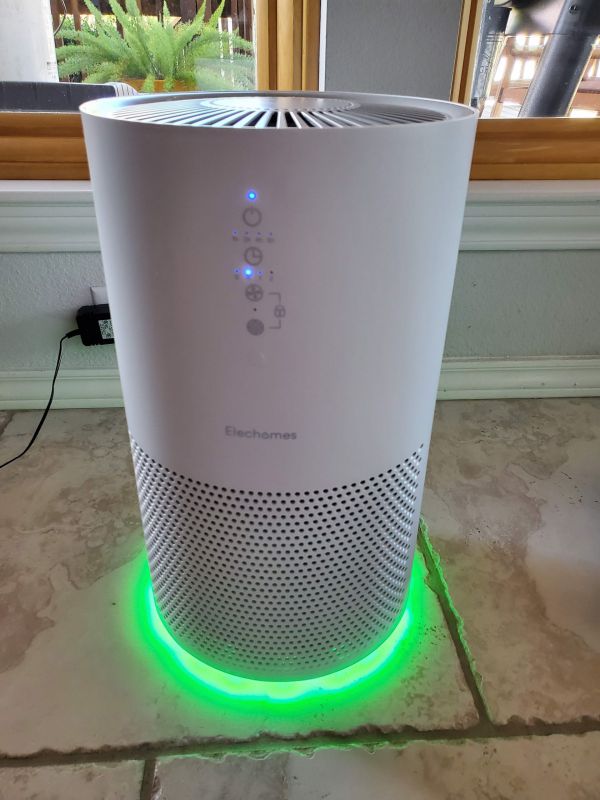 REVIEW – This time of year in South Texas is torture for allergy sufferers.  The cedar(juniper) trees choose this time of year to shed their millions upon billions of pollen motes across the hill country and south Texas.  We have had pollen counts in and near twenty-seven thousand for cedar where normal high pollen counts would be around three thousand.  In an effort to battle this and other allergens like dust mites, I have added air filters to my house.   When the Elechomes air purifier came up for review I jumped at it to see if it would make any difference in my house.  Read on to see how it worked out.
What is it?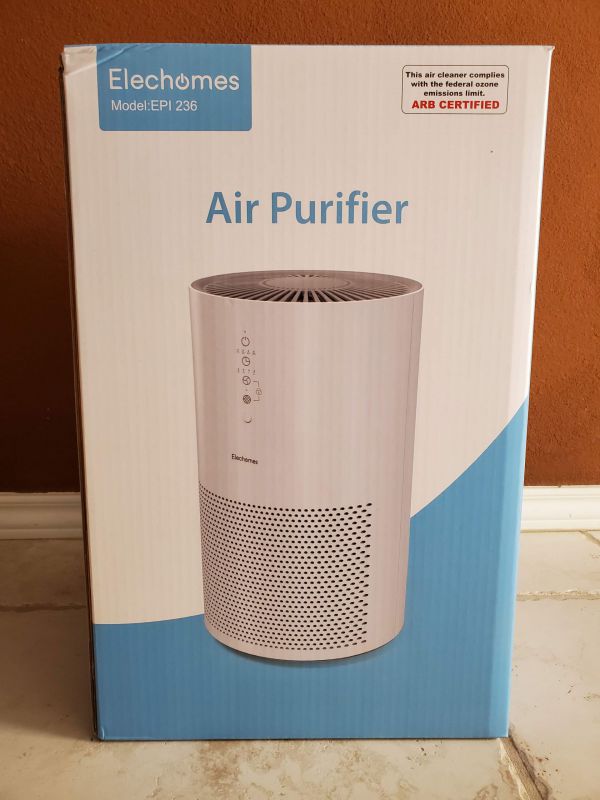 The Elechomes Air Purifier is exactly what it says it is.  It is a filter-based air purifier for your home.  It calculates the air quality and can speed up its fan for faster air filtration the worse your air quality is.
What's in the box?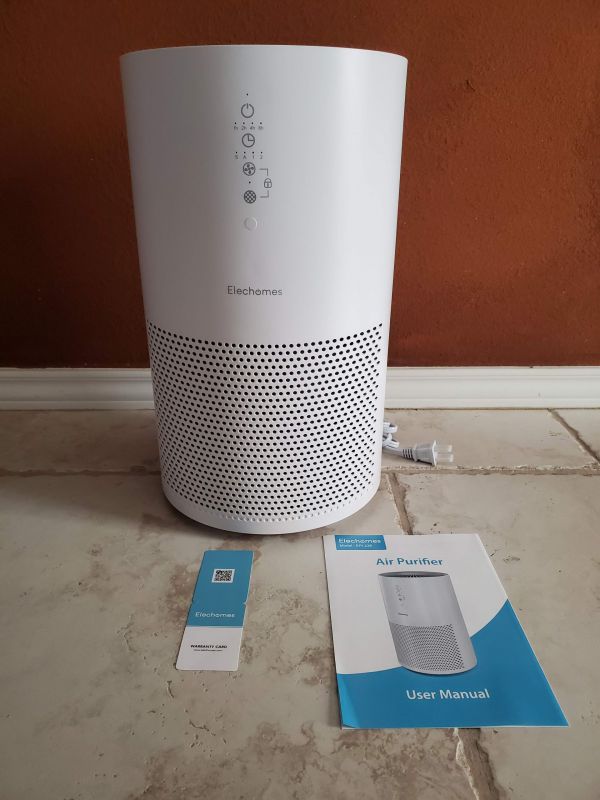 One air purifying unit – filter is inside the unit
One warranty card – promises 24 hour response time, 30-day money-back guarantee, 12-month replacement warranty, and lifetime support
One user manual
Hardware specs
3 LAYERED FILTRATION SYSTEM: Max filtration, better health! This air purifier is equipped with a pre-filtration system, true HEPA filter, and an activated carbon filter. This combo helps to trap up to 99.97% of airborne particles, down to as small as 0.3 microns.

SMART SENSOR: It's time to breathe fresh again! The smart particle sensor helps remove especially bothersome particles such as pet dander, pollen, and smoke.

BREATH BETTER AIR: With 2 air cleaning levels, a sleeping mode and an auto mode, this air purifier works for you day and night to provide quality air. It helps clean the air from pets or stale indoor air.

PURIFIES LARGE ROOMS: EPI 236 Air Purifier rated 220 m³/H, a fancy way of saying it can purify a space up to 280 sq.ft (26m²). Whether it's your bedroom, living room, garage workspaces or office, everyone will benefit from better air!

REPLACEMENT ALERT: To make sure your unit is always running at peak performance, an indicator light will flash to remind you to replace the filter. After replacing the filter, please press and hold the button for 3s to reset the filter alert.
Design and features
Setup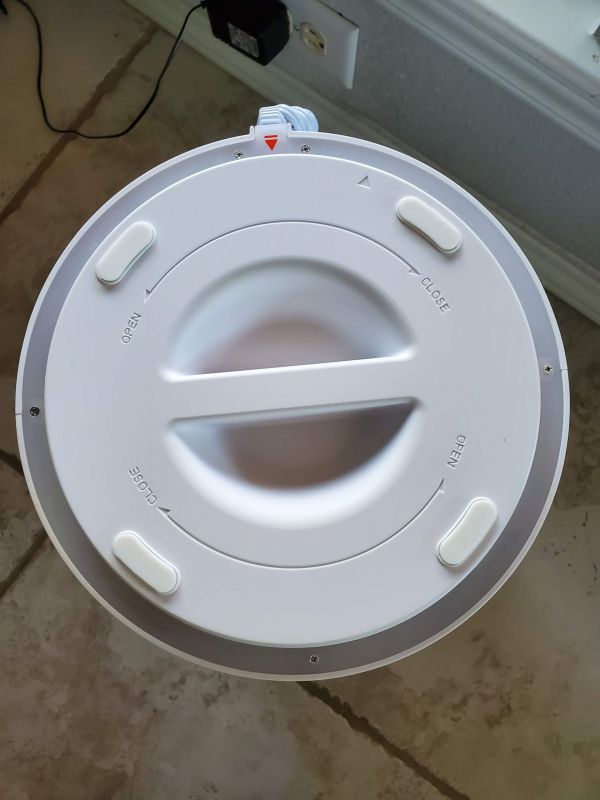 The picture above shows the bottom of the air purifier.  The top has a twist-off cap that will give you access to the air filter inside the unit.   Before starting up the unit you must remove the cap and remove the plastic bag from the air filter.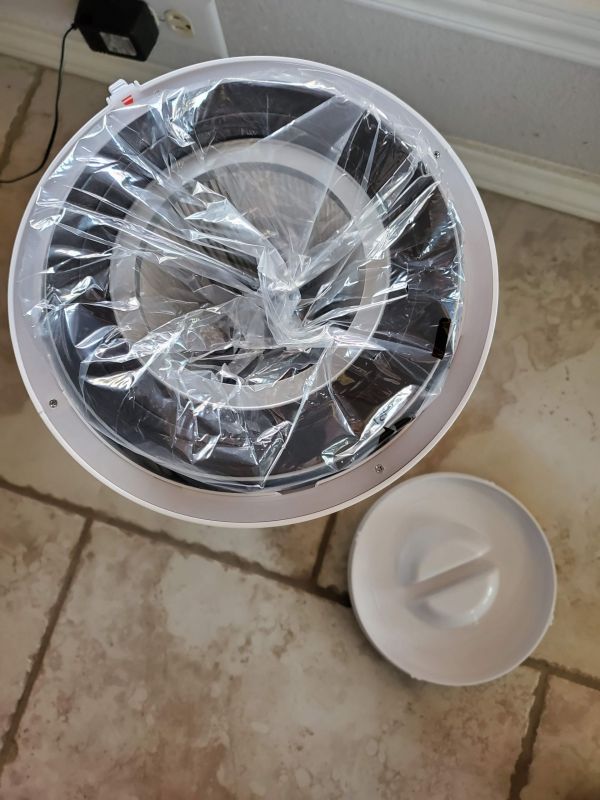 This is a picture with the top cap off and the pre-packaged filter inside the unit.  You can see that it is wrapped in plastic.  This plastic is used to keep the filter clean during transport.
Never miss one of our posts again. Sent MON, WED, and FRI with the latest gadget reviews and news!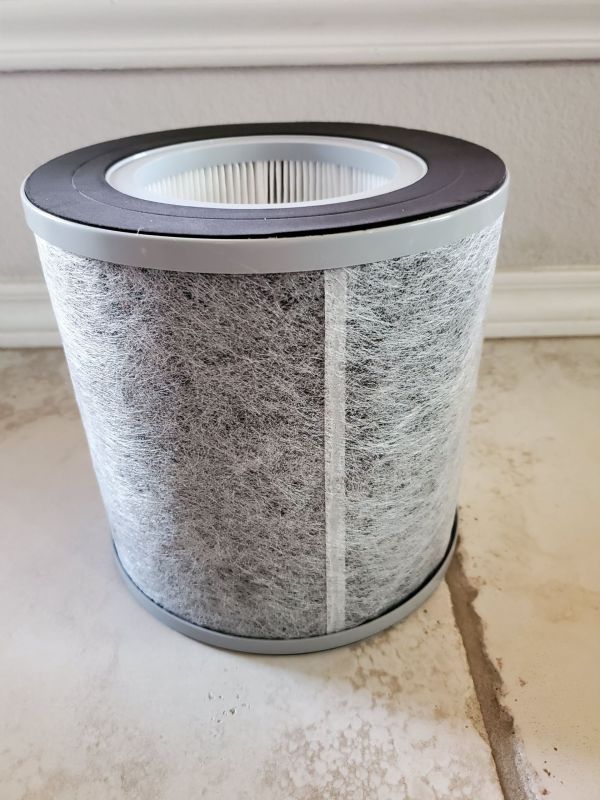 I took a picture of the filter itself.  You can see the black carbon in the filter which is supposed to capture 99.97 percent of the particles (down to .3 microns in size) in the air.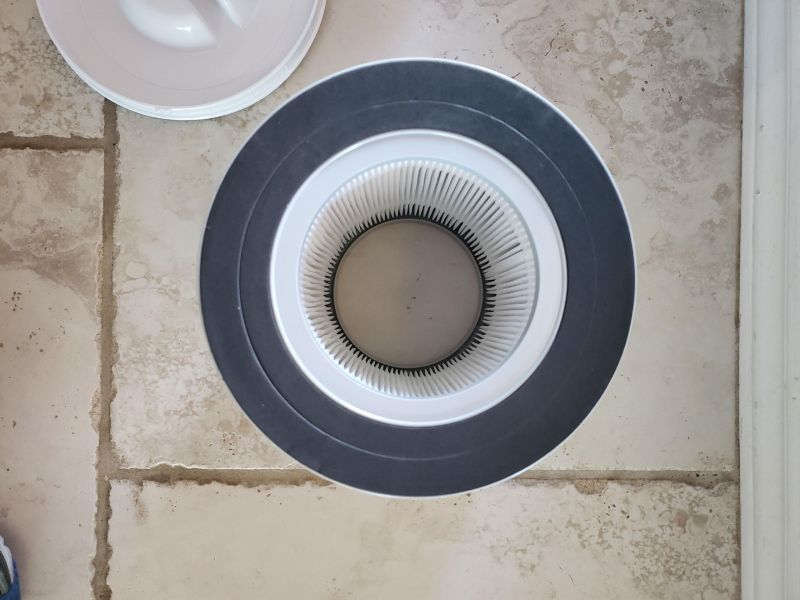 I removed the plastic wrap and put the filter back into the unit.  I then screwed the top cap back into place.  At this point, the unit is ready to plug in and go!
Performance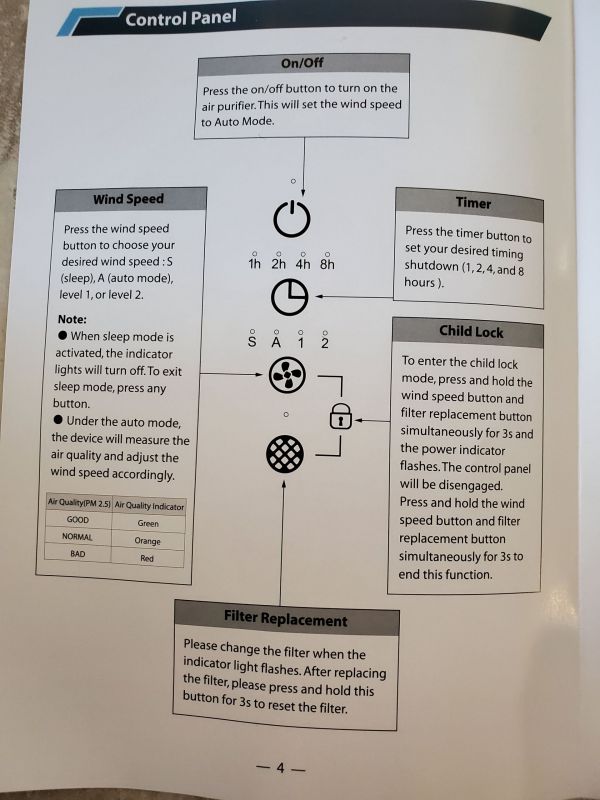 I took a screenshot of the manual describing the tasks of the few buttons the unit has.   The topmost button is simply the power button.  Pressing the button once turns the purifier on and puts it into auto mode.   The next button is the timer button.  Pressing that button each time sets the shutdown time anywhere from 1 to 8 hours.  The next button with the fan on it will allow you to manually set the fan speed.  The led light is lit on top of the letter A when you first power on the unit for automatic mode.  The letter S which is to the left of the A, is the sleep mode for the unit.  The last button has an indicator that will light up when it is time to replace the filter.   Once you replace the filter, you press and hold that button for three seconds to reset the filter indicator.   There is a nice feature called a child lock where if you press and hold the fan and filter button at the same time for three seconds it locks the unit.  That way if little Timmy starts pressing buttons, he won't impact the filter's actions.
One thing to note, the user manual states you should clean the filter twice a week.  You do this by using a vacuum cleaner and keep it 5 to 10 cm away from the filter.   That seems rather excessive to me.  Two other filters in my house recommend periodically cleaning the filters but not twice a week.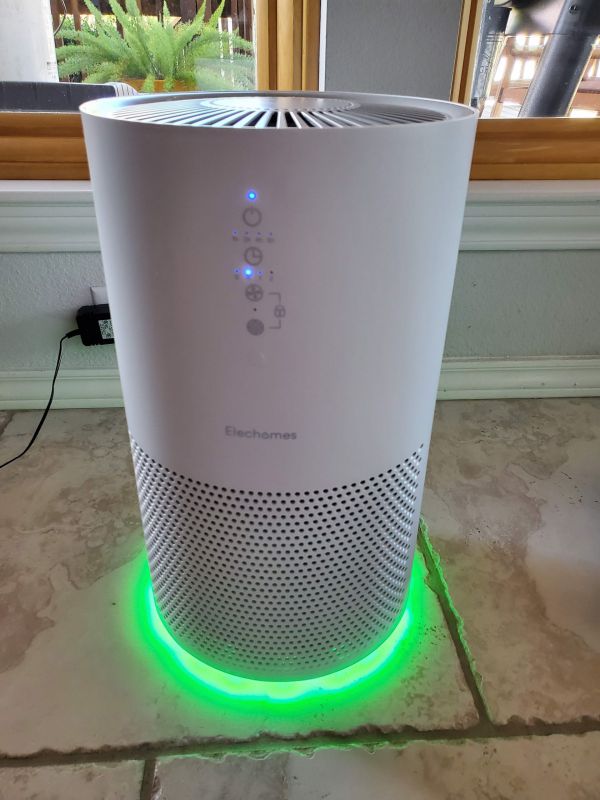 This is a picture of the filter running and showing that the air quality is good.   I have never seen the air filter show anything other than a green color.   I had another filter in my master bedroom.  I would notice that after both myself and my husband would finish getting ready in the morning, the air quality would drop according to our old filter's display.  I assumed that was due to the hairspray and other products we were using in the bathroom.   I replaced my existing air cleaner with this one.  When I unplugged my old filter it was showing the air quality was slightly poor.  The Elechomes just displayed the green color you see in the picture above.  As a test, I took a can of hair spray and sprayed it near the Elechomes.   The filter light immediately changed from green to orange and finally to red pretty quickly.  I think it may be a matter of it just not being as strong as an air cleaner as my older unit.  This unit is advertised as covering 280 square feet, and our master bedroom is right around 210 square feet with the master bathroom attached via a double door.  My older unit covered 1000 square feet.
This unit has a night mode, but you have to put it into night mode yourself.  If you do not, that lovely light you see in the picture above will shine all night for you.  I prefer a dark bedroom so this drives me crazy.  My older filter would recognize the change in light and go into night mode automatically.  I will have to get myself in the habit of putting it in night mode before going to bed, and turning it back to auto when I wake up.
When I had this unit near the kitchen it seemed to do an excellent job of clearing out cooking odors.  I cooked bacon one morning and purposely left the vent hood off to get the bacon smell going.   We left to run errands,  and when we came back a couple of hours later, I did not smell bacon at all.  That is a win in my opinion.
I am not sure how long the air filter will last.  The light will come on when it is time to replace, and replacement filters are running around $36 on Amazon.
What I like
It is a really nice looking unit.  Small and compact.
It is very easy to change the air filter.
Very quiet when running.
What needs to be improved
The manual states the filter should be cleaned twice a week.  That seems rather excessive.
The air cleaner won't go into night mode automatically based upon the level of light in the room.
Final thoughts
I think if you have a room where you don't mind the light of this unit being on, this filter would work just fine.  The whole having to clean the filter yourself twice a week seems a bit of a pain, but I really think it depends on your household and what you have in it.  We are currently pet-free, and checking the filter after a week, it does not seem like it has anything on it at all.  It seemed to work really well on cleaning out cooking odors.  Our house already had two existing air filters in place but the kitchen test I ran where I turned the other filters off had this unit working and performing well.
Price: $109.99
Where to buy: Amazon
Source: The sample of this product was provided by Elechomes