We use affiliate links. If you buy something through the links on this page, we may earn a commission at no cost to you. Learn more.

REVIEW – Let's get this out of the way right now. No soundbar—no matter how expensive or how great it sounds—will sound as good as two or more speakers paired with a subwoofer for watching movies on a large flat-screen TV. But before you write off the idea of a soundbar, there's good news. Every soundbar—no matter how inexpensive—will sound way better than a built-in TV speaker. 
So, then why would anyone consider a soundbar if they can purchase a more traditional speaker setup? In a word—simplicity. As an audiophile, I have to have music and movies sound as good as they can within my budget constraints. However, I'm in a tiny minority. Most people will be perfectly happy with something they can plug in and forget. That's where the Harman Kardon Enchant 800 All in One 8-Channel Soundbar makes sense.


What is it?
The Harman Kardon Enchant 800 is a soundbar that features what HK calls MultiBeam, an audio technology that mimics surround sound sans the extra wires and speakers. Google Chromecast (and Google Home) is included, as well as Wi-Fi, Bluetooth 4.2, Dolby Audio, DTS, and 4K via HDMI. A full-featured remote is also included.
Specs
Power: 180W peak; 90W continuous
HDMI Video In and out
Bluetooth: 4.2 with A2DP
Wi-Fi: IEEE 802.11b/g/n/ac (2.4G/5G)
Audio inputs:1 Analog, 1 Optical, Bluetooth, USB, Wi-Fi
Audio Channels: 8
Weight: 9.5 lb.
Dimensions (W x H x D): 33.8″ x 2.6″ x 4.9″
Woofer Size: 2″ X 6
Tweeter Size: 1″ X 2

In the box
Soundbar
HDMI cable
Optical cable
Aux cable
Power cable
Wall-mount brackets
Wall-mount installation guide

 

Remote Control
Quick Start Guide

Design and features
Soundbars are called that for a reason, they are (usually) bar-shaped—long and narrow. They are made to sit below the TV screen resting on a TV stand or mounted on a wall below a mounted TV. The exterior of the Harman Kardon Enchant 800 looks like many other soundbars. It's attractive in a business-like way not calling attention to itself. It's covered in a seamless speaker cloth that runs the length of the speaker (34″).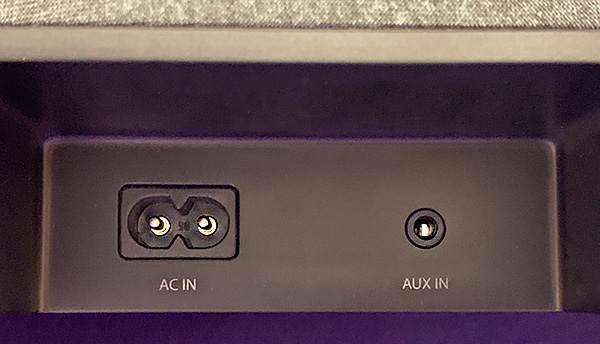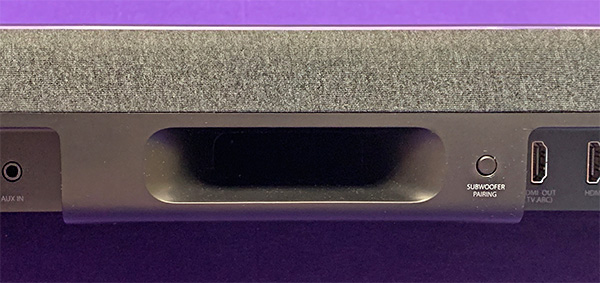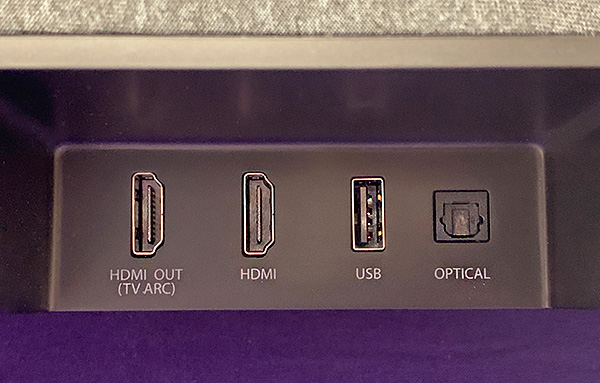 The Enchant 800 has six woofers, two left, two right, and two center as well as two left and right horn tweeters and one rear bass port. The port allows more air movement inside the soundbar for added bass impact. The center woofers can be reused for either left or right channels if desired. As I said, the speakers inside the Enchant 800 can and will blow away any built-in TV speaker.
Taking the Enchant 800 out of the box and setting it up is an exercise in simplicity. There are a few connection options available: HDMI, AUX, Bluetooth or optical. The Enchant 800 will work with Google Chromecast if that's your smart home method. 
The Enchant 800 can be used as a Bluetooth speaker for an iPhone or other BT source. And what a Bluetooth speaker it is! Music sounds detailed—although a bit sensitive to recordings with an emphasis on higher frequencies. Those kinds of recordings come off as harsh-sounding at higher volume. Lowering the volume helps alleviate the issue. 

In keeping with the spirit of the simplicity of the soundbar, I kept my setup just as simple. I connected my Blu-ray player to the TV via the included HDMI cable. Then I connected audio via an optical cable (also included) from the TV to the Enchant 800 Soundbar. Done! I didn't opt for other connections (except for Bluetooth mentioned above) like ethernet or USB because it wasn't necessary for my needs. Again, I took the simple route.
Let me digress a bit here. I initially tried connecting the Enchant 800 through my receiver, so I could still use my surround setup and switch back and forth. Bad idea. After a couple of frustrating hours, I finally questioned why I was bothering? It should be either a soundbar or more traditional speaker setup—not both. So, I gave up and disconnected the speakers, connected the Enchant 800 and all was good.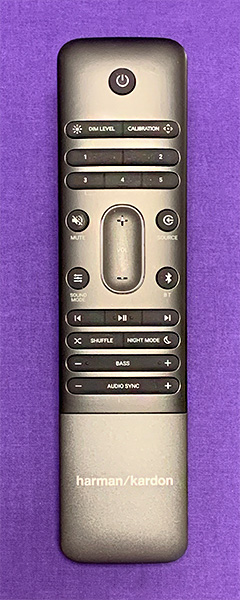 Once connected, I set the Enchant 800 audio output to optical (matching the cable used). I did this with Harman Kardon's wonderful remote. After using many badly designed remotes with expensive gear, HK deserves kudos for getting their remote right. It's solid, balanced and feels just right in the hand.
I spent my time with the Enchant 800 Soundbar watching movies that utilized big sound, such as StarTrek and Star Wars films. My goal was to test audio quality and the MultiBeam surround feature Harman Kardon touts. I also played a DVD audio 5.1 surround mix of The Beatles "Love" soundtrack from the famous Cirque du Soleil show.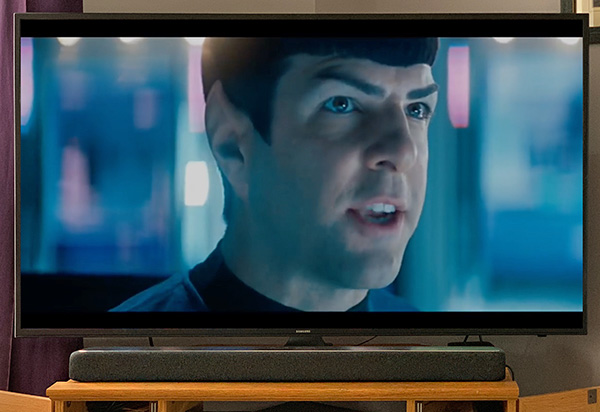 Using the Enchant 800 Soundbar for movies is plain fun. I was able to crank the volume to high levels which enhanced the action scenes quite a bit. One reason I like quality audio with movies is because sound can make the picture seem larger than it is. Our 60 in. flat screen feels bigger because of the Enchant 800's powerful sound. It's a mind trick, but it works. Explosions and weapon fire in the action scenes had impact and sounded realistic. Granted, a subwoofer would have helped (subwoofers always help), but I never felt like I was being cheated on bass. 
Note that Harman Kardon offers a matching subwoofer for both the Enchant 800 and larger 1300 Soundbars. However, it costs $600, effectively doubling the price of the Enchant 800 Soundbar.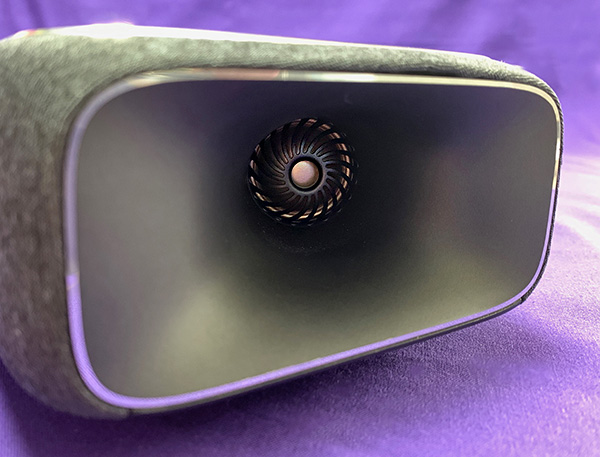 Where I did feel a bit cheated was with surround sound—or a lack of it. Harman Kardon's MultiBeam faux surround won't fool anyone that it's real surround. It's been a bit oversold. However, what MultiBeam does do is make the audio sound spacious for both movies and music—way more than a single sound source should be capable of doing!
What I like
Build quality
Decent bass without a subwoofer
Spacious sound
What I'd change
Better faux surround

 

Less harshness at high volumes (with music)
Expensive

Final Thoughts
Ironically, it's my wife who—while complaining that the soundbar does not sound as good as our four speakers with subwoofer surround setup—provided justification for purchasing a soundbar. She appreciates the result of having multiple speakers paired with a receiver but has no idea how to set that up. Traditional speaker setups are complicated at best. The Enchant 800 Soundbar took all of 10 minutes to unbox and turn on. Period. It would have taken even less time, but I had to stop and take photos for this review.
While Harman Kardon offers soundbars that cost even more—the Enchant 800 Soundbar is still quite expensive at $600. However, it's built like a tank, sounds great and vastly improves the audio for TV shows, movies or even YouTube videos. That's gotta be worth something.
Price: $599.95 US
Where to buy: Amazon
Source: The sample for this product was provided by Harman Kardon.