We use affiliate links. If you buy something through the links on this page, we may earn a commission at no cost to you. Learn more.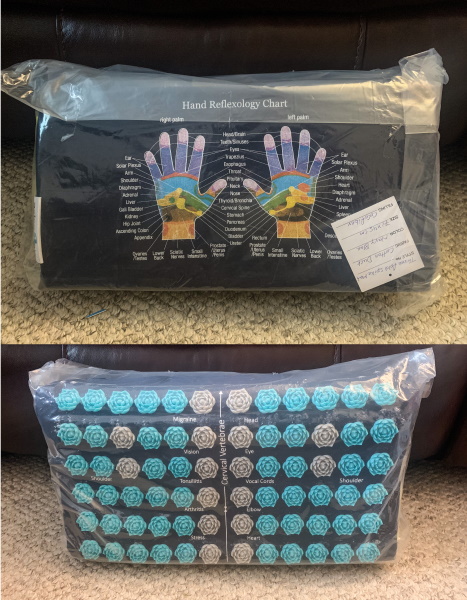 REVIEW – Almost weekly I have a conversation with one person or another who complains about back pain and pains in other parts of their body. I can relate because quite frequently, I suffer from aches and pains in my lower back. Over the years I have tried several products both medicinal and therapeutic in search of some relief. I have heard about acupuncture and the suggestion that it provides relief, but I have never tried it because the thought of someone putting a large number of needles on/in my back is not enticing. The GoRelax Stress Relief Acupressure Mat is designed to provide the same type of experience and relief, and since I can use it at home, I do not have to muffle any screams or hide any facial expressions that may be the result of any unpleasant interaction.
What is it?
The GoRelax Stress Relief Acupressure Mat harnesses the power of deep touch stimulation to help increase blood circulation and reduce muscle tension. It helps relax the nervous system by replicating the feeling of getting a massage.
What's in the box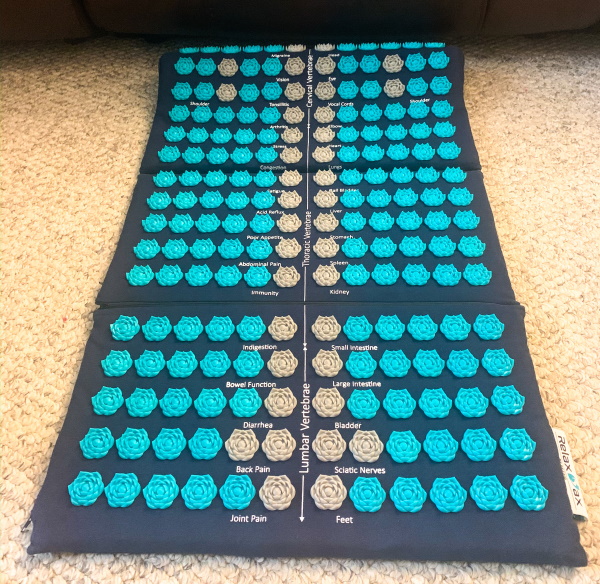 1 x GoRelax Stress Relief Acupressure Mat
Design and features
The mat is made of a cloth-like material with nice padding inside, and when laid out flat is measures approximately 18 inches wide and 29 inches long. When folded to be portable, it measures approximately 18 inches wide by 9 inches long and depending on how well you fold it, it is about 4 inches thick.
On the main surface, there are 192 Stimulators that provide the acupuncture-like experience. GoRelax refers to them as Lotus Stimulators. There are also written labels in each section that show what parts of the body are affected when your back is on the mat.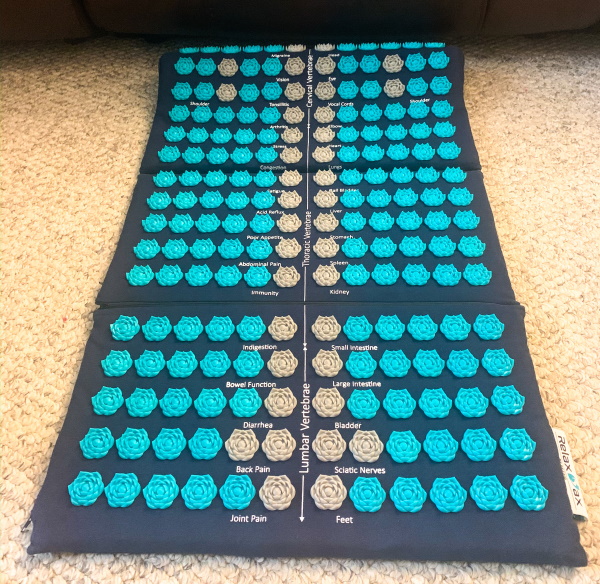 On the flip side, there is an elastic band in the middle for securing when folded, and hand and foot Reflexology charts on each end.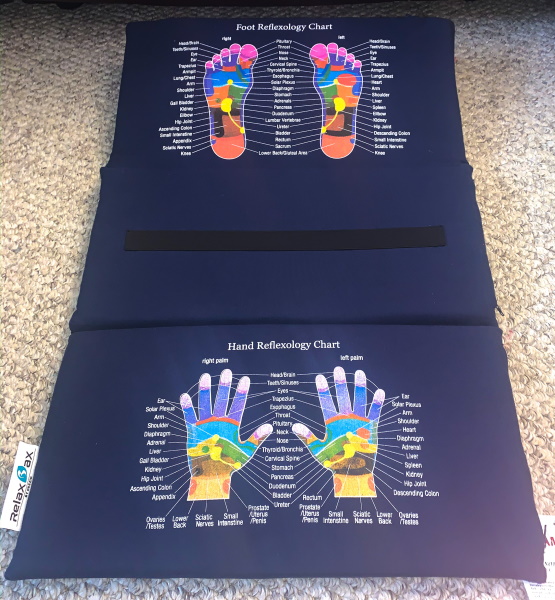 Performance
So let's start with GoRelax's claim: "When you lay on GoRelax, the muscle tension on your back yields to the pressure generated by the lotus simulators. It enables muscle fibers to elongate and relax, blood to flow freely, and endorphins (natural pain-relieving hormones) to be released. With high endorphin levels, we feel less pain and fewer negative effects of stress."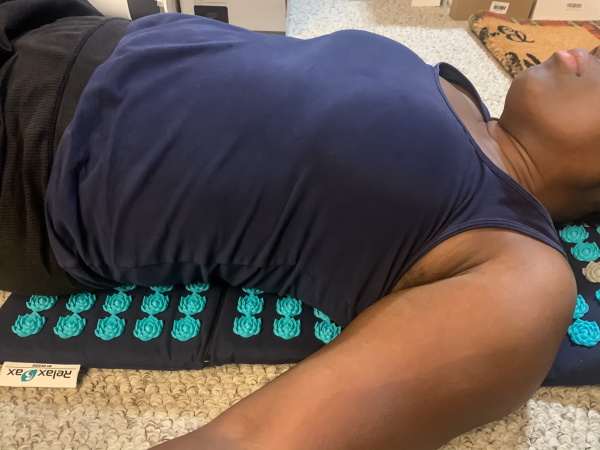 Both my wife and I tested this mat with different opinions and impressions. My wife tried lying on it on her back a few times, but could not seem to get past the initial discomfort of the needle-like experience that the stimulators provide. For me it was different. I do experience the initial discomfort, but after enduring it for a while, my back becomes used to it and I can literally lie on it indefinitely. I have to admit that whenever I use it, I get up feeling quite good and without the aches and discomfort in my lower back that I was experiencing when I first lie on it. So for me, it works. I should also say that I do lie on it much longer than the suggested 15-minute sessions.
It is evident, that this mat can be used in ways other than for your back. I have seen illustrations of yoga poses on it as well as standing on it. While I am able to endure the initial discomfort of standing on it, my focus has been for my back and the relief it provides.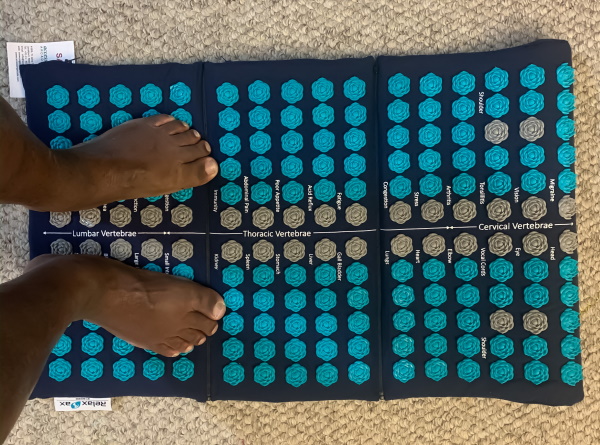 What I like
The simple design
The materials used
The relief provided for my back
The portability
What I'd change
A storage bag rather than the elastic strap
Final thoughts
The GoRelax Stress Relief Acupressure Mat is a very interesting device. I am not sure that I would liken the experience to a massage, but I will say that once you can get past the initial discomfort of the Stimulators, and please understand that for some this may be difficult, it really leaves your back and the muscles in your back feeling great. It certainly relieves my back pain. If you are used to acupuncture which I have never experienced, I would assume that using this mat would be like a walk in the park for you. If you have not, then it will take some getting used to and some perseverance to keep trying it. For me, and my experience, it gets a nicely done and for those of you who remember the TV series "Hunter", I would say it "works for me!".
Price: $79 (Preorder)
Where to buy: Indiegogo Indemand
Source: The sample for this review was provided by GoRelax.