We use affiliate links. If you buy something through the links on this page, we may earn a commission at no cost to you. Learn more.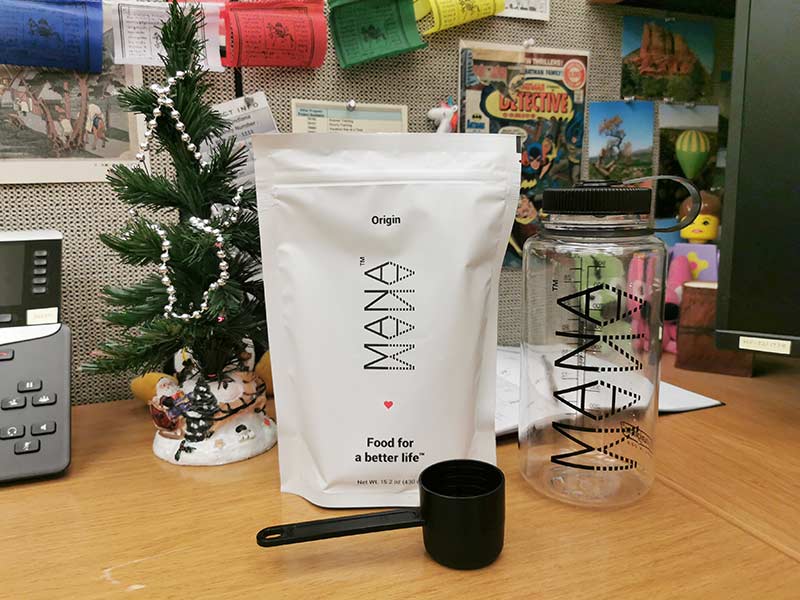 REVIEW – The meal replacement food category is one that I'm very interested in because I like the convenience and nutrition that these products have over eating out of a vending machine or fast food takeout joint. The newest meal replacement shake mix that I'll be telling you about today is Mana. It's been a popular product in Europe but it is now available here in the US and we're the first to check it out.
What is it?
Mana is a plant-based, vegan, low glycemic index, high protein, and low sugar powdered mix that provides the nutrition of a full 400 calorie meal in a 300ml/10oz shake.
Ingredients and nutrition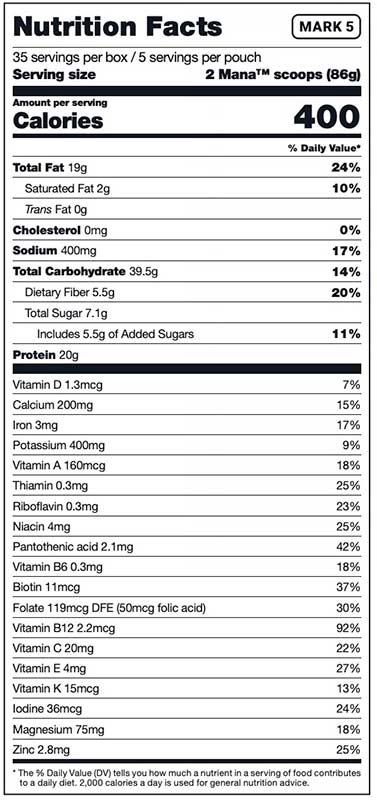 Ingredients: Maltodextrin, soy protein isolate, canola oil, isomaltulose, oat beta-glucans, soy lecithin, algae oil, coconut oil, sunflower oil, acacia gum, sodium chloride, potassium chloride, calcium carbonate, magnesium oxide, zinc oxide, potassium iodate, xanthan, flaxseed oil, sucralose, vitamin A, thiamin, riboflavin, niacinamide, pantothenic acid, vitamin B6, biotin, folic acid, vitamin B12, vitamin C, vitamin D2, vitamin E, vitamin K1, ascorbyl palmitate, mixed tocopherols (vitamin E), natural and artificial flavors.
I've marked and linked some questionable ingredients in red. I'm not saying that these ingredients are bad for you, but a couple of them (soy protein isolate and sucralose) aren't something I want to include in every meal that I eat. I had breast cancer, so I'm a little skittish when it comes to eating a lot of soy, and my body doesn't like artificial sweeteners like sucralose. They make my joints hurt after it builds in my system.
Taste and texture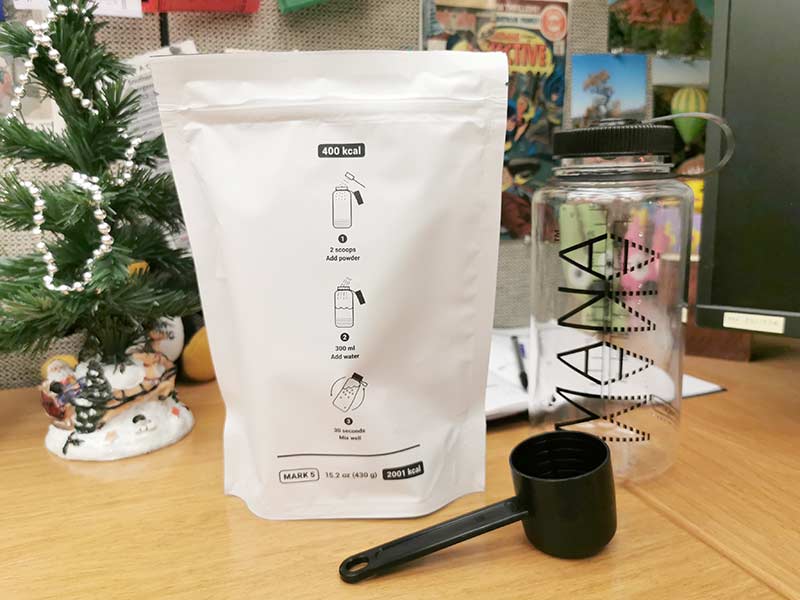 When it comes to mixing up a shake, it's quick and easy. You don't even need a bottle with a shaker ball because it mixes better than other shake mixes I've tried.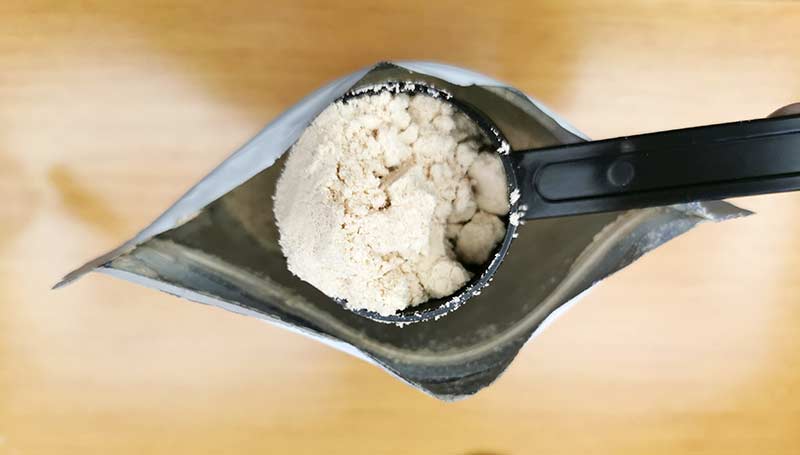 The powder is also "stickier" than other meal replacement shake mixes I've reviewed. I think that's due to the oils in the mixture that are used for good fats.
To make a shake, you just put 2 scoops of the Mana powder and 300ml / 10 ounces of cold water in a bottle and shake it up.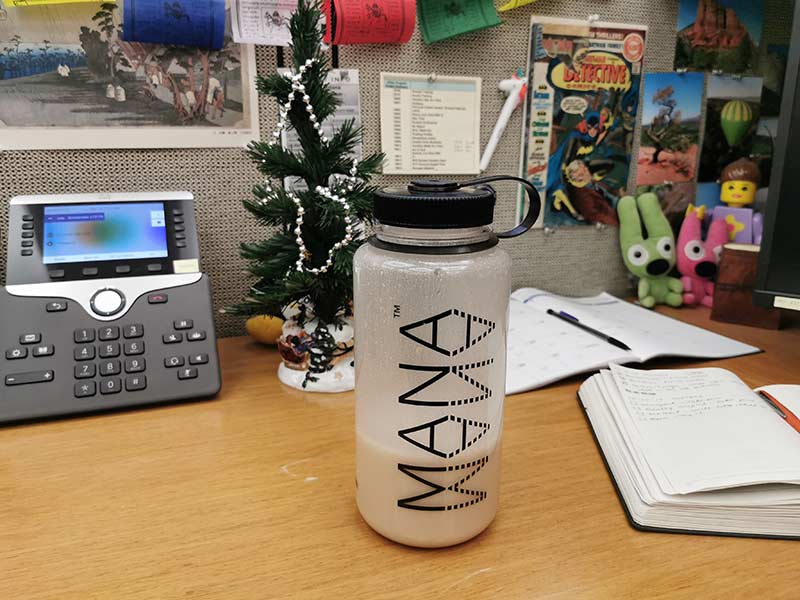 I like to put the meal replacement shake in the refrigerator for an hour or longer to make sure it's good and cold and that the powder fully dissolves. This isn't a mandatory step as the Mana powder mixes very well with just 30 seconds of shaking. But I think that letting it sit helps it thicken up slightly which I prefer.
The texture of the shake is smooth and not gritty or sandy like shakes that use pea protein. Mana uses oat and soy protein which gives it a creamy texture.
As far as taste, the Mana Origin shake mix (they also offer 3 other flavors which they didn't send me to try because only the vanilla is currently available here in the US) reminds me of very lightly sweetened vanilla cake batter. The flavor is mild and not very sweet at all… in fact, I add a packet or so of stevia to make it sweeter because I have a sweet tooth.
The flavor is so neutral that it makes it perfect for customization. I've tried it with a tablespoon or two of cocoa powder and even put it in a blender with a few frozen berries. It works well and tastes good – to me.
Just be warned that like other meal replacement shakes, if you switch over from solid foods to 100% liquid foods, that you may experience some side effects that will bother you and those around you until your system gets used to the change 😉
A 400 calorie serving of Mana made me feel full and satisfied after drinking it, but I've found that I feel hungry sooner than I do with other shakes that I've tested.
What I like
Affordable
Neutral flavor
Smooth texture
What I'd change
Switch sweetener to stevia
Final thoughts
Even with the ingredients that I mentioned above, I enjoy drinking Mana. I like the neutral flavor, the fact that it has a smooth texture and that it has a lot of vitamins. It's also one of the most affordable meal replacement shake mixes that I've reviewed so far. You get 7 pouches of Mana for $69.00 (shipping is free) which is equivalent to 35 meals if you want 35 400 calorie meals. That works out to less than $2 per meal which is hard to beat. If soy and sucralose aren't an issue for you and you are interested in trying a meal replacement shake, you should definitely give Mana a try. Be sure and let me know what you think of it if you do.
Price: $69.00 / 35 meals / $1.97 per meal
Where to buy: Mana
Source: The sample for this review was provided by Mana.