We use affiliate links. If you buy something through the links on this page, we may earn a commission at no cost to you. Learn more.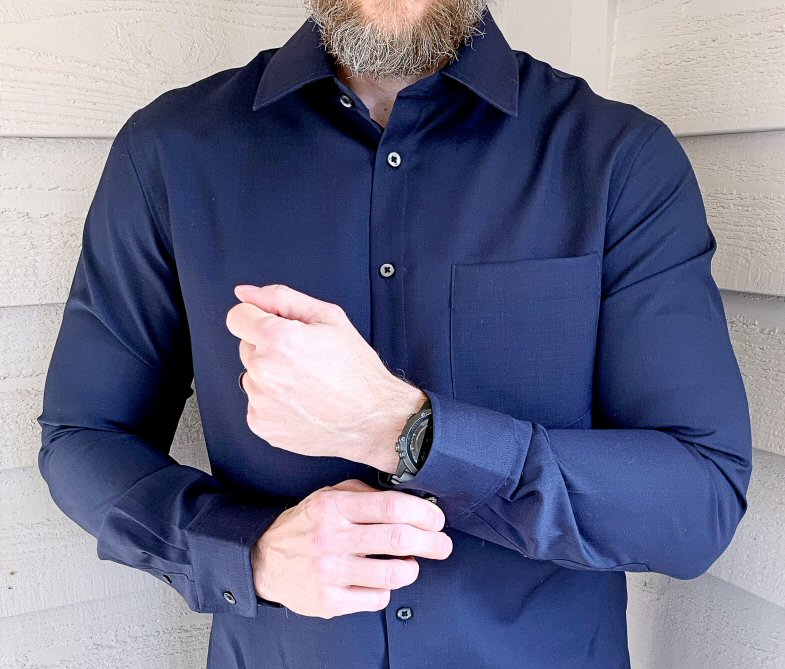 REVIEW – As a fairly frequently work traveler I am both a proponent and practitioner of "one bag travel," reduced the items I carry to all fit into my GORUCK GR2 rucksack for up to a 10-day, multi-destination European trip.  Getting to this point necessitated experimenting with items, especially clothing, that could serve multiple purposes and require minimal care.  Because of this, the Libertad Merino Travel Shirt immediately piqued my curiosity.  A travel shirt made of Merino wool?  Let's check it out.
What is it?
Libertad Travel Shirts are made of 100% Merino wool fabric that is designed and styled for travelers.  These shirts began as a successful Kickstarter campaign which helped Libertad launch them as a stand-alone product.
What's in the box?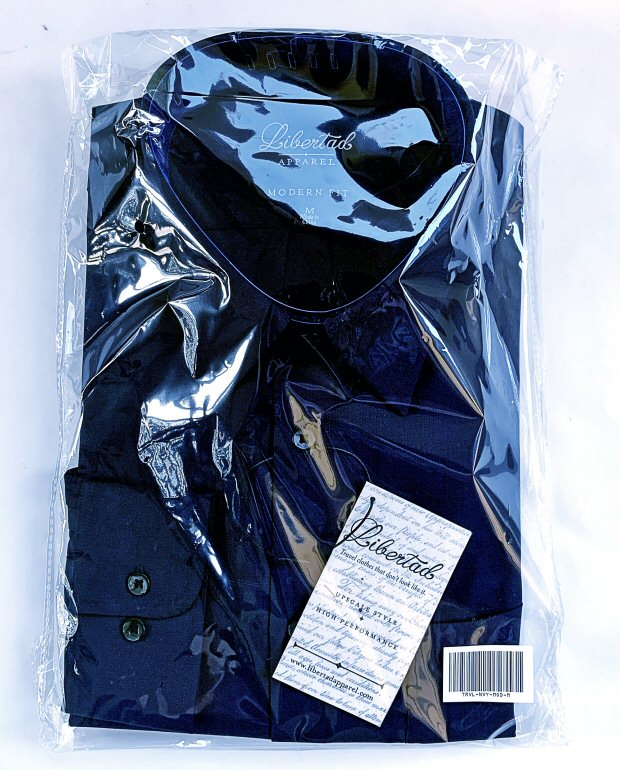 The Libertad Travel Shirt arrived in packaging that is fairly standard to men's dress shirts.
Hardware specs
Fabric = 100% woven Merino wool, 130 grams per square centimeter weight
Options
Styles – Libertad Merino Wool Travel Shirts are produced in the following styles:
Long Sleeve Single Chest Pocket $139.00 (pictured here)
Long Sleeve No Chest Pocket $139.00
Long Sleeve Double Chest Pocket $149.00
Short Sleeve $119.00
Colors – All of the above styles are produced in the following colors:
Italian Navy (pictured here)
Parisian Blue
Sharkskin Gray
Black
Sizes – Additionally, all of the above styles and colors are produced in the following sizes:
Fits – And finally, each of the above is available in the following fits:
Modern (pictured here)
Classic
Design and features
My first impression of the Libertad Merino Travel Shirt was, This can't be a travel shirt.  It's way too nice.  It looks and feels like a high-end dress shirt.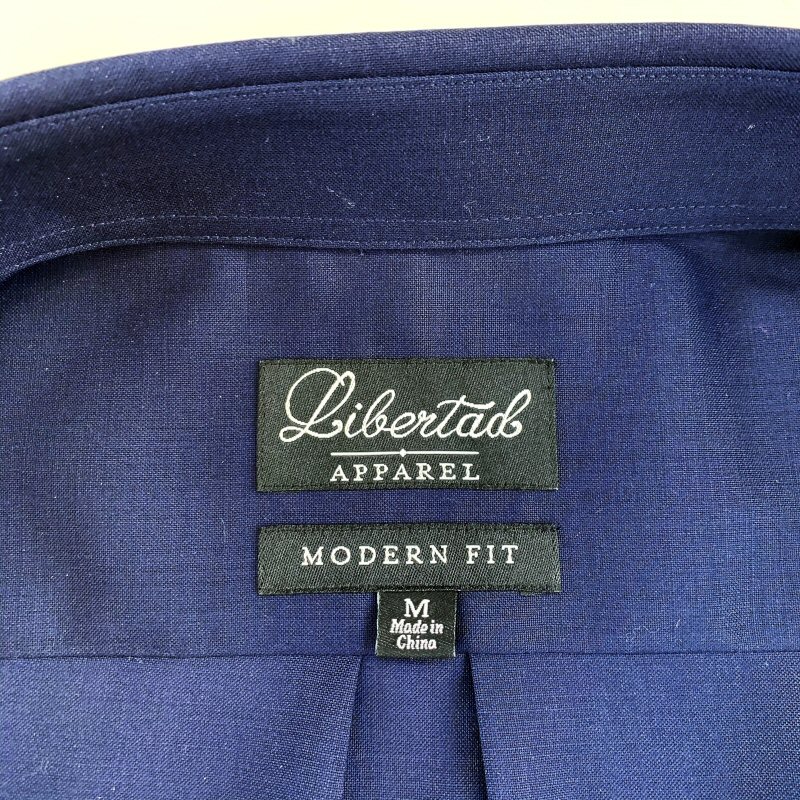 Libertad produces shirts in both a Modern Fit, which I requested and Classic Fit.  More on this below.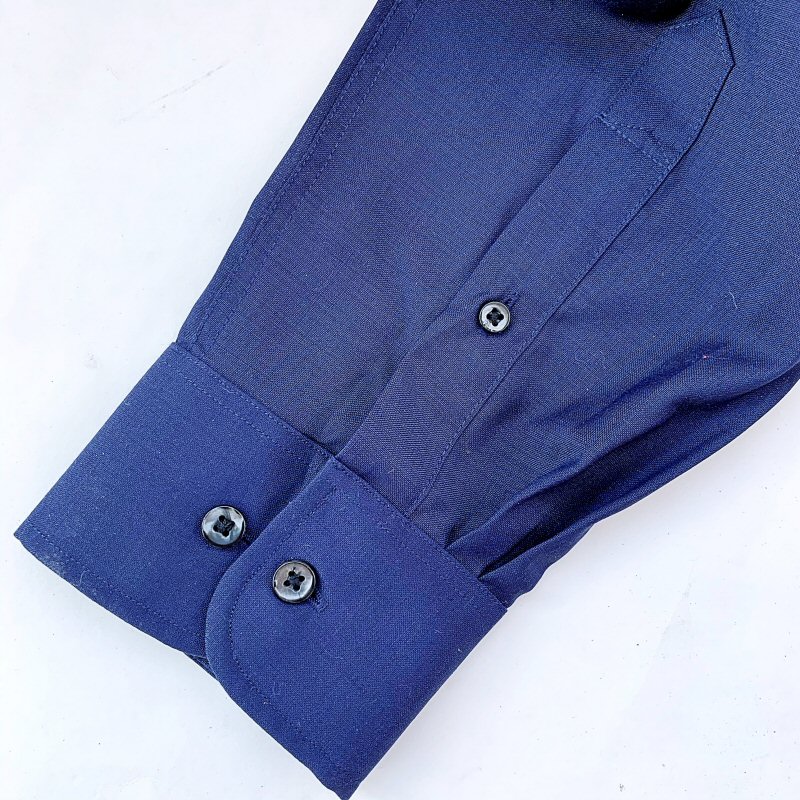 This shirt has several subtle but useful features. One of these is two-button, adjustable cuffs.  This allows you to adjust the cuff to be slightly narrower or wider at the end depending on your preferred fit without requiring a tailor to alter the sleeve length.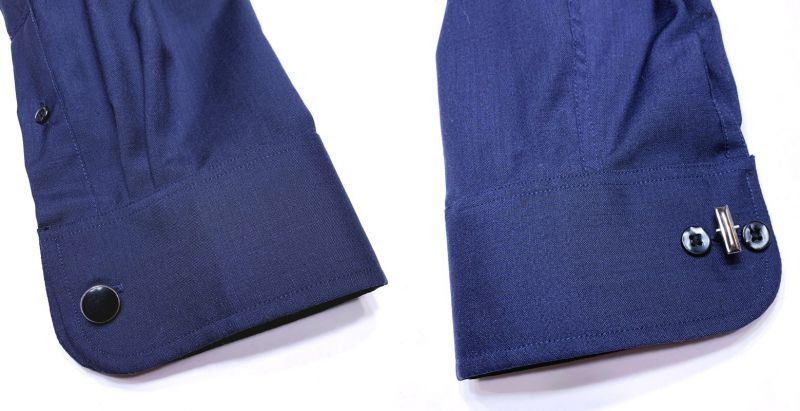 Another feature of the sleeves is convertible cuffs, which gives you the option to use cufflinks.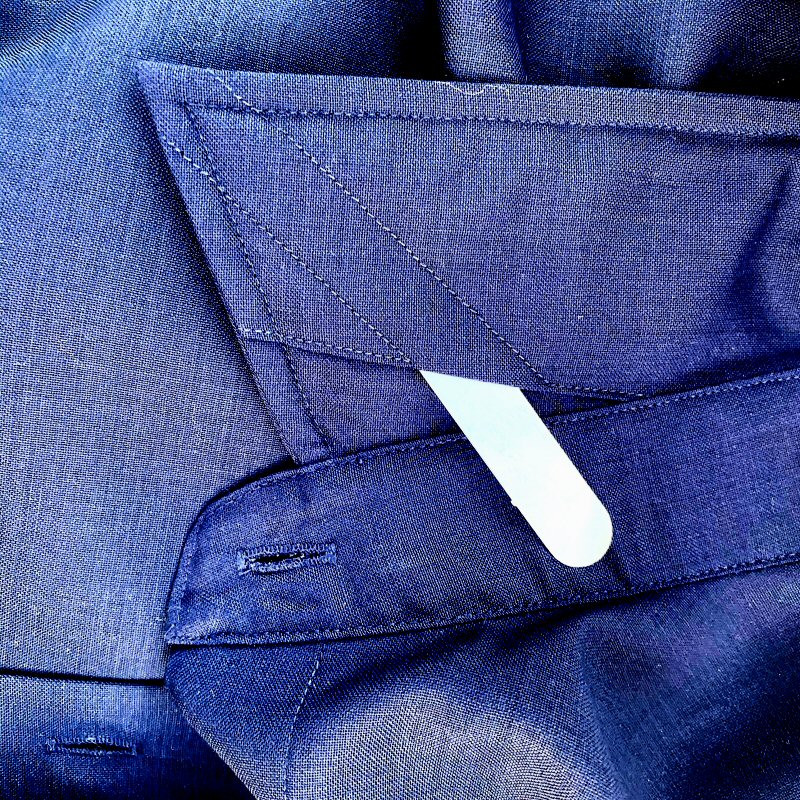 Each collar includes a removable plastic collar stay.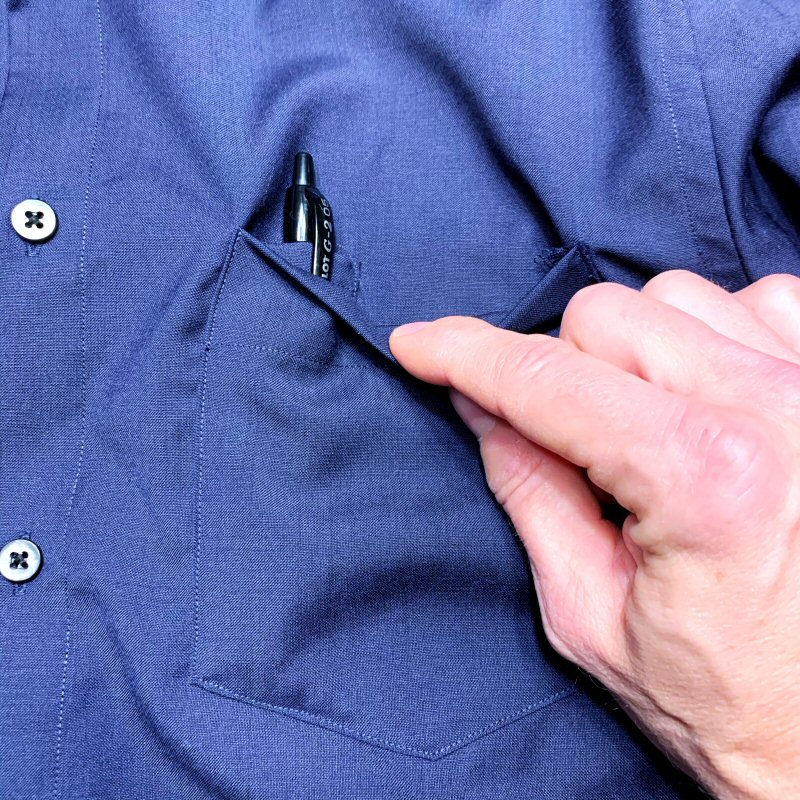 One of the subtle features is a small pen pocket hidden inside the chest pocket.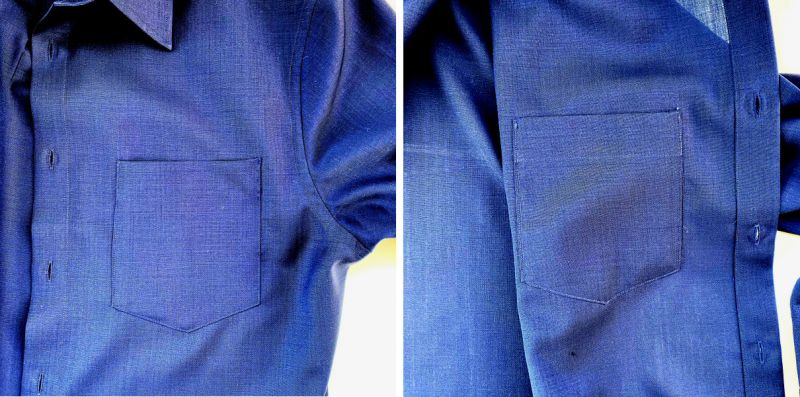 A feature that is designed for travel but useful in other situations is the hidden inside pocket.  Located on the inside of the shirt but directly behind the outside chest pocket, it is invisible from the outside.   It provides a place to stash cards, some cash, or other small items securely, safe from would-be pickpockets.  The only drawback I could see was that it requires the shirt's top two buttons to be unbuttoned to access it.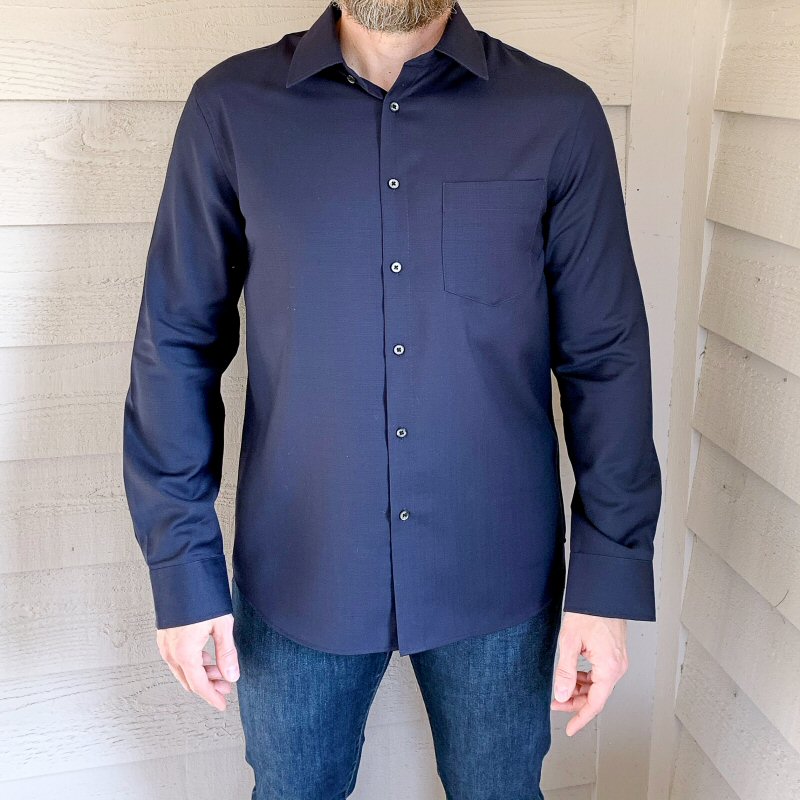 I like the cut of the shirt.  It can be worn for a more casual look, as shown here with a pair of Bluffworks Departure Travel Jeans, which I reviewed a while back.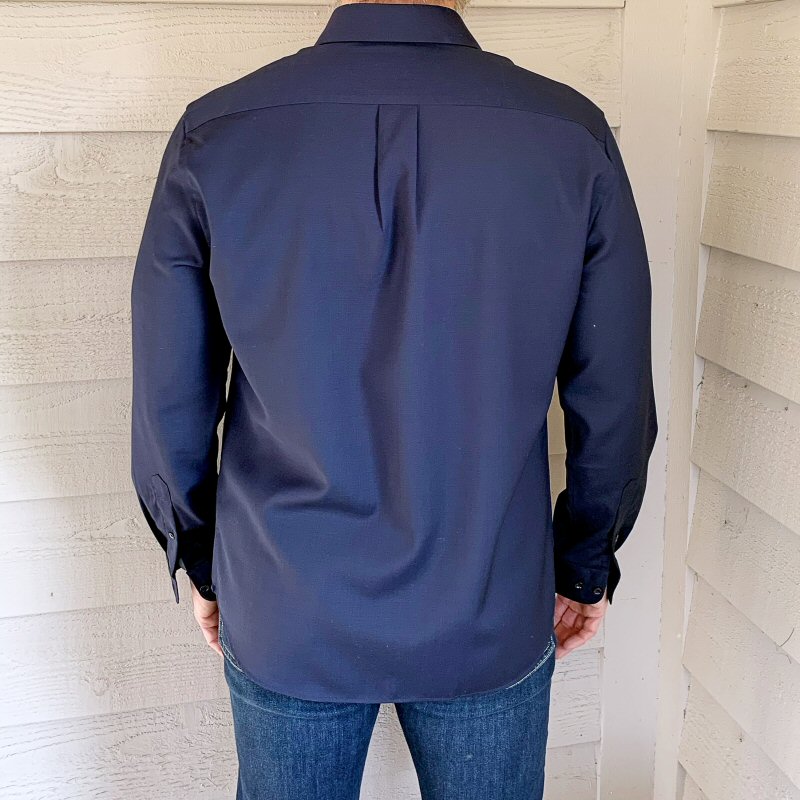 Even if you leave the shirt casually untucked, it still looks good.  Although the fabric is 100% Merino wool, it is thin, lightweight and very breathable.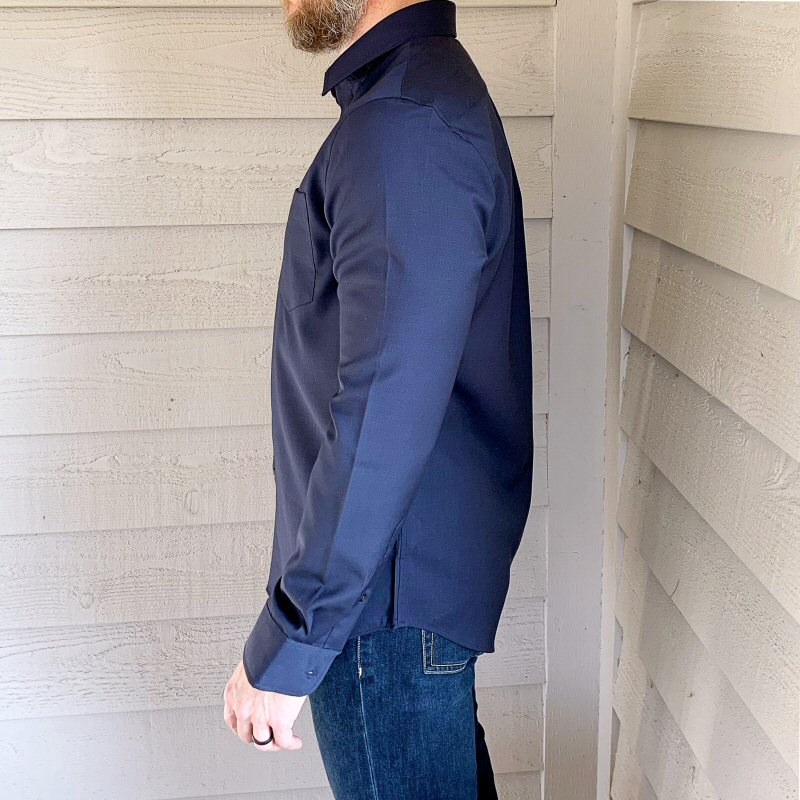 As mentioned above, Libertad produces shorts i. both a Modern Fit and Classic Fit, and I requested a Modern Fit because I wanted it to fit a bit closer to the body, rather than the roomier, more traditional Classic Fit.  While the Modern Fit did fit me quite well overall, it was a bit snug across the chest and back and even more in the upper arms.  I should have heeded the Size Guide on the Libertad site which advised that Classic Fit was "the right choice for bigger shoulders and arms," which I apparently have.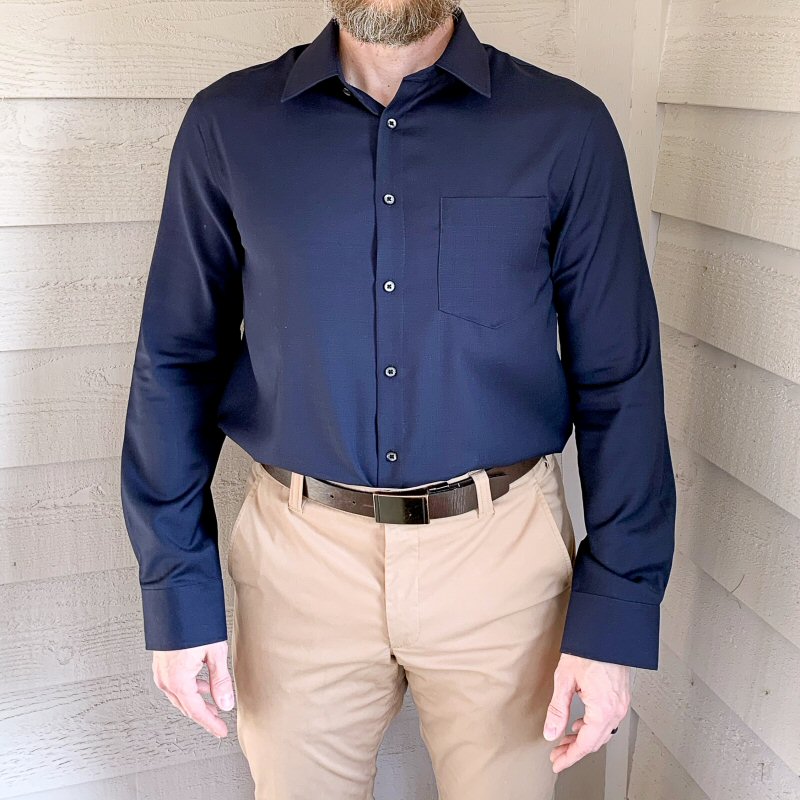 One aspect of this shirt upon which Libertad prides itself is versatility: it can be worn dressed down, as I did with the jeans above, or dressed up, as I've done here with a pair of Bluffworks Classic Chinos.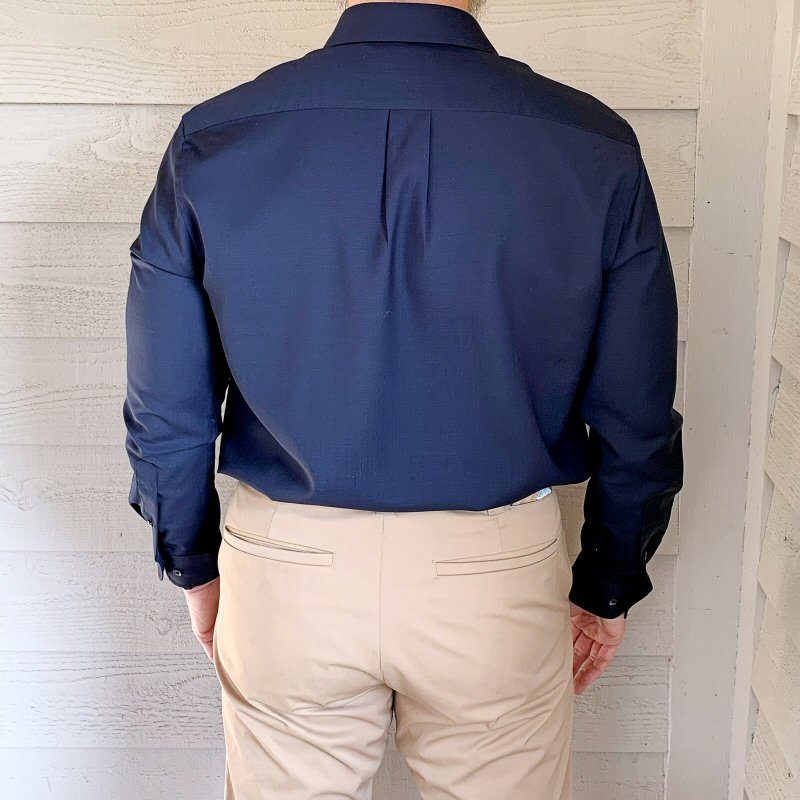 The Modern Fit did generally fit me well overall.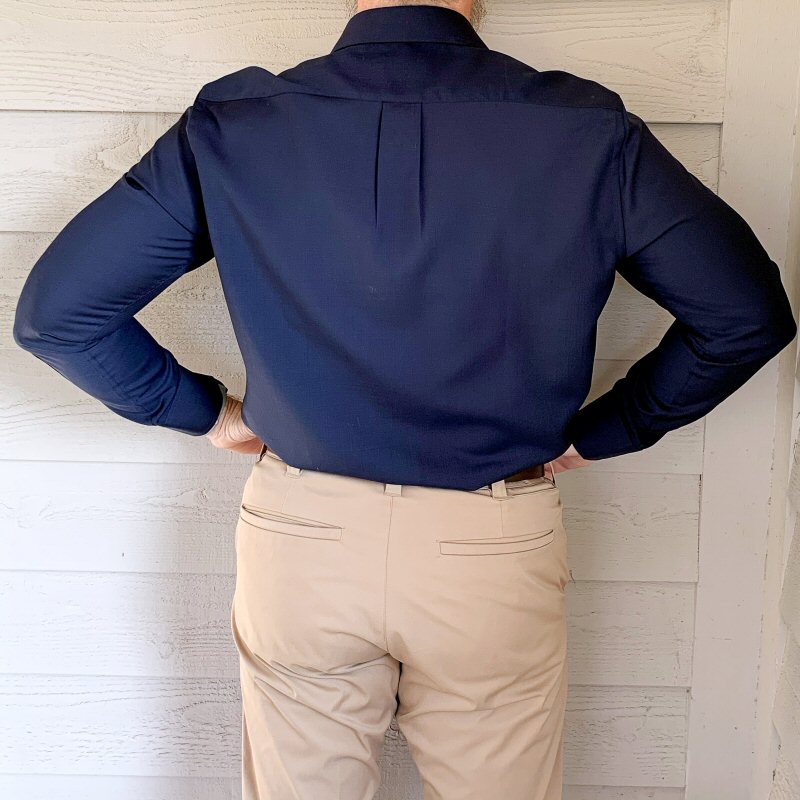 While the Modern Fit was a bit snug on me, particularly in the upper arms and across the shoulders, another feature of the Libertad Travel Shirts is that they include a bit of stretch, which to be honest has become a must-have feature in my clothing choices, and this bit of stretch made the snugness not feel quite so constricting, but it still felt too tight to be fully comfortable in those few areas.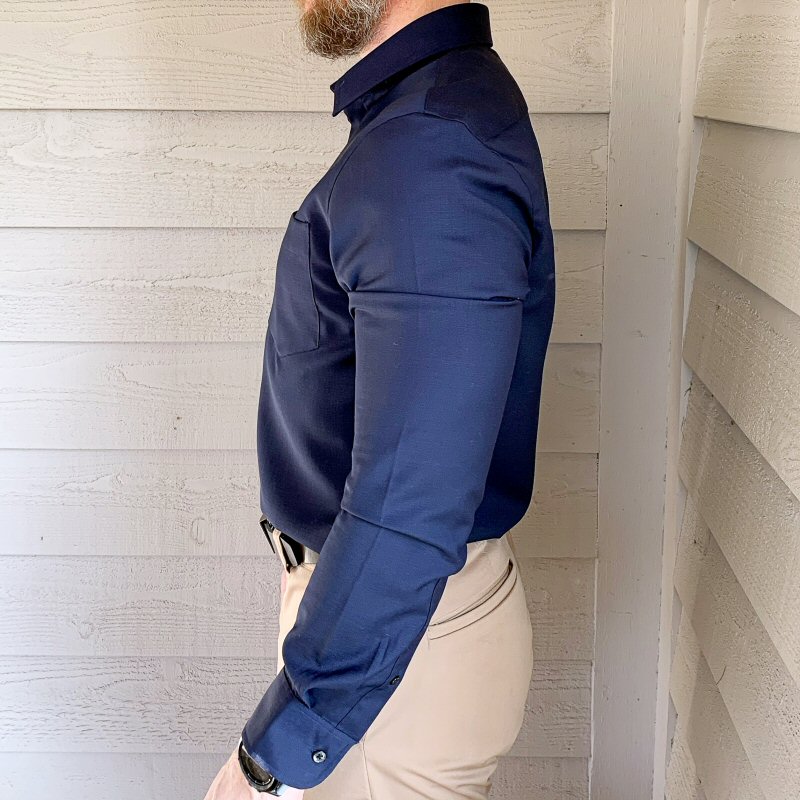 Another subtle but appreciated feature in the Libertad Travels Shirt is that all of their shirts are classic, solid colors with no patterns.  This makes them very versatile for dressing down, dressing up, not attracting unwanted attention, and more easily mixing and matching with outfits, which is a great feature in a travel shirt.
Care and handling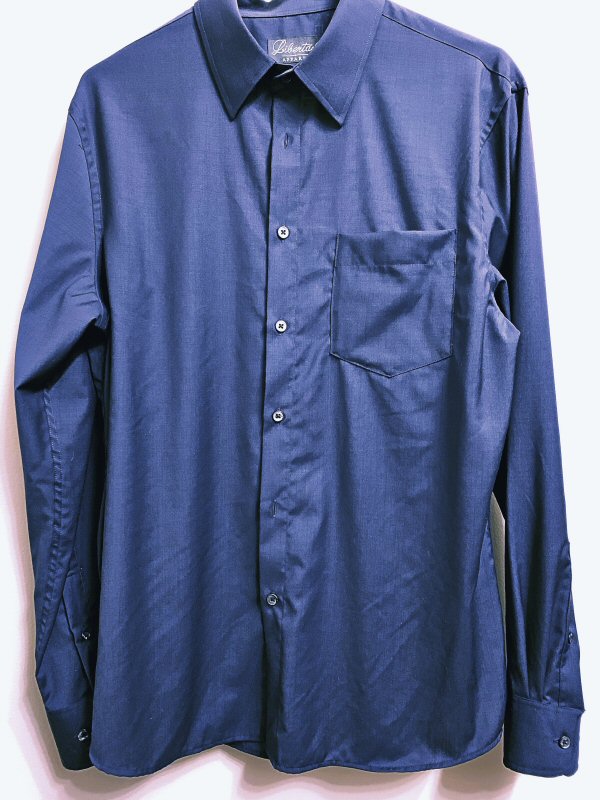 Because this shirt is made from 100% Merino wool, I was a bit concerned about its care and handling.  The tag inside the shirt advised washing it buttoned up, inside out, in cold water, then hanging to dry and not placing it in a dryer (I suspect because wool is very susceptible to shrinkage when heat is applied).  To test all of this, After wearing it for a full work day, I followed these instructions and found that the shirt air-dried surprisingly fast—after about 2 hours it felt fully dry to the touch.  Further, it was only a bit wrinkled, as seen in the image above, and most of those wrinkles I was able to shake out and they were barely noticeable.
What I like
Travel shirt that doesn't look like a travel shirt
Hidden inside chest pocket and pen pocket in outside chest pocket
Fabric has a bit of stretch for comfort, and is lightweight and breathable
Air-drying is quick but still leaves some wrinkles
What I'd change
Modern Fit was too snug in a few areas to be fully comfortable on me
Not being able to machine dry it reduces convenience factor
Final thoughts
The Libertad Travel Shirt is an Oxford-type, button-down men's shirt that is designed for travel but works equally well at the office or a night out.  Its classic style and solid, understated colors allow it to be dressed up or down and its lightweight, breathable, slight-stretch 100% Merino wool fabric can be washed and will air-dry with minimal wrinkling in just a few hours.  Combining all of this with a few hidden pockets and Libertad has a shirt that is quite versatile, high-quality, and will serve you well on travel adventures.
Price: $139.00
Where to buy: Libertadapparel.com
Source: The sample of this product was provided by Libertadapparel.com.