We use affiliate links. If you buy something through the links on this page, we may earn a commission at no cost to you. Learn more.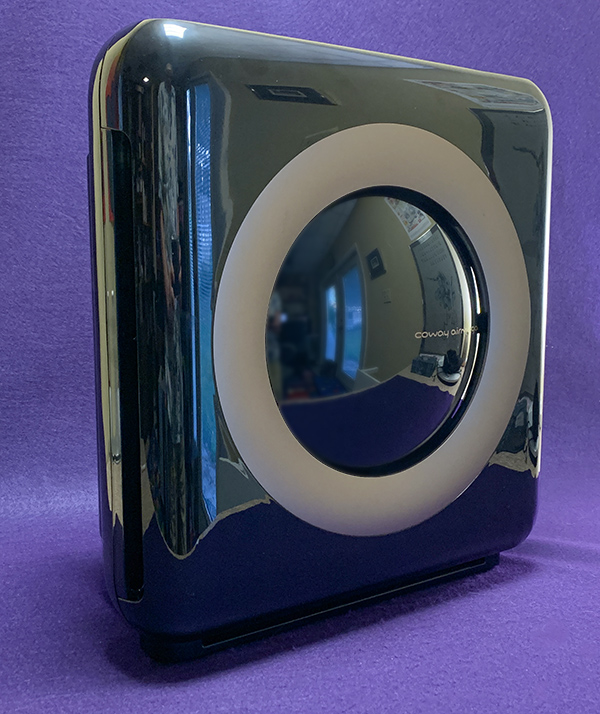 REVIEW – Let's be honest: Very few people have the equipment to test the efficacy of air purifiers. I certainly don't. I don't even have breathing or allergy problems. So why am I reviewing the Coway Airmega Air Purifier? The reason is simple—we live in Florida (where everything grows) and my wife suffers from asthma. She has to use an inhaler every day. We also have two large dogs who shed—boy, do they shed! So, any time I can grab an air purifier and place it in our home, I figure it can't hurt and can actually make life a bit easier for her. Does the new Coway Airmega Air Purifier make my wife's life more tolerable? 

What is it?
The Coway Airmega Air Purifier is just that—a (not too large) device that will take in a room's air, filter it and blow clean air back out. Simple in theory—not so easy in practice. It has what Coway calls four-stage filtration: a pre-filter, an odor filter, a HEPA filter and a bipolar device that reduces contaminants in the air. The Airmega Air Purifier is sized to clean and purifier the air in a good-sized bedroom—325 sq. feet. The Airmega Air Purifier is a new enhanced, smart version of the Coway Mighty air purifier.

Specs
Room Size: 325 sq ft
Dimensions (H x W x D): 18.3 x 16.8 x 9.6 in.
Net Weight: 12.34 lbs
Filter Configuration: Pre-filter + Improved honeycomb activated carbon filter + HEPA filter
Filter Life: Honeycomb Activated Carbon (1 Year), HEPA (1 Year)
Air Flow Control: 5 Stages (Auto / 1 / 2 /3 / Eco)

Design and features
The Coway Airmega Air Purifier is good-looking—by air purifier standards. It doesn't have that boxy, industrial look that so many purifiers have. And it's smallish size allows it to be kept out of the way of daily living. It comes in only black with a copper-colored circular intake ring at the front. Its light weight makes carrying room to room easy. 
Just plug it in, turn it on, set the fan speed and you're done—unless you want to have more control. Coway offers a few cool features. Auto mode will continuously sense how bad the air is and automatically adjust the fan speed. There's an ECO mode that syncs the motor with air quality sensors that will only run the fan as needed.

Control buttons are on the top of the Airmega: On/off; fan speed with auto/eco settings; air quality light on/off; filter reset and WiFi. Each of these buttons are large and easy to read. Lastly, there is a light that indicates the current air quality around the Airmega—red for bad and blue for good. For some reason, the light will turn red while my wife cooks in the kitchen. And no, I'm not going there—she's a great cook! It looks like the Airmega cannot tell the difference between bad air and normal household cooking.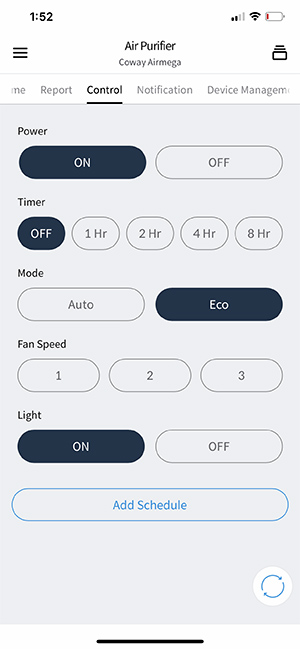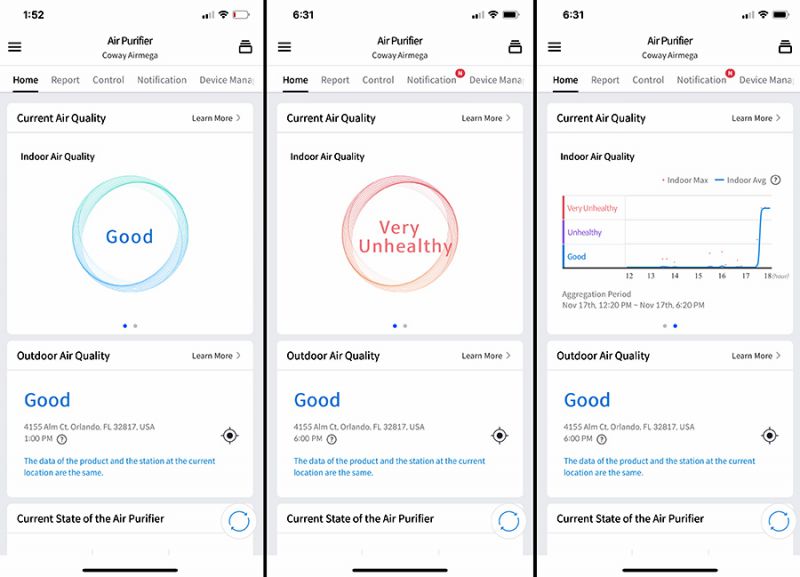 Built-in WiFi along with an IoCare app can control the Airmega form anywhere. Once the product is registered, the app can be used to set a timer that lets you set how many hours (1, 2, 4 or 8) you wish to run the purifier. This comes in handy if you want to schedule it to run at the same time each day. The app can also control on/off, fan speed auto/eco and the air quality light. The app can also provide real-time air quality reports from the Airmega's location.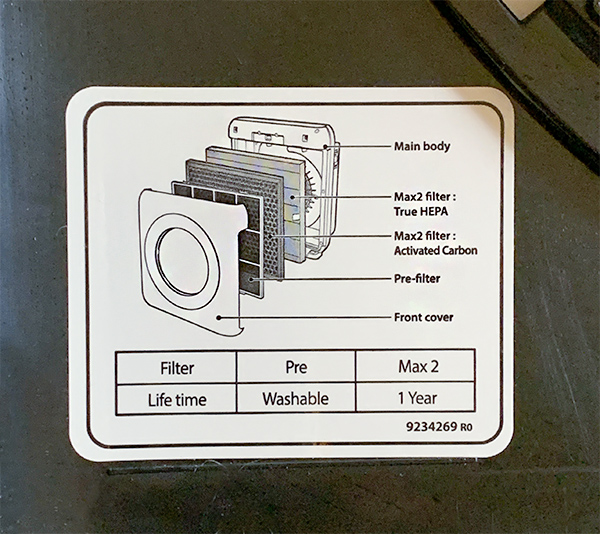 The Airmega has what Coway calls 3-stage filtration. Opening up the front of the unit reveals Stage 1—a pre-filter. This simple mesh screen captures the largest particles like dust and—mostly good for us—pet hair. Anything that gets past the pre-filter is captured by either the carbon honeycomb filter or a thick true HEPA filter. The carbon filter uses natural coconut fibers that can help with odor control.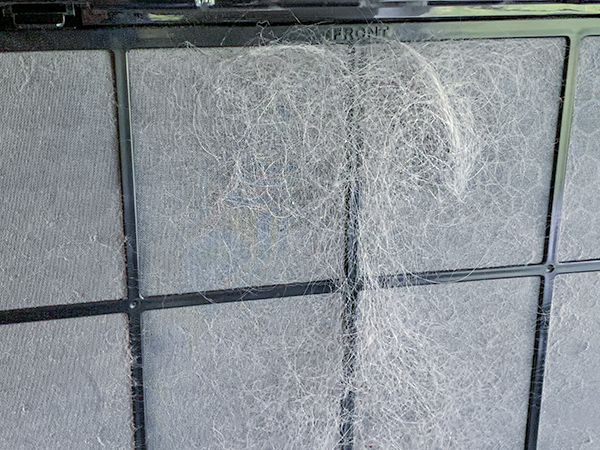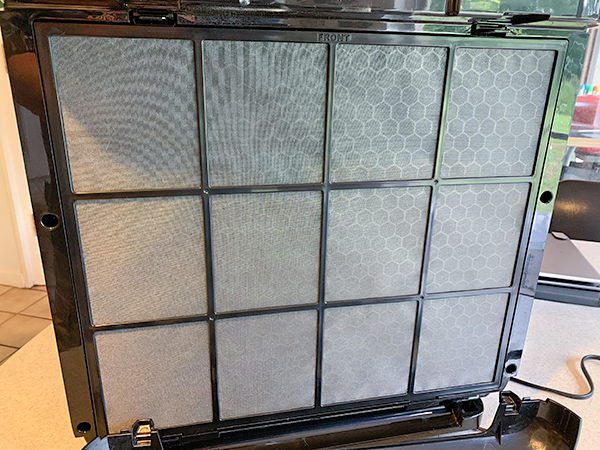 Both the honeycomb and HEPA filters only need to be replaced once per year with average use. Plus, they don't cost an arm and a leg as with some other air purifiers.
Together these filters will eliminate 99.97% of the particulates in the air as small as .3 microns. As I said, I don't have the equipment to measure how true that measurement is (who does?). But I can state anecdotal measurements based on how my wife's breathing has improved or not. More on that later in the review. 
Fan noise levels with the Airmega ranges from quiet to tolerable. Using a dB sound meter from my iPhone (NOT scientific), the 1 setting is 48dB—very quiet. Setting 2 is a bit louder at 54dB—still quiet enough to watch TV or easily carry a conversation. Obviously, setting 3 is loudest. At 68dB, it's about the loudness of a room fan set to high—great for providing white noise for sleeping. When I set the Airmega up, I just set it to 2 and left it there. I have since changed that setting to Auto. Time will tell if that's noticeably more effective or not.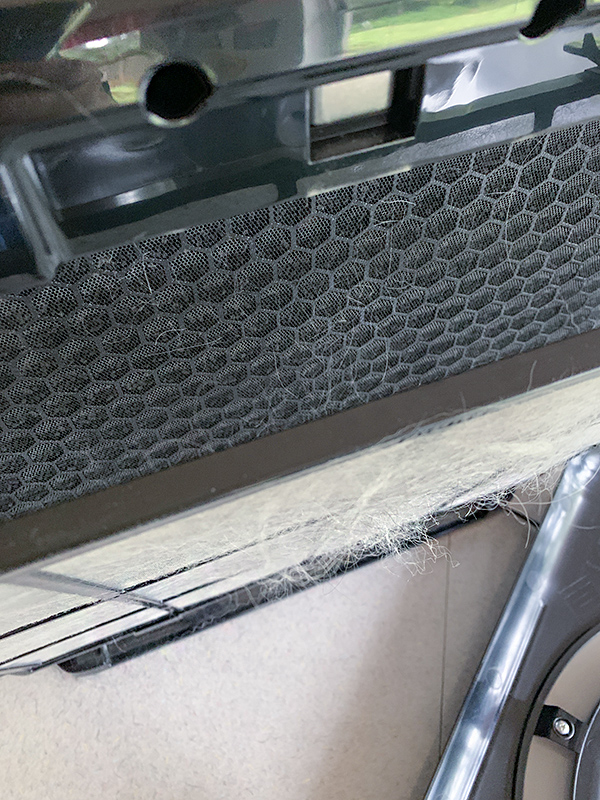 We've been using the Coway Airmega for a month and I can honestly say I can't tell any difference. However, I don't suffer from any ill effects from air quality around our house. Plus, it's an older home and it's not the most airtight house by any stretch. The disadvantage of that is insulation is not great. But it's Florida, so … yeah. The advantage of bad insulation is that effects from any indoor pollutants are not as severe because they don't get trapped and can leak out.
Then there's my wife. As I said, she has asthma and almost anything in Florida can trigger an attack. Does the Airmega help? She says her breathing has improved and her attacks are both not as frequent or as severe. Again, while this is anecdotal, she does feel a bit better overall, so that's a win!
What I like
Works against asthma and allergies
Attractive
Affordable filter replacements
What I'd change

Final Thoughts
The bottom line is this: If you suffer from allergies or asthma, the Coway Airmega air purifier can help. One in each room of the house can help even more—especially if your house is tightly sealed from the outside. Indoor pollutants can be as bad or worse than outside depending on where you live. Plus, why take the chance? Coway gets great recommendations and can be insurance for better breathing.
Price: $299 US; $69.99 for the honeycomb and HEPA filter replacement set.
Where to buy: Amazon
Source: The sample of this product was provided by Coway.