We use affiliate links. If you buy something through the links on this page, we may earn a commission at no cost to you. Learn more.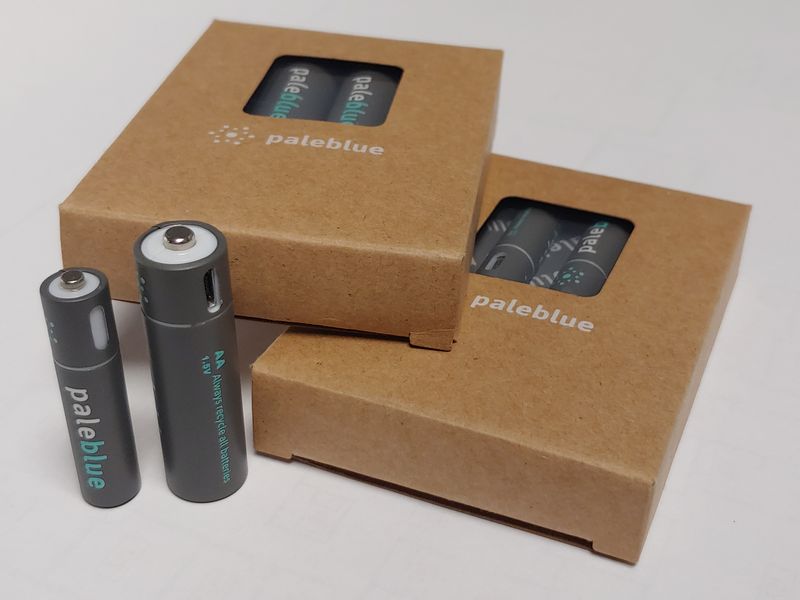 REVIEW – In America alone, 10 million batteries are thrown away every day. One pack of Pale Blue USB rechargeable lithium batteries can replace up to 4,000 alkalines. Making the switch can save you money and keep toxic disposable batteries out of landfills. But how do they perform? Read on to see what I think!
What is it?
The Pale Blue USB rechargeable lithium batteries are designed with state of the art power storage technology and are designed to be self sufficient so that they can be charged by virtually any USB power source. The batteries come in AA and AAA sizes.
What's in the box?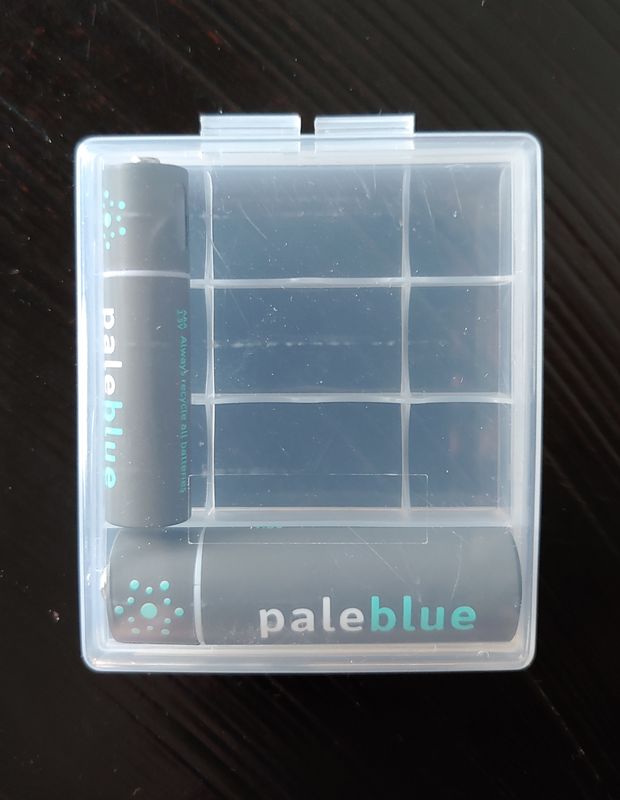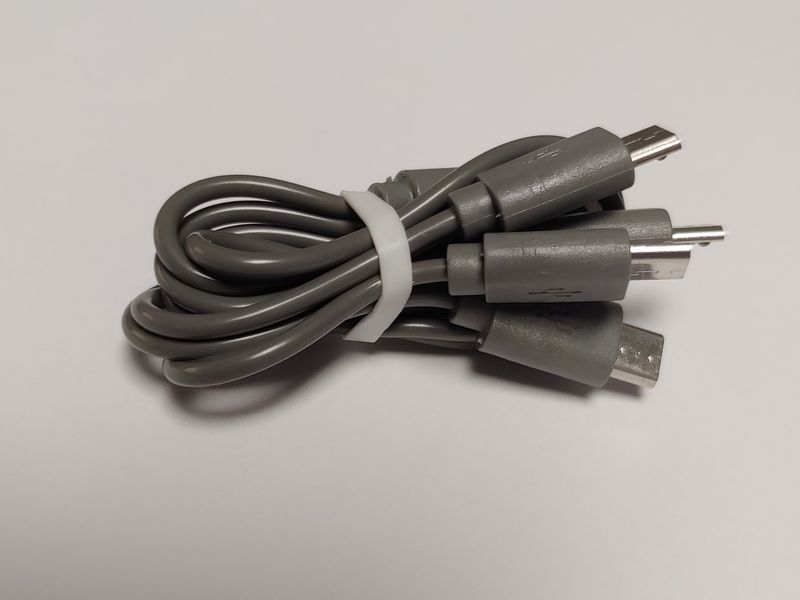 Hardware specs
| | | |
| --- | --- | --- |
| | AA | AAA |
| Chemistry | Lithium polymer (LiPo) | Lithium polymer (LiPo) |
| Power [W-h] | 2.25 Watt Hours | 0.675 Watt Hours |
| Voltage | 1.5v | 1.5v |
| Capacity [mAh] | 1560 mAh | 450 mAh |
| Charge Time | Under 2 Hours | Under 1 Hour |
| Cycle Rating | 1000+ Cycles | 1000+ Cycles |
| Charging Cable | 1 USB – 4 Micro USB | 1 USB – 4 Micro USB |
| Charge State Indicator | RGB LED | RGB LED |
Design and features
The original design of the AA battery is over 100 years old. Because of its long and reliable use, this size battery accounts for over 60% of battery sales in the US. The AAA is used less often and accounts for 24% of sales in the US. Since sales should roughly correspond with use, the AA and AAA Pale Blue batteries should be perfect for over 75% of the items that you use batteries for. Since the design of the batteries are standardized, the Pale Blue batteries are virtually guaranteed to work in your application.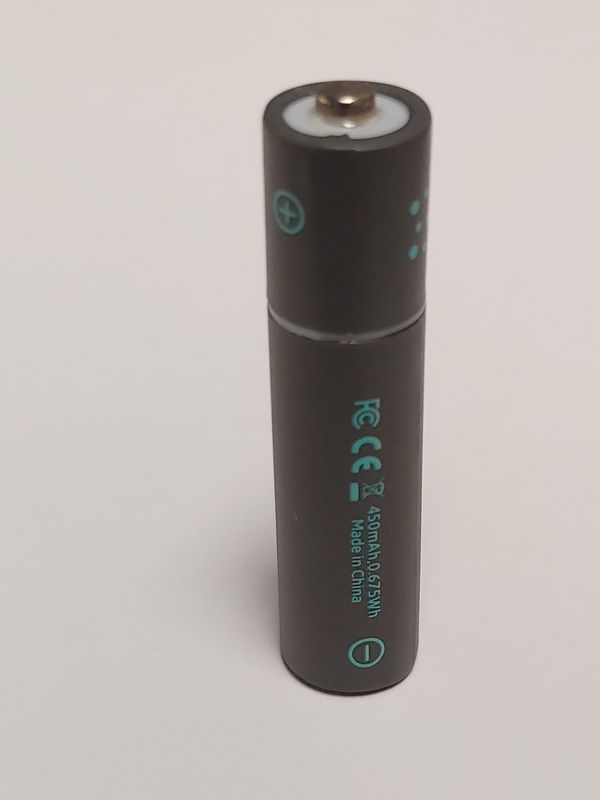 One thing that the international standards do not specify is the weight of the batteries. The Pale Blue is one of the lightest weight batteries available. The batteries pictured are a NiMH, Wegman's alkaline, Duracell alkaline, and Pale Blue Li Po. The batteries weigh 31 grams, 23 grams, 23 grams, and 15 grams. The Pale Blue AAA weighs a paltry 8 grams.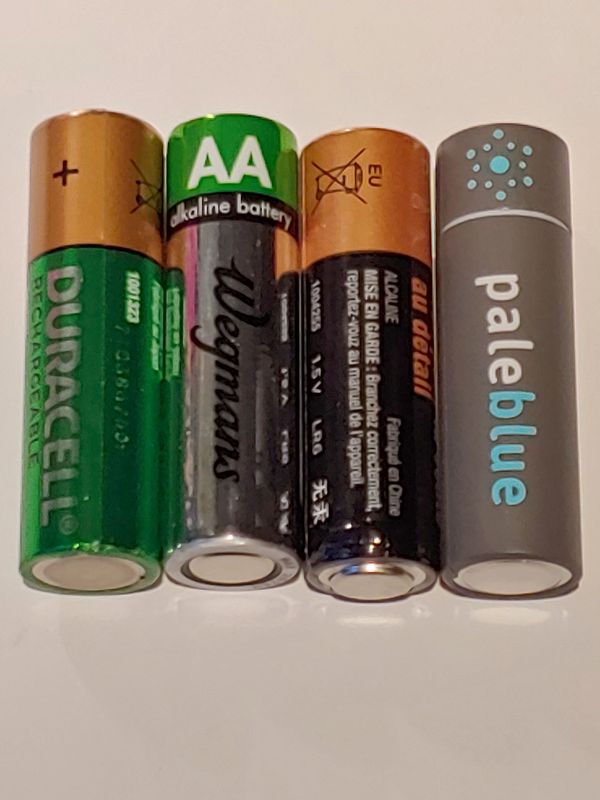 The design of the battery not only meets all of the standard requirements of the battery size and shape but also includes the charging circuit and voltage regulator inside. Other rechargeable batteries require a specialized charger but these batteries charge with a standard microUSB and this design makes them super portable. The batteries come with a USB cable that allows all four batteries to be charged simultaneously from one standard Type A USB port.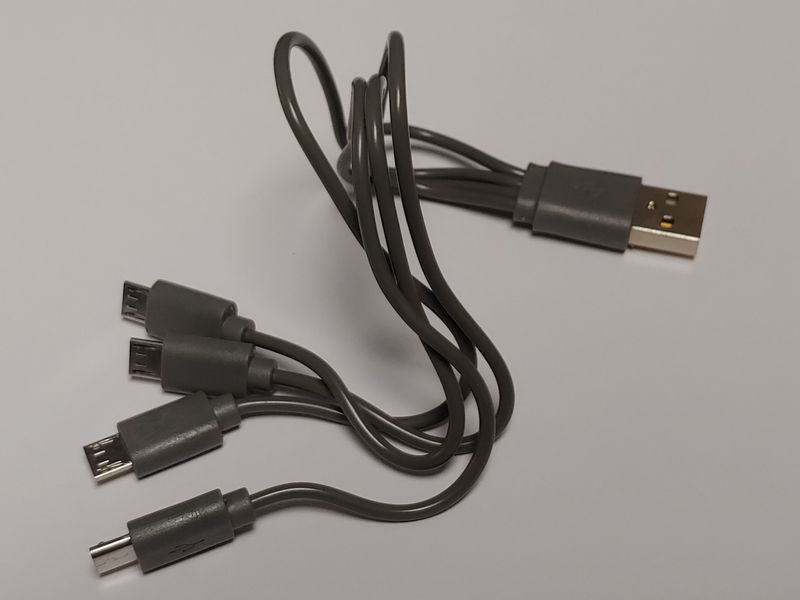 Even without the charging cable, these batteries can be charged in some malls and airports at cell phone charging stations. Even though USB-C is becoming more popular, thousands of products are still introduced with microUSB every year and this will still be a relevant power standard for years to come. Each battery will draw a maximum half an Ampere while charging so when charging four batteries simultaneously the charger should provide 2 Amp or more. The batteries will also charge with less current but will take longer to obtain a full charge. Note that the microUSB is for charging only and can not be used to power other devices like a battery pack.
The technology in these batteries is more advanced than the technology that has been used in previous generations of devices. Traditionally, rechargeable batteries have been powered by NiCd or NiMH power sources. These batteries will both lose significant power while in storage. NiMH batteries will also not provide as much power as NiCd or alkaline batteries, so high demand applications like radio controlled cars and drills may not be as fast or powerful. NiMH and NiCd also require about as many electrolytes as alkaline batteries so there is no room left in the battery for a charging circuit. This means that NiCd and NiMH will always have an external charging device. The LiPo chemistry that the Pale Blue batteries is based on has a very high discharge capacity, a very low resistance to charging and a very high energy density. This means that the Pale Blue batteries will stay charged for a longer time when not in use, can deliver a high amount of power while being used, and can be charged at a high rate. The high energy density means that the energy storage part of the battery can be smaller for the same capacity of energy typically stored in an alkaline battery and that there is still room for necessary circuitry and a charging port. In fact, LiPo can store approximately 350% more energy than a typical NiCd or NiMH battery.  
The high energy density of LiPo does require that manufacturers pay close attention to the safe design of charge and discharge circuits. The misunderstanding and misapplication of LiPo caused thousands of hoverboards to be recalled at the end of 2017. The Pale Blue batteries have been designed to ensure that they operate safely. The batteries are certified to IEC 62133:2012, Secondary cells and batteries containing alkaline or other non-acid electrolytes – Safety requirements for portable sealed secondary cells, and for batteries made from them. The batteries have been certified to meet other safety requirements as well. The only requirement that they not be charged or used at extreme temperatures (outside of 0°C to 50°C range).
The batteries are very easy to use. The tops of the batteries rotate so that the microUSB is protected from dirt and dust. A slight twist of the top opens and closes the top.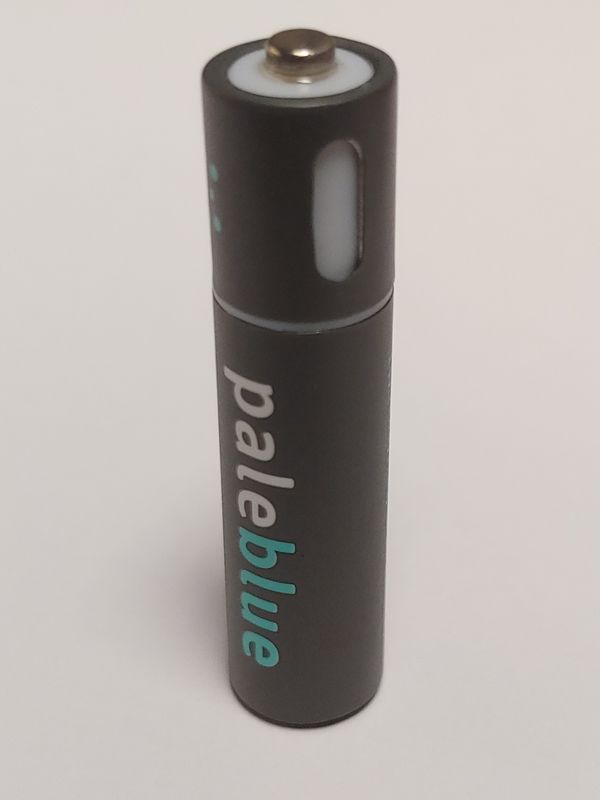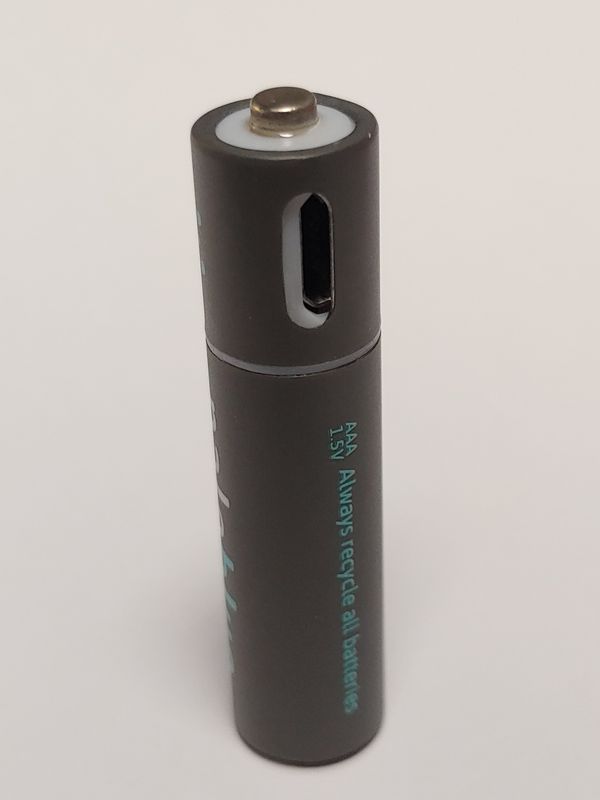 a red LED indicates that the battery is charging and a green LED indicates that charging is complete.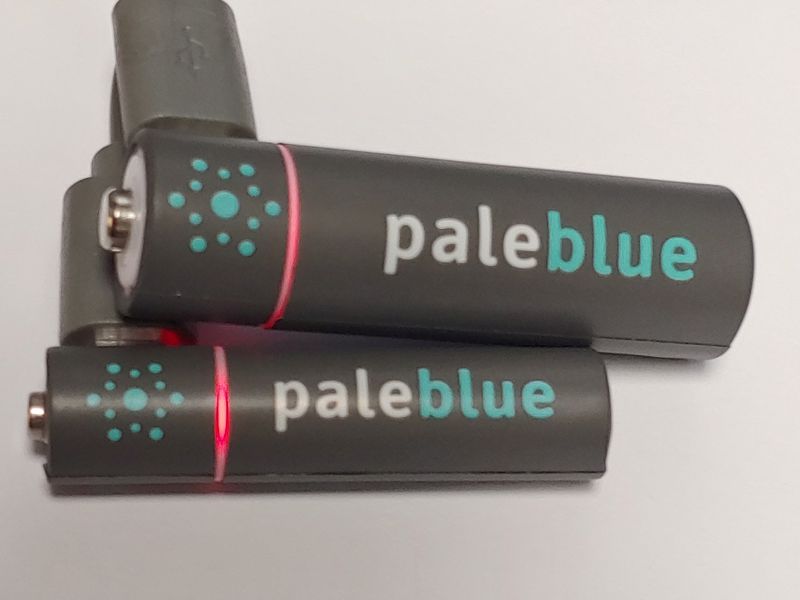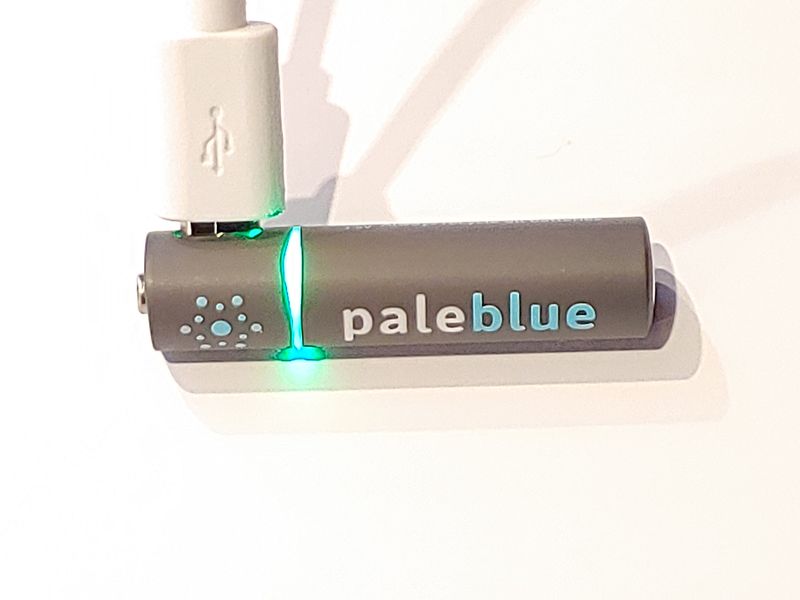 If it is technically possible, it would be great for the LED to blink a certain number of times at the start of charging to indicate the remaining battery capacity.
When the batteries are not being used they may be stored in the provided plastic container. The container is designed to hold 4 AA or 4 AAA and 1 AA. The picture above shows the way that each size battery fits into the case.
Performance
The performance of the batteries is indicated by the manufacturer to be superior to NiMH and comparable to alkaline. The rate of discharge is related to the powered circuit and the applied voltage. There are various curves that can be used to compare battery capacity and performance. Typically the chemistry of the electrolyte is determining the discharge properties. The Pale Blue battery discharge properties are electronically controlled to maximize the performance over time.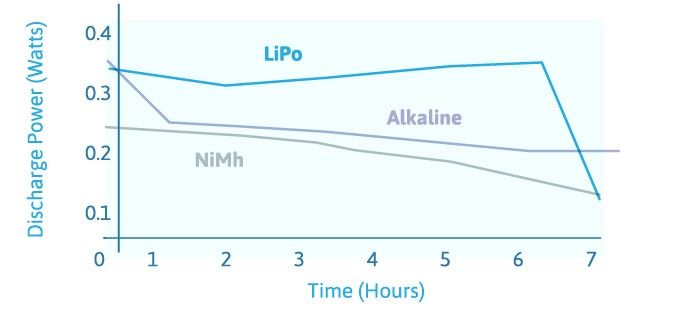 The Pale Blue also has an advantage that they are charged by a voltage regulating charging circuit. This means that charge time takes only a couple of hours and not the typical eight hours or more to charge a completely dead battery. The Pale Blue also has a circuit that protects the batteries from deep discharge – a condition in which the battery loses a significant portion of its charge holding capacity.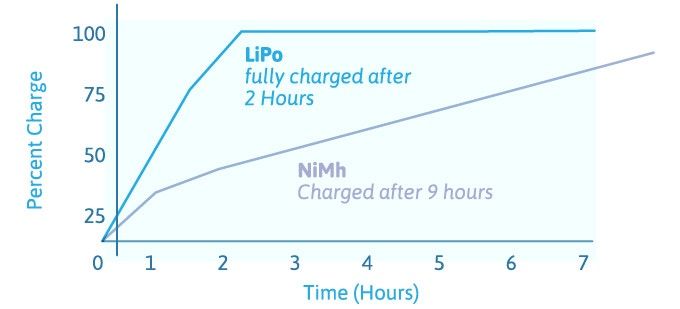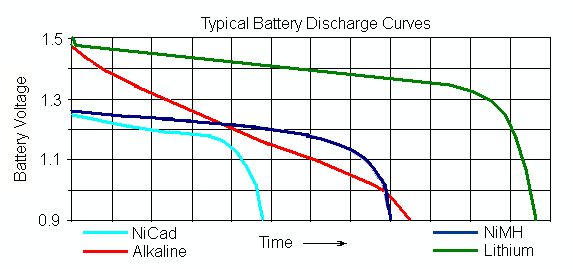 What I like
High voltage output
Easy to charge
fast charging
What I'd change
Battery Capacity indication
Final thoughts
The batteries are sold in packs of four and each battery can nominally be recharged 1000 times. So a $30 pack of 4 batteries can save $1,130 of 29 cent AA batteries and  96 kg (211 lb) of battery waste. These batteries will also save tons of carbon released as part of the battery manufacturing process. So rechargeable batteries are both economically and environmentally a better choice than disposable batteries. LiPo batteries are also an environmentally better option than NiCd. I'm happy that I can help curb waste by using these in my home and I suggest that you do the same!
Price: $29.99 for 4 AA, $24.99 for 4 AAA.
Where to buy: Pale Blue Earth
Source: The sample of this product was provided by Pale Blue Earth.