We use affiliate links. If you buy something through the links on this page, we may earn a commission at no cost to you. Learn more.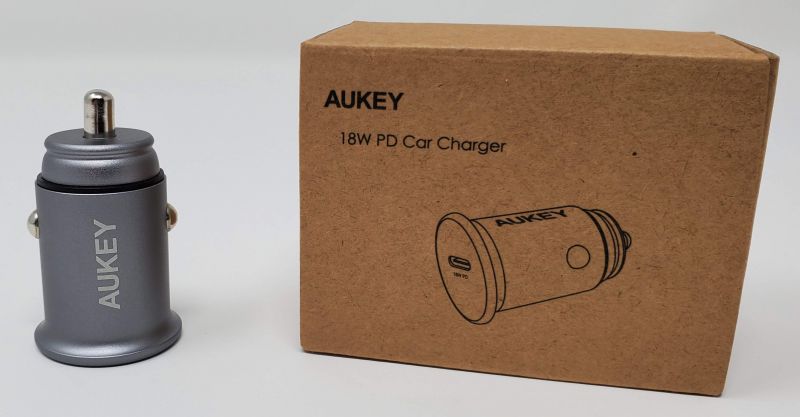 REVIEW – "When it rains, it pours" is not always a bad thing.  I signed up to review a single Aukey Power Delivery solution, and was surprised when they sent me a box with 5 products from their PD lineup.  Challenge accepted – let's open the umbrella and start at the small end: the Expedition 18 watt car charger.  Can something this small be mighty as well?  Let's find out.
What is it?
The Aukey Expedition is an 18 watt, flush-fit car charger that supports the Power Delivery 2 standard.
What's in the (small) box?
The Expedition charger
A very small manual (which, if you need to read it, you probably shouldn't be playing with electronics)
Design and Features
Did I mention this is small?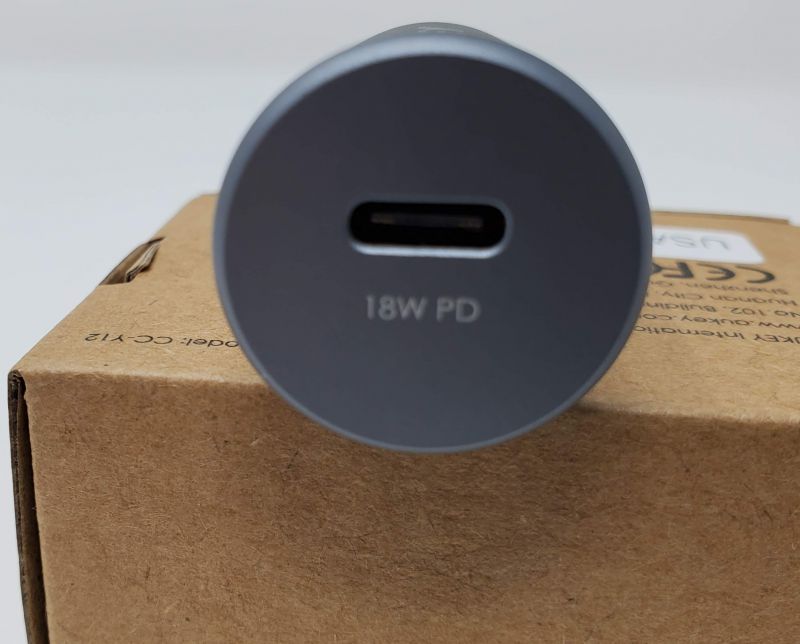 Tip to interface, the Expedition charger is about an inch and a half.  Across the front, it is just shy of an inch.  This means the charger mounts mostly flush with the power receptacle in your car – the "mostly" is a lip that rises above the receptacle to give you a way to take it out, but you probably won't want to.  In place in my Honda Crosstour, this allows the door to close over the power plug so it is out of sight when I don't want to use it.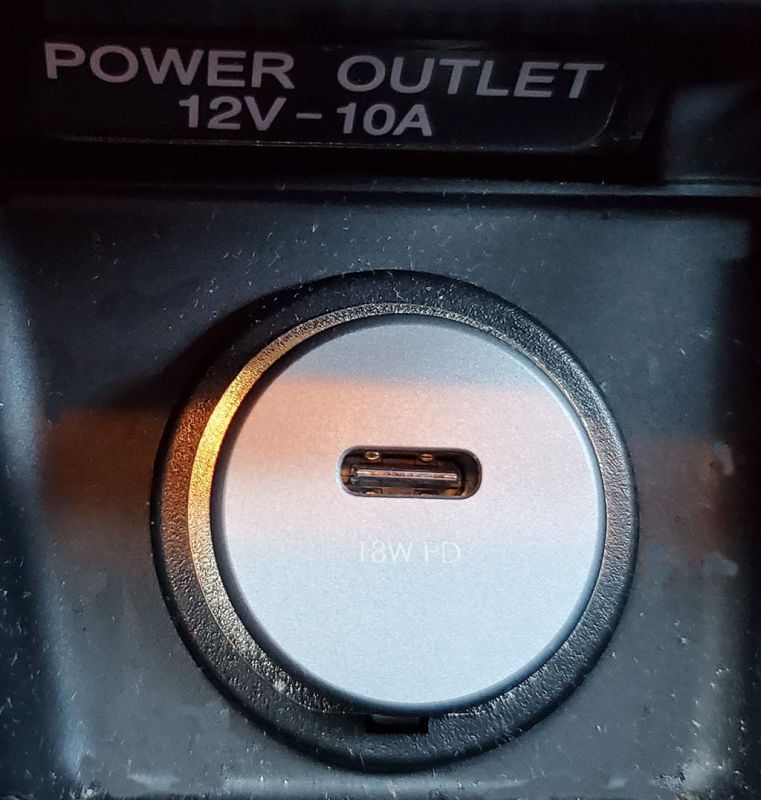 The Expedition supports version 2 of the Power Delivery standard.  In case you missed it, the Power Delivery standard was created to prevent e-waste.  Remember back in the day when every time you would get a new gadget, there was a specialized brick of some sort that charged your device but no one else's?  When you got rid of the device, you'd throw away the charger.  And lending more than a cable to a friend so he could charge his phone could possibly lead to damage.  Well, the Power Delivery (or PD) standard was created to solve these issues by standardizing how devices charge.  They use a USB-C type connection and can negotiate with a device to deliver the optimal power that the device can handle.  In the first pass of the standard, each charger had to support different sets of power profiles – how many volts and amps and such each type of device could support.  Version 2 of the standard replaced static profiles with rules – this meant that instead of forcing a device into a profile, the device could tell the charger exactly what it can support, and the charger would accommodate.
PD chargers can support up to 100 watts – this level is typically reserved for very large consumption devices like a MacBook Pro, but also requires special USB-C cables to support that much power.  Most phones and tablets operate in the 15-18 watt range to fast-charge while continuing to use standard USB-C cables.  And that brings us back to the 18 watt Expedition.
It is designed to negotiate the fastest charging rate your phone can handle within the 18 watt power capacity.  If you are an iPhone 11 user, this means you can get your phone from 0 to 50% in about 30 minutes.  I am a Samsung guy, though, specifically a Note 10+.  The Expedition's 18 watts is slightly smaller than the standard 25 watt plug that comes with the phone.  In comparison, though, the most common chargers you can find (like the impulse buys you see in line at the drug store for $9.95) charge at a MUCH slower rate, most of the time only half what the Expedition will handle.  So what does this mean for my Note 10+?  In the same 30 minutes as the iPhone I can go from 0 to 60% charge.  Not a massive difference, granted, but I will take any advantage I can get in this power-hungry life.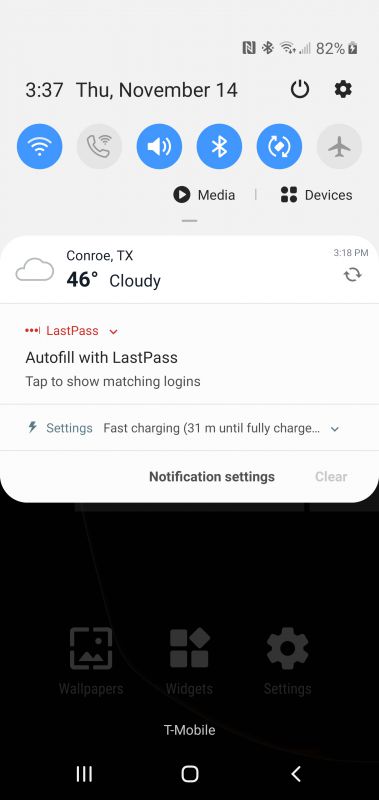 As you can see in the screenshot above, I started a recent trip at 82%.  In a rather misleading turn, you can see that I am fast charging, but that the 18% needed to top off my phone is going to take 31 minutes.  Is this a fault of the Expedition?  Not at all.  Samsung uses an adaptive charging algorithm that charges rapidly to about 50% and then slows down above that point.  The intent is to help prolong battery life.  On this trip, though, I must have gone through some sort of time warp.  After 20 minutes of driving, taking a call, streaming music via Bluetooth and using Google Maps, I reached my destination at 100%.
There are chargers out there that support the PD 3 standard, but that can be somewhat misleading.  It is basically the version 2 standard with the capability of higher wattage devices – and that's probably something you won't need in the car.  So it comes down to ports – the Expedition has a single port, but again – that's probably a good thing.  Adding a second port (and using it) will mean that 2 devices will share the 18 watt output, so both devices will charge slower.
At $16.99 the Expedition is a great car charger.  It is slim, unobtrusive and will get your phone charged fast and efficiently.
What I Like
This is small – when I don't want to see it, I don't have to
Works great across all my devices – Tab S6, Note 10+ and even my Chuwi Mini Book computer
What I'd Change
Final Thoughts
A good car charger is one you don't have to think about.  A great car charger also does the job better than you would expect.  The Aukey Expedition falls into the latter category.  So far I haven't had to worry about getting the power I need to make it through my day – I just plug in, go, use any app I need, stream music, whatever.  And I know when I get "there" I will have the juice to make it through.
Price: $16.99 on sale at Aukey (normally $21.99)
Where to buy: Directly from Aukey and Amazon
Source: The sample for this product was supplied by Aukey