We use affiliate links. If you buy something through the links on this page, we may earn a commission at no cost to you. Learn more.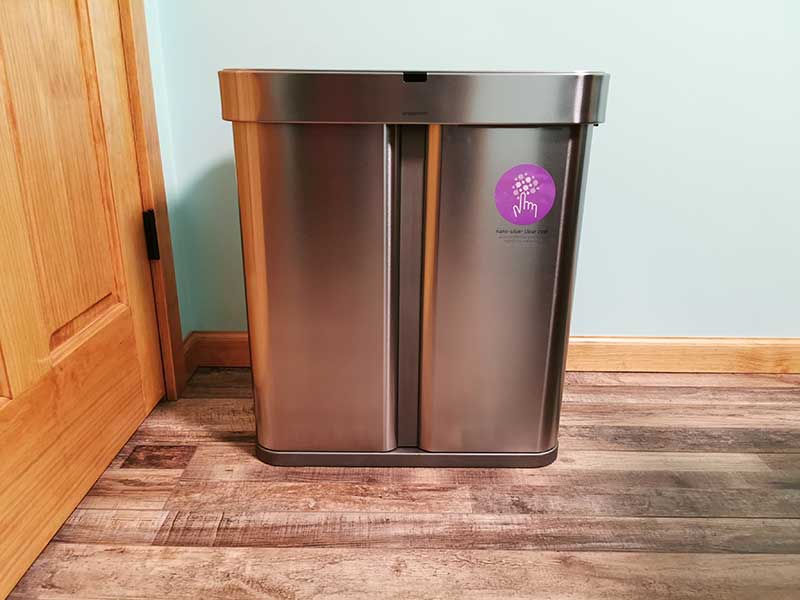 REVIEW – Most of us have a trashcan in our kitchen. If you're lucky enough to have one that's hidden inside a cabinet, this review isn't something you'll probably care about, but for those of us that have an ugly plastic trash can with stained or food splattered lids, the simplehuman 58 liter dual compartment sensor trash can might become you and your kitchen's new BFF. Let's check it out.
What is it?
The 58 liter dual compartment sensor trash can from simplehuman is a stainless steel trash can that has two compartments. One for trash (duh) and one especially for recyclables (cool!). It also has some equally cool features like gesture and voice-activated lid opening.
What's in the box?
simplehuman 58 liter dual compartment sensor trash can
1 package of trashcan liners
AC adapter
Instructions
Design and features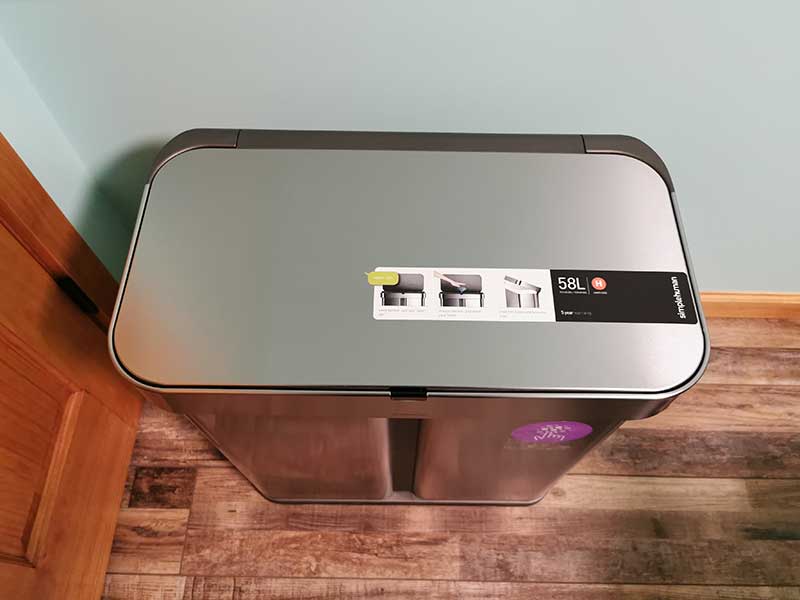 First of all, this trash can is bigger and definitely prettier than most other trash cans I've seen. That's because it's available in a variety of finishes including the stainless steel version that you see here. It's bigger because there are two receptacles inside it instead of only one.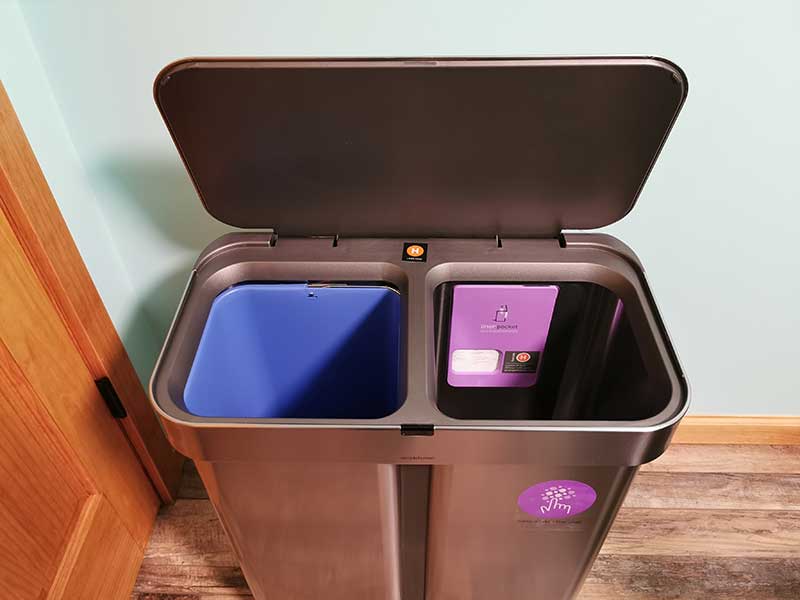 On the left side is a removable recyclables bin and on the right side is the trash bin. The trash can's lid opens for easy tossing of trash or recyclable items.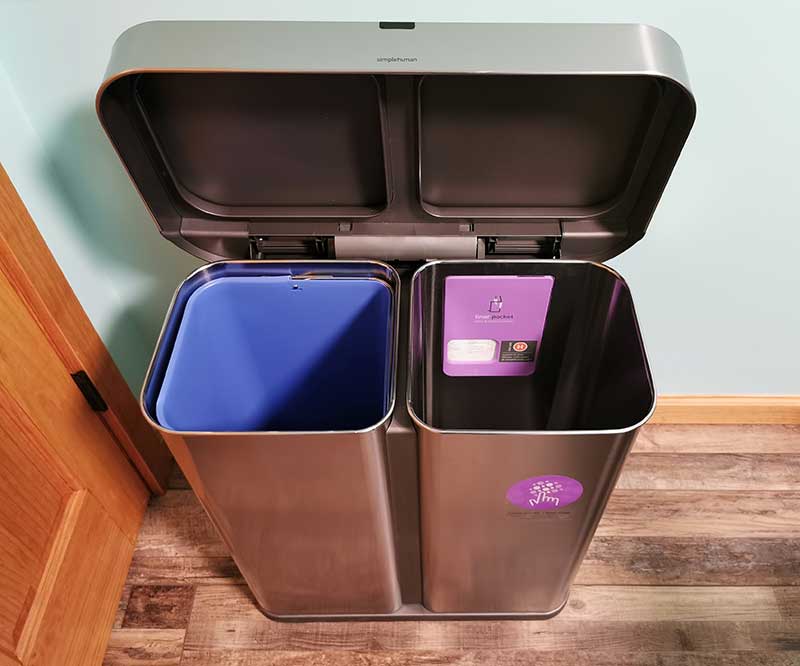 Then when you need to remove the blue recyclable bucket or trash bag, you lift the larger rim.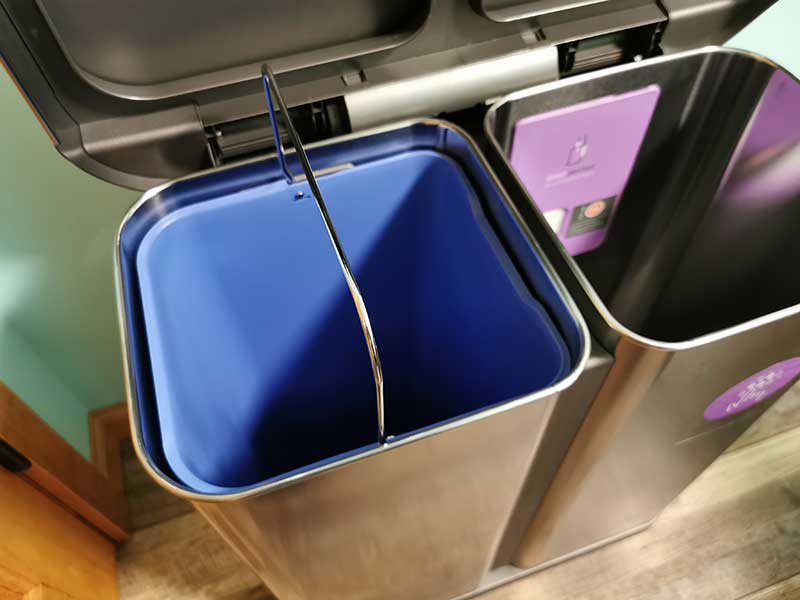 You can then grab the built-in metal handle to pull out the blue recyclables bin.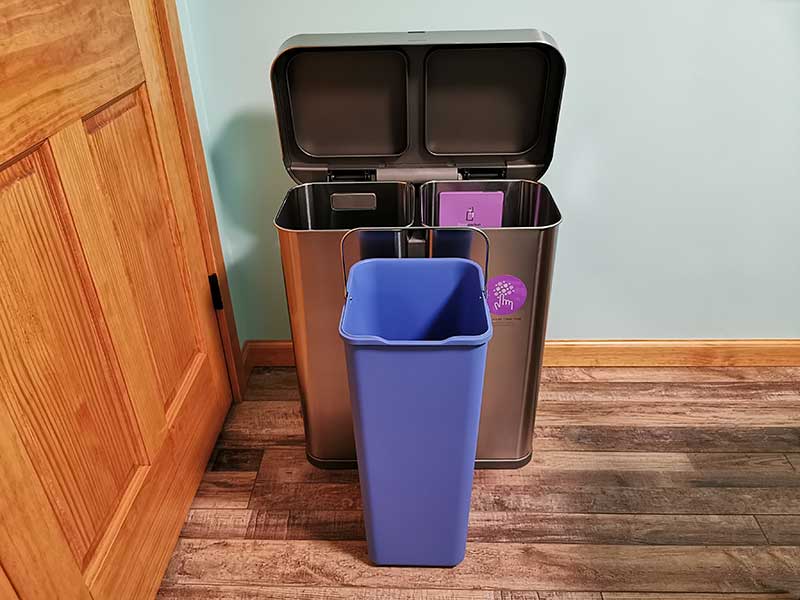 Although the recyclable bucket is tall and narrow, it can hold quite a bit of stuff.
On the trash side of the trash can, there's a holder for the liners. simplehuman includes one package of 10 liners with the trash can and you can buy more through their website. Or you can just buy regular tall 30L – 35L kitchen trash can liners from your local grocery store / Walmart.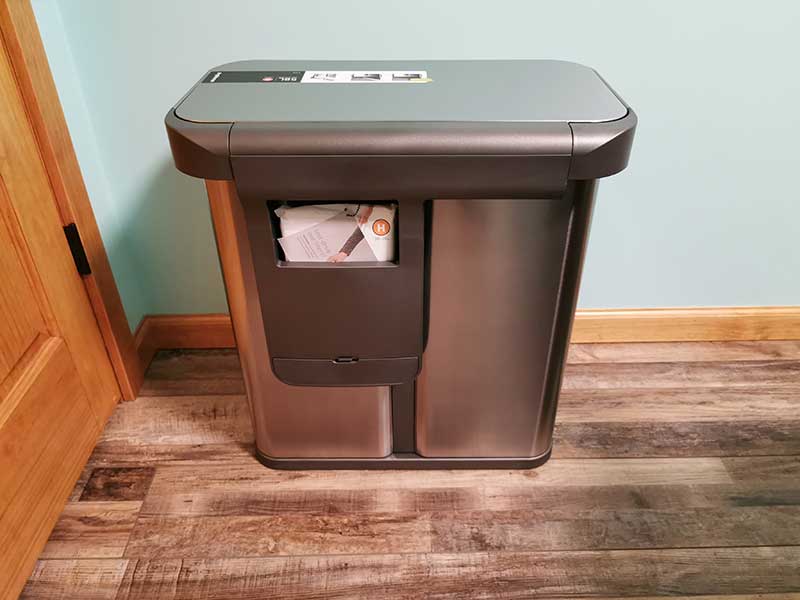 The only downside to buying non-simplehuman liners is that you can't easily use the handy liner holder built into the back of the can.
The simplehuman trash can be powered with 6 AA batteries (not included), but it's recommended that you use the included AC adapter which plugs into the back of the can.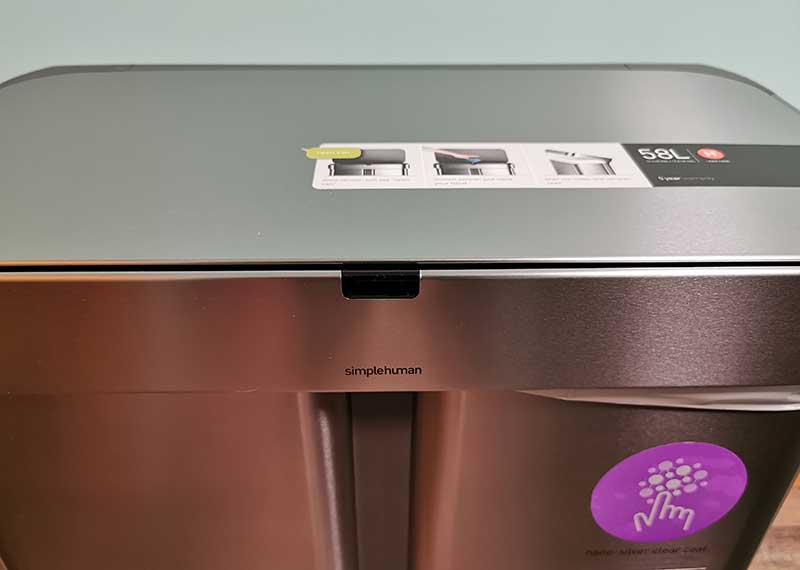 The motion sensor is located in the center of the lid. All you have to do is just wave your hand over the sensor and the lid will open. If you deposit the trash and step away, the lid will close in just a few seconds, but if you remain standing in front of the can, the sensor will detect it and the lid will stay open until you move out of the way.
If your hands are full and you can't use the wave gesture, you can use your voice to control the trash can's lid. Powered by Vesper microphones, it will recognize the following commands: "open can", "stay open", and "close can". This works pretty well if you speak clearly and loud enough. For the price, I do wish that the can also included a foot lever to open the lid.
Check out the video below to see the simplehuman trash can in action.
See it in action
What I like
Gesture or voice activated lid
Quiet operation
5 year warranty
What I'd change
Final thoughts
I really have enjoyed using the simplehuman 58 liter dual compartment sensor trash can and it's spoiled me so much that I don't ever want to go back to using my grubby old Rubbermaid swinging lid can. Yes, I know that this is a world problem, but this trash can is so well made and convenient. I like that I have a special place in the house to put the recyclables until I'm ready to take them out to the garage to sort.
The only downside to the simplehuman 58 liter dual compartment sensor trash can is the price and unfortunately, it's a major problem with this product because $250 is an insane amount of money to pay for a trash can even if it does have gesture control and voice control features. The only way I could justify that price is if the can also included a foot pedal lid opener and free trash can liners for life.
If you have tons of spare cash and want a luxury trash can, this is the one you want. But for those of us who have a budget, you can find really nice foot pedal opening trash cans for a fraction of the cost of this one.
Update 10/18/20
The other day Jeanne was upstairs sitting on the couch reading a book while I was downstairs. She yelled down at me asking if I was making the trashcan lid open and close. Needless to say, I was confused by that question and asked her to explain and she told me to come upstairs. I then watched as the trashcan opened and closed on its own several times as if a ghost was activating it. It wasn't a ghost though, it was the sun! It was a bright and sunny day and the light streaming in was shining on the sensor and activating the opening mechanism. Funny!
Price: $250.00
Where to buy: Bed Bath and Beyond, Amazon
Source: The sample for this review was provided by simplehuman.