We use affiliate links. If you buy something through the links on this page, we may earn a commission at no cost to you. Learn more.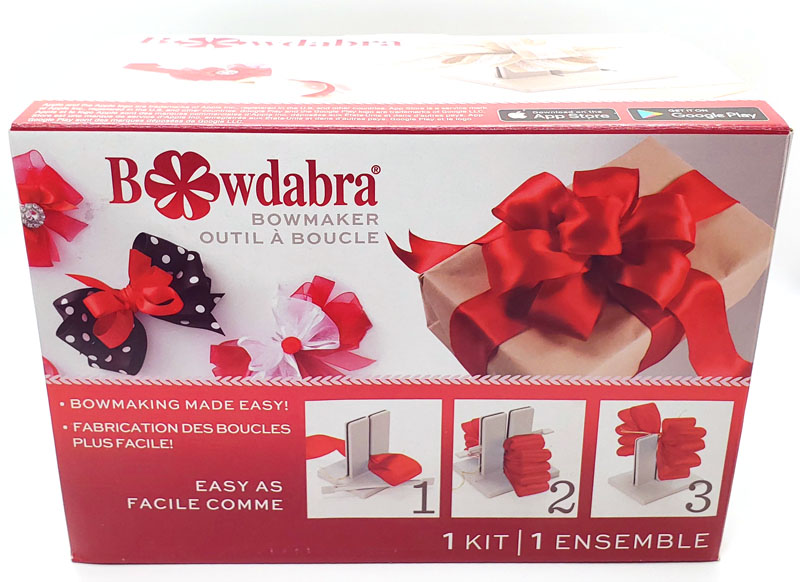 REVIEW – Presents are fun.  What makes them more fun?  Bows!  Our family has a long-standing Christmas tradition where if the present you're opening has a bow, you have to take it off the present and stick it to your head before you can open the present.  You can't take any bows off until you're done opening presents.  It made for some great memories and funny photos. Here I am circa-2000 in mid-Christmas morning festivities.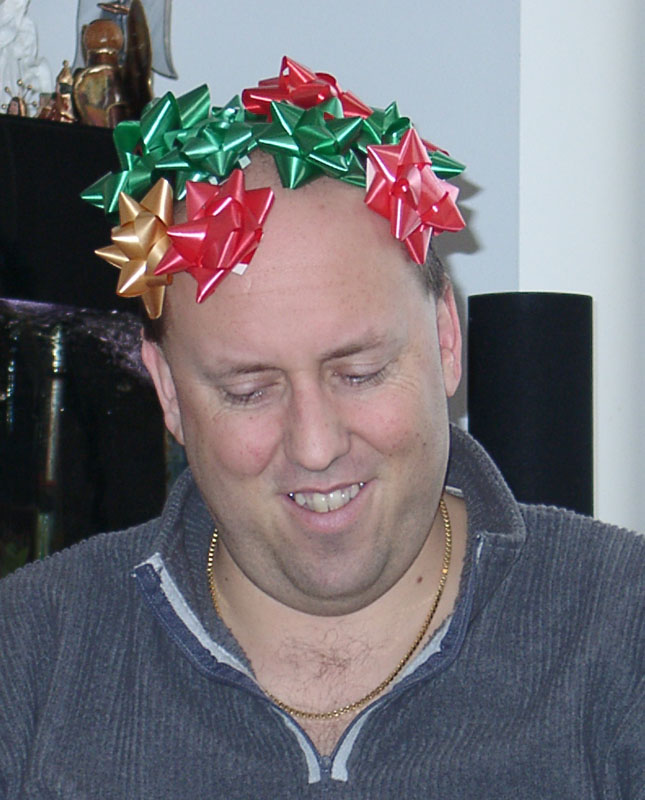 You can buy bags of cheap bows, but to get really nice ones, nothing substitutes for making them.  Unfortunately, that requires talent, something that for me, comes in short supply.  My lovely wife is somewhat crafty and has fabricated some bows in the past, but I just create lumps that happen to be fashioned out of ribbon.
Bowdabra claims that it makes bow making easy.  If I can produce gift-quality bows with it, that will be a truly solid endorsement.
What is it?
Bowdabra is a crafting tool specifically designed to simplify the process of making decorative bows.
What's in the box?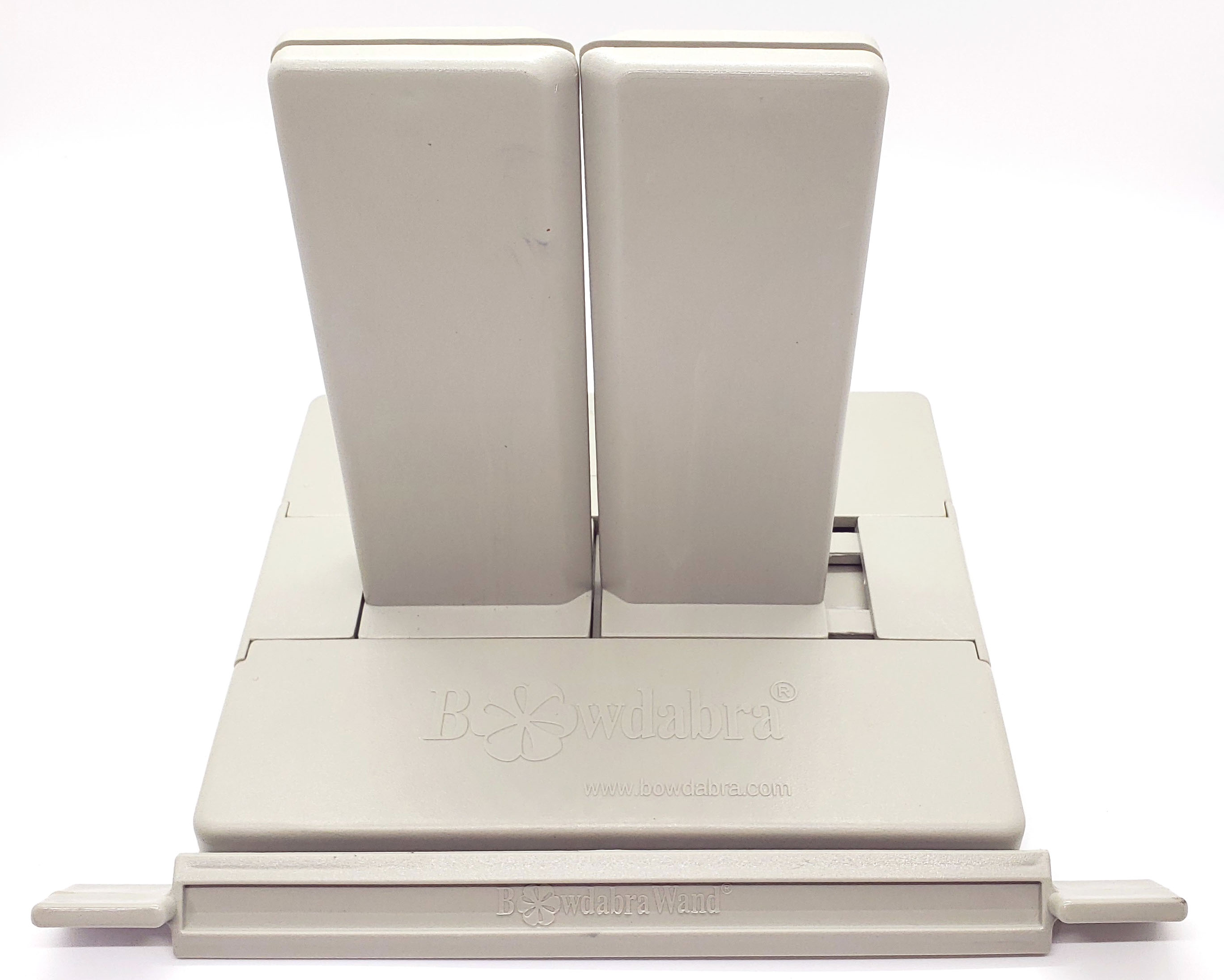 Bowdabra device with Bowdabra wand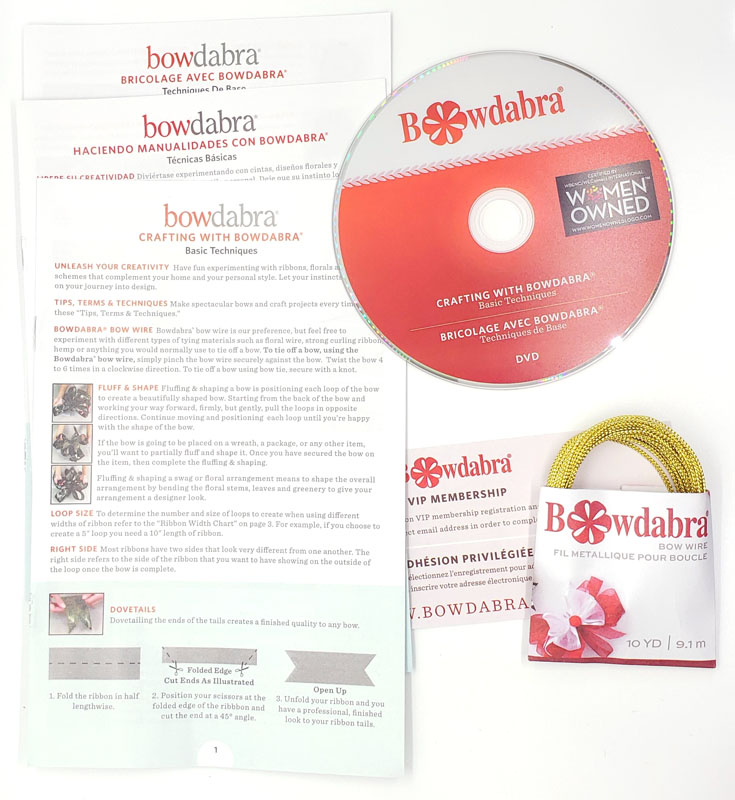 Instruction booklets in English, Spanish and French
VIP membership card with website link and code
Ten yards of gold bow wire
DVD with 30-minute basic techniques demo video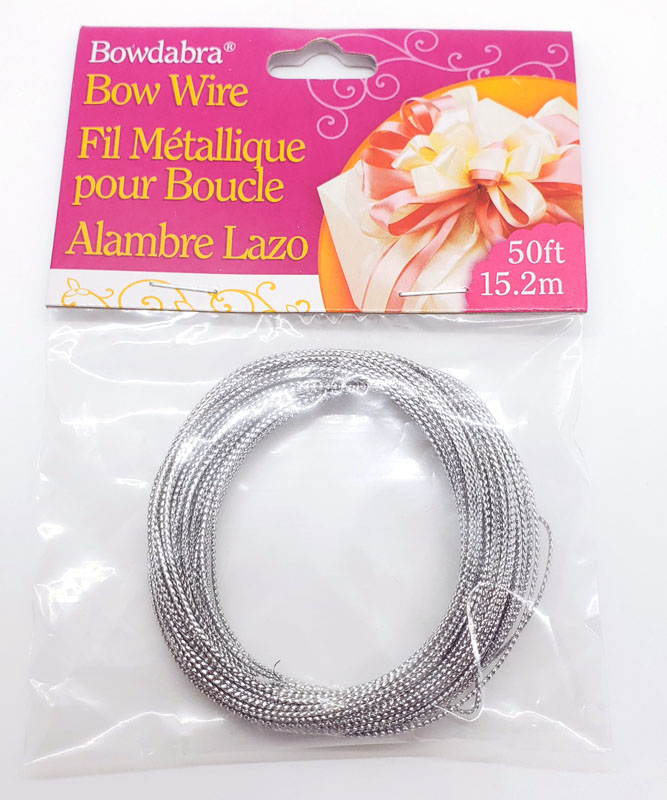 They also included 50-feet of silver bow wire – this is not typically included
Hardware specs
Dimensions: 5.5 x 8.5 x 5.6 inches
Weight: 6 ounces
Design and features
There isn't much to the Bowdabra, and that simplicity is the beauty of the Bowdabra.  Making bows isn't rocket science.  Holding everything together so you can make that bow is where the challenge is and that's where Bowdabra shines.
The two towers of the Bowdabra are designed to hold the bow wire lengthwise and the bow-making material widthwise. The wire would go from left to right in the photo below and the bow material would go between the two towers – top to bottom in the center of the photo.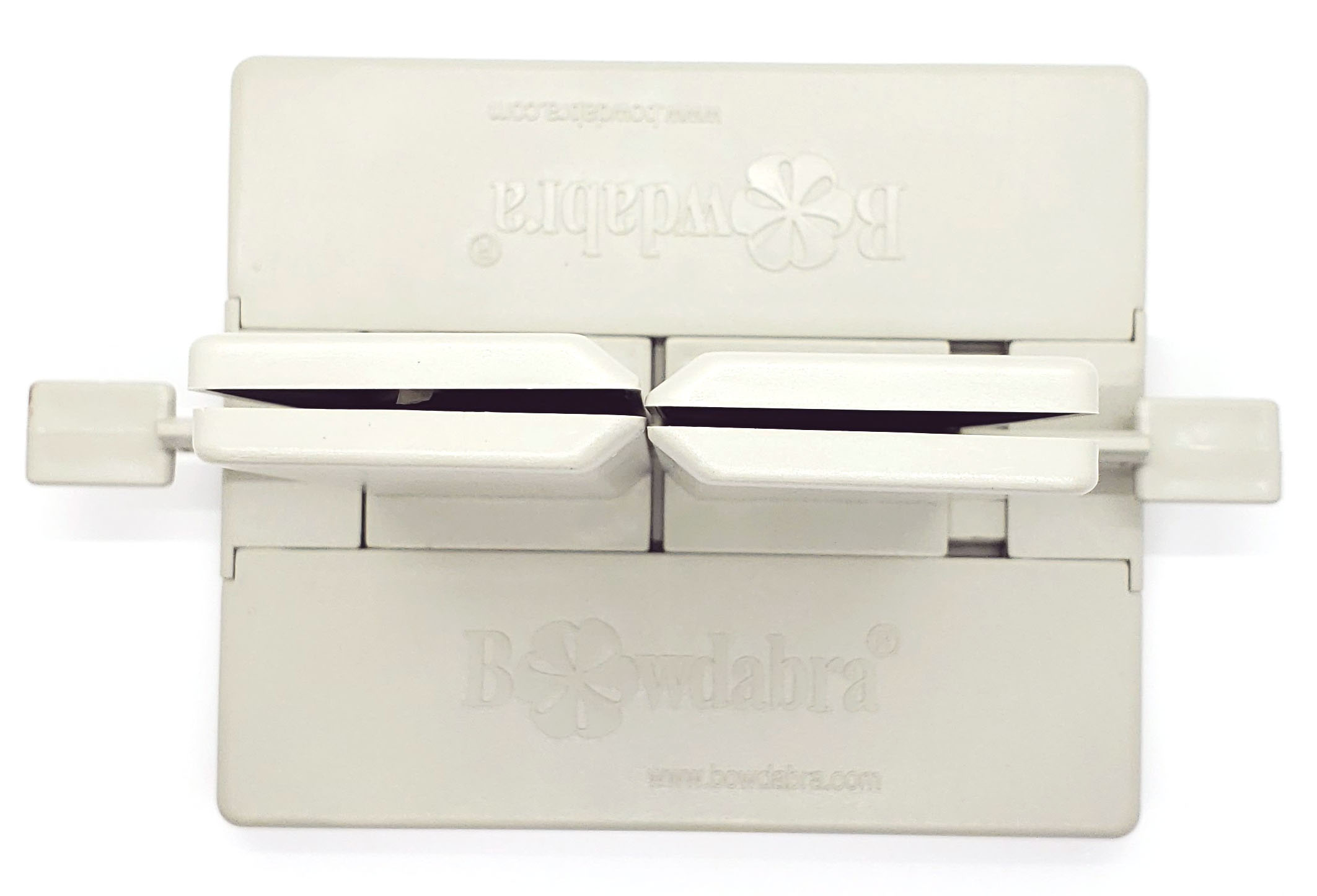 One of the towers is spring-loaded (the right one in the photos), allowing it to both hold material in-place while expanding as needed to allow thicker material like cloth ribbon and stick-attached decorations to be used.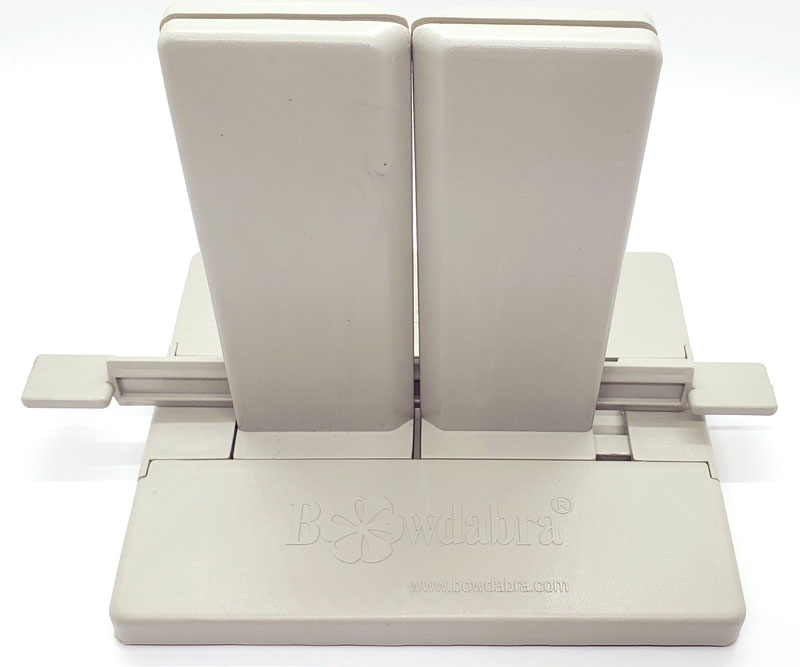 The Bowdabra wand (inserted in the towers in the photo above) is just a piece of plastic that slides into the towers, allowing you to scrunch down the center of the bow before you tighten the bow wire around it, finalizing your creation.
There is nothing magical about the Bowdabra, and to be clear, people have been making elaborate bows for years without it.  But like make great inventions, Bowdabra is a simple device that makes a complex, or just a laborious and intricate task, easier and more manageable.
Performance
To get started with the Bowdabra, you have several avenues for education.  The first is the included 30-ish minute DVD with short tutorials on how to make about a dozen different designs. The second is the available free app for IOS and Android.  I watched the DVD and also downloaded the Android app.  The DVD is pretty basic, but there is value watching the Bowdabra in use.  The app also has tutorial videos available.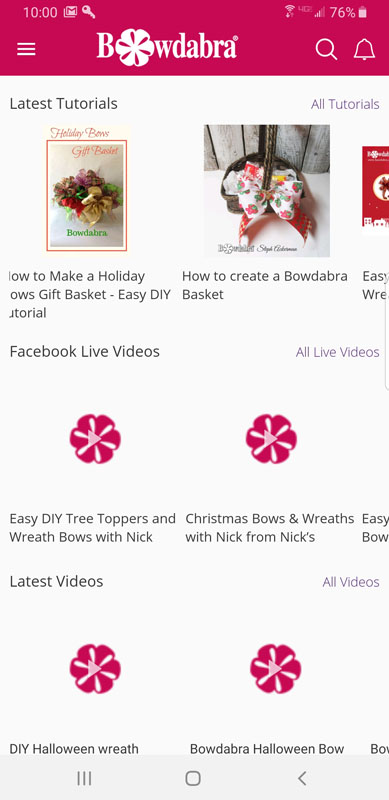 It also provides easy access to Facebook live videos, the Bowdabra supplies store and such.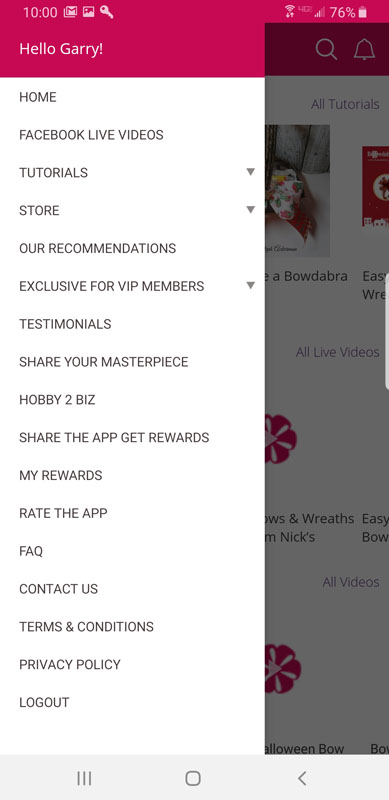 There is an entire Facebook community of crafters that host watch parties for sharing ideas.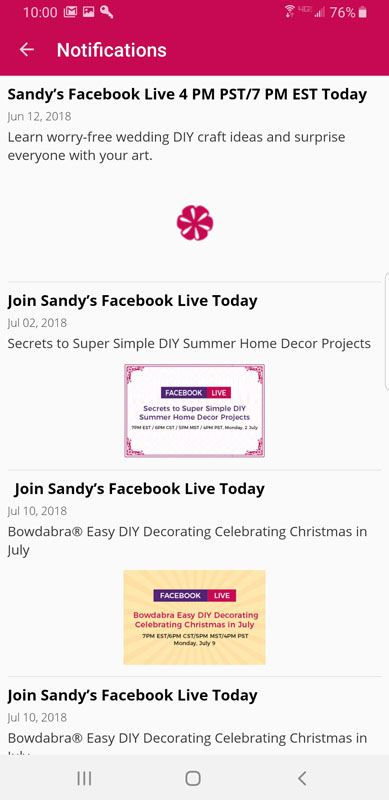 In addition to the tutorials, the Bowdabra comes with a one-year VIP membership that includes four downloads:
Learn to Gift Wrap like a Pro! – 16 Gift Wrapping Tutorials (Cost: $19.99)
10 Religious Christmas Crafts (Cost: $29.99)
Hair Bows Made Easy – Step by Step Instructions for 12 Different Hair Bows (Cost: $28.99)
Bowdabra Coloring eBook (Cost: $9.99)
The website's member-only area includes access to exclusive video content with additional project ideas. There are also a ton of YouTube videos available if you just search for "Bowdabra".
All this is well and good, but can an artistic klutz like me make a decent-looking bow with the Bowdabra?  Let's go to the video and we'll find out! (about four minutes and includes cheesy dramatic music!)
To be clear, I had never done this before and am not what you would call a "crafty" person.  It was simple to use and produced pretty decent results on the first attempt. I guessed the appropriate ribbon length and chose one of the more difficult dual-layer twist-and-scrunch methods. I would probably double the ribbon length and make a more full bow, but for what I did, it turned out fairly well. It is easy to imagine that with a little use, and some creativity, just about anyone could produce gift-quality bows easily and quickly.
What I like
Simple design
Bowdabra bow wire texture makes very tight knots and holds securely while still being easy to cut, plus it curls easily and the ends can become part of the design
Tons of tutorial videos available
What I'd change
Final thoughts
Gifts are nice.  Augmenting gifts with a personally crafted bow can make them especially nice.  Bowdabra allows those of us that are craft-challenged to have the appearance of being competent. It's not very expensive and if you're inclined to add that personal touch to your gift-giving, Bowdabra might be the right solution for you.
Price: $14.86
Where to buy: Amazon and Walmart
Also available for $18.99 from Bowdabra and many other craft stores.
Source: The sample of this product was provided by Darice.