We use affiliate links. If you buy something through the links on this page, we may earn a commission at no cost to you. Learn more.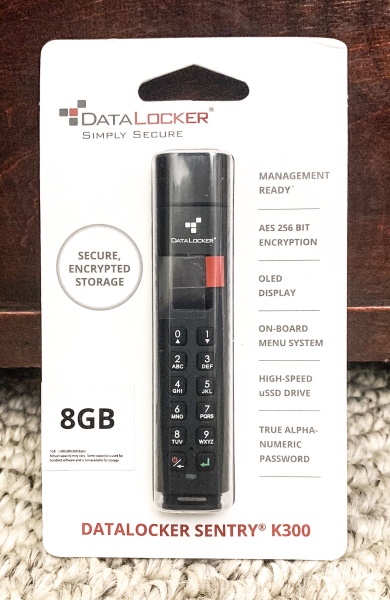 REVIEW – As I continue to accumulate encrypted drives for my personal and business use, I am always interested to see what else is available that adds more features than the drives that I already own. This is especially so since data security is a major focus of mine and is a part of my work that I do every day. Now I get a chance to test the DataLocker K300 Secure USB Drive.
What is it?
The Sentry K300 is a platform-independent micro SSD with a keypad,  that features an OLED display to enable advanced security features. "The display supports true alpha-numeric password-based authentication and a full-featured onboard menu system. The Sentry K300 is able to be remotely managed by DataLocker's flagship central management platform SafeConsole."
What's in the box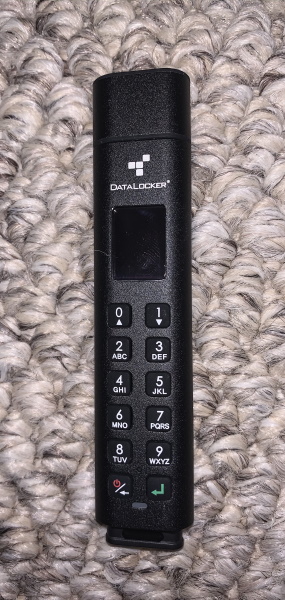 1 x DataLocker K300 Secure USB Drive
Design and features
Specifications:
Capacity: 8GB, 16GB, 32GB, 64GB, 128GB, 256GB
Speed: USB 3.1: – 8GB, 16GB, 32GB: 220MB/s Read, 100MB/s Write
– 64GB, 128GB, 256GB: 220MB/S Read, 200MB/s Write
USB 2.0: – All: 30MB/s read, 20MB/s write
Dimensions: 101mm (L) x 22mm (W) x 13mm (H)
Weight: 30.4g
Water Resistant: IP57
OS Compatibility: Windows, macOS, Linux
Operating Temp: 0°C – 45°C
Storage Temp: -20°C – 60°C
Long Term Storage Temp (More than 1 week): -20°C – 40°C
Hardware: USB 3.1 (SuperSpeed) port recommended. Backward compatible with USB 2.0 ports (High Speed)
Cryptographic Processes: 256-bit AES hardware module XTS mode
Features
● Always on AES 256-bit hardware encryption
● On-board keypad supports a true alpha-numeric password-based authentication
● The innate menu system allows password and policy changes to be made directly from the
device – no software or drivers required
● Platform independent and OS-agnostic allows ultimate USB mass storage compatibility
● IP57 certified for dust and water resistance
● The built-in power supply allows the device to be bootable (rechargeable battery)
● High-speed uSSD SATA III memory for ultimate performance
● Auto-Lock Feature and Brute Force Hack Defense for added security
● User and Admin roles for menu function differentiations
● Two Read-Only modes: Admin Read-Only is set by the admin and can't be disabled and
Menu Read-Only can be set/disabled by a user or admin as needed
● Centrally manageable with SafeConsole (available Q4 2018)
Citrix Compatibilities
• Citrix Virtual Apps and Desktops service
• Citrix Virtual Apps and Desktops service on Azure
• XenDesktop 7.14
• XenDesktop 7.15 LTSR
• XenDesktop 7.16
• XenDesktop 7.17
All of the controls for the K300 are on one side of the drive. They include the LED display and keypad. At the bottom of the keypad right in the middle below the numbers 8 and 9 is the reset button, The drive also comes with a cover for the USB jack.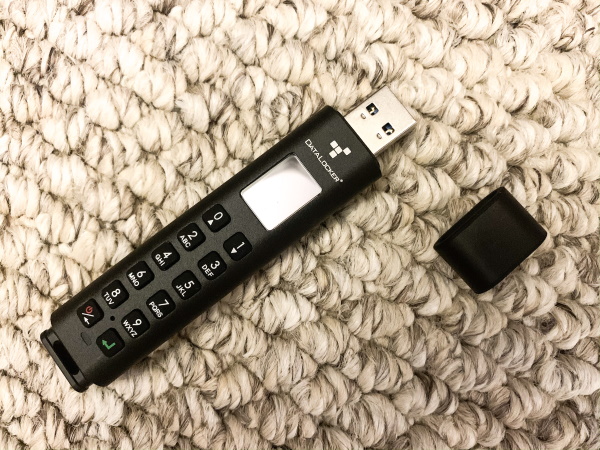 Performance
This drive offers a lot of great features, and it is easy to use. It arrives charged and following the instructions to set up the passwords and to get started using it is very easy. I only set up one password because I will not be sharing the drive with anyone. It allows you to use alpha-numeric combinations to create a truly strong password. If you so desire, you can setup Administrator and User roles and passwords and you can even assign a read-only mode. In the Administrator role, you can even set the policy for the requirements for passwords. It has a built-in defense should it be hacked and you have the ability to securely wipe the drive very quickly. Also, if you walk away from your computer, you can set the auto-lock time so that your data remains secure. The following diagram shows the setup process: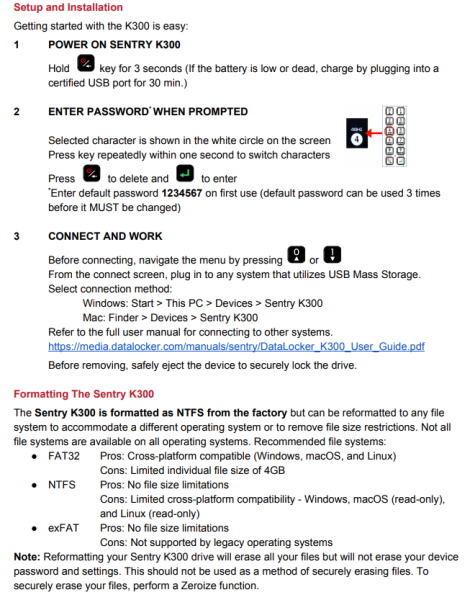 Click here for the complete manual.
Once you enter your password, you can plug the drive into your computer. When you press the green "return" button in the lower right corner of the keypad, you will connect. The drive will remain unlocked while in use, and if idle, will lack based on the auto-lock time you set via the menu.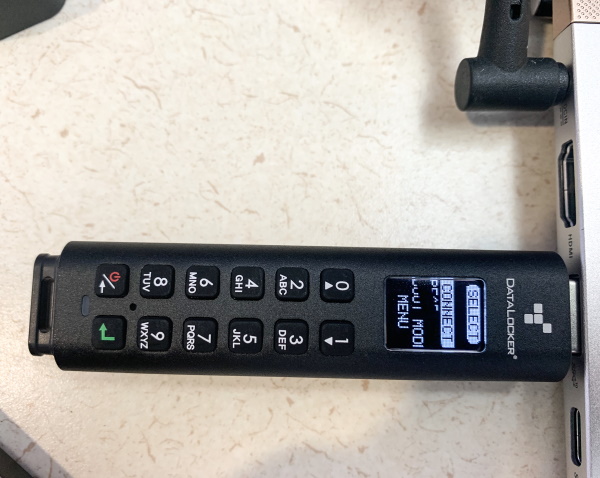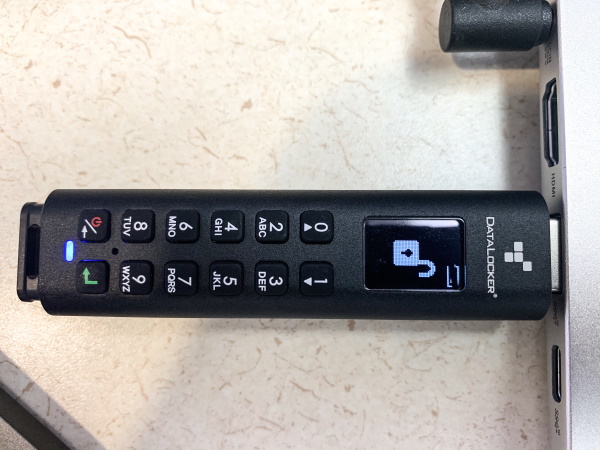 The screenshot below shows how the drive properties look in Windows.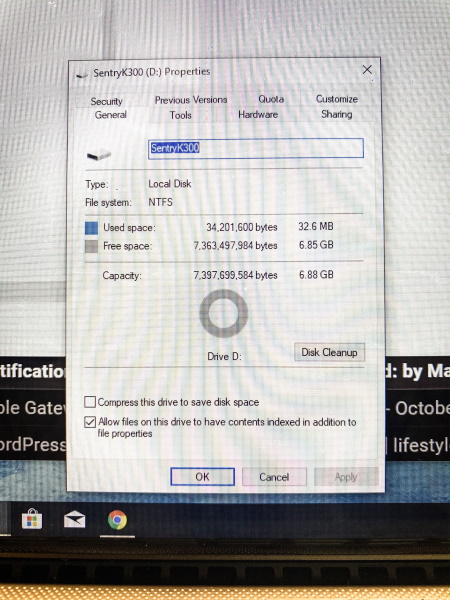 The read and write speeds feel very fast when in practical use. I did not run a benchmark test.
Important note: "By default, Windows 10 attempts to shut off USB devices after a set period of inactivity. If the
Sentry K300 is put into this low power state, the drive will automatically lock the drive and
require reauthentication. To disable this feature of Windows, you must disable Windows 10
Power Save". Click here for the complete instructions.
What I like
The built-in quality
The built-in keypad
The OLED display screen
The security features including the security of the actual drive
What I'd change
It does what it is designed to do
Final thoughts
I have now tested and reviewed about 4 or 5 encrypted USB drives with keypads, and this one ranks among the top in terms of build quality, ease of use, features, including security features, and ease of connectivity. While the one that I am testing is only 8 GB in capacity, Datalocker does offer other sizes up to 256 GB. I am using this drive for personal use and not in an enterprise environment, However, the fact that it can be easily integrated into an enterprise environment and includes Citrix support is great. I give them a well done and two thumbs up!!
Price: Starting at $110 ~ $142 for the 8 GB model
Where to buy: The Provantage website, The CDW website, and Amazon
Source: The sample for this review was provided by Datalocker