We use affiliate links. If you buy something through the links on this page, we may earn a commission at no cost to you. Learn more.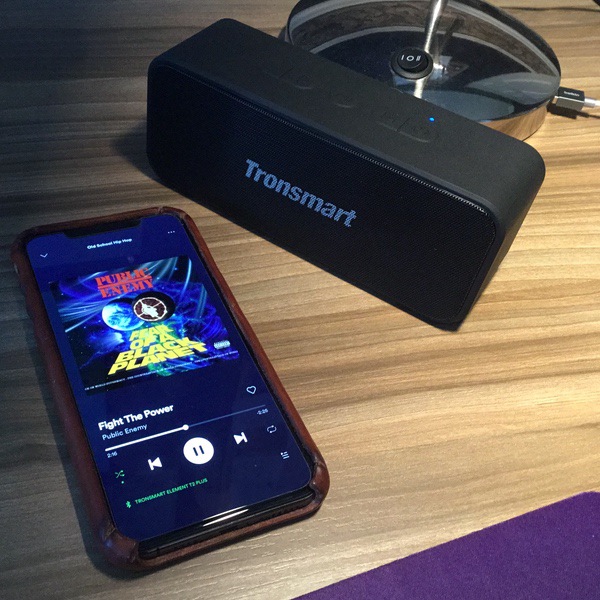 REVIEW – The Tronsmart Element T2 Plus portable speaker is an update to the 2017 model I reviewed. The new guy brings all that portability with improved water resistance, upgraded Bluetooth, and a few more tricks. How does it do in testing? To the review!
What is it?
It's a portable Bluetooth speaker.
What's in the box?
You'll get the speaker, AV cables, and a USB-to-USB-C charging cable. You also get a lanyard that you can tether to the carrying ring on the side of the unit.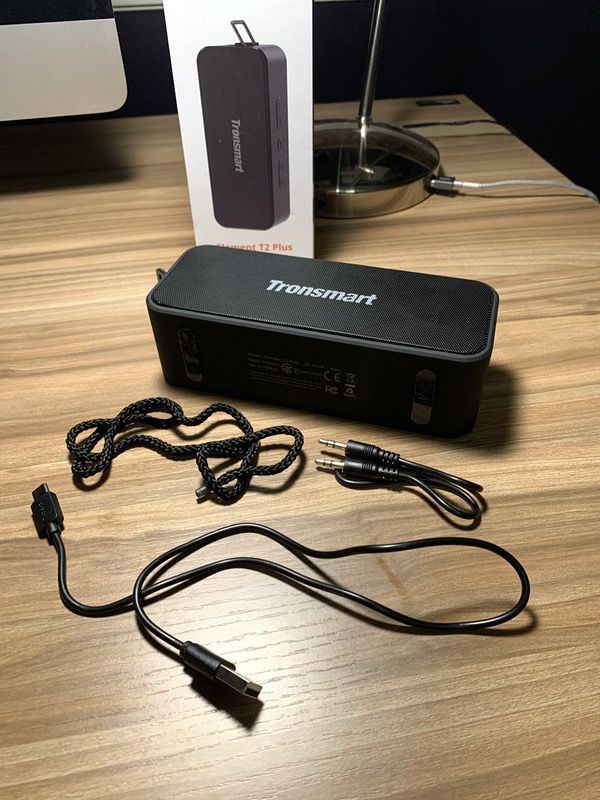 Hardware specs
20W Audio output.
IPX7 water resistance.
24 hours of continuous playtime
Bluetooth 5.0 compatible with 100 foot range.
Built-in microphone for hands free calling.
USB-C port.
A/V port.
TF/MicroSD port.
6.9″ by 2.7″ by 2.1″.
19 ounces total weight.
Design and features
I was a big fan of the original Tronsmart Element T2 when I reviewed it back in 2017. This new edition provides several upgrades while still maintaining a wallet-friendly price tag.
Like its predecessor, The Tronsmart Element T2 Plus is designed for portability. The build is solid, measuring in at 6.9″ by 2.7″ by 2.1″ and just over a pound in total weight. A rubberized exterior helps to protect the guts from drops and dings. This model also carries a waterproof rating of IPX7. That means it will take splashes, mud, rain, and can even survive being submerged for brief periods.
All of your controls are on the top of the unit, with simple displays and raised buttons that are gloriously simple (just like the last version). Each button has basic and advanced features:
The +/- buttons control volume with a tap, or switching to next/previous track with a push and hold.
Your play/pause button also enables answering calls or Bluetooth pairing.
The "M" key switches connection modes for your hard cables (A/V or MicroSD), and also enables pairing with a second Tronsmart unit for full stereo sound.
The power button also enables access to your personal assistant when paired with Alexa or similar services.
Those secondary features do take some getting used to, but they all work just fine. The important thing is that they don't get in the way of the basics you'll use all the time. Power up, connect your device, and you're off and running without any drama.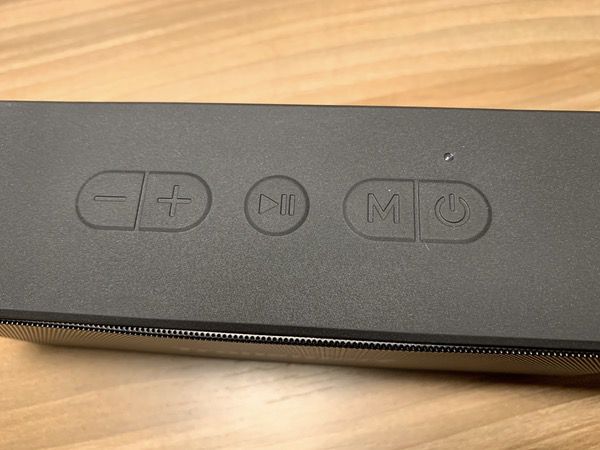 Your cables & charging port are tucked behind a rubberized waterproof seal. You'll find a TF/MicroSD port, an A/V port, and a USB-C port for charging. I love that last addition in particular for saving extra cables; a USB-to-USB-C cable is included in case you haven't gone to USB-C yet.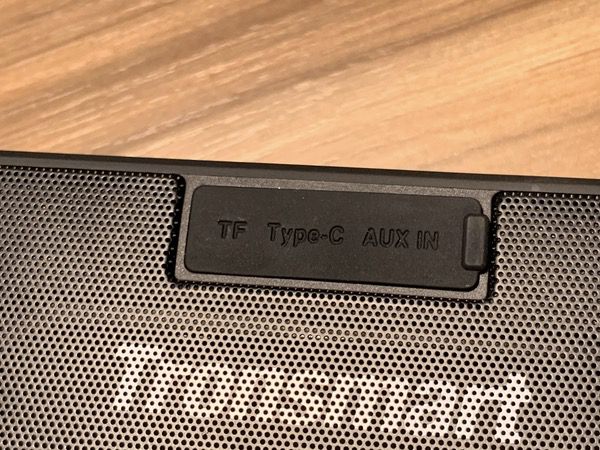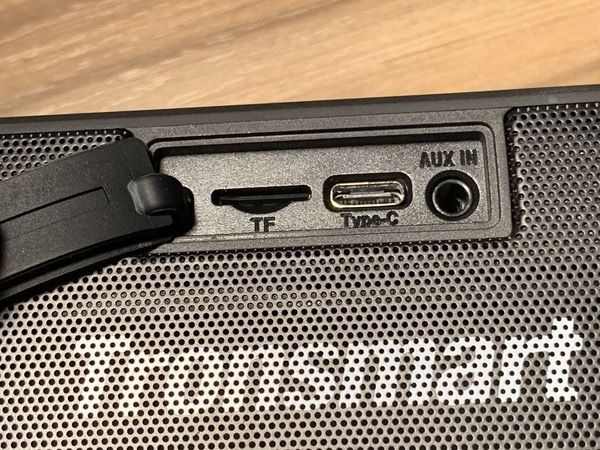 A pop-out ring offers a convenient option for attaching this speaker to a carabiner or tether. A carrying cord is included in the package if you'd like to lash it yourself.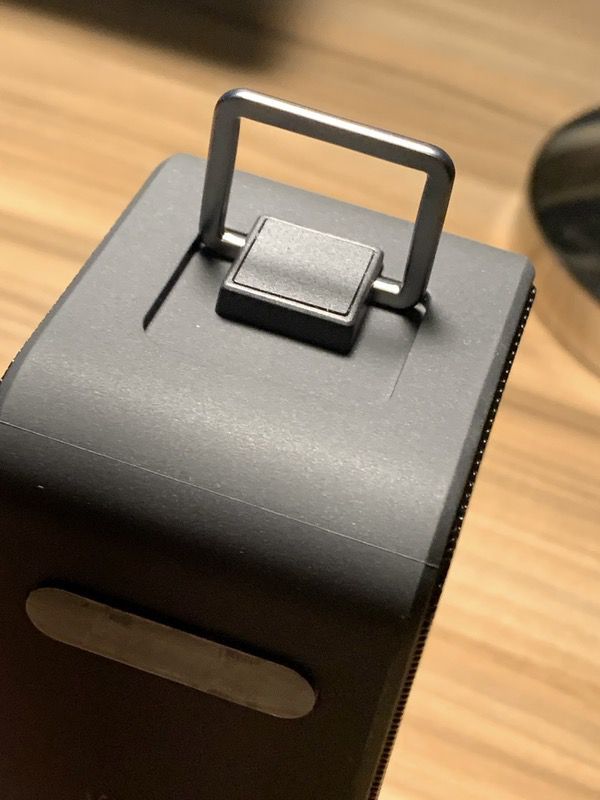 Performance
Audio quality is good on the Tronsmart Element T2 Plus, but not great. The depth of sound quality tends to be a bit muddy, with treble highs and bass lows being a bit muffled compared to some other speakers I have tested. You'll notice a difference in podcasts, too. The volume range, in contrast, is massive for its size. It's amazing how loud this thing can get, and you'll see better depth of sound at louder ranges. Given the price point and excellent water resistance, this is a perfect portable pool party speaker.
Phone functions also work just fine, with the ability to take calls and have conversations with relative clarity. You'll want to be near the speaker to do this.
The 3600 mAH battery is really good, and will run for 24 hours at roughly 50% of sound volume. With that massive volume range, however, you won't be ticking above 50% if you're in your home office or bedroom (or kitchen). I'm not seeing any issues with battery life, even after running on one charge for 2 weeks with daily use of about 2 hours.
Overall I would say it's a worthy upgrade to the previous generation. Better waterproofing and the USB-C compatibility are worth it for me, as well as the wider volume range in a unit that weighs just a few ounces more. And that price can't be beat.
What I like
Waterproof
Durable build
Simple controls
What I'd change
Depth of sound quality could be better
Final thoughts
The Tronsmart Element T2 Plus gets a whole lot right with its simple interface and water resistance, as well as decent sound quality. But couple those features with a sub-$40 price tag, and you have one heck of a bargain. If you're looking for a speaker that you can take to all of your outdoor events, this will be the one that does it for you.
Price: $34.99
Where to buy: Amazon
Source: The sample of this product was provided by Tronsmart.