We use affiliate links. If you buy something through the links on this page, we may earn a commission at no cost to you. Learn more.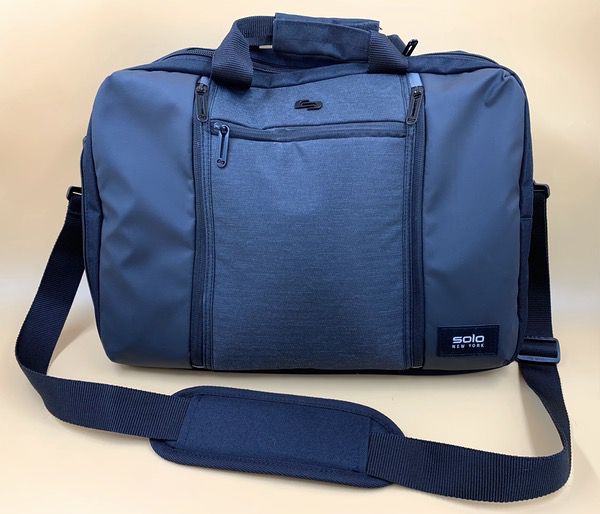 REVIEW – One shoulder or two? The Solo New York Gravity Highpass is a hybrid briefcase that switches to a backpack on demand. I love the versatility of this style of bag, but some do it better than others. How good is the Highpass at making the switch? To the review!
What is it?
It's a briefcase that converts to a backpack.
Hardware specs
13″  by 20″ by 4″ deep.
1.42 pounds.
Polyester construction
Design and features
The Highpass is part of Solo New York's new urban-styled Gravity series. Black-on-black is the color scheme, leveraging several different texture patterns that give the bag a slick, contemporary look. There's a smooth (and slightly shiny) fabric used in the front side panels, decorated with a heritage-style patch.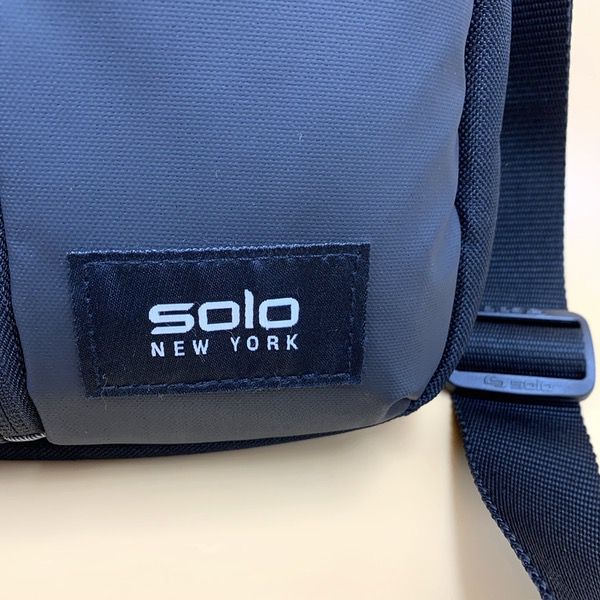 The sides, back, and base use a more rugged patterning for some more protection and wear resistance. The hardware is pretty beefy as well.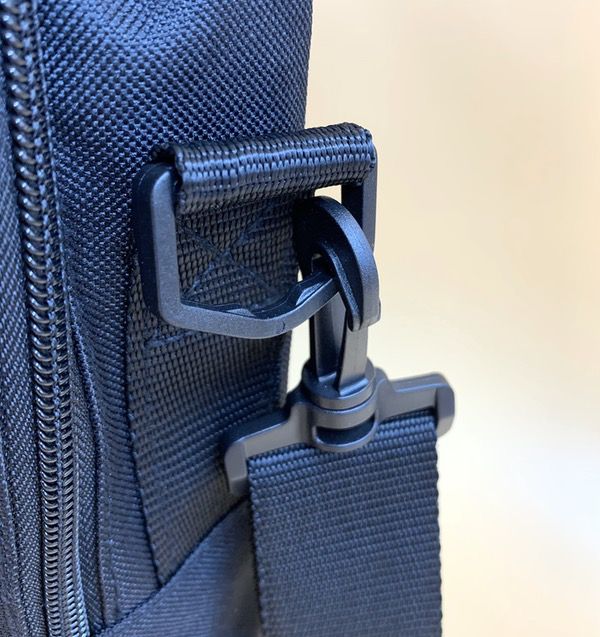 You'll also see a herringbone pattern on the front panel in the pictures below. It's a classy look that's perfect for business. I'd have no issues rocking this bag with a suit for a big meeting.
Because this is a hybrid briefcase/backpack, the pocketing is designed to accommodate both horizontal and vertical carrying modes. On the right front panel, for example, is a vertical zip that reveals a nicely sized 4″ by 11″ by 1″ pocket. I like this spot for my power bricks and chargers (or sunglasses). This pocket sits at the bottom of the bag when in vertical backpack mode, so I don't need to rearrange things.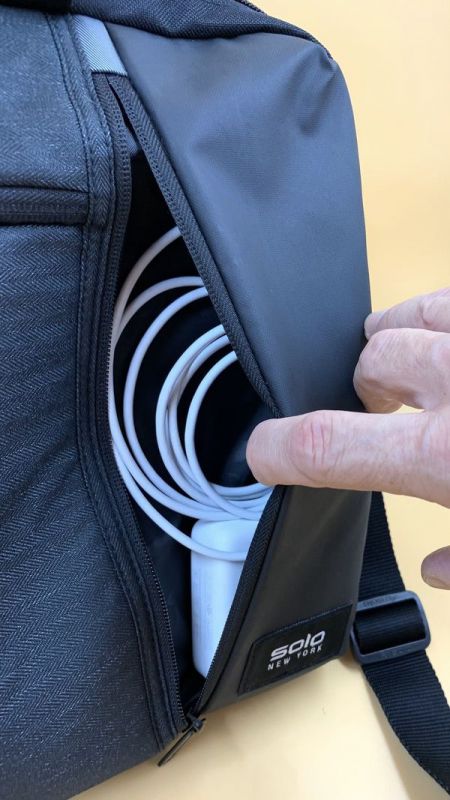 On the front face is a generous 8″ by 7″ by 1″ pocket for tossing your wallet, phone, keys, and such. You'll get a small notebook in there as well. This becomes a side access pocket in vertical mode.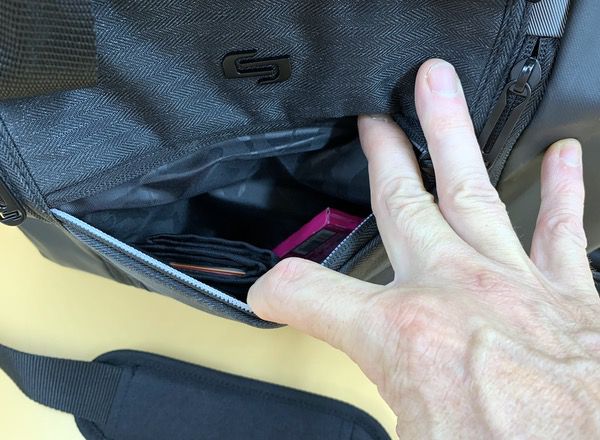 On the left side is another vertical zip that gives way to a pocket that runs the full height and width of the bag, 13″ by 20″ by 1″ deep. This zip sits at the top of the front panel in vertical mode, which allows you to use it as a drop space for all kinds of stuff. It's also very flexible, so you can stuff bigger items in this space like a water bottle.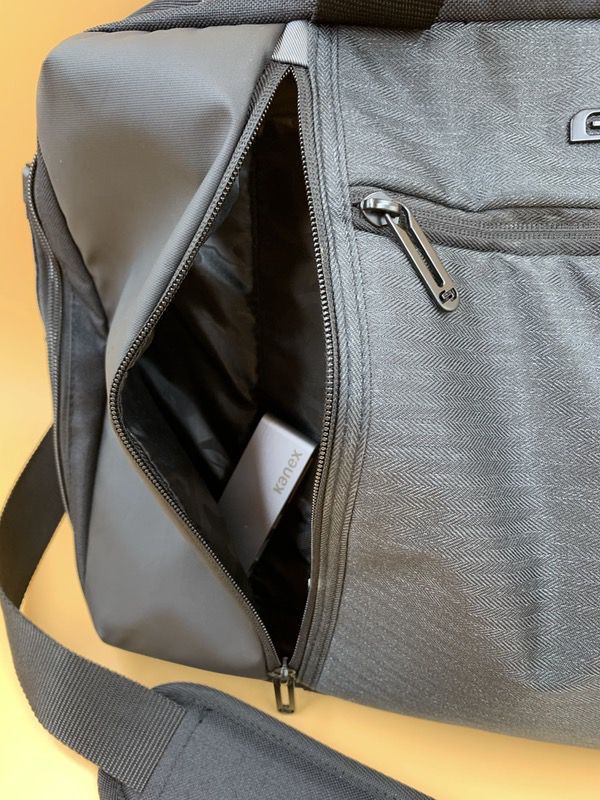 Double zips give you access to the main compartment, which features a mesh-front pocket for your laptop and a tablet pocket on the opposing side. The laptop sleeve will easily fit a 15″ laptop; I keep my 13″ MacBook Pro, documents, and an iPad in that space. The tablet pocket is sized for a 9.7″ tablet without a cover. You could still stash plenty of stuff in that main compartment like a big organizer pouch. Coupled with the generous front pockets, there's a surprising amount of room in the bag overall.
And here's the clever bit for going in backpack mode. See how that zip at the bottom of the picture runs all the way around the back of the bag? It only runs as out halfway down the side on the back end, which becomes the bottom of the bag in backpack mode. That means you can access the innards from the top or the side in backpack mode, which is very convenient. I don't see this on most convertible bags, which typically open from the briefcase top side only (or side when flipped to vertical mode). It's a little thing that gives you a bit more usability. I like it.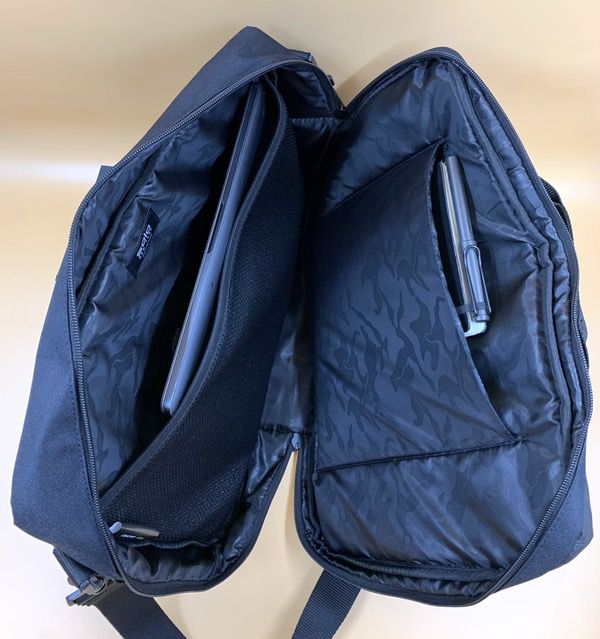 So here we are in briefcase mode. The shoulder strap comes with an 8.5″ by 2.5″ pad for comfort, and has an adjustable 50″ length which is perfect for extending to cross-body carry length if you want to go messenger style.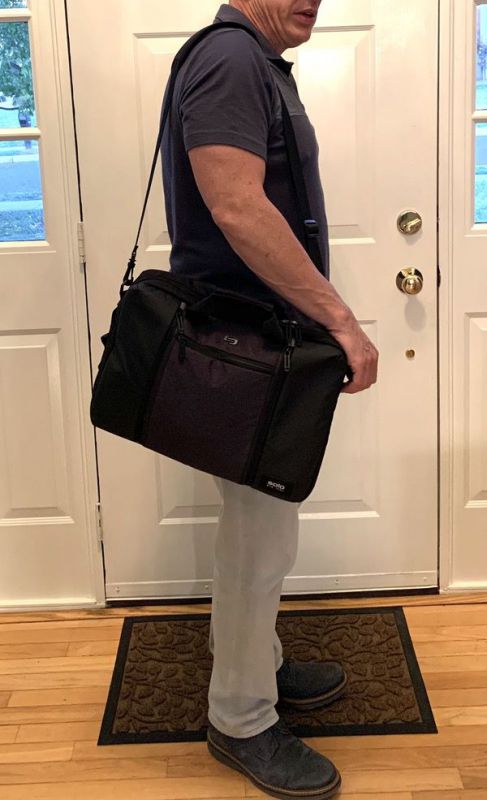 We'll take off that shoulder strap to convert to backpack mode. Unzip that top zip you see in the picture below. (Note that there's a luggage pass-through strap on the back panel, by the way. Nice.)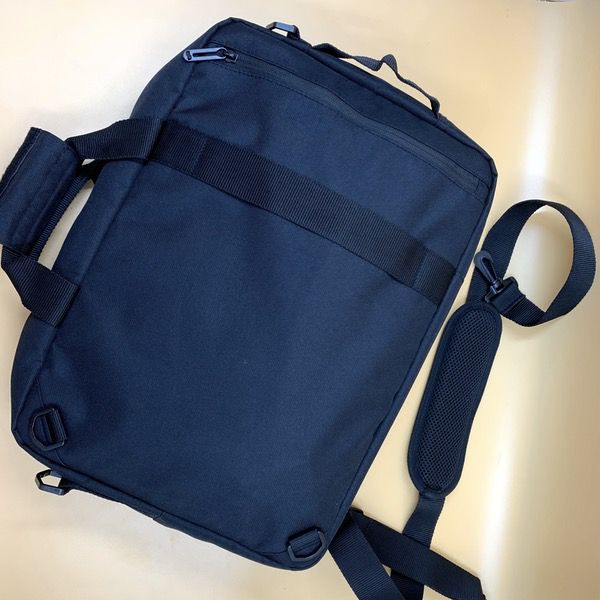 Your shoulder straps hide in a rear compartment that runs the height and width of the bag.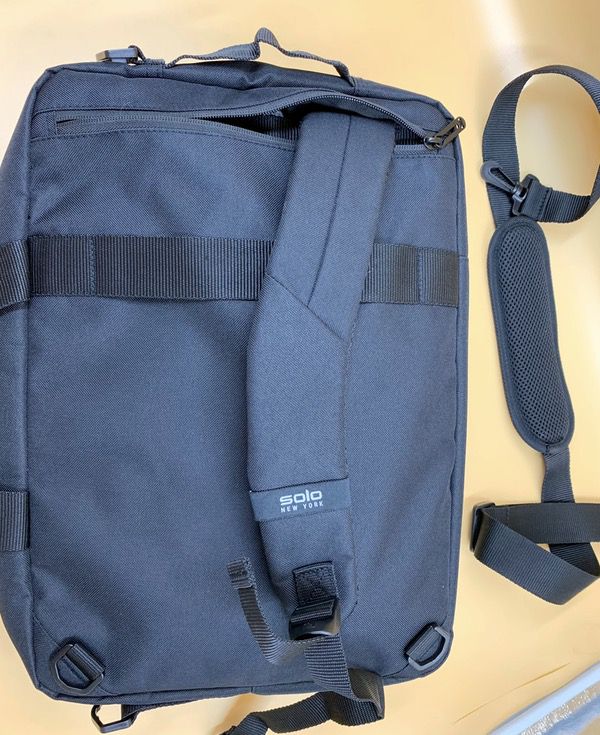 And those shoulder straps aren't just throw-ins. They're nicely padded with a slight contour to hug your body, and generous length for adjustments.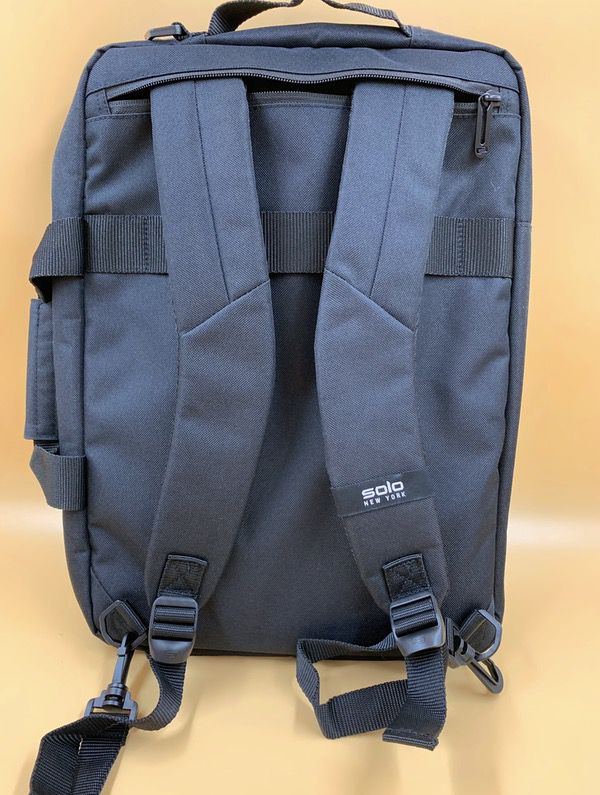 These straps clip into rings at the base of the bag. Check out the beefy hardware and swivel clips. It's just as comfortable to carry in backpack mode as it is in briefcase mode.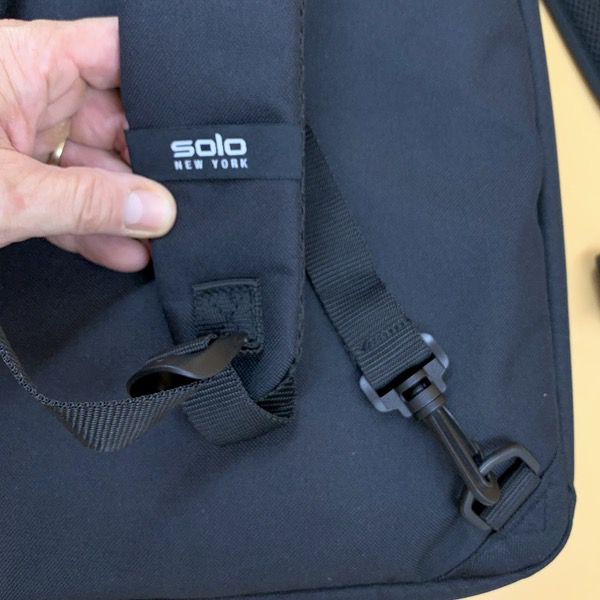 And it doesn't look like an awkward briefcase riding on your back either. It looks like… a backpack! Pretty slick.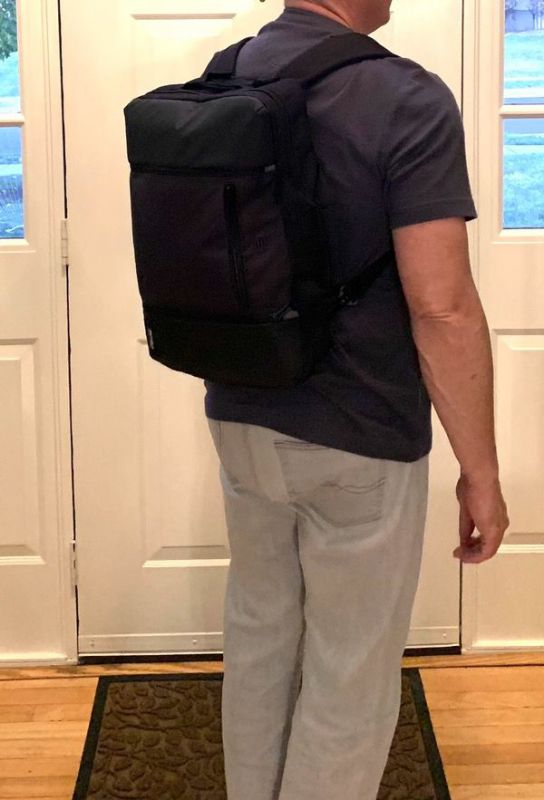 There's a pair of handles on the side of the bag for briefcase carry with a velcro pad to keep them tight. You can use this as a grab handle if you're pulling the bag out of your car. There is no top handle in backpack mode, however.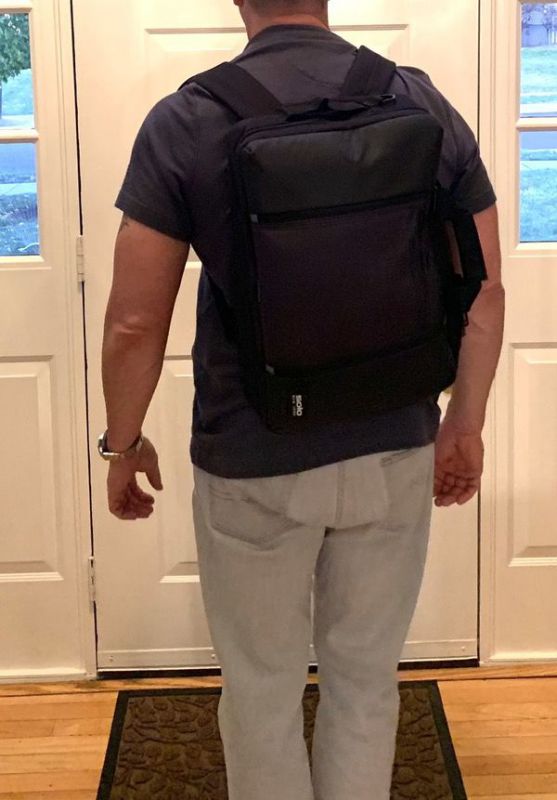 Despite having a deceptively generous space for stuff, the profile is ergonomically slim and form fitting. Padding on both sides of the main compartment protect your electronics, and make for really comfortable carry. I can run with this all day in backpack mode.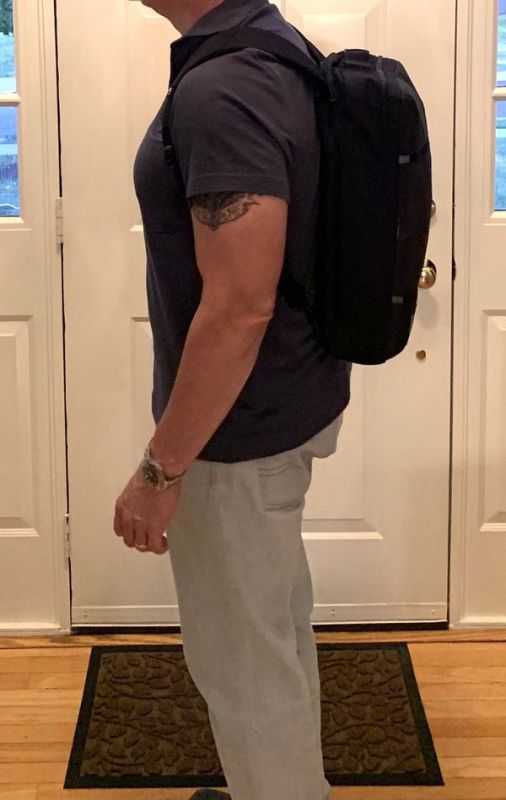 The build quality throughout is very good. I don't think they use YKK zips here, but the zips that are used feel substantial. I like that the bag also has extra double-sewn nylon strips at all the tension points for the shoulder strap and backpack straps. It's simply executed, but very well finished throughout.
What I like
Very good build.
Generous pocket sizing throughout.
Works just as well in briefcase or backpack mode.
Professional styling that works on business formal or business casual days.
What I'd change
No major issues to report.
Final thoughts
The Solo New York Gravity Highpass is a great example of a briefcase/backpack hybrid design done right. It has great usability and looks great in either orientation. Simple, generous pocket design makes for excellent flexibility in how you use the spaces to organize your stuff in vertical or horizontal mode. If you're looking for a versatile bag for the office commute at a great price, it's definitely worth putting on your short list.
Price: $59.99
Where to buy: Get it at the Solo New York web site and Amazon
Source: The sample of this product was provided by Solo New York.