We use affiliate links. If you buy something through the links on this page, we may earn a commission at no cost to you. Learn more.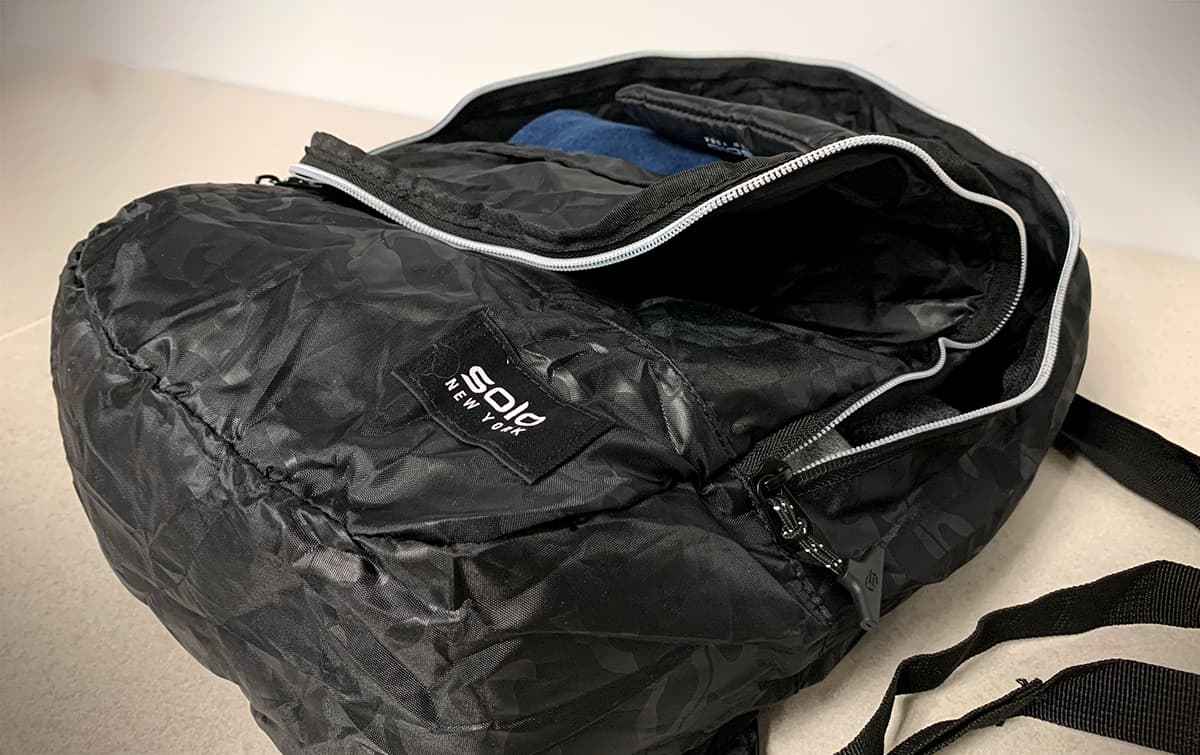 REVIEW – When packing for a long trip, it's easy to forgo including a smaller bag for your shorter journeys after arriving at your destination. Backpacks are usually bulky and add unwanted weight to your already heavy luggage. The Packable Backpack from Solo New York could be the answer to this dilemma.
What is it?
The Packable Backpack from Solo NY is a lightweight backpack that can roll up and fold into an attached pouch, making its packed size a mere fraction of its full capacity that fits into the palm of your hand. It can easily fit into a glove box or console in your car, or added into your suitcase without adding much extra bulk.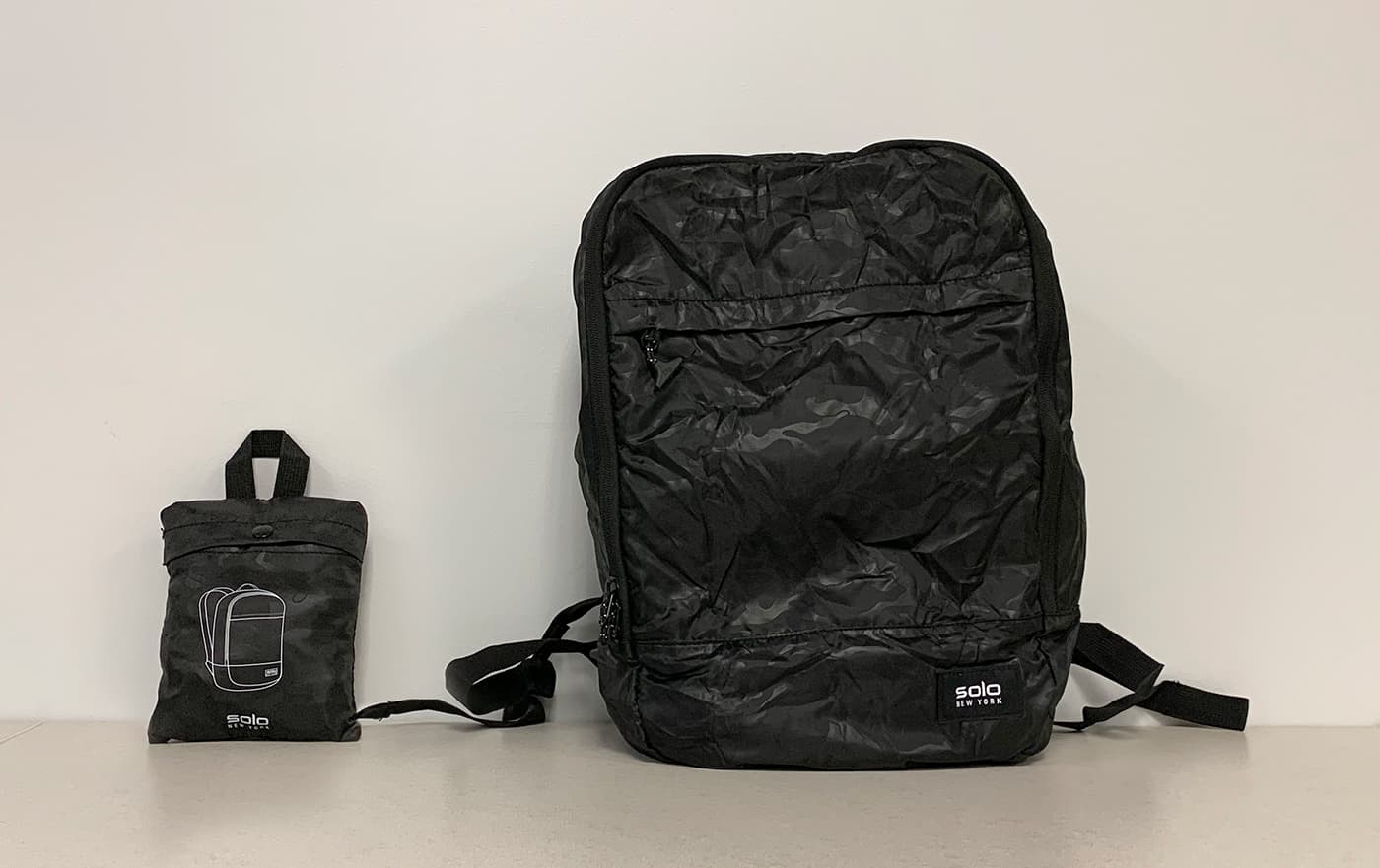 What's in the box?
just the backpack, already packed into itself
Hardware specs
Body size: 17″ x 11″ x 6″
Packed size: 6.5″ x 5″ x 1.75″
Weight: 0.38 lbs
Material: Polyester
Design and features
The design of the Packable Backpack makes it extremely useful for stowing in a trunk, glove box, or even a larger piece of luggage on while traveling, and provides a lightweight and fully functional backpack that is able to be quickly deployed when needed.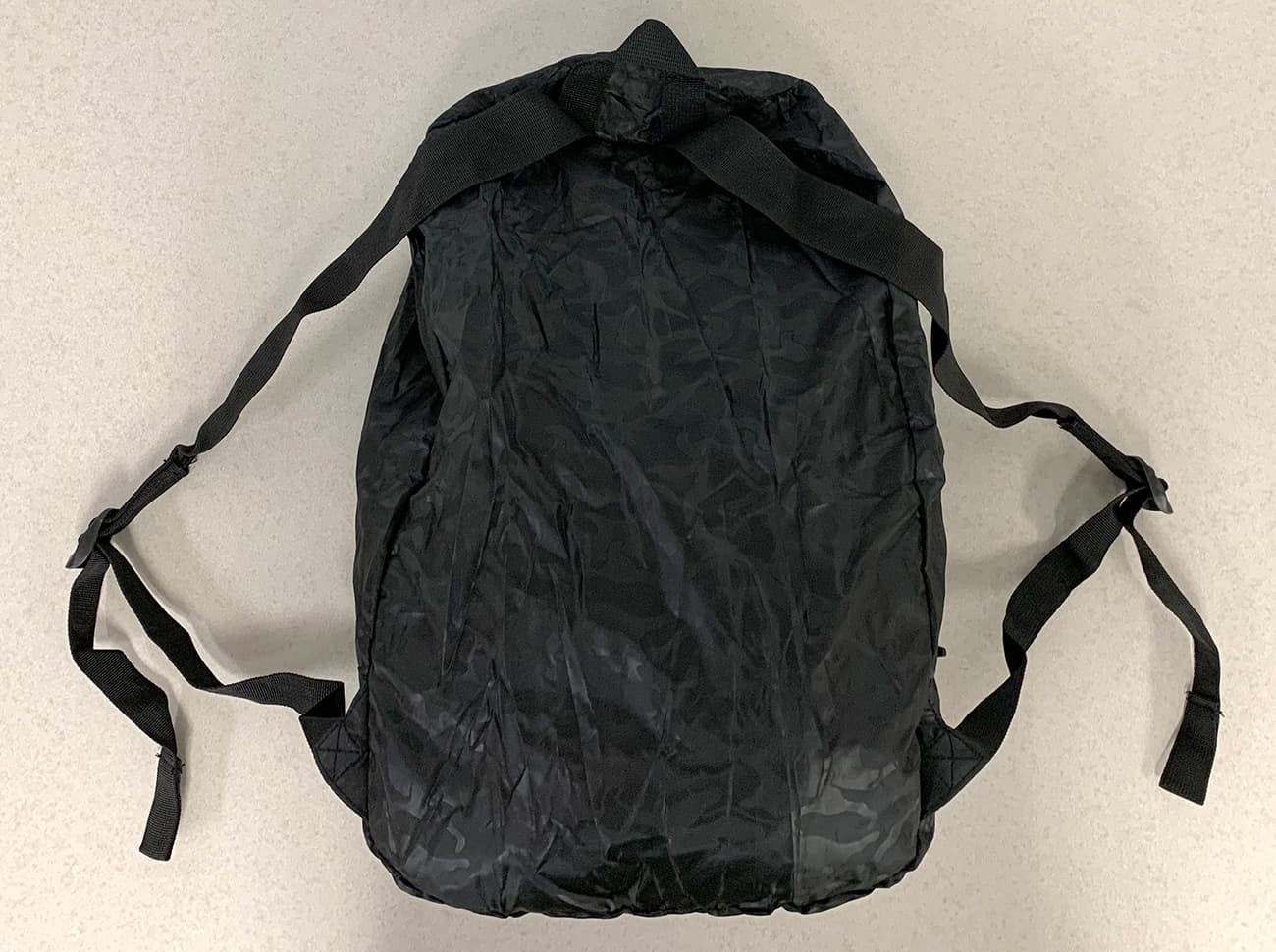 During my review period, and in the interest of testing the convertible nature of this backpack, I mostly used it for grocery runs, returning the folded up pack to my car after unloading. I was able to cut down on plastic bags, which is nice, and easily tote my purchases to the car.
Although perhaps an even better use case would be to simply throw this bag into a larger camping backpack or suitcase so you can easily bring along another bag for day trips or carrying home anything new you accumulated on your journey.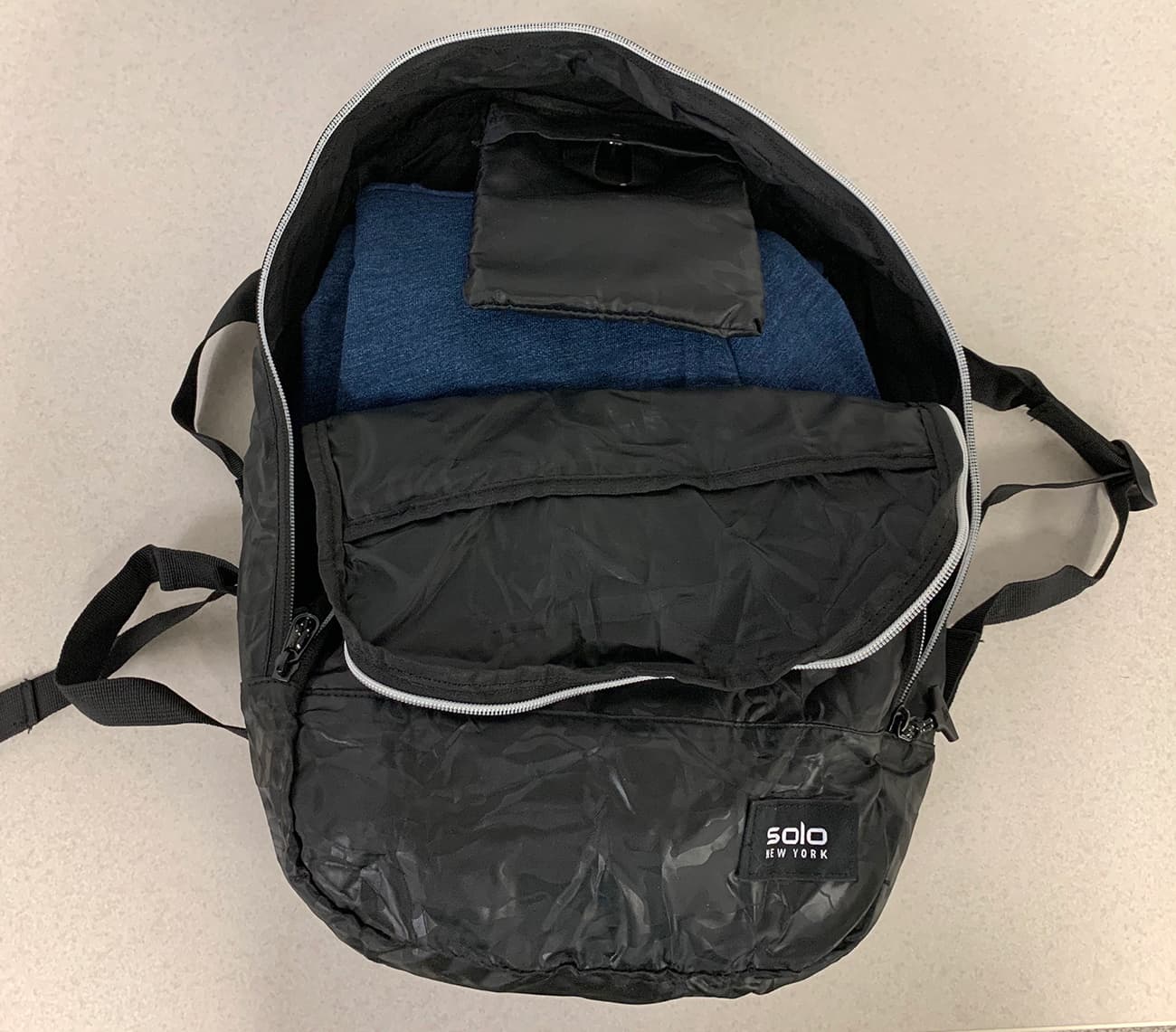 But don't get me wrong, you could absolutely keep the backpack unfolded and at the ready and it does a fine job hauling your day to day stuff. It's tougher than it looks. The material is a bit thin and pretty pliable, to keep it easy to pack away, so unless it's completely full, it might look a little saggy or misshapen sitting on the floor. Additionally, there are only two compartments… one large main area and one smaller front zipper pocket, so organizational wonks might not like that.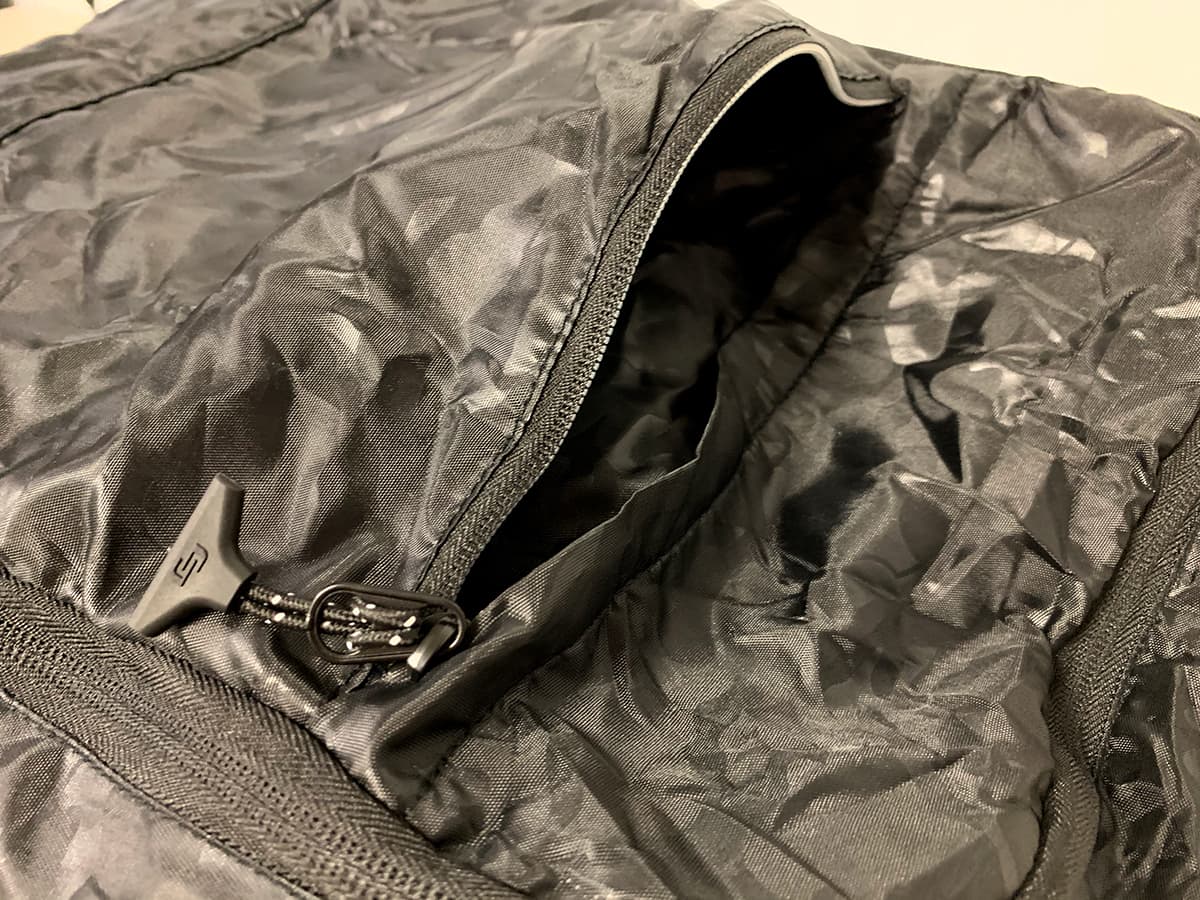 Although you can use the storage pouch as an additional security pocket, as this hangs from the top of the large compartment when the backpack is unfolded.
The material, while thin and pliable, feels nice. I like the "camo" look that's stitched into the material, as well. It gives a little personality vs. a plain old black backpack. The shoulder straps are a little on the thin side, as well, but they don't cut into your shoulders unless the pack is filled with very heavy items, which I don't feel would typically be the case with a pack of this size.
It's worth mentioning the price … the Packable Backpack is a mere $20. I've spent more on bags that felt like they were going to fall apart in a month or two.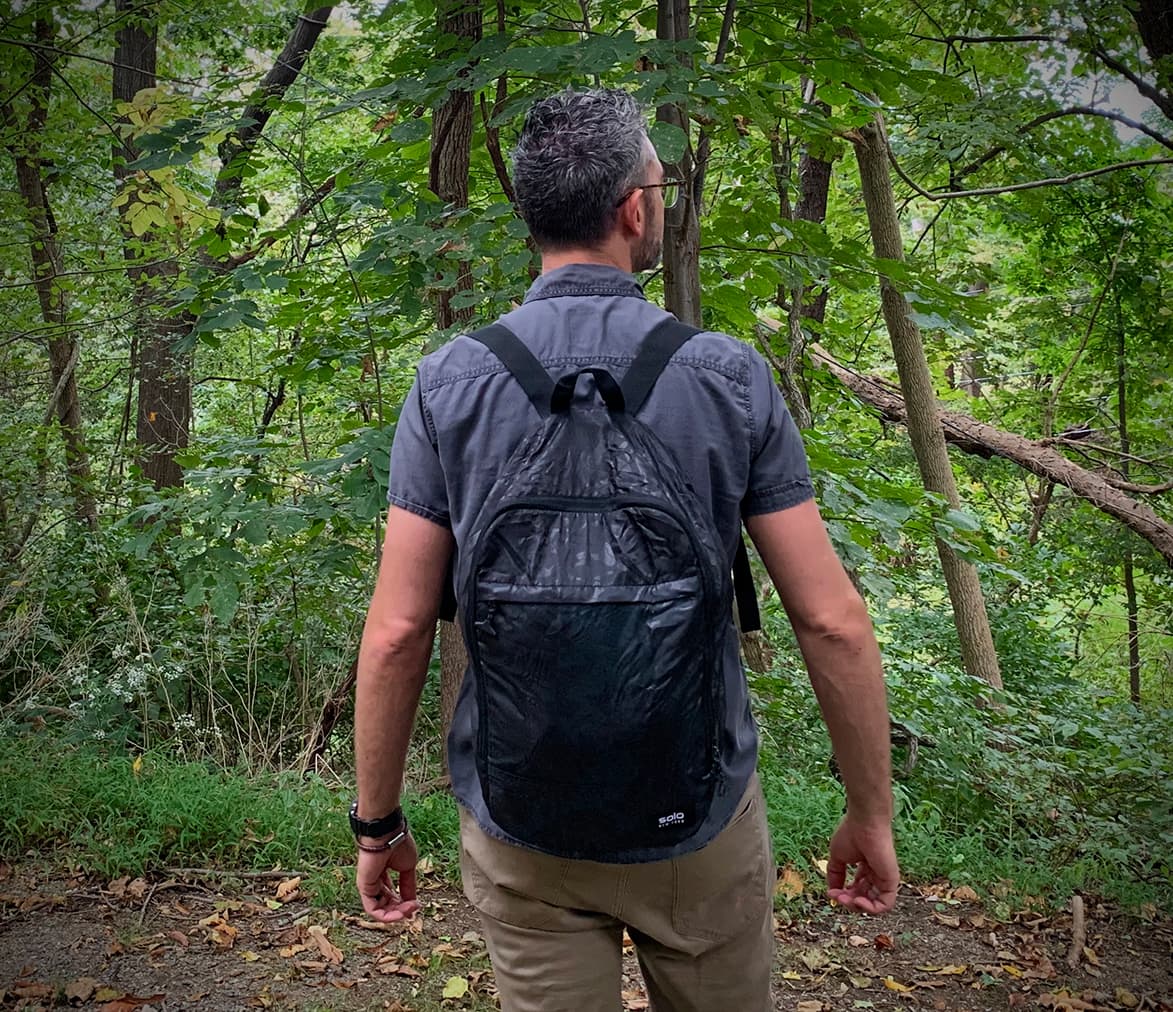 The only knock I could give to this nice little backpack is getting it folded back down into itself. While it's nowhere near as bad as folding up an old travel map properly (so thankful for GPS), you do have to apply some tight rolling and folding skills to get everything back into place as nicely as the original packing. However, once you're used to how it folds up, it's a pretty simple task.
What I like
extremely lightweight
durable and tear-resistant
packs down very small
What I'd change
a little tricky to fold back up very tightly
Final thoughts
I've been really trying to avoid single-use plastic materials like shopping bags, and having a durable, full-size backpack that can curl up and live in my glove box goes a long way toward helping me with that goal. There's very little to dislike about this bag, especially the price.
Price: $19.99
Where to buy: You can order the Packable Backpack directly from Solo New York on their website, with free shipping, to boot.
Source: The sample of this product was provided by Solo New York.