We use affiliate links. If you buy something through the links on this page, we may earn a commission at no cost to you. Learn more.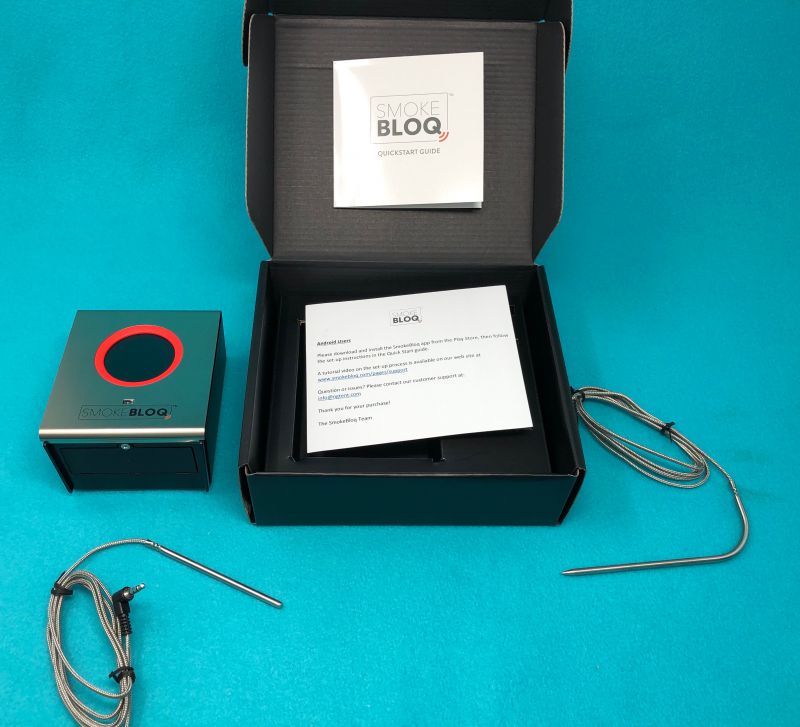 REVIEW – Minding the matter that is on the fire while cooking can be a confusing and difficult task. Sure, you can toss a few pieces of steak or chicken onto a grill and watch it carefully, but what if you're cooking large pieces for hours? Grilling thermometers have been around for a while, but SmokeBloq wireless meat thermometer has just released one with four inputs that are weatherproof and which connects directly to your Wifi, rather than just with Bluetooth. I was sent a unit to test.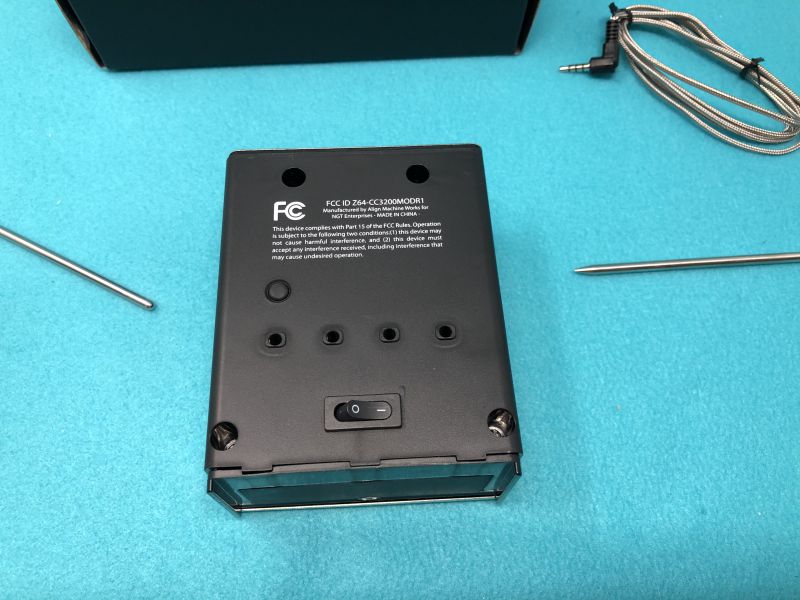 What is it?
A plastic box with a thin, bent metal face with 4 inputs on the back and a round LCD display on the front for monitoring your cooking.
What's in the box?
SmokeBloq
Pointed Meat probe
Rounded Grill probe

Design and features
The control unit itself is a plastic box 4.25″ x 2.25″ x 3.25″. There is a trap door on the bottom where you insert 4 AA batteries. On the back, there is a toggle switch for off-on and 4 inputs for probes. The probes are ~4 foot long cables with a metal sensor clamped onto one end, and a right-angle earbud-looking .125″ plug on the other. They are made with a metal over-braiding to withstand the heat. While two probes are included in the box, there is a special currently running where you can get another just for mentioning a coupon code. (This is a $22 value – check the link below for details.)
Setup
Setting up the hardware is nothing – insert 4 AA batteries, plug in the probes to the correct ports, and flip the switch. The temperature immediately starts to show on the LCD screen, going from one probe to the other after a few seconds.
The software setup is a bit more complicated. You have to download the software to your device, then join the SmokeBloq's Wifi network. You then enter your wifi credentials into the software, and this is transferred over to the device, and it should be able to join your network.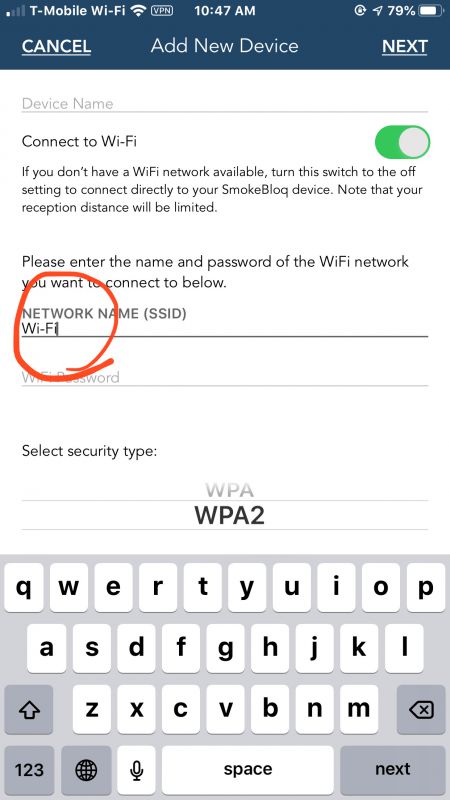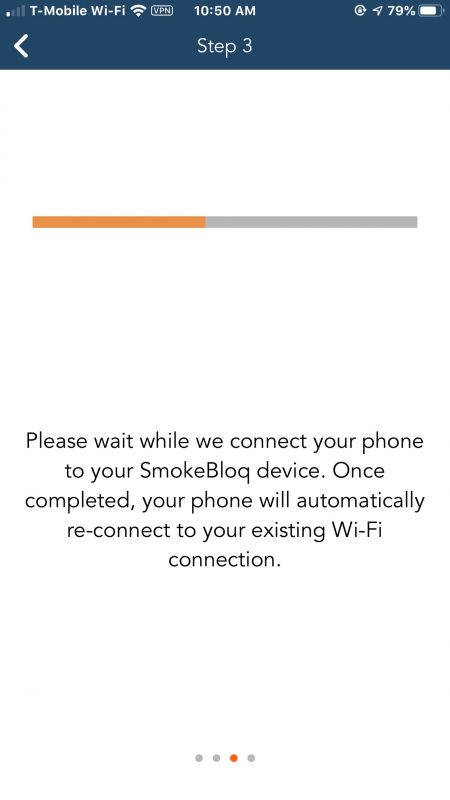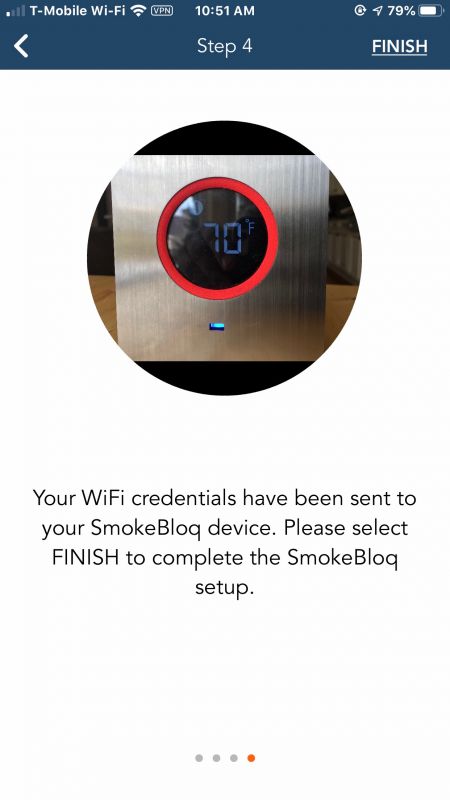 During setup, I found some issues with iOS 13 beta and the app. There are new privacy safeguards related to reporting the WiFi SSID without asking permission and other parts of the setup that iOS 13 doesn't allow. (See the circled area on the screenshot above. When done on my wife's iOS 12 unit, this filled in our WiFi network name automatically without asking permission.) On a random Saturday, I posted a request about this to the company website, expecting nothing beyond an automated reply before the next week. Imagine my surprise when I got a reply and request for more information and had a back-and-forth with the company in less than an hour! I tried the install on my wife's iPhone 8, which is the only iOS device in the house still running iOS 12, and the experience was flawless. Seeing the difference should help them update the app before this Fall's release of iOS 13. But still, something to note.
Performance
Once you've got the unit synced to your device (it can be connected to more than one), you set up a cook session. This is done by clicking the "+" button, choosing what type of food you're going to cook, and setting up the minimum and maximum temp for each probe.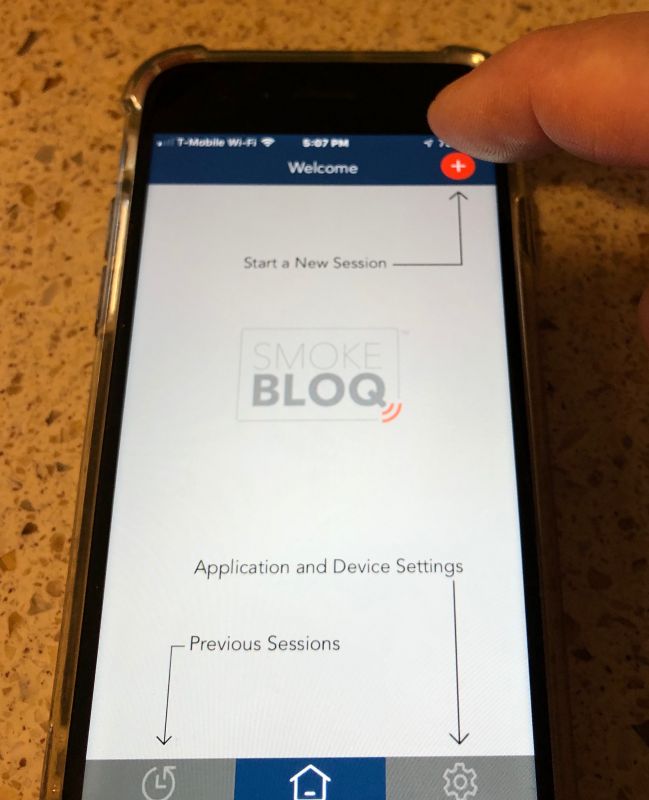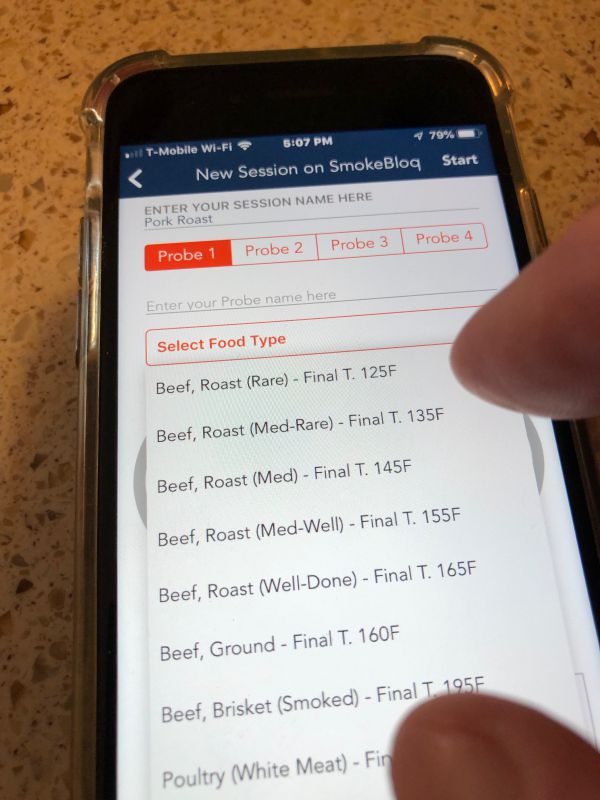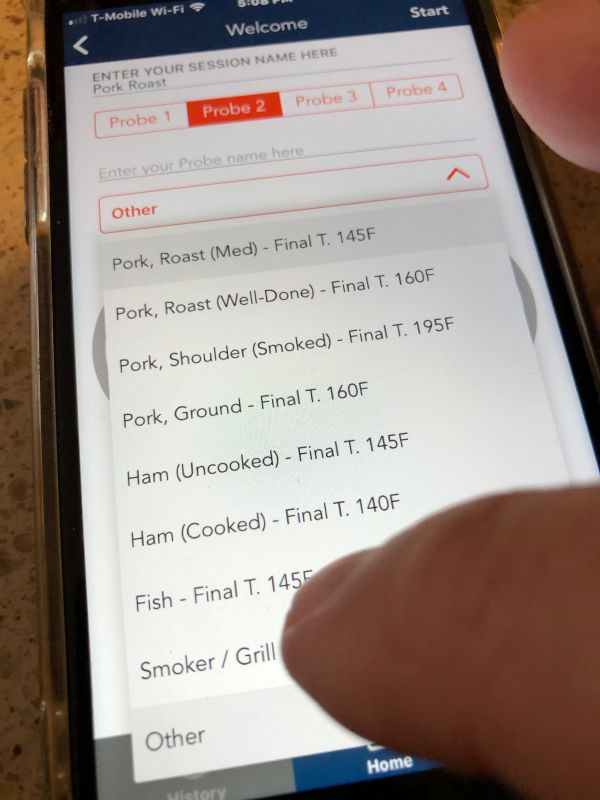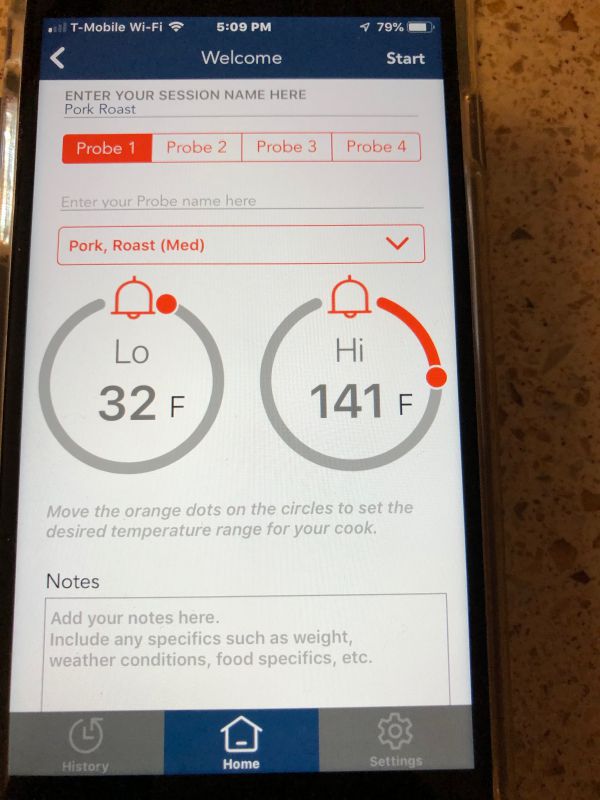 Once you've set that up (or before, your call), insert the probes into the meat.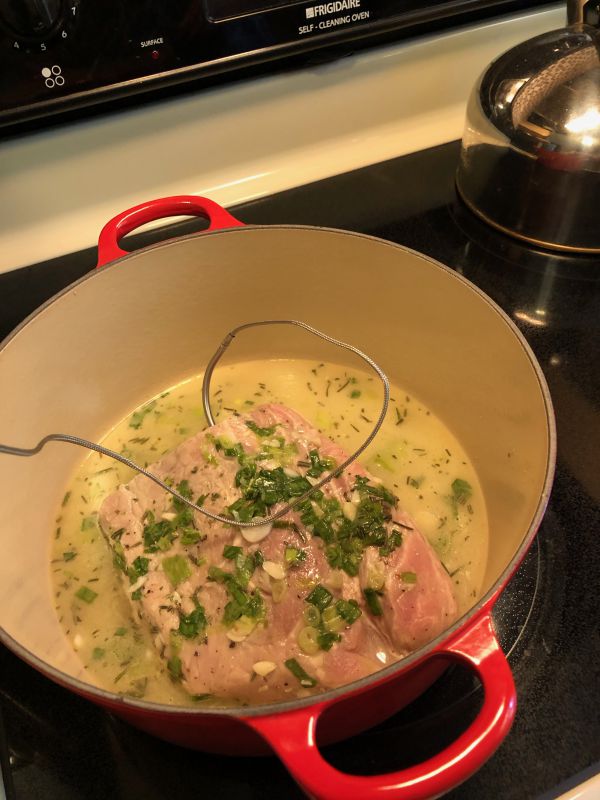 I used one for the meat, and one for the oven. I found the temperature varied a good bit between our oven and the probe, however. I'll need to spend more time with it to get a better feel for how to set things up and how to monitor long-cycle cooking. It's not something I've done very often.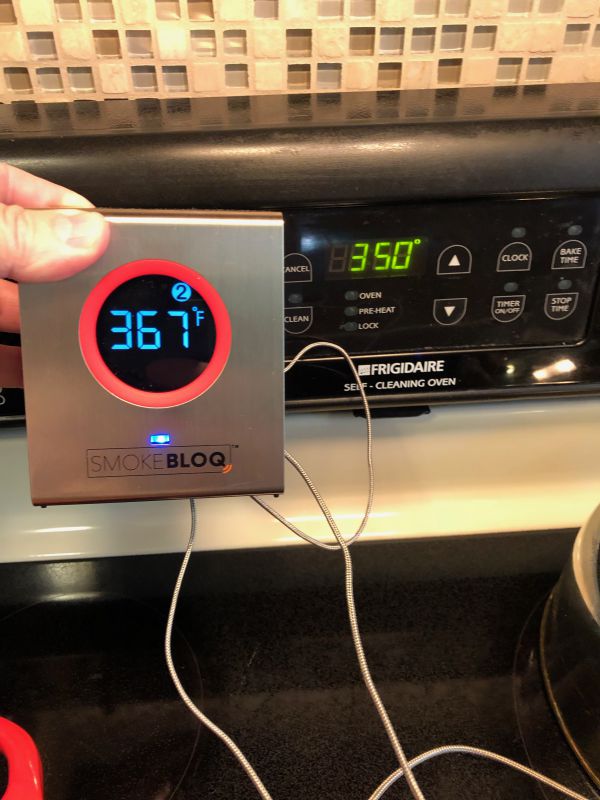 The main unit works very well. If there is only one probe attached, it's a constant read. If there are two or more, it cycles through them continually.
When you're looking at the back of the unit, port one is on the right. It's a little thing, but on the next plastics run, adding port numbers to the mold would be a great help to those of us who forget the starting place.

The temp probes are very accurate and instant-reading, which is great. This can be irritating, however, if you set up a cook session before you're ready to be bombarded with alerts that your meat is below the minimum temp and your oven or grill is too hot/cold.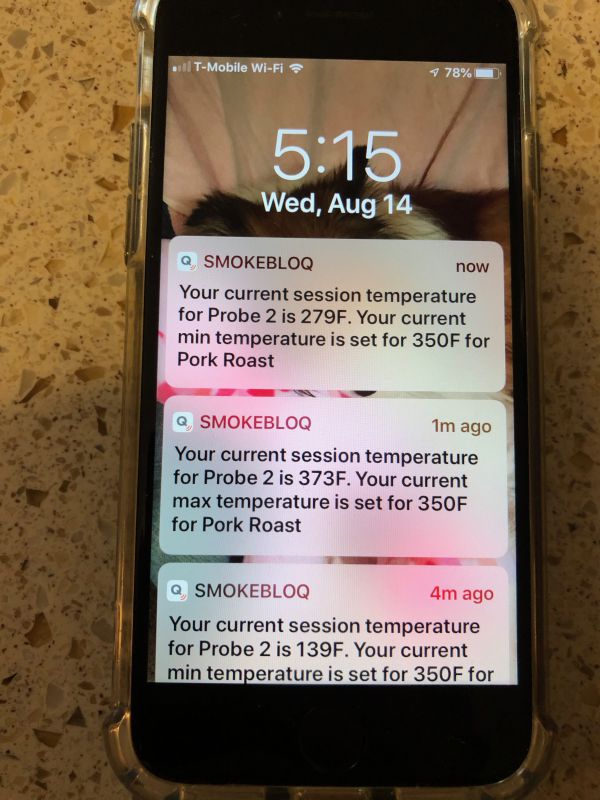 Maybe they can have a once-and-done button for warnings for when you open the lid and heat escapes, or for when you're just starting out, rather than getting a beep every few minutes? Otherwise, be sure you're ready to get readings before you set up your cook on your device.
What I like
Weatherproof unit
multiple inputs
Wifi, rather than BlueTooth, gives better range
What I'd change
A way to calm the alerts when starting a cook
Port numbers for probes
Final thoughts
Spring and Fall call to me to be on the deck behind a grill. I love to grill in Summer, too, but only briefly, and after the heat of the day has passed. Southern winters are short, but there are periods when grilling is possible, but staying out with the items being cooked is a bit rough. Wireless connected grill thermometers have been a thing almost since the first iPhone made touchscreen apps with BlueTooth a real thing. These made real the wonder of grilling while being inside, rather than hovering over the heat. The SmokeBloq folks have created a quality product that can add a lot of flexibility and creativity to your hobby or professional time behind the grill. I hope to be using mine for many seasons to come.
Price: $139.99 (currently includes a free extra meat probe – $22 value)
Where to buy: SmokeBloq Website and Amazon
Source: The sample of this product was provided by SmokeBloq.