We use affiliate links. If you buy something through the links on this page, we may earn a commission at no cost to you. Learn more.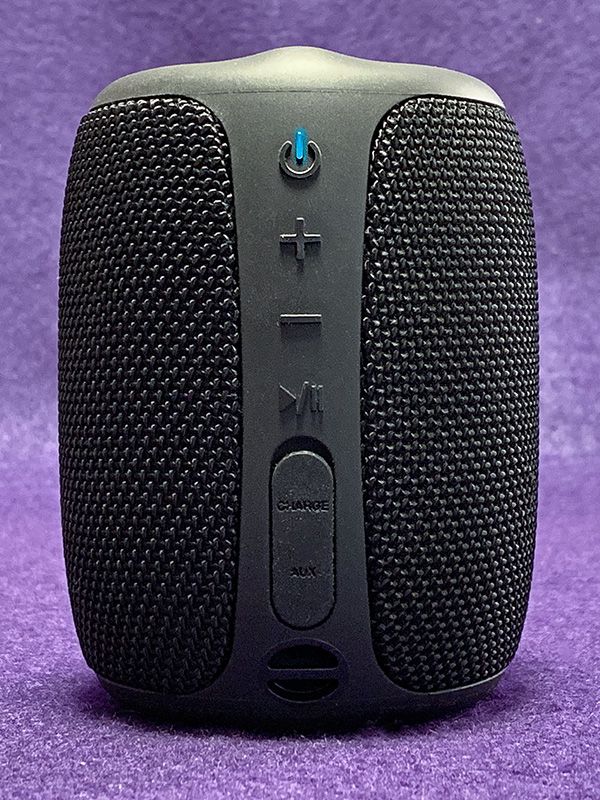 REVIEW – In my years of reviewing portable Bluetooth speakers, one of my all-time favorites is the Creative iRoar speaker. It's becoming a cliché, but that little desktop monster sounds way bigger than its size. The iRoar is that rare Bluetooth speaker you can listen to all day without wishing you had something bigger or louder. It's really good! But what if you just want a small speaker that can be used outdoors where it might be splashed with mud, dropped into a pool or just plain mistreated? Creative makes that too—the Creative MUVO Play portable and waterproof Bluetooth speaker for outdoors. Is the MUVO Play a mini iRoar or is it just a me-too speaker?

What is it?
The Creative MUVO Play is a small and lightweight (12.6 oz.) portable Bluetooth speaker that can be taken almost anywhere. It comes with two micro-speaker drivers with two dual bass passive radiators at each end. It's available in black, orange or blue. It's also waterproof. 
Specs
Dimensions: 3.14 x 3.14 x 4.33 inches
Weight: 12.6 oz
Power peak output: 20W
Battery type: 2000 mAh lithium-ion
Battery Life: Up to 10 hours at moderate volume
Charging: USB Type-C

In the box
Creative MUVO Play
USB Type-C Cable
Quick Start Guide

Design and features
Let's get this out of the way: The Creative Muvo Play is one cheap portable Bluetooth speaker. For 40 bucks, you get a solidly-built and decent sounding speaker that feels like it will last, no matter how it's treated.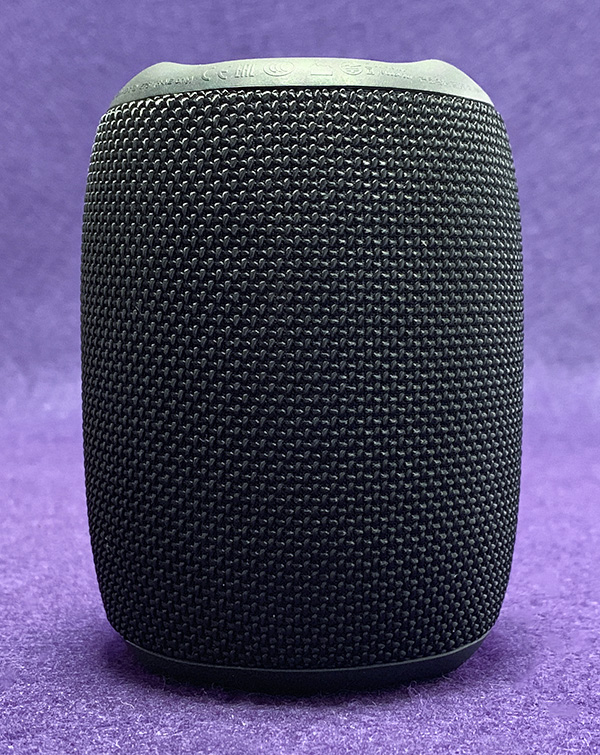 The MUVO Play is a bulbous shape and size similar to the Ultimate Ears Wonderboom speaker—but at half their price. I can't say if it sounds as good because I don't have a Wonderboom speaker to compare. However, even if the MUVO Play's style is derivative, it's a nicely designed speaker that looks more expensive than it is. It's round shape and speaker placements provide almost 360° audio.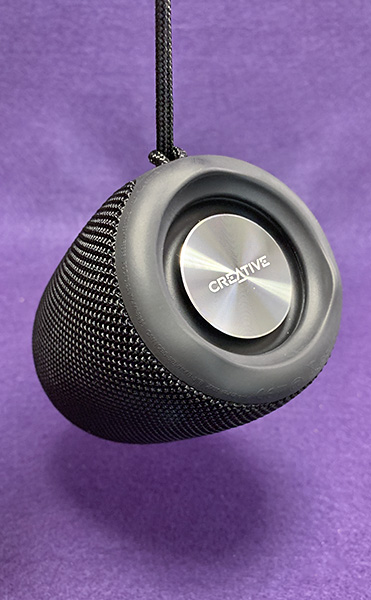 The small size makes the MUVO Play good for carrying to the beach, pool or picnic. Up to10-hour battery life means the music will be available for the entire event. There's an embedded slot for an included lanyard for easy carrying, hanging from a nail or tree branch or wherever.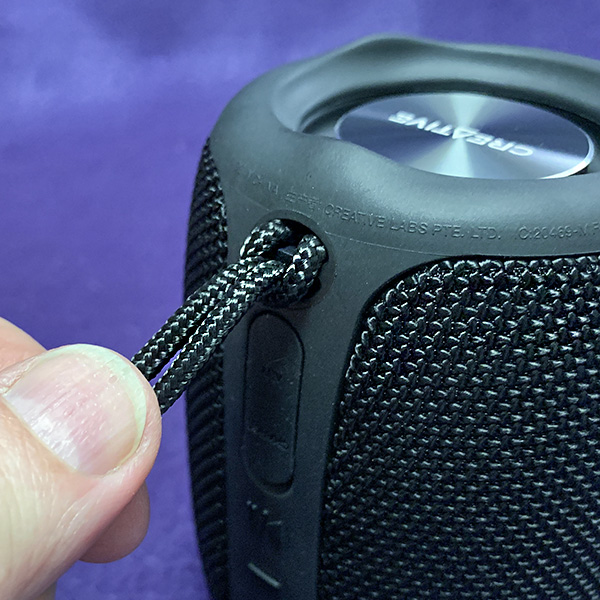 Never miss one of our posts again. Sent MON, WED, and FRI with the latest gadget reviews and news!
The MUVO Play is covered in a rugged speaker cloth material that's capped off with rubberized, ridged ends. The ridges serve a necessary purpose of creating open gaps that allow bass to be clearly heard no matter which end is face-down. Rubber seals hold passive aluminum bass radiators that vibrate to the music. This design provides a bigger bass sound than expected with this size speaker.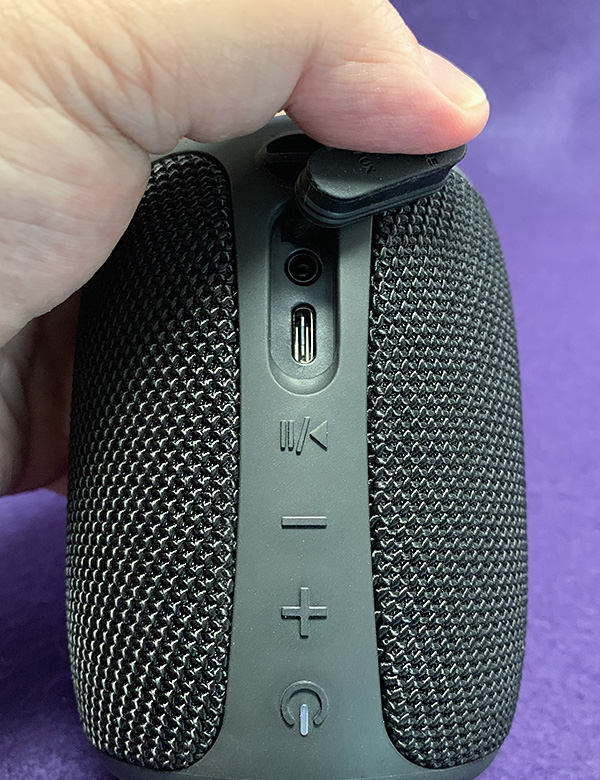 A vertical rubberized strip houses power, volume, and play/pause buttons as well as USB-C and AUX ports. Pressing and holding the power button turns on the speaker and begins the Bluetooth pairing process. Speaking of turning the MUVO Play on—no matter what the volume setting is, a LOUD musical tone plays to let you know the speaker has successfully turned on. This alone prevented me from continually using the speaker in my office because everyone could hear it when it was turned on. After emailing Creative's speedy tech support about this issue, I was told that the power-on prompt could be disabled, but that this would also disable all prompts. So it's all or nothing.
The MUVO Play has Bluetooth 5.0. Not bad when you consider some more expensive wireless speakers still use Bluetooth 4. Pairing was easy—my iPhone immediately connected and was ready to play. 
The MUVO Play has a certified waterproof rating of IPX7. This means that the speaker can be submerged in 3.3 ft of water for up to 30 minutes. Not that you have to worry about it being underwater for that long because it floats!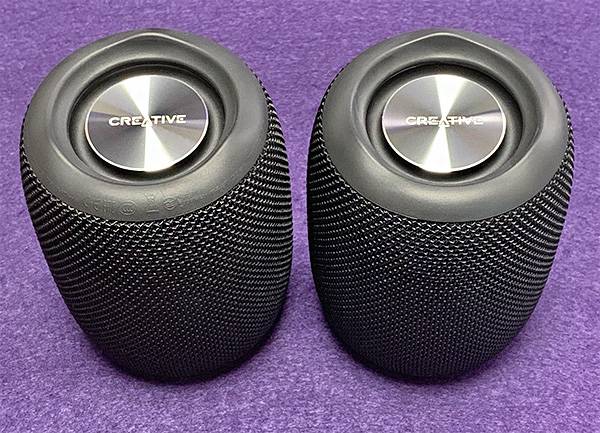 A cool feature with the MUVO Play is that you can pair two of them in true left/right stereo. While this can be done with other Bluetooth speakers, the price can be prohibitive because the cost doubles. Since the MUVO Play speakers are affordable, two can be paired for well under a hundred bucks. Interestingly, two speakers paired in stereo mode sound much better and fuller than two not paired together and playing independently.
I tried stereo mode on a couple of songs that feature extreme stereo; "Welcome to the Machine" by Pink Floyd and "Moving in Stereo" by The Cars. Stereo from both these songs was projected distinctly with good separation. Keep in mind that stereo mode works best if placed near the listener directly in front. You're not going to get this kind of left/right effect if listening outdoors or walking around in a room. The audio will meld into a single source.
As good as stereo pairing is, it's not without its quirks. Stereo mode appears to be in a left speaker (master) and right speaker (slave) arrangement. If I turn off the right speaker, the left maintains the Bluetooth connection. Once the right speaker is turned back on, stereo mode kicks back in—neat! However, if the left speaker is turned off, then the right speaker will lose the connection and not regain it unless it's deleted from Bluetooth settings and then re-connected as a single speaker. So if you wish to take one speaker with you and they are paired in stereo, always take the left speaker and leave the right. 
Another quirk I discovered sis that if paired in stereo, turning off one speaker will turn off the other, But when one speaker is turned back on, the other one will not come on. Weird.
Creative provides an easy-to-follow video on how to pair in stereo mode. That's a good thing because the icon-driven printed manual is as clear as mud explaining this procedure.
Overall audio quality is darn good for small speakers. Of course, I've head better, but that comes at a usually much higher price. But for what the MUVO Play was designed for—its small size, handy lanyard and decent audio should provide a fun and easy way to fit music into your daily routine—whether as a single speaker or paired with a second speaker for stereo.

What I like
Convenient size
True stereo pairing
Quality audio for the size
Good looking design
USB-C charging
Price
What I'd change
Ability to retain stereo pairing no matter how speakers are disconnected

Final Thoughts
I asked at the beginning of this review; "Has Creative created a mini-iRoar speaker?" Not really—the MUVO Play didn't blow my socks off like the iRoar. But it's not a "me-too" speaker either. The MUVO Play is a rare, affordable speaker that sounds good at a decent volume and pairs with a second MUVO Play speaker for true stereo that won't bust your budget. That's saying something.
Price: $39.99 each
Where to buy: Amazon
Source: The sample for this product was provided by Creative.