We use affiliate links. If you buy something through the links on this page, we may earn a commission at no cost to you. Learn more.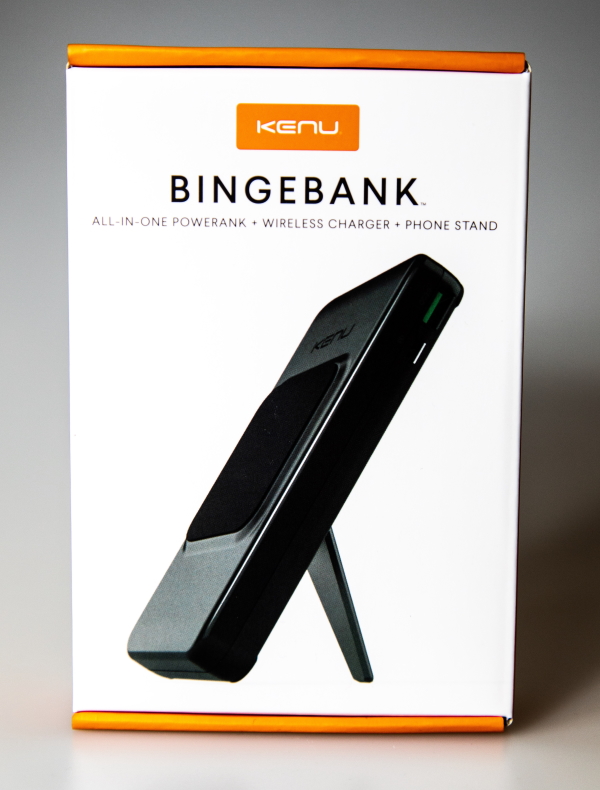 REVIEW – It seems that every computer or technology-based store and website is selling power banks in every shape, size, and capacity. The key to getting the best fit and right deal is the versatility of the power bank. The Kenu BingeBank is another entry into this crowded field. Let's see how it matches up!!
What is it?
The Kenu BingeBank is a power bank that is capable of delivering 18W power to charge up to three devices at once and 10000 mAh capacity for up to 3X charges. It can also support up to approximately 30 hours of video playback.
What's in the box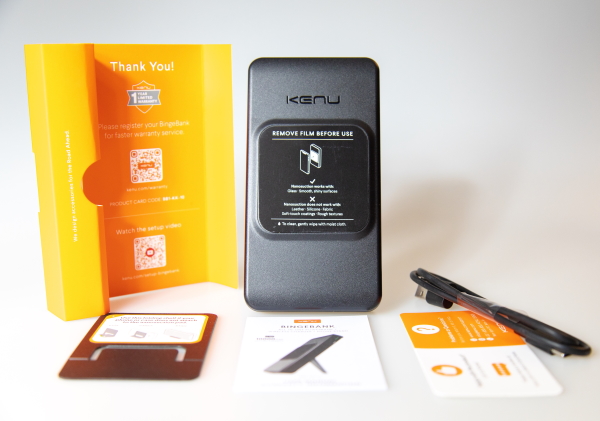 1 x Kenu BingeBank
1 x Nanosuction Adapter Shelf
1 x USB-C Charging Cable
1 x User Guide
Design and features
Specifications



Features
• CHARGE UP TO 3 DEVICES AT ONCE: Three ways to charge: (1) Qi-Wireless, (2) Quick Charge 3.0 USB, (3) 18W Power Delivery USB-C input/output. Charge an iPhone 8 or later up to 50% in 30 minutes (Lightning to USB-C cable req., not incl.)
• CHARGE UP TO 3X OR PLAY VIDEO 30 HRS LONGER: The 10000mAh lithium-ion external battery charger extends your smartphone viewing session with power to spare so you'll never miss another episode.
• PREMIUM DIE-CAST KICKSTAND AND MAGIC NANOSUCTION GRIP: BingeBank is the only portable power bank that combines an exclusive die-cast metal kickstand, Qi-wireless charging, and a nano suction phone grip, letting you BINGE-WATCH, VIDEO CHAT, or LIVE STREAM HANDS-FREE while you charge! Stop searching for cables and outlets when you travel, charge anywhere with your screen in view.
• CHARGE LAPTOPS: Our power pack is capable of charging a USB-C compatible MacBook, MacBook Pro, or MacBook Air (USB-C to USB-C cable req., not incl.)
On the front side of the Kenu, there is the branding and the raised nanosuction phone mount Qi wireless charging pad.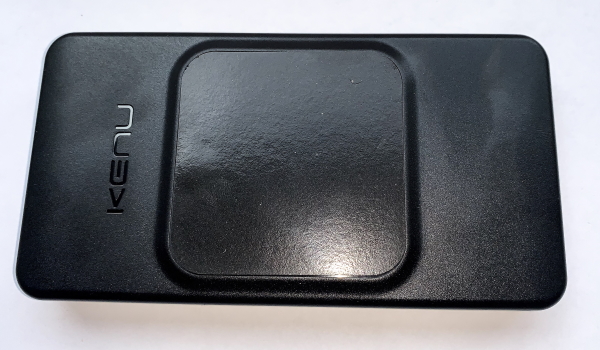 On the back of the BingeBank, there is a kickstand, and above it, there are operating instructions for charging.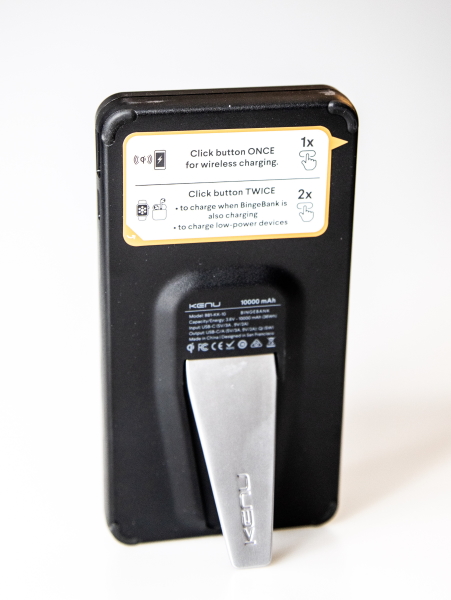 On one edge of the BingeBank, there are the connectivity ports. From left to right as shown below, there is the Type-C input/output 18 W Power Delivery port and the USB power output Quick Charge (QC) 2.0/3.0 port.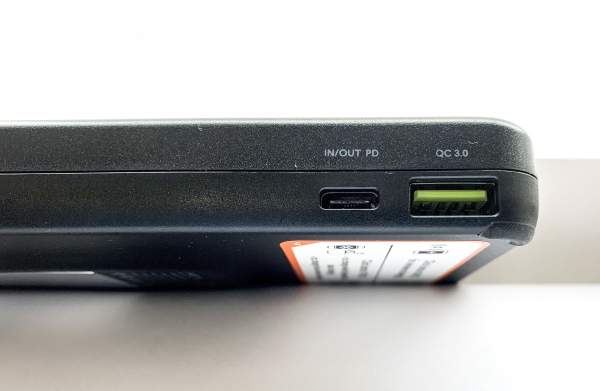 On the opposite edge of the power bank, there are the 4 LED charging lights, each representing 25% of the charge level and the on/off power button.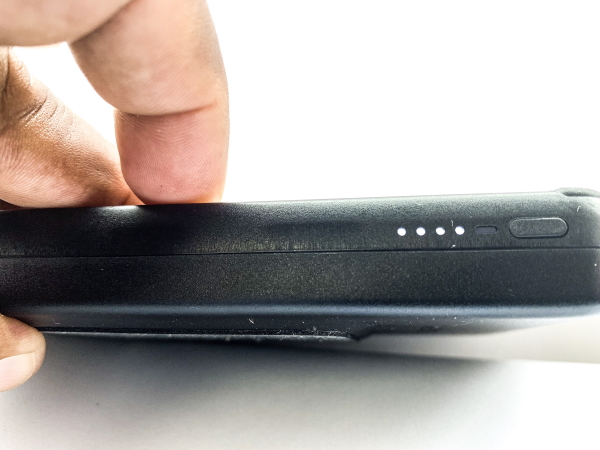 If your phone does not work with the nanosuction pad, Kenu has included a separate folding shelf.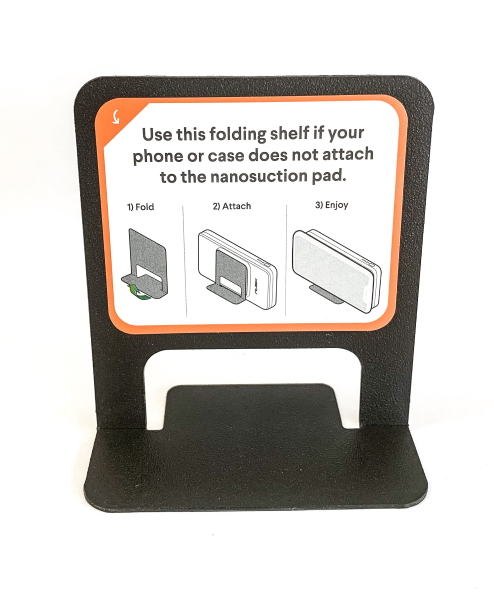 Performance
Like any other power bank, the first thing that you do when you take it out of the box is to charge it. It is an all-black power bank with a silver kickstand, a bit smaller than the iPhone 10x Max and about twice as thick. The first feature I tried was the nanosuction charging pad. It works well even with my case on my phone, but I do wonder how long the suction will work before it no longer adheres. The wireless charging works well, and the instructions on how to just charge the phone as well as charging the phone while charging the power back work as designed. The Quick Charge (QC) function via a cable also works well and I was able to use the USB-C power delivery function to charge my iPad. No USB-C to USB-C cable is included.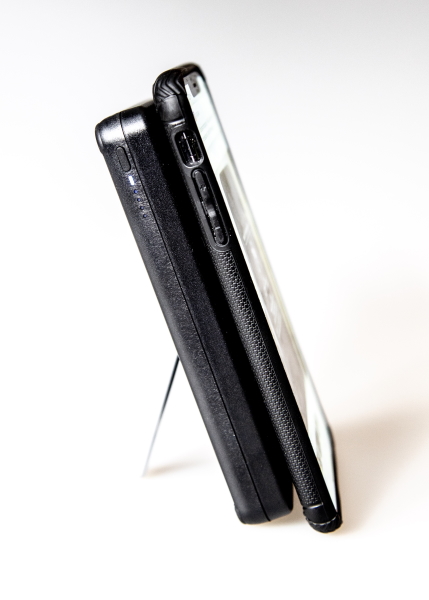 As shown below, the included folding shelf allows you to use the Kenu either horizontally or vertically with or without the kickstand. My attempts to use it with my iPhone were not successful. Maybe I was doing something wrong or maybe I am confused about its use, but the folding shelf is not rigid enough or strong enough to support the phone and the Kenu without using the kickstand. Honestly, I do not really see any beneficial use for it. The kickstand that is built into the device allows it to stand in both portrait or landscape whether charging with a cable or wirelessly.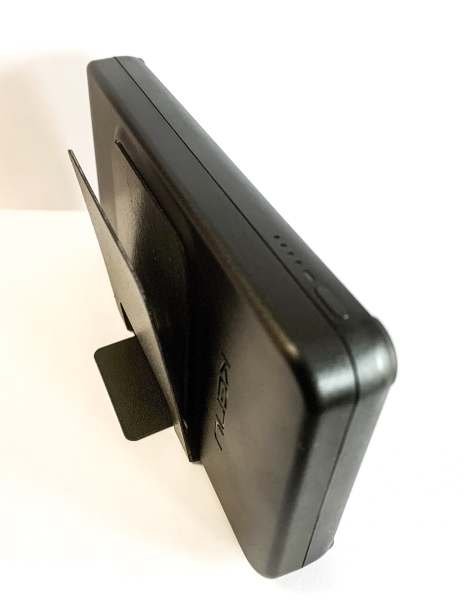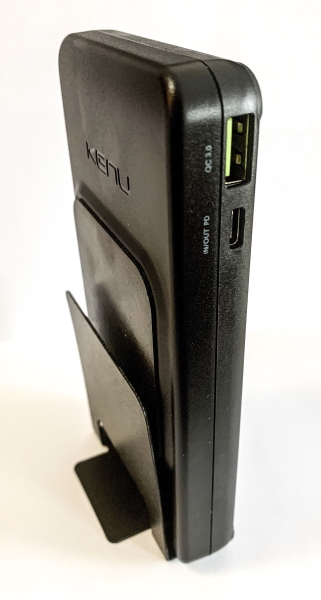 What I like
Build quality
Battery capacity
Kickstand
Suction attachment
Charging options including QC 3.0
What I'd change
Since the device offers USB-C power delivery, a USB-C to USB-C cable should be included
Final thoughts
The Kenu BingeBank is a nice affordable power bank that incorporates features that make it convenient and easy to use. The battery capacity is great and the kickstand allows me to use it at eye level while charging. I like it!!
Price: $59.95
Where to buy: Kenu website and Amazon
Source: The sample for this review was provided by Kenu