We use affiliate links. If you buy something through the links on this page, we may earn a commission at no cost to you. Learn more.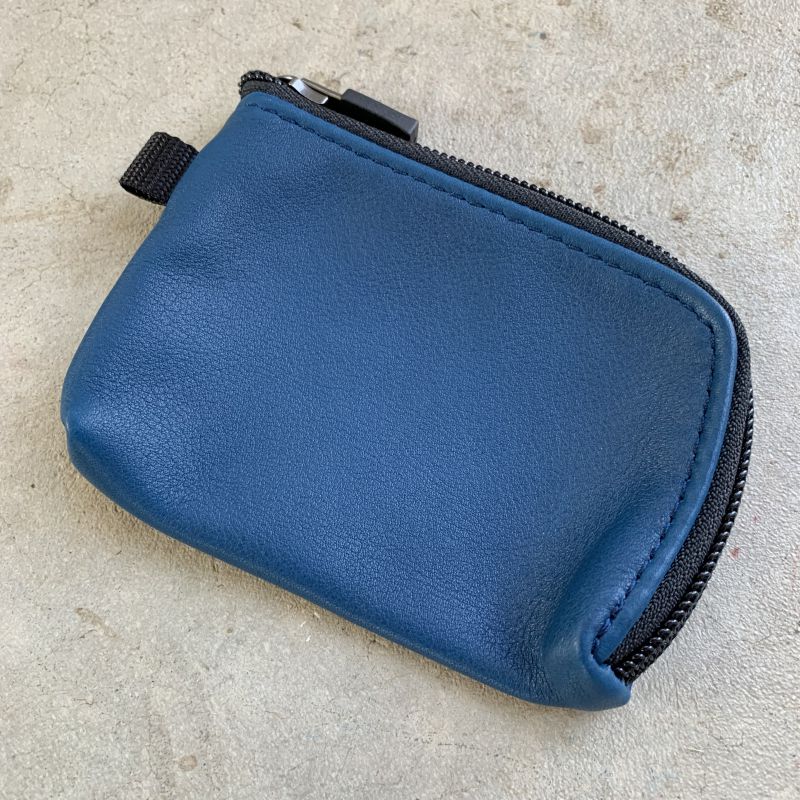 REVIEW – We love wallets here at The Gadgeteer, in all shapes and sizes.  One of my favorite types is the zipper wallet, because it holds its contents very securely.  Recently, Waterfield Designs, who has been producing some really nice zipper wallets for some time now, updated their Micro Wallet product line with some new colors and an additional size. Let's it them out!  Gadget on!
What is it?
The Micro Wallet is a small, thin, compact zipper style wallet with a minimalist style that is designed to hold a few cards and some cash or even act as a small tech gear pouch.
Hardware specs
Size options =

Compact = 4.0" x 2.9" x 0.75″
International = 4.25″ x 3.375″ x 0.75″

Material and color options=

1050 Denier Ballistic Nylon in Black only for $25
Waxed Canvas in Brown only for $25
Full-grain, deer-tanned leather in Brown, Red, or Blue (Blue reviewed here)  each for $39

Capacity = Holds about 8 cards and some folded cash, plus 1-2 cards in the exterior quick-access pocket
Zipper = YKK self-locking
Location of manufacture = Workshop crafted in San Francisco, CA, USA
Design and features
The Micro Wallet has been in the lineup of Waterfield Designs for some time but has recently undergone an update in available materials and sizes.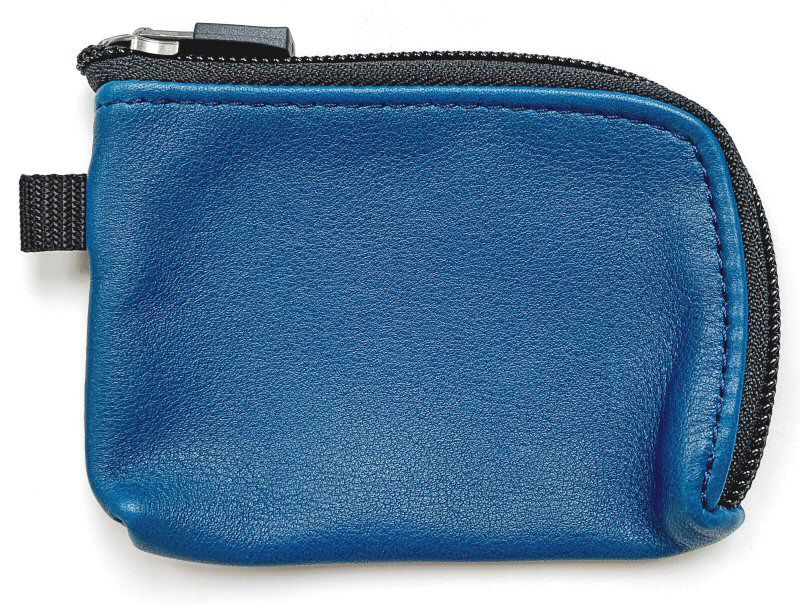 My initial impression of the Micro Wallet is that it is essentially a more minimalist version of the Waterfield Designs Finn Wallet.  The leather's texture is as soft and supple as butter and it is very compact, and I really like the bright blue color.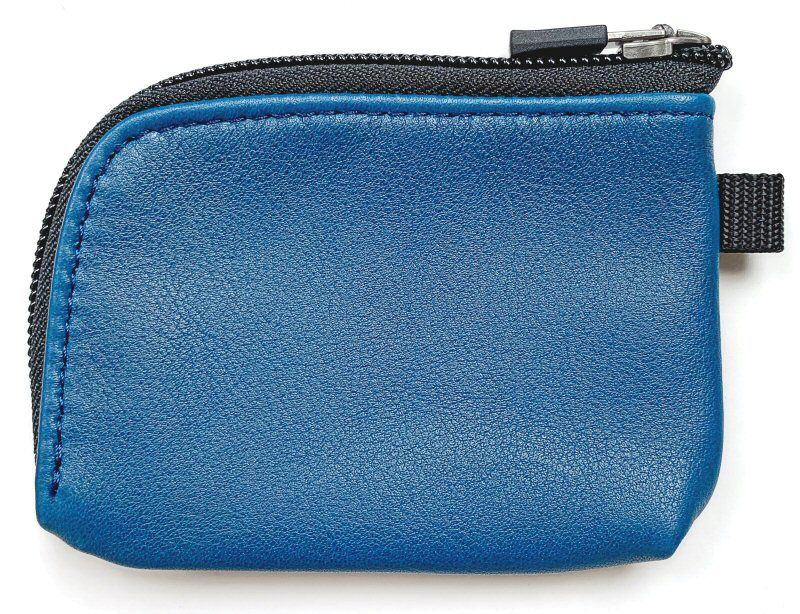 While the full grain, deer-tanned leather of this review sample was quite impressive in look and feel (and available in Red, Brown and this Blue colors), the Micro Wallet is also available in Black Ballistic Nylon as well as Brown Waxed Canvas (a classic Waterfield Designs style).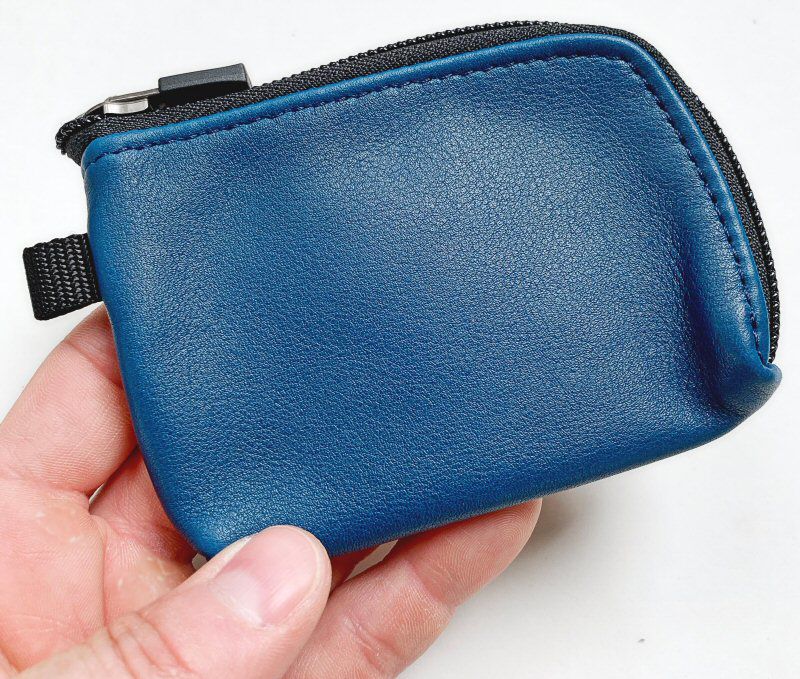 The Micro Wallet is a very compact, minimalist wallet, and excels at either back- or front-pocket carry, and I used it both ways with great success.  In fact, the softness of the leather helps the Micro Wallet feeling comfortable in your pocket even in front-pocket carry.   It is also designed to fit inside some of Waterfield Designs' larger wallets for travel, such as the Passport Finn Access Wallet and the Travel Wallet (reviews of these are in-process—stay tuned).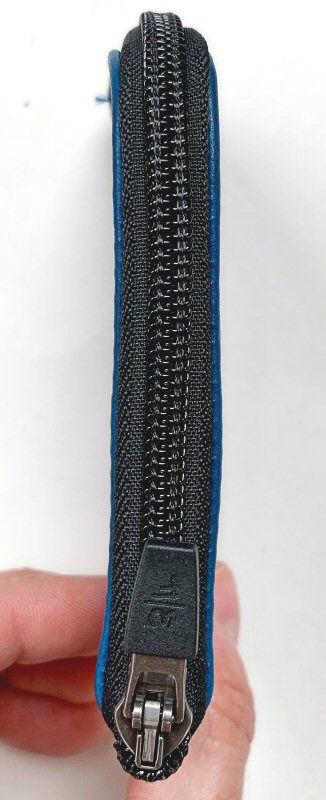 Although it's difficult to see in this photo, the Micro Wallet starts out quite slim at only 0.75″ thick, and as seen below, it stays quite slim even when loaded.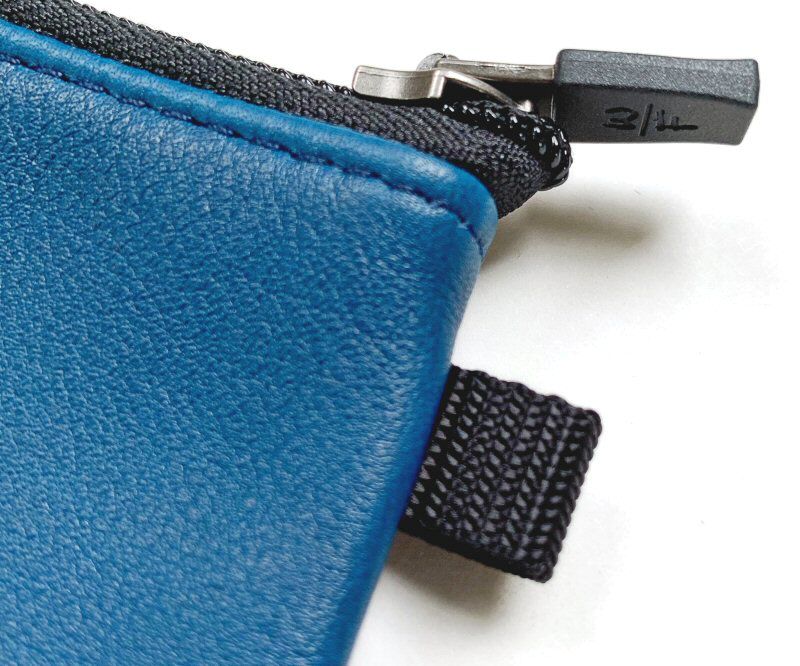 One of the main features of the Micro Wallet is its zipper that wraps around two of the sides of the wallet.  As with all of the materials and components used by Waterfield Designs in their products, this is a YKK locking zipper, which means that when the zipper pull is in the above position, it is free to be zipped open or closed, but once the zipper pull is flipped the other way and laid flat, it "locks" into that position.  This helps keep the zipper from opening accidentally in your pocket or purse.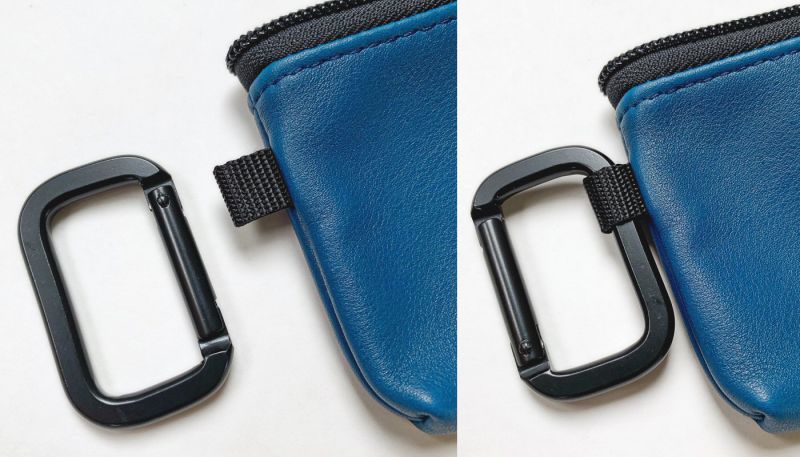 You may have already noticed that the Micro Wallet includes a small loop of nylon webbing on one side.  This is a handy feature that allows the Micro Wallet to be attached and secured to all manner of things, from various hooks and clips to locking carabiners, keyrings and the like.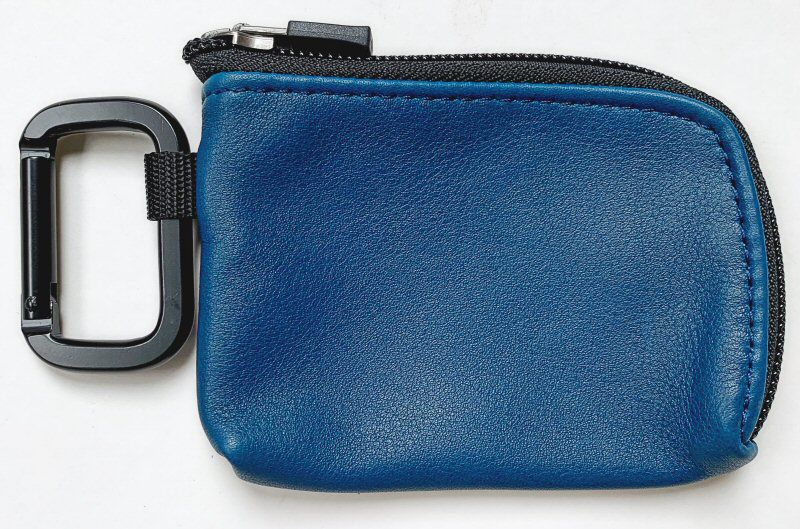 In the example above, I've attached the rectangular carabiner that is included with the Waterfield Designs Travel Wallet (NOTE: not included with the Micro Wallet), but this little loop of webbing will fit many different types of hooks, carabiners, and the like.  This allows the Micro Wallet to be attached to a belt loop, purse or messenger bag strap, backpack webbing, keyring or any number of other places.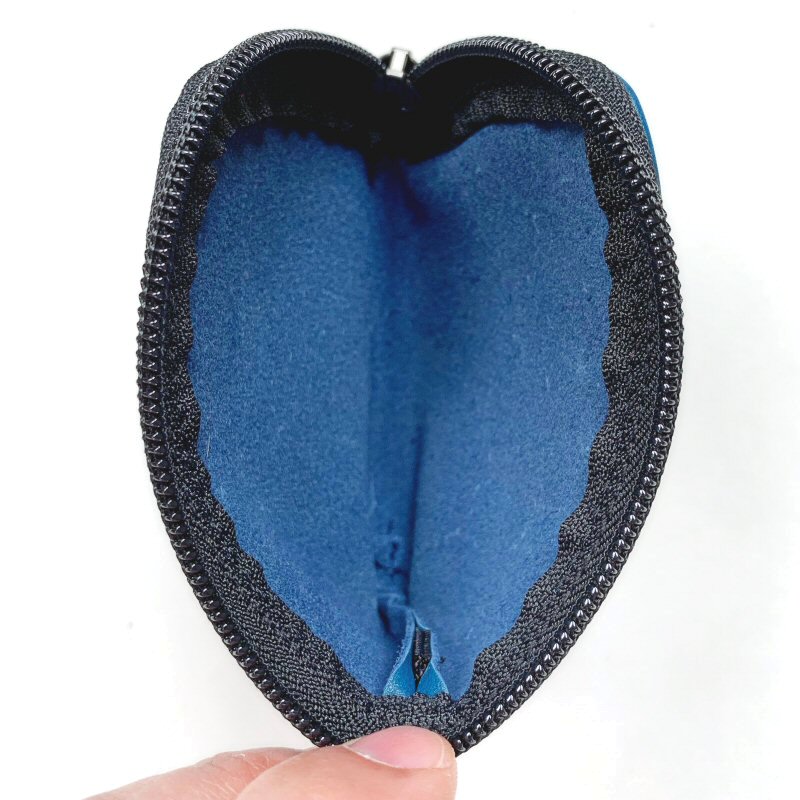 The inside of the Micro Wallet is very spartan, with no organizational pockets.  This was done purposefully, in keeping with its minimalist design philosophy as well as intent to keep the Micro Wallet as small, thin, and compact as possible.  Although inside pockets would indeed help with the organization of contents, they would also add to the thickness of the Micro Wallet.  It should also be noted that the Micro Wallet is NOT available with an RFID liner option.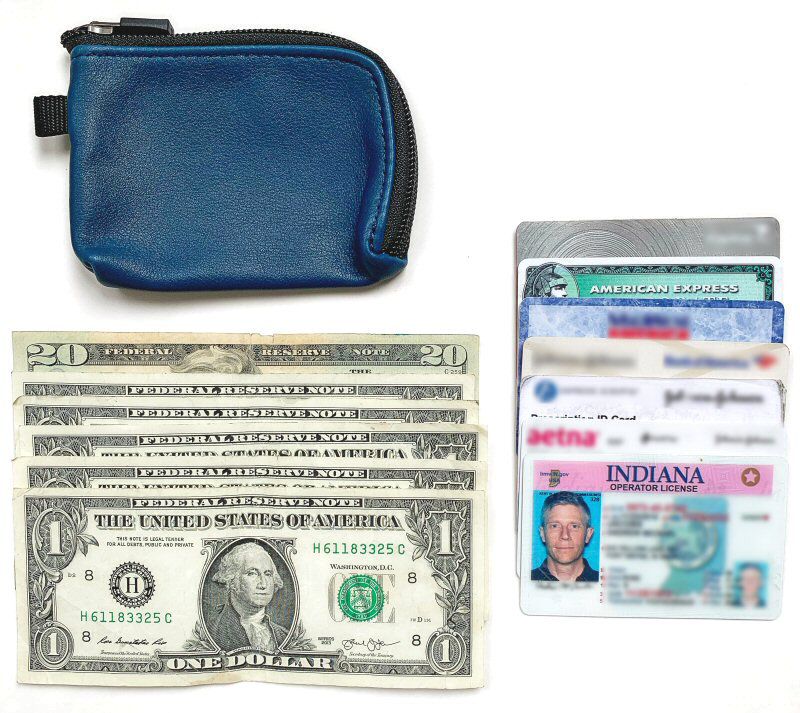 To test out the Micro Wallet, I loaded it up with the above items: 6 bills and 7 cards, which is a fair representation of what I might typically carry in my wallet on an average day.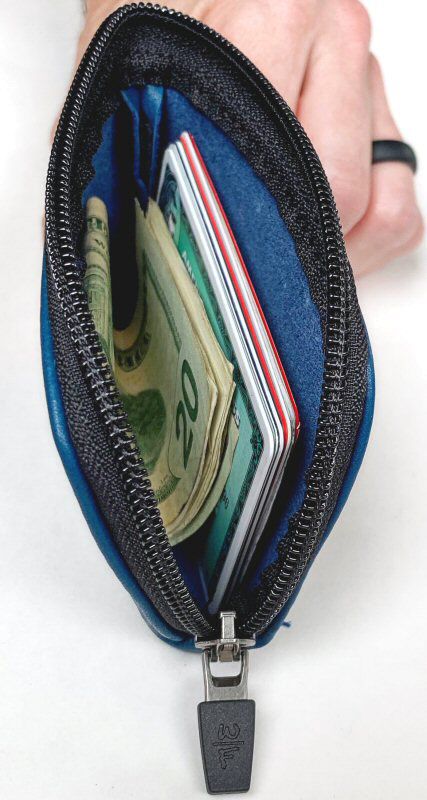 In the above photo, you can see that the bills and cards essentially just sit inside the Micro Wallet since, as mentioned above, there are no internal organizational features.  The 6 bills and 7 cards fit just fine, and in fact, there was room for some additional items. One drawback to the Micro Wallet here is that, if you want to put cash bills into it, you have to double fold them, which can start to add a lot of thickness to it.  This is a good spot to mention that the Micro Wallet is available in two sizes, Compact, which is designed to hold US bills, and International, which has a slightly larger footprint and is designed to hold foreign (non-US) bills.  I couldn't help but wonder if the International version might have allowed me to only fold my US bills once, which would have reduced the thickness due to not having to double-fold them.  I should also mention that the Micro Wallet's open interior allows it to be used to hold cables, adapters, memory cards and so forth—sort of a mini tech gear pouch—if desired.

The above photo shows the thickness of the Micro Wallet with the 6 bills (double folded) and 7 cards inside.  Even with the bills double-folded, the Micro Wallet is still very thin and compact.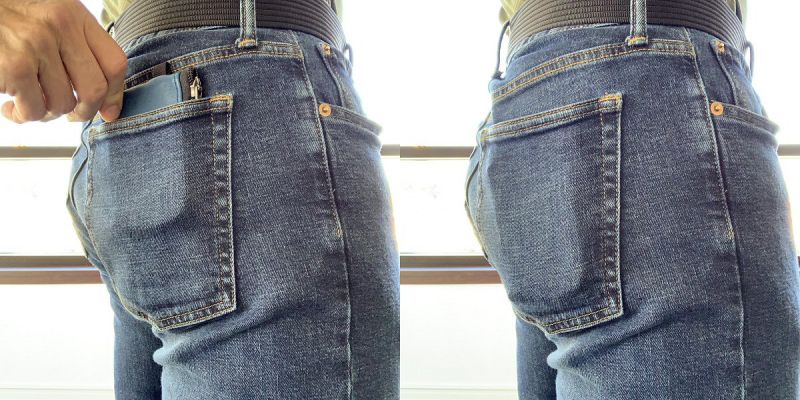 As seen above, the Micro Wallet is very suitable for back-pocket carry like just about any traditional wallet.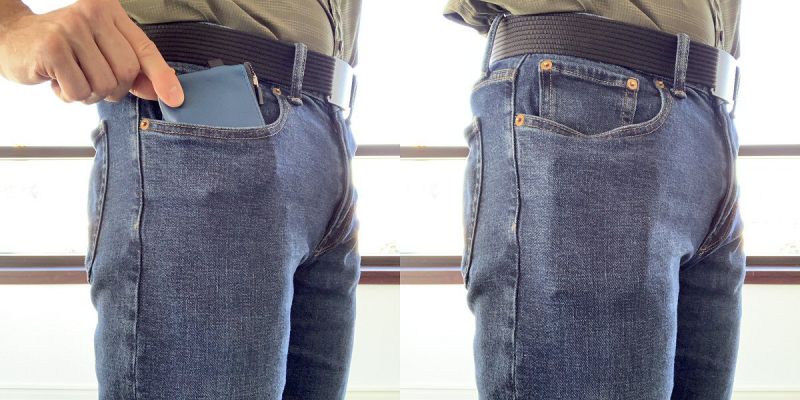 Where the Micro Wallet excels, however, is in front-pocket carry, where its small footprint, thinness, and very soft material make it quite comfortable.
What I like
Very small, very slim, very suited for either front or back pocket carry
Locking YKK zipper provides quick yet secure access to contents and could also be used to hold small items like cables, adapters, etc.
High-quality materials and construction—the leather looks and feels great and seems very durable
What I'd change
Find a way to give it an RFID liner but without adding much thickness
Final thoughts
The Waterfield Designs Micro Wallet is an excellent slim, compact, minimalist wallet if you want to carry a handful of cards and cash securely and you aren't as concerned about organization.  It has a classic look and feel and is quite affordable for a wallet made from these materials and construction, which give me the impression that it will last a long time and only get better with age.
Update 6/14/20
The Waterfield Designs Micro Wallet is a zip wallet designed with true minimalists in mind, and that's why I like it so much. I like that it holds several cards and bills securely within its zippered opening, but it somehow remains impressively thin. It's become a part of my regular EDC rotation.
Price:
1050 Denier Ballistic Nylon in Black = $25
Waxed Canvas in Brown = $25
Full-grain, deer-tanned leather in Brown, Red, or Blue (Blue reviewed here) = $39
Where to buy: Waterfield Designs (AKA SF Bags)
Source: The sample of this product was provided by Waterfield Designs