We use affiliate links. If you buy something through the links on this page, we may earn a commission at no cost to you. Learn more.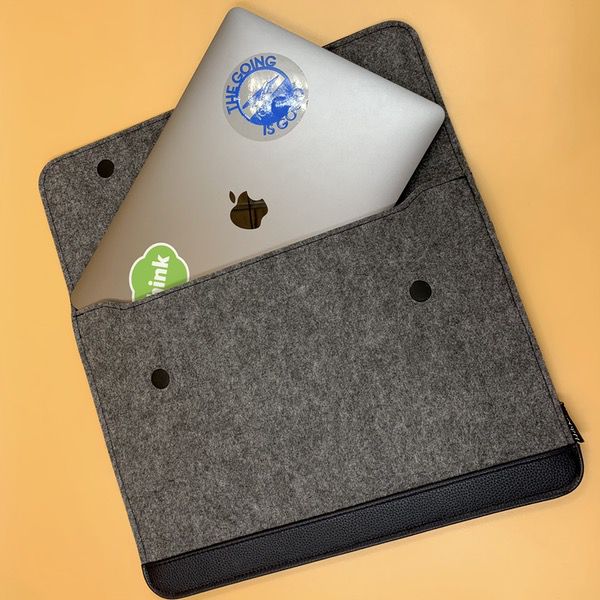 REVIEW – Sometimes you just want to keep it simple, and the HOMIEE 13-13.3 Inch PU Leather Felt Laptop Sleeve delivers on that promise. It's a solid sleeve for smaller laptops at a very affordable price. Simple. effective. To the review!
What is it?
It's a laptop sleeve for your 13″ MacBook or a laptop up to 13.3″. The package also includes a bonus storage case for cables, mice, and whatnots.
What's in the box?
You'll get the sleeve and the storage case.
Hardware specs
PU leather & felt construction
Sleeve: 14.6″ by 10.8″ by 0.4″
Case: 6.7″ by 5.1″ by 1.25″
Design and features
I have a love/hate relationship with folios and sleeves designed for laptops. They're great for  bags have no internal padding, and I love the convenience of ditching the bag when I just need to run between meetings. But sleeves can be overdesigned with a bunch of pockets and organizers I don't need. I'm also not big on spending a lot of money on a specialty leather item that will spend a lot of time in my closet. The HOMIEE 13-13.3 Inch PU Leather Felt Laptop Sleeve solves a lot of those issues for me.
Let's get the big issue out of the way up front: you won't find any real leather in this build. Despite that the sleeve has a pretty substantial feel, and looks great in the pleather/felt combination.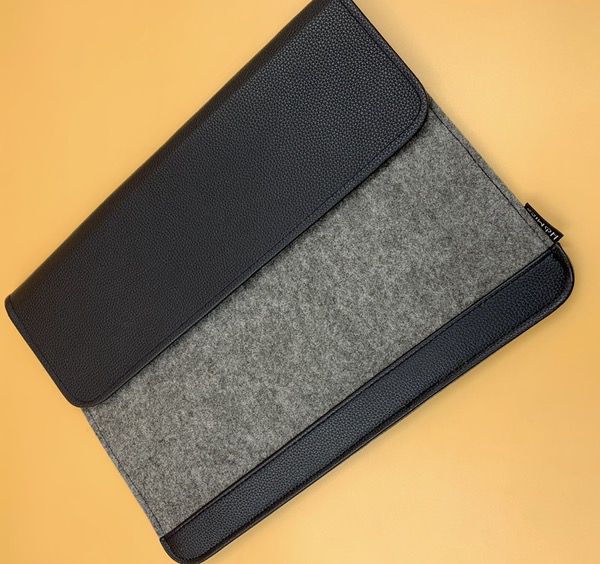 Here's a close up detail shot. You'll find some nice finishing and detail work for this price point.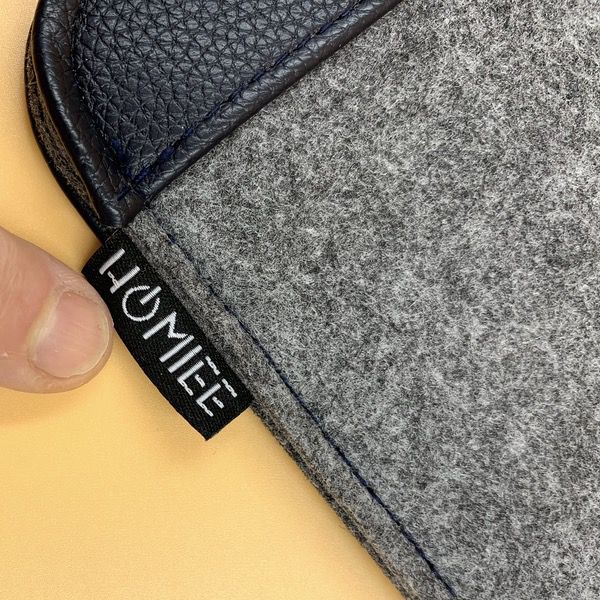 Here's a side view to show you the layering. The felt and PU leather measure about 1/16″ in material thickness. I don't know how much impact resistance it carries for drops, but it will definitely do the job to protect against dings and scratches.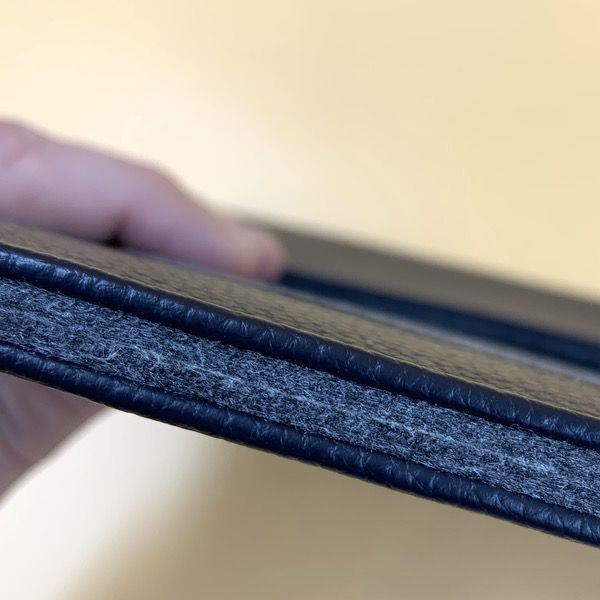 Two magnets of decent strength secure the closure flap, and are also finished with reinforced stitching so that they won't tear out.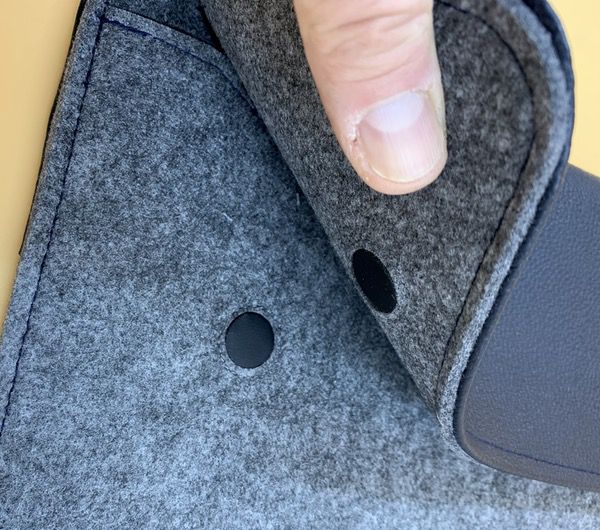 You've even got a soft liner on the inside of the sleeve to protect your laptop against scratches.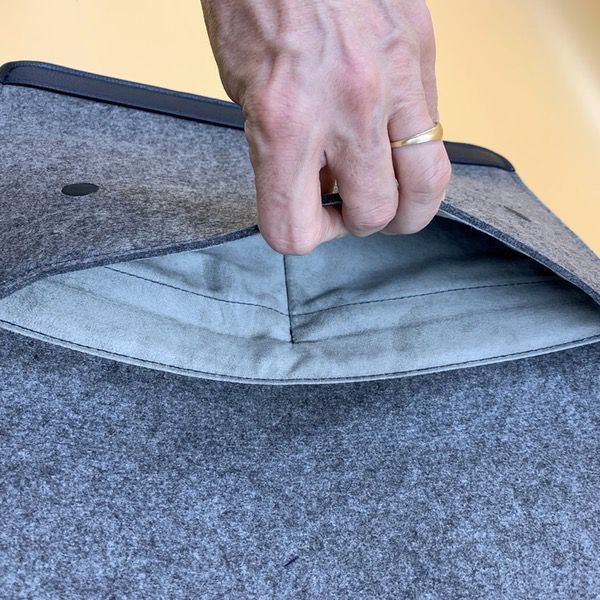 This model is perfectly sized for my 13″ MacBook Pro. Internal dimensions measure 14.2″ by 9.6″ by 0.4″, so it will handle a 13.3″ laptop or 12.9″ iPad Pro as well.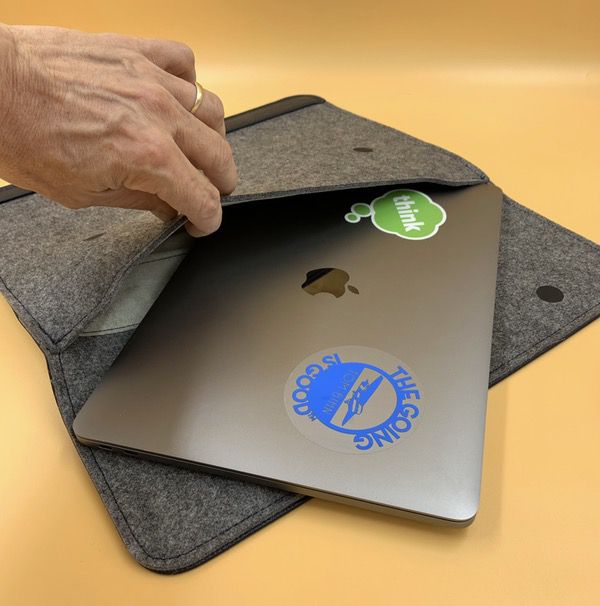 A pair of thin 7″ by 6″ pockets are also sewn into the back panel. You'll be able to fit a small notebook in there, your phone (my my iPhone XS Max fits perfectly in there), or assorted skinny things.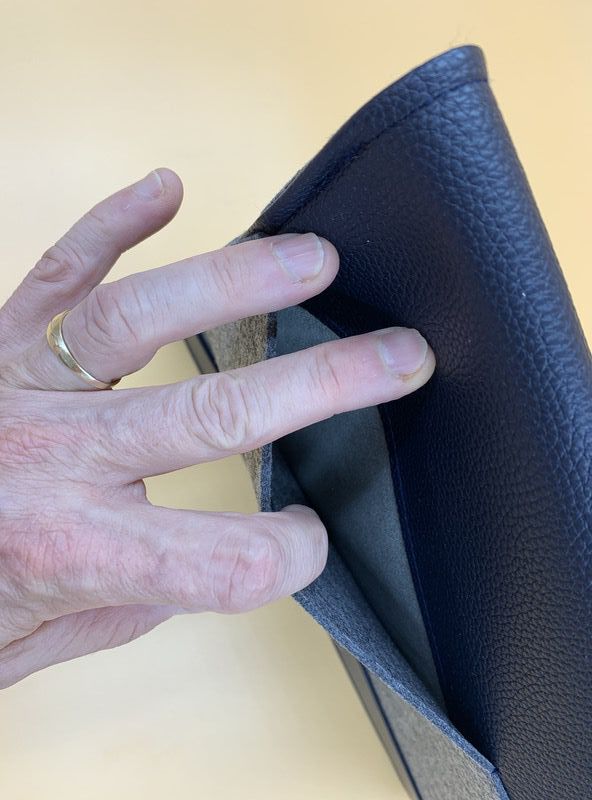 I've been keeping my USB-C to HDMI cable in one of those pockets in case I need it for presentations.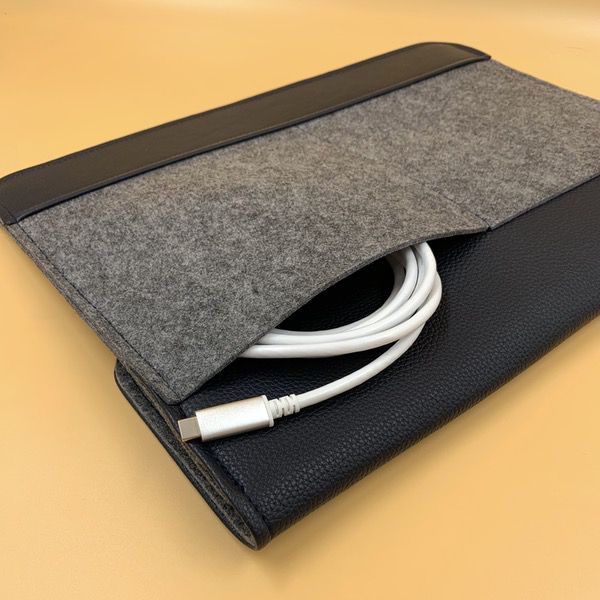 The package also comes with a bonus storage bag. It made from the same 1/16″ felt, and is big enough to carry an assortment of extra bits like your power brick, cable, mouse, etc. The closure is a basic elastic band, but it gets the job done.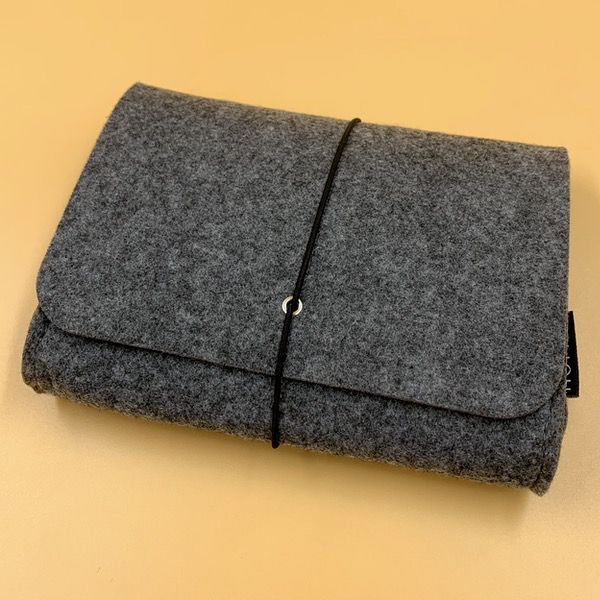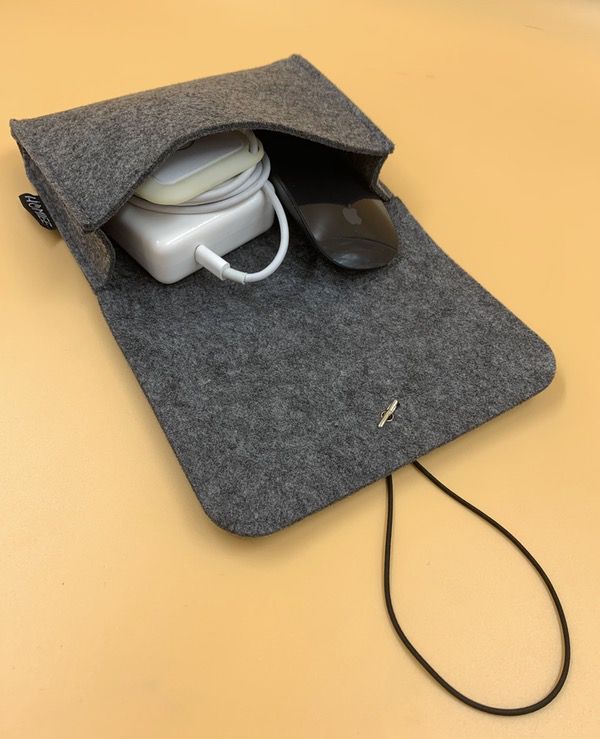 Overall usability and functionality of the HOMIEE 13-13.3 Inch PU Leather Felt Laptop Sleeve is actually pretty great! There's design isn't complicated by wonky features or add-ons that interfere with it's purpose. You won't find any extra padding other than the felt, so don't expect a good deal of protection for high-impact situations. I think you'll be fine if you toss this in your bag for travel and commuting.
Speaking of commuting, that's my favorite application for this sleeve. Some of my bags lack internal organization and padding of any kind; this sleeve provides a cheap, functional solution without adding a lot of bulk to my carry. When I get to the office I can still use it to haul my essential and it looks good doing it.
What I like
Simple, effective design
Budget friendly price
Looks good at the office
Provides decent protection against bumps, scrapes, and spilled lattes
What I'd change
Closure on the accessories pouch could be nicer
Budget materials may not appeal to everyone
No extra padding other than the felt
Final thoughts
If you're looking for an inexpensive laptop sleeve for your 13″ MacBook or 13.3″ laptop, you can't go wrong with the HOMIEE 13-13.3 Inch PU Leather Felt Laptop Sleeve. It looks and functions extremely well for the price point. And there is absolutely nothing wrong with that.
Price: $17.99
Where to buy: Amazon.
Source: The sample of this product was provided by HOMIEE.