We use affiliate links. If you buy something through the links on this page, we may earn a commission at no cost to you. Learn more.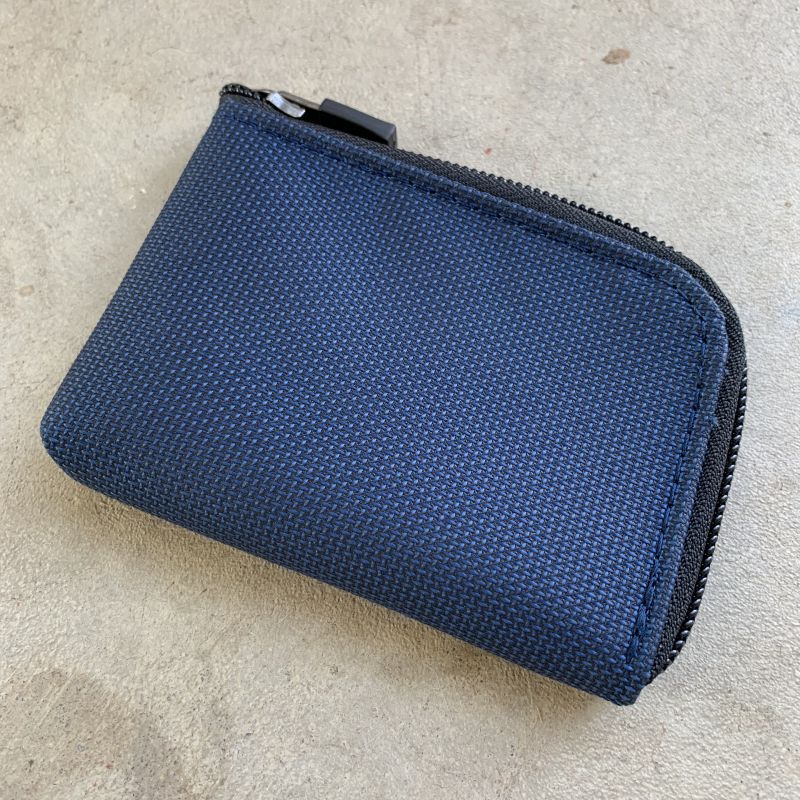 REVIEW – The Waterfield Designs Finn Wallet has been a product beloved by wallet fans for many years and has also undergone updates and changes during that time.  The Finn Wallet is a zipper style, of which I am a fan because the zipper allows it to hold the wallet's contents more securely.  Recently, Waterfield Designs once again updated its Finn Wallet, and we had the opportunity fortunate to try one out.  Gadget on!
What is it?
The Finn Wallet is a thin, minimalist, zipper wallet available in multiple sizes that is designed to hold several cards and some cash.
Hardware specs
Material and color options

Waxed Italian Canvas in Brown or Blue each for $49
NEW Red or Blue Forza (Blue reviewed here) each for $49
Full-grain, deer-tanned leather in Brown, Black, or Blue each for $59

Size options

Compact = 4.25″ x 3″ weighing 1.4 oz.
International = 4.25″ x 3.375″ weighing 1.4 oz.
Passport = 5.75″ x 4.25″ weighing 1.8 oz. (adds $10 to cost)
iPhone XS = 6.0″ x 3.5″ weighing 2.2 oz.

Capacity by size

Compact = 20+ credit cards plus a wad of cash (reviewed here)
International = 20+ credit cards plus a wad of cash, including US or foreign-sized currency
Passport = 10+ credit cards and US or larger foreign currency and designed to hold a US Passport
iPhone XS = 20+ credit cards, US or larger currency, and an iPhone XS or similarly-sized smartphone

RFID blocking liner option available for an additional $10
Zipper = YKK self-locking
Location of manufacture = Workshop crafted in San Francisco, CA, USA
Design and features
The Finn Wallet is arguably the most classic and popular of all of Waterfield Designs' wallet styles.  It has been in their product offering for many years and has undergone various updates and upgrades throughout that time.  In fact, its most recent version is an update thanks to the Waterfield Designs recent Nexgen Wallet Survey that was administered to customers and fans to solicit feedback for new designs and design updates.  In full disclosure,  I previously owned an earlier version of the Finn Wallet that was made of leather and had a larger footprint than this one (more like the iPhone XS size), so I was eager to compare it to this updated version of the Finn.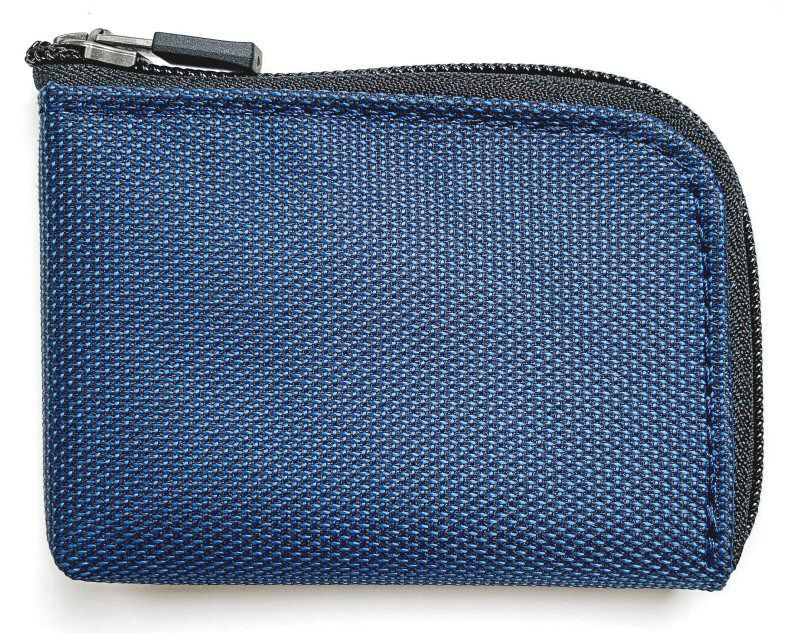 My initial impression of the Finn Wallet was that its new Blue Forza fabric had a very unique look and rich, deep blue color.  The Forza fabric's texture has what I can only describe as many dimples on its surface (which feel funkily good), which not only gives it a 3D texture, but also gives it just a bit of additional grip.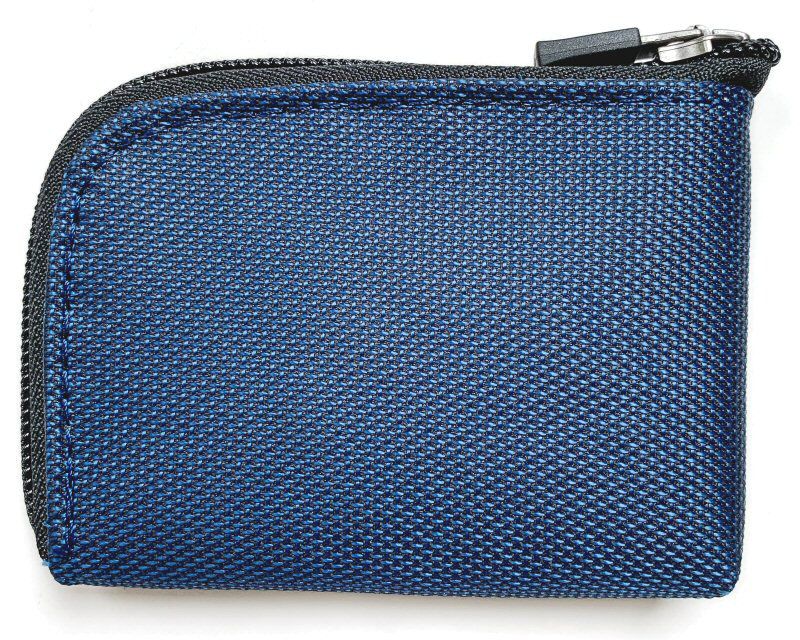 While the Forza fabric of this review sample was quite unique in look and feel (and available in Red or this Blue colors), the Finn Wallet is also available in Brown, Black or Blue oil-tanned, full grain leather, as well as Brown or Blue Italian Waxed Canvas.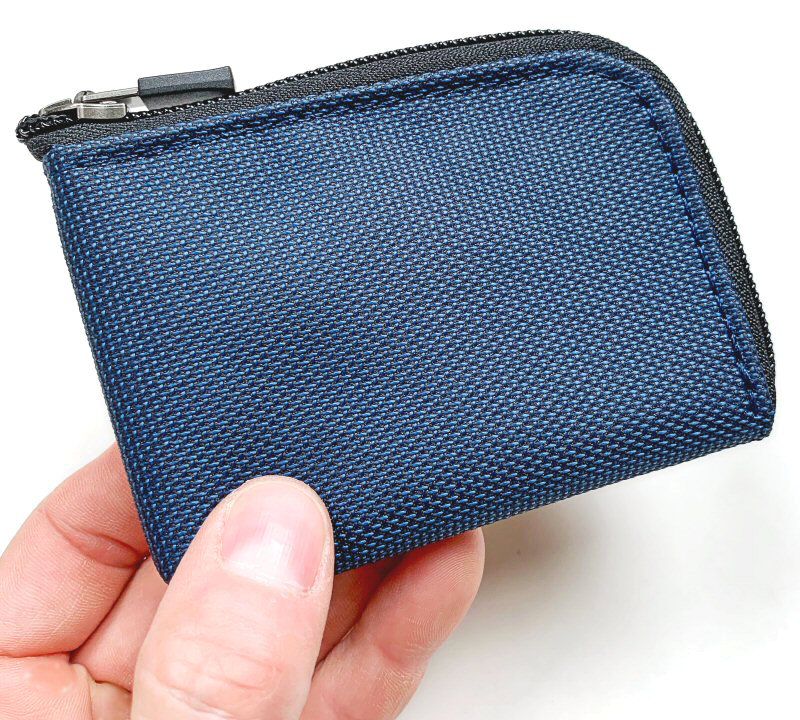 The Finn Wallet is available in several sizes: Compact (designed to hold several cards and US cash bills, shown here), International (designed to hold several cards and foreign bills), Passport (designed to hold several cards, US or foreign cash bills and a Passport), and iPhone XS (designed to hold several cash bills, cards, and iPhone XS or other similarly-sized smartphones inside it).  Each of these has an increasing footprint size to accommodate the noted contents, yet each remains quite compact for what they are designed to hold.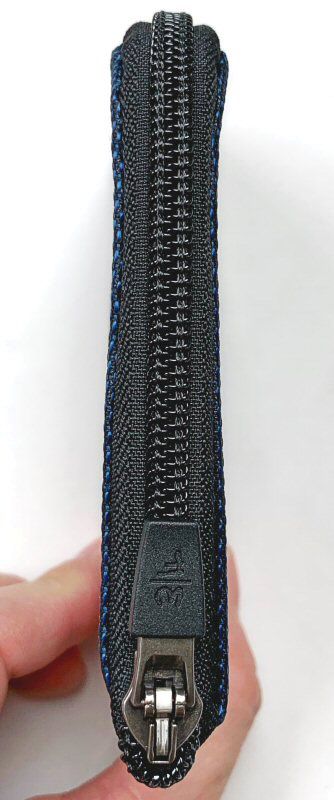 The Finn Wallet is known for maintaining its thinness despite being able to hold multiple cards and cash bills.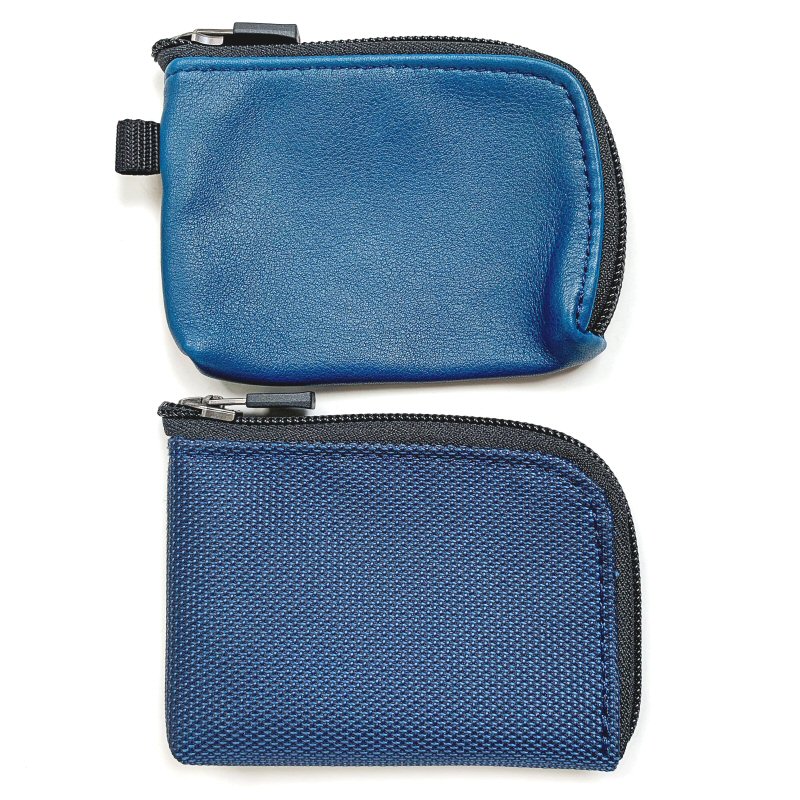 For size comparison purposes, the above photo shows the Waterfield Designs Micro Wallet on top and the Finn Wallet in Compact size beneath it.  They are very similar in footprint dimensions, although the Micro Wallet is slightly thinner due to having fewer layers of material.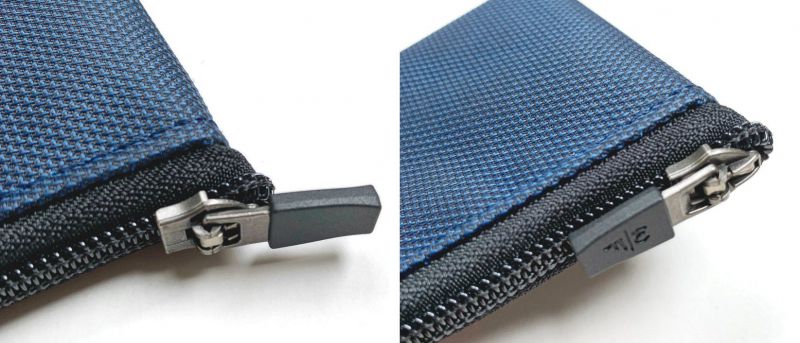 The Finn Wallet has always featured a YKK Zipper that zips around two of its sides.  Like all of the materials used in the Finn Wallet, Waterfield Designs uses a high-quality YKK locking style zipper that, when its zipper pull is placed in the position shown in the left of the image above, can be slide open or closed freely, but when placed in the position shown in the right of the image above, is locked in place to help prevent the Finn Wallet's contents from accidentally fallout out while in your pocket, purse, or bag.  This locking zipper has been a constant feature on every version of the Finn Wallet and I was happy to see that Waterfield Designs chose to continue it on its latest version of the Finn.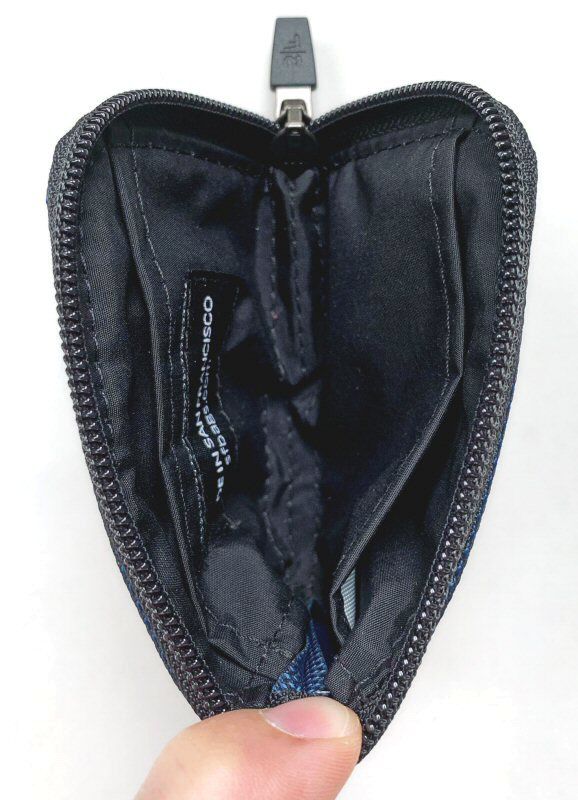 The interior of the Finn Wallet is lined and can include optional RFID protection for an additional $10.  Further, the inside of the Finn Wallet contains two pockets along its outsides that are intended as organizational features that can hold cards, cash bills, or other small items.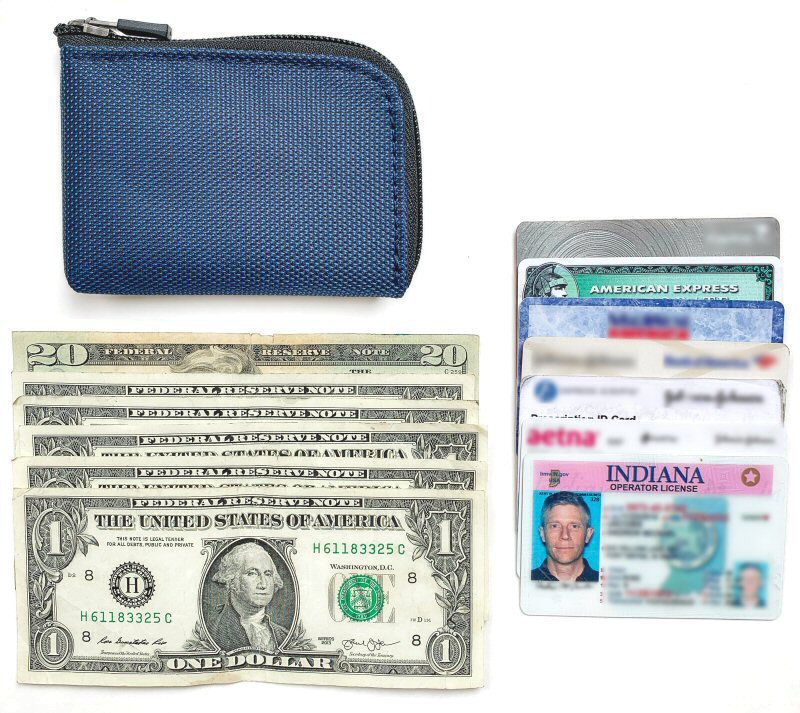 To test out the Finn Wallet, I loaded it up with the above items: 6 bills and 7 cards, which is a fair representation of what I might typically carry in my wallet on an average day.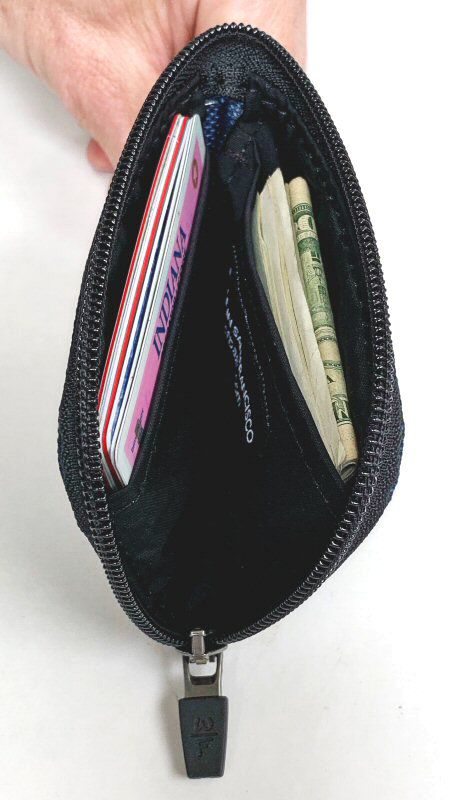 As mentioned above, the Finn Wallet's two identically-sized inside pockets provide some organization without adding greatly to the overall thickness of the wallet.  I like having the flexibility to put my cards in one pocket, bills in the other and receipts in the open middle, frequently used cards in one pocket, less-used cards and receipts in the other pocket and bills in the middle, or any number of other combinations depending on how my needs and preferences might evolve situationally or over time.  Additionally, the generous middle space can be used to hold cables, memory cards, or other small items in addition to the cards and cash, and the locking zipper will hold all of it securely.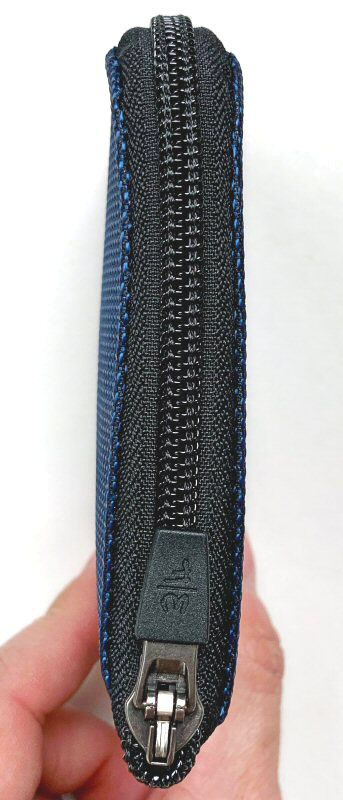 With the Finn Wallet loaded with the 6 cards and 7 cash bills, its overall thickness does not greatly increase from its empty state.  This has been and I suspect always will be one of the reasons why the Finn Wallet is beloved by so many loyal fans.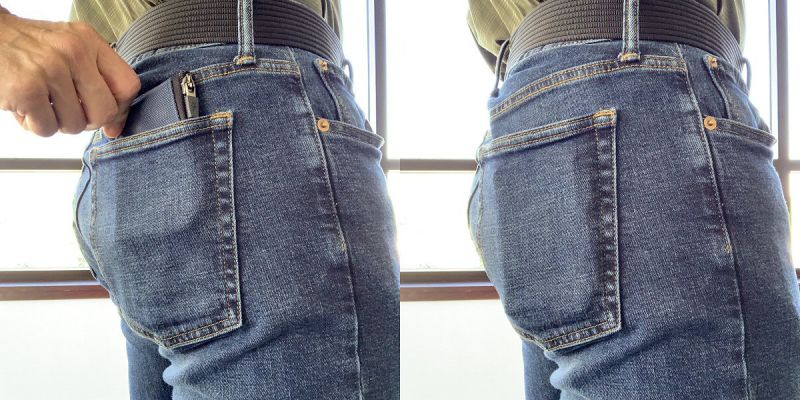 As seen above, the Compact Finn Wallet is very suitable for back-pocket carry like just about any traditional wallet.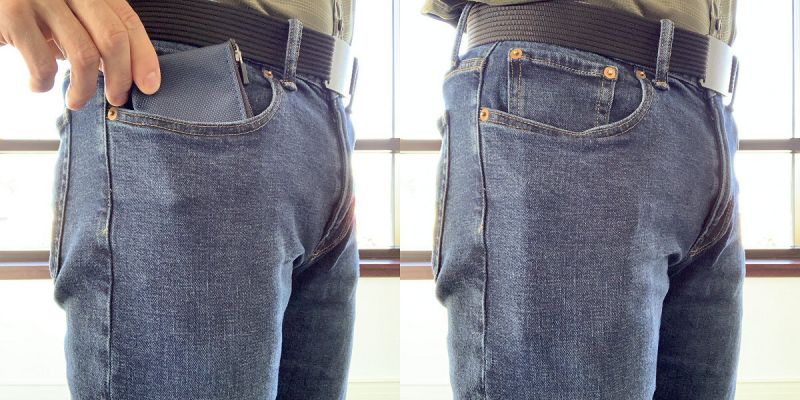 Where the Compact Finn Wallet excels, however, is in front-pocket carry, where its small footprint, thinness, and soft material make it quite comfortable.
What I like
Very small, very slim, very suited for either front or back pocket carry (though the larger Finn Wallet sizes may not be suitable for front-pocket carry)
Simple but versatile interior organizational pockets
Locking YKK zipper provides quick yet secure access to contents and could also be used to hold small items like cables, adapters, etc.
High-quality materials and construction—the Forza fabric looks and feels great and seems very durable
What I'd change
Final thoughts
The Waterfield Designs Finn Wallet is an excellent slim, compact, minimalist wallet if you want to carry several cards and cash and maybe a few additional small items securely.  It has a classic look and the Forza fabric is very unique in look and feel.  The Finn is just a bit on the pricey side, but as someone who has reviewed and used many wallets, I feel that its pricing is very reasonable considering its materials and construction, which give me the impression that it will last a long time, as Waterfield Designs' products are known to do.
Update 6/7/20
Waterfield Designs makes some of my all-time favorite wallets and the Compact Finn Wallet is one of their all-time classics. Highly recommended for anyone who wants to minimize their wallet contents a bit.
Price:
Waxed Italian Canvas in Brown or Blue each for $49
NEW Red or Blue Forza (Blue reviewed here) each for $49
Full-grain, deer-tanned leather in Brown, Black, or Blue each for $59
Add $10 for RFID blocking liner
Add $10 for iPhone XS size
Where to buy: Waterfield Designs (AKA SF Bags)
Source: The sample of this product was provided by Waterfield Designs