We use affiliate links. If you buy something through the links on this page, we may earn a commission at no cost to you. Learn more.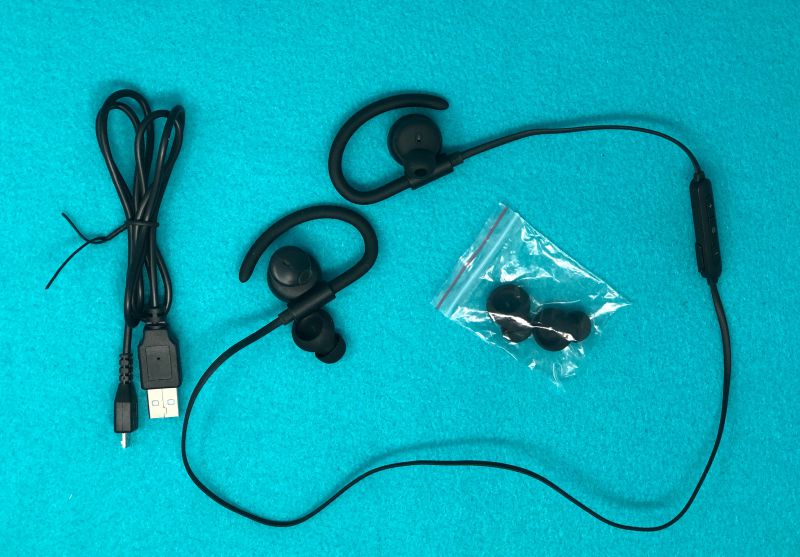 REVIEW – Completely wireless earbuds require that the earbuds balance or seal into your ear canals through pressure, shape, or some combination of the two. There are many add-ones out there that add hooks, different shapes, and tethers for these small individual units. Baseus has created a new model – the Wireless Headphone S17 – that incorporates a soft ear hook into the earbud itself as well as a tether to connect the two halves. I was sent a set in black to test.
What is it?
Tethered IPX5 earbuds with ear hooks, in-line mic, volume control, and digital assistant access.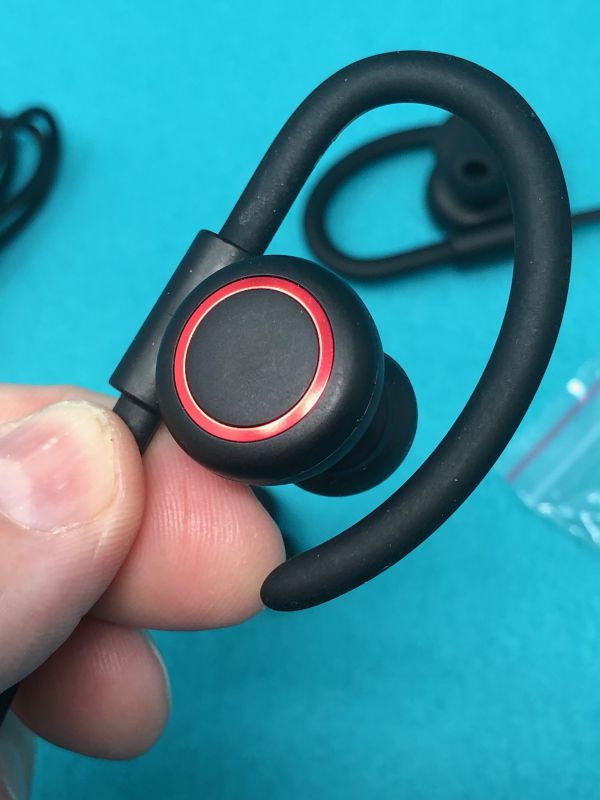 What's in the box?
Earbuds
One set extra ear tips
USB2< ->microUSB charging cord
User guide (English and Chinese)
Hardware specs
Bluetooth 5.0
Independent sound cavity
High-resolution sound field
Tight sealing effectively isolates noise
Magnetic housing design, anti-tangle
IPX5 waterproof
3 control buttons
Comfortable ear hooks
Built-in 100 mAh dual battery
CE, RoHS and FC certifications
Battery capacity: 100 mAh, 3.7V
Call/music time: 6-7 hours
Standby time: 200 hours
Charging time: 1.5 hours

Design and features
Baseus makes a wide range of different shapes of wireless and wired listening products. This latest in their Encok Music line – the Wireless Headphone S17 – incorporates soft ear hooks to hold the actual speakers in place while you workout, run, bike, or just go about your day. Available in white or black, the earbuds have soft, flexible silicon ear hooks with no wire or stiffener inside to break or poke through. This makes the over-the-ear part almost undetectable while wearing. Paired with the hook is a hard plastic disk just under an inch in diameter (2 cm). Around the outside of each earbud is a metallic red decorative ring. Linking the two ends is a flattened oval cord 23″ long. A mic/control module breaks the link a few inches closer to the right earbud than center. A high power magnet in each earbud pulls the two halves together when not in use.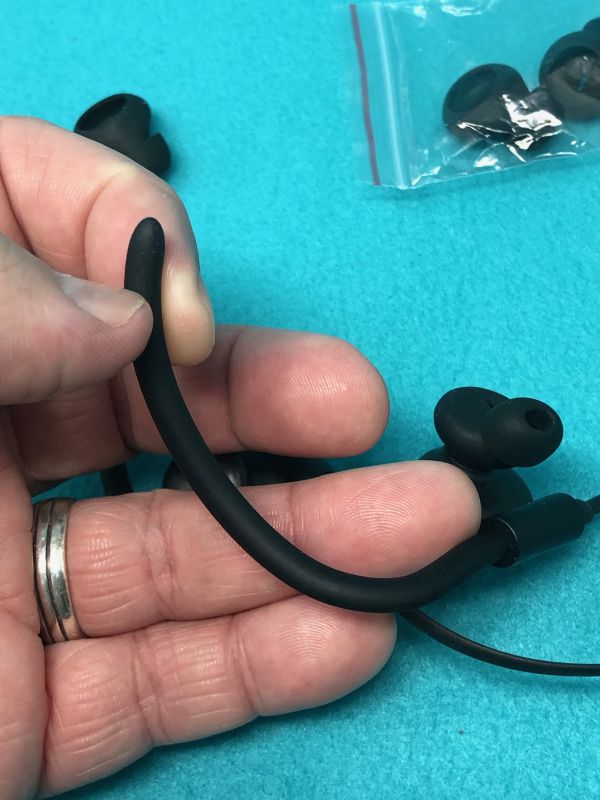 There are two sizes of silicone ear tips included, but it's easy to make either fit since they are so flexible. With the addition of the permanently attached ear hooks, you don't need to worry about the seal being what will prevent the unit from falling out.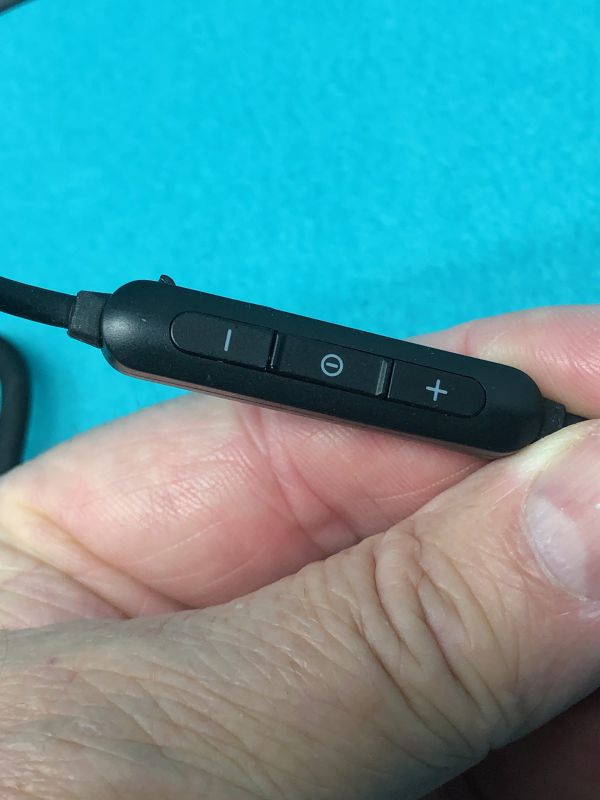 The mic module is typical – a multi-functional button in the center with "+" and "-" buttons for volume on either side. A – sigh! – microUSB charging port is under a silicone gasket. Holding down the multifunction button will hail your digital assistant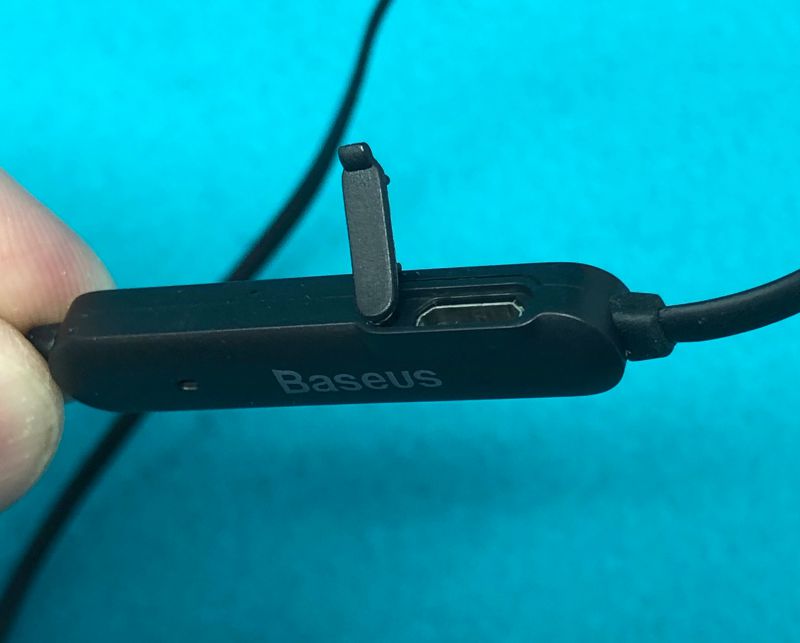 You can wear the tethering wire over the back of your neck or in front. There is a bit of attenuation that comes through when it hits your shirt or neck, so I tended to keep it under my chin. Testing while on a phone call, I had someone tell me which sound they preferred, and they said the sound was better when the mic module was around front. Your mileage may vary.
Performance
The large outer rim of the earbuds gives ample room for a battery and good sized speakers, as well as the magnets that draw them together when not in use. The sound from the S17s is clear and crisp. I heard some nuances in songs that I'd never noticed before. (Did you know there was a trumpet riff with a Harmon mute in Steely Dan's Babylon Sisters? After hearing it, I went back to my over-the-ear wired headphones and there it was, just waaayyy in the background!)
The bass range you hear with the S17s will sound thinner, of course, due to the smaller speakers, but acoustic music or female voices are absolutely magical, especially in a quiet environment. I've been rediscovering Imogene Heap's lyrics, that were always over-powered by the instrumentals previously. Somehow, you feel closer or more present in the music.
What I like
Soft ear tips provide unnoticed security
Magnets keep the cable from tangling
Access to digital assistant through a single button
What I'd change
I'm so tired of microUSB charging cables.
Final thoughts
I like fully wireless earbuds much better than those with wires, but the ear hooks and not having to charge all the time keeps me trying out tethered buds as well. These are possibly the best-sounding pair of tethered earbuds I've used and the most comfortable by far. Not having to figure out what to do with the charging case or where to put the buds when you stop using them for a minute (for example, to tell a driver your destination or to chat with a friend you just bumped into) is another notable benefit of the magnetic cling feature.
Price: $25.99
Where to buy: Amazon
Source: The sample of this product was provided by Baseus.