We use affiliate links. If you buy something through the links on this page, we may earn a commission at no cost to you. Learn more.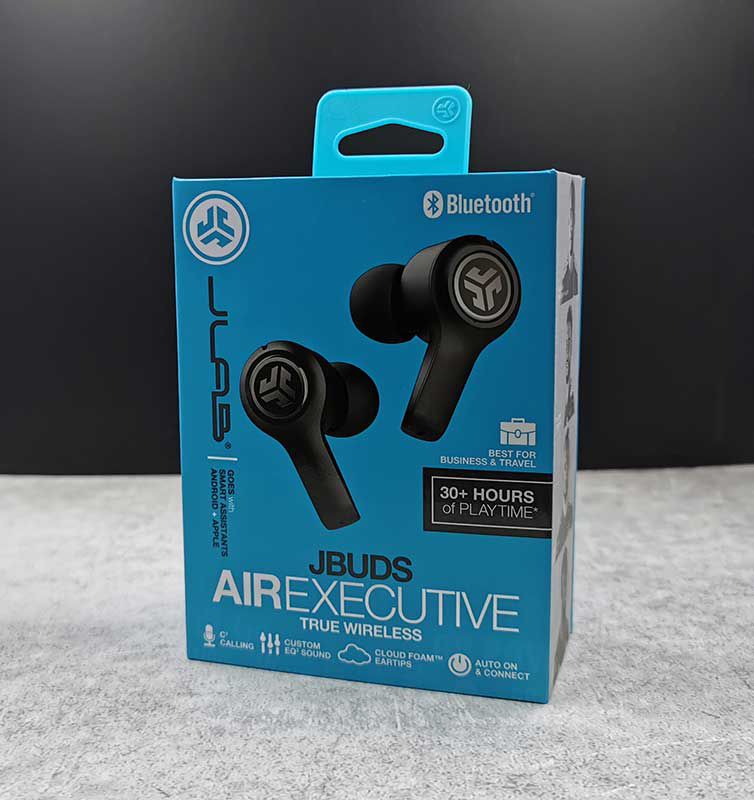 REVIEW – I have a problem. I keep saying yes to more TWS earbud review offers. I guess that's not a bad problem to have though since I keep getting to try new pairs of Bluetooth earbuds with the hope that each pair will be a little better than the last pair. So with that in mind, the latest pair of earbuds that I'll be showing you today are the JLab Audio Jbuds Air Executive True Wireless earbuds. Let's check them out.
What is it?
The JLab Audio Jbuds Air Executive are TWS earbuds with touch controls.
Hardware specs
Speaker: Φ8mm Dynamic, Neodymium Magnet, 20Hz-20kHz, 32 Ω
Output: 103±3db
Battery Life: 6 hours in each earbud, 24+ hours in case
Earbud Charge Time: 1.5 Hours
Rapid Charge: 15 min charging = 1 hour playtime
Case Charge Time: 2.5 Hours
Bluetooth 5
Range: 30+ ft.
Support Protocols: HSP/HFP/A2DP/AVRCP
What's in the box?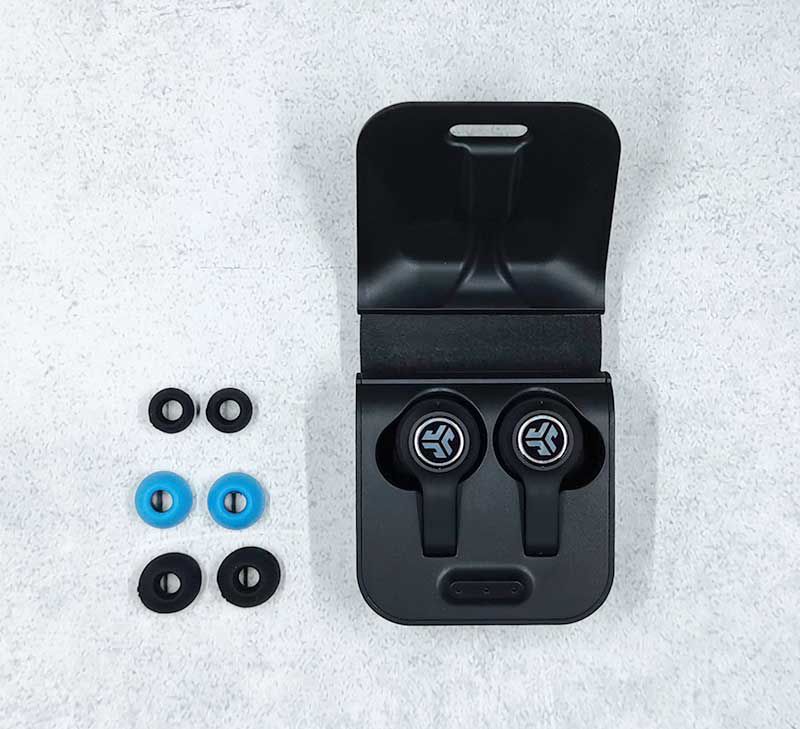 JBuds Air Executive Earbuds
Charging Case with Integrated Charging Cable
3 Sets Gel Tips
1 Set Cloud Foam Eartips
1 Set Cush Fins
User guide
Design and features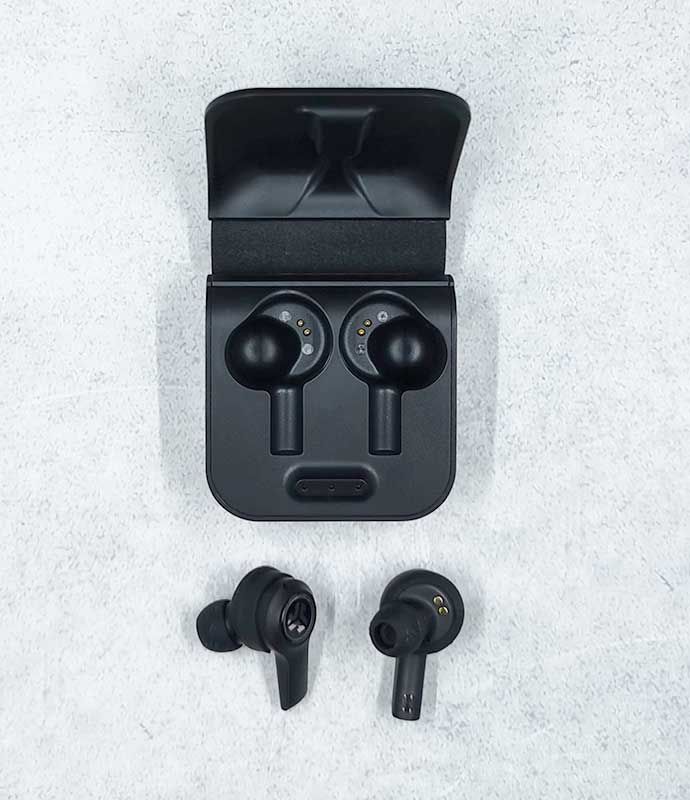 The JLabs Air Executive earbuds borrow some style ideas from Apple's Airpods with their dangling microphones.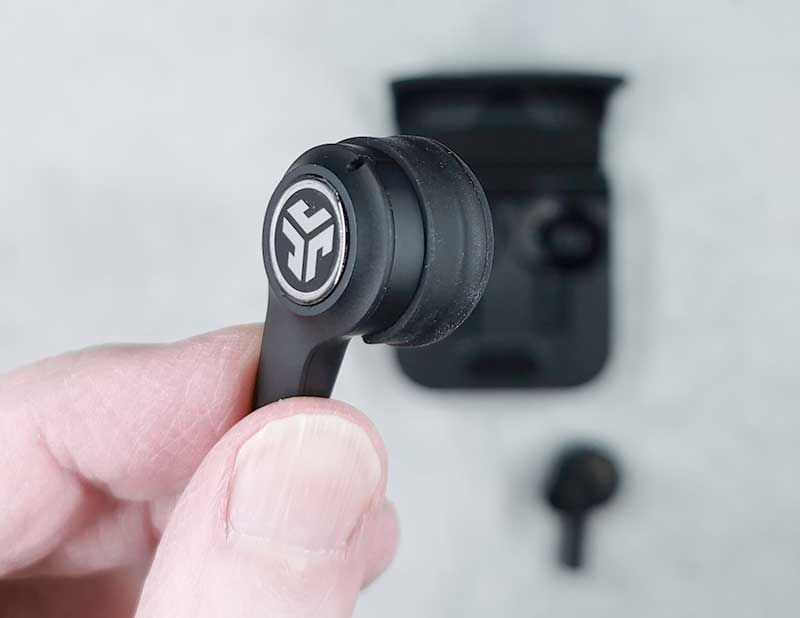 The earbuds are available in your favorite color as long as that color is black. They do have the JLab Audio logo in silver to provide a little pizzaz.
Although you might think that the logo is a button, it's not. These earbuds are controlled by touch. I'll talk more about that later.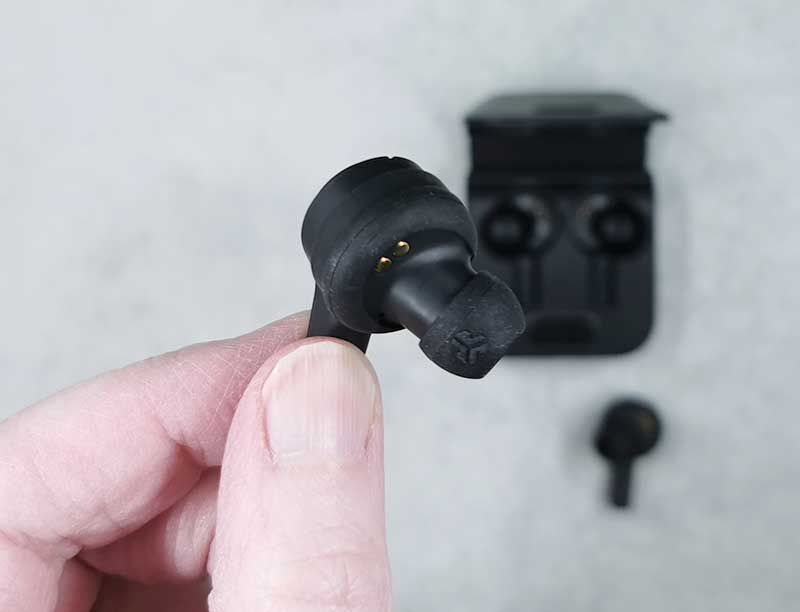 Each earbud has two electrical contacts near the eartip. You'll also notice what JLab Audio calls the cush fin around the outer edge of the earbud. This silicon cover comes preinstalled and is supposed to help keep the earbuds in your ears.
One of my favorite things about the JBuds Air Executive earbuds is the charging case. This case is covered in faux leather which gives it a pretty snazzy look and feel. But even better is the fact that the case has a built-in USB cable.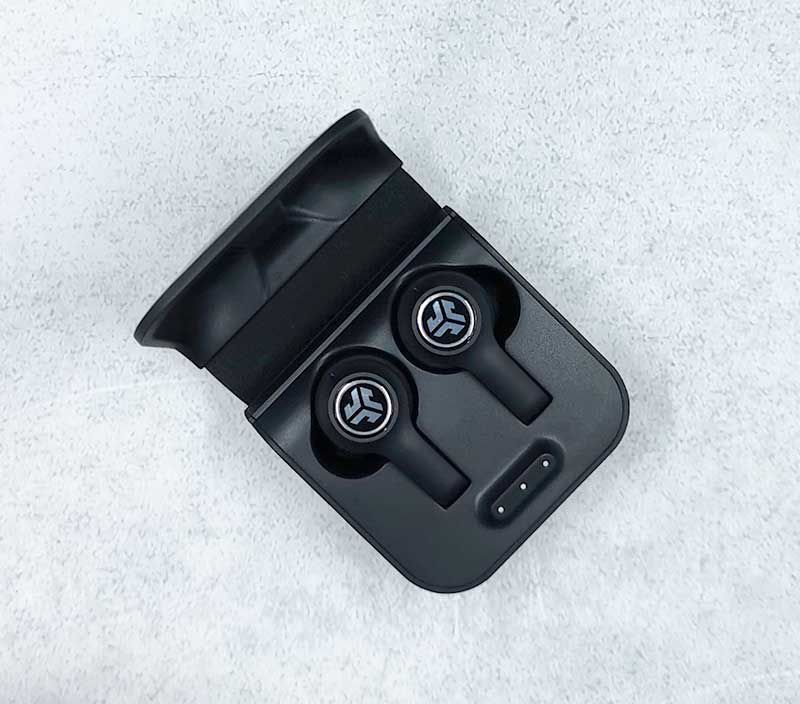 There are 3 LEDs on the top of the case that glow white to show the battery charging status of the case. The two outside LEDs will glow blue while the earbuds inside the case are charging if the case itself isn't in the process of charging.
Pairing and functionality
Pairing the earbuds with my Huawei P30 Pro was quick and easy. When the charging case lid is opened, the LED on each bud glow blue to signal that they are ready to connect. From there I just chose "JLab JBuds Air Executive" from Bluetooth devices list and paired them.
Fit and comfort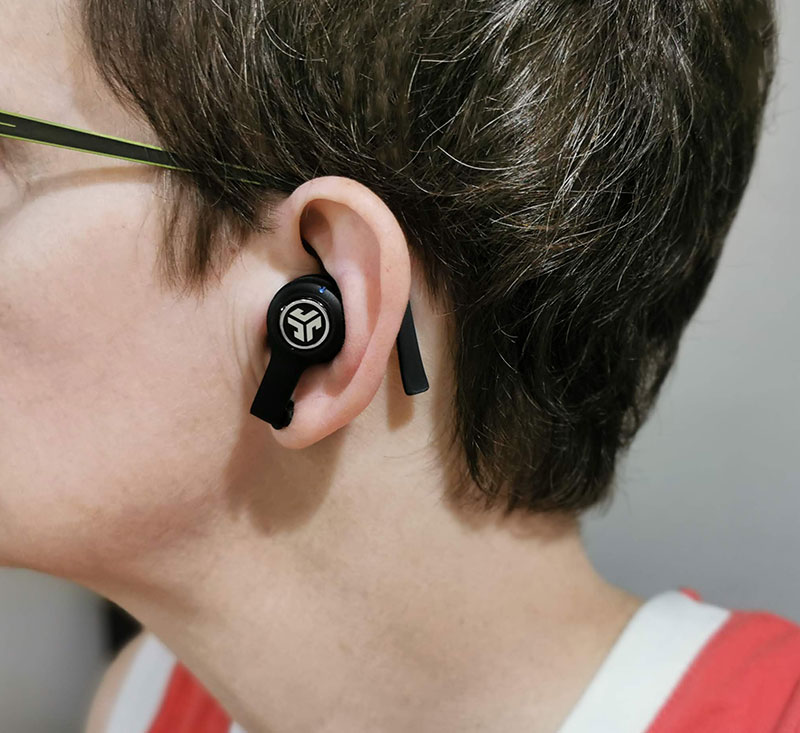 Everyone's ears aren't identical, so I can't say how the JBuds will fit you. I can only comment on how they fit my ears. The left earbud fit fine with the default sized ear tip installed, but the right earbud frequently fell out of my ear when I was working out. I didn't have this problem when just sitting at my desk, and only noticed the problem when I was active and moving around. I tried the other ear tips including the foam tips but I had the same issue with the right earbud falling out of my ear.
If we overlook the fact that the right earbud falls out of my ear, I found the JBuds to be comfortable enough to wear for an hour or two at a time.
Touch controls
As I mentioned earlier, the JLabs do not have physical buttons but use touch controls. The controls require that you remember what single, double, triple, and touch hold gestures do for each earbud. I won't list out all the controls, but for example, a single tap on the left earbud is volume down. The same thing on the right earbud is volume up. A double tap on the left earbud triggers Siri or OK Google, and the same thing on the right earbud toggles between play and pause. You get the idea.
For the most part, I found the touch controls to work pretty well. But once in a while when I tried to perform a single tap on the right earbud to raise the volume, would be translated into a double tap and cause the music to pause.
Sound quality for music, video, and calls
I tested the JLab Audio JBuds Air Executive TWS earbuds with my Huawei P30 Pro smartphone, and with a Dell laptop at my day job. I tested by using Amazon Prime streaming music, Spotify, YouTube, and Netflix. The earbuds sounded good with all types of music that I tried and I was happy with the sound quality of the music that I like to listen to.
These earbuds have 3 EQ settings that you can switch between by triple tapping the left earbud. You can cycle between JLab Signature EQ setting which has amplified vocals and bass, to a Balanced EQ setting that has no additional enhancements, or the Bass Boost EQ setting which amplifies the bass and sub-bass. I stuck with the JLab Signature EQ setting.
I am also happy to say that I could use these earbuds while watching streaming video on YouTube and Netflix. The audio and video synced very well with no noticeable delay which is something I can't say about all earbuds I have tested.
For calls, I could clearly hear the person on the other end of the call and they could ear me as well. Like most earbuds, they fit tightly in your ears, you will hear yourself talking in your head which may or may not bother you.
What I like
Charging case has a built-in USB cable
Touch controls
Comfortable fit
3 built-in EQ settings
What I'd change
Include larger cush fins to allow for better fit customization
Allow either earbud to be used by itself instead of just the right bud
Final thoughts
With so many TWS earbuds on the market, it's tough to stand out in the crowd, but the JLab Audio Jbuds Air Executive True Wireless earbuds do just that by offering a handsome charging case that has a built-in USB cable along with a pair of earbuds that fit well, sound good, and have touch controls. I have no problem recommending these earbuds based on their features and price.
Price: $69.00
Where to buy: JLab Audio
Source: The sample for this review was provided by JLab Audio.