We use affiliate links. If you buy something through the links on this page, we may earn a commission at no cost to you. Learn more.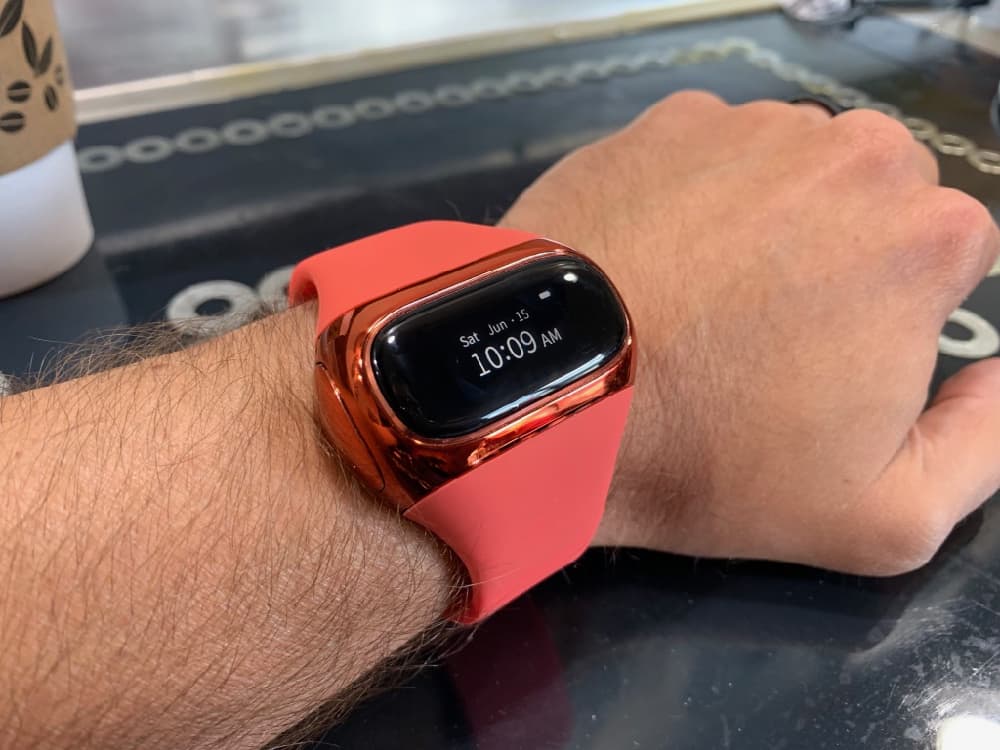 CROWDFUNDING REVIEW – Airpower, an innovative smart device developer, is unveiling their Wearbuds, dubbed the "world's first wristband-housed true wireless earbuds." They will be available for preorder on Kickstarter starting today June 20th, 2019.
What is it?
The Wearbuds are touted as the "World's First True Wireless Earbuds Housed in a Fitness Band." And indeed, they are indeed sporty wireless earbuds that click securely into the body of a wrist fitness tracker.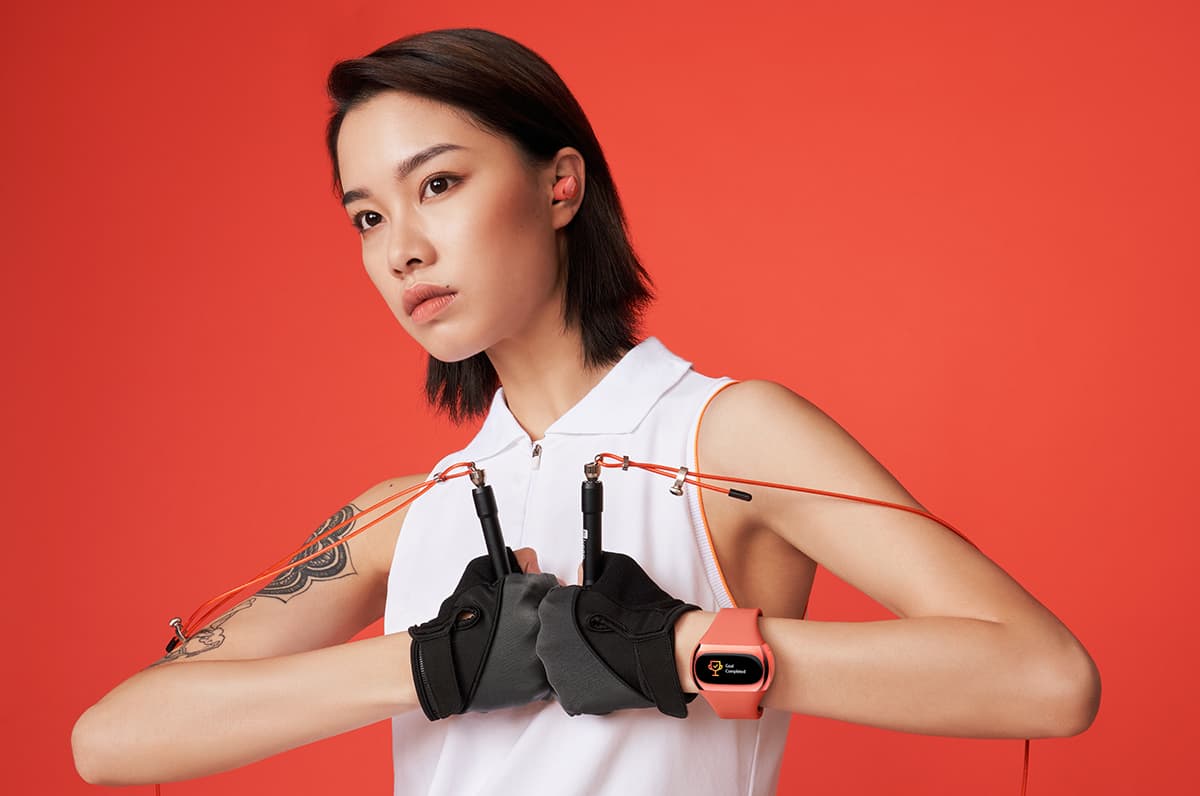 In combining the earbuds, charging case and fitness tracker into one wearable package, Airpower hopes to solve the problems of lost charging cases and digging around in your backpack for your earbuds.
There is an invisible wire that has long plagued true wireless experience. The innovative patented design of Wearbuds enables the earbuds to be stored and charged in a fitness band, bringing both audio and fitness tracking experience to consumers. — Oliver Sha Fei, co-founder of Aipower
What's in the box?
Wearbuds Fitness Band + Earbuds
Getting Started cards
Charging cable
Features & Specs
True wireless and Bluetooth 5.0
Qualcomm smart audio chipset
Support aptX codec
Graphene-augmented drivers
Instant pairing
Earbuds playtime: 4h (12h with the band)
Fitness band battery life: up to 7 days
Earbuds: IPX7 waterproof
Fitness band: IPX6 water-resistant
On-wrist fitness data: heart rate, steps, sleep patterns, etc.
On-wrist notifications for call, message, apps (Facebook/Twitter/Instagram)
Hands-on Experience
Note: The supplied Wearbuds unit that I was given is a prototype, so my experience with the wrist tracker, earbuds and app may differ from the final shipped product.
Airpower was kind enough to ship me a prototype of their Wearbuds. I'm going to break down my early impressions into three sections to cover everything the Wearbuds professes to do: wrist-worn fitness band, wireless earbuds, and the companion mobile app.
Fitness Tracker Band / Charging Case
When I first laid eyes on the Tracker Band, it sort of reminded me of a kids GPS smartwatch. It's certainly a lot more fashionable than something a kid would wear, but it still had that rounded clunkiness to it.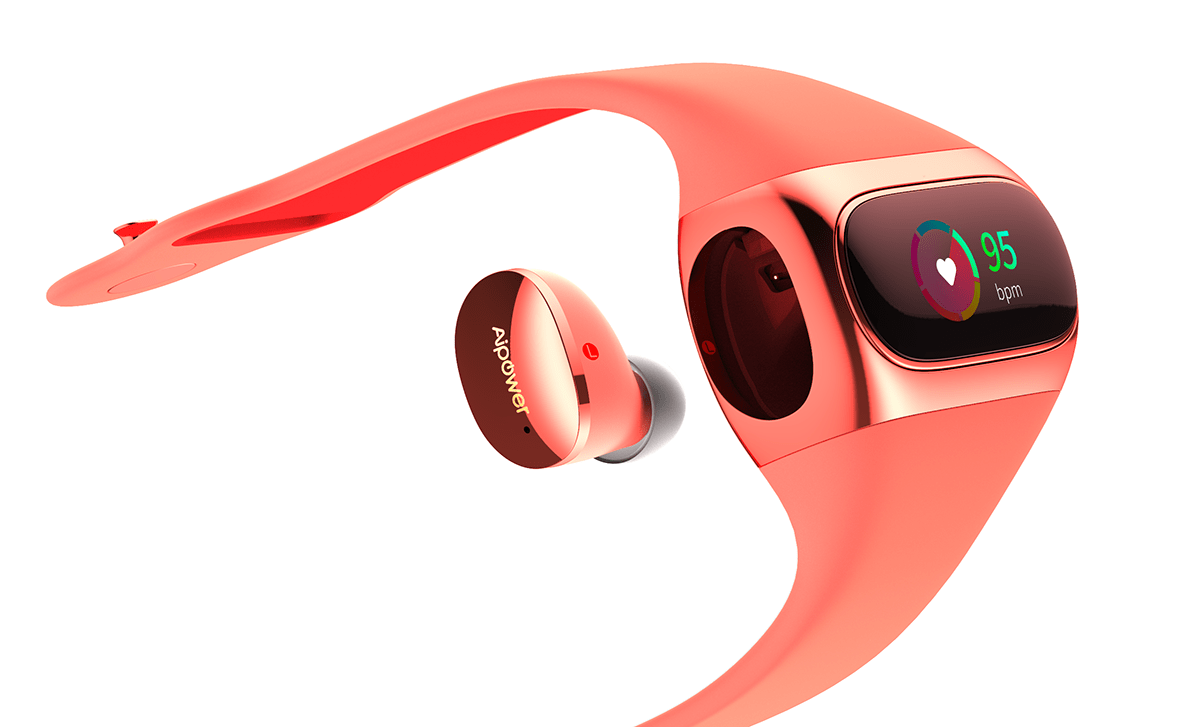 The strap of the Band felt very similar to the function of a sports tracker, and was easy to place on my wrist. After wearing it for a few moments, I could feel the metal disc attached to the nub keeping the strap in place begin to rub against the inside of my wrist, depending on the angle of my hand.
The self-consciousness of wearing something this thick on my wrist was apparent for the first few hours, but would come right back every time I would accidentally brush my wrist against something. I don't know if I could ever get past it, maybe in time, but it definitely is meant to be an all-day type of device. And, it apparently tracks sleep, so it's meant to be an all-night type of device, too.
There are no buttons to speak of. Not even a power button. It was already "on" when I received it, and the only way one could tell if the battery had actually died is by attaching or detaching the earbuds to see if the display would react.
There is a proprietary USB charging connector that attaches to the "underbelly" of the Band, held in place by strong magnets.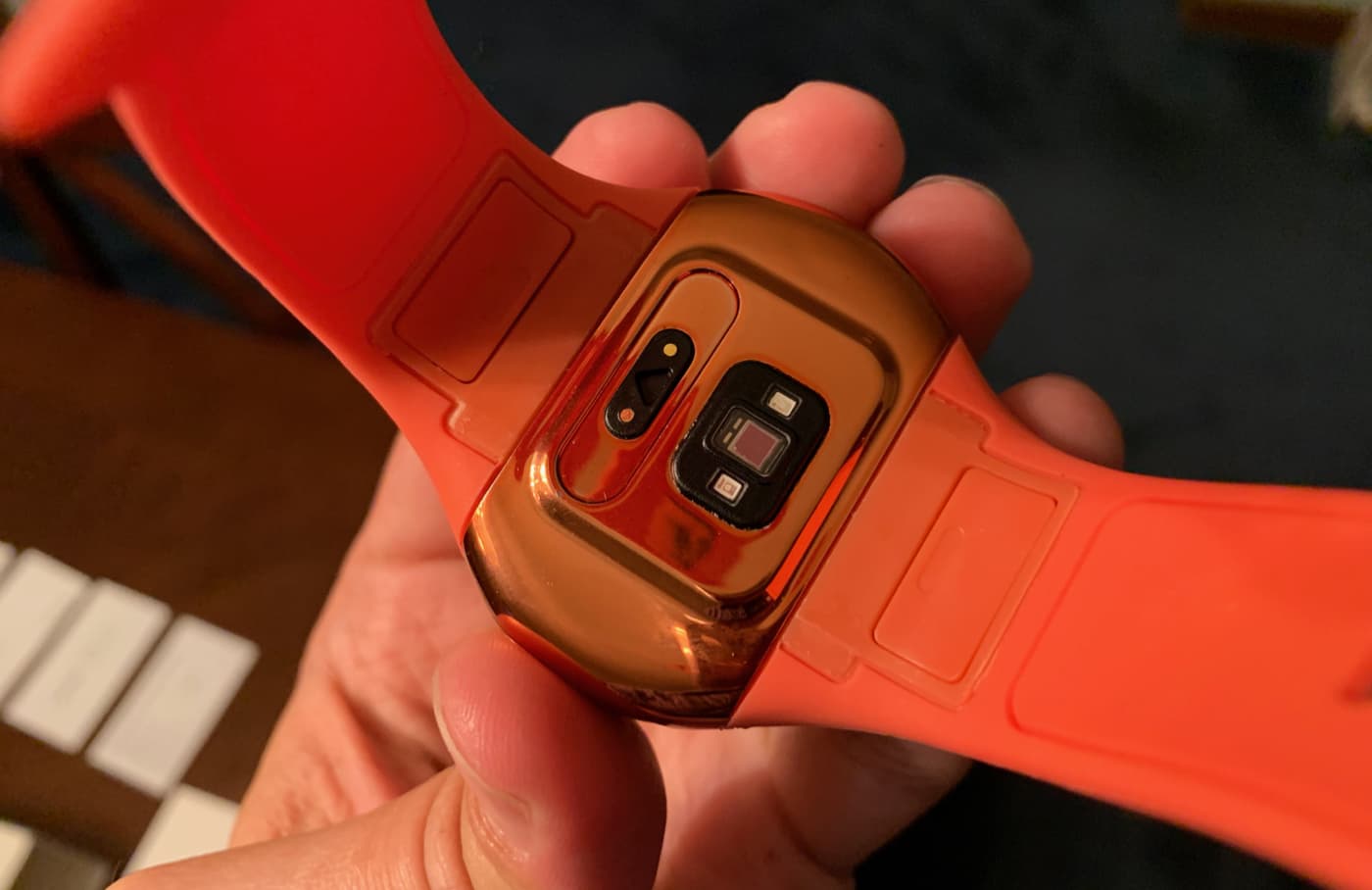 The Band's functionality was extremely spotty. For instance, I don't think I ever really "learned" how to raise my wrist to get the display to light up. It would take several dips and twists and flips of my wrist before I saw the time light up. And from what I can tell, the only way to switch modes is to have that display turn on, first.
Sometimes I would see it come on without even really moving my wrist around. I couldn't tell if it was just a delay from a previous movement or if I was keeping my wrist resting on the table at the perfect angle to keep triggering it.
Once the display is on, which actually takes up a relatively small strip of the "face" of the tracker, you can switch modes by swiping to the left or right, and then enter that mode by double-tapping on the display. Once in the selected mode, like "Daily Report" for instance, you can get back to the main menu by swiping to the right to display a large "< BACK" and then double-tapping on that.
This took a lot of trial and error.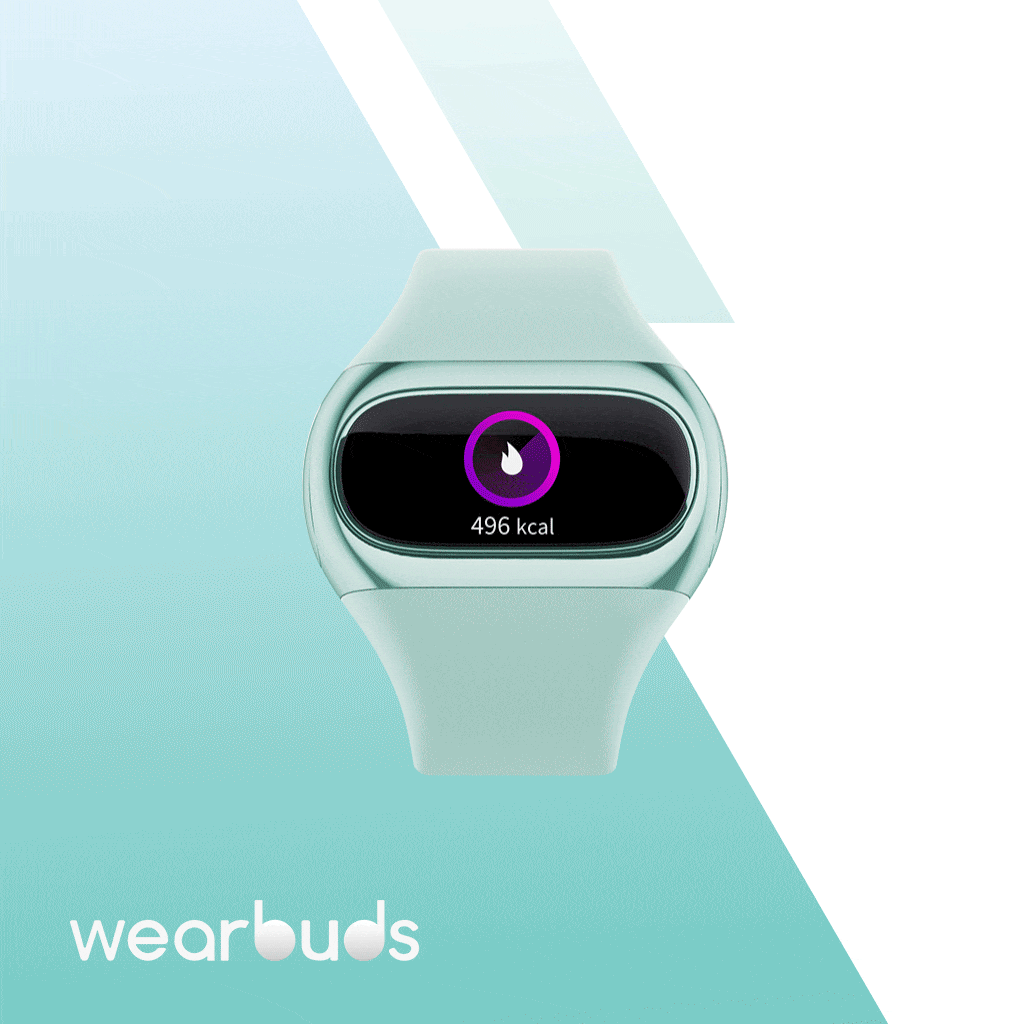 To be fair, I received a note with the prototype explaining that this interface "needs to be fine-tuned." So there may be some drastic improvements in using this.
The functionality of the Band is somewhat limited. You can enter heart rate mode, which (accurately from what I can tell) determines your heart rate, but not passively throughout the day. There is also a "daily report" mode that shows your steps and other stats, and a sport mode used for starting a walk, run or biking workout.
It's also capable of displaying notifications from apps such as texts, WhatsApp, and phone calls, as well as a programmable "sedentary" reminder to get up and walk around periodically.
For the most part, the Band acts as a pedometer and portable earbud charging case. I would have vastly appreciated a more reliable way to turn on the display, such as a tap or even a small button.
The steps recorded from the Band were within a couple hundred steps of what was recorded by my iPhone, which seems pretty accurate.
I recorded a walk using the Sport function, but again ran into some trouble. During the walk I somehow got back to the main watch screen, and didn't know how to get back to the workout in session. So I tried to start a new walk workout and after a very slow 3-2-1 countdown, it resumed the current walk. Very odd. I thought for sure I was going to crash something.
Again. Prototype stuff.
I should mention the battery life is listed at 7 days in the specs, but I can't imagine it would last nearly that long. After a full day of wear (14 hours) the Band was at 35% power. I believe I had given the earbuds a full charge from the Band's battery … this action alone would reduce it by about 40%. I suppose not charging the earbuds would boost the longevity of the Band, but having something that acts as a charging case for your earbuds is the entire point of this device.
At the current state, this prototype fitness band is clunky and unreliable. It's hard to say how much better it will get since Airpower has a couple months to work on it. But, good news, the device is capable of receiving firmware updates via the app.
Earbuds
The true wireless earbuds housed within the Band are quite small. They only come with one earbud size, and while they did fit my ears snugly, I'm not sure they would be a fit for everyone. They pop in and out of the left and right sides of the Band with a push-snap mechanism, reminiscent of the action of inserting an SD card. They don't shake out when inserted and remain flush against the side of the Tracker.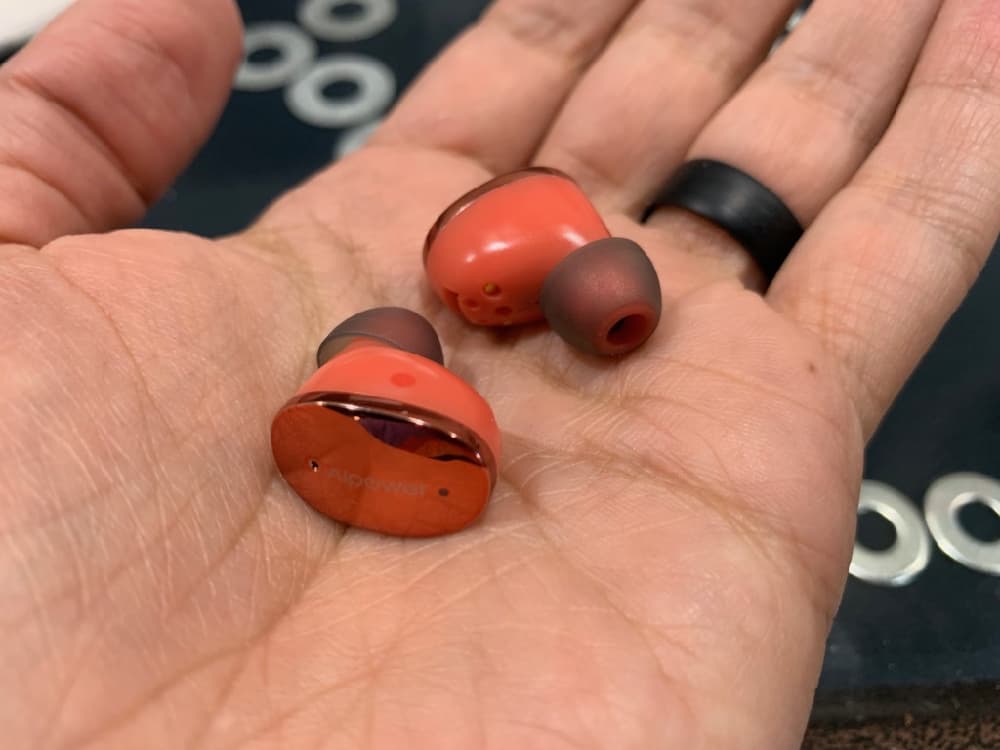 However, once they're removed, the Band itself looks a bit odd, two gaping holes on either side of the body. I think that's why most earbud charger cases have a cover on them, I think … and I snickered immaturely when I had this thought … for modesty's sake.
They pair with your phone as independent devices. The pairing sequence was fairly easy, following the provided instructions.
The earbuds are able to be operated in single or dual mode, and have a touch sensitive area on the flat part of the bud itself. In dual mode, double tapping either earbud will skip or rewind the track, respectively. Tap and hold will increase or decrease the volume, and a single tap will answer or hang up a call. Additionally, a triple-tap (!) will activate Siri.
When using a single earbud, which activates mono audio, I think, the taps are limited to increasing or decreasing the volume, answering calls, and invoking Siri. I appreciate the extra attention in this detail.
The effective tap area is most of the flat surface. I think that surface is capacitive. I could touch this area twice very lightly and it seemed to react, it didn't require a forceful double-tap like Apple's AirPods.
The earbuds sound pretty good. They're a little flat, and not very punchy in either the bass or treble. That can be helped by a little in-app equalization, if available, but they do block out a good amount of external sound. They're decent. The batteries seemed to last around 4 hours of constant use on a full charge, which is very close to what was listed on their Kickstarter page.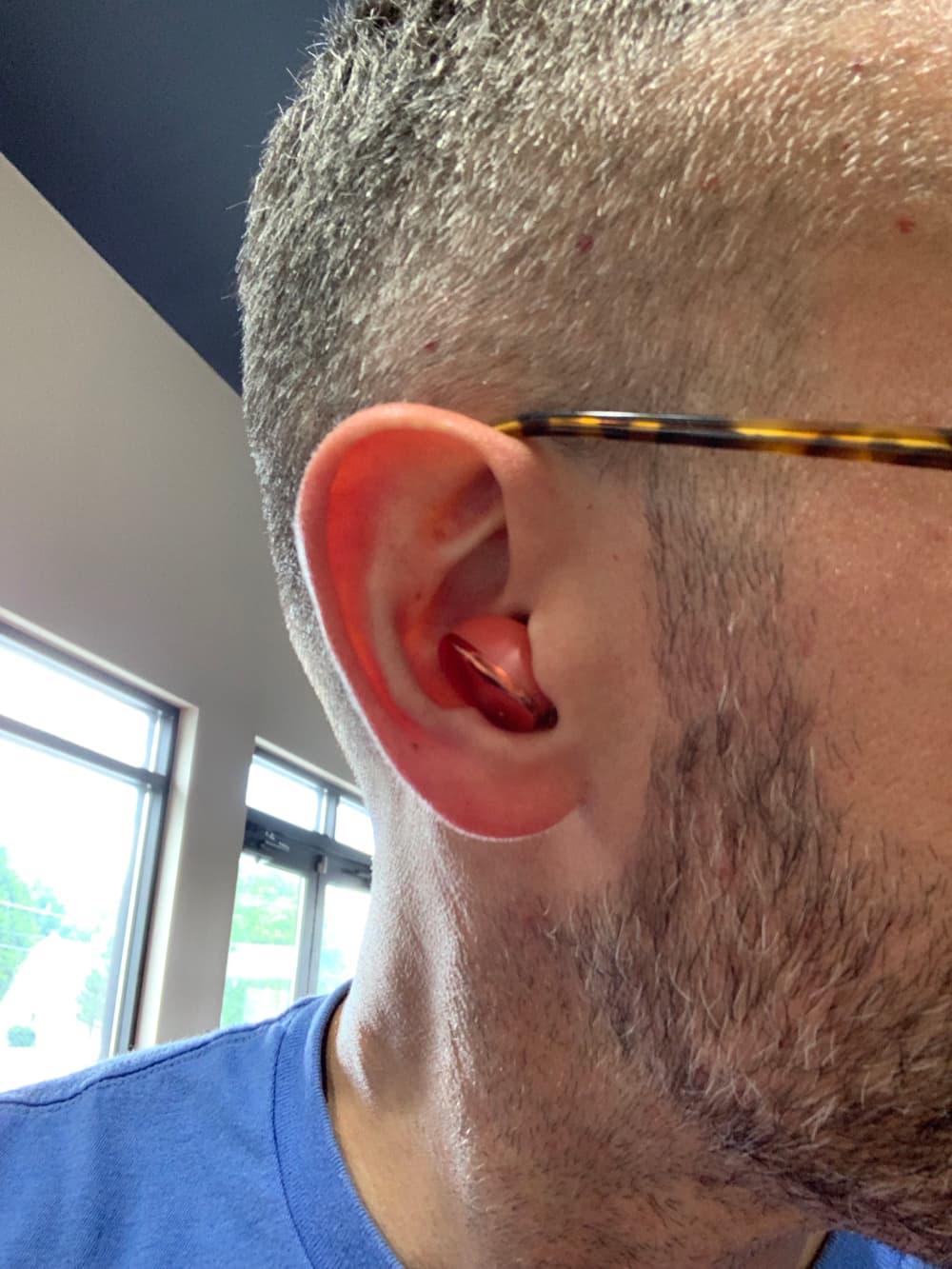 They charge using the Band's power, so the battery life of the Band itself is highly dependent on how often you're charging the earbuds. They're listed as having 35mAh battery in each earbud, and the Tracker Band has a 160mAh battery, so charging the earbuds twice in a day would nearly deplete the Band's power.
Airpower Companion App
The Airpower app is available on iOS and Android, and is specifically made for the Wearbuds. At the moment, it doesn't look like it will sync with other devices, but it could when and if they're developed.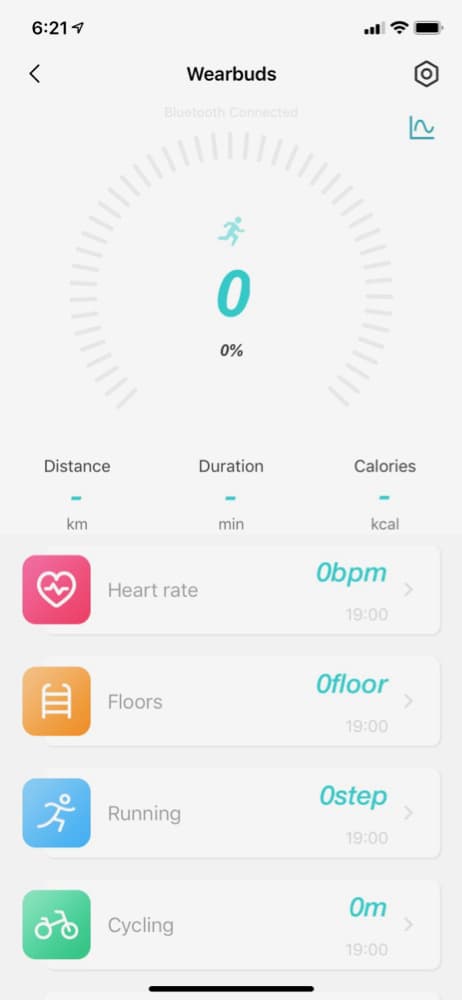 The app itself does a good job of displaying fitness data generated from the Tracker, such as steps, floors climbed, heart rate and workout stats. From what I could tell, this information doesn't sync with the iOS Health app, so this information is only stored within the Airpower app.
The app itself can only be used to interact with the Band in a couple different ways, such as starting the heart rate monitor and putting it in "Find" mode, which lightly vibrates the Band if within range.
While limited in use, the app is almost necessary, as it's the only way one could feasibly keep track of the fitness data history without write access to the Health app.
What I Like
Ambitious concept
Audio quality is pretty good
What Needs to Be Improved?
Again, this is an early prototype review, so there's no telling what will be addressed before launch.
Ease of use of the fitness tracker interface, it's extremely buggy
Incorporation of tracker data with Apple Health app
Would like a 'tap to wake up display' on the Band
Wish the Band was a little more trimmed down, but it's basically a charging case on your wrist
Final Thoughts
The inherent problem in reviewing an early prototype is that any oddity I came across had to be approached with the possibility that it might get fixed or improved when the final product is released. My opinions should be taken with a $49 grain of salt.
While the earbuds were decent enough, this is a market that is positively exploding right now with the popularity of true-wireless earphones. There are dozens of them on Amazon, ranging in price from tens to hundreds of dollars.
The same can be said of fitness trackers.
The Wearbuds feels like one of those Kickstarters that falls into the "World's First" category of devices and products that answers a question that nobody asked. While I'm sure there is a demographic of people who both want to track their workouts and like to listen to audio, there are thousands of existing products that address both of these subjects collectively better than solving the mild issue of misplacing a charging case.
Where can I find more info?
Starting on June 20, 2019 at 1pm ET, Airpower's Wearbuds Kickstarter campaign will begin, aiming to hit a $50,000 goal by mid-August and begin shipping in September. You can begin pledging during this time, and your Super Early Birdpledge of just $49 will secure your preorder.