We use affiliate links. If you buy something through the links on this page, we may earn a commission at no cost to you. Learn more.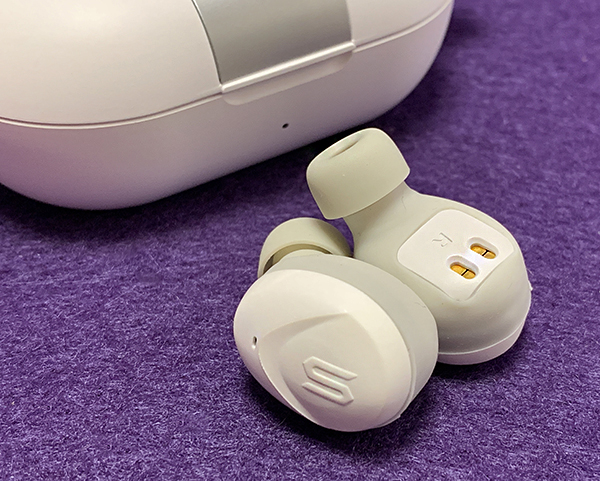 REVIEW – It's been a while since I've been acquainted with Soul Electronics. Back in 2013, I reviewed the (no longer made) Soul SL150CB headphone and found them to be surprising in a good way. Forward to 2019 and things have changed for Soul. They've added a few true wireless earphones to their mix of headphones, earphones and portable speakers. The question is if Soul can continue to surprise with the new ST-XS2 true wireless earphone.

What is it?
The Soul ST-XS2 true wireless earphones are an update to the popular ST-XS earphones—which I have not heard. They feature improved water/sweat proofing, double battery life, USB-C connectivity, ear hooks, Bluetooth 5.0 and a transparency mode for the ability to hear surrounding sound.
Specs
Weight: 

5g

Dimensions: 21W x 15H x 17D (mm)
Bluetooth: 5.0
Speaker diameter: 6mm

Battery Life (Talk or Music time): 

Up to 5 hrs X 5 (Up to 25 hours On-The-Go. Varies by volume level and content)

Bluetooth Range: 

33ft

Driver Type: 

Dynamic
In the box
Ear tips

Portable charging case

USB Type-C charging cable

Carabiner

Ergonomic C-shaped ear hooks

Design and features
The Soul ST-XS2 true wireless earphones are small (of course), come in four colors: black, white, blue, and pink, and are quite comfortable. Inserting and removing is quick and easy. Because of their comfort, they can be worn until the battery needs charging (about 5 hours) without issues. Soul sent me the white version which looks pretty classy, especially with its aluminum logo band embedded into the lid of the case.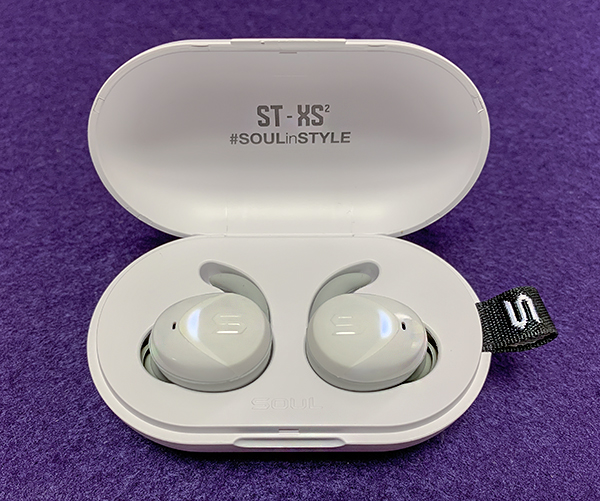 The case is relatively small—although larger than Apple's AirPods case. It will charge the ST-XS2 earphones five times equaling a total battery life of  25 hours. Not too shabby! There's a single light on the case to indicate if it's charging the earphones or not. Each earphone has a built-in light to indicate its individual charging status. Also, an iPhone will show how much battery life is left in its Batteries widget.
The case is made of a cheap-feeling plastic. It doesn't feel as substantial in the hands as the Apple AirPods' case. There's a logo tag attached to the case's exterior for attaching to a belt-loop or other similar item with a supplied aluminum carabiner.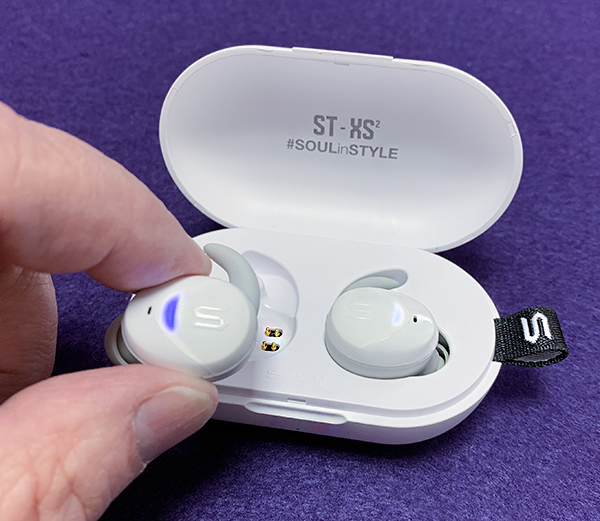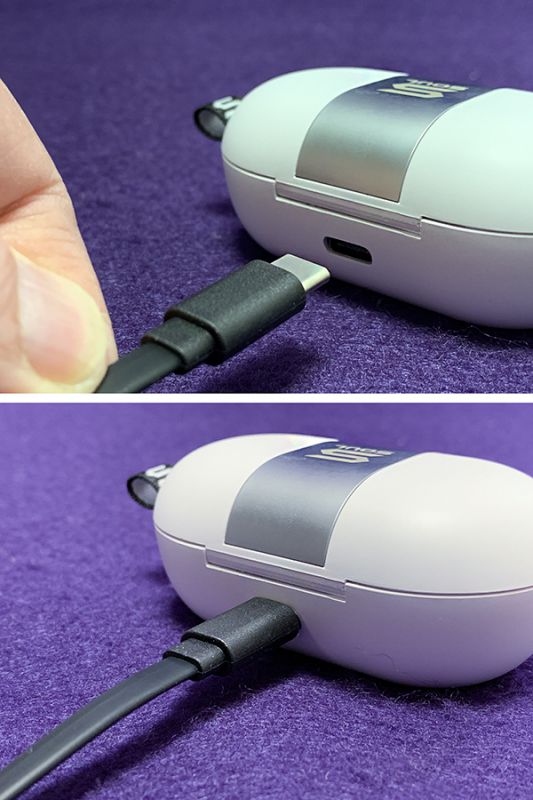 The ST-XS2 earphones magnetically attach to the interior of the case. This helps them snap into place for proper a charging connection and prevents them from falling out. The case charges via faster USB-C, which is quickly becoming the standard for charging.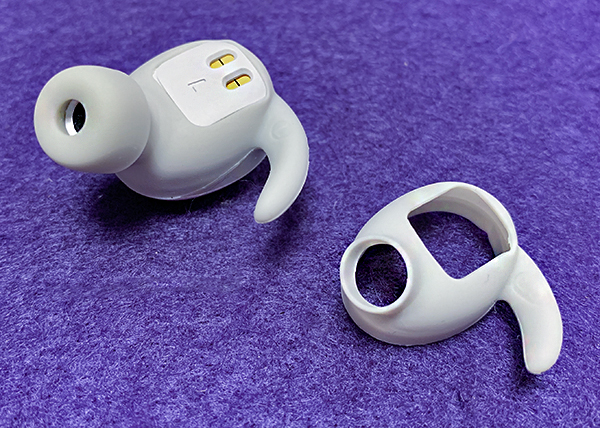 Much of the comfort of the ST-XS2 earphones comes from included C-shaped ear hooks. These soft silicone hooks help the earphones stay in place making it almost impossible to shake loose from the ear. They come in two sizes plus one without the hook.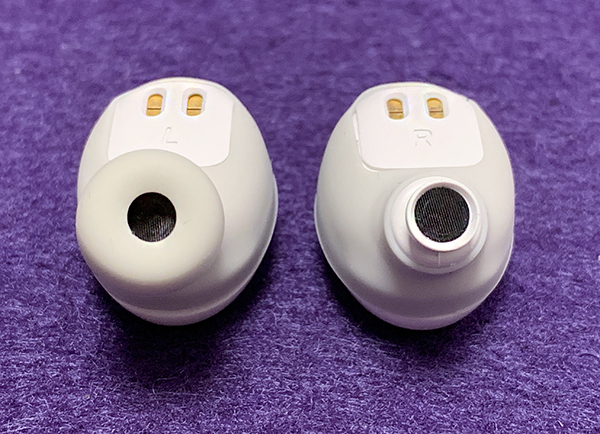 The ST-XS2 earphones are totally wireless. This simply means that there are NO wires, like some so-called wireless earphones that are connected to each other by a … wire. Keep in mind that totally wireless earphones are much easier to lose.
The ST-XS2 earphones have what Soul calls "Transparent Audio Mode." This allows you to hear outside noises while listening to music, making it safer to walk on a busy street and still remain aware of your surroundings. Note that the ST-XS earphones are not noise canceling, so some exterior noise will always creep in, but transparent audio mode enhances that.
Bluetooth connection is quick and rock solid, but that's not the cool part. What's nice is that when pulled from the case and put in your ear, the ST-XS2 earphones connect faster than any other wireless earphone I've yet tried—with the exception of Apple's own AirPods, which connect ridiculously fast. That's impressive from an earphone that strictly relies on Bluetooth.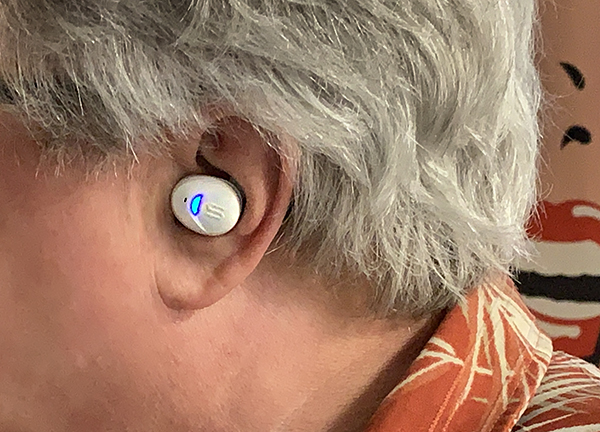 What's not so impressive is phone call quality. People I talked with said it sounded like I was talking through a speakerphone. I was easily understood and I could hear the other party fine, it just didn't sound natural. Note that I have never had call quality as good as AirPods no matter how much the earphones or headphones cost.
If this sounds like I'm comparing the Soul ST-XS2 earphones to AirPods, I'm not. It's just that—like it or not—AirPods are the de-facto standard for wireless iPhone users.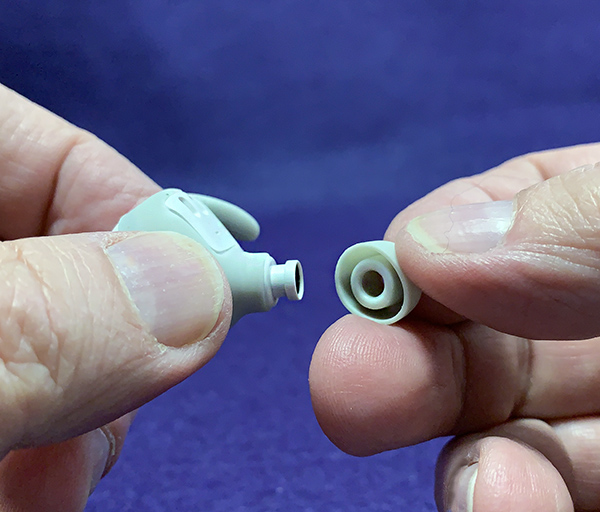 Another (somewhat) disappointment is audio quality. I say somewhat because it's an ear tips issue. Even the largest ear tips supplied by Soul do not provide a seal that allows decent bass—and I don't have a large ear canal. When listening to music, bass is seriously lacking in both tone and presence. I could only get enough bass when pressing and holding the ST-XS2 earphones deeper into my ears. I imagine people with smaller ears won't have this problem.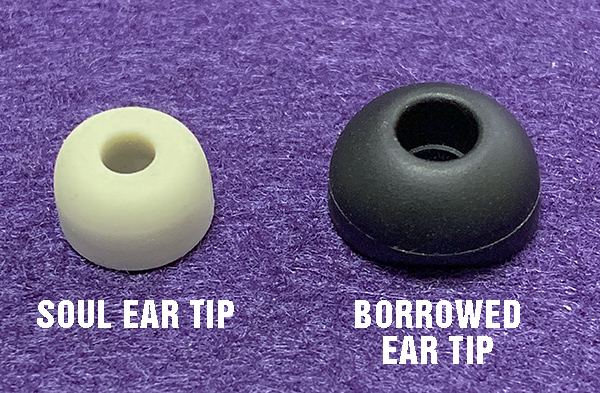 I fixed the problem by using some larger ear tips from my collection of various tips from previously reviewed earphones. However, I shouldn't have to do that. The good news is that the ST-XS2 earphones will still charge in the case with my larger, borrowed tips. Why Soul doesn't provide larger tips than they do is a mystery to me.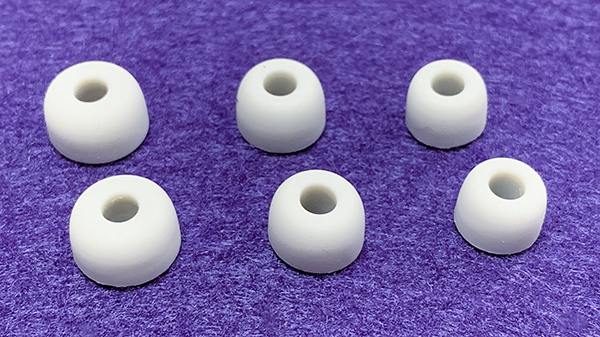 With the borrowed tips, the ST-XS2 earphones sound quite good. Being able to hear bass makes all the difference. The sound signature is "V" shaped. This means that bass and treble are slightly enhanced while the middle frequencies (where vocals lie) are slightly recessed. This aural setting is more commonly used for rock and modern music, so most people should be quite pleased.
What I like
Most people will also be pleased with the price. True, the ST-XS2 earphones aren't as convenient or as quick to connect as AirPods, but they cost much less. They also sound good, depending on that all-important bass seal.
What needs to be improved
Soul needs to supply larger sizes of ear tips. 

Final thoughts
For the price, the Soul ST-XS2 earphones are a decent totally wireless contender in an overcrowded market. Add their ability to connect almost as fast as Apple's own AirPods and they become one of the best you can get—as long as the tips provide a proper fit.
Price: $99.99 US
Where to buy: Amazon
Source: The sample for this product was provided by Soul.