We use affiliate links. If you buy something through the links on this page, we may earn a commission at no cost to you. Learn more.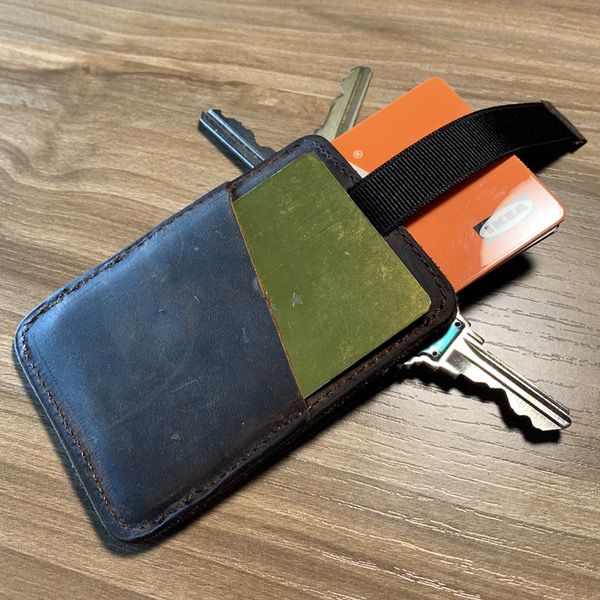 KICKSTARTER REVIEW – If you're a minimalist, we've got a cool little wallet for you to check out today. The folks at IPPINKA are offering up a Kickstarter for the MKC Tab Wallet. Not only is it hand made from glorious full-grain leather, but it has an integrated solution for your keys in addition to your cash & cards. Ditch that clunky old keyring banging around in your pocket! To the review!
What is it?
It's a full grain minimalist wallet that also organizes your keys.
What's in the box?
You'll get the wallet. You can also order accessories that fit the key swivels (a bottle opener and a 16 GB USB drive).
Hardware specs
2.6″ by 3.75″.
Full grain leather.
Chicago bolt screws.
Design and features
The MKC Tab Wallet is a beautiful, simple design. Rugged style is the name of the game here. Here's what the front and rear faces look like: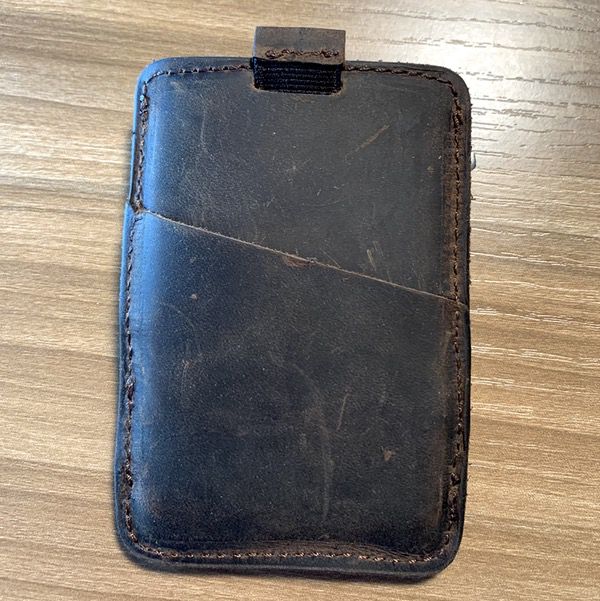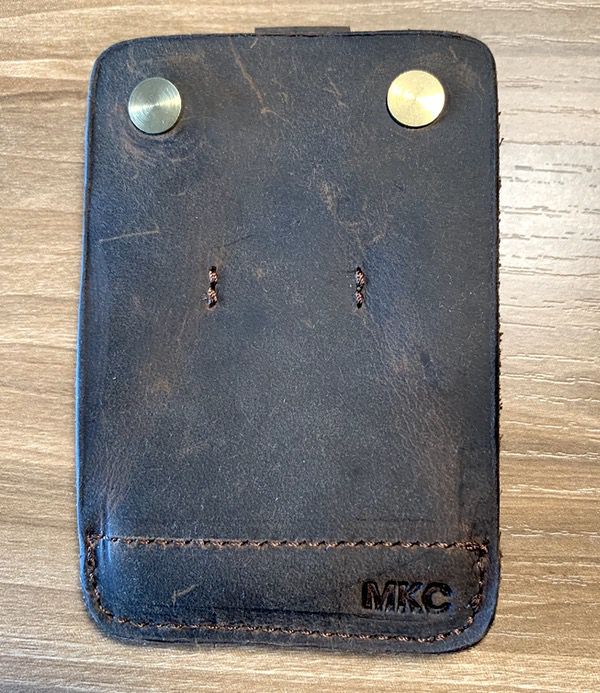 The leather quality is excellent. I'm measuring it at about 1/16″ thick, and the dye runs through the full fabric. It's burnished but not sealed, so you'll see some nice character and patina develop over time. The interior faces and edging are left raw, adding to the rugged character: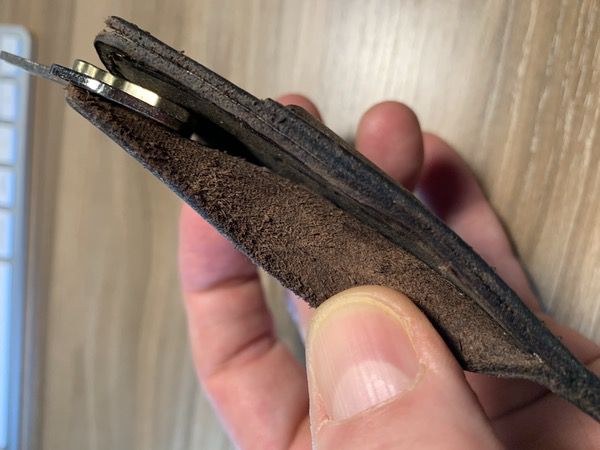 The wallet is sized at a compact 2.6″ by 3.75″. Access to all of your stuff is from the top of the wallet, so it forms a slim wedge-like shape that slides easily into your front pocket. The pocket on the front face is sized for a couple of cards or a small fold of cash: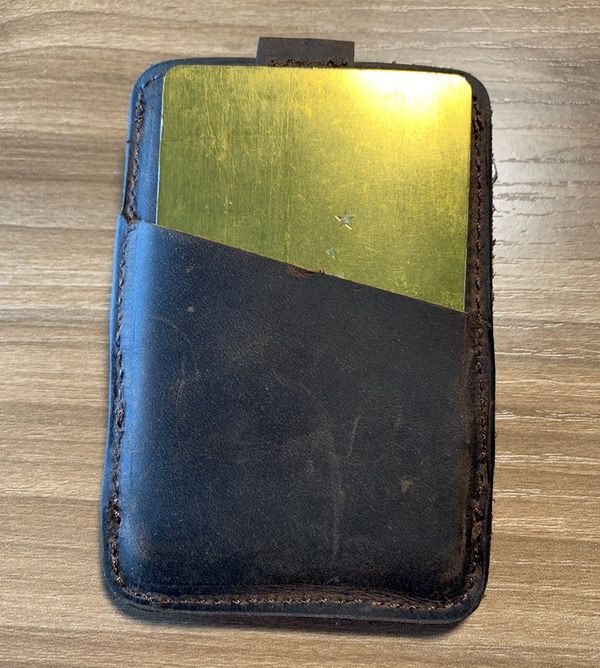 The center pocket holds 4 cards (give or take), and is RFID-blocking. It also uses a vinyl strap to facilitate getting to the contents: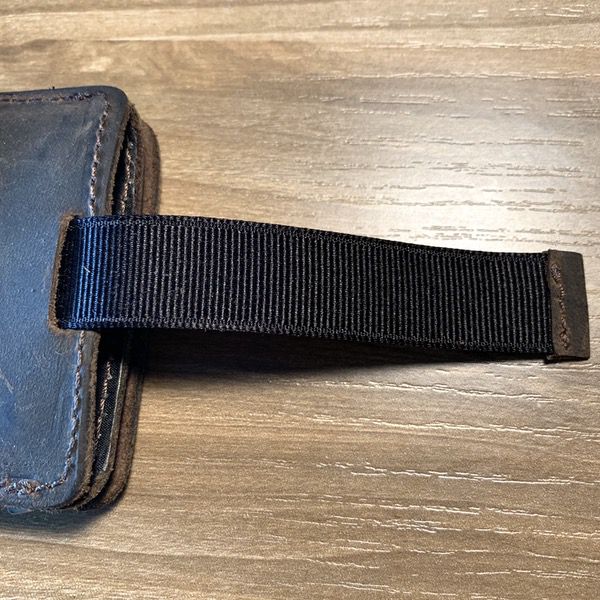 When you stuff your cards into that center slot, you'll pull the tab on the front face to slide them out: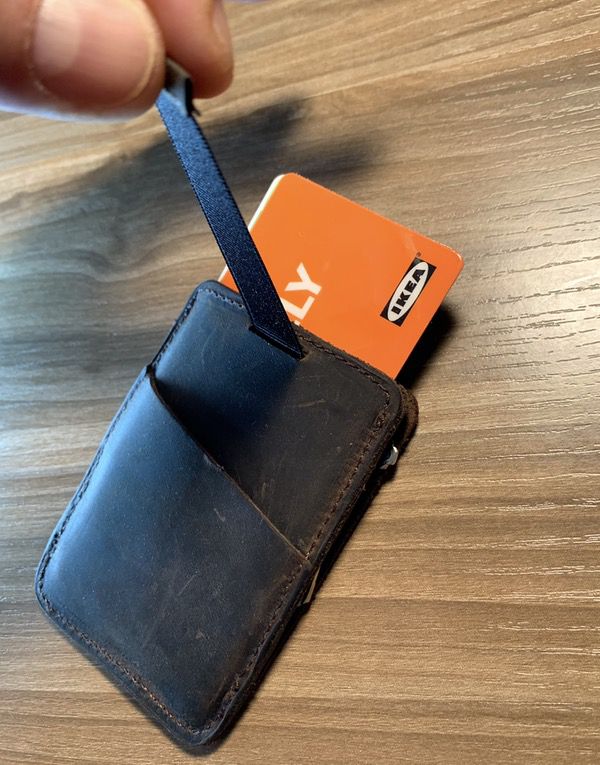 The hidden trick behind the MKC Tab Wallet is the ability to wrangle your keys. A pair of Chicago bolts create swivels that allow you to swing your keys out for use. When you get the wallet, you unscrew the caps and slide your keys onto the bolts like so: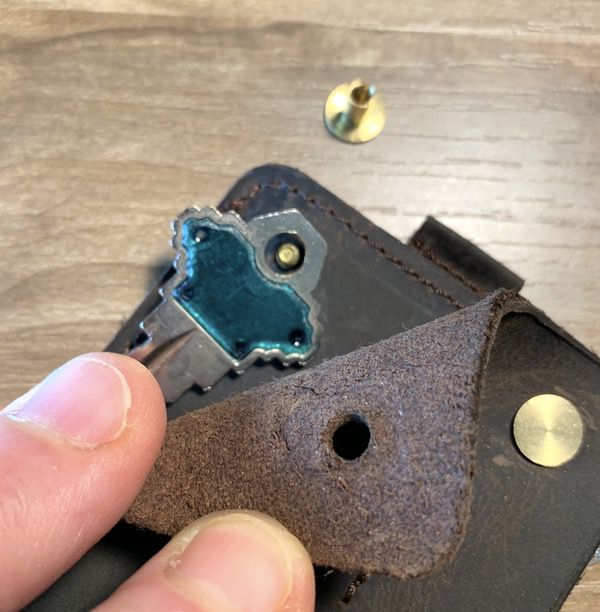 Screw the caps back into place, and you can swing out the business end of your keys for use: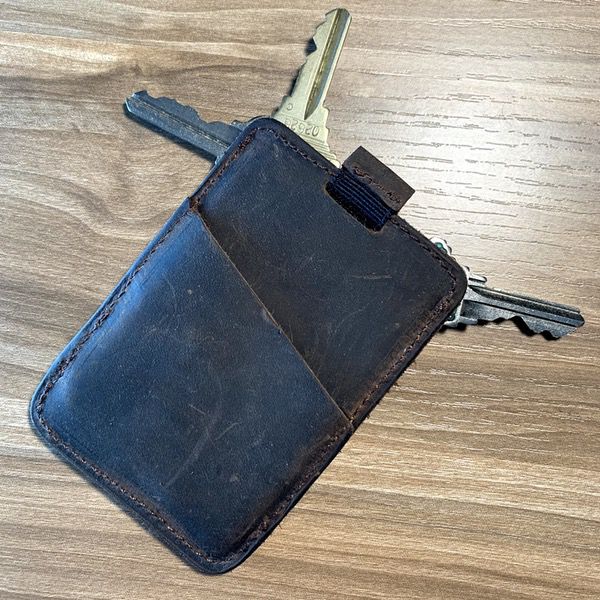 Two different sized bolts are included in the kit. The longer bolts will allow for two keys on each side, while the shorter bolts allow for one key. You can also buy additional accessories provided by IPPINKA that work with these posts. A bottle opener and a USB drive are offered. You could also fit any accessory that you may have on your current keyring that has the same size and shape as a key.
Performance
As a minimalist wallet, there's a whole lot to like here. Day-to-day usability is excellent and straightforward with quick & easy access to all the goods. Minimalism is the key here, though, so don't expect to carry more than 4-6 cards and maybe a few bills. I also like that the internal pocket is RFID blocking while the external pocket is not. That means I can keep my work ID (or public transportation pass) in that external pocket for quick use while keeping my credit cards protected in that middle compartment.
The integrated key management will really be a matter of personal use. You won't be able to add chunky non-standard keys or car keys that integrate a FOB. I don't have an issue with this because I tend to keep my car key separate anyway. Both of our cars have keyless entry and start, so I just keep that thing clipped in my bag. I also tested these slots for some keyring-style shopping cards, and they won't fully slide into the wallet. If you have a need for standard style keys or similar accessories, however, you'll be very happy with this arrangement.
What I like
Slim, front-pocket-friendly design.
Excellent quality leather.
Simple, functional, usability.
Easy to setup or change to add/remove keys.
Built in RFID-blocking slot.
What needs to be improved
Support for standard sized keys may not work for some users.
If you carry a lot of cards and cash on a regular basis, the size won't work for you.
Final thoughts
I'm really liking the IPPINKA MKC Tab Wallet so far. It's a great little design that combines excellent functionality with durable hand made leather quality. The Kickstarter just launched, so you have until July 10th to get in on this one. As of this writing, you can still get in on the limited pledge discount price at roughly $53 USD if you act quickly. Accessories are an extra charge. Estimated delivery of finished products is September 2019.
Price: Pledges are available starting at roughtly $53 USD.
Where to buy: Visit the Kickstarter page.
Source: The sample of this product was provided by IPPINKA.