We use affiliate links. If you buy something through the links on this page, we may earn a commission at no cost to you. Learn more.

REVIEW – I love smart home gadgets. But I have yet to review any type of smart lock. That is up until now. Today I'll be reviewing the Lockly Secure Pro Deadbolt Edition. This lock is loaded with a lot of unique security features, including a secure digital keypad and  3D fingerprint sensor.  Let's take a look at the Lockly Secure Pro.
What is it?
The Lockly Secure Pro Deadbolt Edition smart lock is a smart lock that features a digital touch screen keypad, a 3D fingerprint sensor and compatibility with Alexa and Google Assistant.
What's in the box?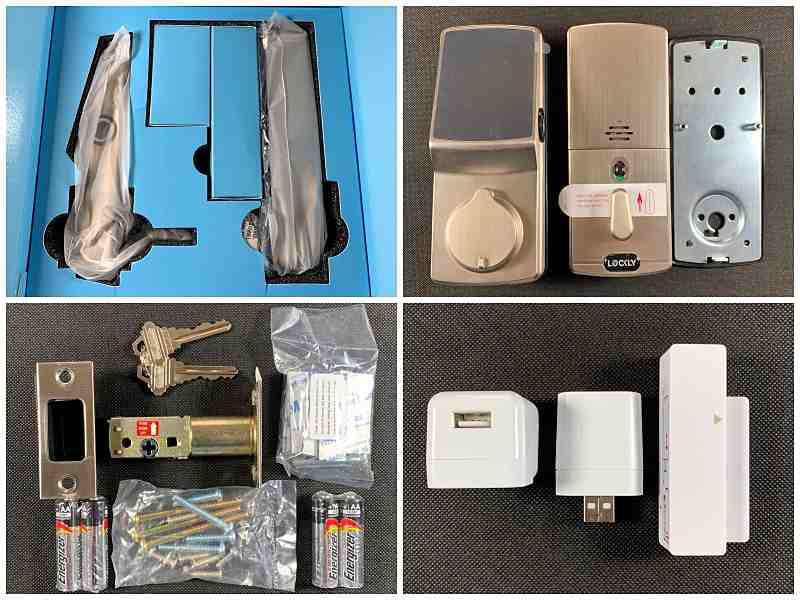 Secure Pro smart lock

Bolt assembly

Screws

Strike plate

Strike plate housing

Backplate

2 x physical keys

4 x AA alkaline batteries

Secure Link – Wi-Fi hub

Secure Link – Power adaptor

Secure Link – Door sensor

Quick start guide

Installation manual

User manual
Design and features
The Lockly Secure Pro has a modern, clean design. The lock is available in two colors, Satin Nickel and Venetian Bronze. I chose to go with the Satin Nickel because it was a close match to my door's existing hardware.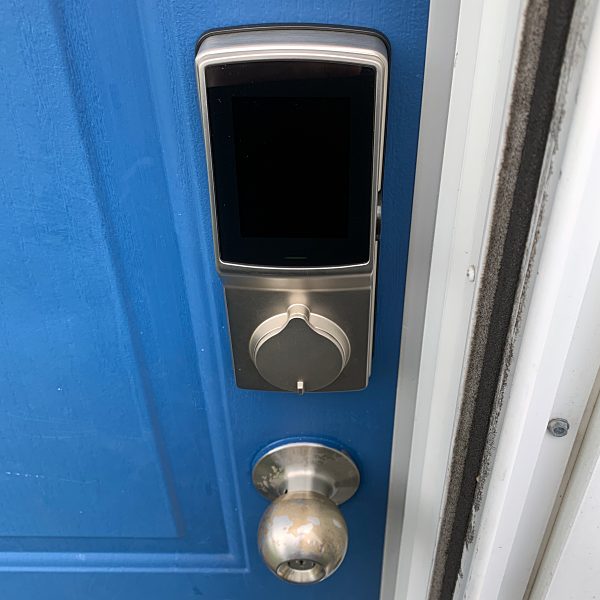 The front of the outer assembly features a digital keypad and keyhole w/keyhole cover. The fingerprint sensor is located on the right side of the assembly. On the bottom, there's a reboot button and a 9V battery emergency charging socket.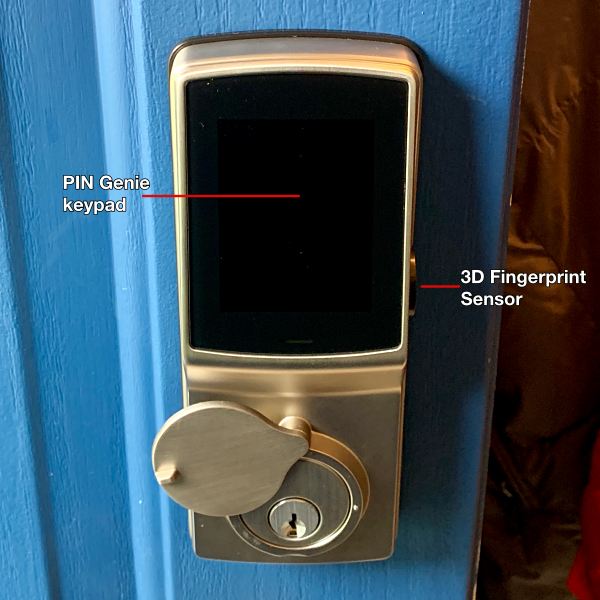 The inside assembly has the Battery Compartment (Operated by 4 x AA Batteries), Battery Cover, Display Keypad on/off Switch (switches off and locks the keypad), and Thumb-turn. Inside the battery compartment, there's a reset button, Program Button and Beep Alert.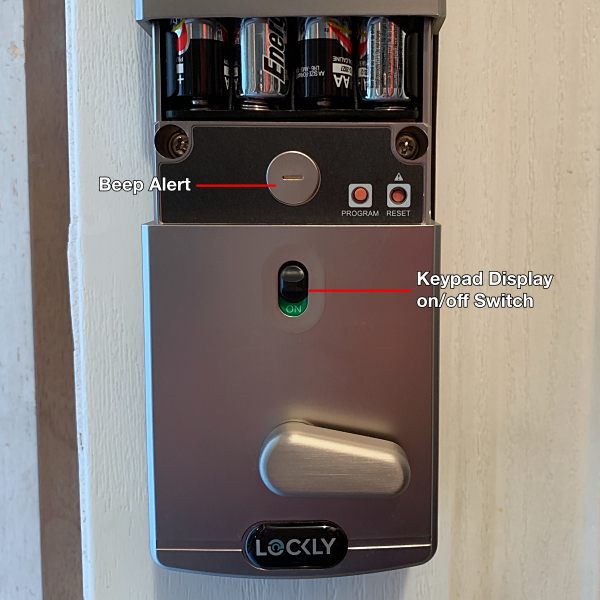 With Secure Pro, you can choose from five unique methods of entry, which include: the PIN Genie keypad, 3D fingerprint sensor, Lockly app, virtual assistant and traditional key.
The PIN Genie keypad allows you to unlock the door using a 6-8 digit access code.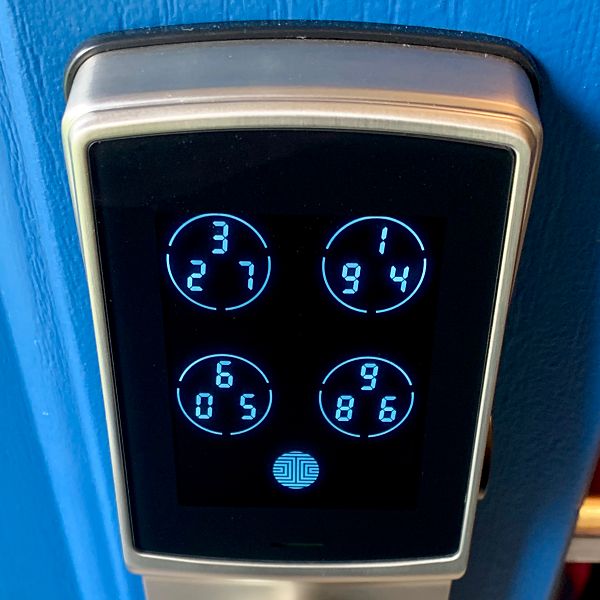 Lockly's patented PIN Genie Technology makes it virtually impossible for someone to use your access code unwillingly. The video below explains Lockly's PIN Genie Algorithm and how it works.
The Lockly keypad has 3 different modes Standard, PIN Genie mode, and Random mode. The video below explains how each mode works.
The Secure Pro comes equipped with a capacitive fingerprint reader. Secure Pro uses capacitors and electrical current to form an image of the fingerprint, meaning only physical fingers will be accepted, preventing the use of lifted prints.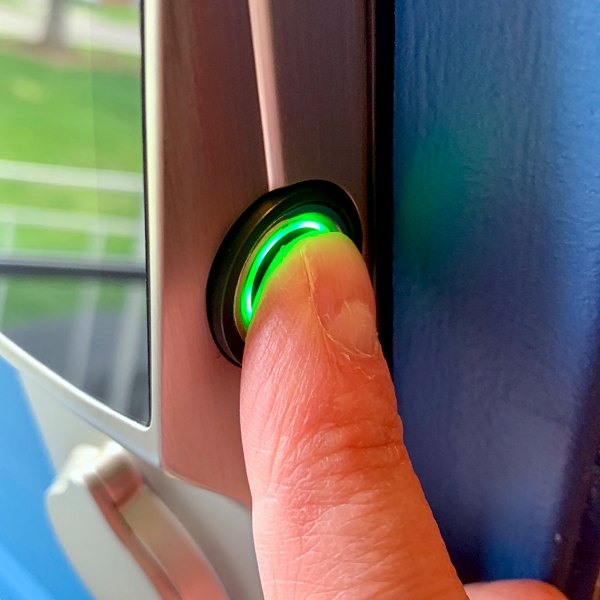 With the Lockly app, you can monitor and control your lock using either Bluetooth or Wi-Fi.
Using Wi-Fi requires the use of the included Secure Link WiFi Hub. The hub allows you to lock, unlock, and monitor your smart lock remotely wherever you have a Wi-Fi connection. Setting up the Hub is easy using the Lockly app.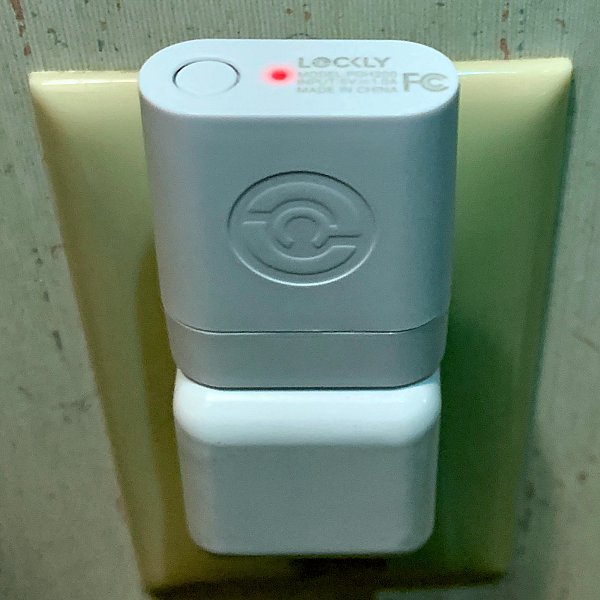 The Hub comes with a door sensor.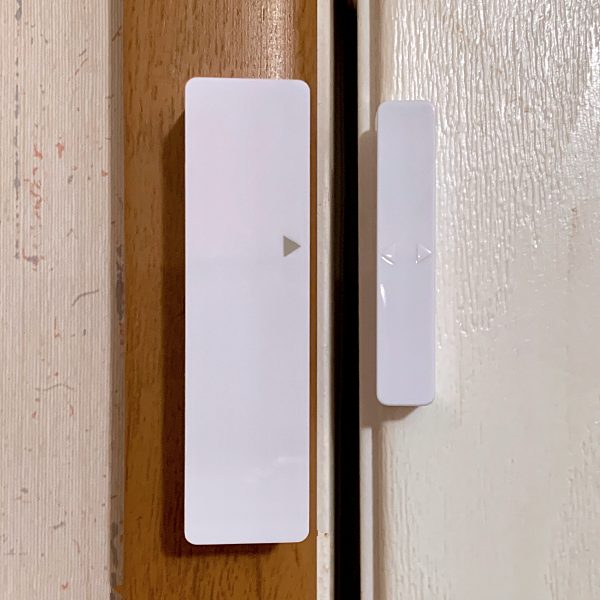 The sensor provides the ability to verify that your door is securely closed and not ajar and also send push notifications to your phone on the status of your door when someone opens and closes the door.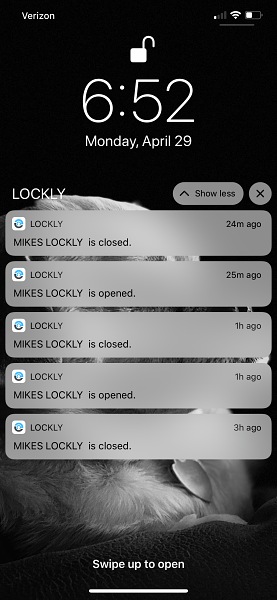 Installation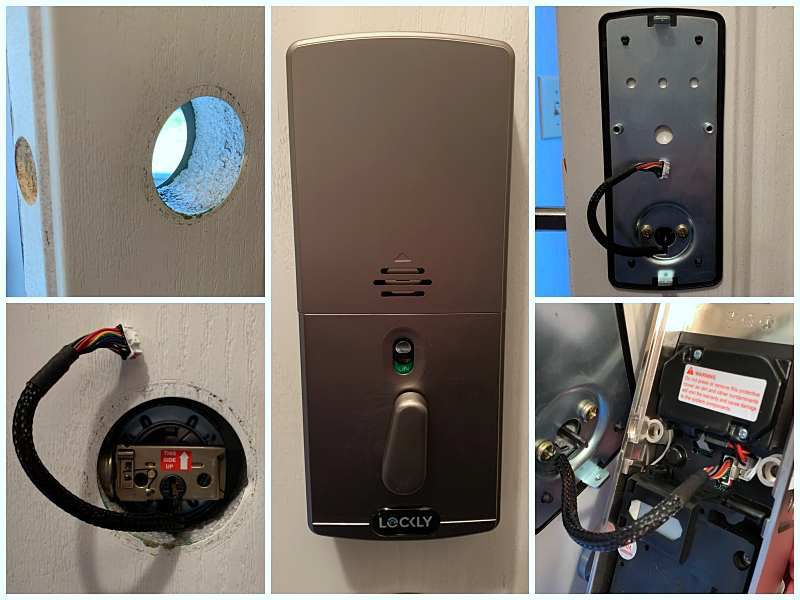 Installing the lock is pretty easy, especially if you're replacing an existing deadbolt. If you're not Lockly provides templates to help you out.
The only tools you'll need are a Phillips head screwdriver and a little patience.
The installation instructions are easy to follow and very detailed. Take it from someone that usually doesn't bother reading instruction, read these carefully before you get started.
Setup
The lock can be set up with or without the Lockly app, but using the app is recommended and much easier.
After downloading and launching the app choose Setup a New Device from the slide over menu and follow the instructions.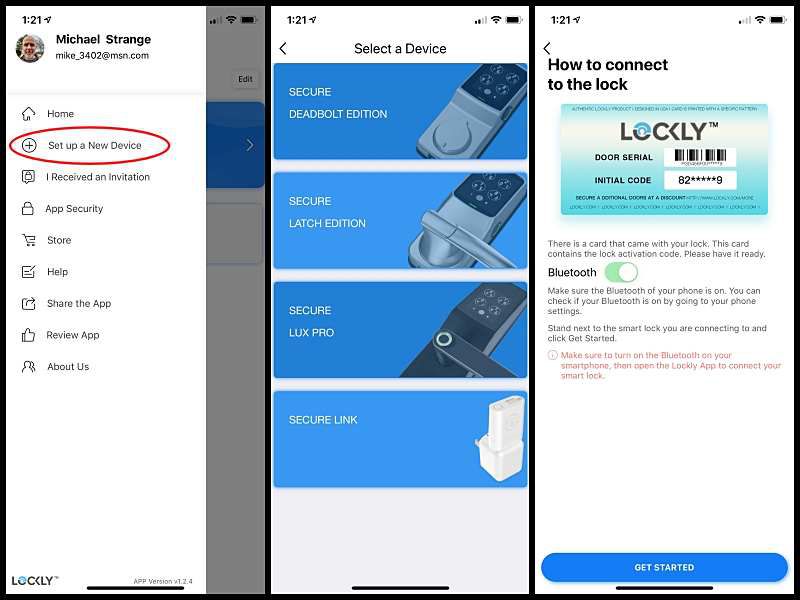 The Lockly app not only allows you to monitor and control your lock, but it also gives you access to the locks key functions.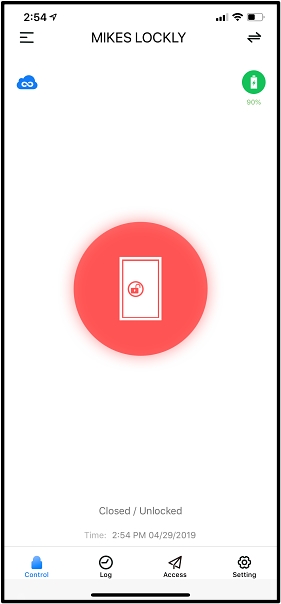 You can check the access log, grant, monitor, and revoke user access. Issue temporary eKeys, one-time use codes, and set custom durations.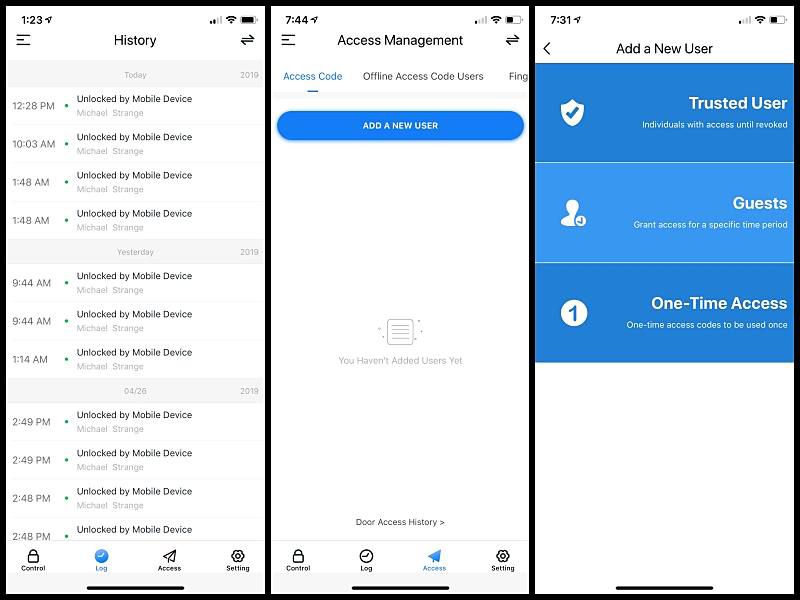 One of the codes you can issue is the Offline Access Code. This unique code allows you to grant access to guests remotely without guests needing to download the app.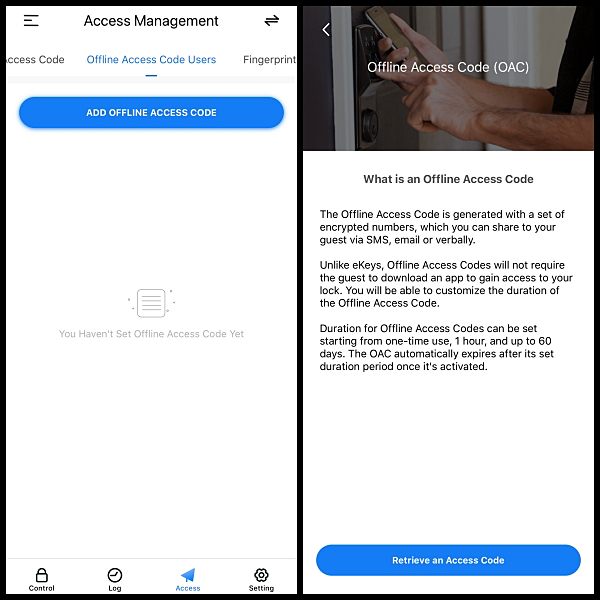 The app is also where you can add and manage Fingerprints. To add a Fingerprint your phone must be connected to the lock via Bluetooth. Select Add a New Fingerprint and watch the brief video. The Secure Pro can store up to 99 different fingerprints.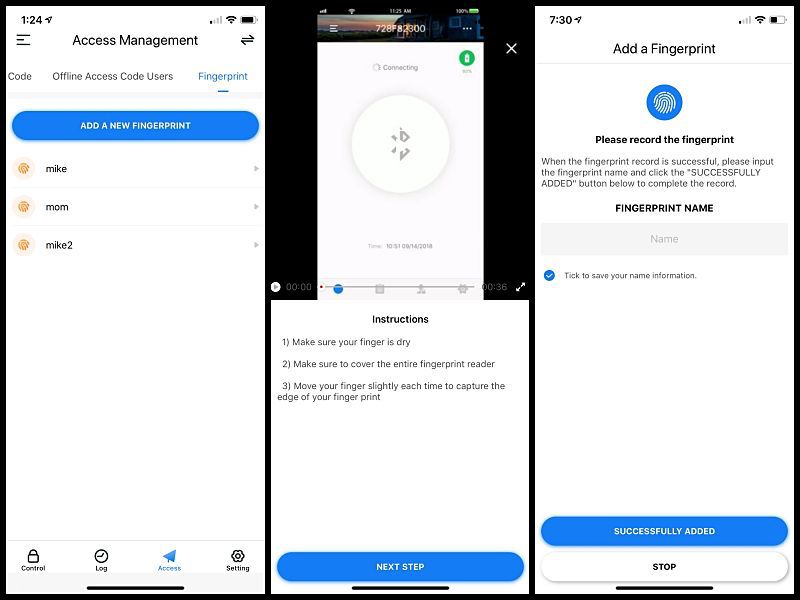 In the app's Settings, you can change your Access code and enable the Auto-Lock Timer. With Auto Lock enabled, Lockly will automatically auto-lock the door based on your customized timing set between 5 seconds and 5 minutes.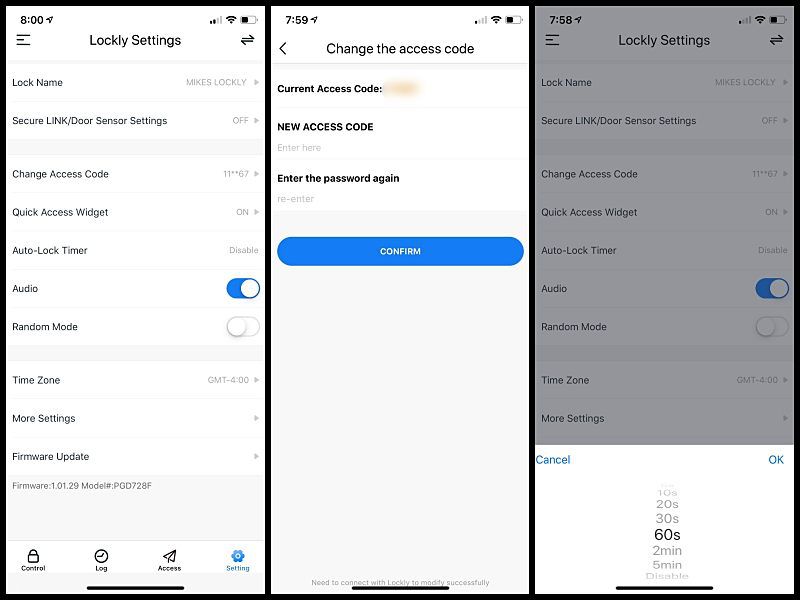 Using Lockly couldn't be easier. When leaving the house, all I have to do to lock the door is slide my hand across the keypad.
Unlocking the door is just as easy using my access code, the fingerprint sensor, or the Lockly app on my phone.
The Secure Pro also comes Alexa and Google Assistant enabled.
I love this feature. I have a bad habit of not locking my door at night and asking Alexa if the door is locked beats getting out of bed and trudging to the front door to check. And if I do forget to lock it, I can just tell Alexa to lock it for me.
In order to use Alexa, you'll need to enable the "Lockly" skill in the Amazon Alexa app.
What I like
Easy to install

Five different ways to unlock

PIN Genie digital keypad
3D fingerprint sensor
Easy to share secure access codes

Alexa compatibility  

Long battery life
Bluetooth and WiFi connectivity
What needs to be improved
Final thoughts
I like everything about the Lockly Secure Pro Deadbolt Edition smart lock. From being able to monitor and control my door through my phone. To easy and secure access via the secure digital keypad or fingerprint sensor. And the added bonus of easily being able to share access codes with family and friends. This is my first smart lock, and after using it over the past couple of weeks, I'm convinced it's the last one that I'll ever need.
Price: $299
Where to buy: Lockly and Amazon
Source: The sample of this product was provided by Lockly.