We use affiliate links. If you buy something through the links on this page, we may earn a commission at no cost to you. Learn more.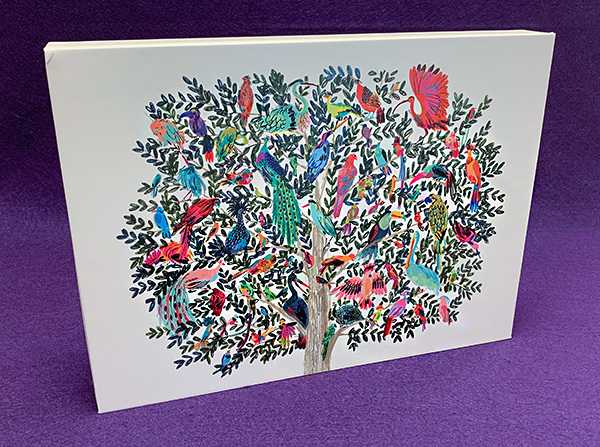 REVIEW – Let me state up front that I have used a Wacom graphics tablet of some form for more than 25 years. Since I do a lot of Photoshop work, the Wacom Intuos Pro tablet is not an option, it's a necessity. Over the years, Wacom tablets have only gotten better and better with features being added year after year. Yes, the Intuos Pro is expensive, but the prices haven't increased that much over the years, so essentially, a current Wacom tablet is a better buy than previous models. Note: My home/freelance setup was the older Intuos 3 tablet and my office version is the previous Intuos Pro model (without the Bluetooth option).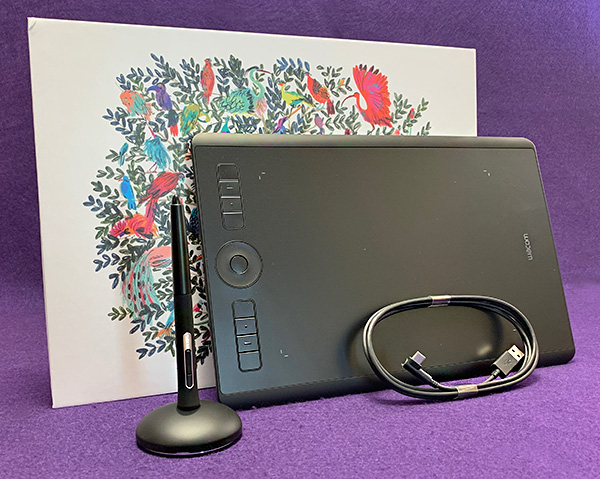 What is it?
The Wacom Intuos Pro creative pen tablet is the latest in a long line of Wacom Intuos tablets. It comes in two sizes—medium and large—a  smaller size is only available as the previous version. The medium-sized tablet's 8.7 x 5.8 in. drawing area is housed in a thinner and smaller body than previous Intuos Pro tablets. It comes with the new Wacom Pro Pen 2—a more sensitive update to the venerable and dependable Pro Pen. It's battery free, has 8,192 levels (up from 2048) of pressure sensitivity, tilt-response and lag-free tracking. There are two switches for access to customizable shortcuts.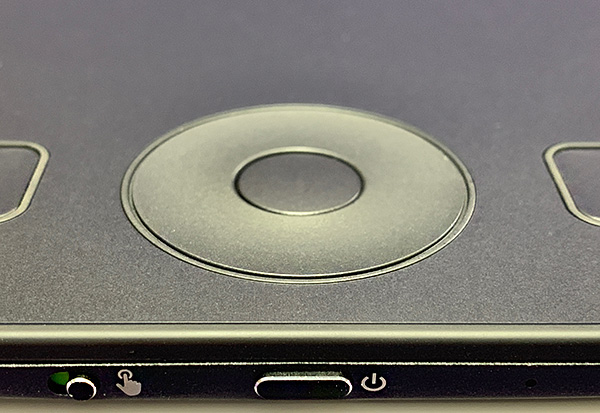 Also included is a redesigned Desktop Pen Stand that holds 10 extra pen nibs (6 standard and 4 felt nibs). The extra cost Bluetooth option from previous Intuos Pro tablets now comes standard along with a wired USB connection. 

Specs
Model Number PTH660
Tablet Size 13.2 x 8.5 x 0.3 in
Active Area 8.7 x 5.8 in
Weight 1.54lbs
Black color
Multi-Touch
Pen: Wacom Pro Pen 2
Pressure-sensitive, cordless, battery-free
Pressure Levels 8192, both pen tip and eraser
Tilt Recognition ±60 levels
2 side switches on pen, Touch on/off switch on tablet
Replacement Nibs 10 Pro Pen 2 nibs (6 standard and 4 felt nibs in pen stand)


Latex-free silicone rubber pen grip

Desktop pen stand

Tablet resolution 5080 lpi

8 customizable, application-specific express keys

Touch ring with 4 customizable functions

6.6 ft cable

PC And Mac USB or wireless Bluetooth

System requirements: USB port, Windows 7 or later, Mac OS X 10.10 or later, Bluetooth for wireless connection, internet connection for software downloads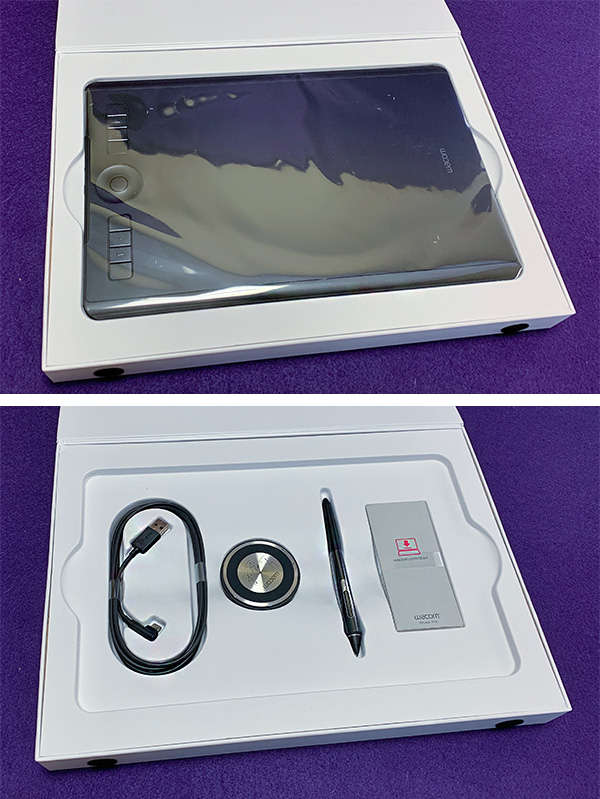 What's in the box
Wacom Intuos Pro Pen Tablet
Wacom Pro Pen 2 (battery free)
Pen stand (includes 6 standard nibs, 4 Felt nibs)
4 extra pen color rings
Texture sheet sample card
6.6 ft. USB cable
Quick start guide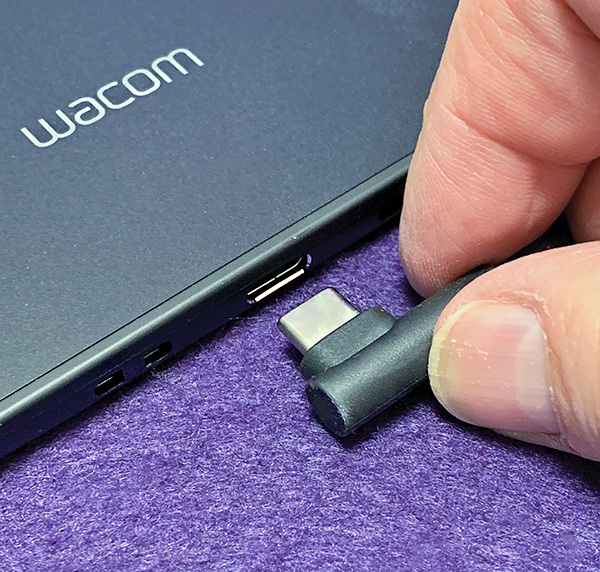 Design and features
Let's look at the construction of the tablet. The Intuos Pro looks a lot like the previous model except that it takes up less desk space and is a bit thinner. It feels just as sturdy as before, if not sturdier. Wacom's build quality has always been stellar and the current Intuos Pro is no exception. One caveat I have is the new USB-C connector wire. It's a right angle wire that helps keep it flush with the tablet, but it's always felt a bit out of place in my desk setup. However, the addition of standard Bluetooth helps that quite a bit and it allows me to move the tablet pretty much wherever I want. Plus USB-C allows for faster charging for wireless operation. If there's any lag between wired and wireless Bluetooth, I didn't notice it.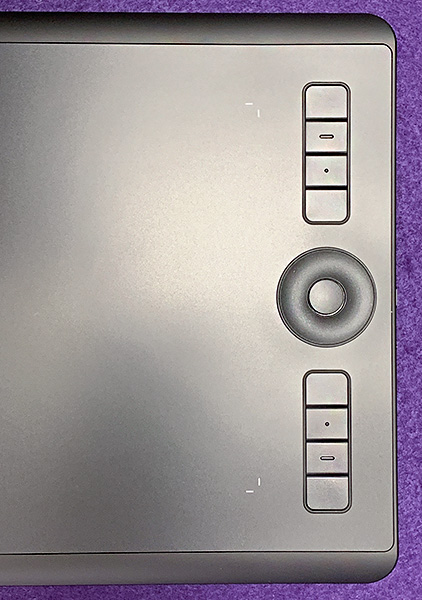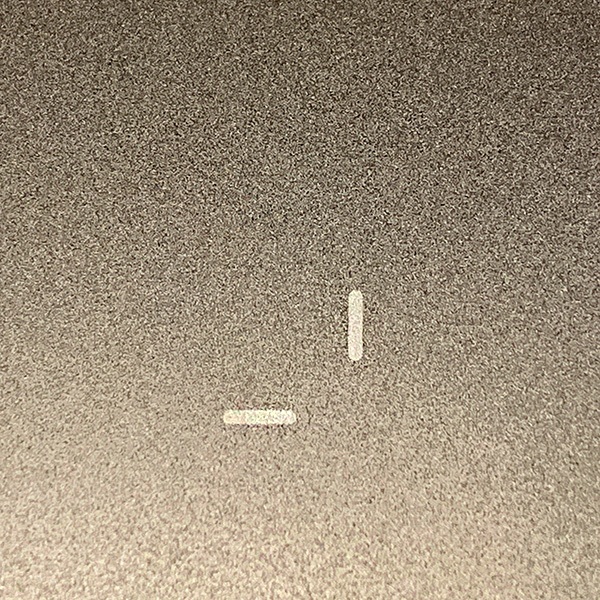 As much as I like my iPad Pro and Apple Pencil, I've never liked writing/drawing on the iPad's super-slick glass surface. The Intuos' replaceable Texture Sheet drawing surface has a slightly rough surface that mimics the feel of paper. This is a far better solution. Optional Texture Sheets come in three degrees of roughness. Note that with a Wacom Intuos line of tablets, you look at a monitor while your hand is drawing on a flat surface out of your sight. While this can be weird at first, it quickly becomes second nature as you acclimate to this new way of working. The much more expensive Cintiq tablets have built-in monitors, so you can draw right on the screen while looking at it—think iPad.
For more money, Wacom does offer what they call the Wacom Intuos Pro Paper Edition. This tablet actually uses real paper with real ink pens.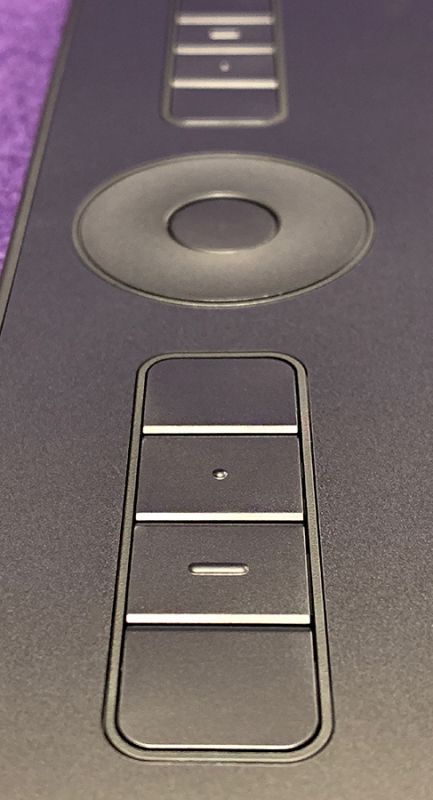 This is going to be a bit strange writing about the features of the Intuos tablet. As I said, I've been using a form of Wacom tablet for years. When I began, there were no rotary dials or shortcut/function buttons. There was only the tablet and a pen—and that's how I learned using them. When Wacom introduced the buttons and other extras, I ignored them because I wasn't comfortable adapting to them, so I disabled all buttons and continued using the Intuos same as before—sans extras.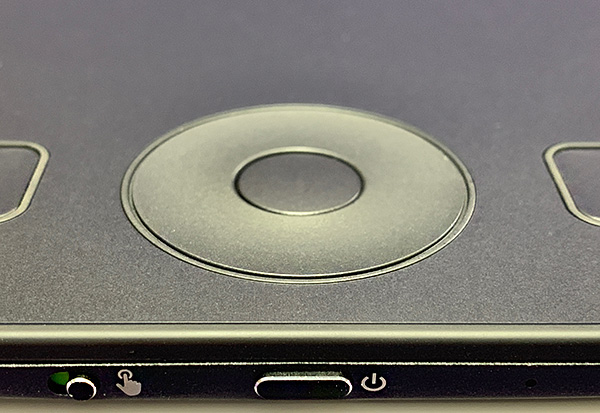 That was then and … well, it's still then. To this day, I don't use any of the extra's that Wacom includes on the tablet. To back up my point, I talked with many artists I know that use and depend on the Intuos or Wacom Cintiq tablets. I found that the older that the artist is, the less likely they use these extra features. The younger artists tend to utilize the buttons and dial because their first tablet already had these features. Reviewing the latest Intuos Pro tablet has required me to try these features.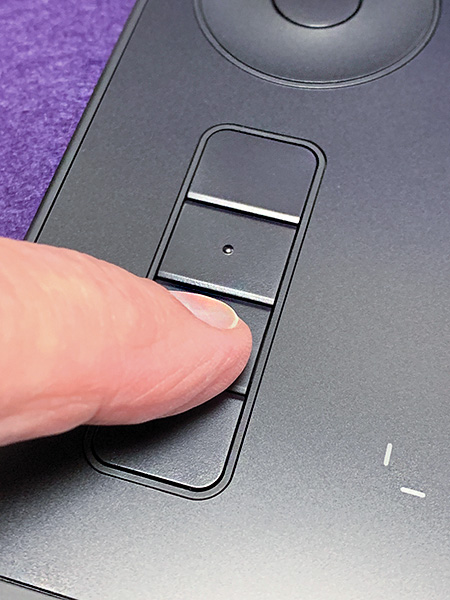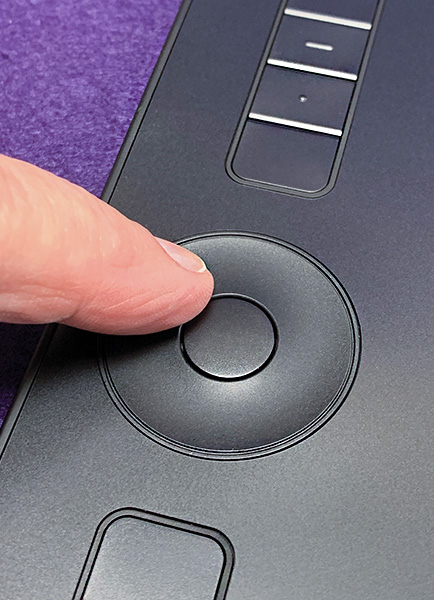 Wacom has included a row of what they call ExpressKeys. There are eight buttons set vertically that can be made to do almost anything you want to program them to do. A Touch Ring with a center Toggle button divides the ExpressKeys into two sets of four each. In paint programs like Photoshop, the ring can be used to rotate, increase/decrease brush sizes and other functions with variable settings. Pressing the center Toggle button switches between the outer ring functions. If you're right or left handed, the ExpressKeys can be set to be on the right or left side of the tablet. Once you get the settings done, they're locked in until you decide to change them. All this sounds more complicated than it really is.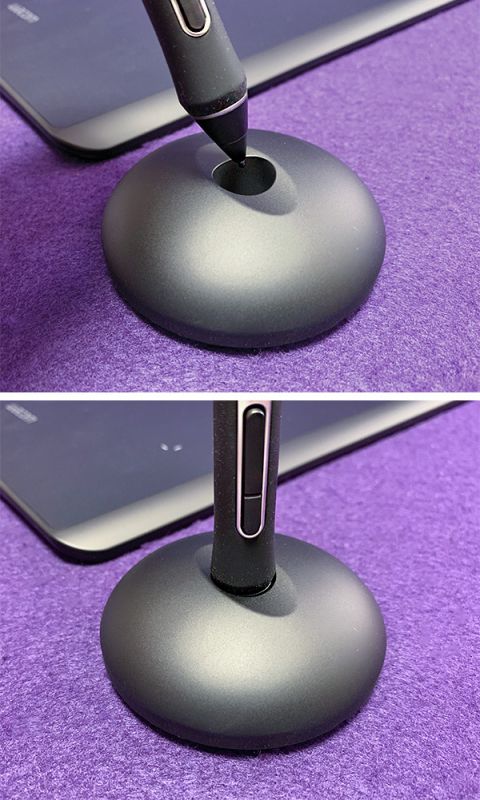 After using the ExpressKeys and Ring for this review, did I overcome my stubborn ways and plan to keep using them? Nope. Sorry, Wacom. (Warning, Photoshop nerd talk ahead) Here's an example: If I want to resize the brush in Photoshop, I can easily use the Intuos' outer ring. However, as my left finger is using the Ring while still holding the pen, I can't see the brush size on the screen. It is much easier for me to have my right hand on the keyboard while I am drawing or retouching with my left on the Intuos tablet. Through the years, I have learned and customized keyboard shortcuts in Photoshop. It's just easier for me to stick to what I know. (Nerd talk done)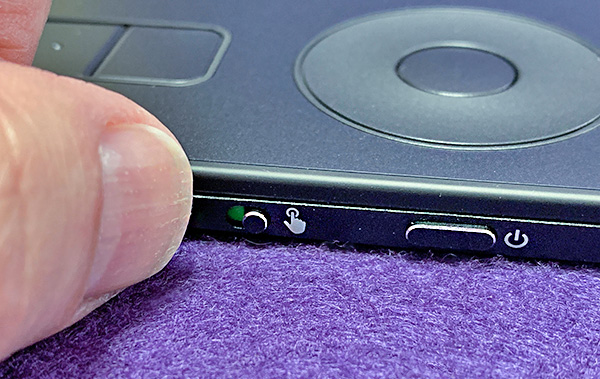 Another feature of the Intuos Pro tablet I usually ignore is Multi-Touch. This basically turns the Intuos tablet into a trackpad. I cannot stand trackpads. It's probably the main reason I don't use a laptop. My fingers get all contorted. Ugh. But that's me. The good news is that it can be turned off. I am aware that for some, Multi-Touch is wonderful and I applaud Wacom for including it.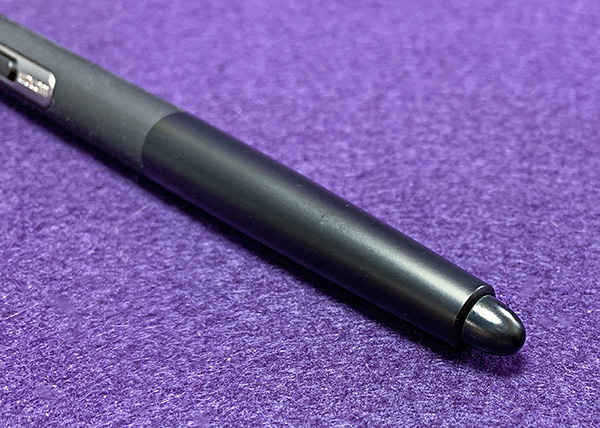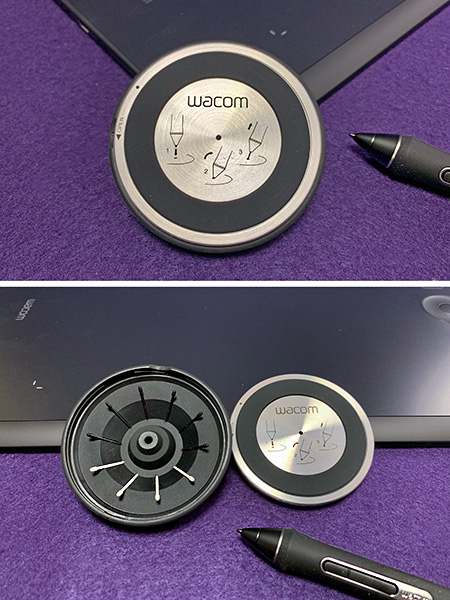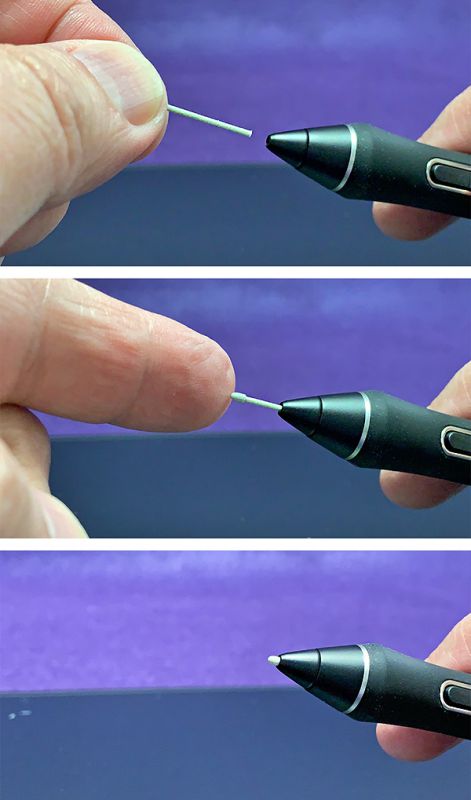 Moving on from the ExpressKeys, how does the tablet work in day-to-day work? In a word; great! It's a Wacom, so that's not surprising—they are the gold standard among tablets. The increased sensitivity of the pen is a welcome improvement. Drawing or retouching with the pen is almost effortless. Plus, as the pen is turned and tilted, the on-screen brush mimics the moves perfectly by alternating between thin and wide strokes. The Wacom pen has been able to do this for years, but the new Pro Pen 2 is better and even more responsive than before. The Pro Pen 2 is uber-comfortable in the hand. It's balanced perfectly and the tips are replaceable—yes, they do wear out with age. Also, the pen is light and battery-free. Wacom tablets use electromagnetic resonance technology, which provides power to the pen through inductive coupling. Whatever, it's magic to me.
What I like
Build quality
The wonderful Pro Pen 2
Smaller size without reducing drawing area
Wireless Bluetooth included!
What needs to be improved
I wish there was a Pro version available with no ExpressKeys for purists like me
Still expensive, although less expensive Wacom tablets are available

Final Thoughts
Although this review is about the new Intuos Pro tablet, it's also about the many Wacom tablets I've used through the years. As the tablets aged, I have replaced them for newer models that were more compatible with the model Mac and Apple system software I had upgraded to. Not once, have I ever replaced a Wacom tablet because it stopped working. Not once. That says a lot about a company and its products.
Price: $329.95 US
Where to buy: Amazon
Source: The sample for this product was provided by Wacom.