We use affiliate links. If you buy something through the links on this page, we may earn a commission at no cost to you. Learn more.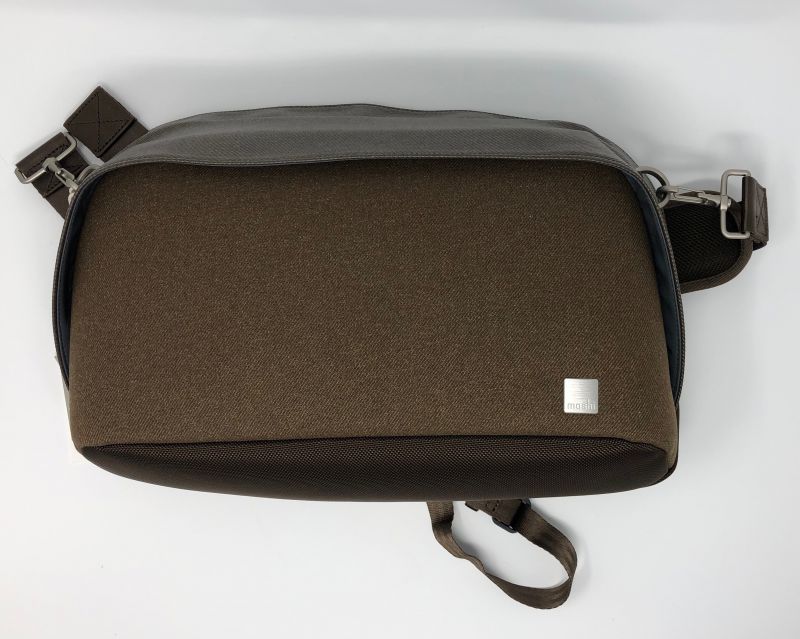 REVIEW – More sling bags! The only thing better than More Cowbell! Just kidding. But the more I test and carry these bags for a week or two at a time, the more I am convinced this is the bag everyone should be carrying for EDC nowadays. I wrote a news article here a while back about the Moshi Tego, and the company offered us one to test. When it arrived, I was stunned at how spacious it is inside and how well it fits into my "big-flat-slab-of-glass" lifestyle. Let's check it out!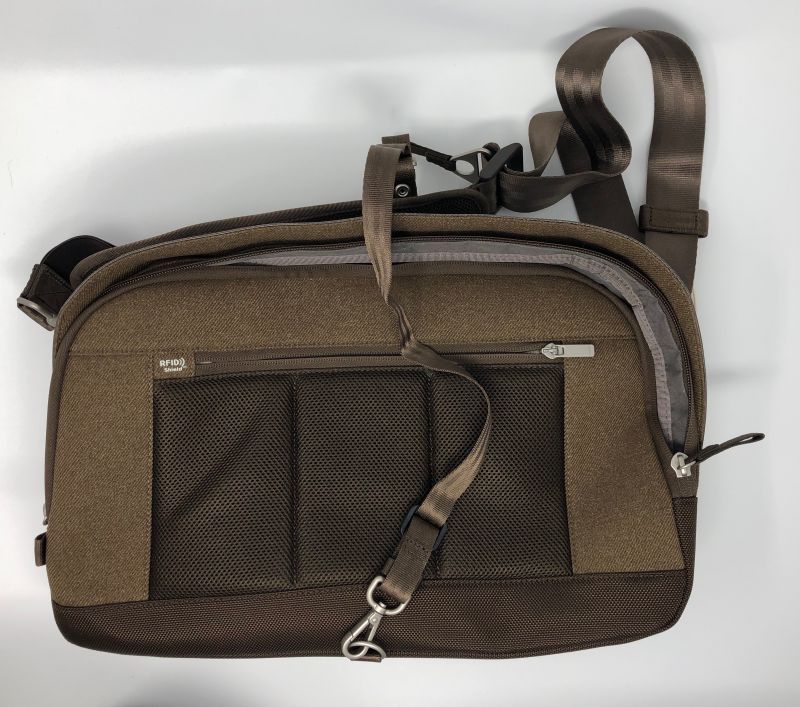 What is it?
A stylish sling bag made from slash-resistant materials with zippers for all pockets against your body. Great for crowds, touring in dangerous areas, and for just taking your iPad and lunch to work. It's available in three colors – Stone Grey, Charcoal Black, and Vintage Brown. I was sent Vintage Brown
What's in the box?
The bag itself.
A dust-proof storage sack
Hardware specs
Padded compartment for laptops up to 13"
Padded compartment for iPad 12.9-inch
Proprietary ViscoStrap™ alleviates shoulder strain by up to 30%.
Quick-release strap for fast access to belongings
Adjustable Airmesh crossover strap with accessory loops
Removable ActiveStrap for added stability
Crossbody design that is wearable on the left or right shoulder
Concealed, anti-theft rear zippers
RFID Shield pocket to protect personal data
Materials
Cut-proof and lightweight fabric
3M Scotchlite reflective strip for safety at night
Padded Airmesh support for breathability and comfort
Weather-resistant surface treatment
Zinc alloy hardware and studs
Dimensions
Length: 16.34 in (41.5 cm)
Height: 12.01 in (30.5 cm)
Width: 4.72 in (12 cm)
Weight: 1.87 lbs (0.85 kg)
Design and features
The Moshi Tego is designed with security in mind. The zippers are both tight against your body when being carried. The materials are cut-resistant. By being able to slide the bag around in front of you while wearing it in crowded situations or on public transportation, you have better control and awareness of anyone attempting to access your bag.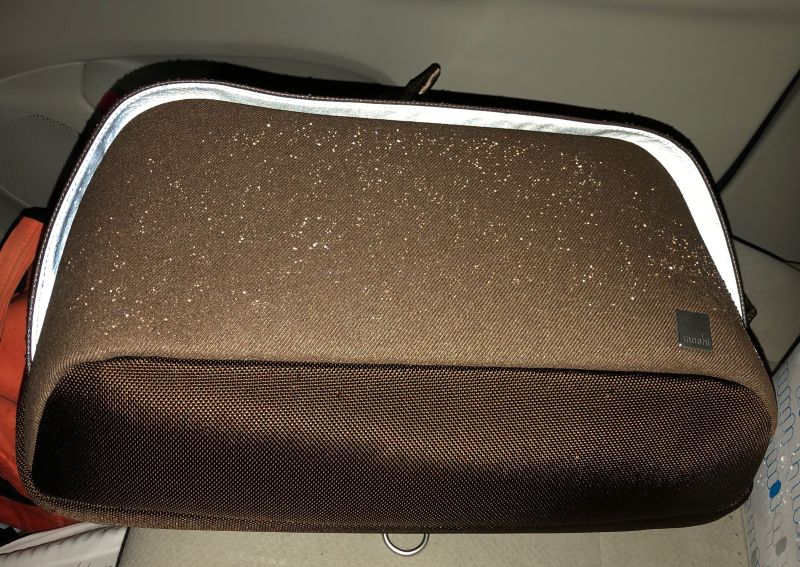 The outside of the bag is made of a synthetic woven water-resistant material that resists cutting. The top has a shaped roof-like covering that is made from a similar material but is coated in a vinyl-like material. Under the edge of that roof is a strip of Scotchlite reflective fabric. (The flash from my camera set it off in the shot above. I originally snapped it for the raindrops beading up on the fabric.) When you're cycling, bent over the handlebars, this stripe is squarely in the headlights of approaching vehicles.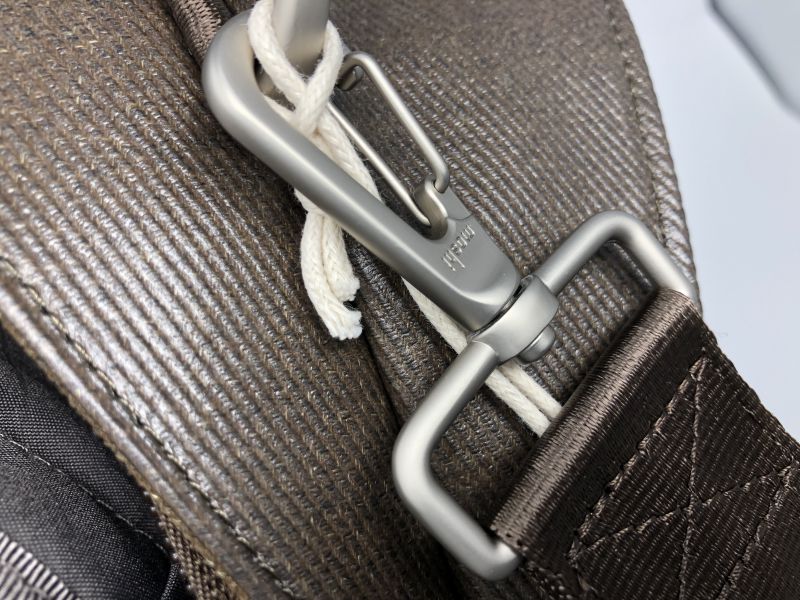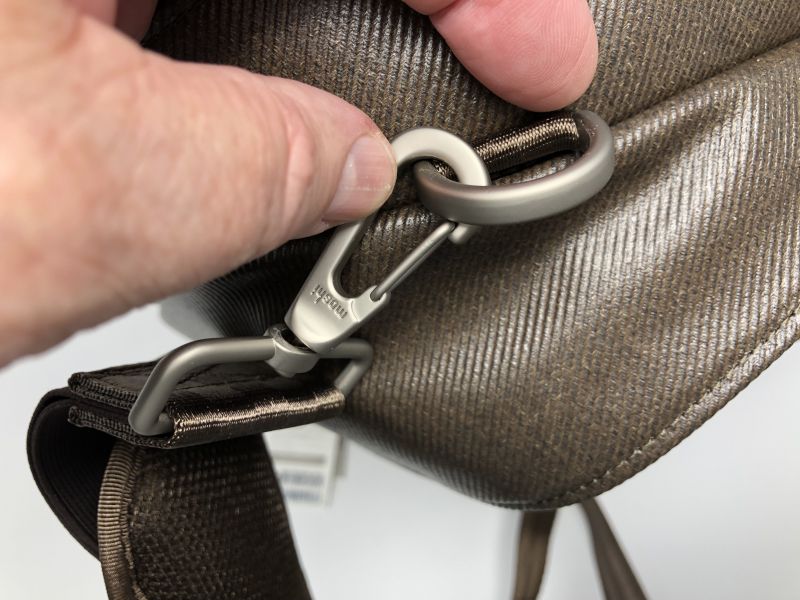 The strap is 1.5″ wide seat belt material for most of its length. Each end is sewn into a custom molded spinning clip with the company name molded in, and attached to the bag with solid molded D-rings of the same matte-finished zinc alloy. The wearer can swap which ring it's clipped into to wear it over either shoulder. The long end of the strap has a cam-release that makes it a breeze to tighten or loosen your strap with one hand. When tightened, there is a management loop for the free end, but it is sewn in at the end of the strap next to the lower clip. (It's visible on the right center of the photo below. I'm debating cutting it free, but that may cause it to come apart and I don't have a way to sew it back.)
The part you wear on your shoulder has an 11″ long x 3″ wide Airmesh cushion. This is attached to the clip with a dual-thickness, 1.5″ wide elastic band. This allows the bag to give slightly as you're moving along so that the load doesn't feel quite as heavy. In use, I found this very comfortable. (It's visible on the left center of the photo below.)
There's also a removable crossbody band that goes from a removable loop on the strap to a thinner D-ring on the bottom center. Great for stability if you're cycling, running or need the extra security. (It's attached in the two photos at the top of the article, but you can see the center D-ring below.)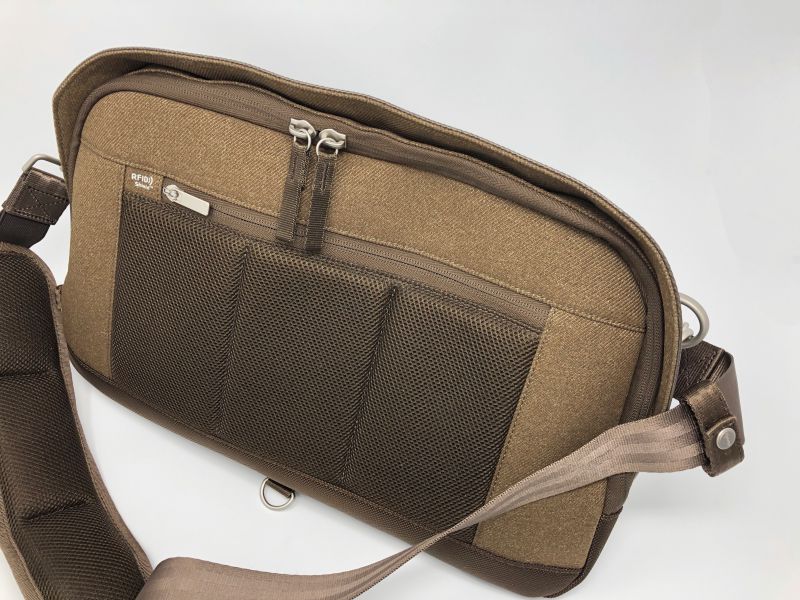 The only opening into the main compartment zips out with a double-headed zipper from the side that fits flat against your back (or front) when you're wearing it. The zippers pull down to about 3″ from the very bottom of the bag. On the outside of that flap opening, which is against your body while wearing, is an RFID-shielding pouch large enough for passports, credit cards, and other items that you may need fast access to. At 9″ x 5″, with no actual width (see photo below), it's not going to be a place for your eReader or phone (although either of mine fit in there), but it's great to have a secure place for travel documents, credit cards and ID. It's also padded with an open Airmesh material that will aid in ventilation since it rides on the center of your back.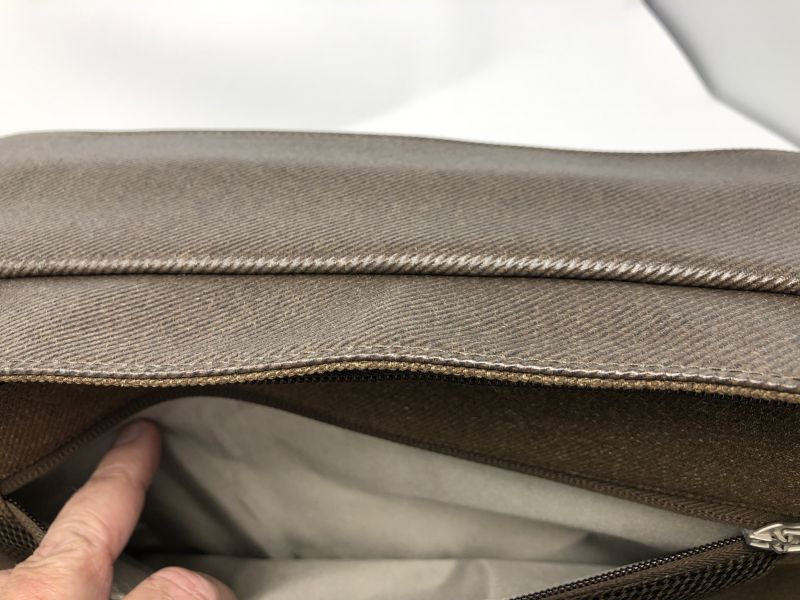 Inside the main compartment, against your back, there is a thinly padded laptop/tablet sleeve with a 1.25″ wide velcro strap closure. It will hold my original 12.9″ iPad Pro in the Moko case, but it's a tight fit. The Lovely Bride's MacBook Air fits in the main compartment, but is a touch too large for the padded sleeve. On the outside of this are two flat pockets 7″ x 4.5″. There is a little extra fabric to allow items of depth to be carried here (passport, Moleskine, power banks and the like). Across on the outer side are two more such pockets, 3.5″ deep x 6″ wide. 
What I like
Huge main compartment
Secure opening
Large RFID pocket
Great materials and design
What needs to be improved
Main strap has a great management loop, but it's sewn in
Final thoughts
This is a fine bag for those carrying large, flat items but also needing some bulky item storage space.
Price: $149.95
Where to buy: Moshi store or Amazon
Source: The sample of this product was provided by Moshi.