We use affiliate links. If you buy something through the links on this page, we may earn a commission at no cost to you. Learn more.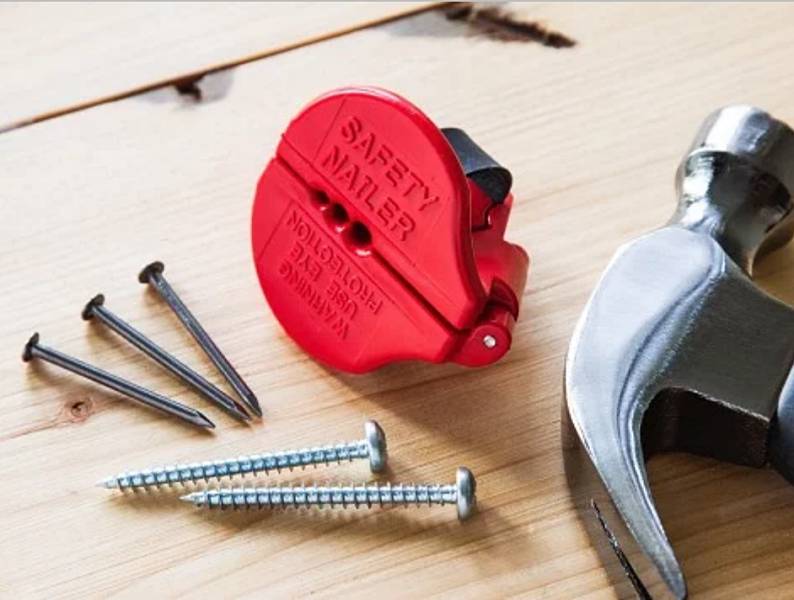 NEWS – I'm the son of a carpenter, but I did not inherit the carpenter gene from my father. Admittedly I'm terrible when it comes to using a hammer and nails. Maybe its because I'm left-handed (or at least that's what I tell myself), but I either bend the nail, drive it in crooked, or worse end up smashing my fingers with the hammer.
The Safety Nailer magnetic nail holder makes hammering easier and safer.
And it can even be used with screws.
The tool attaches to your fingers using elastic bands and allows you to start nails and screws while protecting your fingers.
It also helps prevent nails from buckling and keeps screws from wobbling.
The large target area is made of impact-resistant ABS plastic, nails are held in place with strong neodymium magnets. There are 3 different size nail groves with the largest capable of holding a size 20D nail.
Safety Nailer is large enough to protect your fingers but small enough that it won't get in your way while you're working. And when you're not using it, it can be stored on your hammer.
The Safety Nailer magnetic nail holder costs $6.99 and is available from Digital Zakka.
Never miss one of our posts again. Sent MON, WED, and FRI with the latest gadget reviews and news!