We use affiliate links. If you buy something through the links on this page, we may earn a commission at no cost to you. Learn more.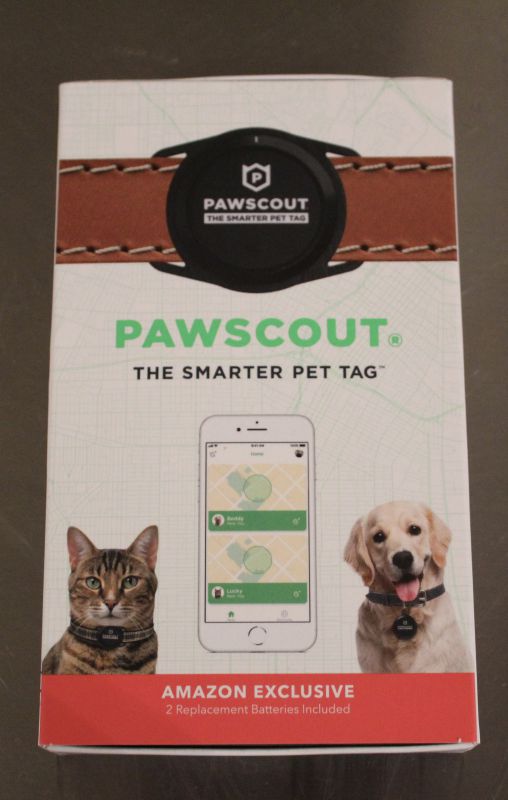 REVIEW – My wife and I have a couple of cats and a couple of dogs. For years, we've been interested in some type of GPS or electronic tracking device for our dogs' collar just in case they went AWOL or if we were at a large dog park and lost track of them somehow. I got the opportunity to do a test run with Pawscout: The Smarter Pet Tag which bills itself as a device to locate your pet, keep medical records and keep your pet safe with an active community & advanced technology.
Now, to preface, this is NOT a GPS device. It relies on Bluetooth connections to provide features for active tracking while with your pet. In the event of a lost pet emergency, there are tracking mechanisms in place however it is passive monitoring that requires other users in a network.
What is it?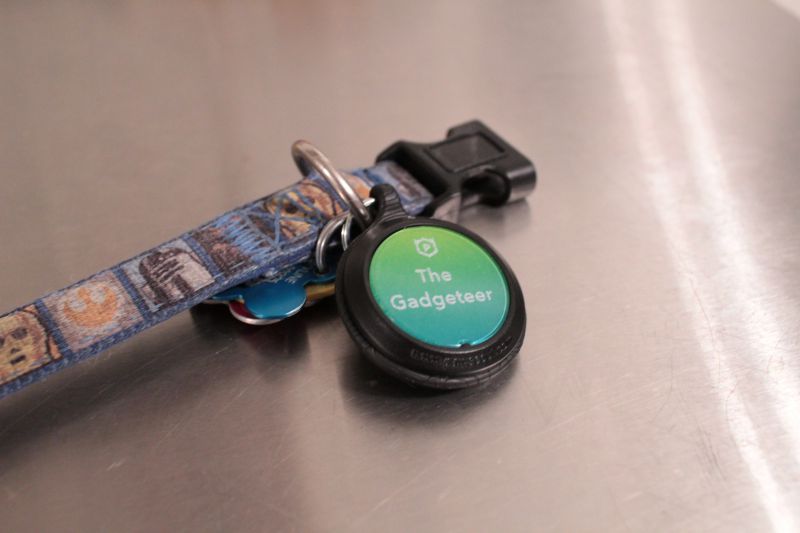 Pawscout is a pet id tag for your dog or cat collar that connects to your smartphone via Bluetooth and a free downloadable app.
What's in the box?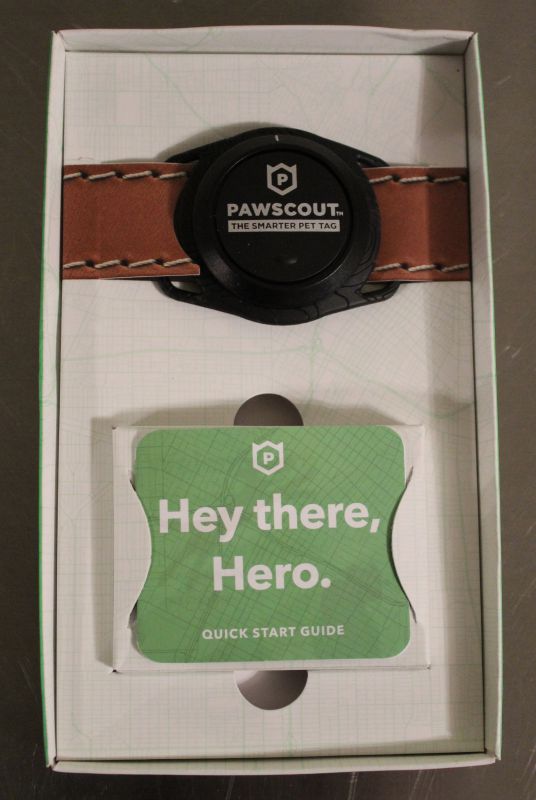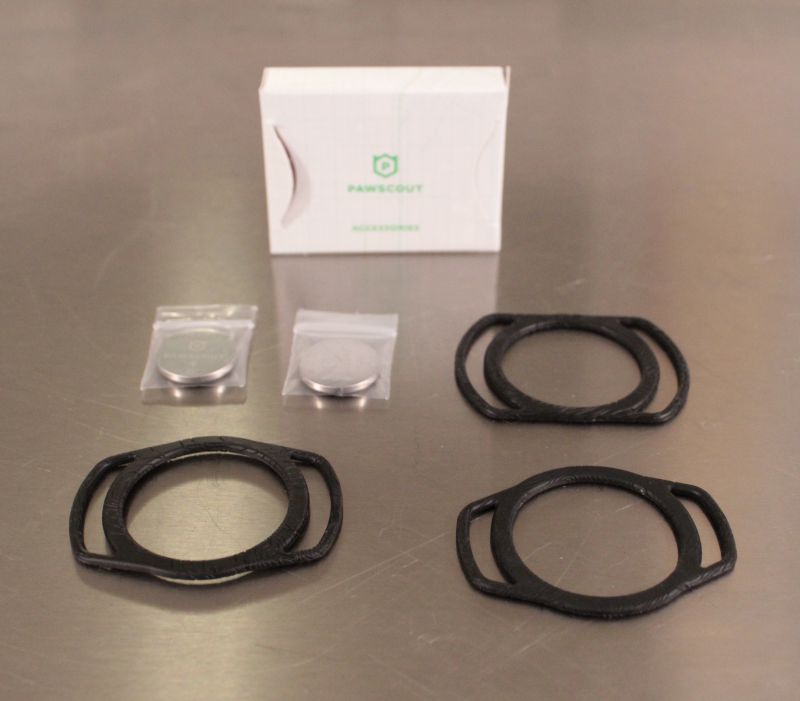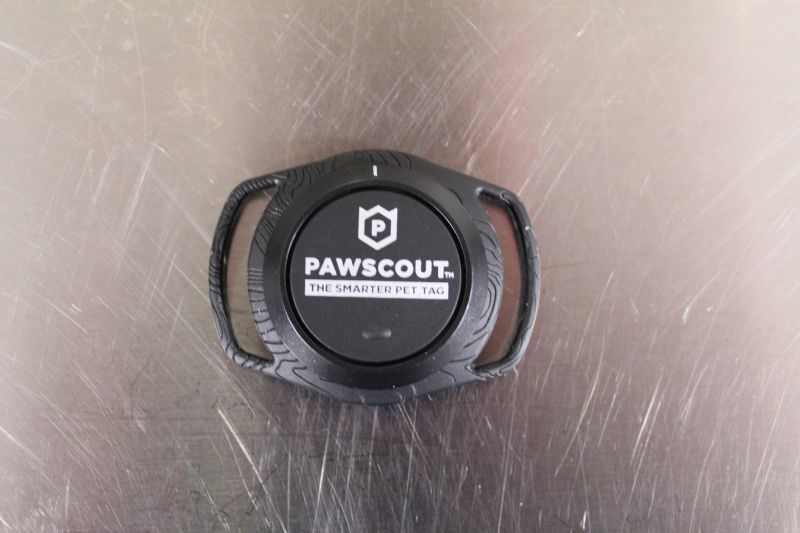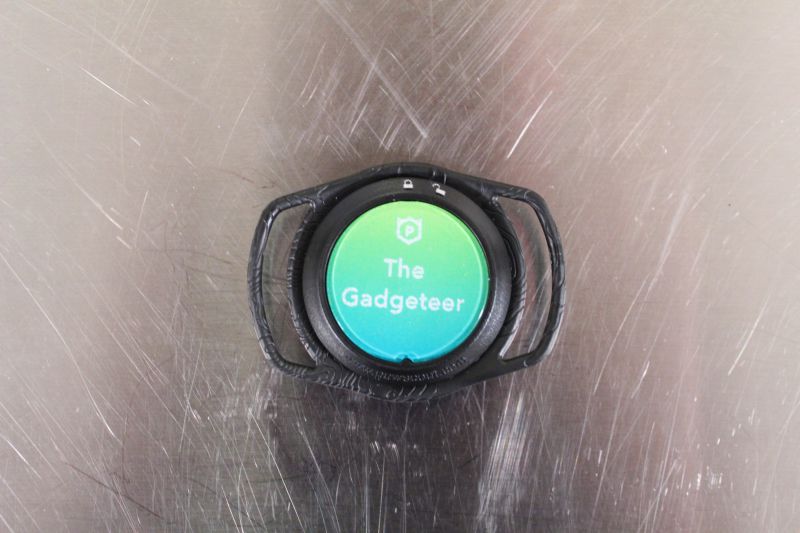 Pet ID Tag
4 attachments to the tag to allow either hanging the tag from a collar or weaving the collar through to attach.
Two extra batteries
Instruction Manual
Optional – Pawscout included a custom engraved metal tag that inserts on the back of the device
Design and features
There isn't much to control with the actual physical product on this device, as it is basically an idle token attached to your pet. Since all of the controls are within the app once you pair it with your phone, this review will have a large focus on the app and it's mechanics and utility. I will note that within 24 hours of getting the unit in the mail, I got a notification that the battery needed to be replaced, which may be why they provided two extra batteries as there's no telling how long the one included in the unit may have been in there before it was shipped to me. Installing the new battery was simple and the instructions indicate the battery should last approximately 6 months.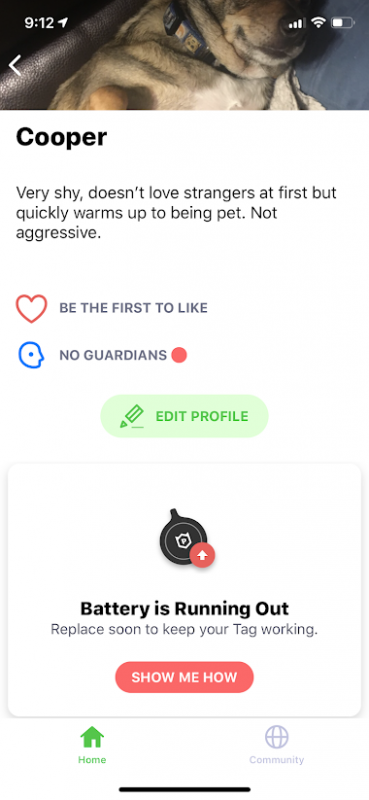 The app starts up by having you create a free account and input your pet's basic details & a photo. You provide the breed or breeds, sex, size, weight, color(s) and date of birth. The instruction manual then gives you easy to follow instructions for pairing and I had no trouble doing so on my first attempt.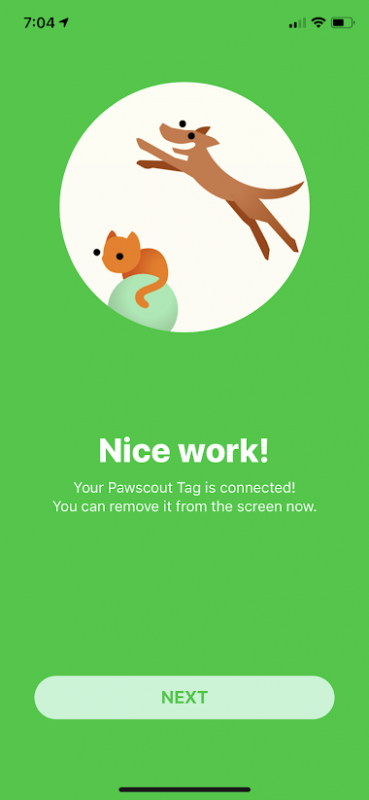 From the main map, you can zoom and scan the area around you, and as you do the app will give you a Safety Rating for the area currently in the field of view.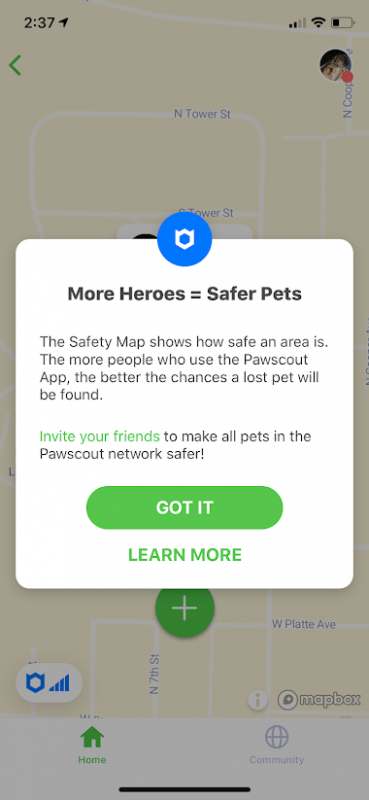 The more people who have the Pawscout app, the better chance that your pet would be found if it is reported lost. Thus, you can pick a dog park or walking route and then see if there are any areas where there may be problems if your dog gets off leach; or alternatively, areas where there are a lot of Pawscout users who can help locate your pet. The blue areas below show active areas of safety for the Pawscout tags.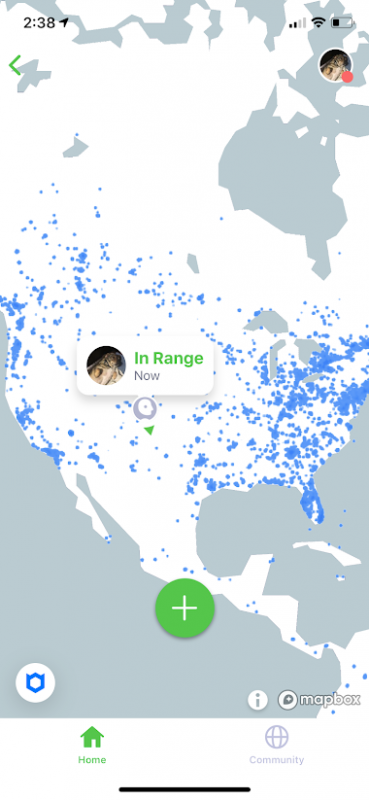 From your pet's main profile page, you can initiate additional features: Start Walk, Enable Leash, Add Pin and Report Lost.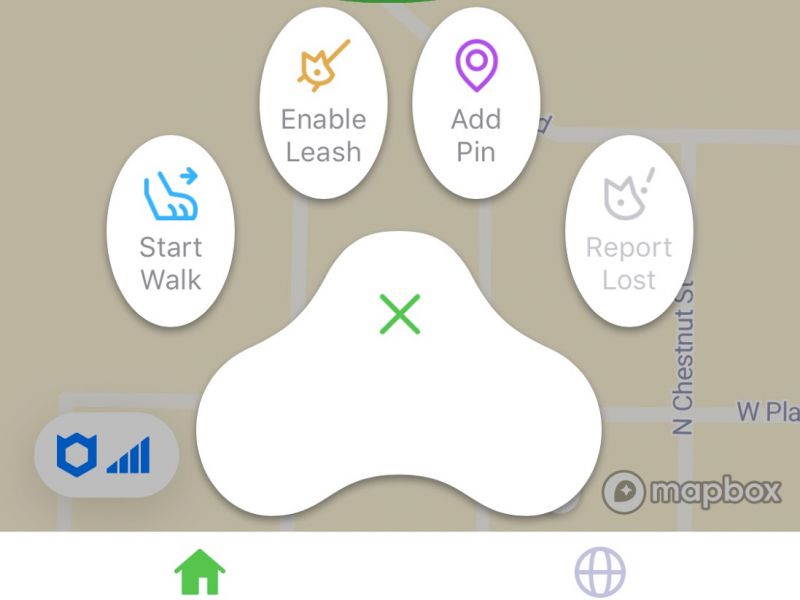 The Start Walk allows you to track your walk route and adds an entry into your pet's Walk Diary. As you can see from the walk diary entry below, the green marking indicates the recording of the walk by the app and id tag. However, the red line I've drawn in below shows the actual route we took. It isn't very accurate and while it says we walked 3.512 miles, our route was nowhere near that long.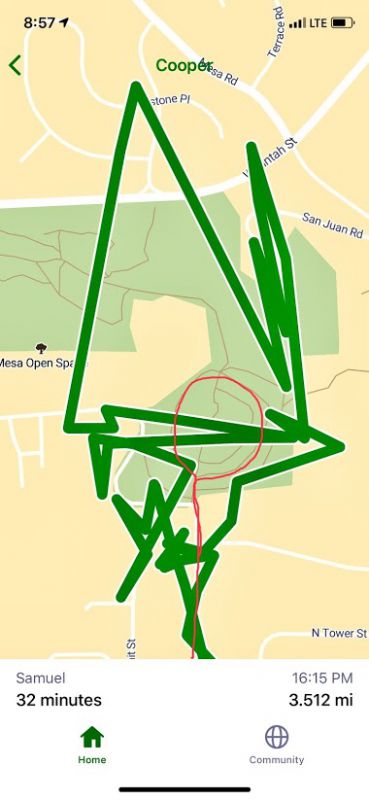 The Enable Leash is ideal for when you're in a dog park or maybe an unfamiliar area. It is a virtual leash that will alert you once your pet has left the range shaded in orange.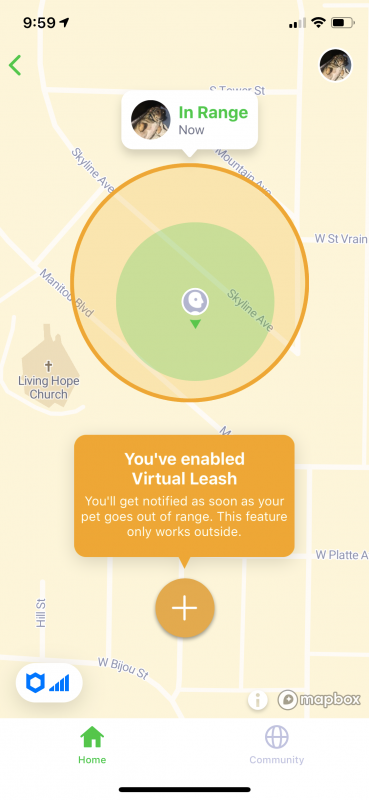 Add Pin is one of the best features in my opinion, as you can set a Pin for others to see that mark either a Hazard, Dog Park or Pet Store. On the full map, as you zoom out from your current location, it will show these pins as well as other Pet Points of interests such as veterinarians, pet stores and parks.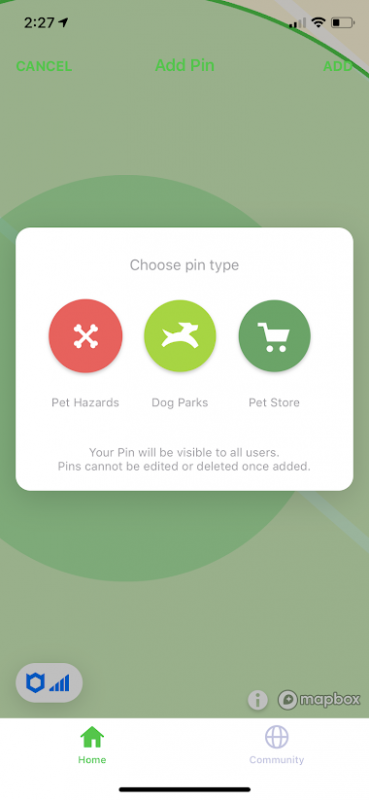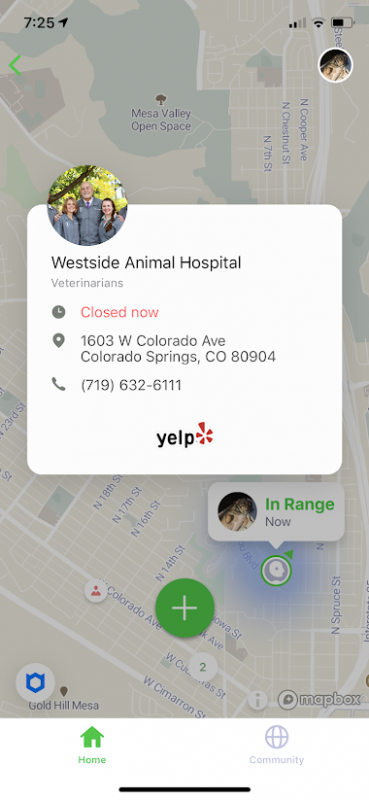 And finally, the worst-case scenario, you can Report Lost. This feature will notify you when your pet passes within 300 feet of anyone who has the Pawscout app installed on his or her phone. The other users don't necessarily have to have a Pawscout pet id, rather just as long as they have the app downloaded, they can help locate your pet passively. So, if you don't mind your phone being used in this way, you can help your community of pet owners simply by downloading the app and allowing it to access your Bluetooth and location. The downside is that you will get notified any time a dog with a Petscout tag has been picked up by your phone, whether it's been reported lost or not. You will have to option to contact/notify the owner or ignore the notification. So if you live in an area with a lot of users, it could become bothersome.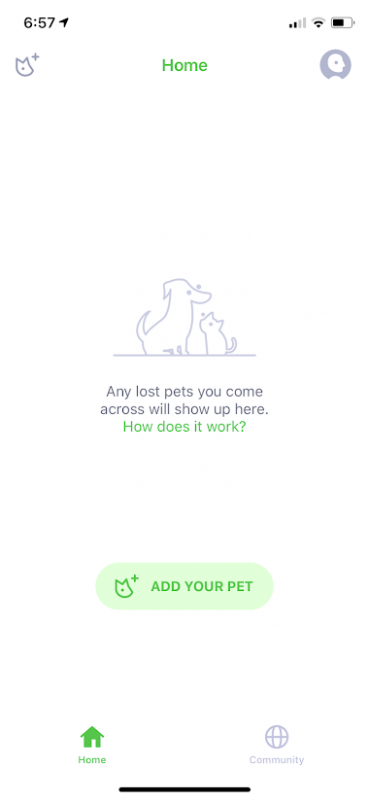 Additionally, from the "Community" tab in your homepage, you can see other Pets Near You – which gives you an idea of how many other Pawscout members are in your area.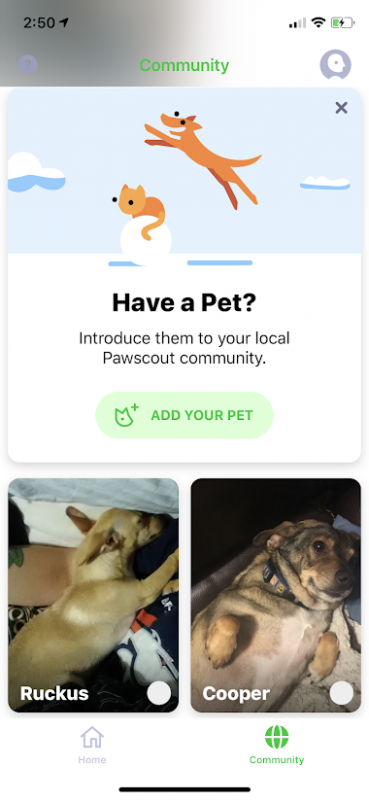 What I like
Easy interface with app and features.
Informative map interface lets you find new places to go or a veterinarian in time of need.
Ability to mark hazards for other pet owners to see
The ability to be notified of the location where your lost pet would be
Notification when the battery is running low rather than just dying and having to figure out why it stopped working.
What needs to be improved
The tracking mechanism for dog walks – as it hasn't come close to actual distance or route that was walked on any of our walks yet.
Lost pet notification only works within the app and is passively reliant on other users living in the area or people downloading the app out of kindness.
While there is a section in the pet profile for "Special Needs", I could not find anywhere specific to add veterinarian records or vaccine information. A specific page or section in the profile for this data would be more helpful in case of an emergency.
Final thoughts
Overall, the Pawscout id tag does provide some positive utilities such as the ability to track walks, a network of other pet owners/animal lovers to help you locate your pet should it be lost, and an interactive map that allows you to communicate hazards with other pet owners in your area. However, I found that many of the features are redundant when you consider features already on your smartphone such as Yelp and Google Maps.
Also if your pet already has an id tag that has contact and address information or paying to have one engraved by Pawscout, a person finding a missing dog would actually have to take more time and effort trying to access the Pawscout information than if they just called the phone number on the tag. Additionally, the reliance on Bluetooth connection limits some functionality since you have to be in close proximity at all times, and it seems to have problems accurately accounting for the routes and distances on walks. Even with the network of users able to help with locating the pet should it be reported as lost, I'm just not sure what niche this product fits into. It's not quite accurate enough for reliable walking data like a GPS tracker would be, while also not proactive enough on the "Lost pet" alert to be highly useful in helping locate a pet especially if you're in a rural area with fewer people in the network.
Price: $19.95 for the tag – optional custom engraved nameplate $9.95.
Where to buy: Amazon
Source: The sample for this review was provided by Pawscout.