We use affiliate links. If you buy something through the links on this page, we may earn a commission at no cost to you. Learn more.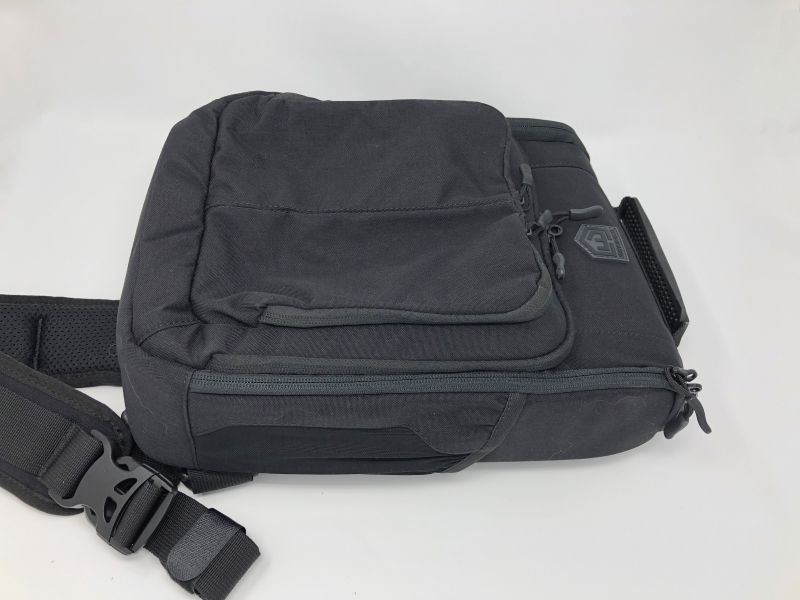 REVIEW – We've all noted the trend toward thinner devices and, thus, smaller, sleeker bags. My (current) favorite style is an over-the-shoulder sling bag. These allow for quick-on, quick-off, and easy sling-around access while wearing. The current model I am testing is from a company called Cannae, their Optio Sling bag.
Note: Photos may be tapped or clicked for a larger image.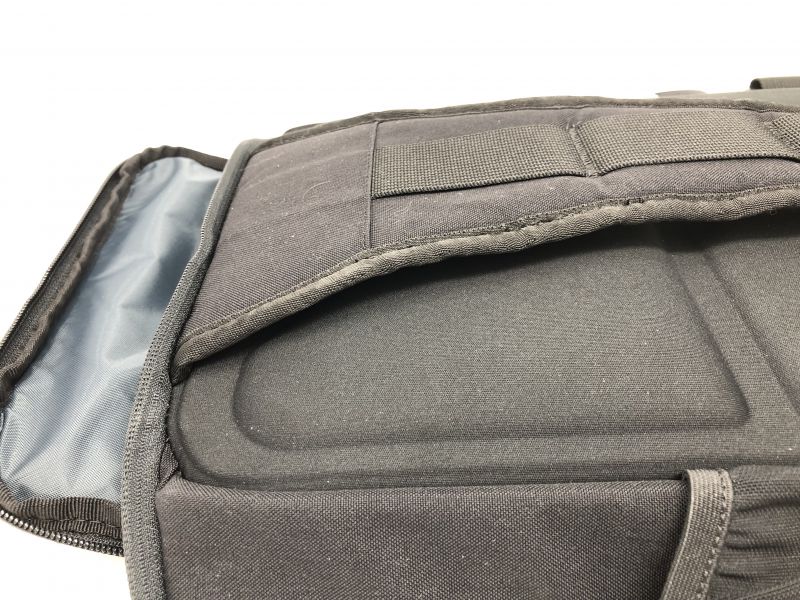 What is it?
The Optio is a basic Cordura sling bag with a main pocket with a tablet/laptop sleeve for a very thin device and room for a few other items, as well as a few zippered pockets on the front. It's available in Black, Sage, or Navy with Black trim. I was sent the Black model.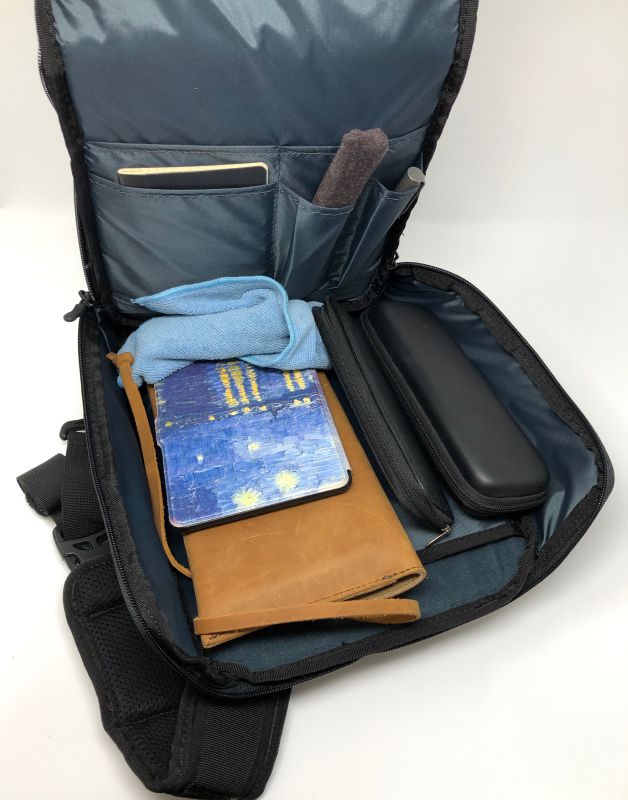 What's in the box?
Just the bag

Design and features
The Optio is a slim-profile sling with a wide shoulder attachment and a two-piece strap that can be worn over either shoulder. Above this is a heavy-duty rubber padded handle.
The strap can be changed for left- or right-shoulder wear, is adjustable, has a clip to allow it to be opened and re-clipped easily, and a removable stabilizer strap. (See photos below for clip details and stabilizer strap.)
Never miss one of our posts again. Sent MON, WED, and FRI with the latest gadget reviews and news!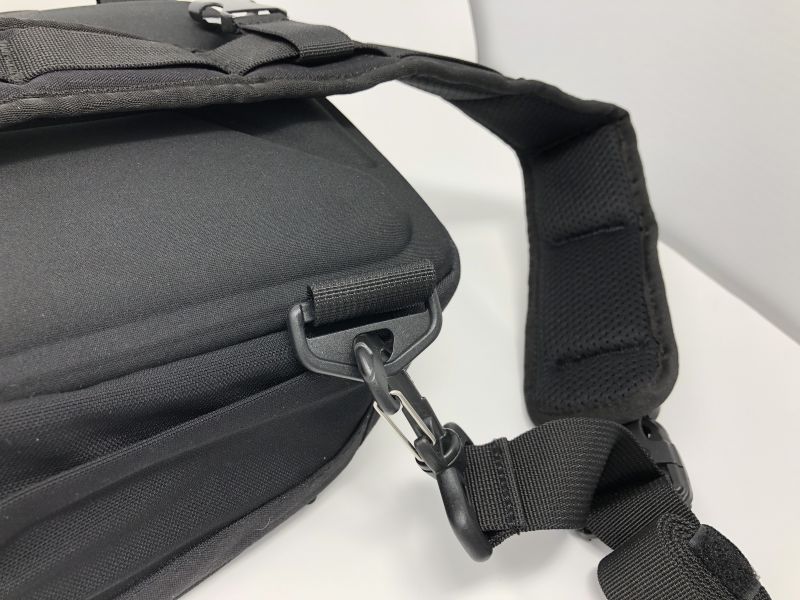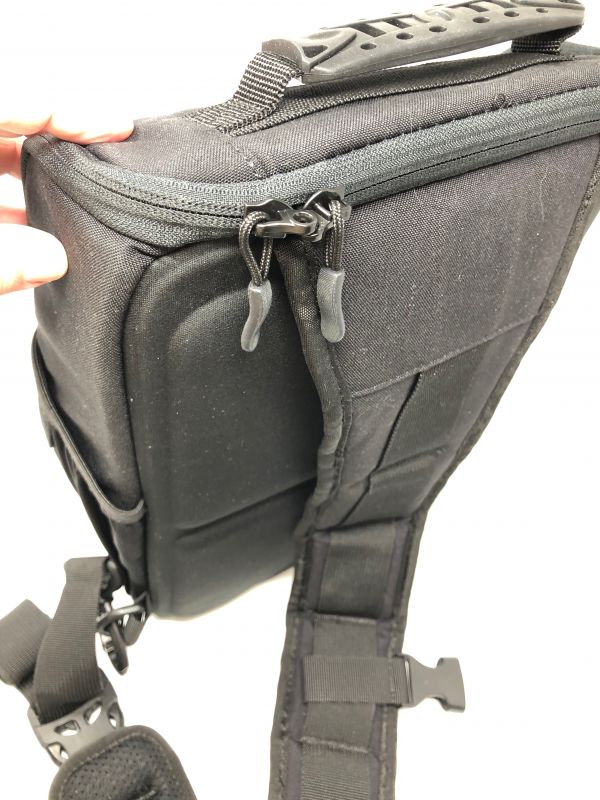 The bag has a single double-headed zipper around five of it's edges. When the main compartment is fully opened, the front lifts up and away from the body so that you can place a stack of items inside without having to slide them in from the top. This also prevents you from losing items in the depths – you can see everything!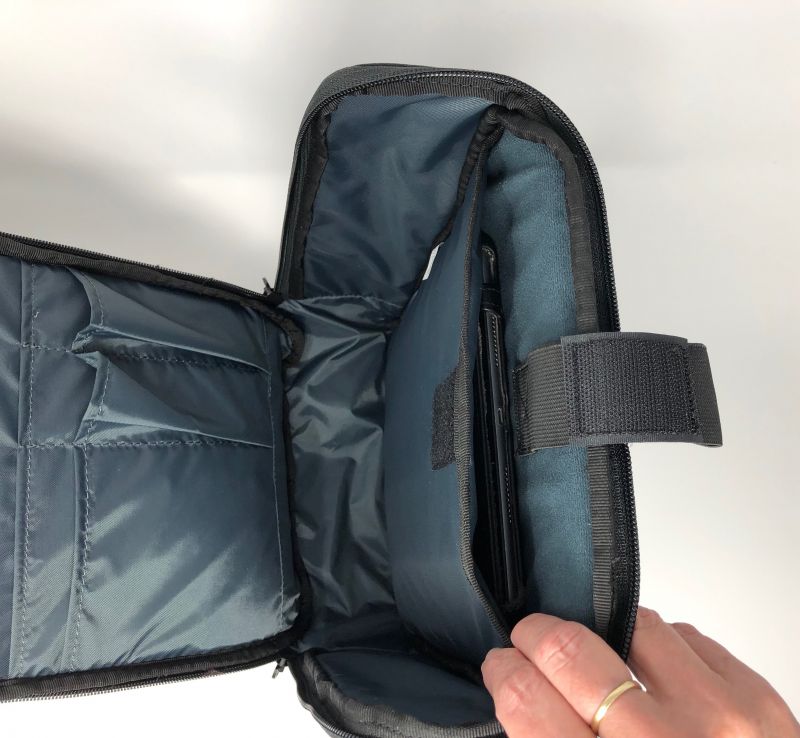 On the rear panel that is against your back, there is a sleeve sewn into three sides with a 1.5" wide elastic Velcro strap to keep the contents in. It's a pretty tight fit for my iPad 10.5" iPad in a thin case. (See photo above.) The original 12.9" iPad Pro won't fit in unless it's out of any case. My Lovely Bride's 2016 MacBookAir will fit, but is quite tight. The opposite side has a few sleeves, good for passports or Moleskines and a couple of silos for more bulky pens and such. This whole pocket is padded and large headphones, cycling shoes, or water bottles will fit in here with ease.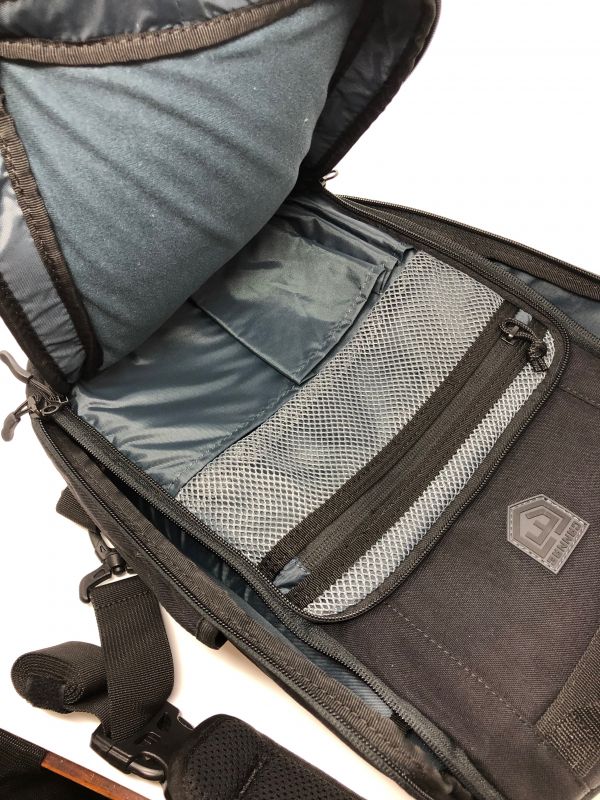 On the outside, there is an 8" x 8" double-zipper pocket that has inner organization. There are a few pen loops, a zipped net pocket that will hold keys, mints, earbuds, etc.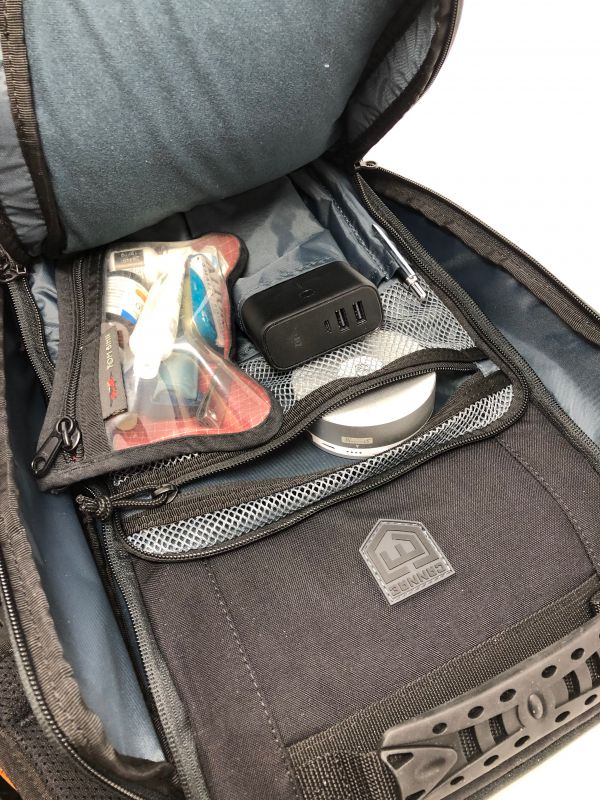 The cover for this is loop material so you can stick anything to it with hook-sided velcro like a concealed carry holster, ID badge, or similar.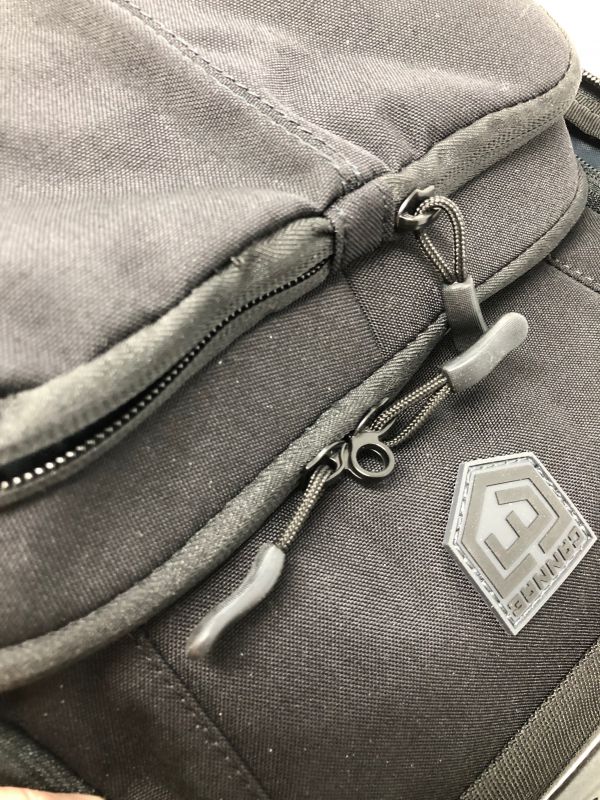 On the outside of that are two mirror-image pockets that zip across the top and most of the way down the side in a butterfly-wing manner. (Note the locking zipper heads on the 8″ x 8″ pocket above.) The left pocket has soft, no scratch padding for glasses, phone or anything else you don't want to get damaged. (My iPhone 8 Plus fits easily, even with its ShiftCam lens case.)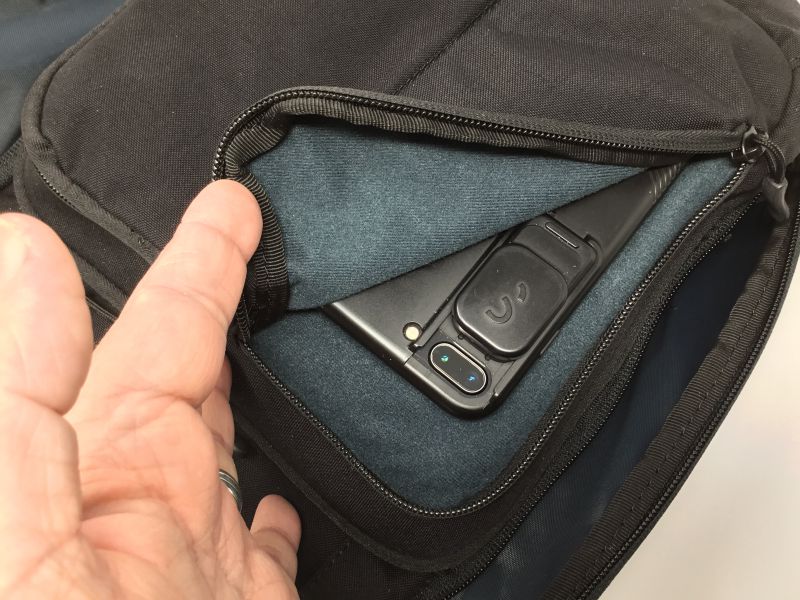 The right-hand pocket has 2 slots sized for phone-shaped battery packs as well as a key clip.
On the left side, there is a very tight pocket on the side near where the strap snaps in. It's too small and tight for a Moleskine or a passport, but a knife, bike tool, or pocket tool fits fine. Opposite that is a mesh pocket that looks like it's built for a water bottle, but none of mine could fit, it's so tight. A 10-ounce disposable plastic bottle fits, but it's tight.
What I Like
Can be used on either shoulder.
Heavy-duty grab handle.
Locking double-headed zippers on 2 larger pockets.
Weather and dust resistant zippers.
What needs to be improved
A couple of the pockets are very tight.
Final thoughts
The motto for Cannae from the hang tag is "Battle Ready Professional Gear." They take their name from the village where Hannibal Barca and the Carthaginian army severely trounced the far larger Roman army. The takeaway from this is a combination of Preparation, Intelligence, Strength, and Bravery.
It's a pretty stealthy bag. There are no reflective materials on the black version I was sent. The single black molded logo centered below the grab handle is all that identifies it from the outside. There is another logo under the strap that doesn't show when being worn.
Some of the pockets are tight for devices or items that you may use every day. If you carry a bare laptop or iPad, you'll be fine with the sleeve, but if you've got a case on it, you'll most likely not be able to fit it in. While the materials and workmanship are topnotch, be aware that it's not a huge bag, and may not have a specific pocket for what you may think it needs. But if your stuff fits, it'll be protected and near to hand for whatever you face.
Price: MSRP $85.00
Where to buy: Cannae web store and Amazon
Source: The sample of this product was provided by Cannae Gear.