We use affiliate links. If you buy something through the links on this page, we may earn a commission at no cost to you. Learn more.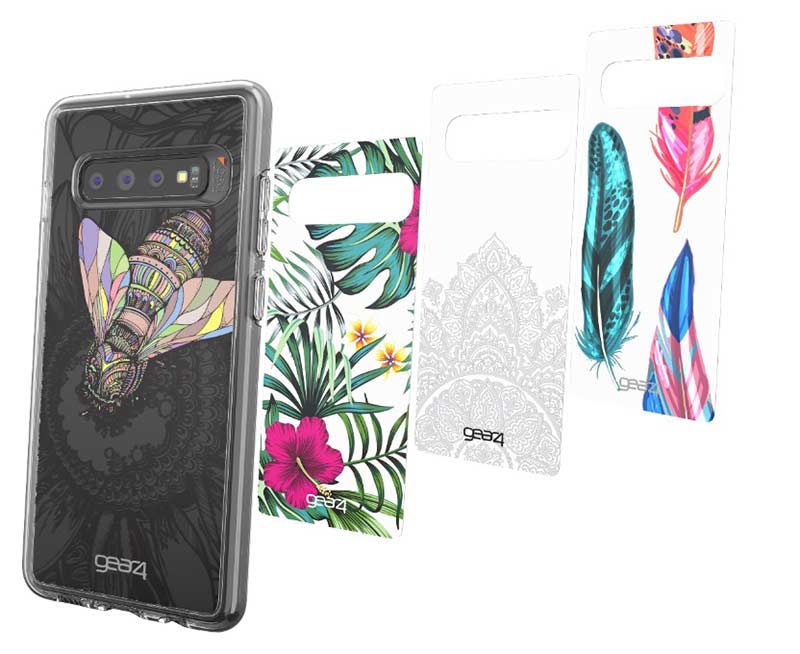 NEWS – Last week I shared with you that I pre-ordered the Samsung Galaxy S10+ as soon as I could. I haven't been this excited to get a new phone in a long time. I am even planning to take a vacation day next Friday when it is supposed to be delivered. Hey, it's a good excuse to burn a vacation day so don't judge me 😉
When most of us shell out a considerable amount of cash to buy a new phone, we want to keep it looking new for as long as we can. The main way we can do that is to protect it with a case. So here are a few Samsung Galaxy S10 series case options to consider if you're getting a new S10 too.
Pelican Samsung Galaxy S10 Series Cases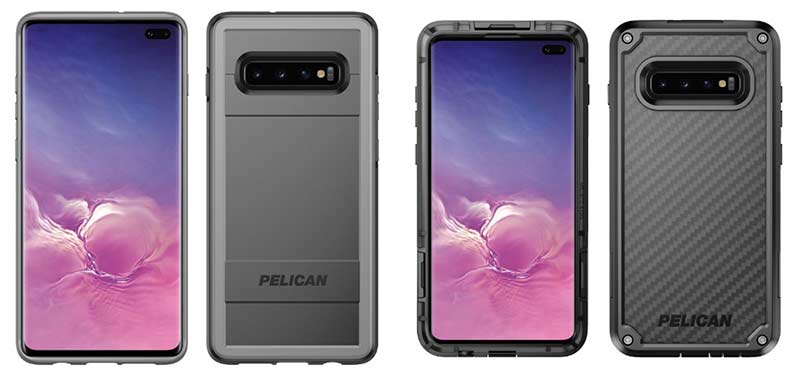 Pelican is well known for its line of rugged storage cases that can take a beating without cracking under pressure and their new line of smartphone cases is just as good.
I was briefly able to try out their Protector + AMS case (shown above on the left) and really liked that it was easy to insert and remove the S10+ while offering protection from drops. The rubber around the display is raised so that if you drop or set the phone face down, the display won't touch the surface. The Protector + AMS even comes with a magnetic vent mount for your car.
Other cases in the Pelican S10 series cases include the Voyager (shown on the right) and 4 other styles. Prices range from $29.99 up to $59.99 depending on the style. Head over the Pelican for more info or Amazon to order one: Protector + AMS, Protector case only, Shield, Voyager, Adventurer, and Ambassador.
Otterbox Galaxy S10 Series Cases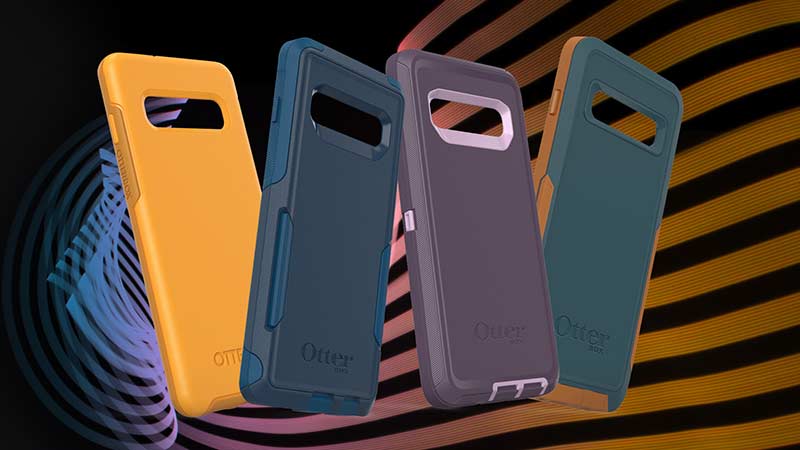 If your nickname is fumble fingers, you know you are going to need a case that will protect your phone from more than everyday wear and tear. You're going to need a case from the Otterbox Symmetry and Commuter series to protect from from an occasional drop.
Symmetry Series – slim protection in a stylish case with a variety of color and graphic options.
Pursuit Series – the toughest, thinnest OtterBox case – protects against dust, dirt and snow, available for Galaxy S10 and Galaxy S10+.
Defender Series – protects from everyday bumps and fumbles while port covers help keep out dust and debris.
Defender Series Pro – offers an anti-microbial material that protects against common germs while offering the same drop and port protection as Defender Series.
Commuter Series – offers an updated design that delivers added grip on the slipcover.
Alpha Glass – a shatter-resistant and scratch-proof design keeps the Galaxy S10e display safe from front-facing drops in the parking lot or keys in your bag. Alpha Glass screen protectors are compatible with OtterBox cases.
Strada Series – folio style case that provides slots for cash and credit cards.
Head over to otterbox.com to see their full S10 series line up. Case prices range from $39.95 up to $69.95.
Grip2U Cases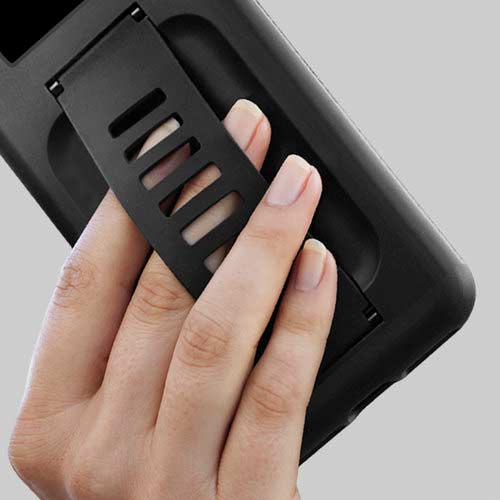 I haven't gotten into the whole PopSocket craze and if you haven't either, but wouldn't mind having some extra help holding on to your phone, the Grip2U cases feature a wide silicone band that your fingers can slide under for extra grip. The cases are available in black or clear and are only $29.99. You can check them out at preventthedrop.com
Gear4 Cases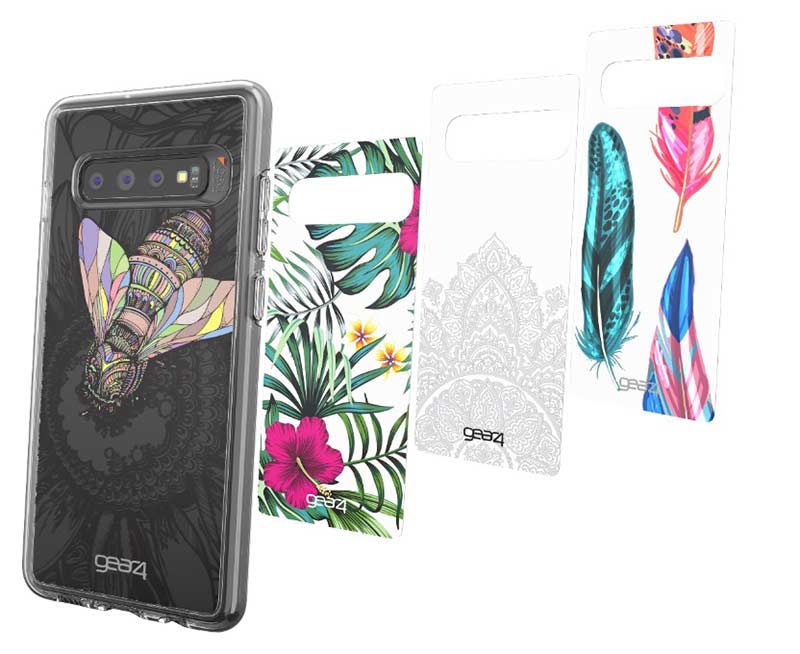 My favorite case out of the ones I've shown you here is the Gear4 case because you can buy Chelsea design packs for it. The packs are interchangeable design panels that will let you change up your style without buying a brand new case. The packs are available in a variety of different patterns and artwork and are compatible with the clear Gear4 case. Each pack comes with 4 different panels for $14.99. The clear case is priced at $39.99. You can read more about them over at gear4.com
If none of these cases are appealing to you, never fear because there are a bazillion other Samsung Galaxy S10 series cases to choose from. Just head over to Amazon and have fun browsing.
Speck Cases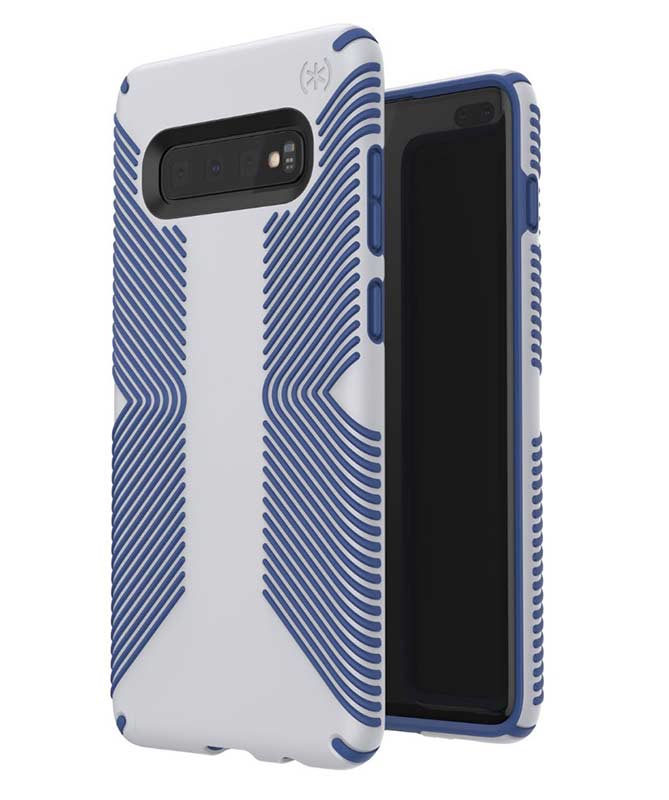 Speck has some interesting cases for the Samsung Galaxy S10 series that I'd like to check out. I especially like their Presidio Grip case which is available in several color combos including the one you see here. Is it just me or are you also getting a Star Wars vibe with this case? Regardless, these cases offer some extra grip with raised rubber strips and they have a raised bezel to protect the S10 and S10+'s curved display. The Presidio Grip is priced at $44.95 and is available now from Speck. Some models are also available on Amazon.