We use affiliate links. If you buy something through the links on this page, we may earn a commission at no cost to you. Learn more.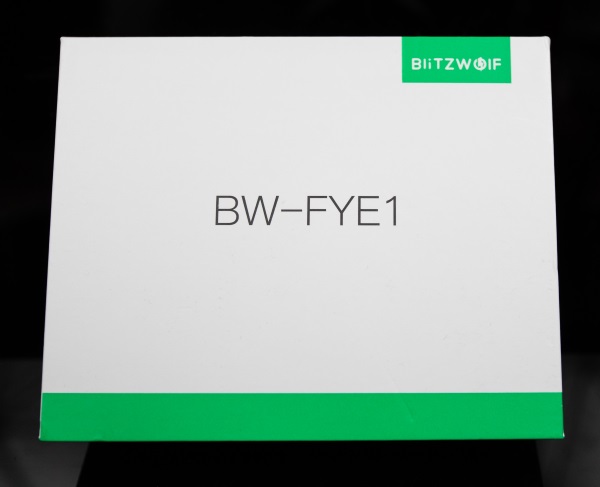 REVIEW – The second contestant for 2019 into the challenge of finding the "perfect" earbuds for my taste is the BlitzWolf BW-FYE1 True Wireless Stereo Bluetooth 5.0 Earbuds. These earbuds have the unique look of a combination of part of the Apple earbud design along with the design of the typical standard earbud. I wonder if they also managed to merge the best sound and performance characteristics from both. Let's see!!
What is it?
The BlitzWolf Bluetooth Wireless Earbuds are lightweight, and in some aspects have a form factor that is a mixture of Apple and standard earbud designs. Functionally, they are designed for listening to music and conducting phone calls. As with most earbuds, they should be compatible with most Bluetooth equipped mobile devices.
What's in the box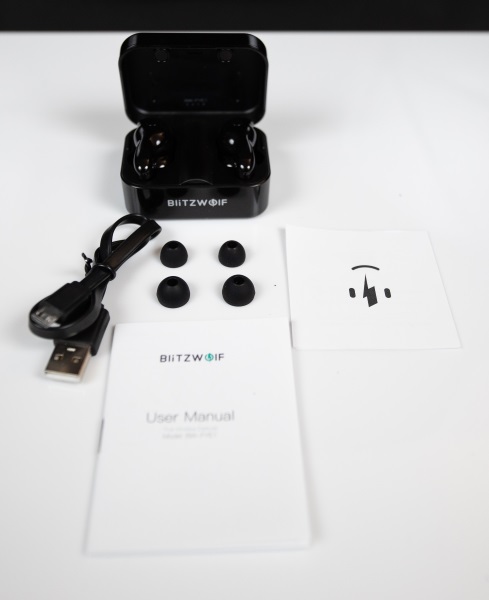 1 x BlitzWolf Wireless Earbuds
1 x Micro USB Cable
3 x Ear Tips
1 x User Guide
Design and features:
Specifications
Bluetooth Version:5.0
Waterproof: IPX4
Transmission Distance:≥ 33 feet (10m)
Frequency:2.4GHz, Class 2
Charging Box Output Voltage: DC 5.2V 120mA
Charging Box Input Voltage: DC 5.2V 1A
Temperature Range: 0-45℃
Battery Capacity: Earbud: 50mAh/3.7V Polymer lithium battery
Charging Box: 700 mAh/3.7V Polymer lithium battery
Charging Time – Earbuds: 1-1.5H
Charging Time – Battery Case: 1.5H
Music Playing Time – Monaural Earbud with Full Charge: 2.5H-3H
No. of Charges – Charging Box: 4 times
Call Time: 3H
Standby Time: 77h
Dimensions – Charging Box: 61.5 X 43.5 X 30mm
Dimensions – Earbud: 34.2 X 17.5 X 23.8mm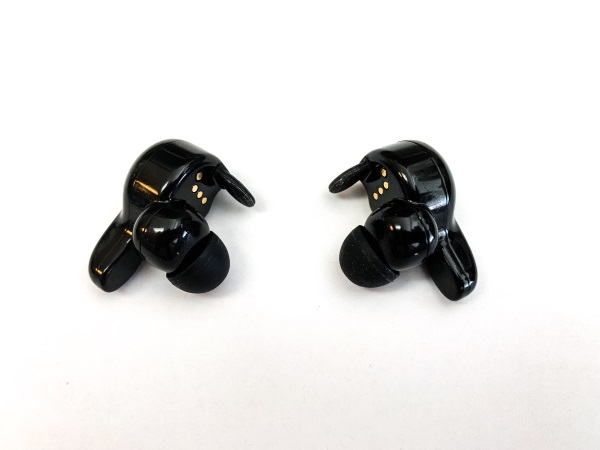 The charging box/case is quite small and very portable and can be kept in just about any pocket. On the front of the charging case, there is the brand name in white.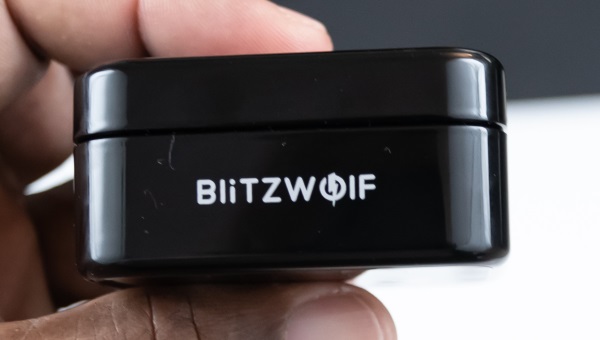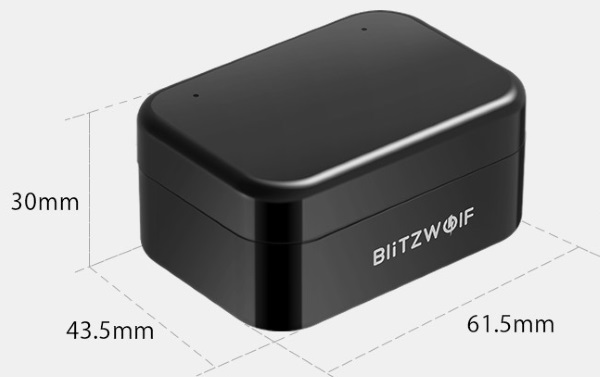 On the back of the charging case, there is the micro USB charging port and 4 LEDs that show the built-in case battery charge level.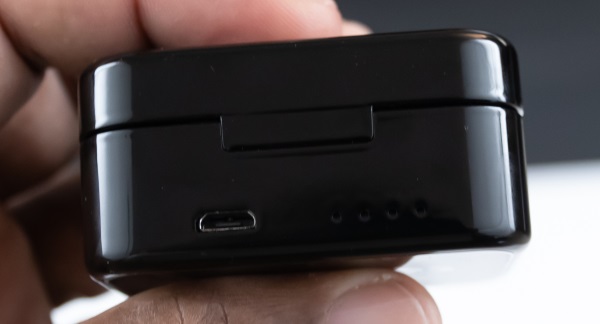 On the inside, there are the 2 charging slots for the earbuds and the gold plated tips that make contact for charging.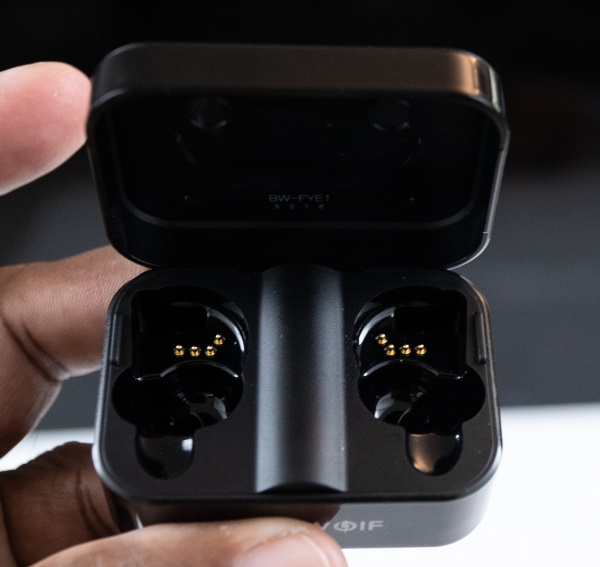 Performance
When I took these BlitzWolf earbuds out of the charging case that arrived almost fully charged, they automatically powered on and appeared in the Bluetooth device list on my phone. Pairing was just that simple and they were ready for use. Looking at their physical design, I was immediately concerned about their comfort factor and since they seemed a bit large for my ear, I figured that they would stick out quite a bit. Boy!! was I wrong!! They somehow seem to possess the ability to morph, fit perfectly, securely and comfortably in my ears, and there was no extended protrusion as I thought might be the case.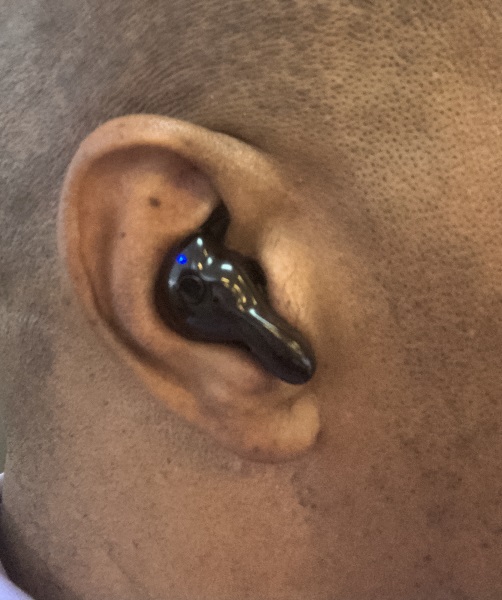 These earbuds are controlled by one button multi-function controls which makes them very easy to use.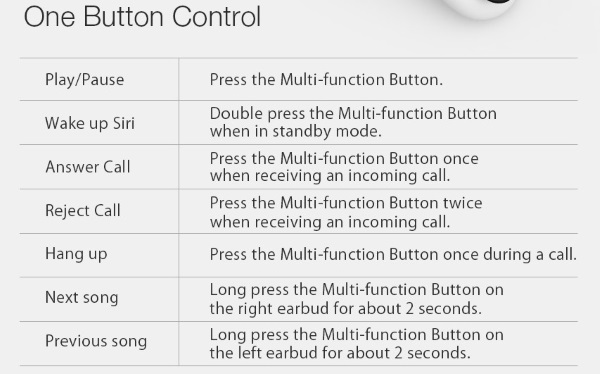 Similar to all of my testing, I use these earbuds approximately 90 minutes each day for 5 days weekly, and I place them in the charging case after each use. I have to recharge the case once per week. I also use them to watch TV on my iPad Pro, and the voice command indicates "low battery" just short of 3 hours.
Also as I do with all of the earbuds that I test and review, I listen to several genres that I enjoy including Contemporary Jazz, Easy Listening, The Classics, and Gospel. Keeping in mind that these are not in the audiophile category, I did and do enjoy them for all of the listed genres and more. The lows, mids, and highs are well balanced and at the maximum volume on my phone, there is no bothersome level of distortion. Even for phone calls, I can hear the other party quite well, and they indicate that they hear me well too, albeit not as clear and crisp as some of the other earbuds I have tested. I usually use the same folks to test my earbud phone functions.
What I like
The smooth and sleek look
The fit and comfort
The solid connectivity
The sound reproduction
What can be improved
Final thoughts
Based on the cost of these earbuds and a brand that I had never heard of, I have to honestly say that I was expecting a disappointing experience. Well, I am also honest enough to say that I was very wrong. Keeping in mind that there are several individually subjective dynamics that create great variations in perspective, I will stand by my opinion, that these BlitzWolf earbuds are a really great bang for the buck!!
Price: $49.99 Amazon 20% off code for the earbuds: 20L7MYCO. Expires 3/29/19.
Where to buy: Amazon
Source: The sample for this review was provided by BlitzWolf.