We use affiliate links. If you buy something through the links on this page, we may earn a commission at no cost to you. Learn more.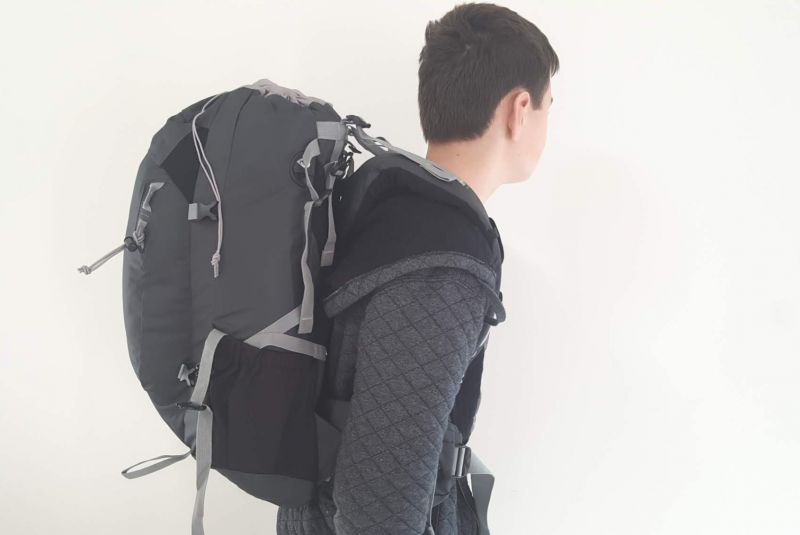 REVIEW – Camp Palawopec, in the rolling hills of Brown County, Indiana, is my son Mason's happy place. But he's had gear issues the last two summers, so this year he's trying the Outdoor Vitals Rhyolite Lightweight internal frame 45L backpack.
Mason's first year at camp, a sneaky raccoon unzipped his large canvas duffel and finished off his candy stash the very first night. The next year, he didn't take any chances and brought his gear in a large plastic bin. It proved to be animal proof, but also too bulky to fit under his bunk.
He reviewed the Rhyolite backpack and says it lives up to his name, it's certainly lightweight at just over 4 pounds. It's also comfortable, with easily adjustable straps, including a heavy-duty, cushioned waist strap to protect his back.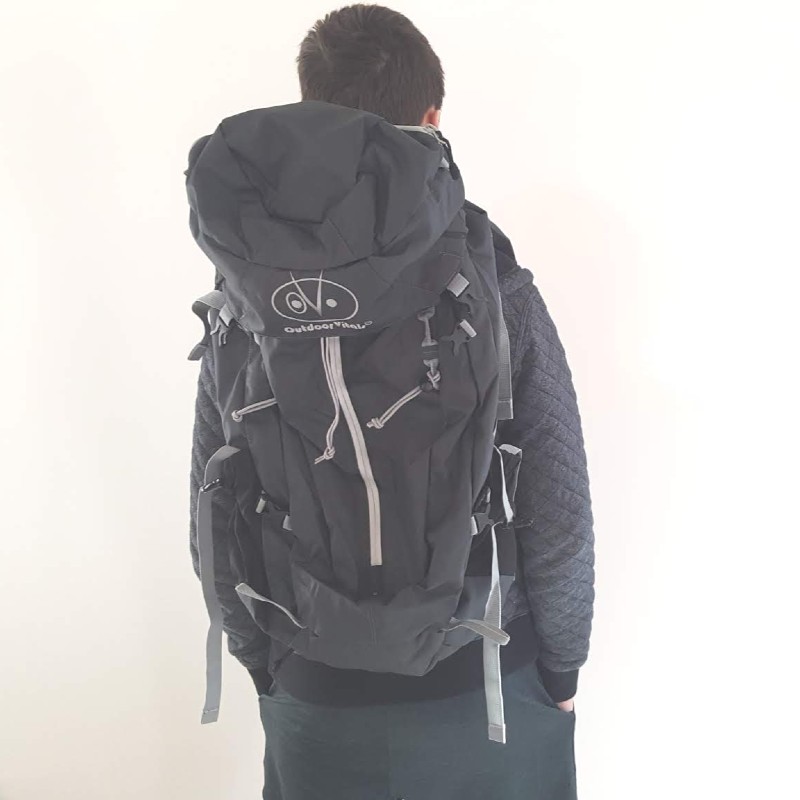 Mason is 5'7" and the backpack fit well. It was fairly easy to get on and off, though certainly easier with a buddy once we packed it full.
What's in the box
The backpack in a plastic bag

Packing slip

Outdoor Vitals sticker

Marketing postcard with a backpacking gear checklist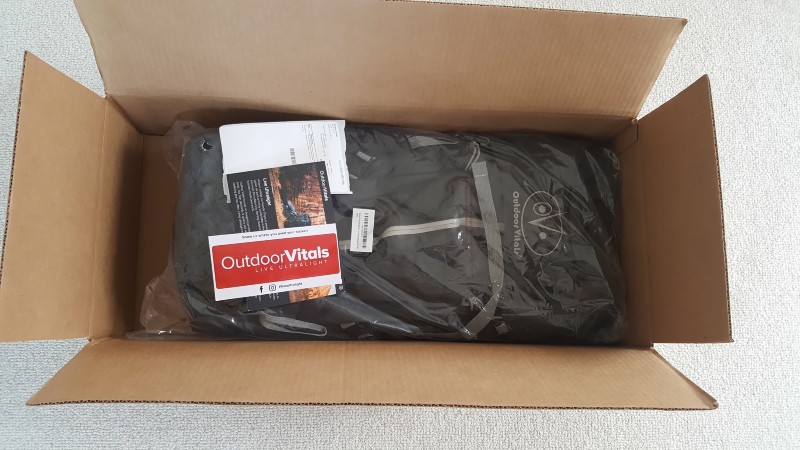 Specifications
Lightweight: 4 lbs 5 oz

Removable hood that doubles as a fanny pack

600D polyester fabric waterproof to 1500mm

Adjustable suspension to fit those from 5'5″ up to 6'6″
Design and features
The fabric quality and backpack design make it waterproof enough for most backpacking adventures. Unless you're expecting extreme weather, you can probably get away with skipping a separate rain cover.
We really appreciated the thoughtfulness and practicality of the design. There were convenient places for everything, from water bottles (or hydration-pack straw, if you go that route) to your phone and bug (or bear!) spray.
The many compartments and full-length zipper make it easy to find everything, even those items squished at the very bottom.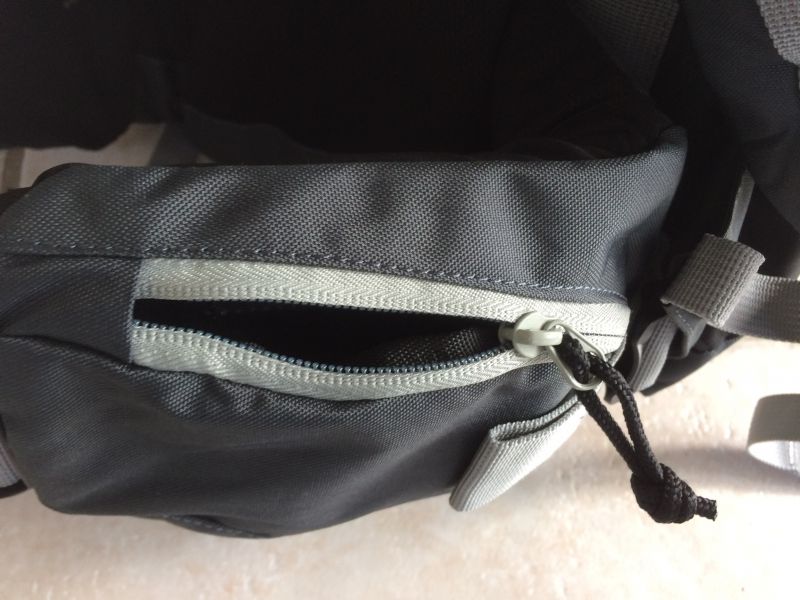 Our favorite little pockets were the ones on either side of the waist strap, making an easy grab for your phone or chapstick, sunscreen or protein bar. No need to take off your bag, or even twist, turn or reach for the essentials. And if you're braving it through bear country, that's no joke!
True outdoor enthusiasts or the most practical grown-ups might appreciate how the hood transforms into a removable fanny pack. My teenager wouldn't even try it on. And, even as a totally uncool 40-something, I don't think I'd wear it in public. We found the day pack (the name Rhyolite gives to their waist pack) bulky, awkward and unattractive. For day hikes, I'd much prefer a packable backpack or string sack.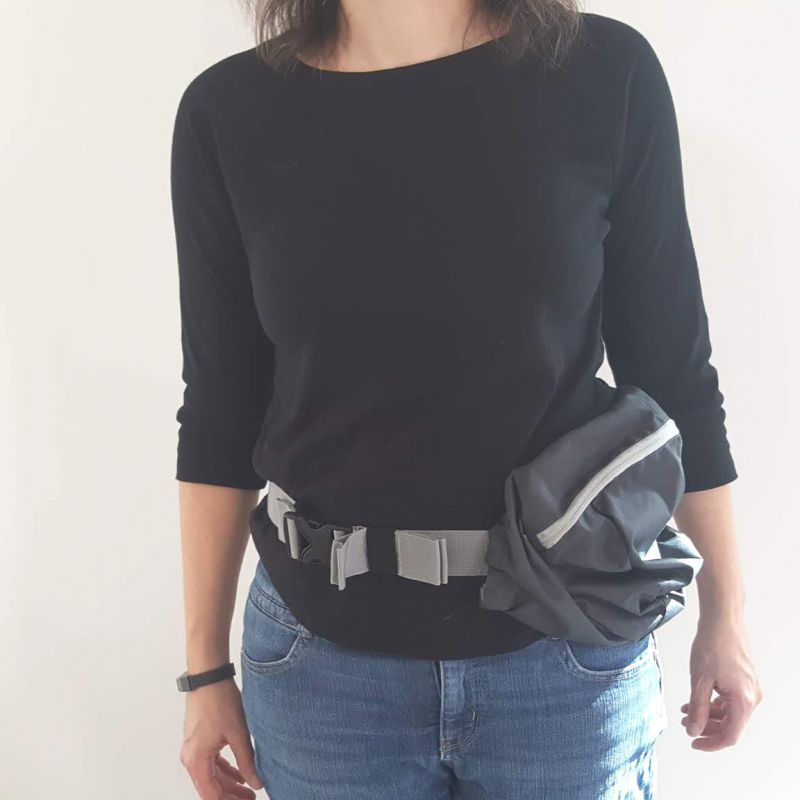 We tested the 45L bag, which may or may not be large enough for Mason's two-week nature getaway. Fortunately, with the many straps and axe loops, it's very easy to fasten a tarp, sleeping bag, hammock, etc., to the outside of the bag.
The Rhyolite also comes in a 60L size for those who need more cargo room.
Our only remaining question is if this backpack is raccoon-proof. I guess we'll find out this summer!
What we like
Comfortable and lightweight

Easy access to the inside

Well-designed, accessible pockets
What could be improved
Zip-off fanny pack is bulky, unattractive

Uncertain if it's critter-proof
Final thoughts
The size, comfort, and design of this backpack make it a smart, practical choice for hiking and outdoor excursions. We will do a follow-up review after Mason puts it to the test at camp this summer.
Price: $84.97
Where to buy: Outdoor Vital's Web site
Source: The sample for this review was provided by Outdoor Vitals. Please visit their site for more info.