We use affiliate links. If you buy something through the links on this page, we may earn a commission at no cost to you. Learn more.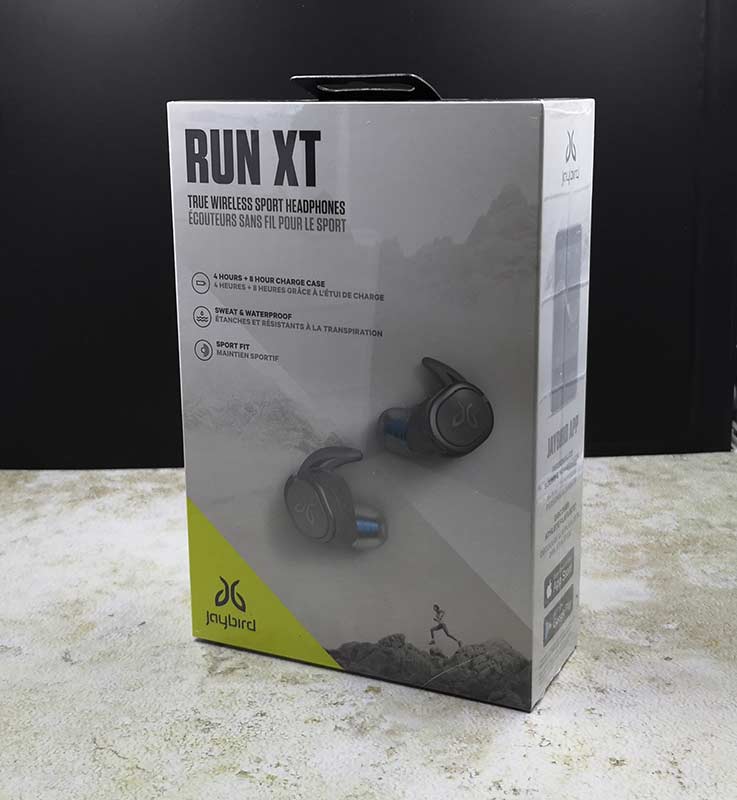 REVIEW – I've used Jaybird earbuds on and off for the past couple of years as I've found them to be comfortable to wear and make my music sound good while I'm working out. The Jaybird earbuds that I've used during that time have all been Bluetooth earbuds that have a cable between each bud. But now I've gotten a chance to test the new Jaybird RUN XT True Wireless Sport Headphones. Let's see if the RUN XTs become my new favorites.
What is it?
Jaybird RUN XT True Wireless Sport Headphones are exactly what you think they are. They are Bluetooth earbuds that don't have any wires between each earbud.
What's in the box?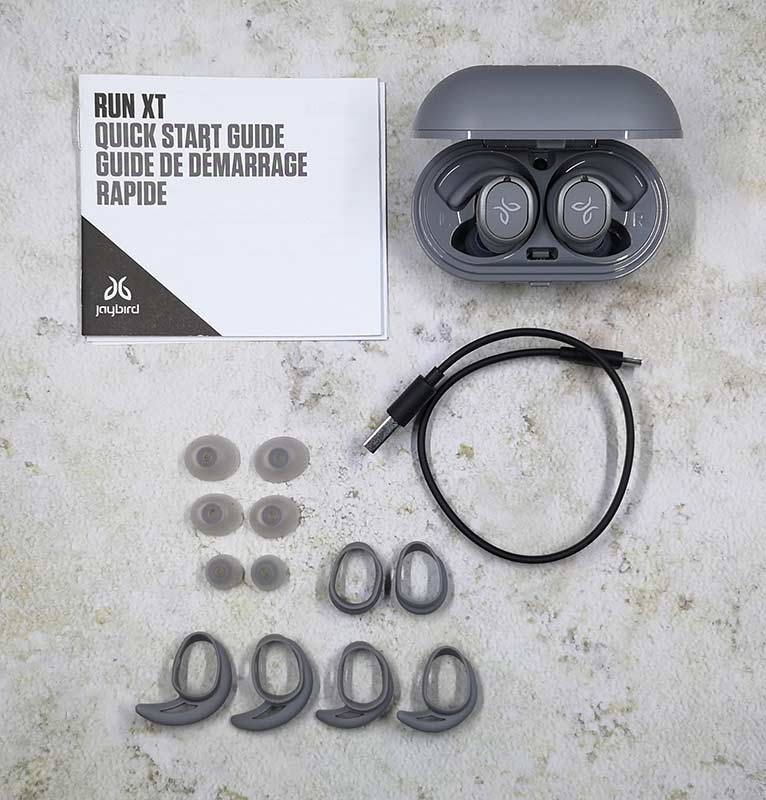 Jaybird RUN XT True Wireless Sport Headphones
Battery charging storage case
micro USB charging cable
4 pairs of ear tips
4 pairs of fins
Quick start guide
Design and features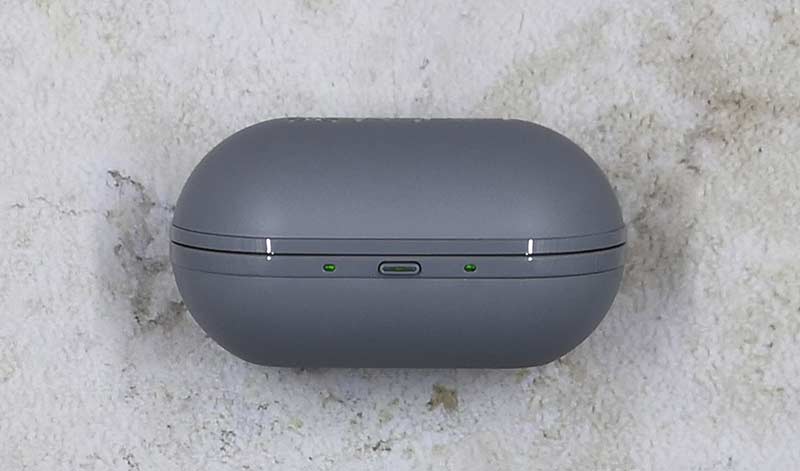 The RUN XTs store in a grey plastic charging case that has a latch with a green LED and another green LED on either side that shows the battery charging status. All three LEDs flash green while the buds (and the case) are charging and glow steady when fully charged.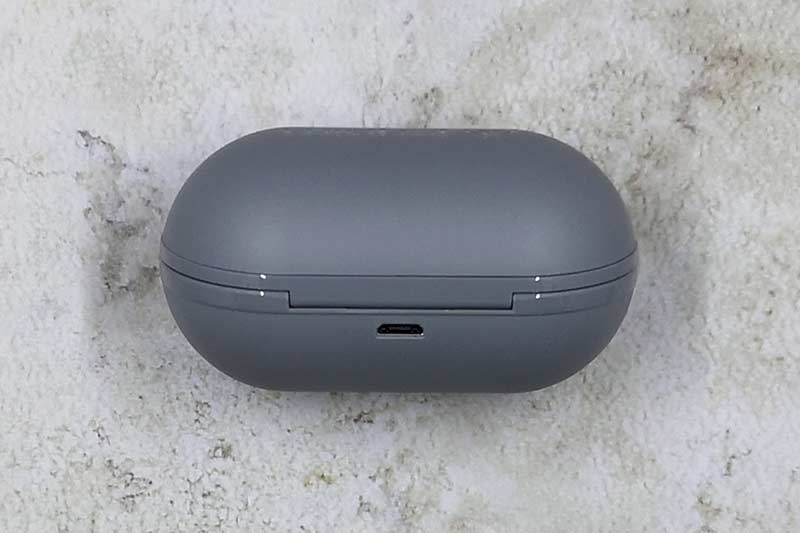 The earbuds charge with a micro USB cable. I don't get it, why aren't more companies using USB-C now?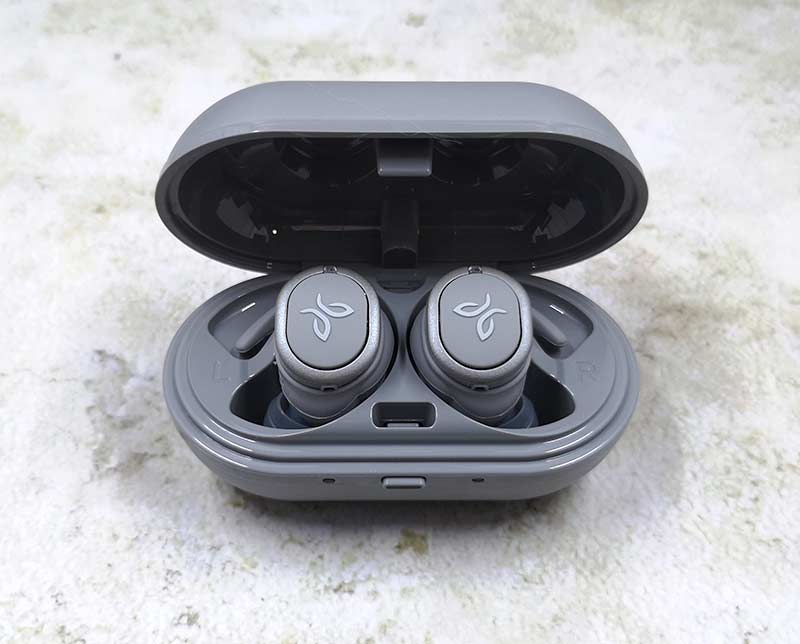 Press the button on the storage charging case and the lid pops open to reveal the RUN XT earbuds.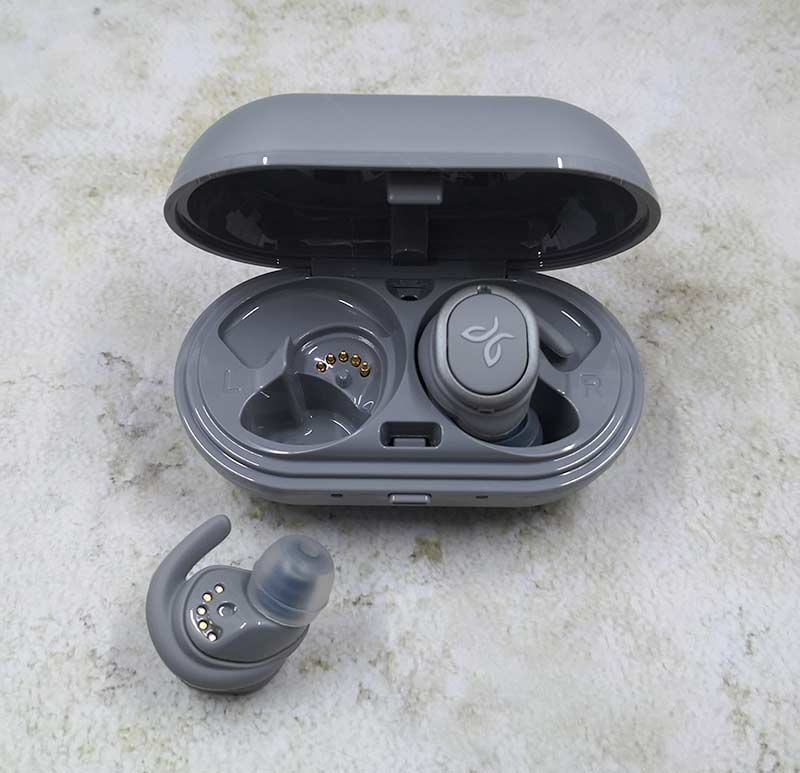 The earbuds have their own designated slot that has 5 springy electrical contacts for charging the earbuds.
The earbuds themselves look similar to many other wireless earbuds on the market right now. They have ear tips and optional ear fins so you can customize the fit.
Fit and comfort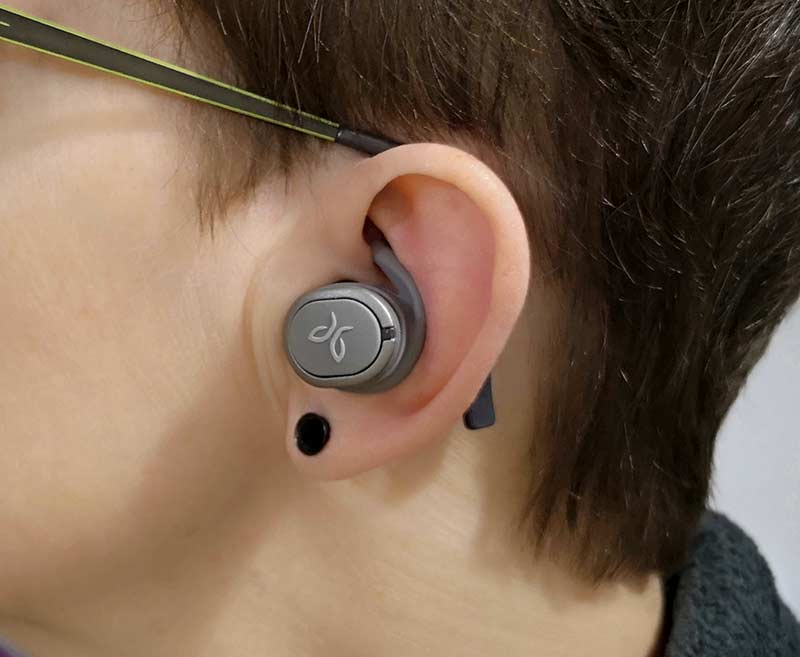 Like all earbuds, fit and comfort is going to depend on the shape of your ears. What I might find comfortable could be very uncomfortable for someone else.
I found the Jaybird RUN XTs to be my third most comfortable earbuds that I've tested in the last few months. I can wear them for an hour or so before I need to remove them to give my ears a rest. I must have really small ears because even with the smallest ear tips and ear fins, I still feel some pressure after a while.
I will say that the earbuds do not fall out of my ears and I was able to work out with them. Keep in mind that I run or jump while working out, but I do move around and have my head down during some exercises, so there is an opportunity for them to fall out if the fit wasn't good.
Speaking of workouts, the Jaybird RUN XTs are IPX7 rated which means that they can be submerged up to 1 meter in water for 30 minutes. So it's safe to say that they are sweatproof and waterproof.
Controls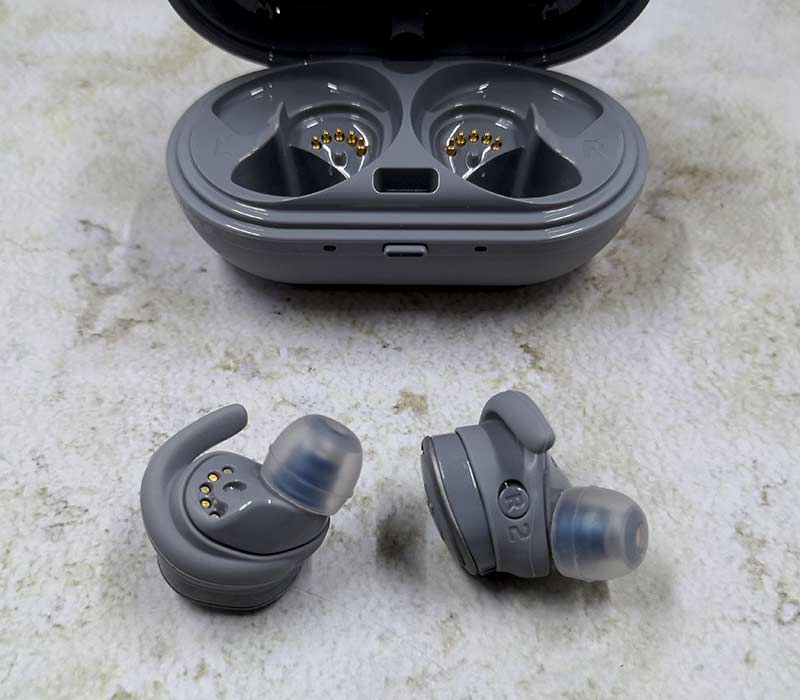 Each RUN XT earbud has one large button on the outside with a small status LED on the edge. It may look like there's a smaller button on the side but that's just the Left/Right earbud "post" that helps position the ear fins.
The button on each earbud has multiple functions which means you'll have to memorize which button does what. For example, pressing the left button will activate Siri or Google assistant while pressing the right button will play/pause music or answer/end a call. Double pressing the right earbud will skip forward in a song or decline a call and holding either button for 3 seconds will power the buds on or off. Holding for 6 seconds will initiate pairing from the off state.
I've never liked physical buttons on earbuds. I always feel like I'm cramming the earbud into my brain when I have to press the buttons.
Sound quality for music and video
If you're just planning to use the Jaybird RUN XT earbuds to listen to streaming music from your phone or laptop, you'll be pretty happy with the sound quality which I would say is above average because you can customize the sound with the Jaybird app. You can choose from a selection of presets or you can create your own to match your favorite style of music.
I like to listen to all types of music from pop to country, R&B, rock, and even some classical now and then. So I was pretty happy with these earbuds.
They do a really good job of isolating you from outside sounds because they fit snugly in your ears. I think that helps with songs that have thumpy bass lines. Some songs I enjoyed testing to with these earbuds include:
Shallow by Lady Gaga and Bradley Cooper
Nothing Breaks Like a Heart by Mark Ronson featuring Miley Cyrus
Without Me by Halsey
Sunflower by Post Malone
Burning Man Dierks Bentley
Listening to music with these wireless earbuds is enjoyable but if you like to watch YouTube, the Jaybird RUN XT earbuds will really annoy you. They have noticeable audio to video sync issues that make you feel like you're watching an old kung fu movie with bad dubbing. I didn't notice this when using the earbuds with Netflix, Amazon Prime Video or Hulu. I asked Jaybird about this and here's the response that I received:
We allow for a small amount of latency when watching video using Jaybird RUN XT. To ensure a premium music and sound experience and to guarantee the left and right earbud are always in sync, we introduce a small latency.
Ummm… ok… That makes no sense to me… Also, a quick Google will bring up results of user complaints about audio/video syncing that go back to the previous version of Jaybird RUN earbuds. Sorry Jaybird, but that's just not cool.
Sound quality for calls
Not much to say here. Using the Jaybird RUN XT earbuds to make and receive calls will be comparable to using other Bluetooth earbuds. Talking with them in your ears will make your voice echo in your head a little bit. Also, the call audio only comes through the right earbud.
Battery life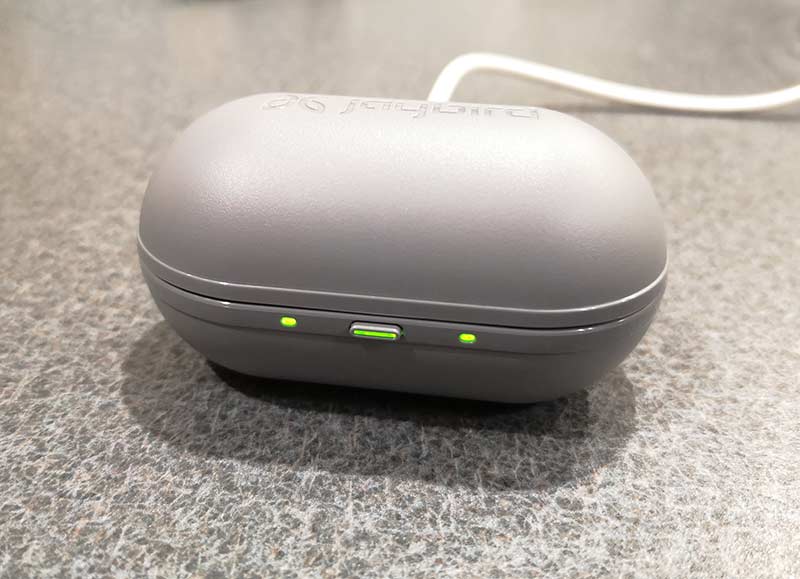 The earbuds will have about 4hrs of play time per full charge and the charging case will provide an additional 8hrs of recharge/play time for a total of 12hrs before you need to recharge the case and buds again.
Removing the earbuds from the case will automatically turn them on and putting them back in the case will turn them off after about 20-30 seconds.
What I like
Sound customization with Jaybird app
Secure fit
Water and sweatproof for epic workouts
What needs to be improved
Youtube audio/video sync lag
Not true TWS. Can't use each earbud by itself without leaving the charging case open
Final thoughts
When it's all said and done the Jaybird RUN XT True Wireless Sport Headphones are not going to become my new favorites. They sound pretty good when listening to music, but the lag while watching YouTube videos kills it for me as does the fact that they aren't TWS as in you can't listen with each one independently. For example, if you open the case, and just put the left earbud in your ear, you can't close the case with the right earbud still in the case. If you do, the Bluetooth connection ends. I also find the RUN XTs to be considerably overpriced. I've been a fan of Jaybird earbuds for a few years, but I'm sorry to say that this pair has been a disappointment.
Price: $179.99
Where to buy: Amazon
Source: The sample for this review was provided by Jaybird.