We use affiliate links. If you buy something through the links on this page, we may earn a commission at no cost to you. Learn more.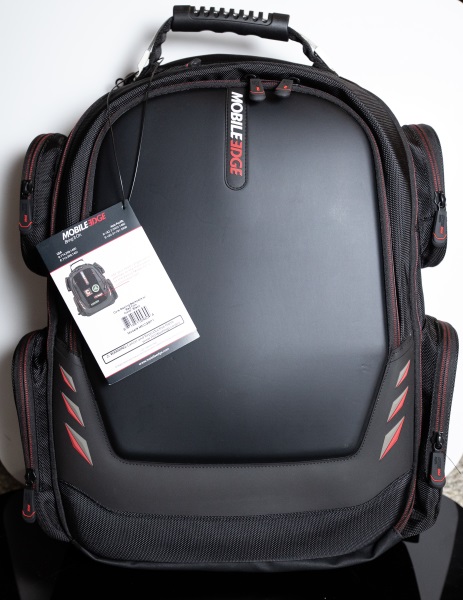 REVIEW – Let me start this review by making it clear that I am not a gamer. However, my EDC gear includes many if not most of the gadgets that a gamer would carry. For that reason, I was very excited to receive the Mobile Edge-Core Gaming Backpack w/Molded Panel for review. So, here we go!!
What is it?
The Mobile Edge-Core Gaming Backpack with a Molded Panel is designed specifically for gamers and will hold most popular models of gaming laptops up to 17 inches, plus accessories. There are three large storage sections and it is has a compartment specifically for a USB power bank or external battery (You have to add your own). The design includes four side accessory pockets and a built-in external USB Port for charging or powering devices. The backpack is constructed from ballistic nylon and includes a molded back panel, a padded carry handle, and a trolley strap.
What's in the box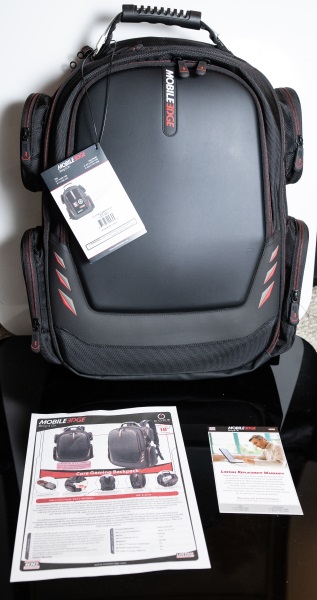 1 x Mobile Edge-Core Gaming Backpack w/Molded Panel 17″
1 x Warranty Info card
1 x Informational Leaflet
Design and features
Features
External USB 3.0 Quick-Charge compatible port and built-in charging cable
Molded Front Panel
Sized to hold most popular models of Gaming Laptops up to 17″
Checkpoint-Friendly design to speed through TSA checkpoints
Constructed of durable ballistic nylon with tailored contrast stitching
Prewired universal power bank pocket for charging items in each section
Three separate sections for a laptop, tablet, keyboard, files, accessories and your personal items
Padded Air-Mesh shoulder straps, and ventilated back panel and trolley strap
Organizer section provides pockets for pens, phone, business cards, keys, cables, and other accessories
Separate poly-fleece lined iPad/Tablet pocket
High-capacity storage compartment holds all your gaming accessories
Four zippered side accessory pockets for cables, gaming mouse, phone, large water bottles, etc.
Lifetime Warranty
Specs:
Product Weight: 4.2 lbs.
Fits Laptops Up To: 17.3″
Product Dimensions (WxHxD): 19.5" x 17" x 9"
Laptop Compartment (WxHxD): 16.4" x 11.5" x 2"
It is important to note that this bag is constructed with Ballistic Nylon, and comes with a lifetime warranty. On the back of the backpack, there are two well-made adjustable shoulder straps with a cross body clasp that has the elasticity to allow for a great fit. The shoulder straps also have loops that allow you to attach small items like a flashlight, etc. The back of the backpack is well padded and molded to provide good air ventilation.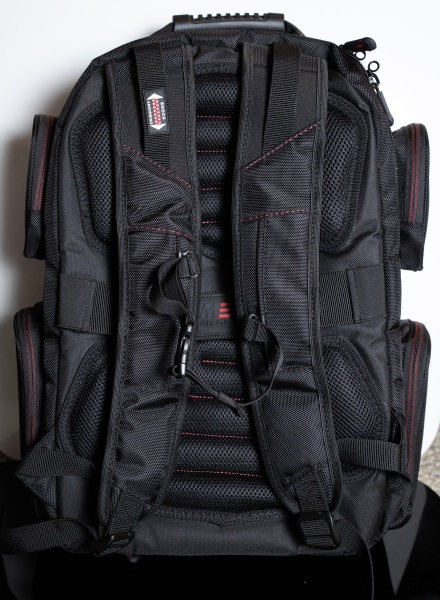 The two pictures below show each side of the backpack that includes upper and lower compartments. The picture on the left shows the side that had the built-in USB charging port.
The picture below on the left shows the bottom side pocket. It is quite large and has a mesh divider in the middle. The picture on the right shows the top pocket which is also quite spacious. As a reminder, these pockets are on both sides of the backpack.
On the back, there is also an elastic strap that goes across from side to side. This is great for attaching the backpack to the handle of a carry-on bag or suitcase.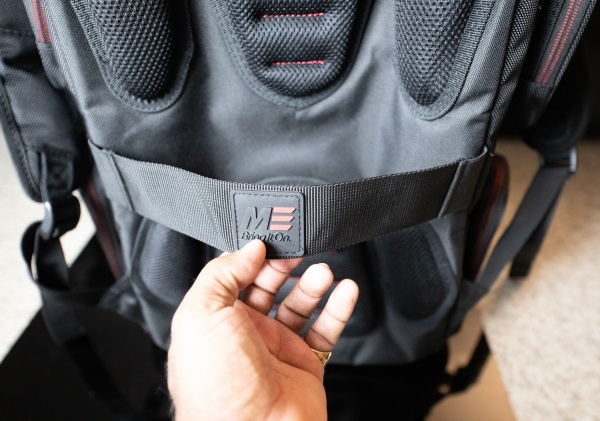 Looking at the inside of the backpack from the back compartment there are 2 pockets. On one side there is a pocket with an elastic strap fastener that holds my 15″ HP laptop, my 13″ MacBook Pro and my 12.9″ iPad all at once. This pocket is designed to hold up to a 17″ laptop. Opposite that there is a mesh pocket also with an elastic strap fastener that I use to store documents, but it is deep enough to hold many accessories.
The picture below shows the handle that is sturdy and well padded.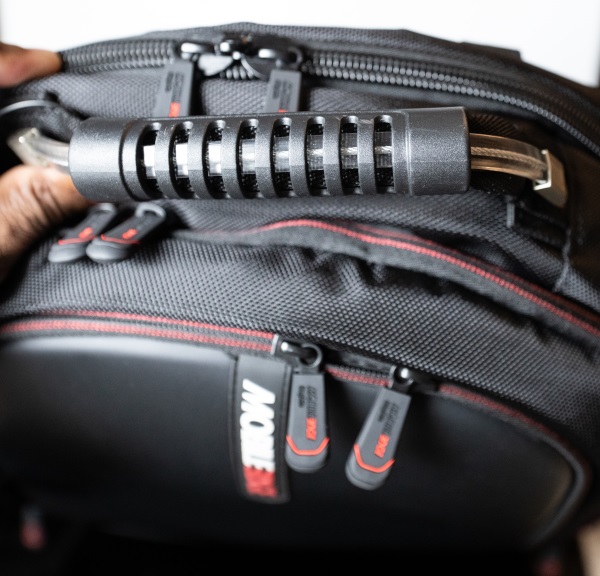 In the middle section of the bag, there are large pockets on each side.
On the front side of one of the pockets where the USB cable passes through, there is another pocket with a smaller pocket on the inside and then a zippered mesh pocket on the outside.
In the front section of the backpack, there are several pockets. As shown in the pictures below, there are pockets for SD cards, business cards, pens, a key ring and a separate pocket for a USB battery pack.
On the bottom of the backpack, there is a zippered pocket that contains a rain cover that is secured by a buckle. As shown below, the rain cover protects the entire exposed area of the bag.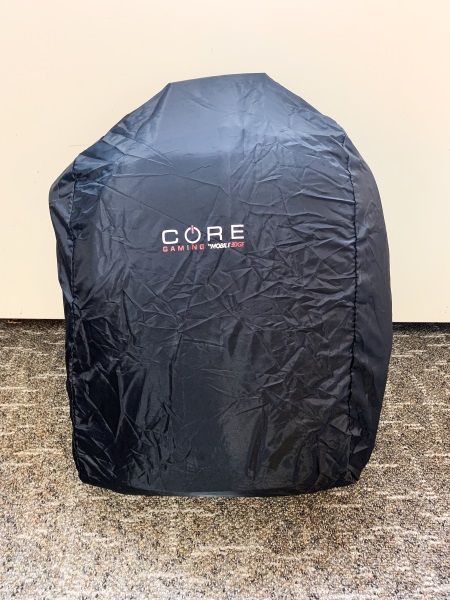 Performance
Just as I suspected, this backpack works well for me. The reinforced molded back panel not only helps to protect the contents but also ensures that the bag sits straight on your back without the weight of the contents causing it to be bottom heavy and disproportionate. The material seems very strong and the stitching seems to be top quality. I say "seems" because time will tell whether or not it stands up to the weight of the contents that I carry every day. I really like the pockets on the side which are big enough to hold a 16-ounce bottle of water and I am able to zip it closed with the bottle of water inside.  I carry 2 bottles of water, one in each pocket. The following is a list of the items that I carry regularly and comfortably in this backpack every day:
1 x 15" HP Laptop with Power Supply
1 x 13" MacBook Pro with Power Supply
1 x 12.9" iPad Pro with Power Supply
1 x USB Portable Battery Pack
2 x 16 oz. Bottles of Water
1 x iStorage DiskAshur Pro2 portable encrypted hard drive
1 x KNZ SoundFlux dual driver wireless headphones
1 x MPOW T5 True Wireless Earbuds
1 x LUX Wireless Earbuds from Ashley Chloe
1 x Shure Wired earbuds
1 x Linedock
1 x Netgear mobile Router with Power Supply
1 x Verizon MiFi with Power Supply
1 x iPhone 8 Plus with Power Supply
Miscellaneous items like pens, USB flash drives, cables (micro USB, USB-C, HDMI)
The picture below shows how the bag sits on your back. it is comfortable and stays straight.
What I like
Construction quality
Versatile design
The numerous compartments and pockets
The Molded external panel
The attractive look
Its ability to sit straight up on your back and provide balanced weight as opposed to allowing all the weight to go to the bottom.
What can be improved
For what it is designed to carry, I cannot think of anything
Final thoughts
This backpack has really lived up to my expectations, and as I previously stated, although I am not a gamer, I carry many similar gadgets and have a similar backpack need. I do feel that it is very well constructed and that it will stand up to my daily abuse. I am also reassured by the lifetime warranty. If you are in the market for a backpack like this, I feel very comfortable recommending this one. As a photographer, I have purchased more bags and backpacks than I can count or remember, and I am very clear that there is no such thing as one bag that fits all. With that in mind, I give this backpack two thumbs up and a well done!!
Price: $129.99
Where to buy: Mobile Edge website and Amazon
Sample: The sample for this review was provided by Mobile Edge.