We use affiliate links. If you buy something through the links on this page, we may earn a commission at no cost to you. Learn more.
REVIEW – They thought of everything. That was my first impression when I started testing the Keysmart Urban 21 Commuter Backpack. If your daily carry involves a lot of travel and tech, this bag has just about every feature you could ask for wrapped up in a slick looking contemporary package. There's a whole lot to like with this one. To the review!
What is it?
It's a 21 liter commuter pack for the office warrior, with organization and features that go on for days. It's also designed to work with additional accessories.
Hardware specs
21 liter capacity
Grey Ripstop 4000D Nylon exterior
Anti-theft pockets with RFID blocking
Pass-through for a suitcase handle
21.65" by 11.4"
Fits up to a 15" laptop
Waterproof front pockets
Design and Features
I don't recall the last time I reviewed a bag with this many features. We have a lot to cover, so bear with me as we go through all the details!
Great looks and a killer build
The KeySmart Urban 21 Commuter's compact, angular design language gives it a very contemporary (and highly technical) look. A grey textured primary material is offset by black elements and red accents, providing some style without taking away from the contemporary look of the bag.
The construction of this bag is outrageously good. Seriously. Check out the beefy main zip, padded grab handle, and ring-style reinforced zipper pulls. I don't recall seeing zip pulls like this before: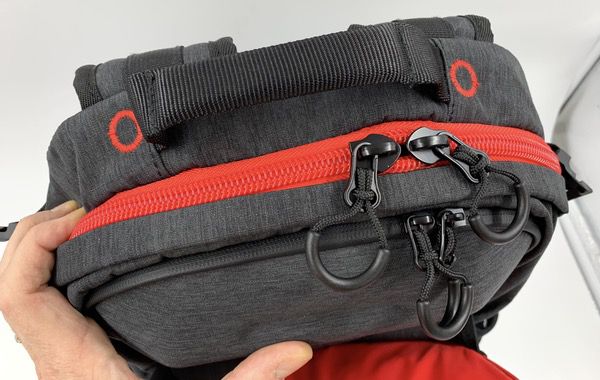 All stress points use something Keysmart call Parafinity stiching. It's essentially a circular stitch pattern that is intended to provide more strength and durability: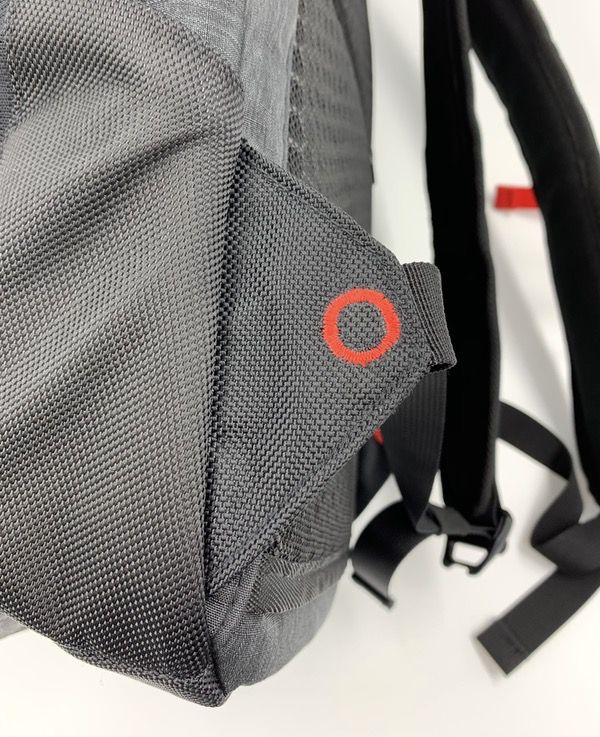 Here's a closeup to show some of the angular finishing used to emphasize the contemporary style. The material itself is Ripstop 4000D nylon and provides water resistance in addition to durability.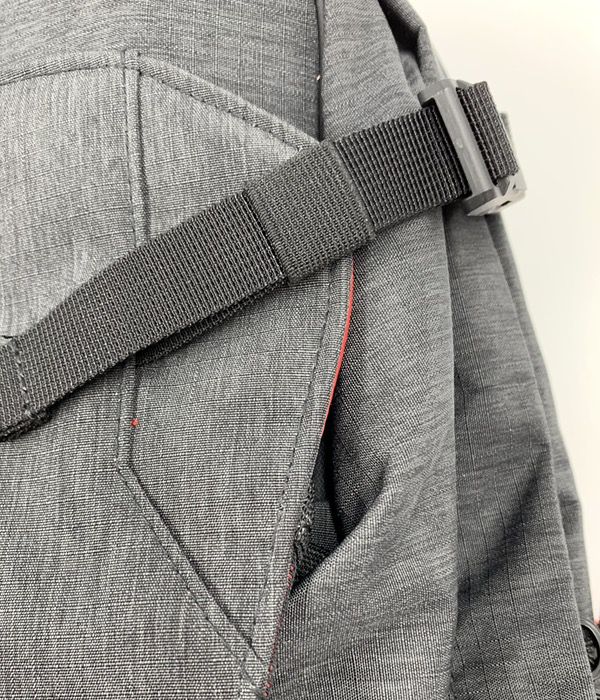 And did I mention the Fidlock buckles? Fidlock is one of my favorite closure systems. It employs magnets to facilitate a "slide and snap" system that is quick to connect, stays locked, but is quick to remove. Fidlock is good. Fidlock makes us happy.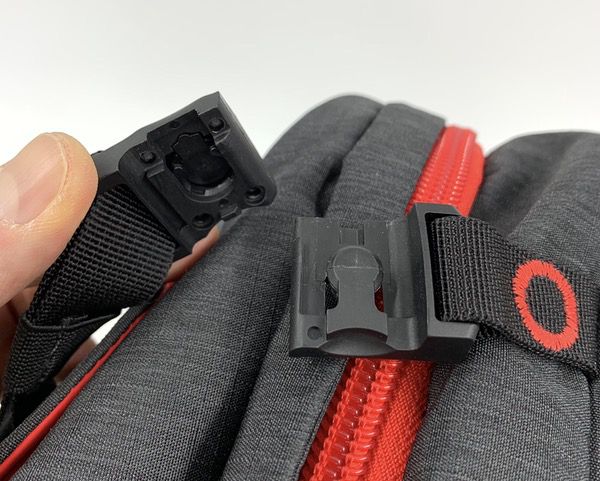 Every strap on the bag includes a matching fabric locking collar to corral that extra material. I really, REALLY wish more bag makers would do this. It keeps your bag tidy and keeps those loose bits of strapping from getting caught in bad places.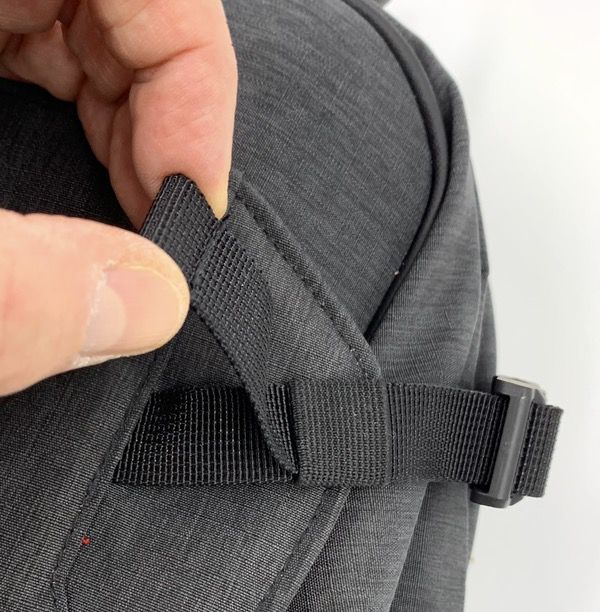 Here's a closeup of the layered fabric work in the shoulder straps. That hexagonal pattern is the back pad, and it's designed for breathability and comfort.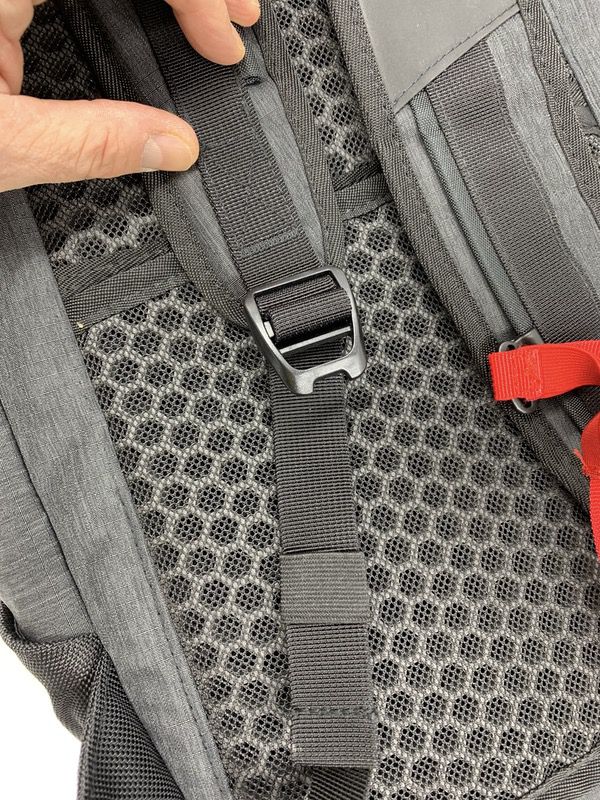 In my opinion, the construction work on the Urban 21 Commuter Pack is right up there with some of the industry leaders like Mission Workshop, Tom Bihn, and Red Oxx. This one is definitely in the "buy it for life" category.
Pockets, spaces, and features galore
Things start to get really interesting when you look at the layout. The spaces are arranged in layers that overlap to maintain a tight, sleek profile. It's almost like an origami puzzle as you start digging into the bag that makes the most of every square inch of space. And features abound as you explore each pocket and corner.
Take the side pockets for example. You've got one on either side, which is great for providing options to stash water bottle, sunglasses, and umbrellas. But check out how they wrap around the sides and tuck in under the front flap: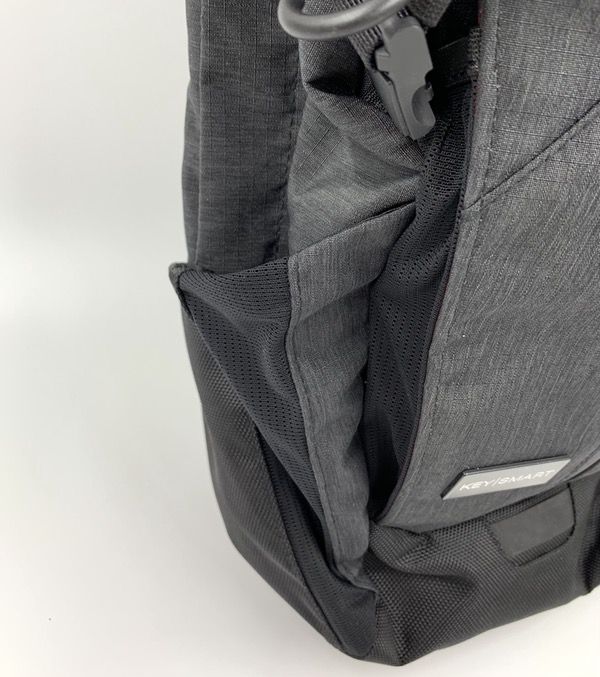 See that little detail? That means that they disappear when not in use while expanding to take even larger hydration bottles. That's my big ol' Tervis 24 ounce mug in that side pocket. I can carry one on each side if I want without interfering with the main compartments. Nice.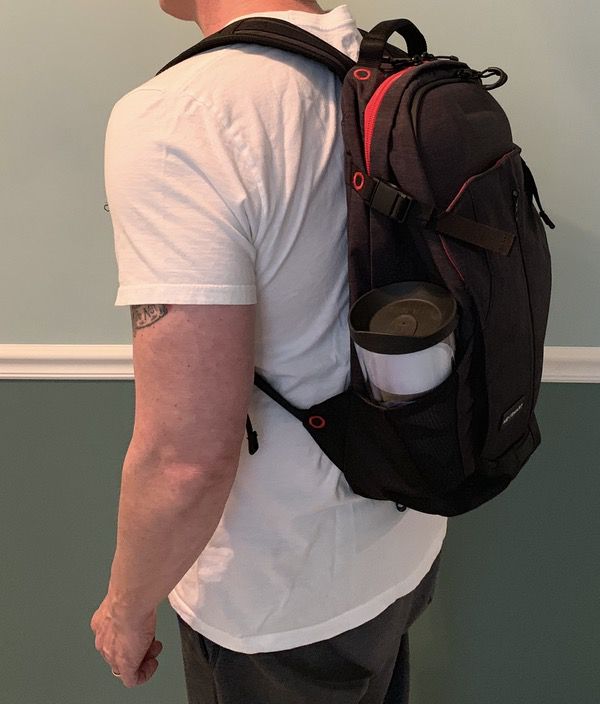 The face of the bag is built around a large open pocket, designed to collect the assorted flotsam and jetsam you're tossing about during the day. It's got elastic sides so it will expand to handle larger items. Throw your notebook and tablet in there while you dash to meetings or that big hydration bottle. Maybe you grabbed a sandwich on the run. It doesn't matter. This pocket happily swallows all of it and expands as needed.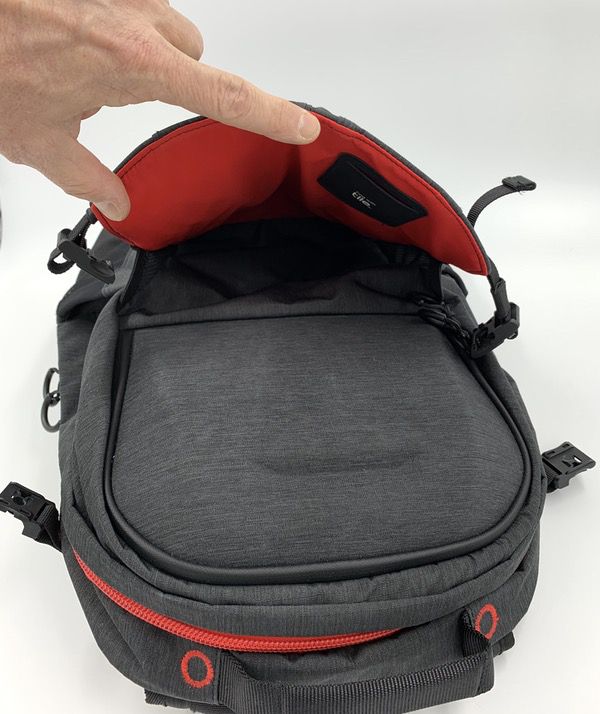 And see that little pocket on the inside flap? That's for your Tile tracker if you want to keep tabs on where your bag is roaming.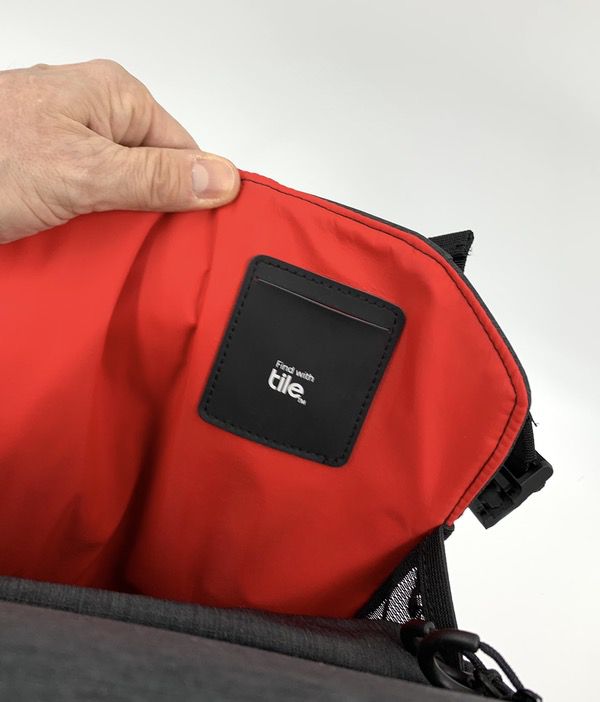 It's important to note that this outer pocket doesn't have a hood, so you won't want to have delicate stuff stashed here in a downpour unless you buy the optional rain cover (not shown). But don't fret! There's a big pocket on the front face of the pocket that is, in fact, waterproof. It is accessed by a vertical zipper, and runs the width and length of the front flap: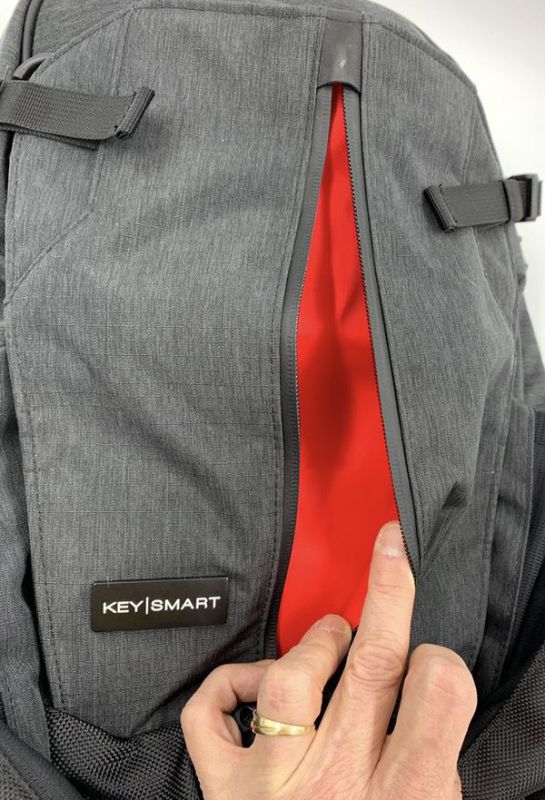 A pair of adjustable straps run from the rear panel to the front pocket. These straps allow you to cinch down the bag for streamlined carry while locking down access to the main compartments. These straps use those Fidlock buckles we saw earlier. You'll want to pop these loose to get into the other bag compartments, but the good news is that they make it tough for wandering hands to get to your stuff.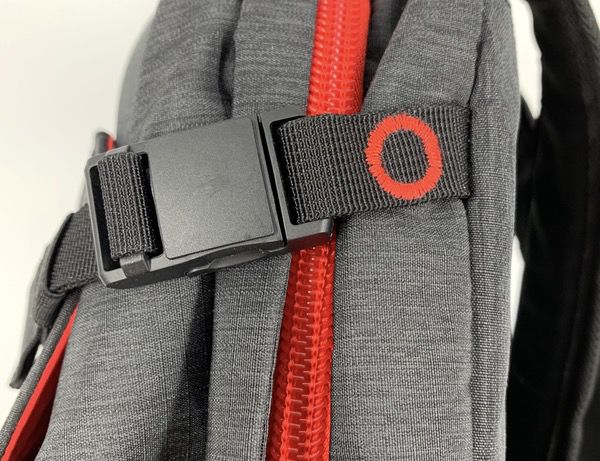 The hard shell external compartment is one of the key features of the Urban 21 Commuter. Accessed from the exterior by dual zips, this compartment is waterproof and shockproof. Pop those side straps to reveal this compartment behind the front pocket: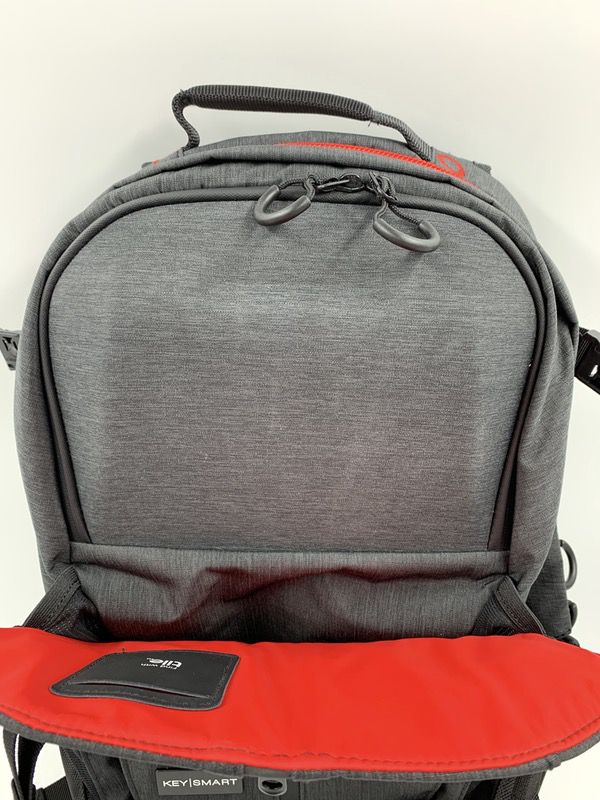 Dual zips secure the clamshell-style opening, which reveals a multipurpose organizer panel. It's lined with soft-touch materials to prevent scratching delicate electronics or sunglasses and uses RFID blocking materials to keep items like credit cards secure. You'll also find a dedicated pocket here for your Keysmart (more on that below). There's a larger pocket behind the organizer panel that closes with a magnetic snap and a pass-through port for charging your phone. It's basically a built-in hardshell case in your bag. The zips are tight and can take some wrestling to loosen up over time.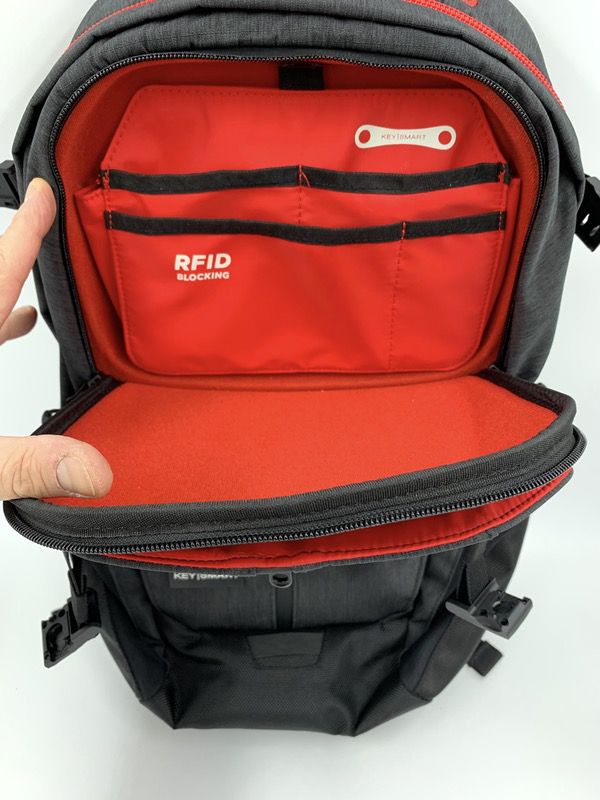 The main compartment sits behind this rig and is accessible by dual zippers. You'll find a padded pouch here sized for 15" laptops, fronted by a tablet pouch. There's a clip-on attachment loop on the back panel of the bag as well as a velcro tab on the face of the tablet pouch. These can be used for adding accessories designed for the Urban 21 or your own gear.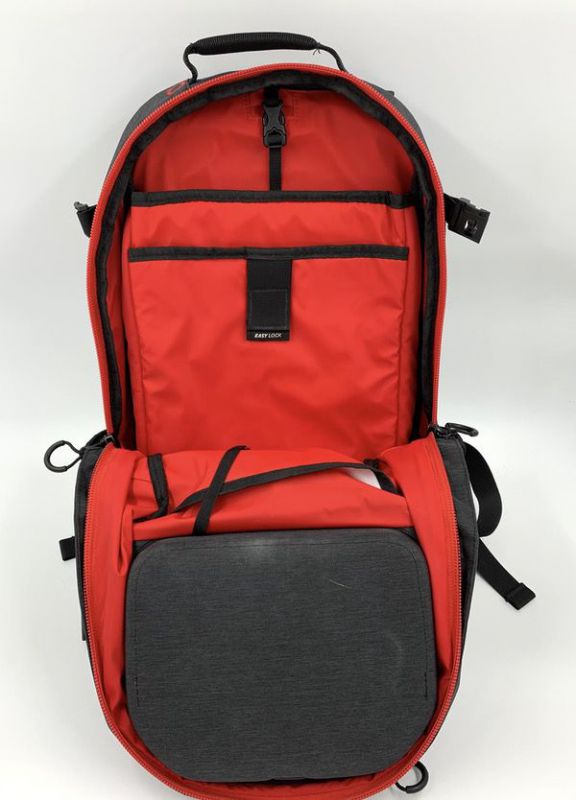 The front face of the main compartment features a key leash and a strap pocket below the hardshell case for extra stash organization. Note that the hardshell case, laptop pocket, and tablet pocket do take up quite a bit of room in the main compartment. You still have a 4″ deep space for any extra stuff you want to stash in there.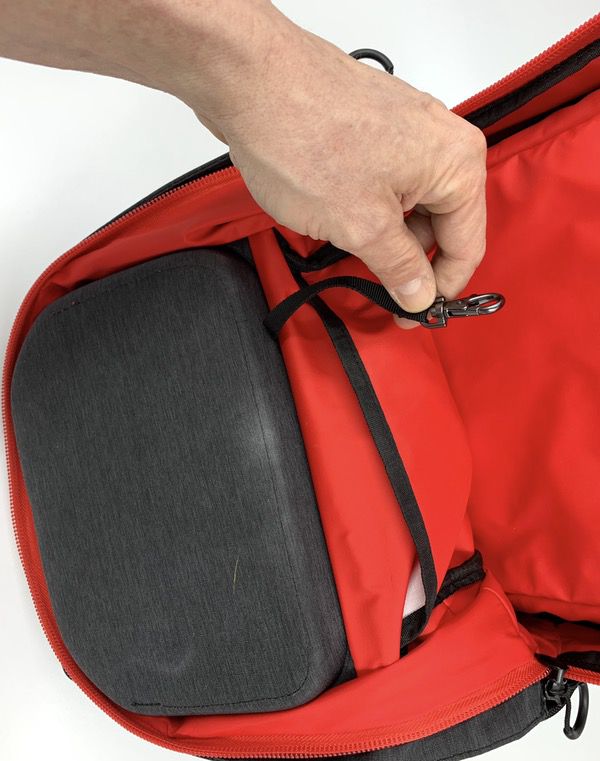 Comfortable, compact carry for commuting and travel
The Keysmart Urban 21 Commuter Pack is ideal for those that are on the move. The compact size is great for maneuvering through crowded spaces and will fit under airline seats. That's all made even better by the carry system, which takes a lot of queues from cycling-style bags. You've got all of your usual strapping and adjustments to dial in the perfect fit: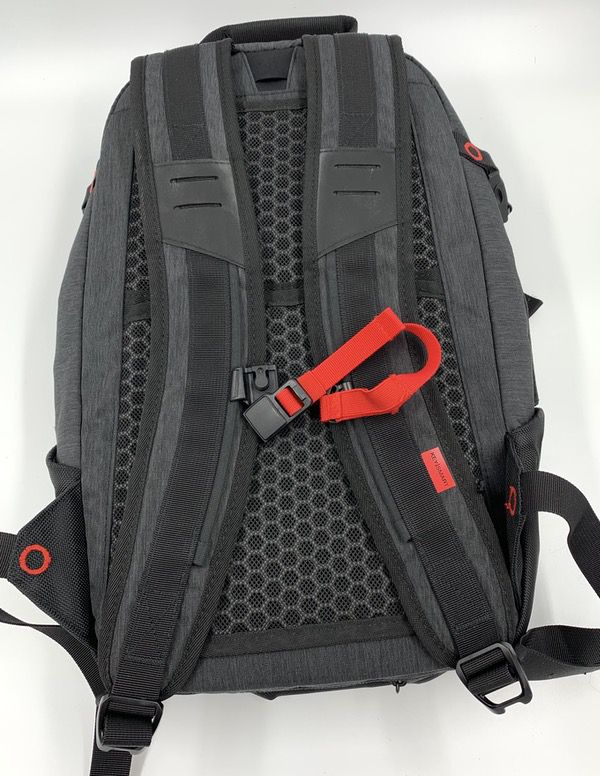 A sternum strap keeps things stable; there's no hip strap, but I don't think you need one on a bag of this size. Another Fidlock buckle is used for the sternum strap. That hex-patterned back panel padding is ridiculously comfortable and breathable, minimizing the dreaded back sweat.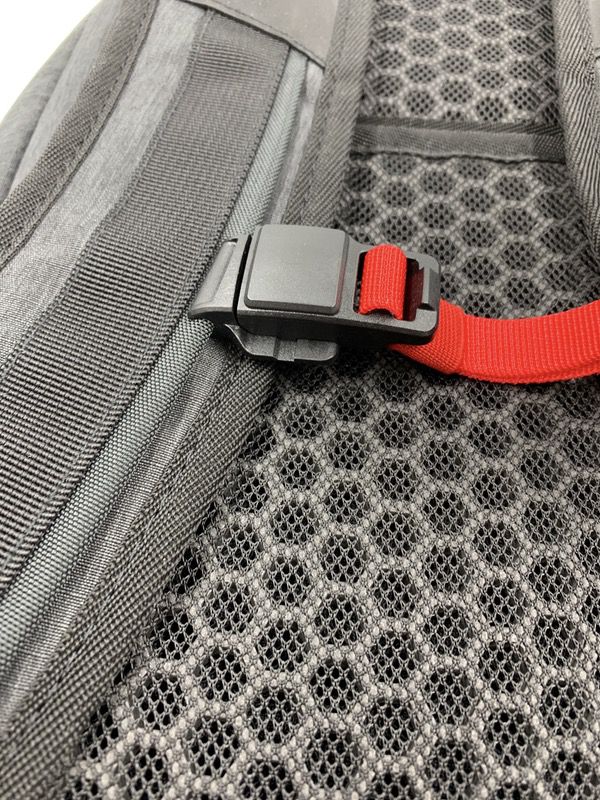 There's a pass-through slot on the lower back panel for sliding over your luggage handle, which is always an appreciated feature: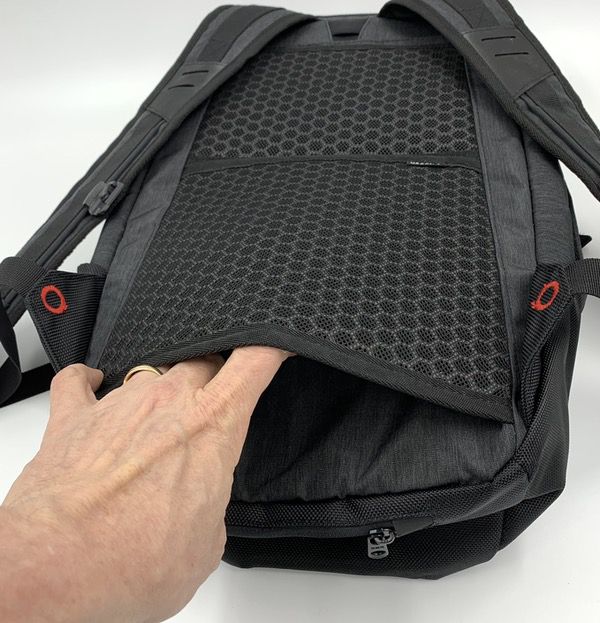 The pack also has a rigid rear panel behind the padding. This means that the bag maintains a consistent shape against your back, and you don't get poked with odd-shaped items. Check out the pictures below to see how the bag naturally rides in the perfect spot and stays tight against my frame.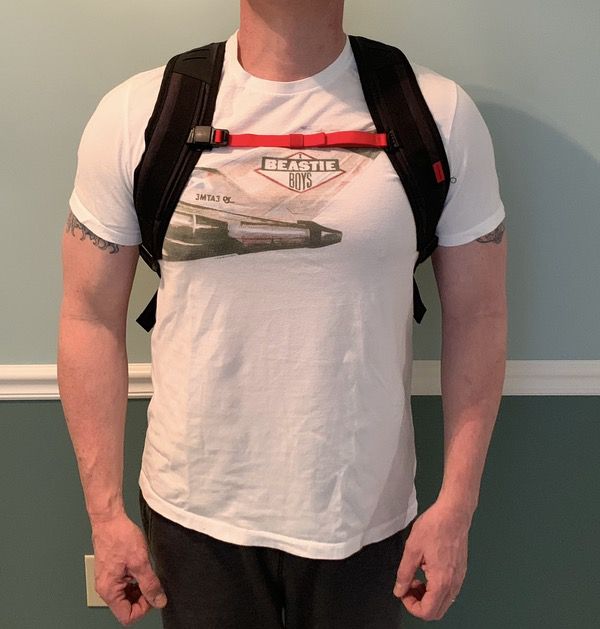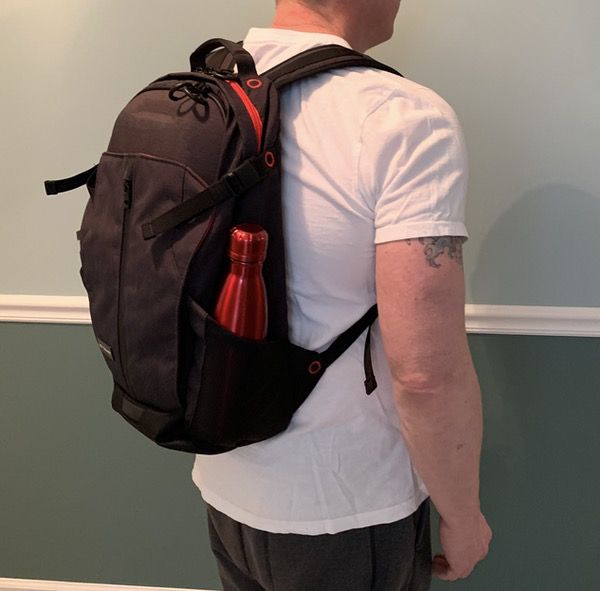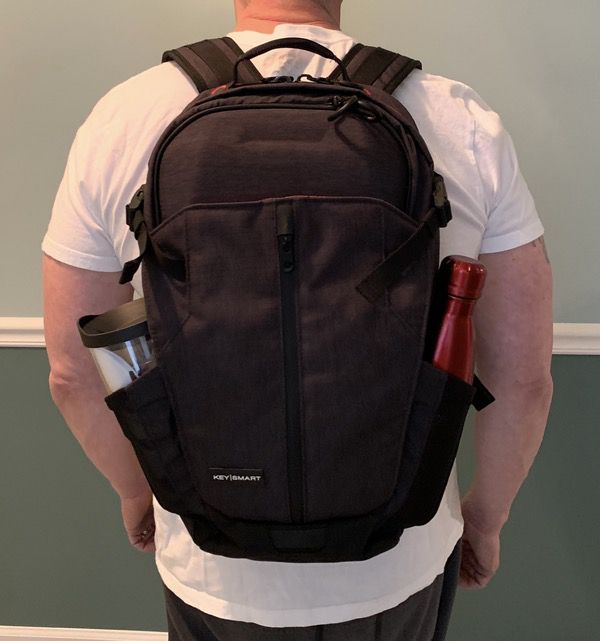 This might be the most comfortable pack I've ever used. Seriously. I could haul this sucker through airports and train stations all day long.
And even more features!
And we're not even done with features. There are a few more Easter Eggs to share.
I mentioned the Tile pocket. The hard shell compartment also has a pocket custom-made to store your Keysmart. What's a Keysmart? Think of it like a multitool that organizes all of your keys. It's also wired with Tile technology to connect to your smartphone for easy location of your Keysmart, your bag, or your phone if that goes missing. Read more about it here.
You'll also find two additional hidden security pockets on this bag. One is hidden behind the top back panel, with a zipper that is specifically designed to be hard to locate. I'd use this for travel documents if I am on the road: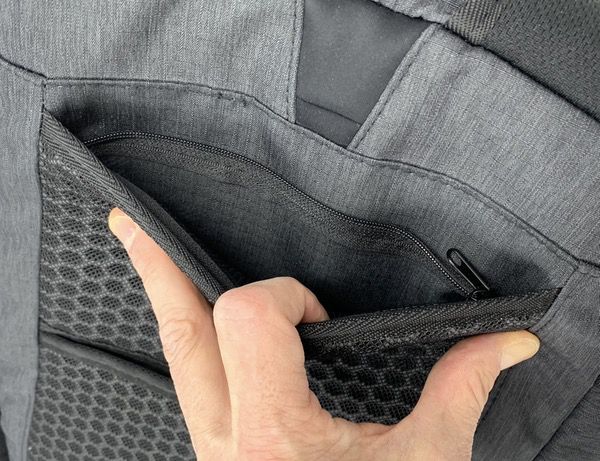 The other secret pocket is on the base of the bag. This has a tether in it for an optional rain cover, but also serves as a place to stash whatever you like: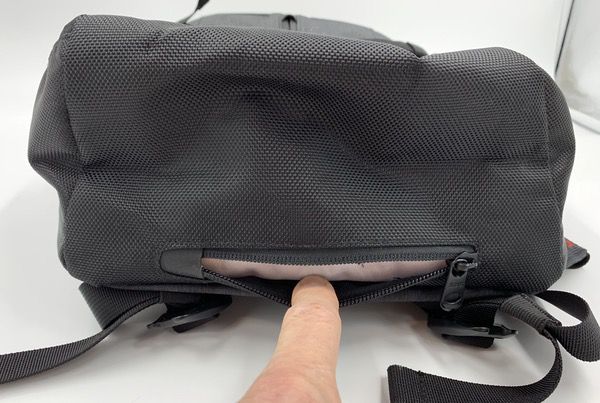 Finally Keysmart offers several accessories that are made specifically for this bag including the chest strap, a water bottle, a rain cover, a pocket organizer, a grid organizer, and a portable charger. You can buy these options in bundles along with the bag, or purchase individual accessories separately.
Some notes on performance
This bag has quickly become one of my favorite bags for the daily commute. The combination of features and organization is just tough to beat in such a compact & professional looking package. It's perfect for hauling all of your tech, beverage tumblers, and assorted gear to and from the office. I really can't think of a single feature that it's missing.
The hardshell case is one of the highlights of the bag, but it also creates some minor user challenges. Those zips are super tight to ensure security and a watertight seal, so sometimes they take some work to open. That hardshell case also takes away a bit of space from the main compartment, so you have to work around it to pack the bag or to get stuff out. It's a tradeoff given the compact nature of the bag but can make getting into the depths of the spaces tricky. You'll find plenty of room in there for extras (like a packed lunch or coffee gear) with careful packing.
That hardshell case placement also necessitated dropping the key leash to the bottom of the main compartment, which isn't particularly convenient. I'd prefer to see it in the pocket on the front of the bag for easy access during daily use. But if you're traveling, you'll appreciate it. You can hang your keys there and forget about them until you return to your car, knowing that they are securely stored.
Speaking of security, I do love the little extras like hidden compartments, RFID-blocking materials, and a design that generally makes it hard for wandering hands to get into your bag. It may mean some extra work to get to things at my destination, but there are really only two areas (the two front pockets) that are at high risk.
What I like
2 water bottle holders
Multiple secure locations for valuables
Supremely comfortable carry
Top-notch construction
Perfect size for the daily commute or as a travel carry-on
Excellent travel-friendly features
What needs to be improved
Placement of the hardshell case makes for a tight squeeze in the main compartment
Key leash placement isn't ideal
The open front pocket isn't made for weather; the optional rain cover accessory is a worthwhile investment
Final thoughts
To my knowledge, this is Keysmart's first foray into carry products, and they're not fooling around. The Urban 21 Commuter Backpack is an all-around champ for the daily commute with just about every feature you could want or ask for. Road warriors will love this bag even more for the extra travel-friendly features and security enhancements. The compact size and ridiculously comfortable carry setup make for a bag that's easy to live with all day long. While the retail price is north of $200 I think that Keysmart has done their homework in designing a bag that has the quality, usability, and feature set that makes it a solid long-term investment.
I did not test them for this review, but I also think the accessories are worth a look. They're all reasonably priced and designed to fit in the bag using existing attachment points. I'd definitely buy the rain cover, and consider either the pocket organizer or grid organizer as an extra admin panel if I had a lot of additional bits to carry about. You can check them out on the Urban 21 product page.
All in all, this bag has taken the top spot as my favorite daily driver. I'll keep you updated as I continue to use it!
Updates 03/12/19
I still love this bag for hyper-organized commuting and travel security. It really does have just about every feature you could think of. But that built-in hardshell case really impedes on the main compartment, making it hard to accommodate larger items. If you're running lean & mean, you'll be very happy with this bag.
Price: $239.99. Accessories start at $14.99, and can be purchased individually or in packages along with the bag.
Where to buy: Buy it at the Keysmart web site, or on Amazon.
Source: The sample of this product was provided by Keysmart.