The Gadgeteer is supported by readers like you! If you buy something through links on our site, we may earn an affiliate commission. Thank you! Learn more.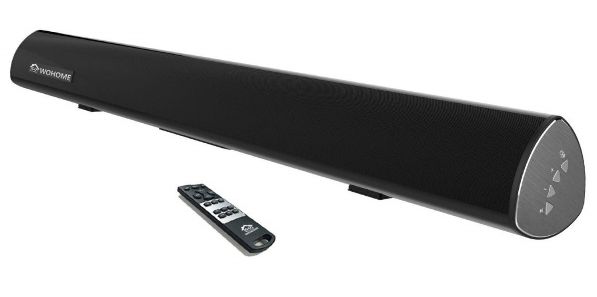 REVIEW – Watching movies and listening to music are two things that I do frequently and as much as a few times weekly when I have some time to relax and unwind. Even when just watching television, I like to have the experience include nice clear and defined audio. These days, there is a multitude of soundbars on the market and they all seem to tout their features as better than the others hoping for a bigger share of consumer interest and purchases. One such entry into this crowded market is the Wohome S9920 Soundbar. Here is the summary of my review.
What is it?
The Wohome S9920 is a 2 channel system soundbar that is 40 inches long that can produce up to 80 Watts of audio output from 6 built-in drivers. It offers several connectivity options along with a remote control for convenience. It is also wall mountable.
What's in the box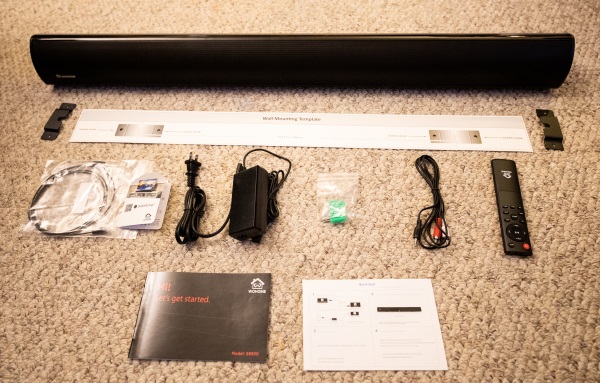 1 x Wohome S9920 Soundbar
1 x Wall Mounting Template
2 x Wall Mounting Brackets
1 x AC Power Adapter
1 x Remote Control
1 x Optical Audio Cable
1 x 1/8" to RCA Audio Cable
2 x Wall Anchors and Screws
1 x Quick User Guide
1 x User Manual
1 x Satisfaction Contact Card
Design and features
Specifications:
Input: Bluetooth, AUX in, 3.5mm in, USB, optical, coaxial
Distortion: <1%
Frequency response: 40HZ-20K HZ
Speakers: 4*15W full Range+2*10W Tweeters
Audio: 3D Surround Sound System: designed with DSP Technology
Output: 80W
STN: ≥105dB
Input power: DC 19V, 3.4A
Channels: 2
Dimensions: 4.0 x 4.1 x 39.7 in
On the back of this sleek 40-inch soundbar, there is a wall mount hanger on each side that allows you to mount it to a wall using the included hardware and template to accurately drill the mounting holes accurately.


Also on the back of the soundbar, there are the connectivity options. As shown in the picture below from left to right, the connections are the optical port, the coaxial input jack, the left and right RCA input jacks, the auxiliary input port, a USB port, the power port, and the on/off switch.


On one side of the soundbar, there are control buttons that allow you to manually turn the power on or off, raise or lower the volume and pause or play the sound. The power button also shares the mute function.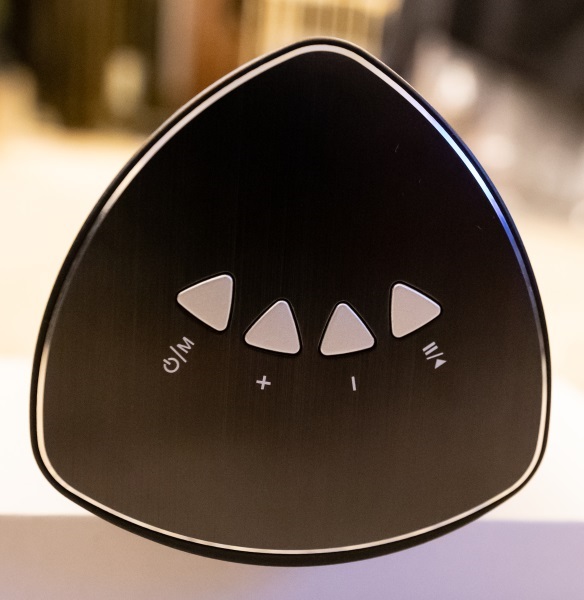 On the front of the soundbar, there is a LED that is red when the power switch is on but the audio is turned off either via the manual button on the side or by the remote, and blue when the audio power is turned on.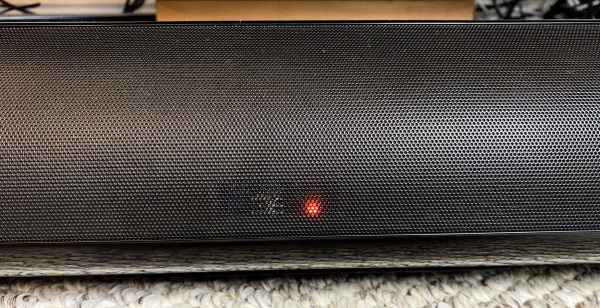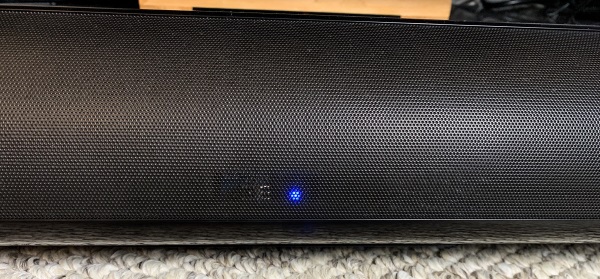 Performance
Once I removed the soundbar from the box, setup was very easy. I decided not to mount it on a wall, but rather I choose to rest in on one of the shelves of my TV stand. Once I connected the AC adapter and the optical cable, it was ready to go. I powered it on and it immediately worked. I already had a soundbar that was connected via the optical connection, so I just had to swap the optical cable to this one. There was no additional configuration needed. After testing the optical connectivity, I then tested via the auxiliary port by connecting to the 3.5mm audio output port on my BenQ projector. Again, it worked like a charm. I was also able to test using the 3.5mm to RCA cable via the RCA inputs since my projector has the 3.5mm audio output. It worked with no issues. My plan is to use this soundbar dedicated to my projector and it passed all of my requirements with the exception of what I deem to be a major flaw that stops it from being a completely versatile soundbar. There is no output port to connect a subwoofer. This is not a deal breaker for listening to music, but a bigger deal when watching movies, and especially movies that take advantage of low frequencies for their special effects. In my opinion, the lack of this option was a big miss and a lost opportunity to appeal to a larger consumer base.
The option of using the USB port works by inserting a USB drive with music on it. I am not sure if all types of music files will play, but .mp4 files do. This feature may appeal to some, but with streaming or network drives being commonly used these days, I don't have much use for it.
I do use this Wohome soundbar every evening when I play my Contemporary Jazz via Pandora as a part of my relaxation and bedtime wind down. I love the Bluetooth capability that paired very easily and works flawlessly. The sound and frequency separation are adequate both for television and music, and there is no discernable distortion even at the maximum volume. The lows, mids, and highs are well balanced and provide a pleasant listening experience, and for movies, the 3D and surround sound features work as expected. The soundbar is not exceptionally loud, but very adequate for my 240 square foot room. Despite the lack of the option to add on a subwoofer, it is adequate for relaxation music and works well for a genre like jazz.
What I like
The sound
The Bluetooth connectivity
The sleek look and finish
The ease of operation
The variety of connectivity options
What can be improved
The ability to connect a subwoofer should be included
Batteries for the remote should be included
Final thoughts
The Wohome S9920 Soundbar has filled a desired need of mine to have a dedicated soundbar for use with my projector. In that capacity, it works well but loses big points for not having a subwoofer output. I also use it almost every night at bedtime to listen to my Contemporary Jazz as I drift off to sleep and it fits that role perfectly both in function and in audio capability. It is a good deal for the price, and if you do not want or need to connect a subwoofer, it is a winner. For folks like me, it gets a well done but could be better!!
Price: $109.98
Where to buy: Amazon
Source: The sample for this review was provided by Wohome.
Support The Gadgeteer
:
The Gadgeteer is supported by readers like you! If you buy something through the links on our site, we may earn a small affiliate commission. Thank you! Learn more.