We use affiliate links. If you buy something through the links on this page, we may earn a commission at no cost to you. Learn more.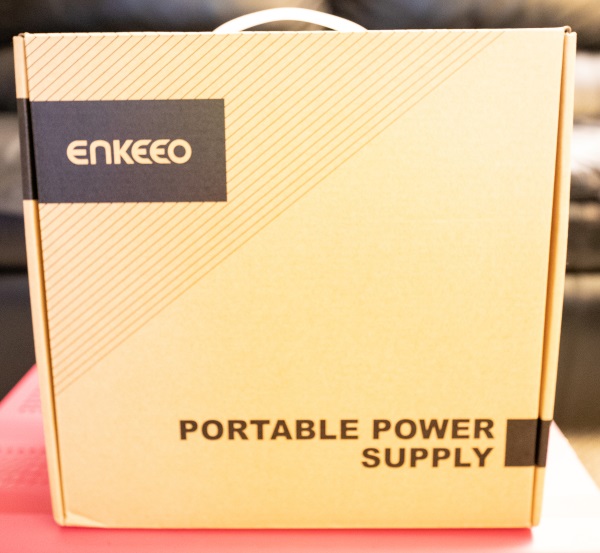 REVIEW – As a photographer/videographer, when shooting at various locations, I am always in need of power for charging or powering accessories, especially so when at remote locations. For a very long time, I have been carrying at least six different portable battery packs on every shoot to make sure that most of my power demands are met. The additional challenge has been to find a portable solution for powering some of my strobe flashes when mobile. There are some strobe flashes that come with a built-in battery, but they are relatively expensive and the built-in battery does not have built-in ports to add any versatility or additional external charging options. The Enkeeo portable power station may have enough versatility and power to handle a major part of my power needs. Let's put it to the test.
What is it?
The Enkeeo Portable Power station is a portable power supply that has a built-in 155Wh (equivalent 42000mAh) battery to provide power to multiple devices via various power ports. The built-in ports are AC/DC/QC3.0 USB OUTPUTS: built with 2 x AC outlet (max 100W); 2 x DC port (12V/10A, max 15A); 1 x USB QC3.0 (4-9V/2.1A) and 2 USB ports (5V/2A). It is capable of charging laptops, phones, cameras, fans, other electronic gadgets, and powering some small appliances.
What's in the box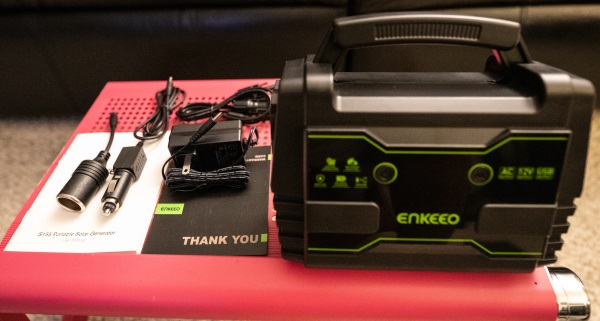 1 x S155 ENKEEO power station
1 x 15V/2A power adapter
1 x Car charger
1 x Cigarette lighter adapter
1 x Cable to transfer MC4 to DC35135
1 x User manual
1 x Informational Card
Design and features
Features
Multiple safety protection
2 AC ports & 2 DC ports
3 USB ports (includes 1 QC3.0)
Solar panels supported
Large LED Status Display screen
On the front of the Enkeeo Power Station, there are 2 buttons for status checks. The button on the left allows you to check the battery status and the USB output. The button on the right checks the AC output. There is an LED display in the middle that provides the information.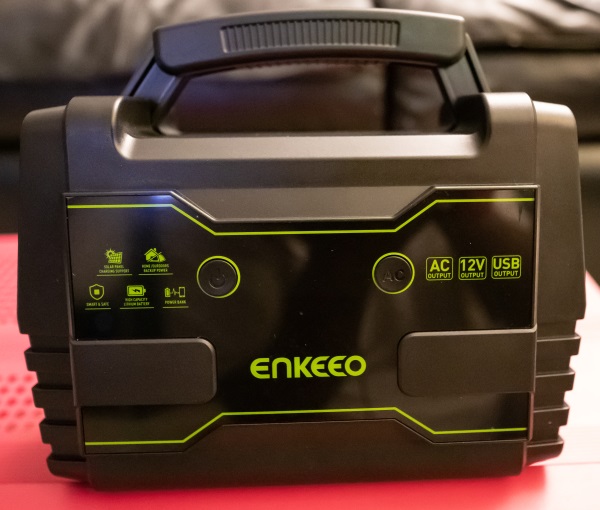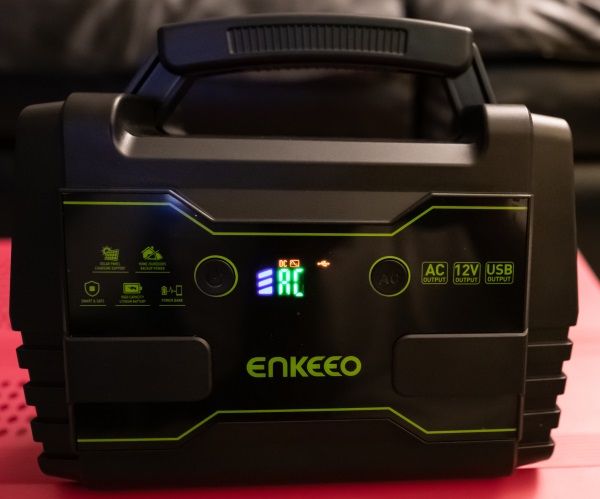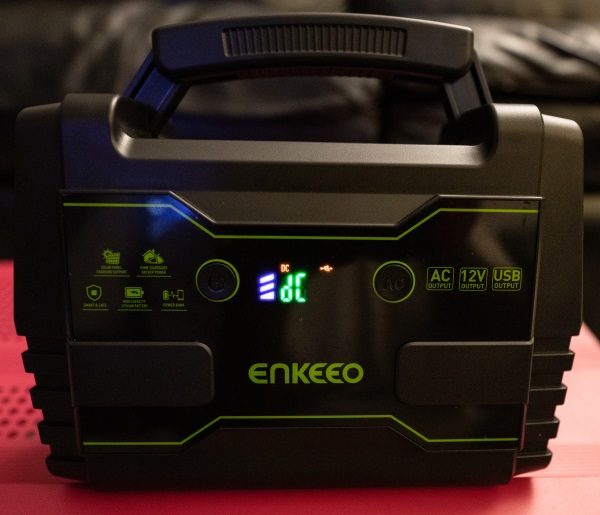 On one of the narrow sides of the power station, there are the power ports as illustrated below.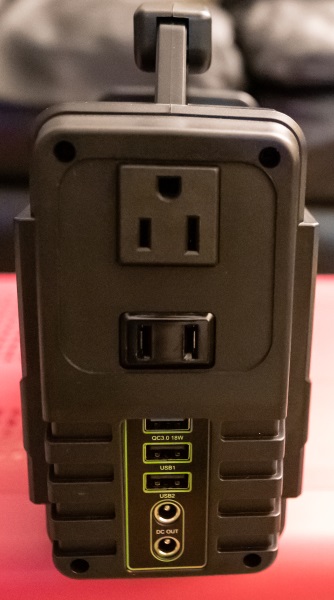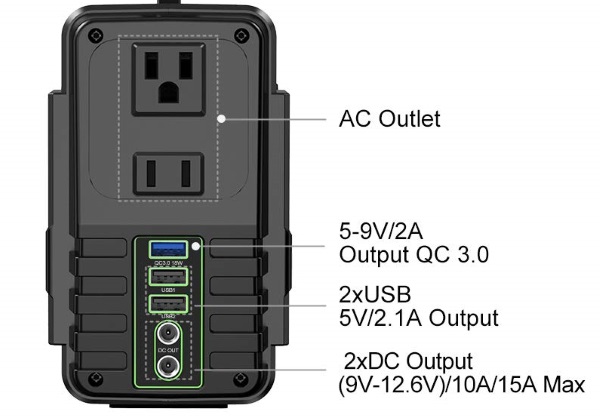 On the opposite side, there is a flashlight, the flashlight switch (long press the switch for 3 seconds to turn it on, you can switch between normal light, blink, and SOS mode with one click), and the DC Input Charging port.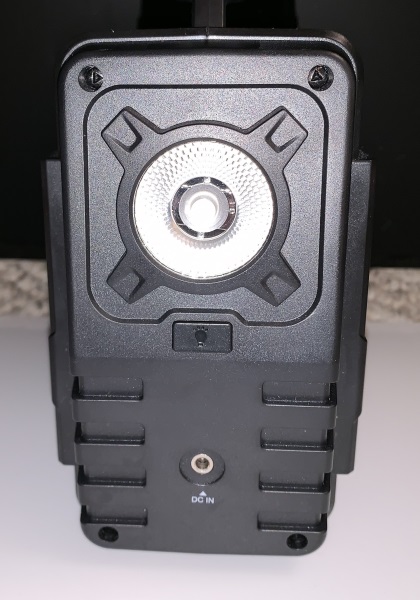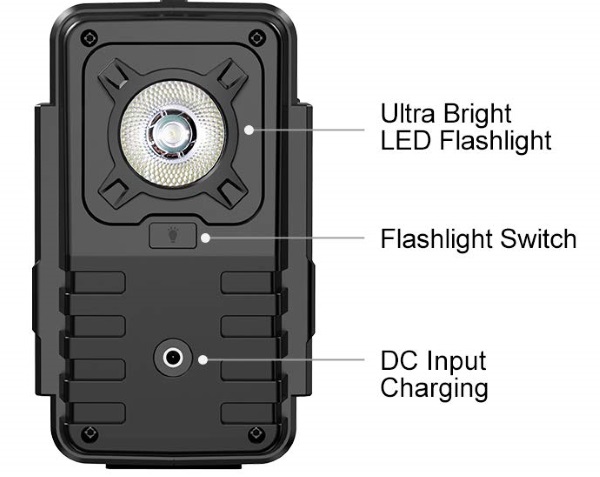 Performance
The Enkeeo Portable Power Station performs well as a power supply and charging device. I have used it to power my streaming encoder device while charging other accessories and powering small Blackmagicdesign converter boxes. It works quite well, and with its 42000mah capacity battery, its charge lasts a long time. While the capacity time depends on what you are charging and/or powering, even with a laptop plugged in it is good to go for more hours at a time than I am able to use it for. I did test it with devices requiring more than the 100W which is more than its AC output is capable of, and each time that was a non-starter. It is also important to note that the 100W AC power if cumulative for the 2 AC ports.
What I like
The number of ports and powering options
Its ability to be recharged via solar panels
The battery capacity
The compact size and that it is lightweight
What can be improved
The build quality (Its all-plastic construction raises concerns about its durability and ability to withstand any real daily abuse)
Final thoughts
This portable power station works great for charging devices like laptops and phones and most other portable and rechargeable devices. It also works well to power my streaming encoder device and, while I may hardly use it, the built-in flashlight is a plus. I was hoping that I would be able to use this power station to power my flash strobes, but all of my strobes are rated over the 100 watts that the Enkeeo provides via its AC ports, so it is back to the drawing board for that. I also do not like that the Enkeeo is constructed of all plastic and I am concerned about its ability to stand up to the daily abuse that is an inherent part of on-location shoots. Otherwise, it is a good power station and in my opinion, it is worth the price.
Price: $119.99
Where to buy: Amazon and Enkeeo
Sample: The sample for this review was provided by Enkeeo