We use affiliate links. If you buy something through the links on this page, we may earn a commission at no cost to you. Learn more.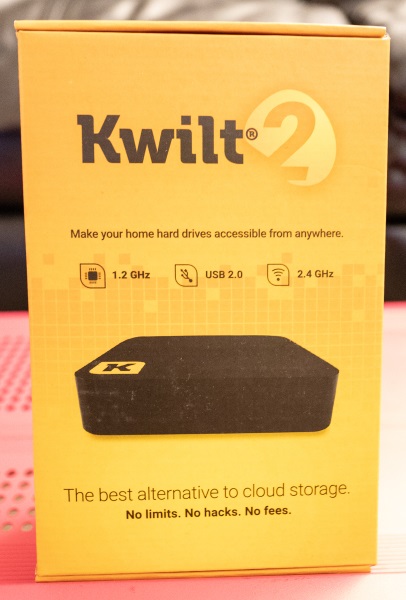 REVIEW – Early in 2018, I got the opportunity to test the first Kwilt cloud device called the Kwilt Shoebox Mini that is primarily designed for storage of photos from your mobile device or other devices and access anywhere in the world. I really enjoyed it and jumped at the chance I received to test and review the 2nd version, the Kwilt Shoebox Plus. Now I have found myself in the great position of being able to review a new version called the Kwilt2. So, let's get started.
What is it?
The Kwilt2 allows you to transfer/backup your photos and videos from your phone or tablet, and to have access to them and any other media attached to the shoebox from anywhere in the world and at any time, as long as you have internet access.
What's in the box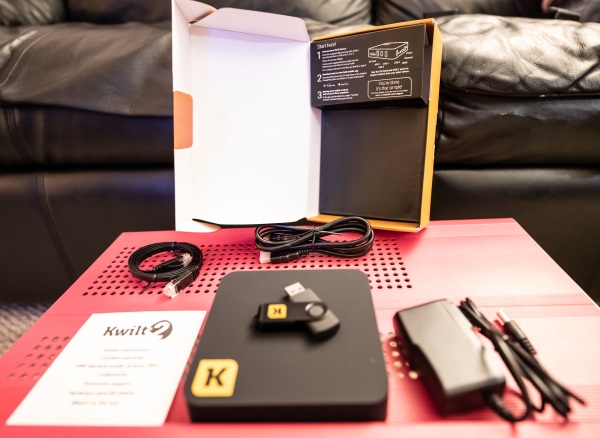 1 x Kwilt2
1 x 16GB Thumb Drive
1 x Ethernet Cable
1 x HDMI Cable
1 x AC Adapter
1 x Informational Guide
Design and features
Specifications
Processing power: 1.2 GHz Quad-core CPU; 600MHz Quad-core GPU;
Input ports: 1 x USB 2.0, 1 x SD/SDHC/SDXC;
Storage ports: 3 x USB 2.0;
Networking: 802.11 a/b/g/n 2.4GHz + Ethernet 100Mbps;
Video out: 1 X HDMI 4K @60 fps;
Bonus storage: 16 GB USB 2.0 memory stick;
Software: Android 7.1, Open source components, Kwilt firmware;
Device size: 4.56" x 4.56" x 1.18";
Device weight: 6.6 Oz.
Features
Offload and backup your phone's photos and videos seamlessly on the go;
Enjoy unlimited mobile storage sitting safely at home;
Keep original full resolution photos and videos;
Access your photos and videos from anywhere, on any platform;
Upload photos and videos directly from SD card to the connected storage hard drive using the built-in SD card input port;
Free Android and iOS apps;
Store and access any file type;
Easy photo and video sharing;
Rich mobile photo editing;
Play your photos and videos on your TV (via Kwilt HDMI port);
Directly order custom photo prints from your phone;
Web, Windows and Mac compatibility;
Supports multiple Kwilt devices per account and multiple users per device.
The pictures below show the ports on the sides of the Kwilt2. On one side from left to right, the ports are USB, SPDIF, AV, HDMI, Ethernet, and Power.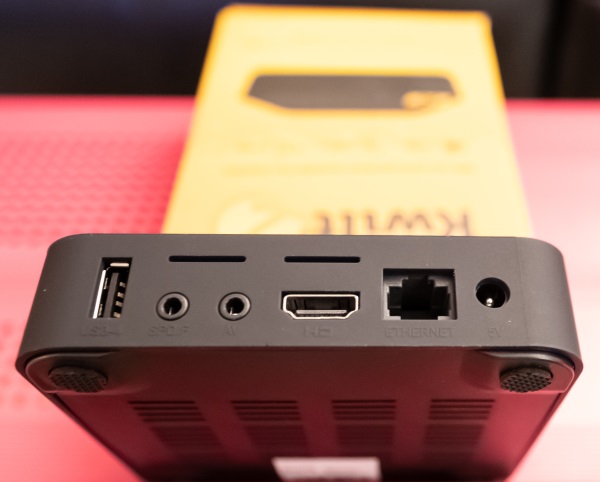 On one other side of the Kwilt 2, there is an SD port and a USB port that are input ports and 2 storage USB ports.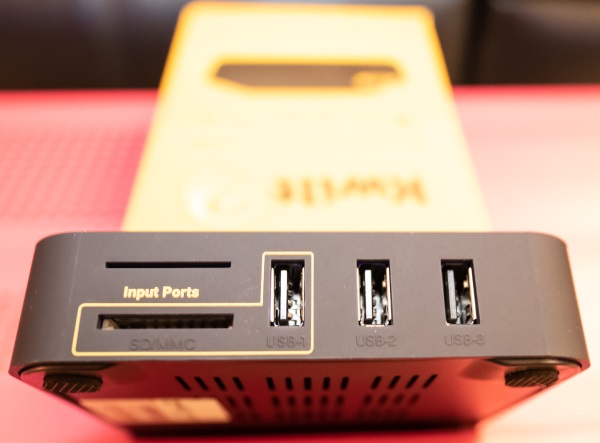 Performance
This Kwilt2 is so easy to set up and to start using that I was amazed. To start using it, you plug in the ethernet cable, the included thumb drive (Or any USB hars drive), the power adapter, download the app and that is it. Once you open the app and select the + sign to add a device, it finds the device, and the setup is done (As long as you are on the same network. I mention this because I have more than one network at home). It is that simple. You can go from taking it out of the box, to copying /moving photos/videos from your mobile device to the attached storage in under 5 minutes. It also has input ports that you can plug in any USB drive and/or SD card and copy the files and photos to the attached storage. For example, if you attach 2 x 4TB USB drives, you then have 8TB of cloud storage. For additional operational informationwhich is basically the same for all of the Kwilt devices, you can read my previous reviews here:
The Kwilt Shoebox Mini review
The Kwilt Shoebox Plus review
App
The following are some of the screenshots from the Kwilt app:
What I like
Built quality
Compact size
Number of i/o ports
Ease of setup and use
What can be improved
It does exactly what it is designed to do. I do not have any suggestions for improvements
Final thoughts
The Kwilt2 offers performance and expansion improvements over the previous models and it works very well without any issues. I love these devices because they provide a really easy solution for my own personal and dedicated cloud storage for my photos, and I can show them to friends, family and clients anywhere and at any time as long as I have internet access. The setup is so darn easy, and their customer support is A+. After my review of their first model, several readers indicated that it was just a Pi Raspberry OS in a box. I have to say that for me, it does not matter when it is already designed and built for me in one package and works perfectly. And with this model, they also include a 16GB thumb drive all for a great price. There is a more powerful version to the Kwilt2 called the Kwilt3, and hopefully one day I will get my hands on that version too. I give Kwilt another well done and two thumbs way up!!
Never miss one of our posts again. Sent MON, WED, and FRI with the latest gadget reviews and news!
Price: $89
Where to buy: Kwilt website or Amazon
Sample: The sample for this review was provided by Kwilt