We use affiliate links. If you buy something through the links on this page, we may earn a commission at no cost to you. Learn more.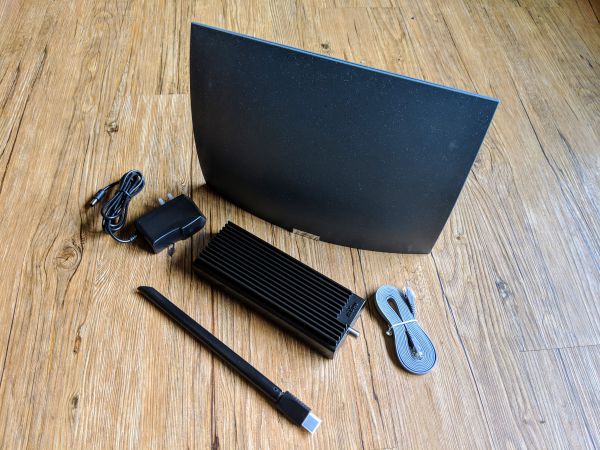 REVIEW – As cord-cutting becomes more popular and America's TV viewing habits keep evolving, a number of innovative new products have come to market to fill the gaps created by the shortcomings of traditional media devices. Mohu has been at the forefront of this cord-cutting revolution with their now oft-copied Leaf indoor HDTV antennas. As the technology for Mohu's antennas has matured it was inevitable they would expand the functionality of their products. Enter the Mohu AirWave, a small network device that allows you to stream live HDTV content from a Mohu HD antenna to a set-top box, tablet, or phone.
What is it?
The Mohu AirWave is basically a wireless streaming device. It takes content, in this case, live HDTV signals from the included HD antenna, and streams it over your home network. For the best setup, the AirWave can plug right into your router to work over your network. The Mohu app is available for Roku, Apple TV, Android (but not Android TV), Amazon Fire TV, and Apple iOS devices. By using the Mohu app on your device, you can access the HDTV signals from the antenna along with a basic program guide. The app is not available for Apple or Windows computers though, which limits a lot of the functionality right out of the box.
At $199.99 for the Basic 30-mile range option and $219.99 for the Premium 70-mile range AirWave that I tested, this new technology does not come cheap. And, like a lot of cord-cutting technology, while the AirWave does do what Mohu claims it can, there are many caveats for such a pricey device. While effective, the Mohu AirWave is not for everyone, it can be very tricky to set up and has some limited functionality, such as being a single-tuner that can only stream one channel at a time simultaneously to all connected devices.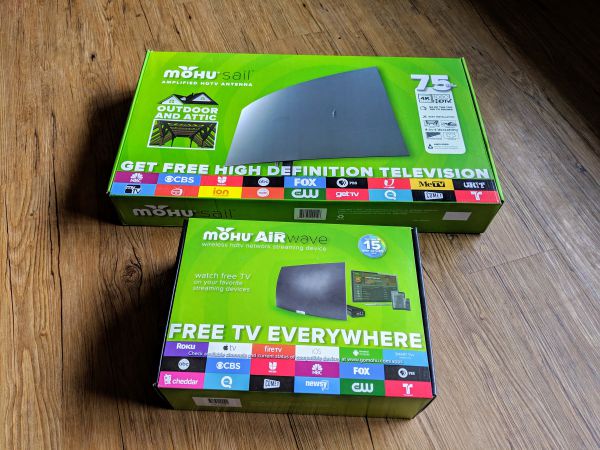 The AirWave Basic kit comes in its own package, the antenna for the Premium kit, which I reviewed, comes separately in its own box.  The box showcases the antenna upon opening, with the components tucked away behind it.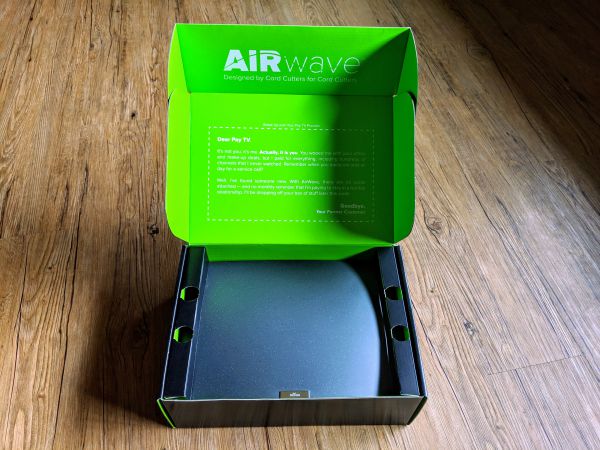 The Premium kit 70-mile antenna is basically a Mohu Sail HD antenna which comes with a mounting bracket, a power booster, and 30 feet of coaxial cable.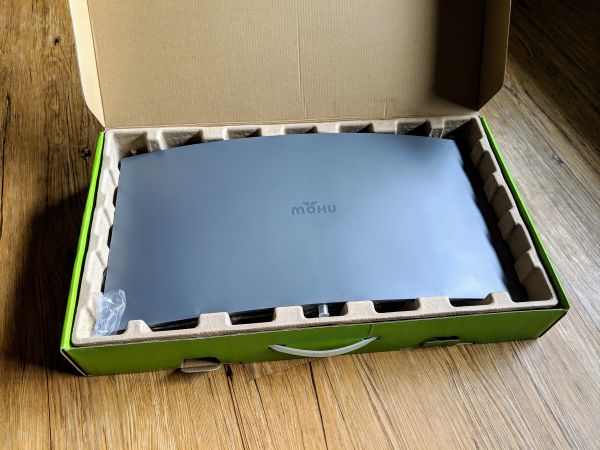 What's in the box?
AirWave Basic Contents

Basic 30-mile indoor antenna
Power Bridge unit
WiFi antenna dongle
Power Supply
Coaxial Cable (arrives attached to antenna)
Ethernet Cable

AirWave Premium Contents

Mohu Sail 70-mile HDTV Antenna
Coaxial Cable (30 ft.)
USB Antenna Power Injector
USB Power Adapter
Coaxial Adapter
Antenna Mounting Hardware
Setup
Setting up the AirWave takes a lot of time and patience. The ideal setup has the HD antenna located near your home router so that the length of coaxial cable from the antenna can connect to the AirWave Power Bridge which also connects to an open port on your router.
Unfortunately, because everyone's home is situated differently, your router might not be accessible by the length of coaxial cable from where your antenna is mounted. Mohu addresses this scenario by allowing you to connect the Power Bridge to your wireless home network much like you would set up an IoT switch or an Amazon Echo. But, no matter how hard I tried nor how many times I reset the AirWave and dutifully followed the setup instructions, I was never able to set the AirWave up with the wireless configuration. I was able to successfully set up the AirWave by plugging it into my home router though since luckily my router's location was close to where I had the HD antenna mounted.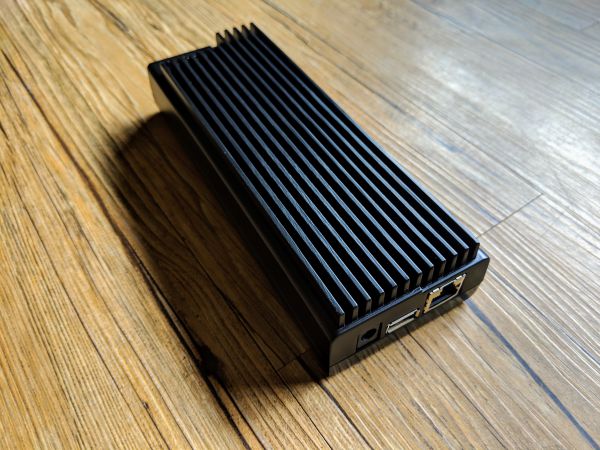 The AirWave Power Bridge looks like the power brick for a computer. This device is heavy, metal, and has large cooling fins on top.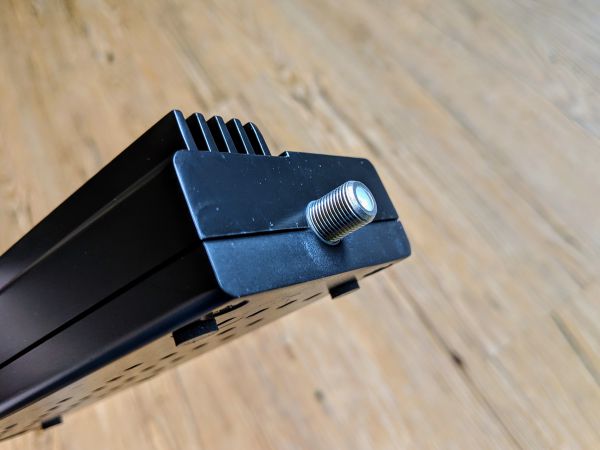 One end of the Power Bridge has a male connector for the coaxial cable that goes to your HDTV antenna.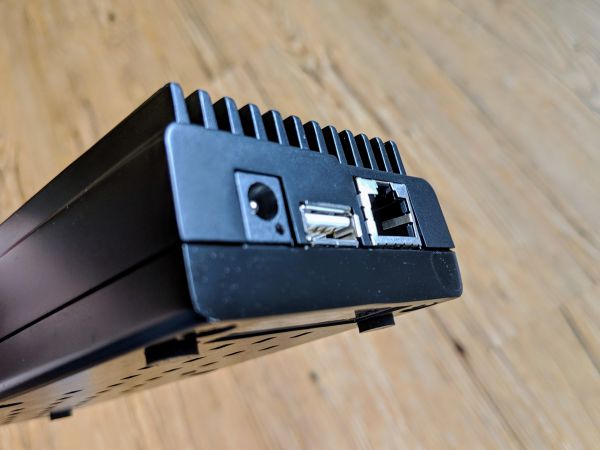 The other end of the Power Bridge has ports for the power supply, an ethernet connection to your router, and a USB port for the included Wi-Fi antenna.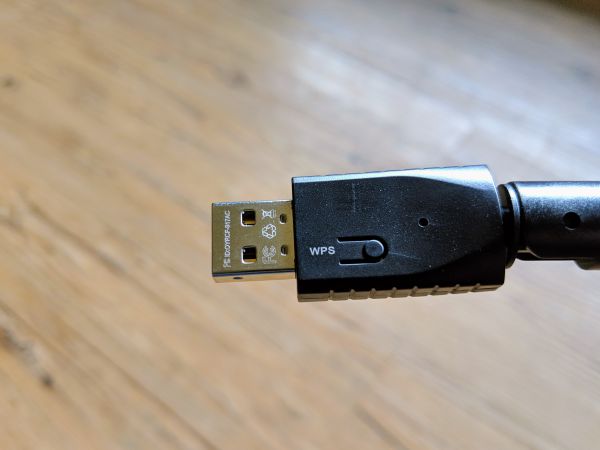 The Wi-Fi antenna is adjustable from 0 to 90 degrees, but I could never get it to stay vertical for very long. The USB head of the antenna also has a WPS button that seemingly serves no purpose whatsoever.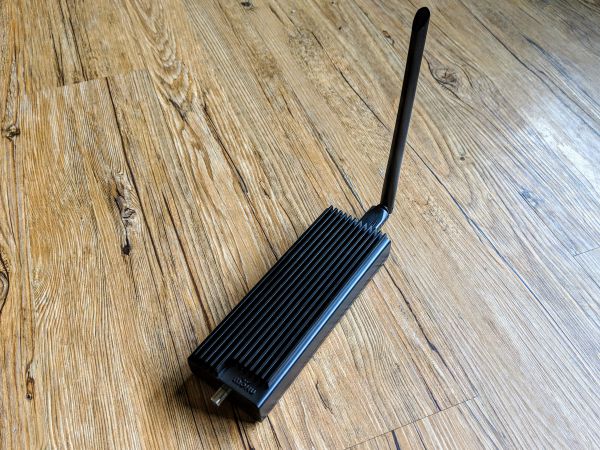 It'd be nice if all the connections were on one end of the device, but I can understand the decision since Mohu crammed a lot of tech into this little brick. One pro tip, after reading the support documents over and over, I finally found the reset button for the device hidden in one of the air vents on the bottom of the unit.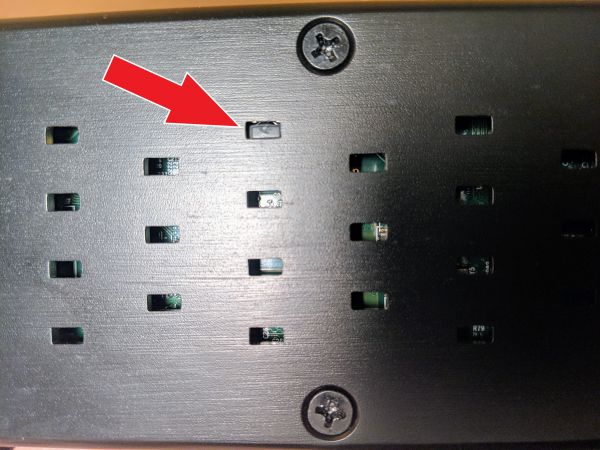 This button is only mentioned once in some online documentation and not pictured at all. And, when you're pressing it, you barely have any indication that it's a button at all. This was a very frustrating, un-user-friendly design choice.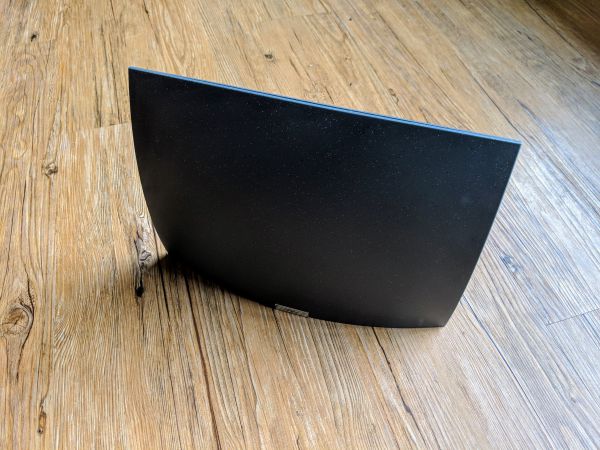 The HD antenna included with the AirWave Basic kit looks like most of Mohu's HD antennas, mimicking the flat square form of the original Leaf antennas except that it has its own base.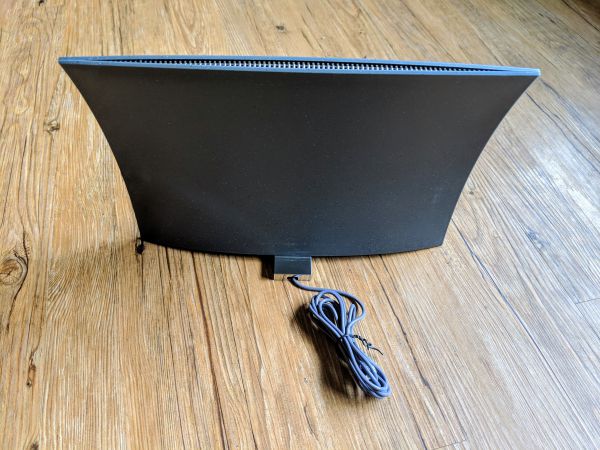 The AirWave Basic antenna comes with a short length of coaxial cable already attached to the back of the unit. This cable attaches to the Power Bridge to deliver the HDTV signals.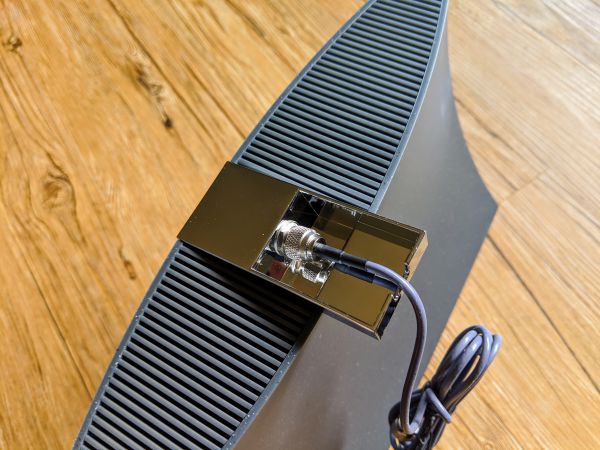 For most city dwellers or people who live close to a transmitting tower, the included Basic 30-mile antenna should work fine.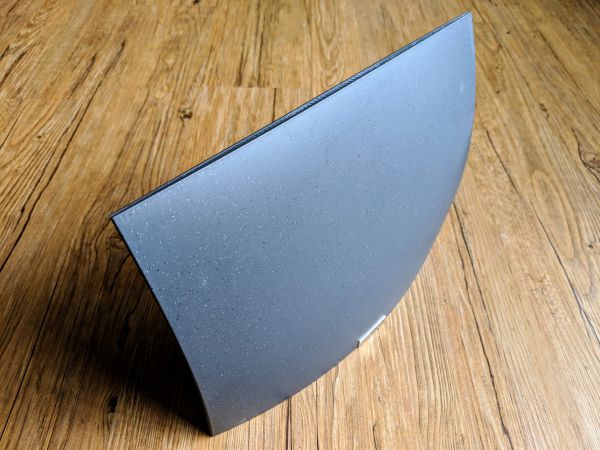 Placing the antenna as high as possible in your home and keeping it away from any large metal structures should allow it to pull in all the available HD signals for your area. The Mohu website has a cool tool to help you determine what package will work best for your location and there are a number of websites that detail the locations and signal strength of HDTV stations once you input your address.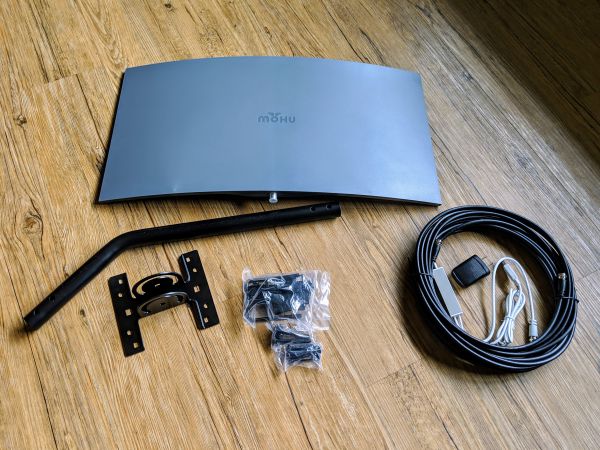 Assembling the 70-mile Mohu Sail Antenna is pretty basic. The antenna comes with a 30-foot length of coaxial cable, which, depending on your home, may not be enough to position the antenna correctly while still having enough cable to reach your Power Bridge. In that case, good luck setting up the AirWave via the wireless configuration.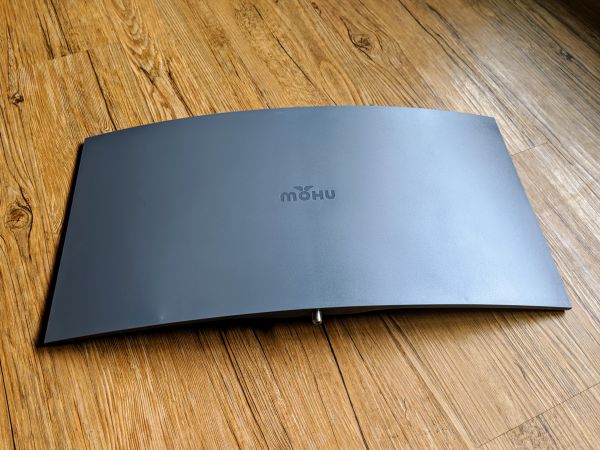 The Sail antenna is made of hard plastic and has one male connector for the coaxial cable that goes to your Power Bridge.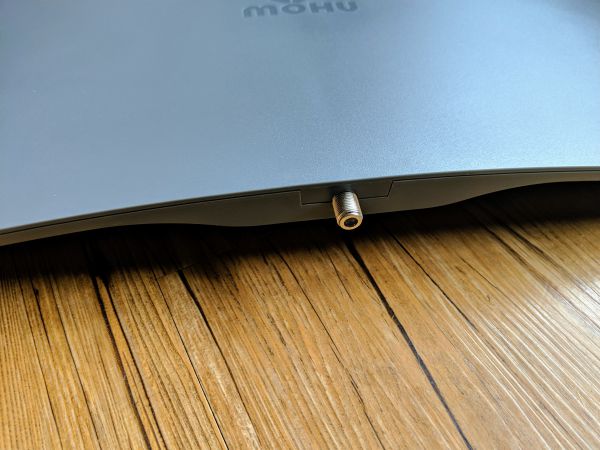 The back of the Sail has molded holes for attaching the mounting bracket and a stop plate for the mounting bar.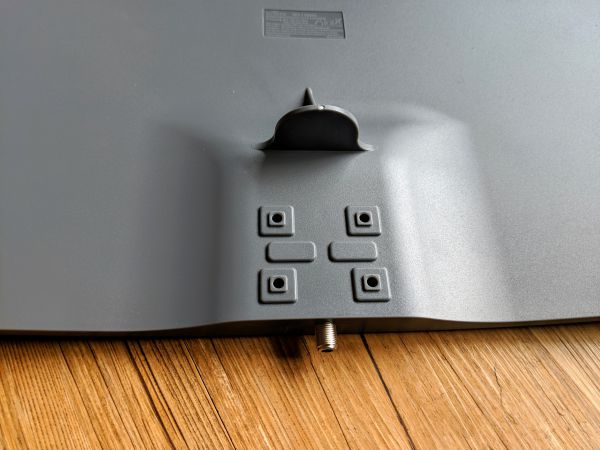 Because the screws anchor in a plastic mount, be very careful not to torque them too much or you will strip the holes out.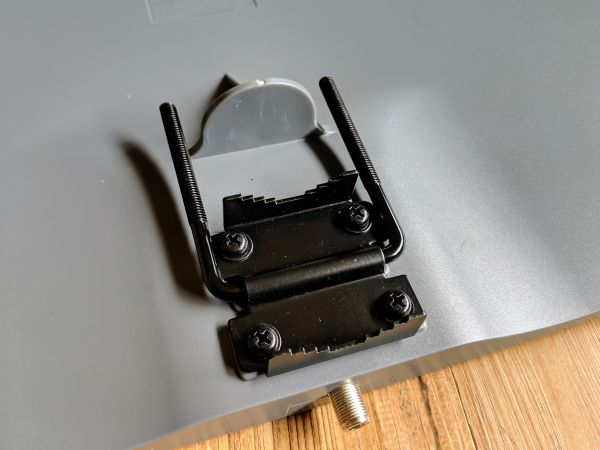 The mounting bar is held in by an adjustable bracket secured with wingnuts.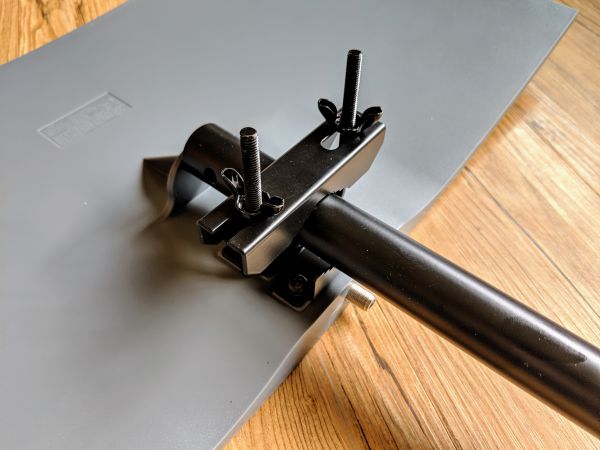 Again, be sure not to over tighten anything because the plastic can break. Tighten the wing nuts down just enough to hold the mounting bar in place.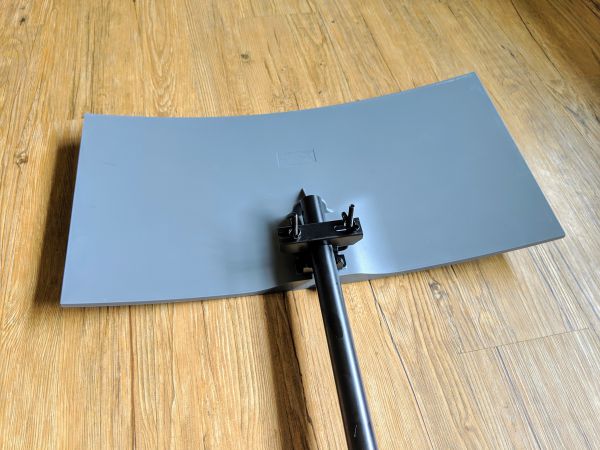 Once the mounting bar is attached to the antenna you can use the bottom mounting plate and included screws to mount the antenna to the outside of your house or the interior of your attic.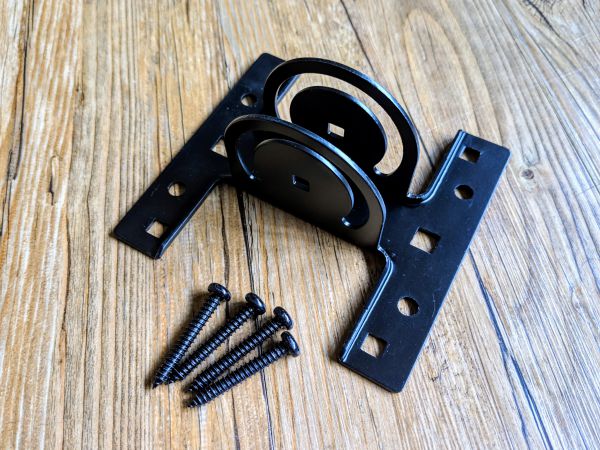 The bottom mounting plate attaches to the mounting bar with two screws. One screw holds it centered while the other can be adjusted before locking it in.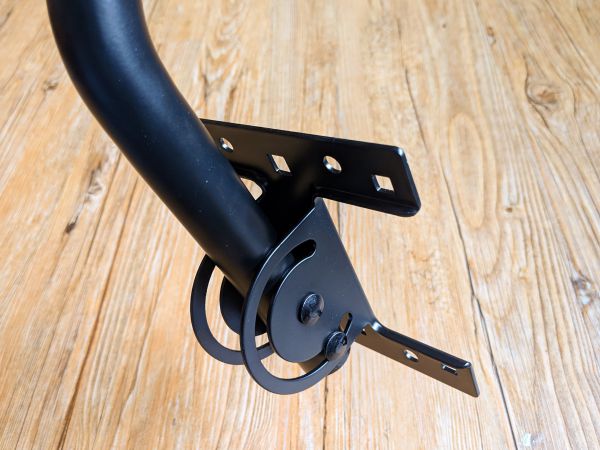 This adjustable swivel on the bottom mounting plate allows for positioning the angle of the antenna for the best reception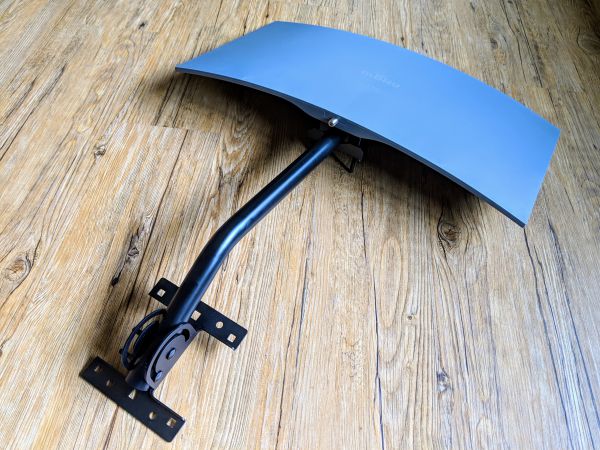 Now that the antenna is assembled and the Power Bridge is plugged into your network via your home router, or by some miracle you got the wireless configuration to work, it's time to get the signals up and streaming.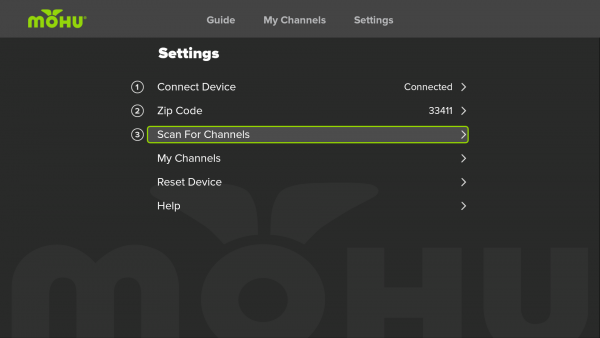 Install the Moho App on your phone, tablet, or TV top streaming device. Again, I'm pretty disappointed there is no option to stream these signals to a Mac or PC. Mohu claims that they were never able to get the app to work correctly with any browser they try. This is a huge shortcoming of the AirWave. Links on the Mohu website will help you find the correct working app for your device. Once you open the app, it will guide you through finding the AirWave, getting the right program guide for your area, and searching for available HDTV channels.
This worked fine for me when I hooked everything up via my home router, but when I tried the wireless set up option all I got was nothing.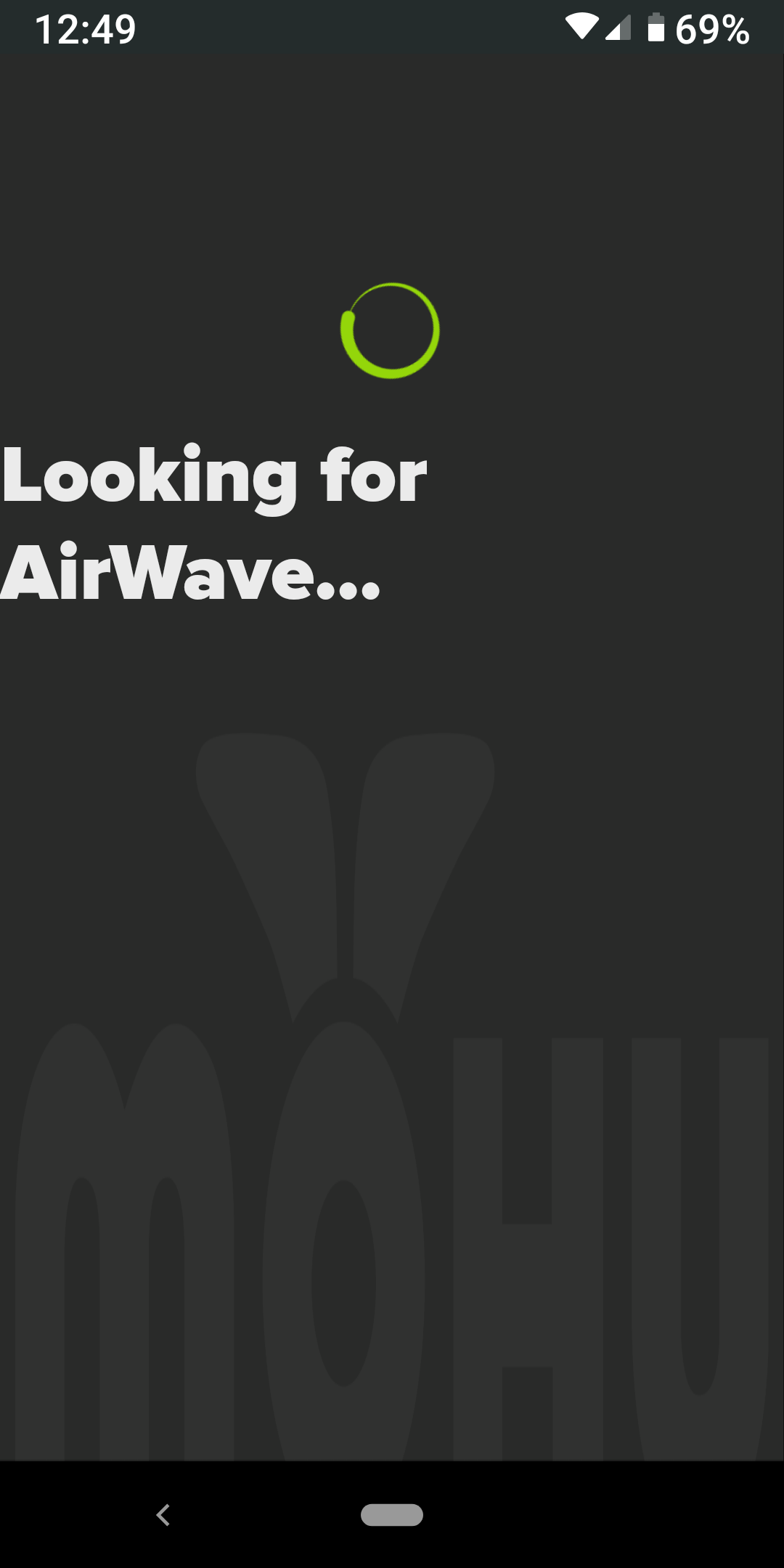 Nothing I did worked and the app never found the AirWave at all.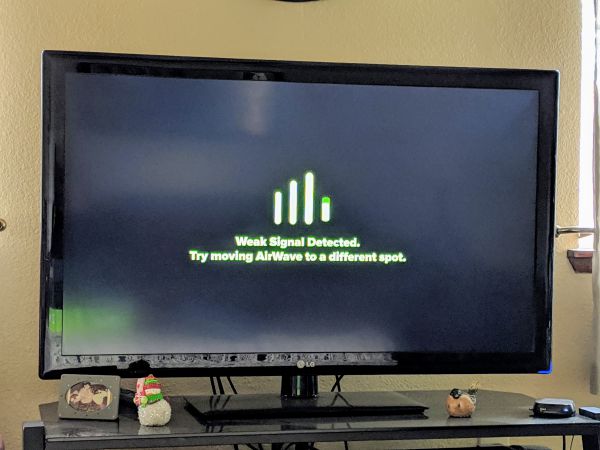 After several tries, I got the app up and running on my Roku, my AirWave updated, my channels downloaded, and my guide refreshed. But then, every few channels I went to triggered the dreaded Weak Signal Detected error.
The error was also on my phone's Mohu App. I experimented with a bunch of different spots for the AirWave and the HDTV antenna and eventually found a position that yielded more clear channels than not.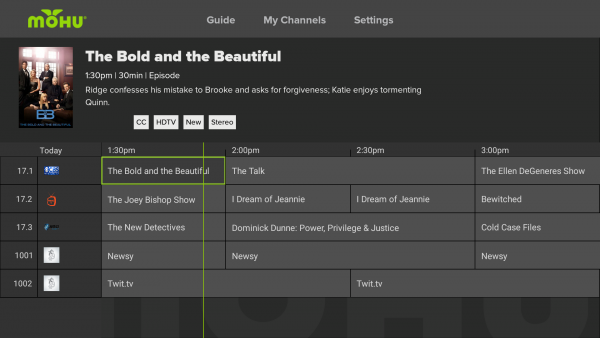 Performance
If you're a channel surfer, the Mohu AirWave is definitely not for you. There's a significant delay when switching channels as the AirWave changes signals and buffers it to your device. Also, there is no indication on your program guide that a channel's signal is clear enough to appear. After the initial channel setup, the best you can do is go through all of the channels individually and add them to My Channels. By doing this, you'll know that all the channels in that group are ones that you receive clearly.
When the AirWave did find a channel with a strong signal and my Wi-Fi was working fine, I was able to enjoy watching an HD program much like I would with a cable hookup. But, the channels that work are not up to you, so it can be frustrating checking the program guide only to find that the program you want to watch doesn't have a clear signal.
Since the AirWave streams video content over your home network, the signal clarity is also very dependent on the strength of your home's Wi-Fi. This is especially true in the wireless configuration since the HDTV signal is sent from the Power Bridge to your network via Wi-Fi and then on to your viewing device via Wi-Fi again.
Another big shortcoming of the AirWave is that since it's a single-tuner device, any viewing device that opens the app has to watch the same channel. So if you don't mind having the same channel streaming to all your devices at once, this will work for you. But if you have a big family all expecting to watch different channels via the AirWave this is not the cord-cutting product for you. Additionally, there are no options to view the content from your AirWave outside of your home network. And again, it's really frustrating to not be able to access any of this content on a Mac or PC, especially because Mohu originally promised that option when the AirWave debuted and it's still showcased in their media kit.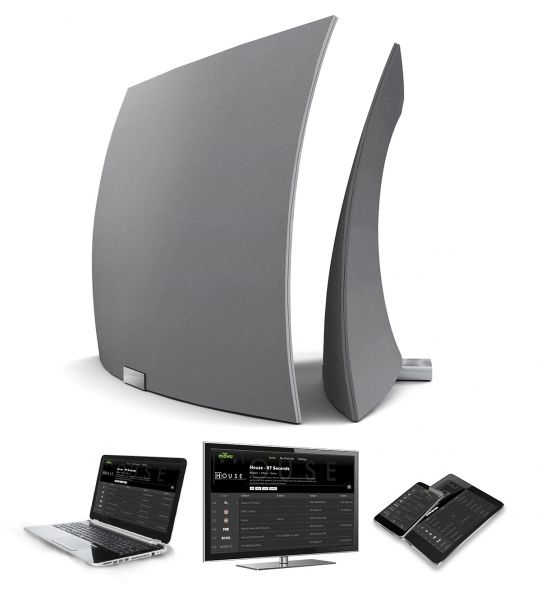 What I like
Able to watch some OTA content via your streaming device
Antenna works well when properly placed
Built-in channel guide is effective
What needs to be improved
Signal strength dependent on location and Wi-Fi strength
Wired connection to router and antenna problematic
Single tuner device: all devices have to watch the same channel
Wireless setup ineffective, extremely frustrating, and poorly documented
Can't stream to a desktop or laptop computer
Can't stream outside of home network
Final thoughts
The Mohu AirWave does what it's supposed to do; it can pull in HDTV signals and stream those signals to devices on your home network. Unfortunately, the antenna and AirWave setup can be extremely frustrating and/or unusable depending on your home network logistics and Wi-Fi strength. The signal streaming can be laggy, pauses on channel changes, and is not on par with regular cable or OTA TV viewing. Only one channel at a time can be streamed to your connected devices and none of those devices can be a desktop or laptop computer. But, when the AirWave does work it works well. I feel like the Mohu AirWave is still a couple of iterations away from being a totally functional cable TV alternative, but if you're willing to pay a premium to give it a chance, it might work for you in certain situations.
Price: $219.99 for AirWave Premium with 70-mile antenna, $209.99 for AirWave Plus with 40-mile antenna, $199 for AirWave Basic with 30-mile antenna
Where to buy: Mohu and Amazon (Basic version only)
Source: The sample of this product was provided by Mohu.