We use affiliate links. If you buy something through the links on this page, we may earn a commission at no cost to you. Learn more.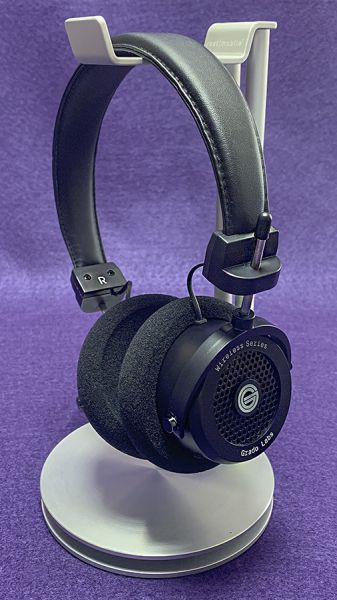 REVIEW – Let's be transparent— I'm a big fan of Grado headphones and earphones. Their 325e headphones are one of my favorite open-backed headphones and the GR10 earphones are a go-to pair I still love and use. However, it's becoming a wireless world and it appeared that Grado was being left behind—until now, that is.
What is it?
Grado's new GW100 headphones are the world's first wireless headphones that are open-backed. If you're unfamiliar with the term open-backed, it means that you can see through the headphone ear cups. This openness makes the speakers sound like they are not sitting on your ears, but rather away from your head giving music an expanded soundstage. (However, this soundstage is not as pronounced as on other Grado headphones—more on that later.) Some people prefer the open-backed approach so much that they refuse to listen to any other type of headphone. Add Bluetooth wireless to the mix and you have something special. 

What's in the box
GW100 headphones
Mini plug audio cable
Mini USB charging cable
Specs
Bluetooth Version: 4.2 with apt-X
Battery Capacity: 320mAH
Working Distance: 30+ ft.
Battery Life: 15 hours (at 50% volume)
Frequency Response: 20Hz~20KHz
Mic Sensitivity: 42dB +/- 3dB
Transducer Type: Dynamic
Operating Principle: Open Air
SPL 1mW: 99.8 dB
Nominal Impedance: 32 ohms

Design and features
These are Grado headphones. That may sound a bit obvious, but if you're familiar with the Grado brand, you get it. One look and that Grado look is immediately apparent. The overarching design language of these headphones has not changed much since the first Grado headphone in the early 90s. The look is a postmodern/mid-century classic style that looks old, but never dated.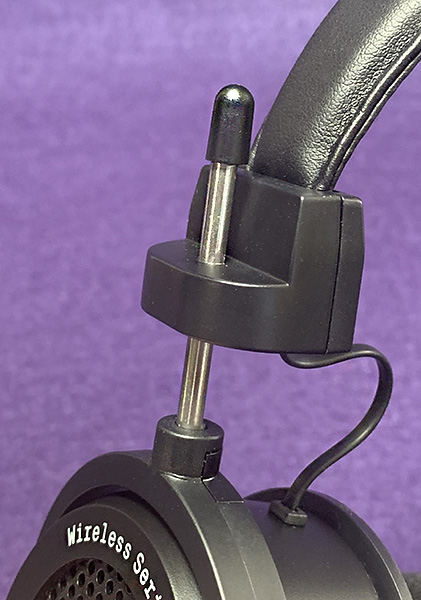 The ear cup design, the sliding sizing rod, those foam ear pads are all Grado. The ear pads on these are on-ear like the SR60 and SR80 headphones as opposed to over-ear like Grado's more expensive models. The GW100s are clad in an abundance of matte black plastic and faux leather. On some headphones, this would look and feel cheap, but the pieces fit together well and there's no rattling or squeaking. Plus they are incredibly light. I've worn them for hours with little to no discomfort. The one comfort issue I do have is the foam on the ear pads. My skin mildly reacts to whatever the foam is made of and can sometimes become itchy. It could be something worth noting if you have sensitive skin.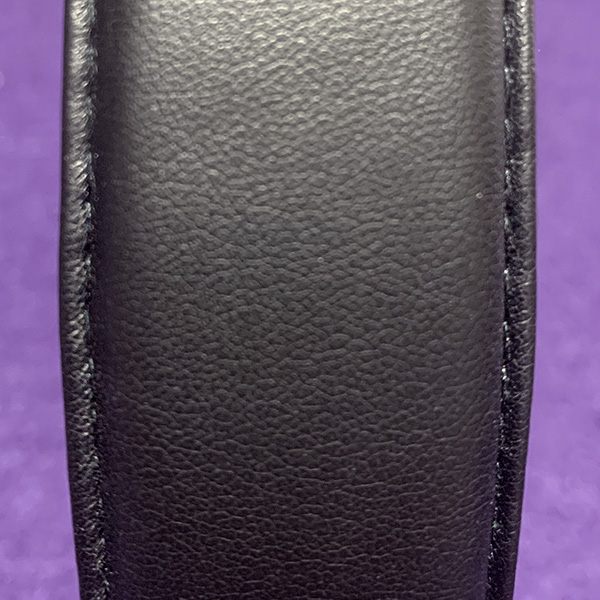 The headband on the GW100 headphones could use more padding, but it's almost identical to the headbands of Grado's upscale headphones. It feels fine to me but might not have enough cushion for someone with thinning to no hair.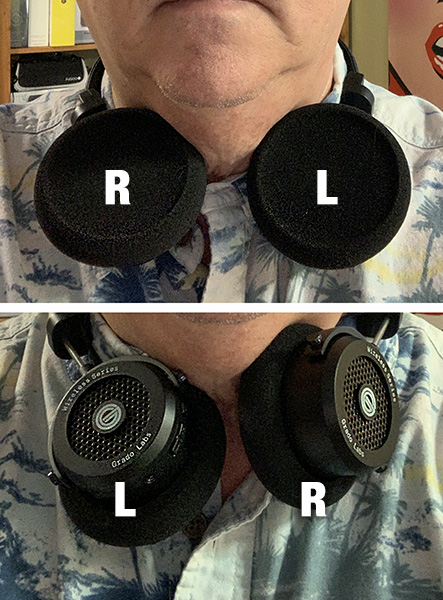 One design flaw I noticed is that if you want to wear the headphones around your neck, the ear cups only swivel one way and that way is backward. Let me explain: when headphones are around your neck, the foam part of the ear cup should face your body so they won't get dirty. However, when worn correctly, the ear cup's foam on the GW100s only face outward—unless you flip them around which then makes the right speaker be on your left side and left on right. Who wants that? Maybe this shouldn't bug me so much, but it feels completely backward. 
Even though the GW100s are wireless, they can also be used with the included mini plug cable for (slightly) improved audio quality or if you forgot to recharge the battery. The headphones are charged via a mini USB plug, also included. I would have preferred a newer, faster, more durable USB-C connection that many wireless headphones now employ. Also, the Bluetooth is version 4.2 instead of the latest version 5.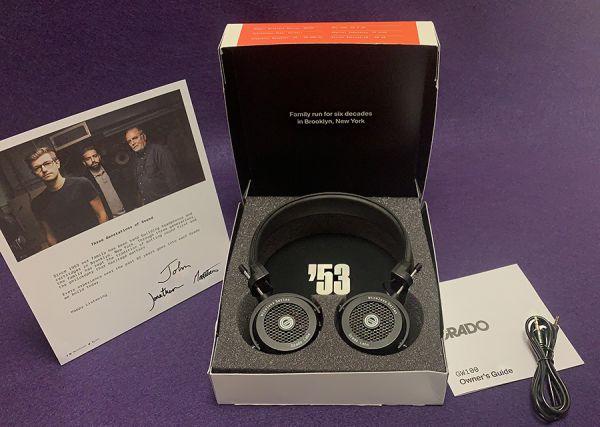 As far as extras go, that's it. They are housed in cheap foam inside a thin cardboard box. Plus, there's no case included, but that's true of most if not all Grado headphones—no matter the cost. It appears that Grado puts all of their money into the product instead of extras that have no effect on audio quality.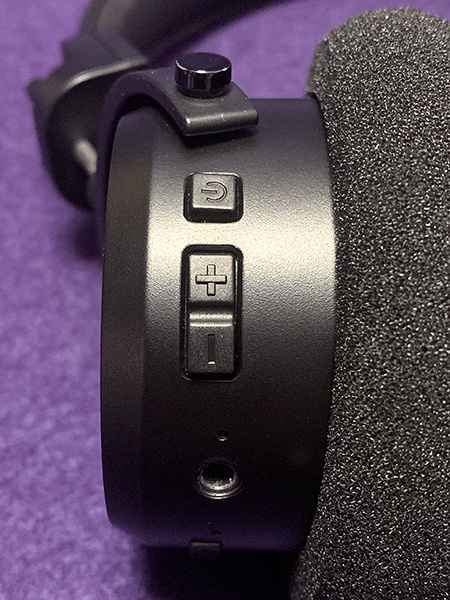 The GW100 headphones may be Grado's first wireless model, but you would never know it. Out of the box, the GW100s are easy to pair and easy to use. I didn't even need to read the manual—I was able to figure out the buttons fairly quickly. The buttons are on the large-side making them easy to feel and use. When pressed, there is a voice prompt that tells you if you are powered on or off and either connected or disconnected. It's nice that I don't have to translate what different beeps mean as with other headphones. Oh, the voice is female and has a trace of a British accent—nice touch.
Call quality is so-so using the GW100 headphones. People I spoke with could tell I was not using my iPhone (unlike the crazy good call quality of the Apple AirPods). I was told my voice had static in the background. Even so, I could hear the other person quite well. However, the open-backed design lets me hear myself talking—something sorely lacking on regular headphones.
It's worth noting that even though the GW100 headphones are open-backed, Grado has noticeably reduced audio "bleed." People next to you may still be able to hear what you are hearing, but it won't be as loud to them as with other Grado models. Note that this also reduces the soundstage a bit, so if you're looking for that ultra-wide Grado soundstage, you may be disappointed.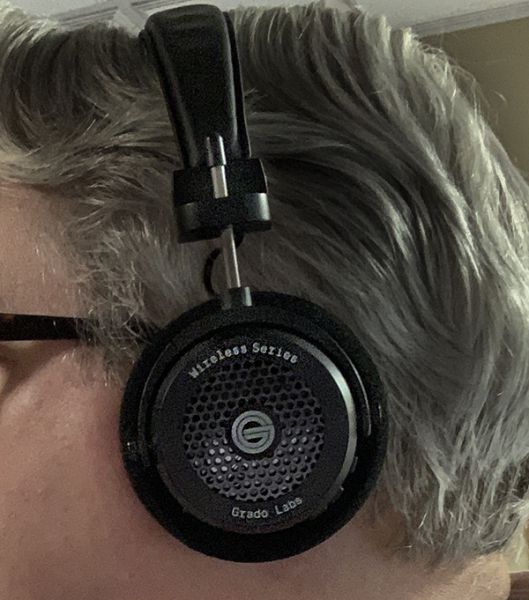 So what is that Grado sound? Grado headphones are tuned to middle to slightly higher frequencies, but without being too bright-sounding in any way. Bass is present but well controlled. They are well suited for rock and jazz but can be easily used for any genre of music—except for bass prominent hip-hop or some electronica.
Since I'm a fan of classic rock, the GW100 headphones sound just right, whether it's the Beatles, Stones, Bowie or even more recent rock. It's a "mama bear" kind of headphone. However, if you're a bass-head, I would look elsewhere. If you're used to a brighter, "Etymotic" type of sound, The GW100s may come off as a bit flat sounding. They still sound energetic, but not to the point of becoming harsh.
But what's really nice about the GW100 headphones is that they can disappear. The Grados put music first and when coupled with their open-backed design, it's easy to become lost in the music where you can forget you're wearing headphones. It's a weird sensation and it doesn't happen with many headphones.  
What I like
The GW100 headphones are extremely light and comfortable. They can be worn for hours with little to no discomfort. Oh yeah, they also sound great.

What needs to be improved
The GW100s are almost all plastic which can feel a bit cheap when first held. Be careful cramming them into a backpack—the ear pads easily come off and can be misplaced. The ear pad foam can be scratchy feeling for sensitive skin.

Final Thoughts
Grado took their time making a Bluetooth headphone, but the wait was justified. The GW100 headphones have managed to retain that illusive Grado character that fans love. It's a Grado headphone, period.
Price: $249 US
Where to buy: Amazon
Source: The sample for this product was provided by Grado.