We use affiliate links. If you buy something through the links on this page, we may earn a commission at no cost to you. Learn more.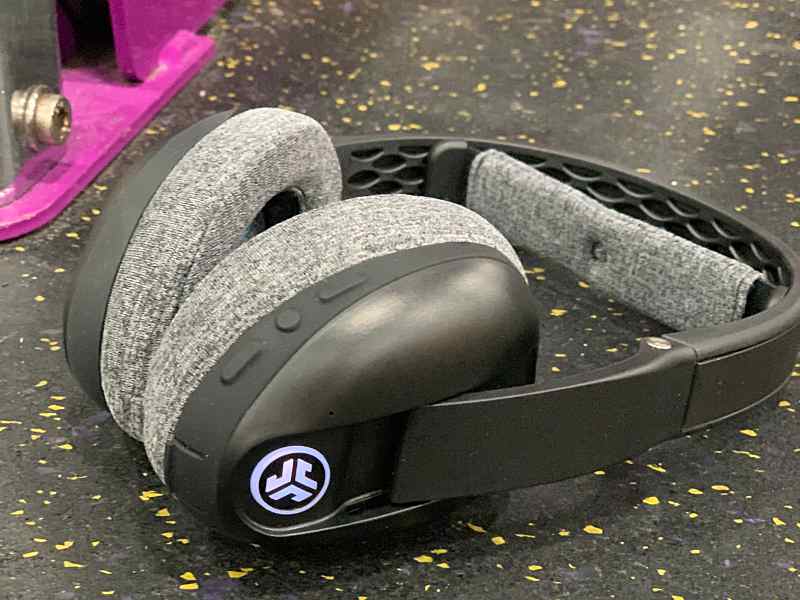 REVIEW – I love to listen to music while I'm at the gym or out walking my dog. So I'm always on the lookout for a good pair of workout headphones. I recently wrote about the JLab Flex Sport wireless headphones and was intrigued by their over-the-ear design and customizable fit. Fortunately, I was able to score a pair for a review. Let's see how they stack up.
What is it?
The JLab Flex Sport Bluetooth headphones are exercise-focused over-ear headphones with a customizable fit headband and removable, washable earpads.
What's in the box
Flex Sport headphones

2 tension bands (FLEXFIT and FIRMFIT)

1 extra headband padding

USB Type-C charging cable

Travel bag

Quick start guide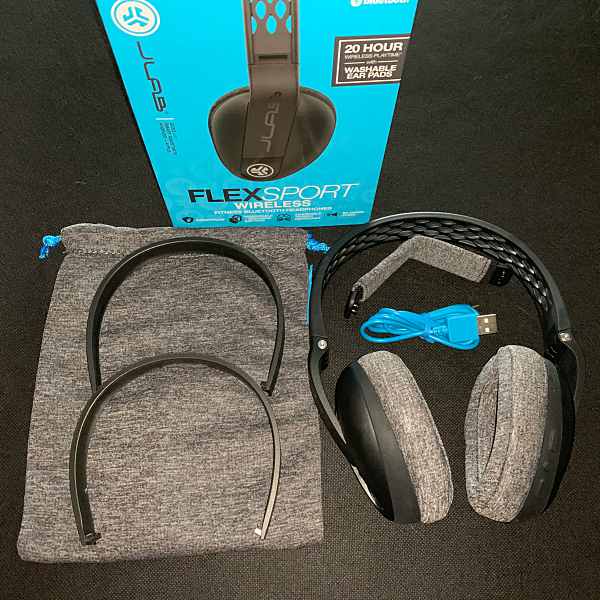 Specs
Bluetooth 5.0

40mm drivers

20-hour Bluetooth playtime

USB-C charging port
Design and features
The JLab Flex Sports wireless headphones have a sporty look, from their black color to the grey jersey covered ear pads. And the over-the-ear design is something you rarely see in workout headphones. The headband is made of an extra flexible plastic that you can actually twist, hence the name.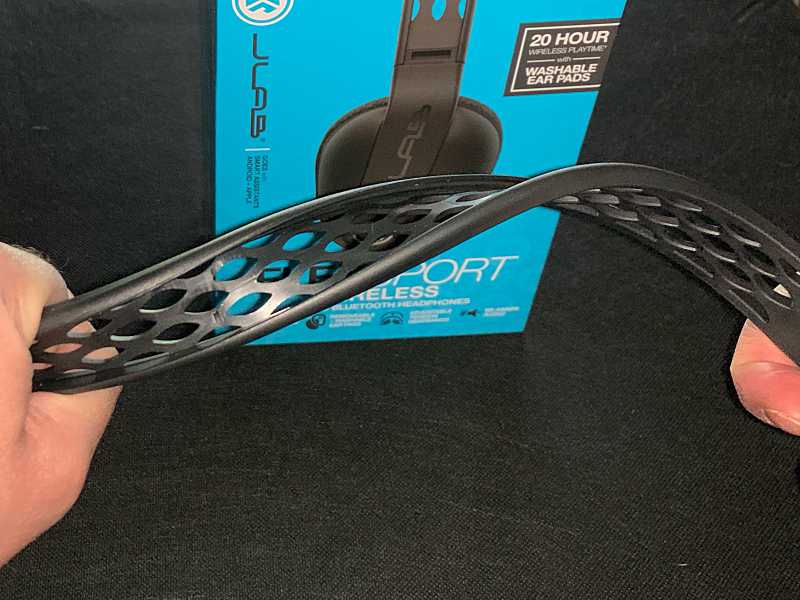 There's also a removable, washable headband pad for extra comfort if needed.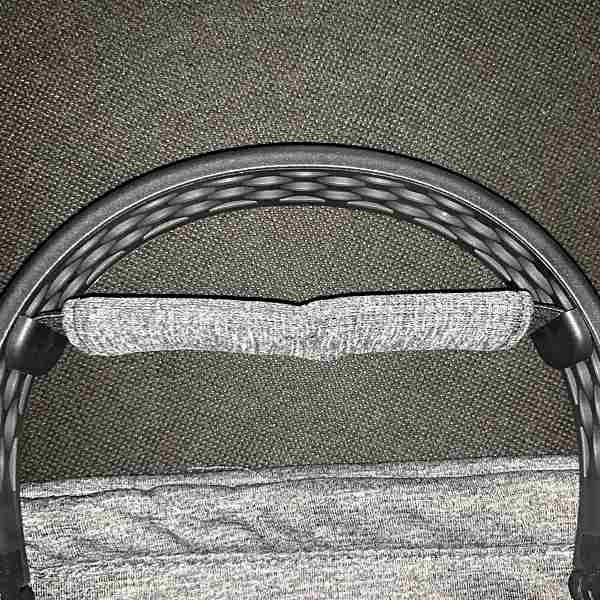 Flex Sports are built with multiple ways to customize your comfort. There are two tension bands that snap over the top of the headband, giving you the choice of three fitting preferences: Loose (without Tension Band), Normal or Tight. The bands are labeled on the bottom: FLEXFIT or FIRMFIT.
Never miss one of our posts again. Sent MON, WED, and FRI with the latest gadget reviews and news!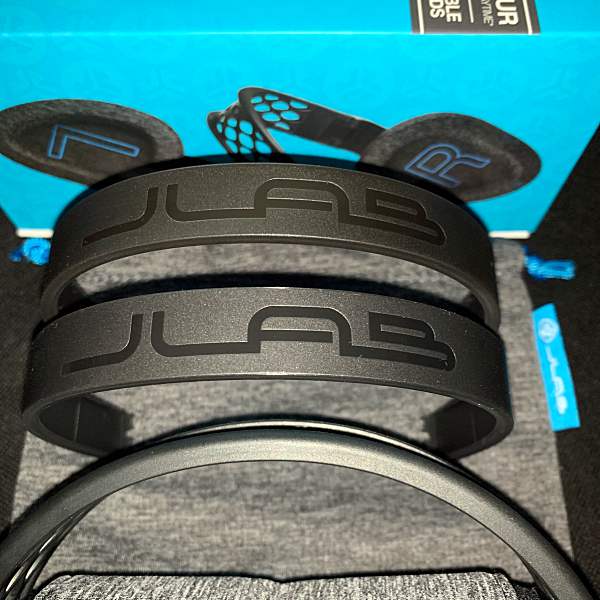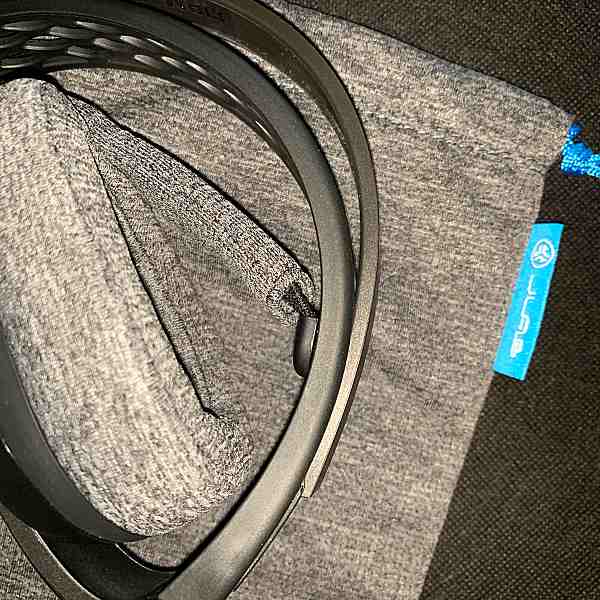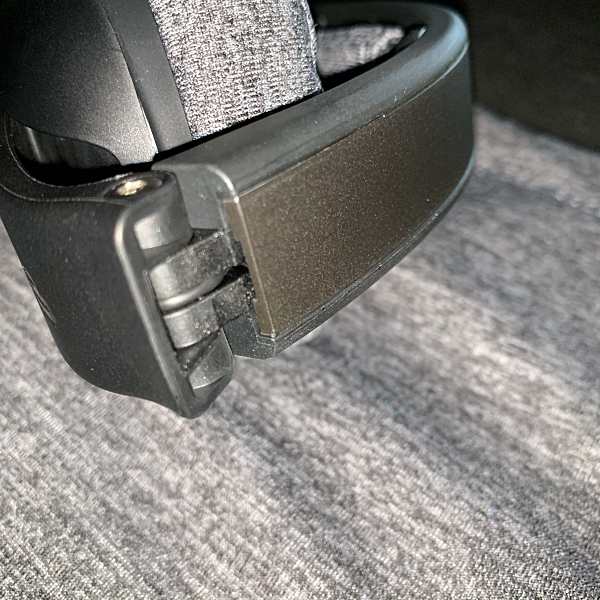 The earpads are made of a moisture-wicking polyester-cotton blend material, similar to that used in workout shirts. You can also remove and wash them when they get dirty. JLab recommends hand washing them, but you can use the included travel bag to machine wash them if you choose.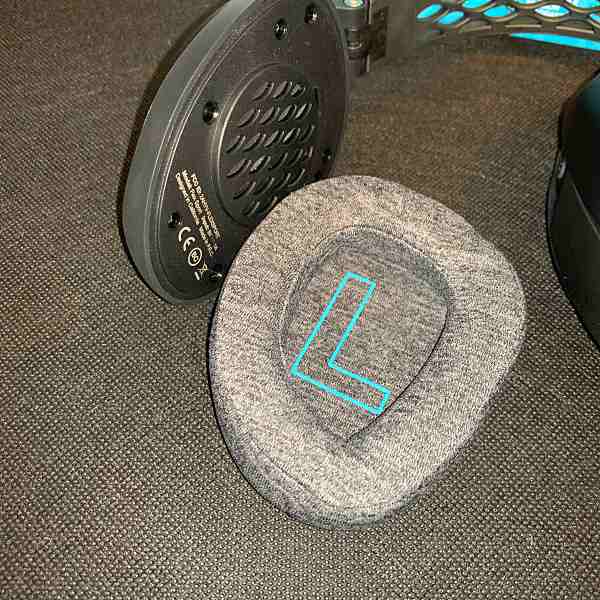 There are universal controls located on the right ear cup. They allow you to control things like volume, next track, and play/pause.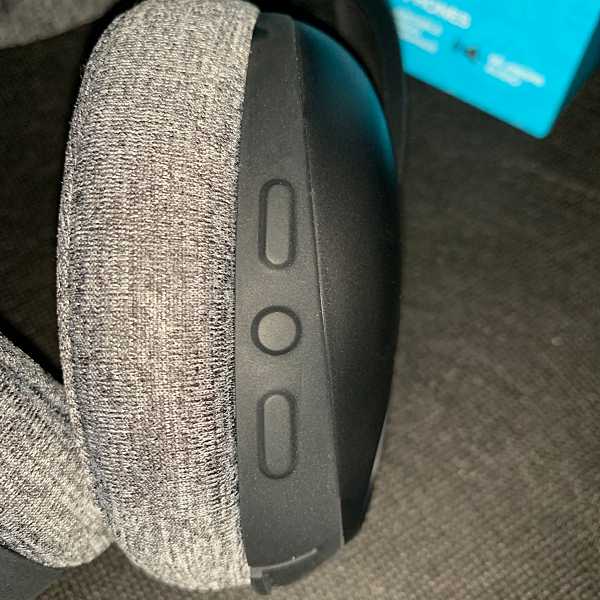 Below is a chart of each button's function.

The buttons and charging port are rubber coated which helps to keep moisture, dirt, and dust out. The headphones have an IP44 rating, meaning they're protected from a splash of water in any direction. So you probably won't want to wear them to run out in the rain. 
A built-in microphone allows you to accept or reject calls using Siri or Google Assistant.
Charging the headphones is done via a USB-C charging port located on the bottom of the right ear cup. Flex Sport can be charged when powered on or off. The charging indicator (JLab logo) will be white while charging and will turn blue when fully charged. It also doubles as the Ambient Noise on-off button. (More on that later)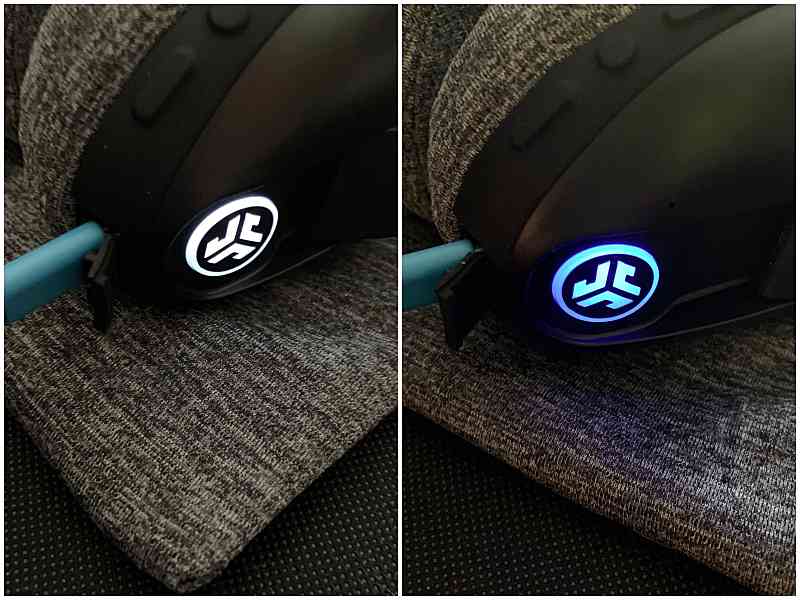 JLab states that Flex Sport has a 20-hour battery life. I use them at the gym for over an hour 4 days a week, and in 3 weeks I've only had to charge them fully once.
The headphones use Bluetooth 5.0 to connect to your smart devices, but oddly lack a headphone jack for wired listening.
Fit and comfort
I chose to use the FIRMFIT tension band with the headphones during my workout. The fit was perfect for my somewhat small head, tight but not to the point of being uncomfortable.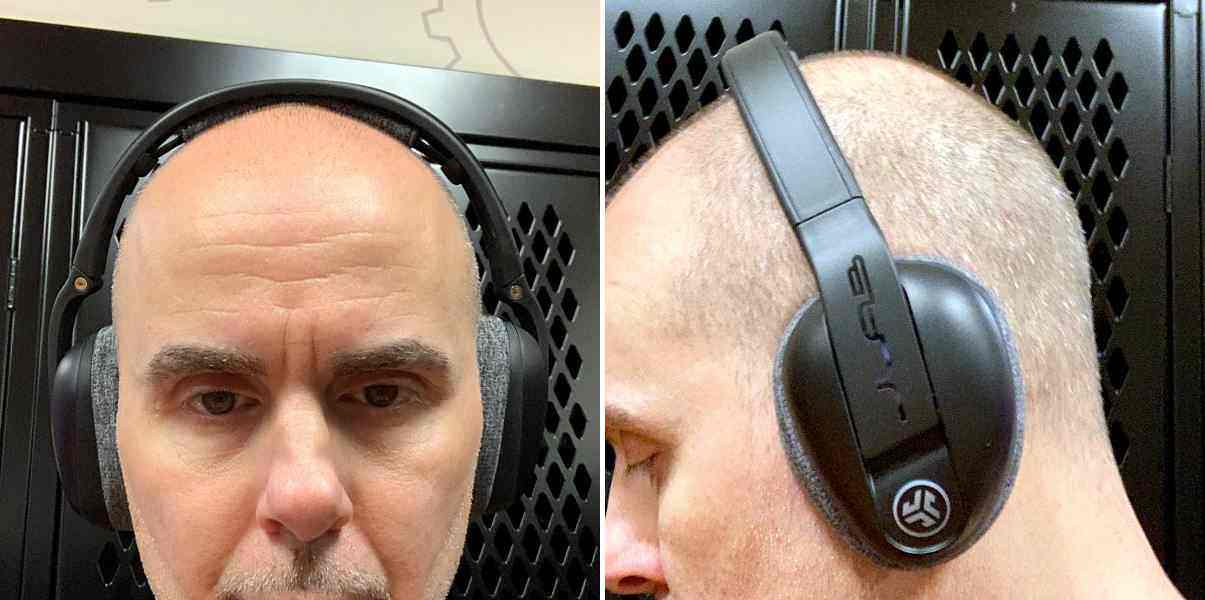 Going through my workout the headphones, never moved. They remained firmly on my ears during a variety exercises like bench presses and crunches that require you to lay on your back.
I'm not much of a runner, but I did some jogging on the treadmill for test purposes. Once again the headphones stayed securely on my ears and didn't bounce around.
Besides feeling good on my head, the headphones are also extremely lightweight – just 6.3ounces. And they're not bulky at all, easily fitting underneath my hoodie.
For on-ear security and comfort Flex Sport gets a big thumbs up.
As an added bonus the ear-cups help to keep my ears warm while out walking my dog on a chilly day.
Be Aware Audio
There's an Ambient listening mode that's activated by pressing the JLab logo button on the right ear cup, JLab calls it Be Aware Audio. The feature allows you to hear your music and natural ambient noise at the same time.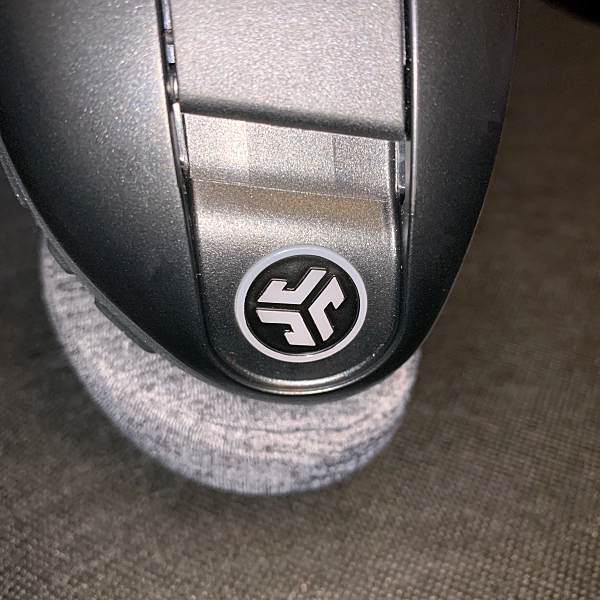 I first tested Be Aware at the gym. It definitely made me more aware of other people around me in the gym, but I found that it interfered a little too much with the music I was listening to. However, I can see how it would be beneficial if you were working out with a partner.
For me, it worked best when I paused the music. This allowed me to have a clear conversation with a friend at the gym without having to remove the headphones.
I found the feature to be more useful while out walking my dog. The sidewalk we use runs along a pretty busy street and being more aware of the passing traffic definitely gave me peace of mind. Especially while crossing at an intersection.
Overall, if you run or walk in a high traffic area, this feature could literally be a lifesaver. But inside the gym, I prefer to just listen to my music at a lower volume.
Sound performance
The logo button can also be used to switch between JLabs custom EQ settings. There are three options: JLab's Signature sound with amplified vocals and bass, Balanced sound, and Bass Boost for a big bass sound. Cycling through the 3 modes is done by pressing and holding the logo for 2-seconds.
Since I like to listen to Hip Hop music while working out, I favored the Bass Boost mode. These headphones don't produce a lot of natural bass, so the extra boost is welcome here.
For all other types of music, I found that the amplified vocals of JLab's Signature Sound fit the bill.
One great thing about using over-the-ear headphones to workout is you get that truly immersive stereo sound, something you don't get from earbuds or on-ear headphones. It really helps get you into and stay in the zone while working out.
These headphones get plenty loud too. So if you need to really pump up the volume to push through that last agonizing set, Flex Sport has your back.
Overall the sound quality of these headphones is very good, especially for $99.
What I like
Affordable

Great fit with your choice of 3 different fitting preferences

Good sound

3 different EQ settings to choose from

Lightweight

20-hour battery life
What needs to be improved
No headphone jack for wired listening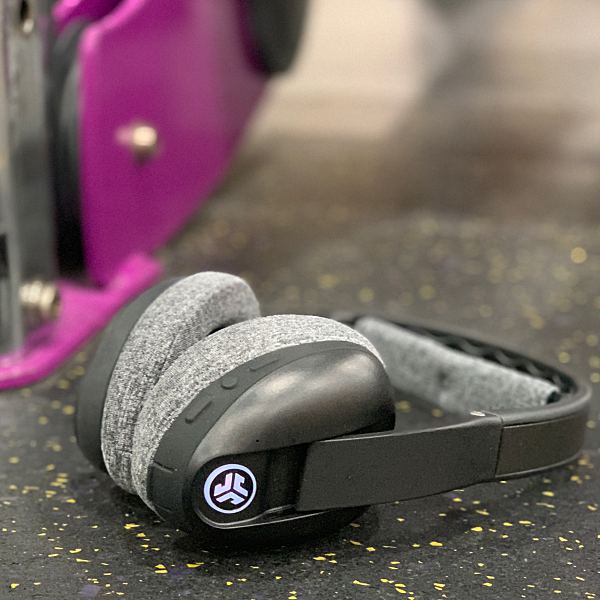 Final thoughts
There's probably no such thing as a perfect pair of workout headphones. But the JLab Flex Sport wireless Bluetooth headphones are as good as it gets. With their customizable fit, good sound quality via 3 different sound profiles, and budget-friendly price point I feel very comfortable recommending these headphones. They've definitely earned a permanent place in my gym bag.
Price: $99
Where to buy: Amazon
Source: The sample of this product was provided by JLab Audio.