We use affiliate links. If you buy something through the links on this page, we may earn a commission at no cost to you. Learn more.


REVIEW – I have lost count of how many portable gyms and gym-like devices I have purchased over the years that have promised to fit into my busy schedule and to provide a relatively quick full body workout that will keep me fit. One way or another they have fallen short of the goal either because they did not live up to their promise or they were not as portable or as easy to use as expected. I have all but given up on these types of devices and I use my treadmill as much as I can. But now, I see a new device that has gained my interest enough for me to try one more time. Let's see if the OYO Fitness Gym can earn any redemption for its counterparts or if it ends up in the historic pile in the corner of my storage room.
What is it?
The OYO Fitness Gym LE is a total body gym that weighs 2 lbs. but produces up to 25 lbs. of resistance for training and exercise. It can be folded to fit in your EDC bag or large pocket so that you can use it on the go wherever and whenever you choose to.
What's in the box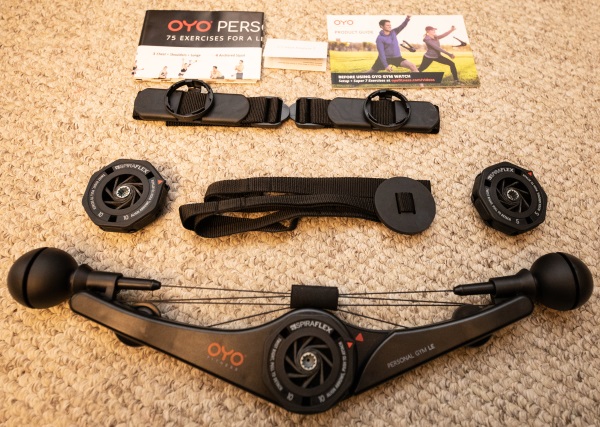 1 x OYO Personal Gym LE
1 x Door Attachment
3 x Flexpacks
2 x Leg Attachments
1 x Product Guide
Design and features
When you open the OYO Fitness box, the inside cover reveals a quick start guide describing how to attach the flexpacks.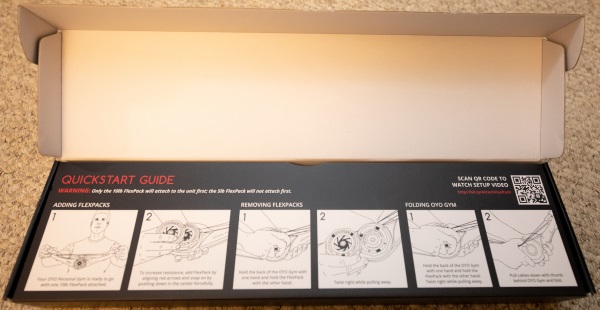 The picture below shows the OYO Fitness Gym with 2 flexpacks attached. The first flexpack must be a 10lb resistance pack and a total of 3 flexpacks come with the gym. OYO Fitness does not sell additional flexpacks separately. You can also see that in the second picture below, the gym can be collapsed into a very portable package.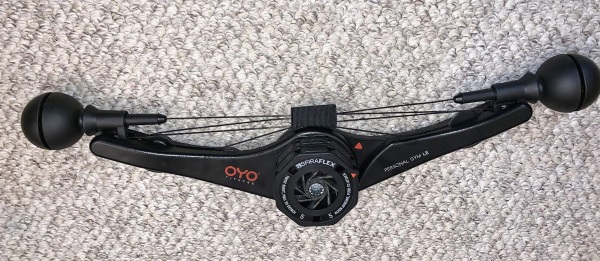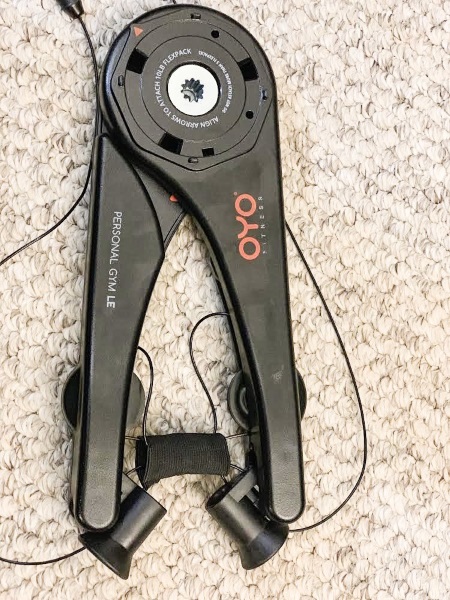 In the close-up picture below of the flexpack, on one side there is the center spindle with internal gears that lines up with the other flexpacks which allow them to connect to each other. The red arrow shows the marking for the correct orientation to add each flexpack to the other. There are 3 holes that accept the "legs" from other flexpacks as a part of the securing mechanism. On the flipside of the flexpack, there is the gear spindle with external that protrudes and connects to another flexpack and three notched "legs" that also connect and secure the flexpacks to each other.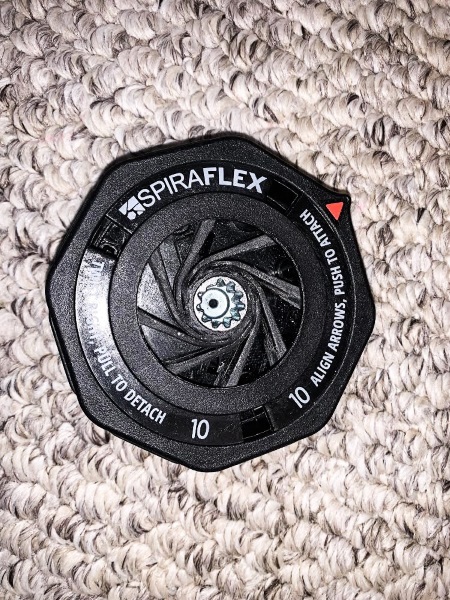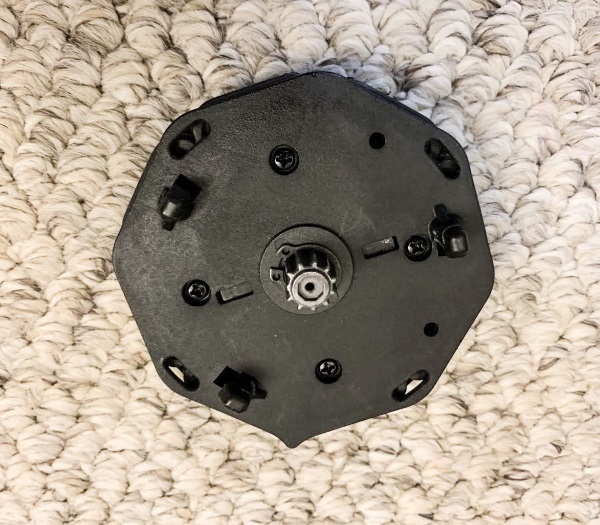 The following picture shows the 2 included straps that connect to each side of the OYO gym and allow the gym to be strapped to your legs or arms for different types of exercises.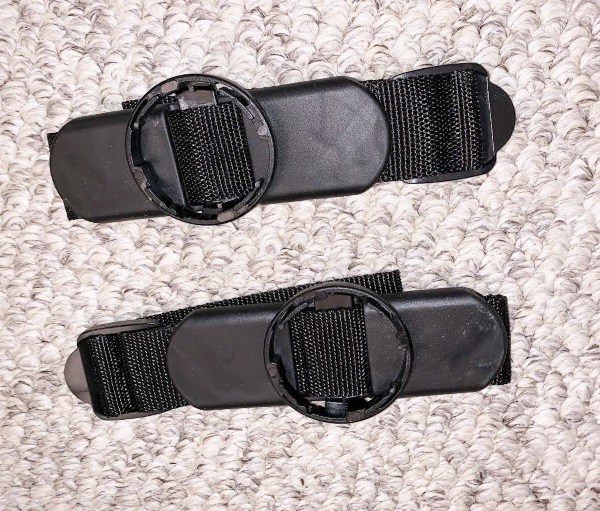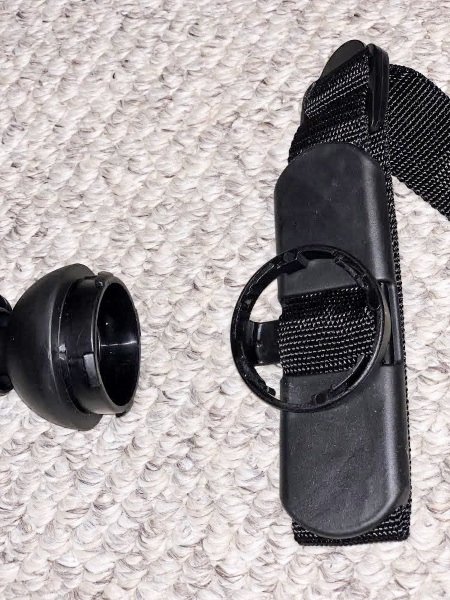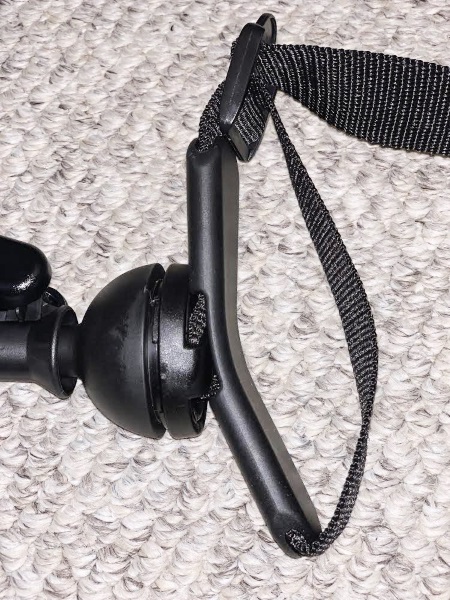 The other included strap allows you to attach to a door or pole or other objects for various exercises.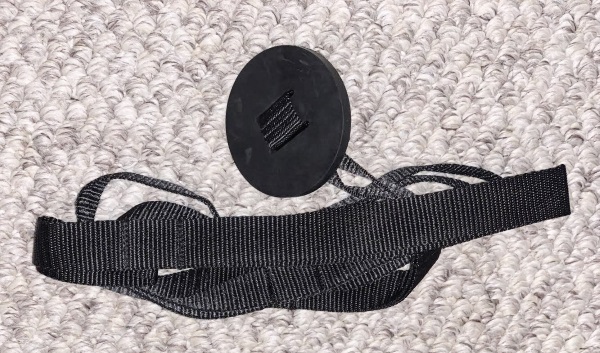 Performance
When I opened the OYO Fitness gym box, I was pleasantly surprised at the quality of each component and the compact size. The instructions are clear and you can get started right away. Adding and removing the Flexpacks to adjust the resistance is quite easy and the basic exercises can all be performed with just the OYO and the Flexpacks. OYO includes straps that allow you to attach the gym to a door or any such structure to accomplish pulley type exercises that you would normally do with a larger gym system. At first, I was skeptical about whether or not this compact device could actually provide enough resistance to even make most folks break a sweat, but I soon found out that it is quite capable of doing so and very versatile. It gives me a full workout and can be used by the enthusiast, the occasional visitor, or the fitness fanatic.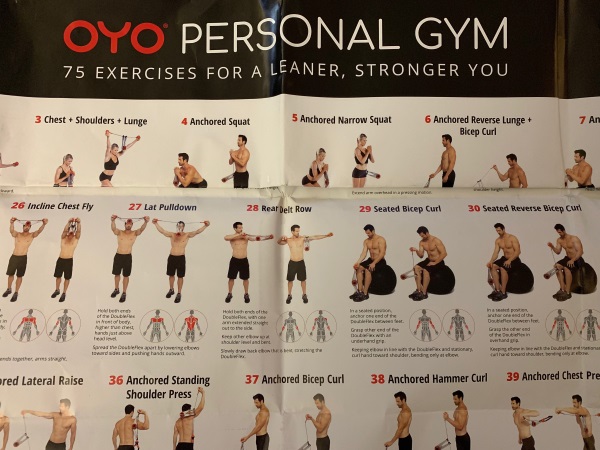 The following are some of the exercises performed by my model: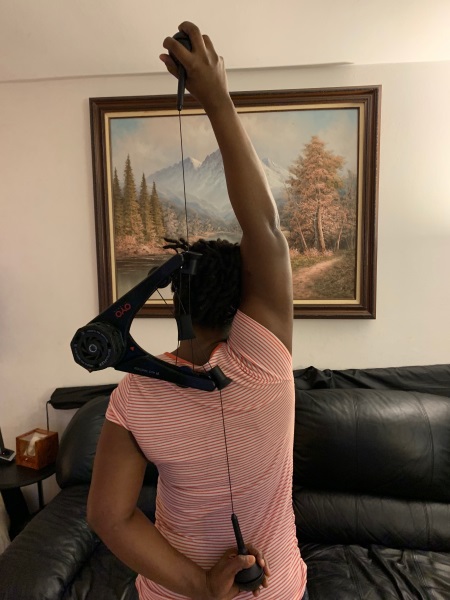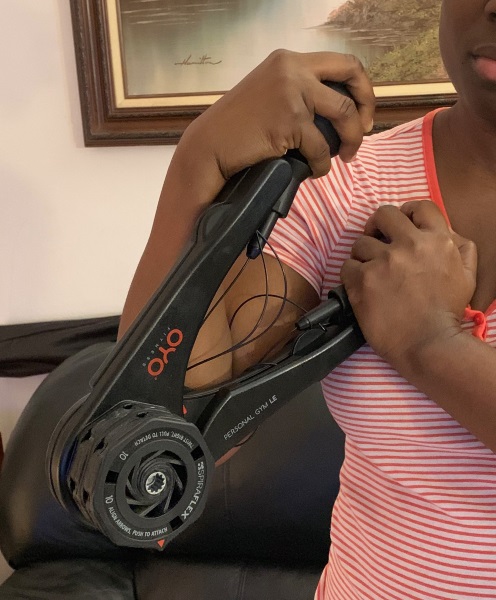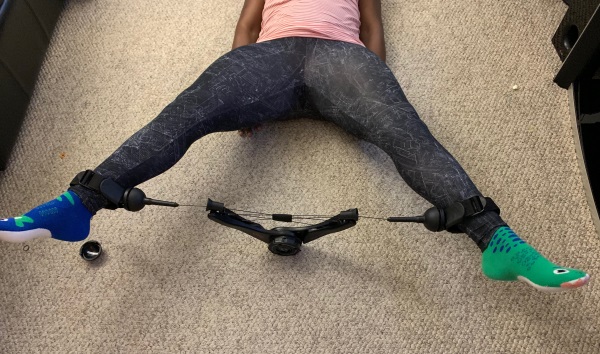 One issue I did experience is that the rotation of the spindle with the gears in the center of the flexpack changed and I could not attach it to any other flexpack. Once I recognized what had happened. I used an adjustable wrench to turn it back to the correct orientation. It did take some effort to do so.
What I like
The compact size
The versatility
The build quality
The portability
What can be improved
Ability to add more flexpacks
Flexpack spindles go out of orientation and tools are needed to fix them
Final thoughts
With each day that goes by, life gets even busier and dedicating time to workout without interruptions or within my hectic schedule often leads to a great plan that becomes very short-lived. As I get older, using heavy weights or even many of the machines and equipment that a conventional gym offers is not as desirable or as necessary as it used to be as when I was much younger. While the OYO Fitness Gyum does not replace a Planet Fitness or that type of gym, my experience with it has been great for my goals. I am able to keep my muscles working, do some resistance and cardio (via repetitions) training and there is enough built-in versatility to get a complete fitness workout. It is not a bodybuilding gym but it fulfills its purpose of allowing me to workout whenever and wherever my schedule allows and it is compact enough to go with me without becoming a burden. This is another type of device that is individually subjective, and while it may not be a fit for all, it does a great job for me, and enough so that they get two thumbs up. Looking forward to the next version with the ability to add even more resistance.
Price: $149.95 (Other versions are available at different prices)
Where to buy: OYO Fitness  and Amazon
Source: The sample for this review was provided by OYO Fitness