We use affiliate links. If you buy something through the links on this page, we may earn a commission at no cost to you. Learn more.

REVIEW – The days of carrying a boombox around on your shoulder have long been gone, and wearable Bluetooth speakers are here as a hands-free replacement. Zulu Audio's Wearable Bluetooth Speakers magnetically connect to your clothes, so you can bring the party to the people.
What is it?
The Zulu Audio Wearable Bluetooth Speaker is just what you guess it is. It's a set of Bluetooth speakers that you can wear.
Hardware specs:
Sweat-proof and water resistant
Bluetooth 4.1technology and integrated microphone
Quickly pairs with IOS or Android operating systems
2.5 hours charging time
Approximately 4 hours of battery life
What's in the box?

1 Micro USB Charging Cable
1 Carrying Case
1 Wearable Speaker (with magnets)
1 Extra magnet
1 Instruction Manual
1 Cable Tie (on the speaker)
Design and Features: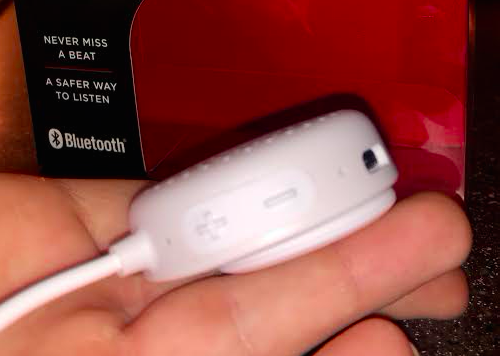 LED Light, Volume up (+), Volume down (-), Mic, and USB Charging
These speakers use a magnet to magnet connection for secure attachment on clothing, and they are comfortably lightweight at about 75 grams. The directions suggest you wear them around your neck and secure them around the shoulder area of your shirt, but you can essentially wear them on any body part covered in clothing. Additionally, you can simply secure them to any magnetic surface, or use them recreationally around the house or car. I found it nifty to put them on my metal shower rod, being as they are water resistant!
You can skip forward to the next track by holding down the Vol + button for 2 seconds, and go backward to the last track by holding down the Vol – button for 2 seconds.
Zulu Audio Wireless Speakers also allow the ability to answer phone calls by pressing the multifunction button (O- On/Off) during the time of an incoming call. Music plays again automatically when the call ends.
Performance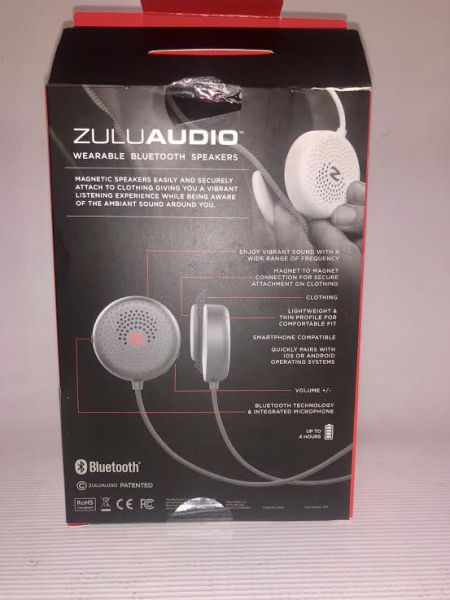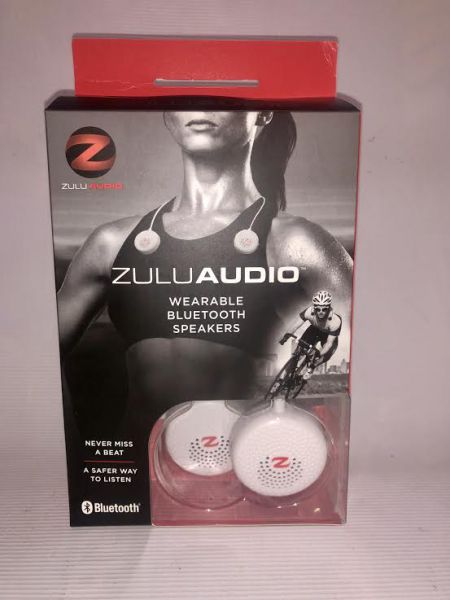 Pairing these speakers to my iPhone X was extremely easy. All I had to do was make sure my bluetooth was on, and hold down the multipurpose button (O) adjacent to the (+) and (-) buttons, for 6 seconds. When it is in pairing mode, red and blue LED lights flash alternately. I selected "Zulu Audio" from my Bluetooth selections on my phone, and I was instantly connected.
The box claims that the speakers last around 4 hours, which is true. At around 4 hours is when it starts giving warning beeps that the battery is low. I would say you have about an extra 25 minutes before they completely die after that. So really, they lasted ~4.5 hours.
These speakers are loud enough for what they are for. They get the job done.
What I like
What I enjoy the most about this product is that it allows you to be handsfree. I am a rollerblader, and these were an absolute hoot to take to the park! I also like fact that they are lightweight and have strong magnets. I thought they might annoyingly bounce around when I'd try to run, but for the most part, they don't.
The sound quality isn't bad. Again, gets the job done.
What needs to be improved
The only thing I'm unsure of is how stylish they aren't.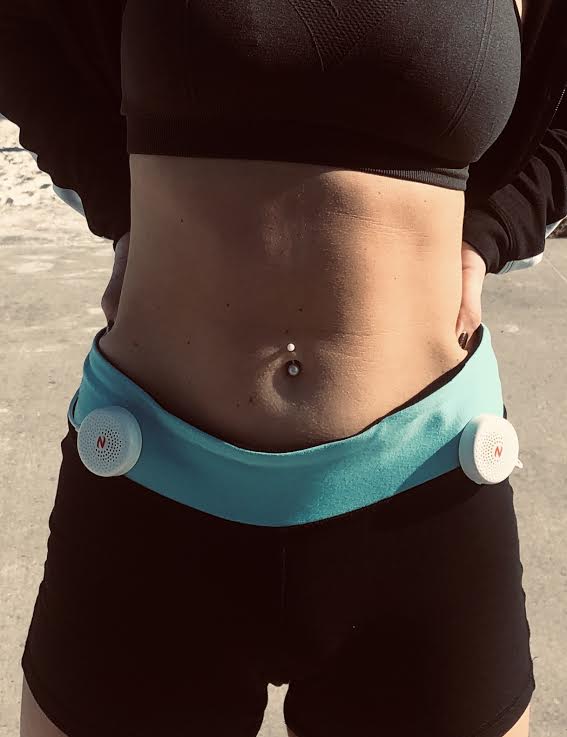 I found it more trendy to wear them around my waist, like this, instead. I do understand that if they are on your shoulders/around your neck, you can hear them better but… meh. The difference is minute.
The only way this could be improved is to make them even smaller.
You could always wear your shirt or jacket over them. Problem solved.
Also, nobody has ever complained that their speakers' battery life is too long… 4.5 hours is good; longer would be great.
Final thoughts:
These are high-quality speakers and I will continue to wear them in the park while I rollerblade and run, and use them in my shower! I think whether you are active in your lifestyle or not, most people can find a use for lightweight, water-resistant speakers that are magnetic. They would be a great gift for the holidays.
I think the price is steep. They are originally $100 and are currently 15% off for $84.99. Before I had these speakers, I was using a $20 Bluetooth speaker that I would carry in a lightweight backpack which also held water, phone, keys, etc. Considering the main function (wearable) of these speakers, and their competition, I believe the price is high.
Price: $84.99
Where to buy: Amazon
Source: The sample for this review was provided by Zulu Audio. Please visit their site for more info.