We use affiliate links. If you buy something through the links on this page, we may earn a commission at no cost to you. Learn more.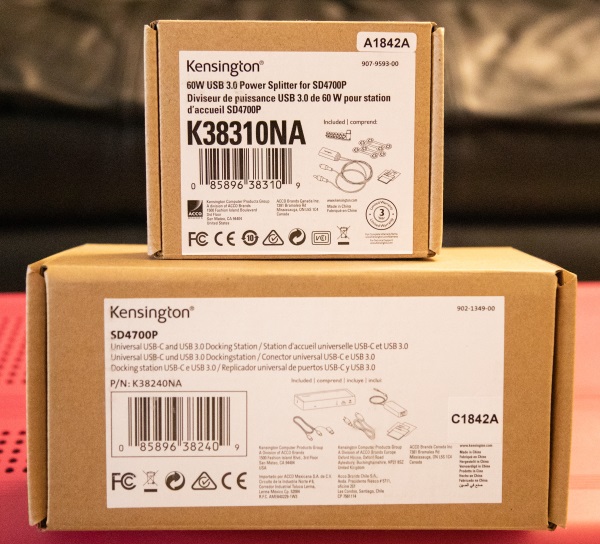 REVIEW – For the past few months, I have been working on expanding the versatility of my several workstations so that I have all of the capabilities I need regardless of what platform I am using. I have found that using computer docks is a great way to do so and a great way to accommodate all of the drives and other peripherals that I may use. The Kensington SD4700P USB-C & USB 3.0 Universal Dual 2K Docking Station is another such device that I got the opportunity to test. Here is my experience with it.
What is it?
The Kensington SD4700P Universal USB-C and USB 3.0 Docking Station allows you to expand your laptop's connectivity and capabilities to accommodate various types of computer accessories using the included USB Type-C/USB 3.0 Type-A cable.
What's in the box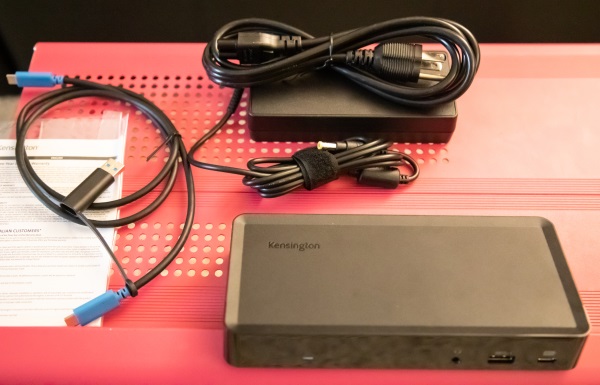 1 x Kensington SD4700P Universal USB-C and USB 3.1 Docking Station
1 x USB Type-C/USB 3.0 Type-A to USB Type-C Cable
1 x 135W AC Power Supply
1 x Quick Start Guide and Warranty Booklet
For this review, Kensington also included the 60W USB 3.0 Power Splitter for the SD4700P dock.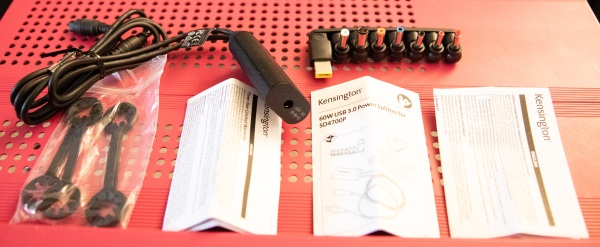 1 x 60W Laptop Power Splitter
8 x Power Tip Adapters
1 x User Guide, Warranty Guide, Communications Statement
3 x Power Tip Adapter Retention Rings
Design and features
Specifications
Support: USB-C or USB 3.0 Laptops, Ultrabooks and Monitors that support up to 2K
Monitors Supported: Single Monitor: 2560 x 1600 @ 60Hz, Dual Monitors: 2048 x 1152 @ 30Hz
USB Ports: 5 x USB 3.0 Ports: (1) front with 5V/2.1A fast-charging & (4) back supporting 5V/0.9A
USB-C Ports: 2 x USB-C Ports: (1) front with 5V/3A and (1) rear supporting 60W power delivery
Audio: 1 x 3.5mm Combo Microphone & Headphone Port (front)
Compatibility: Windows 7 or above, Mac OS 10.14
Video Output: 1 x HDMI v1.3, 1 x DisplayPort v1.1 ++ (Passive cables/adapters for HDMI or DVI conversion)
Plug & Play: DisplayLink driver installation required
System Requirements: USB-C host device must support Power Delivery. Power Delivery is not supported on USB 3.0 host devices
Mounting Option: VESA Mount Compatible: Mounting plate (K33959WW) for 75mm or 100mm (sold separately)
Warranty: 3 Years
On the front of the dock from left to right, there is a LED power light, a combination microphone/headphone jack, USB port, and a USB-C port.



On the back of the dock from left to right, there is the power port, a USB-C port, the HDMI port, the DisplayPort, the ethernet port and 4 USB ports.



The 60W Laptop Power Adapter uses the power supply from the SD4700P to provide power to USB 3.0 enabled laptops with 20V power inputs (20V/60W).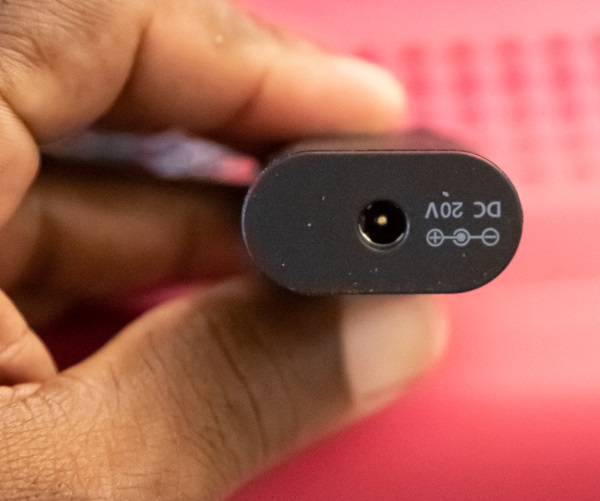 The 8 included Power Tip Adapters provide a variety of connections for laptop brands like Dell, HP, Lenovo and other leading manufacturers. The ones that you use most frequently can be kept connected to the cable of the splitter using the included retention rings.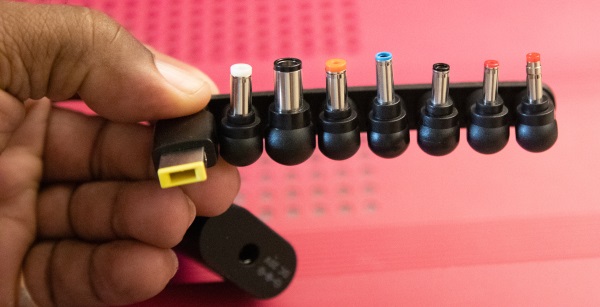 Performance
I started out by connecting the Power Adapter Splitter to the power supply so that I could power the dock and the HP laptop that I used as the primary computer for this testing.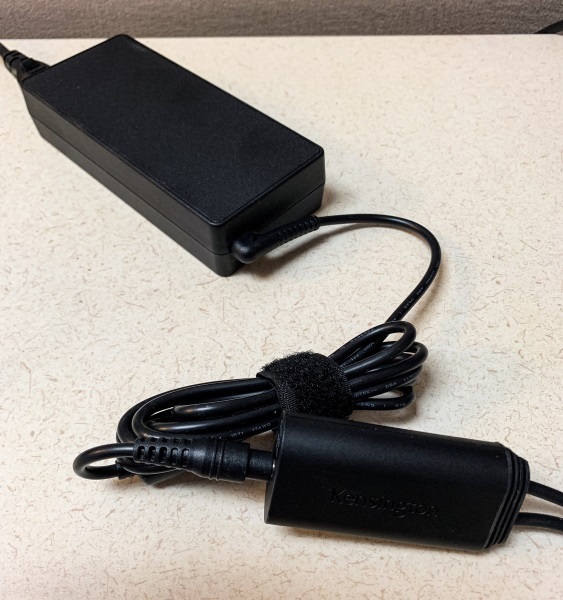 As shown below, I was able to find the correct size power adapter tip for the HP.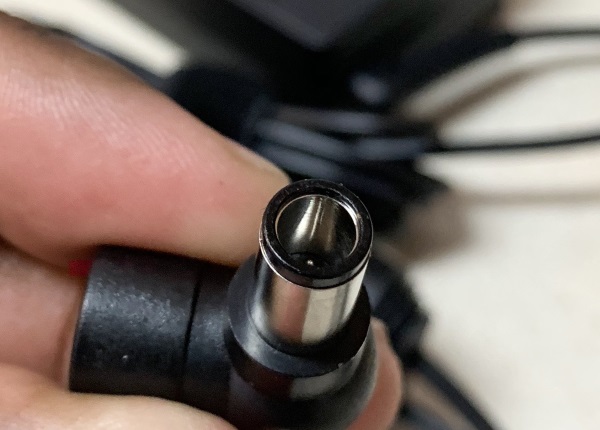 I then connected a monitor via HDMI and my iStorage encrypted secure drive.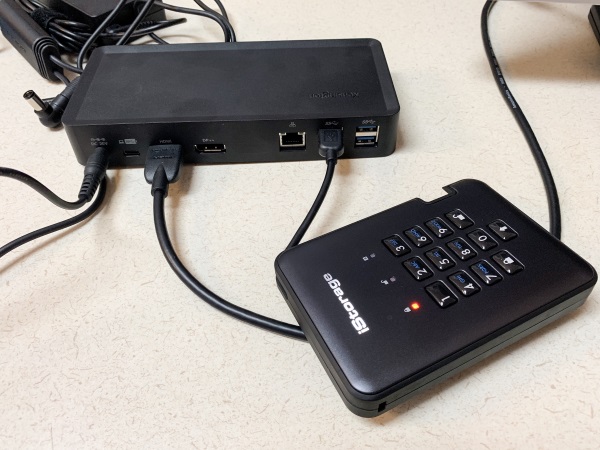 I plugged one of the Power Adapter Splitter ends into the dock to power it and the other with the tip adapter that I chose into the HP laptop.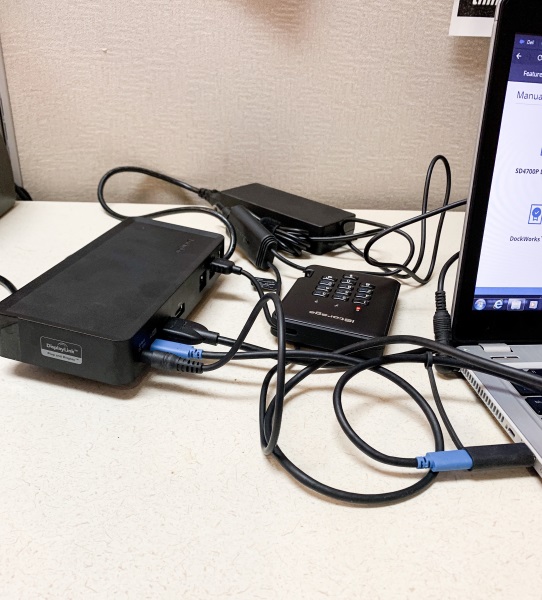 I downloaded the DisplayLink driver from the Kensington website and it installed without any issues. Once installed, the laptop (Windows 7 OS) was able to see the dock and access the devices connected to the dock. However, as you can see in the picture below, it did not work to power my laptop. The laptop remained operational on its own battery.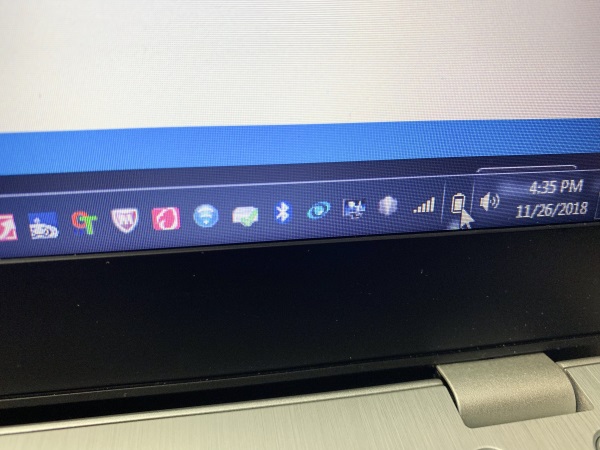 I was able to successfully connect to a second monitor via HDMI and I was also able to successfully access the USB drive and use a wireless mouse with a wireless dongle all plugged into the dock.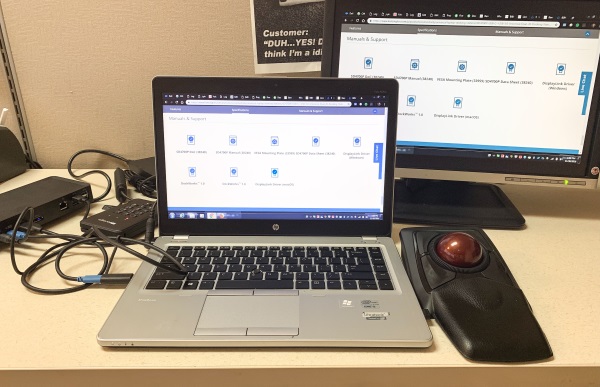 A few of the USB-C docks that I previously tested worked with my iPad even though their specifications did not indicate such support. Just to see what happened I did test it with my 12.9″ iPad Pro (2018) and it did not work. This is not a negative but rather just my exploration.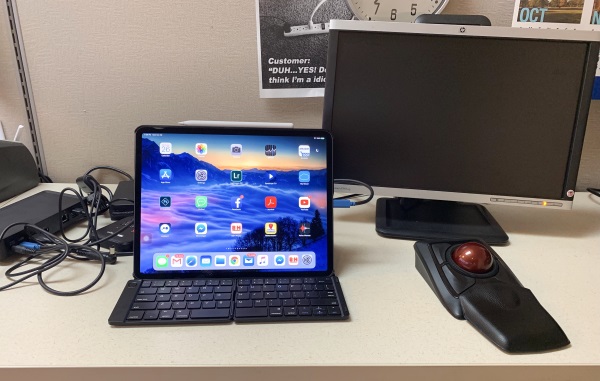 What I like
The build quality
The number of ports
The USB-C Power Delivery capability
The included power splitter
What can be improved
The size of the dock
The relatively large and  heavy power supply
The addition of 4K support
Final thoughts
The Kensington SD4700P USB-C & USB 3.0 Universal Dual 2K Docking lives up to almost all of the capabilities that it is designed for. I did not experience any issues other than the inability to power my laptop, and while the large power supply and the additional power splitter means carrying around more with more weight, the use of the two together would be very useful when using laptops that cannot be charged via USB-C. Although in my case, the power adapter splitter did not work to power my laptop, I feel confident that it would for others and this is more of a compatibility issue. Since I leave this dock in place at work, I do not have to carry it around. Overall, this is a very solid product that is very capable and it does provide for a lot of flexibility.
Price: $189.99
Where to buy: Amazon and B&H Photo Video
Source: The sample for this review was provided by Kensington.