We use affiliate links. If you buy something through the links on this page, we may earn a commission at no cost to you. Learn more.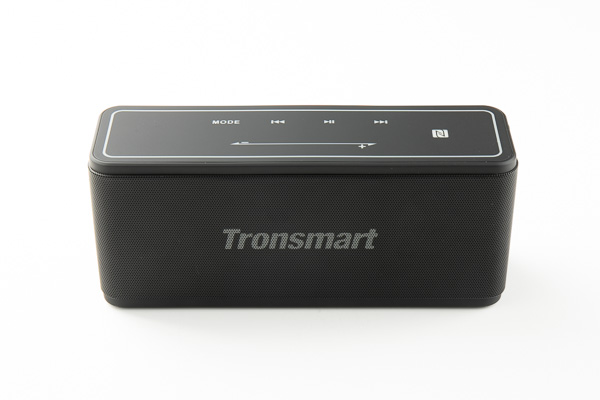 REVIEW – I've been borrowing my sons Bluetooth speaker from time to time, so I thought reviewing the Tronsmart Mega Bluetooth Speaker would be a good time to get my own.
What is it?
The Tronsmart Mega Bluetooth Speaker is a portable 40W wireless speaker that has a rich feature set and most of all, great sound.
Hardware specs
Model: Mega
Compatible: All Bluetooth enabled devices
Bluetooth version: 4.2
Transmission Range: 20m (Open field)
Output Power: 20W X 2
Battery: 3.7V/2*3300mAh
Power Supply: 5V/2.1A
Frequency Response: 115Hz-13KHz
Distortion: =1.0%
Driver Unit: 4ohms 20W/53mm
Playing Time: Up to 15 hours
Dimensions: 193mm x 57mm x 82mm
Weight: 662.3g
What's in the box?
Tronsmart Mega Bluetooth Speaker
Micro-USB Charging cable
3.5mm male-to-male audio aux cable
User manual
Warranty card
Design and features
The Tronsmart Mega Bluetooth Speaker features start with a simple rectangular design in a compact form factor, at 7.6″x2.25″x3.22″ (193mm x 57mm x 82mm) the speaker is comfortably carried in one hand and can be placed just about anywhere. The large Bluetooth speaker I was previously using was round, large and had three legs that didn't always work well for some locations.
The top has a lighted touch panel and controls for mode, volume, play/pause, track forward and track back, as well as an NFC "button" for touch pairing from compatible devices. The volume control took a little bit of playing with to figure out exactly where I could and could not touch to adjust the volume. The controls feature a line between volume + and volume -, but only the ends of the actual line are touch sensitive. I initially thought I could slide my figure along the volume line to adjust the volume, but that was not the case.
On the rear of the unit is an aux audio input jack, on/off switch, TF card slot (micro SD), and the micro USB power charging jack. The bottom of the unit has two rubber non-slip pads.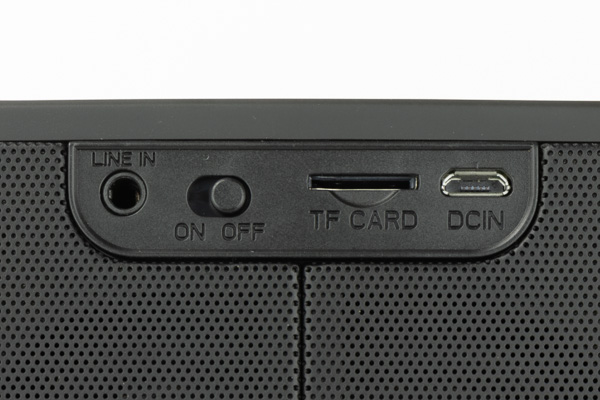 Let's talk about what really makes this a great speaker. Dual 20W drivers with a passive radiator and a large 28 core high-fidelity subwoofer deliver a total of 40W output. 3D digital sound integrated with DSP technology that almost eliminates distortion (<1% at full volume) means that you can basically turn this thing all the way up and have great sound – which is quite loud!
The Tronsmart Mega Bluetooth Speaker also has TWS technology that enables syncing two devices for true wireless stereo.
Two 3300mAh batteries provide for up to 15 hours of play time before needing another recharge. I like this feature as I occasionally listen to podcasts while driving, and since my truck doesn't have an aux input, a Bluetooth speaker is the only safe way to do that. With the built-in battery, I don't have to mess with micro USB charger cords along with my lighting cord.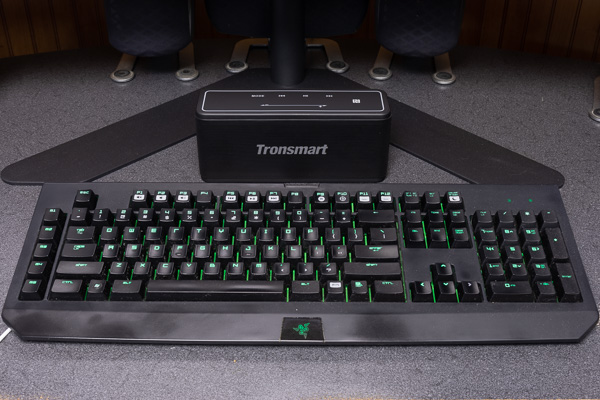 I've had plenty of speakers for computers and several Bluetooth speakers ranging from the inexpensive to the really expensive and I must say, the sound quality from this speaker is phenomenal. I'm not an audiophile – but I do appreciate clear audio that doesn't sound like it's coming from an empty plastic box. If you are an audiophile, you probably already know you'll want something larger if you really enjoy gut-punching bass sound.
The TF card slot (micro SD) supports cards up to 64GB. It supports MP3, WAV, APE, FLAC. The sampling rate is 44.1k, bit rate is 1411kbps. I really like this feature as I can put all of my music on one micro SD card and leave it in the speaker and I have all of my music with the speaker all the time. By the way, the THX movie intro sounds great at full volume.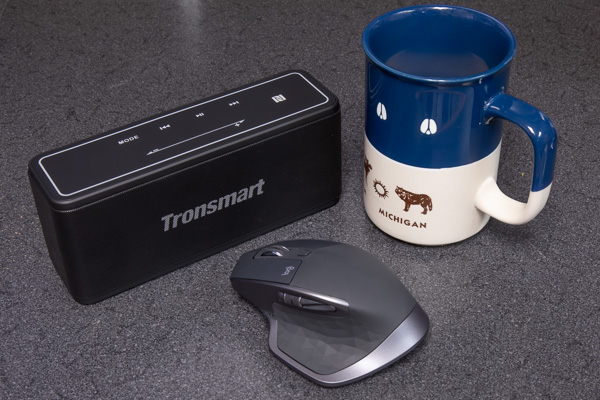 There is no battery level indicator on the device, but on devices like the iPhone, you can see the battery level at the top of the iPhone screen and a more detailed battery level if you swipe right to see the battery widget.
The speaker also has a built-in microphone, but it's nothing to write home about. It works good at close range (1-2ft) but at larger distances, it sounds, well, distant. Basically, it's better than nothing when your hands are dirty and you don't want to handle your phone.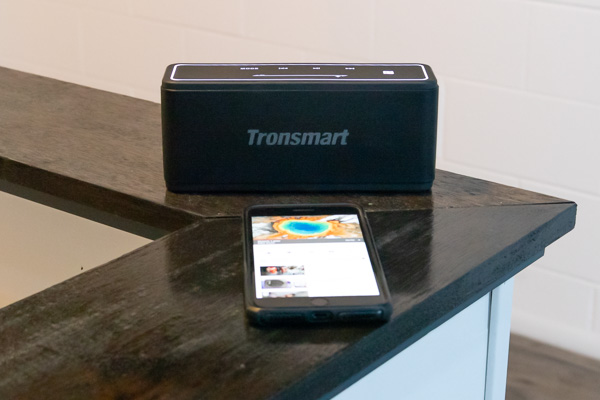 What I like
Physical on/off switch
It's loud
MicroSD card slot
Aux input
What needs to be improved
No battery level indicator on the unit
Volume controls a bit touchy
Final thoughts
I really like this speaker. It's gotten a lot of use over the last few weeks and will get plenty more in the future. Whether I'm in my office, garage, or gallery it's plenty loud enough to fill the room with clear audio.
Update 2/15/19
I went to use the Tronsmart speaker the other day and found the battery to be dead. I thought that maybe I had left it on, but was pretty sure I had not. I fully charged the battery and began my test. I checked that the unit would turn on every week, and then immediately turned it off. After about 25 days I found the unit to be fully discharged. Although it's not uncommon for a unit to lose some charge over time, I found that less than 30 days to be a bit quick.
Price: $47.99
Where to buy: Amazon
Source: The sample of this product was provided by Tronsmart.